Best Mid Layers
Learn about our top picks for mid layers for your next hiking or backpacking adventure!
Don't let the name fool you. There's nothing middling or mediocre about the best mid layers when it comes to warmth. These layers are your heavy hitters when it comes to heat retention. The name "mid-layer" simply comes from this layer's position nestled squarely between your cozy base layers (i.e., long underwear) and your weatherproof rain jacket. Fleece, down, and synthetic insulation are all fantastic options that offer tremendous warmth, and each one comes with its own strengths and weaknesses. But just how many fleece, down, and synthetic options are there? A lot! That's why we've taken the stress out of choosing your next cozy layer by researching and testing the top mid-layers for hiking, and compiling our suggestions here for you to review.
Remember, packing sufficient insulation is essential for being prepared in the backcountry, and is 1 of the 10 essentials recommended by the National Park Service. In fact, all USA Hiking Tours from Utah camping tours to Yellowstone backpacking trips should include a good mid layer. So let's take a look at the top buying considerations for this category, followed by our recommendations for the best mid layers currently on the market.
QUICK LIST OF RECOMMENDATIONS
KEY CONSIDERATIONS
Fabric and Insulation
Two of the main factors you'll be looking at when choosing the best mid layer are fabric and insulation. In some cases – such as with fleece jackets – the fabric is the insulation. However, all of our recommendations below are insulated jackets with an outer fabric and an inner insulating material.
The outer fabric will vary significantly, from simple polyester to more technical blends that provide greater stretch and durability. We've picked mid layers that have what we consider high-quality fabrics and insulation. Fleece, synthetic, and down insulation all function as excellent mid layers, so let's go over the pros and cons of each of these three choices to help explain our decision-making process.
Fleece Considerations
Fleece has the potential to be an excellent fabric for outdoor adventure clothing and mid layers. Let's take a closer look to see how.
Most fleece materials are affordable, insulating (when wet or dry), quick-drying, and durable. But these excellent characteristics are, sadly, balanced by the fact the fleece is not nearly as compressible as down and can also be noticeably heavier to achieve the same insulation. Therefore, fleece is often overlooked for down as many hikers don't want a single layer to take up an excessive amount of space in their bag. But fleece's durability and affordability are hard to beat, and it's slowly making a comeback in the outdoors as more performance-based options emerge. A solid fleece garment can easily be the best mid layer for you if you're hard on your clothing, often hike in wet conditions, or are looking for an accessible entry-level layer.
Fleece Pros: 
Warm when both dry and wet
Quick-drying
Durable
Cost-effective
Fleece Cons: 
Heavy
Not compressible
Very bulky for hiking trips where space is at a premium
Down-Fill considerations
A down-fill jacket or sweater is an excellent choice for your mid layer. Down is durable (its insulating qualities last for years if well cared for), light, and packable. A good down jacket will add very little to your pack's weight or bulk yet provide a dramatic level of warmth when needed.
The main drawbacks of down-filled garments are their cost (down is often quite expensive), lack of insulation when wet, slow drying, and possible ethical concerns with how the down is sourced (more on this below). Altogether, down has become the mid layer material of choice for almost any sport, not just hiking and backpacking, and you'll see the majority of our recommendations follow this trend.
Down-Fill Pros:
Very warm
Compressible
Exceptionally lightweight
Long-lasting if cared for
Down-Fill Cons:
Loses insulation capability when wet
Higher cost
Slow drying
Possible ethical considerations (discussed next)
ETHICAL STANDARDS WITH DOWN
Sourcing goose down can be a brutal affair, or it can be done humanely. It's possible to search out manufacturers and brands that source down from traceable farms that verify the ethical treatment of their animals.
The leading certification and best information source for ethical standards in the down industry is the Responsible Down Standard.
All of our down-fill recommendations below source their down from farms that verify the ethical treatment of the animals.
Synthetic-Fill considerations
While synthetic fill mid layers can feel very similar to their cousins in the down category, they have several key differences. Synthetic fill is slightly heavier, less compressible, less durable and a little less insulating than down, but more insulating than fleece. Two major benefits of synthetic fill are its low cost compared to down and ability to insulate when wet (and dry quicker). All in all, synthetic-fill jackets make for excellent mid layers, and we have some listed below among our top picks.
Synthetic Pros:
Insulates when wet
Less expensive than down insulation
More insulating capability than fleece
Synthetic Cons:
Bulkier and heavier than down
Not as long-lasting as down or fleece
Not as insulating as down
Arc'teryx Atom LT Insulated Hoodie
Best Mid Layer for Hiking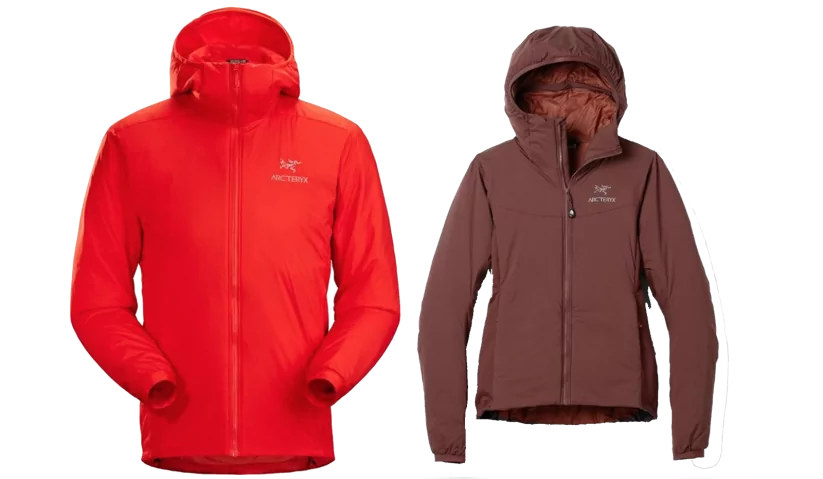 MSRP: $259.00
INSULATION: 60g Coreloft Compact synthetic fibers
HOOD: Yes
WEIGHT: 11-13 ounces
FABRIC: 94% polyester/6% elastane
PACKABILITY: Good
PROS: Water-resistant – Insulates when wet – Well-designed hood – Lightweight – Durable – Quick drying
CONS: Expensive
STRAIGHT TALK: Arc'teryx's Atom LT Insulated Hoodie is at the top of the pack for the best mid layers because of its low weight, versatility as either a mid layer or an outer layer, and durability. The hood can fit over a ski or climbing helmet, adding to this jacket's multi-sport versatility. The Atom Lt also features durable outer fabric that will stand up to abrasions and friction along with excellent weather resistance, both of which work together to make this coat a solid mid or outer layer. The only downside is the price. You can definitely find less expensive mid layers (below), but if you're interested in a high-performing option and don't mind paying more for it, this one is an excellent choice.
View on REI.com
Patagonia Down Sweater
Runner Up: Best Mid Layer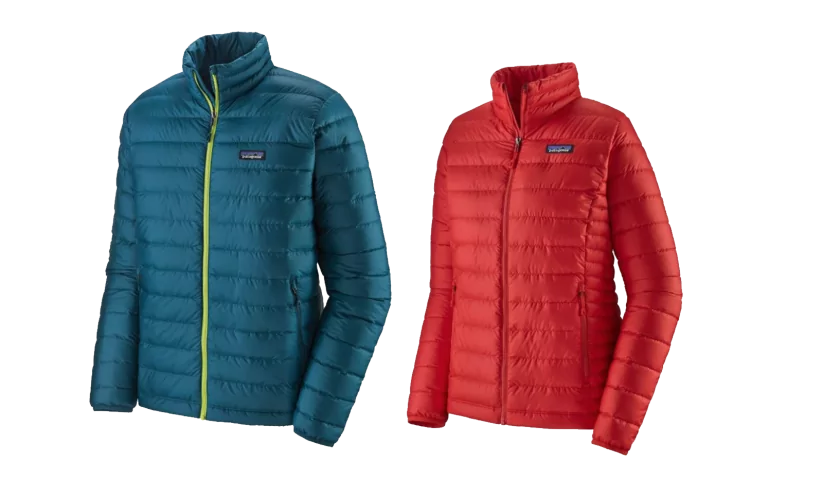 MSRP: $229.00
INSULATION: 800-fill Traceable Down goose down
HOOD: No
WEIGHT: 12-13 ounces
FABRIC: Recycled ripstop polyester
PACKABILITY: Excellent
PROS: Very lightweight – Excellent packability – Warm – Sustainable production – Durable
CONS: Does not insulate when wet – Slow drying – No hood – High cost
STRAIGHT TALK: Patagonia's Down Sweater is one of the most legendary mid layers in the outdoor adventure world. For many years, it's been a top choice for hikers, backpackers, climbers, skiers, and others – and it's not hard to see why. We have very high-quality down insulation, sourced to the highest ethical standards, along with a very compressible and robust design that makes it easy to take this layer anywhere.
With 800-fill-power down, its warmth to weight/bulk ratio is nearly as good as it gets. The outer fabric, sourced from recycled materials, is ripstop, and we've found it to be one of the most durable. Down lasts nearly forever if well cared for, which further increases the durability. Like most items from Patagonia, this jacket has a relatively high cost but is easily one of the best mid layers on the market.
View on REI.com
View on Backcountry.com
Cotopaxi Fuego Hooded Down Jacket
Best Mid Layer for stylish and effective insulation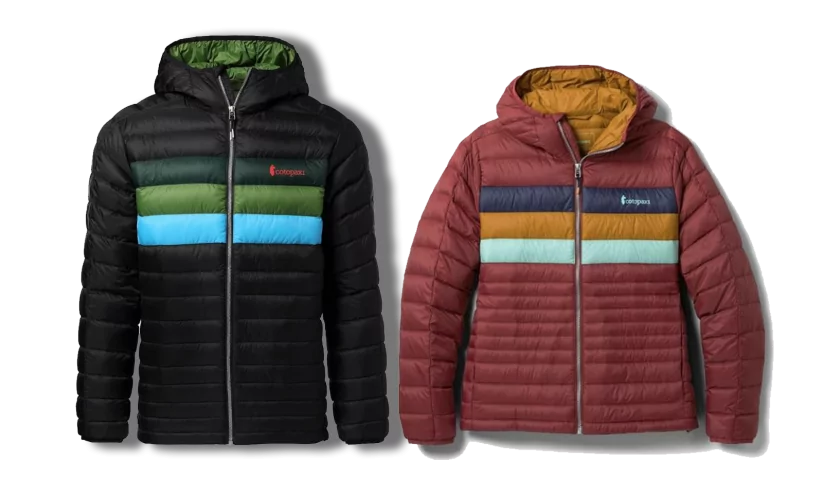 MSRP: $265.00
INSULATION: 800-fill-power goose down
HOOD: Yes
WEIGHT: 12-14 ounces
FABRIC: 20-denier ripstop nylon
PACKABILITY: Excellent
PROS: Water-resistant coating – Versatile – Lightweight – Great appearance
CONS: Expensive – Does not insulate when wet
STRAIGHT TALK: Cotopaxi's Fuego Hooded Down Jacket is our top pick when it comes to great-looking mid layers. In addition to the beautiful color scheme, it's also an extremely effective and well-designed jacket. With 800-fill-power down, it has nearly top-of-the-line insulation along with a treated outer material to enhance the jacket's weather resistance. Apart from the Durable Water Repellent (DWR) finish, the outer fabric is also very durable and well constructed. Combine this information with the fact that down-fill insulation is inherently long-lasting if well cared for, and we have a beautifully crafted mid layer that will turn heads with its stylish design and easily earns its place among the best mid layers on the market. Like many down layers, however, keep in mind that this option comes with a high price tag, and the down insulation will lose its ability to keep you warm if it gets wet.
View on REI.com
REI Co-op 650 Down Jacket 2.0
Best Mid Layer for the Budget-Minded Hiker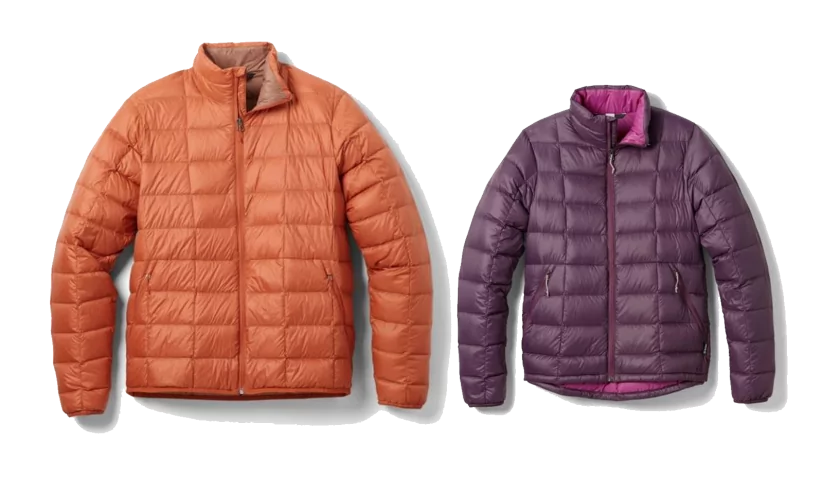 MSRP: $99.95
INSULATION: 650-fill-power down
HOOD: No
WEIGHT: 10.8-11 ounces
FABRIC: Recycled nylon taffeta
PACKABILITY: Excellent
PROS: Affordable – Lightweight – Packable – Warm – Sustainable production
CONS: Does not insulate when wet – Slow drying – No hood – Lower quality down
STRAIGHT TALK: REI's 650 Down Jacket 2.0 is an excellent mid layer for hiking and backpacking trips, particularly considering its very affordable price. 650-fill down is not the highest quality down on the market, but it's still very good and will get the job done. This jacket can also pack down very small and adds only 11 ounces of weight to your pack. It will last years or possibly even decades if well cared for, as down is durable and long-lasting. Bottom line: if you are ok with good – but not the very best – performance and budget is your larger priority, this jacket is the best mid layer for you.
View on REI.com
Patagonia Nano Puff Insulated Hoodie
Best Mid Layer for Mild temperatures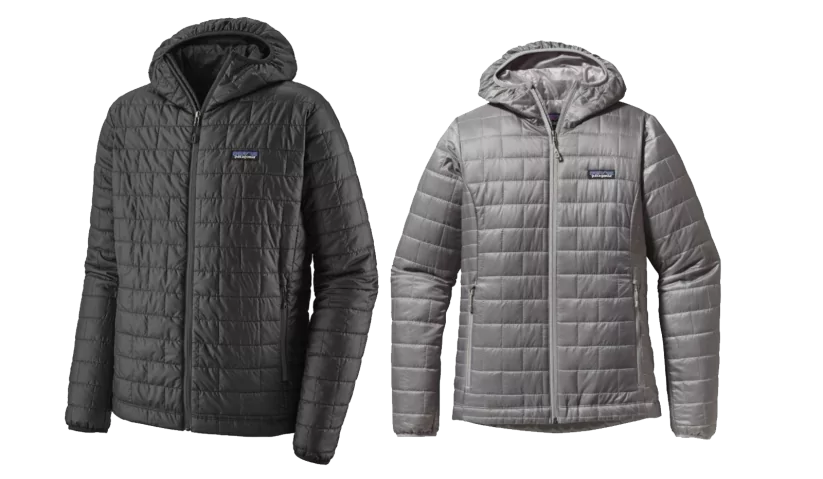 MSRP: $249.00
INSULATION: 60-g PrimaLoft Gold Insulation Eco polyester (55% post-consumer recycled content)
HOOD: Yes
WEIGHT: 11-13 ounces
FABRIC: Recycled polyester with DWR (durable water repellent) finish
PACKABILITY: Good
PROS: Sustainable production – insulates when wet – Water-resistant – Moderate warmth – Breathable
CONS: Expensive – Not for very cold environments
STRAIGHT TALK: Patagonia's Nano Puff Insulated Hoodie is our top pick for people who naturally stay warm and want a versatile, moderately insulating layer or for folks adventuring in mild climates that won't get too cold. This jacket is water-resistant and can be used as an outer layer in moderately poor weather, making it very versatile. The Nano Puff is also very breathable and packable, further adding to its appeal for hiking and backpacking. Like all Patagonia products, it's manufactured with recycled and sustainably sourced materials. While it comes with a high price tag, the Patagonia Nano Puff is definitely one of the best mid layers for hikers who run warm or are adventuring in mild temperatures.
View on REI.com
View on Backcountry.com
Patagonia R1 Air Zip Hoodie
Best Fleece Mid Layer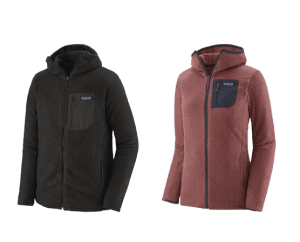 MSRP: $159.00
INSULATION: Recycled Polyester Fleece
HOOD: Yes
WEIGHT: 11-14 ounces
PACKABILITY: Poor (compared to down)
PROS: Sustainable production – Very durable construction – Insulates when wet  – Very Breathable
CONS: Doesn't pack down very well – expensive for a fleece
STRAIGHT TALK: When it comes to performance fleeces designed exclusively for hard work, the R1 Air is hard to beat. The distinctive zig-zag pattern offers superb breathability and moisture-wicking properties, which are absolute gold for a hard day of hiking. But despite the excellent airflow, the R1 Air still retains ample heat to keep you cozy when the cool evenings approach. Now, this is a lightweight performance fleece and won't provide the same level of warmth as a toasty down layer. However, this could be the best fleece mid-layer for you for cool evenings in the summer or all-day hiking in the chilly shoulder seasons (spring and fall).
View on REI.com
View on Backcountry.com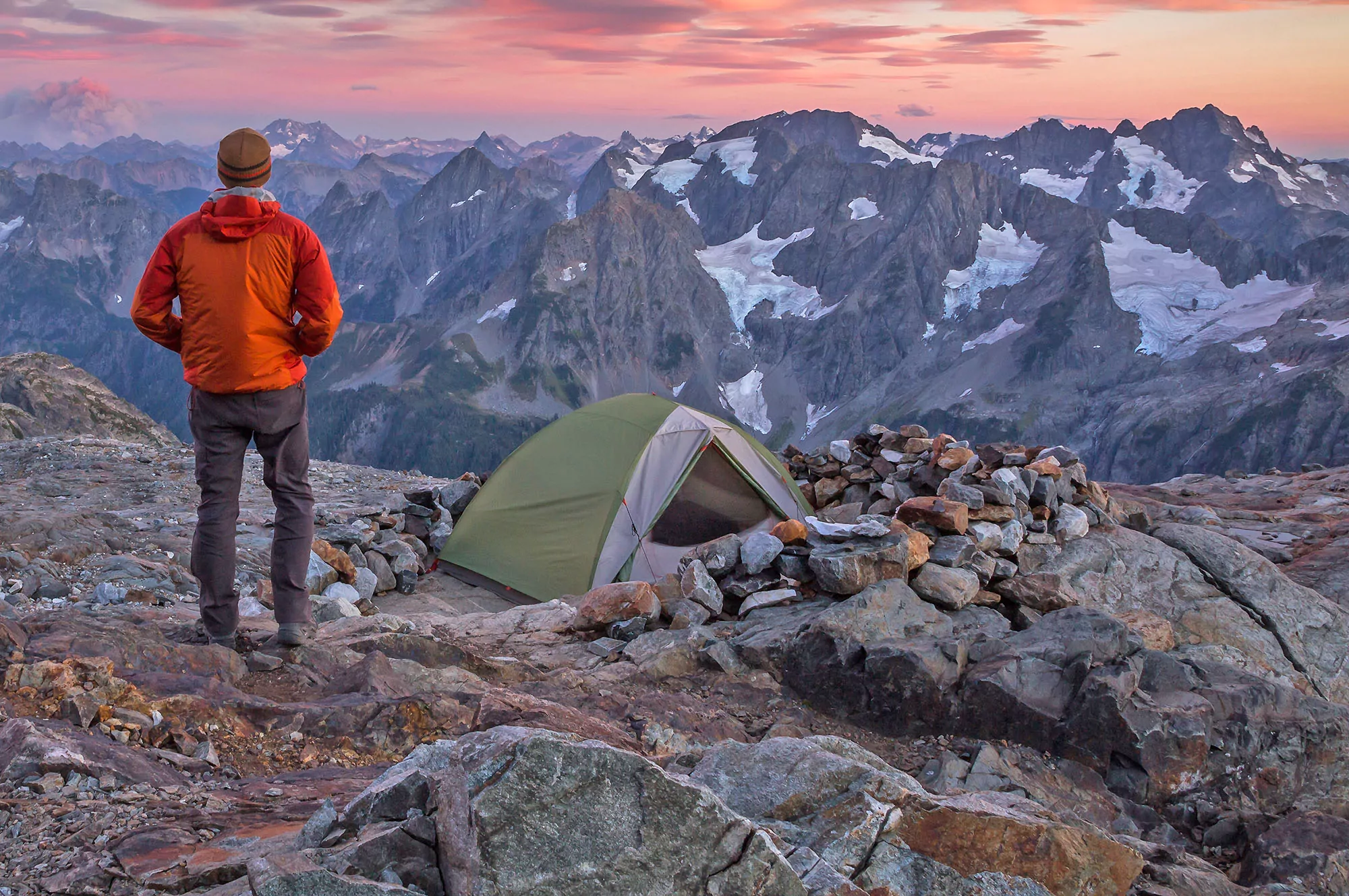 More Information About Mid Layers
Down Fill Power
When looking at down products, you will notice a number associated with the fill of the down – 400, 500, 650, 800, and so on. It's helpful to understand this measurement when selecting your mid layer or other down-filled items.
"Fill power" is the most common factor used to measure down quality in jackets and sleeping bags. It denotes the amount of loft of the goose or duck-down fibers. "Maximum loft" is measured when the down fibers are fully and naturally expanded, while the fill power is how many cubic inches an ounce of down expands to at its maximum loft. A rating of 800, for instance, means that one ounce of down expands to 800 cubic inches.
Fill power can vary from below 300 to a maximum of 900. Many common down jackets and sleeping bags feature around 500 fill down. However, these lower ratings indicate poor quality down that was likely sourced from immature birds. Instead, we recommend looking for down ratings of at least 600 to ensure you're getting a high-quality product that will keep you warm.
Why Trust Us?
Choosing the right outdoor gear and apparel can be difficult. But at Wildland Trekking, we live and work with hiking gear every single day. It's an integral part of what we do, and we understand better than anyone how important it is to have the right equipment. In addition to our vast knowledge of backpacking gear, we also offer:
Independence – our recommendations are not influenced by partnerships or sponsorships with outdoor gear and apparel manufacturers.
Experience – as one of America's top guide companies, we take 8,000-10,000 people on hiking and backpacking tours annually. Since our inception in 2005, we have guided more than 75,000 people into the wilderness.
Cutting Edge Knowledge – we regularly attend trade shows and pay close attention to the leading edge of new developments.
Up To Date Recommendations – we update our recommendations regularly as new products are developed and released.
Dedication to our Readers – we know that the gear we select as our top picks will end up in the field with our readers, and we take that responsibility very seriously. We view our readers as guests on our guided trips, just without the guides. We are committed to helping you be as well-outfitted and prepared as possible for your adventures.
*Disclosure: Some of the links above are affiliate links. At no cost to you, we earn a commission on any products purchased through these links. Any proceeds go to supporting our blog and operations. These affiliate links do not influence the products that we include in our gear round-ups. We only recommend products that we 100% support and that we have used in the field. 
More Gear Recommendations
Check out our Wildland Gear Guide for more recommendations about hiking, trekking, camping and outdoor gear. We are always adding new products to help our guests and readers make the best choices to outfit their adventures.