Best Hiking Boots for Backpacking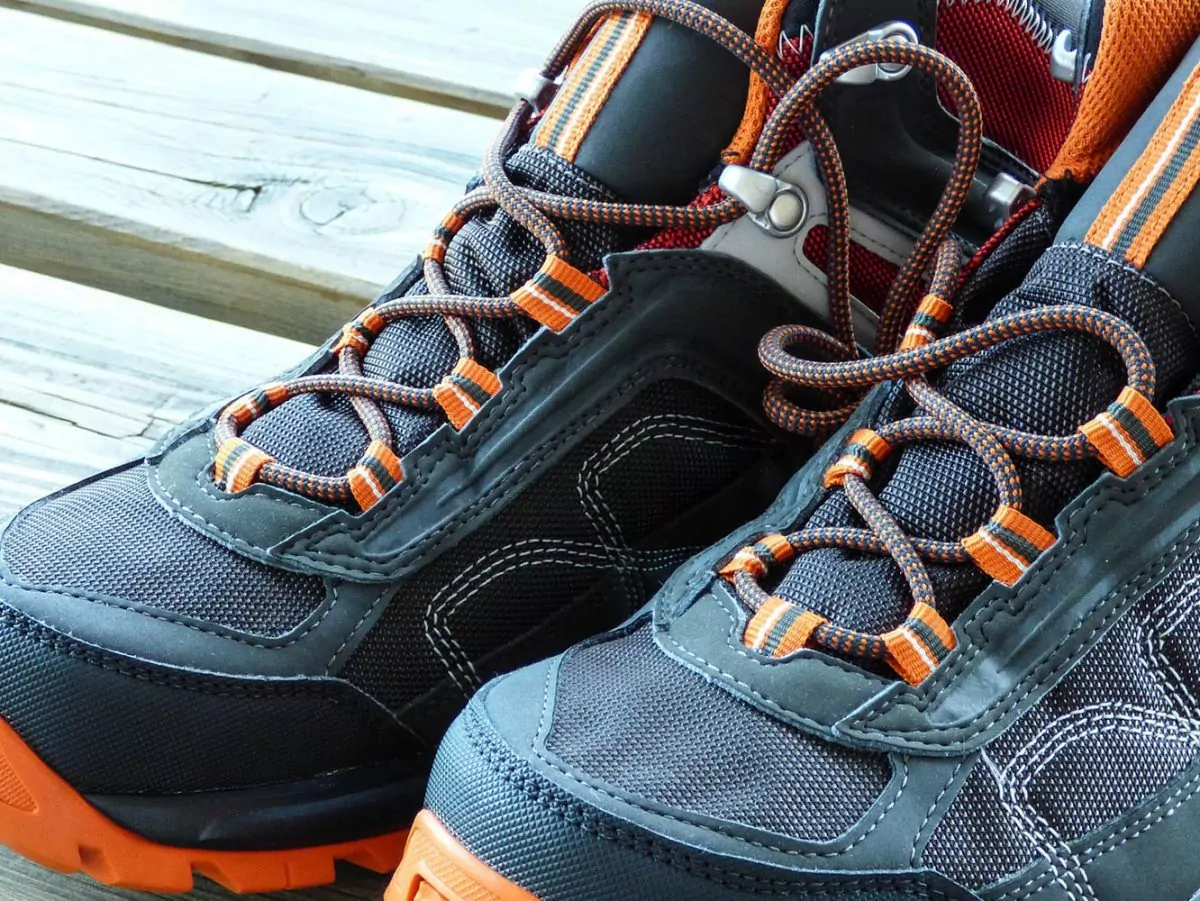 The hiking boot. The indomitable pillar on which the epic hiking trip has been built for centuries. It's rugged, robust, supportive, and ready to take on any trail anywhere. But step into any outdoor goods store, and you'll find shelves upon shelves of hiking boots. Some lightweight, some heavy. Some waterproof, some extra breathable. How are you supposed to know which options are the best and which fall short? Don't stress yourself! We've done the research and put hiking boots through some of the most rigorous testing possible – we're trekking guides, after all – and now we have the results for you.
Let's take a look at crucial buying considerations for hiking boots, and then move on to our list of the best hiking boots for backpacking that'll be perfect for any USA Hiking Vacation. Read on, learn what you need to know, and pick out the best footwear to take you on epic adventures.
If you're interested in lighter and more flexible footwear, check out our guide to the best low top hiking shoes.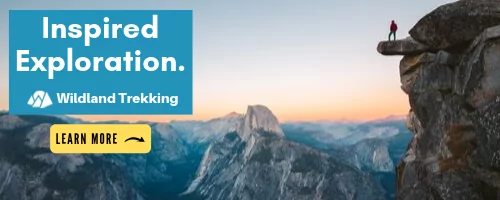 How To Pick The Best Hiking Boot

Support and Stability
Hiking boots' main attraction over hiking shoes is support and stability. The over-the-ankle design provides phenomenal stability on loose or uneven terrain, while the stiffness offers much-needed stability for long days on the trail or steep inclines. However, these levels of support vary from boot to boot, so let's take a look at your options.
Most hiking boots include a nylon shank in the midsole that adds rigidity and support. The length and stiffness of this shank vary from boot to boot, but its purpose is to keep your foot from flexing on steep ascents – thus decreasing fatigue. The pinnacle of stiffness is the rigid mountaineering boot, designed for long days on very steep grades – often with crampons. On the other hand, we have very flexible and lightweight boots that are not far removed from a traditional trail runner and simply extend over the ankle for improved roll support.
Waterproof vs. Breathability
It's the classic tradeoff in hiking footwear. Waterproof boots provide a very effective barrier against rain, puddles, creek crossings, and so on. However, that waterproofing often reduces breathability significantly, allowing your feet to get hot and sweaty on warm days.
On the opposite side of the spectrum, we have breathable non-waterproof boots. These boots typically use a lightweight mesh material that allows plenty of airflow to keep your feet cool and comfortable. But come across one puddle or a little bit of rain, and your feet get wet. Don't forget, however, that the extra breathable design also allows your feet to dry out more quickly, but you'll still have to deal with the dampness in the meantime.
Your decision in this department will primarily come down to personal preference and your intended adventures. Consider your hiking climate: are you hiking in the rainy Pacific Northwest or the arid desert? Always remember that although you may not mind your feet getting wet for the sake of breathability, several pieces of your backpacking gear won't feel the same way!  Review our tips for hiking in the rain for suggestions and advice on preparing yourself and your gear for a wet backpacking adventure.
Weight
Often a direct result of the boot's stability and ruggedness, the weight will play a significant role during your backpacking boot selection process. Lightweight boots typically have better flow – for lack of a better word. They move easily, are more flexible, and provide a more natural walking experience similar to walking in a standard tennis shoe.
On the opposite end of the spectrum, we have heavyweight boots. These boots place more emphasis on beefy support and durability, transforming them into little bunkers for your feet. We, therefore, have a stiffer sole that's often deployed in tandem with leather or suede materials for significantly more rigidity than their lighter cousins. While these boots tend to last longer and provide increased support, they also feel more clunky than less stiff options.
While a few ounces here and there may seem like small potatoes, you'll probably feel it out on the trail. So consider your priorities in terms of footwear, and try to take some time to try on your options before purchasing so you can experiment with different weight boots.
Material
The three most common materials we see in hiking boots are nylon, nubuck leather, and full-grain leather. Let's, therefore, take a look at the advantages and disadvantages of each item.
First off, we have nylon. This material is an affordable option that emphasizes breathability and low-weight. However, the tradeoff is durability. Nylon – along with mesh panels – often show signs of wear and tear much earlier than leather. Nevertheless, nylon certainly has its place in the backpacking boot world and is an excellent option for entry-level hikers. But if you forsee using your hiking boots a great deal in the future, perhaps consider upgrading to a more durable material.
Nubuck leather is found on most mid-range boots. It's composed of full-grain leather that has been given a brushed finish for a softer feel. Nubuck – or suede – leather provides a significant boost in durability over nylon materials. What's more, it's very receptive to repeated waterproofing treatments to keep your boots in tip-top shape. However, the beefed-up durability comes with slightly increased weight and decreased breathability. But in the long run, I believe durability is well worth this tradeoff.
Full-grain leather is the heavyweight champion of upper boot materials. It's robust, very waterproof, and will hold up for years and years. In fact, many full-grain leather boots can be resoled when other parts of the boots wear down or break – a further testament to this material's longevity. As you might expect, full-grain leather is the heaviest and least breathable material available for backpacking boots. On an additional note, full-grain leather boots also tend to be the most expensive material option. Still, that investment can be easily justified for committed hikers that are sure to use the leather to its full potential.
Budget
The field of hiking boots spans from affordable to premium. So, make sure you consider your budget and needs. If you're looking for a good pair of hiking boots for a single vacation or hiking trip, then consider going more affordable. If, on the other hand, you're planning on plenty of adventuring and hiking in your future, then the increased initial investment for a high-quality pair of boots may well be worth it.
Now that we've covered the primary points to consider when evaluating hiking boots let's dive into our list of the top hiking boots for backpacking!
---
Oboz Bridger Waterproof Mid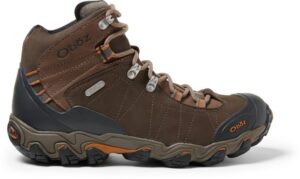 Specifications
Weight (Pair):

Men's: 2 lbs 6 oz
Women's: 2 lbs 0.4 oz

Waterproof: Yes – Oboz B-Dry Waterproof Membrane
Support: TPU chassis and nylon shank
Price: $190.00
Gender:
Notable Features
Waterproof
Bombproof Design
Full-grain leather provides excellent durability
Molded insoles are very comfortable
What We Like
Oboz has hammered out a reputation for incredibly durable and comfortable boots, and they offer that and more with their flagship Bridger lineup. The full-grain leather is remarkably rugged, standing up to miles and miles of tough trail while offering excellent support with every step. I've taken these boots up and over the Himalayan Mountains on the Annapurna Circuit and through countless miles of hiking in the PNW, and they've held up fantastically and are ready for the next adventure.
The Oboz B-Dry waterproof membrane also performs phenomenally for keeping water out, allowing you to tackle almost any type of terrain in any weather. Puddles, stream crossings, mud, and snow are all shed easily, and I never once had to worry about wet feet during 25 straight days of hiking in the mountains. The support is also top-of-the-line, with good arch and ankle support to keep you confidently adventuring.
What Could Be Better
While leather boots are absolutely perfect for high-level support and durability, they tend to pay for those benefits with a slightly stiffer design. While the Bridgers certainly don't feel like immobile mountaineering boots, they are definitely a little more rigid than other hiking boots on the market. Again, this stiffness is fantastic for overall support, but it can make hiking over difficult/technical terrain a little more cumbersome.
Along this line, the Bridger boots are on the heavy side of the spectrum. Granted, Oboz has done a great job trimming weight here and there with different iterations. But at over 1 lb per boot, these aren't lightweight options by any means and may not be suited for hikers who want to move light and fast.
Upshot
The Oboz Bridger Premium is one of the best hiking boots for backpacking on the market in terms of durability and support. They'll last you season after season and are a fantastic investment for folks who know that they'll be covering a lot of miles and want a reliable boot to support them every step of the way. Keep in mind that the stiffer design may not flow and flex as much as other options, but you can't go wrong if you're looking for a burly boot that can stand up to anything the trail has to offer.
View ON REI.COM
View ON BACKCOUNTRY.COM
---
Salomon X Ultra 4 GTX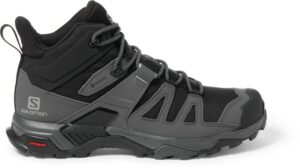 Specifications
Weight (Pair):

Men's: 1 lb 14.4 oz
Women's: 1 lb 11.2 oz

Waterproof: Yes – Goretex
Support: Ortholite insole and EVA midsole
Price: $175.00
Gender:
Notable Features
Lightweight design
Very flexible for natural foot movement while hiking
Distinctive and effective ContaGrip lug design for traction
What We Like
One of the few hiking boots on this list to sneak in below 2 lbs for both men's and women's versions, the Salomon X Ultra 4 is a wonderfully light and flexible option that is perfect for hikers looking to get away from the constriction of traditional boots. You'll also inherit Salomon's excellent build quality, resulting in a reasonably durable construction for such a lightweight boot. Salomon also introduced a new chassis along with their Active Support system to increase lateral stability and help these boots move naturally with your feet.
The waterproof GoreTex lining is also extremely effective, ensuring you have a solid barrier between your feet and the elements at all times. This waterproofing works in tandem with Salomon's distinctive ContaGrip lug pattern – for improved traction – to make this boot stand up to wet and slippery trail conditions.
What Could Be Better
The extra lightweight design sacrifices some cushioning and support. This boot is, therefore, not quite as supportive as the heavier competition. You'll feel the reduced cushioning while tackling technical or rocky terrain, and you'll also notice that the Ultra 4 doesn't provide the same level of rigid ankle support as other options. Instead, these boots place a higher emphasis on moving light and fast.
Upshot
Overall, this is a solidly performing item best suited for hikers looking for a lightweight and flexible boot. The effective waterproofing and excellent traction also make the Ultra 4 an ideal option for questionable weather. Just keep in mind that reduced padding and support make this option more akin to a beefed-up trail running shoe and don't offer the same amount of protection as burlier boots.
View ON BACKCOUNTRY.COM
View ON REI.COM
---
La Sportiva Nucleo II GTX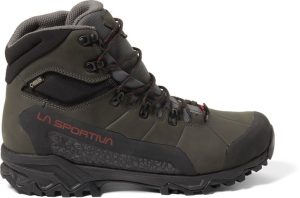 Specifications
Weight (Pair):

Men's: 2 lbs 1 oz
Women's: 1 lb 6 oz

Waterproof: Yes – GoreTex
Support: Compression-molded EVA with 2.5 mm polypropylene stiffener
Price: $239.00
Gender:
Notable Features
Effective waterproofing technology
Exceptionally durable and long-lasting design
Brand new wide-sizing options for improved comfort
Reasonably lightweight for a leather boot
What We Like
We included the original Nucleo GTX on our list of the best hiking boots for backpacking last year with the one caveat that they tended to have a very narrow fit. Enter the Nucleo II GTX, which includes several upgrades with wide-sizing being one of the most notable – and sought-after.
Apart from the fantastic benefit of wide-sizing, the Nucleo II continues to polish La Sportiva's perfect balance between durability and flexibility. These boots are reasonably light for a leather boot, creating a quick and nimble feeling while a very tough nubuck shell still protects your foot. At the same time, the Nucleo II's Vibram outsole provides superior traction that makes the boot a favorite for scrambling and technical terrain.
What Could Be Better
The heavy reliance on leather – while excellent for durability – limits the Nucleo's breathability. This lack of airflow can make the boots run a little warm on toasty days or long hikes. La Sportiva has tried to tackle this problem with its Nano-Cell technology to encourage airflow, which is certainly an improvement, but these boots can still get quite warm. So if you know that your feet tend to run hot while hiking, we recommend considering more mesh-heavy designs for improved breathability.
Upshot
The La Sportiva Nucleo II is a solidly performing hiking boot in almost every regard. It's burly and durable but not too heavy. It's flexible and comfortable but also very supportive. With the addition of wide sizing options, this is easily one of the best hiking boots for backpacking over technical terrain where nimble and high-traction footwear is key.
View ON REI.COM
HOKA Anacapa Mid GTX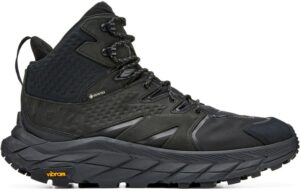 Specifications
Weight (Pair):

Men's: 2 lbs
Women's: 1 lb 12 oz

Waterproof: Yes – Goretex
Support: Lightweight EVA midsole and Plush PU Liner
Price: $185.00
Gender:
Notable Features
Extremely comfortable
Tons of cushioning and a rockered shape for a smooth ride
Light and responsive feel on the trail
What We Like
We included the Anacapa Trailrunner in our best low top hiking shoes roundup, so it's no surprise that its big brother earned a space among the best hiking boots for backpacking. These boots include everything that HOKA has become famous for – including a ridiculously comfortable and extra thick EVA midsole along with a cozy molded polyurethane liner. HOKA stayed true to the Anacapa's trail-running origins by keeping this boot feeling light and responsive on any type of terrain. But despite its responsive qualities, the Anacapa Mid includes a robust pairing of nubuck leather and GORETEX for a burly upper that will keep the elements out.
What Could Be Better
First off, most HOKA products have a very distinctive look, and the Anacapa Mid is no exception. The extra thick midsole certainly makes the Anacapa stand out, and some hikers may not find this feature aesthetically pleasing. Additionally, the extra thick design and rockered shape may take some getting used to for first-time HOKA users.
Upshot
The Hoka Anacapa Mid GTX is undoubtedly one of the best hiking boots for backpacking folks who want to move fast and light. A nimble and flexible design bellows "trail runner" while decent ankle support paired with a Goretex lining bumps the Anacapa up to a full-on hiking boot. Be aware that the light design sacrifices overall durability, but cloud-like cushioning and excellent movement more than make up for this drawback.
View ON REI.COM
View ON BACKCOUNTRY.COM
---
Salomon Quest 4 GORE-TEX Hiking Boots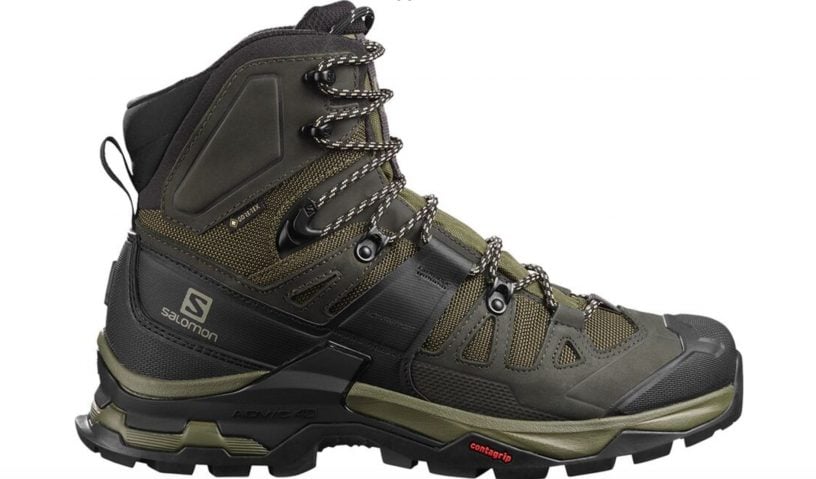 Specifications
Weight (Pair):

Men's: 2 lbs 14.4 oz
Women's: 2 lbs 6.4 oz

Waterproof: Yes – GoreTex
Support: EVA midsole and ADV-C 4D chassis
Price: $229.95
Gender:
Notable Features
Tough, durable design
Effective waterproofing technology
Excellent cushioning and lacing system
What We Like
In terms of rugged durability, the Salomon Quest 4 GTX is at the top of the pack. The leather and nylon upper are specially designed to hold up to the rough and rocky terrain found in alpine hiking. Furthermore, the ContaGrip rubber sole will stand its ground against constant hiking while also providing excellent purchase on rocky terrain.
This boot features incredible support. The insole perfectly cradles and supports your foot, providing the perfect walking platform for long days on the trail. A very effective lacing system also emphasizes the boot's overall comfort and support, making it ideal for extended backpacking trips.
What Could Be Better
Like almost all fully waterproof boots, you'll find the breathability in the Quest 4 GTX to be less than non-waterproof options. Therefore, the boot can feel a little warm in toasty environments. The higher price of this boot is also a potential downside. But if bombproof durability and reliable support are your top priorities, then Quest 4 GTX may well be worth the investment.
Upshot
For the backpackers out there looking for superior support from the ankle to the footbed, you can't go wrong with the Salomon Quest 4 GTX. It's supportive yet comfortable, providing constant support for every step of your adventure. While perhaps over the top for regular day hiking, this boot shines in the backcountry on multi-day trips, making it one of the best hiking boots for backpacking on the market.
Lowa Renegade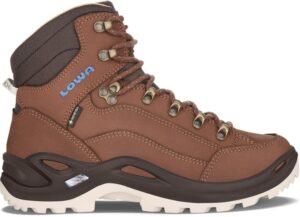 Specifications
Weight (Pair):

Men's: 2 lbs 7 oz
Women's: 2 lbs 2 oz

Waterproof: Yes – GoreTex
Support: Nylon Shank and External PU Frame,
Price: $255.00
Gender:
Notable Features
Exceptionally comfortable for day-after-day hiking
Great support, thanks to external frame
Reasonably lightweight design
What We Like
For adventurers looking for just the right balance of weight, durability, and support, look no further than the Lowa Renegade. These boots deploy a unique PU (polyurethane) frame in tandem with a nylon shank to keep your foot supported and centered no matter the terrain. This unique support system allowed Lowa to trim some weight from the midsole to prevent the Renegades from feeling clunky.
Meanwhile, the plushy padded tongue does an excellent job relieving pressure from the laces – an excellent feature for hikers with sensitive shins or feet. And lastly, the GoreTex and Nubuck upper provide and robust and durable barrier against the elements. In fact, my wife took these boots up and over the Himalayas on a 25-day hiking trip that included everything from dust to mud to snow, and in her own words, "best hiking boots I've ever owned."
What Could Be Better
As the Lowa Renegades strike a careful balance between many different categories, they don't blow away the competition in any single area. They're not as padded as other options or quite as durable as heavier boots on the market. The Renegades are also not the lightest boot on the market at 2 pounds 7 ounces for a men's pair. Their strength lies in a careful balance between all these categories, but this balancing act comes at a price, and the Lowa Renegades are among the most expensive hiking boots on our list.
Upshot
For the backpackers out there looking for comfort without too much weight, durability without bulk, and support without a constrictive fit, the Lowa Renegades are for you. These boots come with a hefty price tag, but finding just the right balance of features and comfort may make the Renegades worth the investment in your hiking comfort.
La Sportiva Ultra Raptor II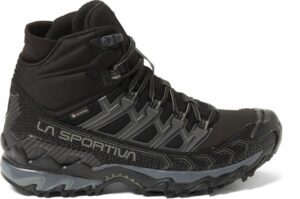 Specifications
Weight (Pair):

Men's: 2 lbs 1 oz
Women's: 1 lb 7 oz

Waterproof: Yes – GoreTex
Support: TPU Shank
Price: $209.00
Gender:
Notable Features
Very lightweight and responsive
Flexible trail-runner design
Good durability
What We Like
Trail runners have become a common sight on backpacking trails thanks to their extreme comfort and flexibility. But there are still some conditions where a low-top runner just won't cut it, enter the Ultra Raptor II from La Sportiva. The design is quite simply one of La Sportiva's most popular trail runners extended upward to include an over-the-ankle closure and GoreTex lining. The result is an incredibly nimble and lightweight boot that features excellent flexibility and comfort over a multitude of trail conditions.
These boots won't hold you back no matter where your adventures take you, and the GoreTex lining and snug closure do an excellent job keeping water and debris at bay. Therefore, when trail-blazing or technical terrain is in the offing, the La Sportiva Ultra Raptors will keep up with you.
What Could Be Better
La Sportiva has a notoriously narrow fit, so certainly attempt to try on these boots if possible before ordering – and opt for the wide version if you're unsure. Additionally, the Ultra Raptor won't offer as much robust foot and ankle support as a purebred hiking boot. Instead, the Raptors focus on moving light and fast, and the support and cushioning reflect this priority.
Upshot
Hikers looking to upgrade from a standard trail runner to something a little more robust for the trail without losing flexibility and comfort will love the Ultra Raptor from La Sportiva. The very light and nimble design combined with a technical outsole designed for grip over rough terrain make the Ultra Raptors some of the best hiking boots for backpacking when you want to move fast.
---
Why Trust Us?
Choosing the right outdoor gear and apparel can be difficult. But at Wildland Trekking, we live and work with hiking gear every single day. It's an integral part of what we do, and we understand better than anyone how important it is to have the right equipment. In addition to our vast knowledge of backpacking gear, we also offer:
Independence – our recommendations are not influenced by partnerships or sponsorships with outdoor gear and apparel manufacturers.
Experience – as one of America's top guide companies, we take 8,000-10,000 people on hiking and backpacking tours annually. Since our inception in 2005, we have guided more than 75,000 people into the wilderness.
Cutting Edge Knowledge – we regularly attend trade shows and pay close attention to the leading edge of new developments.
Up To Date Recommendations – we update our recommendations regularly as new products are developed and released.
Dedication to our Readers – we know that the gear we select as our top picks will end up in the field with our readers, and we take that responsibility very seriously. We view our readers as guests on our guided trips, just without the guides. We are committed to helping you be as well-outfitted and prepared as possible for your adventures.
*Disclosure: Some of the links above are affiliate links. At no cost to you, we earn a commission on any products purchased through these links. Any proceeds go to supporting our blog and operations. These affiliate links do not influence the products that we include in our gear round-ups. We only recommend products that we 100% support and that we have used in the field. 
---
More Gear Recommendations
Check out our Wildland Gear Guide for more recommendations about hiking, trekking, camping and outdoor gear. We are always adding new products to help our guests and readers make the best choices to outfit their adventures.
---
Putting your Boots to the Test
There you go hikers! You now have all the information you need to pick out a phenomenal pair of backpacking boots for your next adventure. Remember to consider our points concerning waterproofing, materials, support, weight, and budget, and you're sure to land on the perfect pair of boots for your needs.
Ready to put a new pair of backpacking boots into action? Consider joining us on one of our many hiking vacations, around the USA and the world. We guarantee plenty of opportunities to use those new boots along with unforgettable views and experiences that will work in tandem to create an epic hiking adventure.
Have fun and stay safe, eh?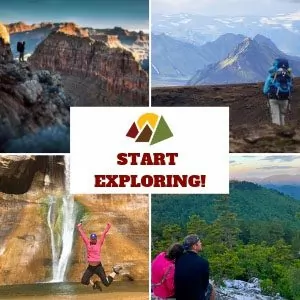 As the world's premier hiking and trekking company, Wildland believes in connecting people to fantastic environments in amazing ways. We offer an array of incredible hiking and trekking experiences both in the United States and internationally. Our trip types include backpacking, lodge-based, and camping-based adventures to ensure that you'll always find an adventure perfectly suited to your traveling style.
To learn more about our guided backpacking trips and all of our award-winning hiking vacations, please visit our website or connect with one of our Adventure Consultants: 800-715-HIKE