Best Backpacking Tents
Learn about our top picks for backpacking tents - 3 season, winter, budget, ultralight and more!
Many backpackers take tremendous pride in their tents, and justifiably so. Your tent is much more than its raw ingredients of nylon and aluminum; it's more than a piece of outdoor gear; it's more than a shelter even. It's your home in the wilderness. Your tent turns a tiny piece of land in the middle of the big wild into a comfy, familiar bit of temporary real estate. It protects you from the elements. It provides a safe place for you to relax into the vulnerability of sleep. While its walls aren't much wider than a piece of paper, they are often all that separates you from a very wet, miserable night.
Bottom line is that you want to choose the right tent for your backpacking trips. Read on to learn more about this year's top tents and which ones are the winners of our different categories!
QUICK LIST OF RECOMMENDATIONS
KEY CONSIDERATIONS
WEIGHT
Weight is for many people unsurprisingly the biggest consideration when selecting a backpacking tent. Your tent will likely be one of the heaviest items, if not the heaviest item, in your pack. In the guiding industry we view pack weight as a risk management factor – the heavier a pack is, the higher the chances a guest or guide may get hurt. You can also cover more miles with greater comfort if your total backpack weight is on the lighter side. However, lighter tents have a downside in that they may be less durable and have fewer features such as two entrances or a larger vestibule.
PACKED SIZE
The packed size of your tent (total size when inside your pack) is another key consideration since you have a limited amount of space for everything you're going to need. Similar to weight, tents with more durability and more features will also likely have more bulk. Bulk is measured by Length x Width x Height.
SPACIOUSNESS
Spaciousness refers to the amount of space in your tent when it is pitched. It also includes the amount of space in your vestibule. You will want enough space to comfortably accommodate you and any other group members who will be sharing it with you, along with gear you'd like to keep out of the elements. However, you must balance spaciousness with weight and bulk, as the more space you have the heavier and bulkier your tent will likely be.
COST
It's worth paying more for a high quality backpacking tent, but we also recognize price is a consideration with all outdoor gear purchases. We have provided information below about a variety of tents with different prices. Weighing the price against all other factors is crucial to identify the right backpacking tent for your upcoming adventures.
DOORS AND VESTIBULES
How the entrance/exit to the tent is designed is important. Some tents have two entrances and vestibules, which can be nice so each person has their own. If your tent has just one entrance, can people get out without climbing over each other? More/bigger doors and vestibules will add weight, so going with a single/small entrance is the right choice if your top priority is a lightweight tent. We have provided options for single-entrance tents and two-entrance tents below with a variety of vestibule designs.
SELECTING THE RIGHT SIZE
For backpacking tents, the largest we include in this gear guide is a 4-person tent. Most people go with 1-person, 2-person or 3-person tents as most of the time backpacking trips are small group adventures. If you plan to sleep two people in your tent, you may want to upgrade to a 3-person tent for a bit of extra room. Going with the number of  people a tent is rated for can be a very tight fit for that number of average sized adults.
3-SEASON OR 4-SEASON
3-season tents (spring, summer, fall) are the most common and have plenty of netting so ventilation will reduce condensation on the inside of the tent walls. 4-season tents are designed for winter use as well so have less ventilation and can safely handle snow storms. We are providing information for 3-season and 4-season tents in this gear guide. Most people will select 3-season tents for summer backpacking trips, but for the people interested in winter trips, we have those recommendations as well.
Big Agnes Tiger UL 3 Solution Dye
#1 Overall tent for balance of weight, Ease of Use and durability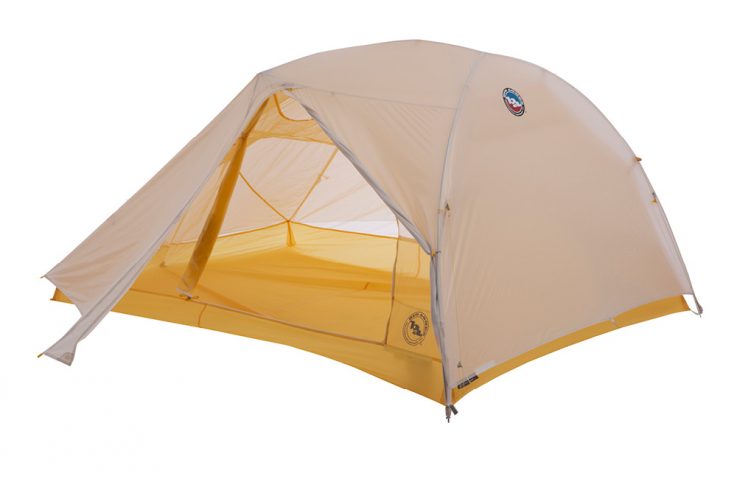 MSRP: $469.95
SEASONS: 3 Season
CAPACITY: 3 People (also comes in 1p and 2p)
DIMENSIONS (L x W x H): 88 x 66 x 42 inches
PACKED WEIGHT: 2lb 11oz
PACKED SIZE: 19 x 5.5 inches
PROS: Lightweight, durable, seasonal versatility, spacious interior (for 2), double entrance, two vestibules, efficient set-up, large/useful pockets, semi-freestanding
CONS: Higher price, not fully freestanding, no windows
STRAIGHT TALK: Big Agnes's Tiger Wall tent brilliantly combines ultralight technology with durability, ease of use and environmentally friendly manufacturing. We recommend the 3p tent for 2 people. Its double entrance and semi-freestanding design make for a convenient and comfortable camping experience. Downsides to this tent are its price, lack of windows, and zippers that could be beefier.
REI Co-op Half Dome SL 2+ Tent with Footprint
#2 Overall tent for balance of weight, Ease of Use, durability and PRICE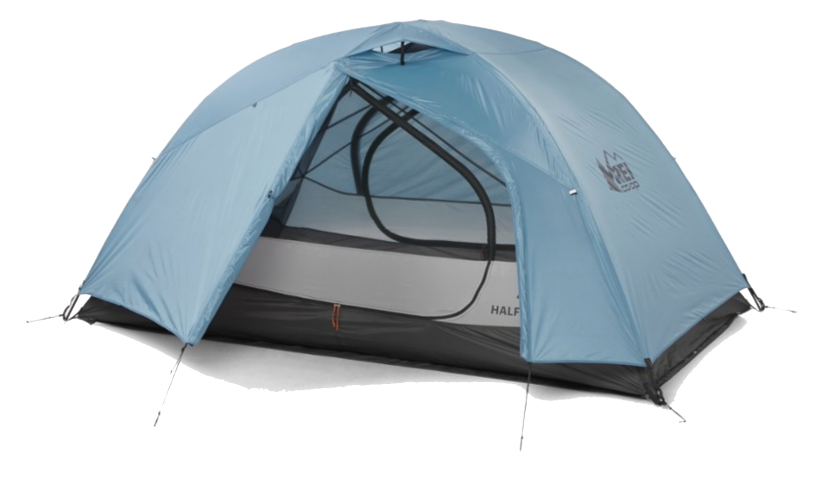 MSRP: $279.00
SEASONS: 3 season
CAPACITY: 2 people
DIMENSIONS (L x W x H): 92 x 56 x 42 inches
PACKED WEIGHT: 4lb 13.5oz
PACKED SIZE: 7 x 20.5 inches
PROS: Economical, durable, spacious interior (for 2 people), spacious vestibule, efficient set-up, large/useful pockets, double entrance, freestanding, heavy duty materials, double entrance, increased venting
CONS: Heavier weight (when compared to ultralight tents), no windows
STRAIGHT TALK: REI's Half Dome SL 2+ backpacking tent is a well-designed shelter with plenty of space for 2 people. It's not ultralight, but it's still firmly on the lighter side of available options. It's very easy to set up and take down. It has convenient pockets, a double entrance and durable materials. If you want a high quality, 3-season tent and you value savings over a pound and a half of weight when compared to a similar ultralight option, this tent is a great choice.
Marmot Limelight 2P Tent with Footprint
Sturdiest 3-season Backpacking Tent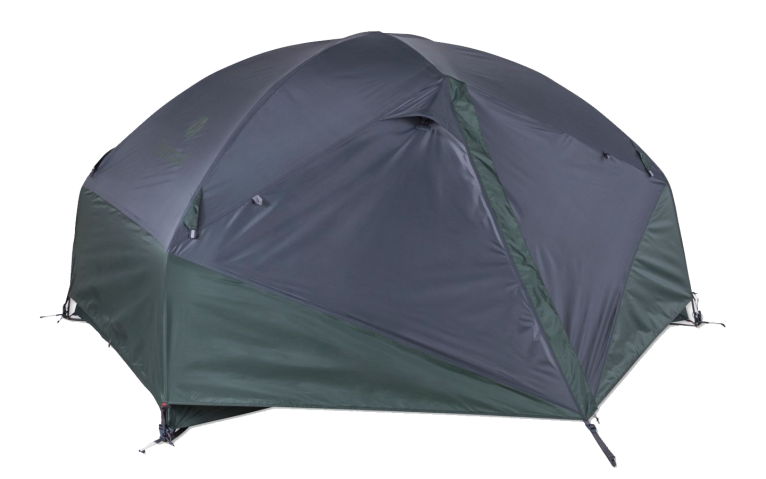 MSRP: $269.00
SEASONS: 3 season
CAPACITY: 2 people (also available in 3p)
DIMENSIONS (L x W x H): 88 x 54 x 43 inches
PACKED WEIGHT: 5lb 10oz
PACKED SIZE: 20.5 x 7.5 inches
PROS: Durable, spacious interior, spacious vestibule, efficient set-up, large/useful pockets, double entrance, freestanding, heavy duty materials, viewing windows,
CONS: Heavier weight
STRAIGHT TALK: Marmot's Limelight backpacking tent is an extremely reliable, very sturdy tent. It is on the heavier side for a 3-season tent, but the trade-off is in its durability and sturdiness. With double entrances, large vestibules, good venting, convenient pockets, and decent roominess, it offers a great backcountry camping experience. For two men, or two people interested in having plenty of room, we recommend purchasing the 3-person tent (6lb. 11oz.)
NEMO Kunai 2 Tent
Best all-year (3 or 4 season) backpacking tent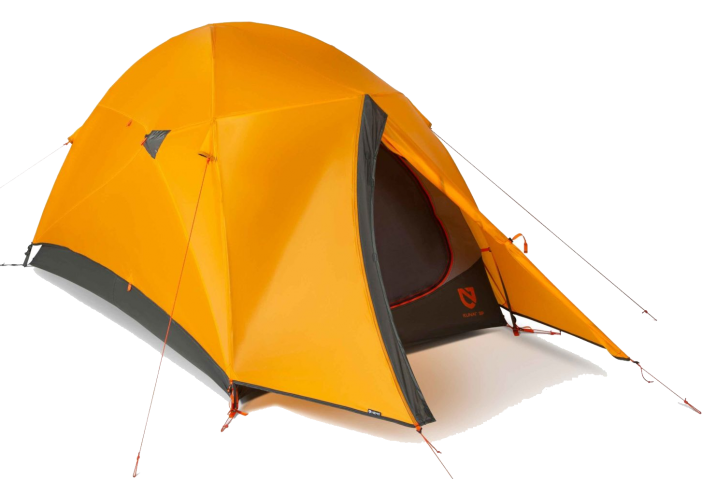 MSRP: $499.95
SEASONS: 3 or 4 season
CAPACITY: 2 people
DIMENSIONS (L x W x H): 82 x 50 x 44 inches
PACKED WEIGHT: 4lb 5oz
PACKED SIZE: 19.5 x 6.5 inches
PROS: Lightweight, durable, seasonal versatility, efficient set-up, freestanding, heavy duty materials
CONS: Higher price, lack of interior space, small vestibule, single entrance, no windows
STRAIGHT TALK: If you're looking for a seasonally versatile tent (i.e. 3-season and 4-season), this one is a great option. It's extremely light for how durable and dependable it is, and it makes up for this advantage with a higher price, single entrance, and smaller profile. For two small people, or one large and one small, this tent will work well. But it will be very tight for two larger people. If you value versatility and light weight over price and space, this is highly recommended.
Black Diamond Firstlight 3P Tent
Best 4-season and mountaineering tent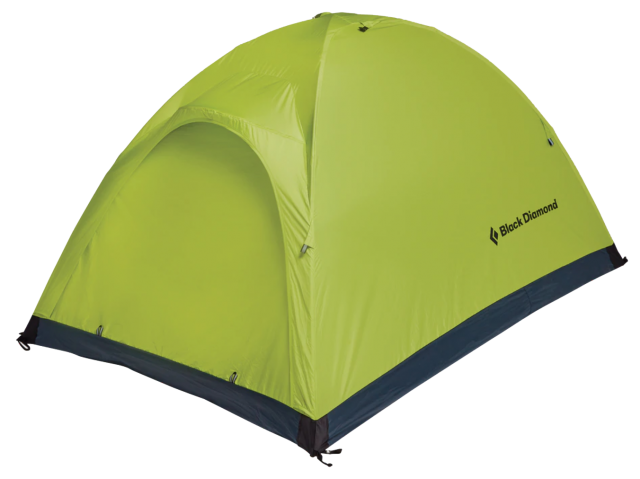 MSRP: $399.95
SEASONS: 4 season
CAPACITY: 2 people (officially 3p but 2 is more realistic)
DIMENSIONS (L x W x H): 82 x 58 x 44 inches
PACKED WEIGHT: 4lb 1oz
PACKED SIZE: 7 x 9 inches
PROS: Lightweight, economical (for a 4-season tent), durable, spacious interior (for 2), spacious vestibule (add-on), efficient set-up, large/useful pockets, freestanding
CONS: Season specific, single wall (greater condensation), single entrance
STRAIGHT TALK: Black Diamond's Firstlight 3-person, 4-season tent is spacious for 2 people, incredibly light and packable for the level of protection it provides, and is quite affordable when compared to other 4-season and mountaineering tents. It is also freestanding and easy to set up. The major downside (also its #1 strength) is its single-wall design, which will lead to greater amounts of condensation build-up. In the winter, plan on the internal walls becoming fully frosted over and if you brush against them, being graced with a shower of sparkly snowflakes on your sleeping bag. The bottom line is we chose this as our top backpacking tent for the winter because of its weight. Winter backpacking and mountaineering is already a weight-intensive endeavor with extra clothing, a heavier sleeping bag, extra calories, extra fuel (for melting snow) and possibly ski, snowshoe or climbing equipment adding up to unseemly amounts of stuff. So why also add a heavy tent onto that list if you don't have to? The Firstlight gives you the ability to keep your weight as low as possible (in the tent department at least) while also providing excellent protection.
REI Co-Op Passage 2
Best budget backpacking tent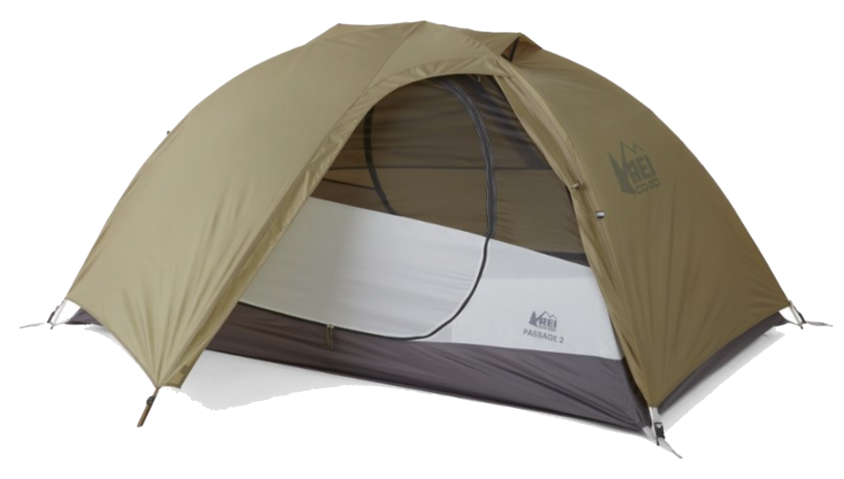 MSRP: $159
SEASONS: 3 season
CAPACITY: 2 people (also available in 1p and 3p)
DIMENSIONS (L x W x H): 88 x 52 x 40 inches
PACKED WEIGHT: 5lb 10oz
PACKED SIZE: 18 x 8 inches
PROS: Economical, spacious vestibule, efficient set-up, large/useful pockets, freestanding, double entrance
CONS: Heavier weight, lack of interior space, lack of long-term durability, no windows
STRAIGHT TALK: REI's Passage 2 backpacking tent is a fantastic budget choice, or for people just getting into camping or backpacking. Don't expect a lot of frills, but also don't expect to pay even 50% of what other tents listed on this page cost. It is free-standing, has two entrances, and is easy to set up. It's not very roomy for two people, so you may want to upgrade to the Passage 3 for two medium to large adults. Overall great value for the money, but many people will upgrade before too long, so it might be better to go lighter and better right off the bat.
Hyperlite ULTAMID 2 with Full Insert
Best Ultralight backpacking tent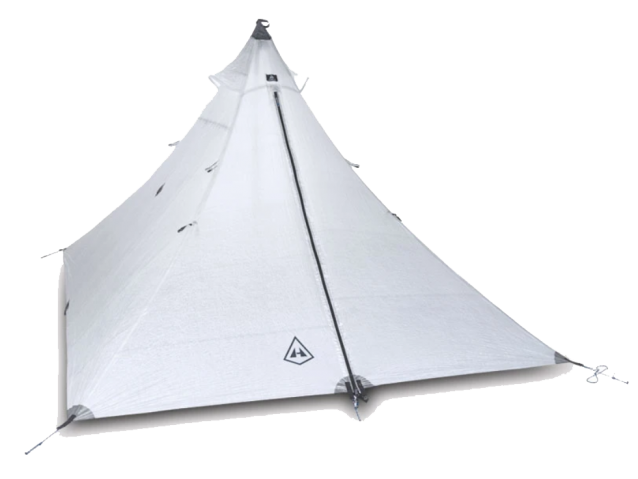 MSRP: $1140
SEASONS: 3 season
CAPACITY: 2 people (also available in 1p and 4p)
DIMENSIONS (L x W x H): 76 x 96 x 64 inches
PACKED WEIGHT: 2lb 9oz
PACKED SIZE: 8.5 x 6 inches
PROS: Shockingly light, high ceiling
CONS: Expensive, difficult to set up at first, not free standing
STRAIGHT TALK: Hyperlite Mountain Gear's Ulta Mid 2 with Full Insert is for the true ultralight enthusiast. Although not much lighter than some of Big Agnes's much less expensive lightweight options, what you'll find with this tent is a little bit of weight shaved off and some truly innovative design features and materials. This tent, for its incredibly low weight, is also surprisingly durable.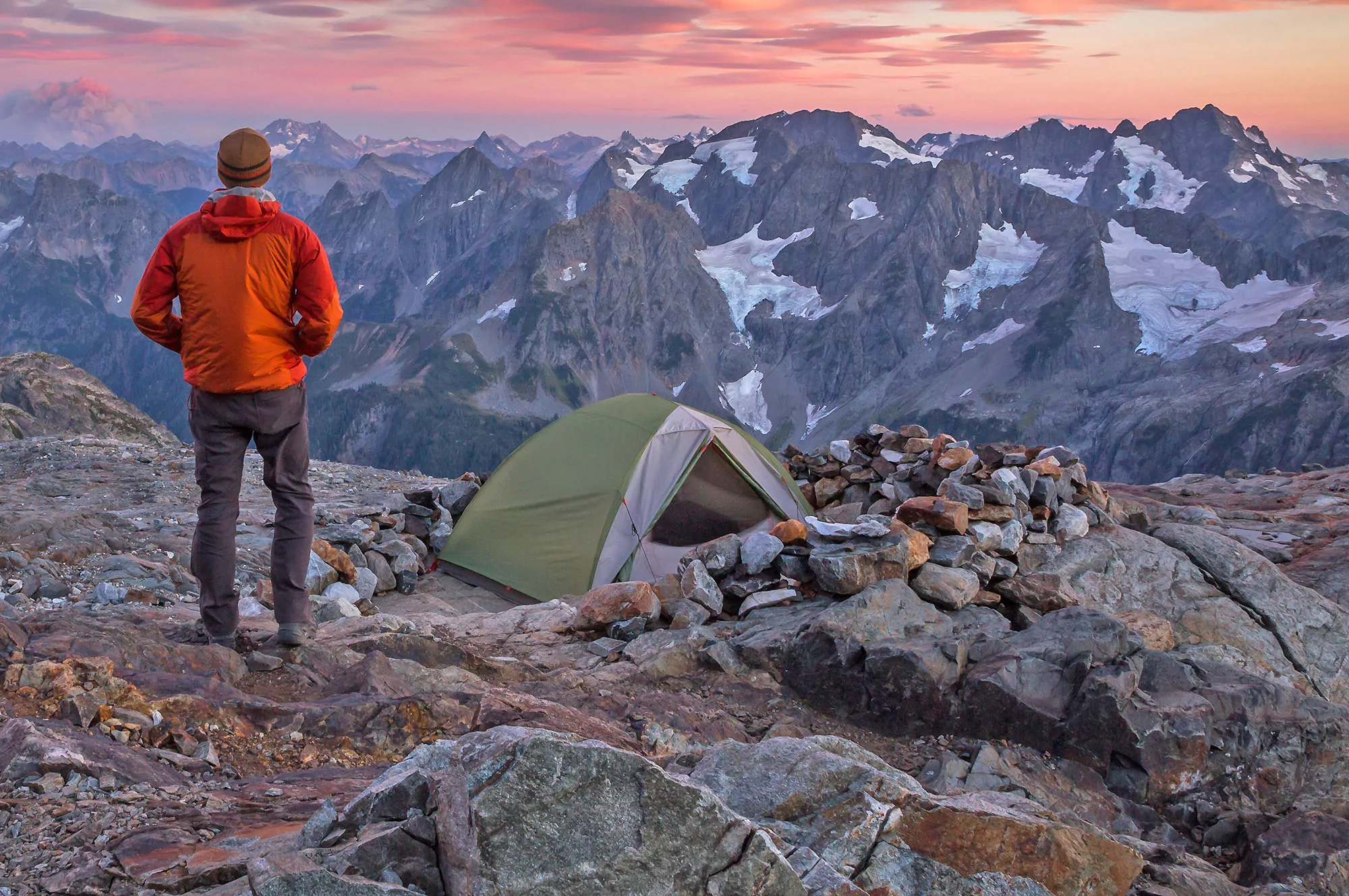 More Information About Backpacking Tents
PACKED WEIGHT VS. MINIMUM TRAIL WEIGHT
While looking for a backpacking tent, you'll observe different categories of weight, which can become confusing. Regrettably, there is not a mandatory or even accepted standard for determining tent weights across the outdoor retail industry, but let's dive in and figure out exactly what the different numbers mean so you can decide which is your top backpacking tent choice.
Packed weight – Officially called the "Packaged Weight", this number denotes the total weight of all components of the tent in addition to all accessories that come "out of the box" when it's purchased. We changed this term in our Gear Guide to be "Packed Weight" because it is the most accurate spec to estimate what your tent will weight when it's packed in your backpack.

Minimum trail weight – This spec is the most variable because – again – there is no standard for how to measure the weight of a tent. Manufacturers calculate Minimum Trail Weight differently. For the most part, this calculation includes only what's needed to keep you dry. It always includes the tent body, the rain fly and the poles. Often this is all it includes. Tent stakes, guy lines, footprint…etc. are normally not included.
Durability vs. lightweight
In determining your personal list of top backpacking tents, the question of weight vs. durability will inevitably become a major consideration. Pack weight is one of the most important factors in terms of both safety (i.e. avoiding injury) and enjoying your backpacking trips, and to achieve the incredibly light weights of many modern backpacking trips, the manufacturers use less material, thinner materials, and less durable materials. However, backpacking tents are not cheap, and it's important to get years of use out of the tent of your choice. Deciding how important weight is compared to durability is a key step in choosing the right tent. You can go far to either end, or multiple places in the middle, so take your time, read through the specs and choose wisely!
What is a footprint and is it necessary?
A footprint is a lightweight tarp (similar fabric to the rainfly) of the exact size as the floor of your tent. Footprints help protect the floor, extending the life of your tent. All of the backpacking tents we recommend either come with footprints or have matching footprints available to purchase.
Footprints are not necessary, and in fact many backpackers do not use them. On most Wildland Trekking backpacking trips we do not use them. Similar to the weight vs. durability question above, footprints offer greater durability but at the cost of increased weight and expense.
Why Trust Us?
Choosing the right outdoor gear and apparel can be difficult. At Wildland Trekking, we live and work with gear on a day to day basis. It's an integral part of what we do, and we understand better than anyone how important it is to have the right equipment. Some of the reasons to trust us include:
Independence – our recommendations are not influenced by partnerships or sponsorships with outdoor gear and apparel manufacturers.
Experience – as one of America's top guide companies, we take 8,000-10,000 people on hiking and backpacking tours annually. Since our inception in 2005, we have guided more than 75,000 people into the wilderness.
Cutting Edge Knowledge – we regularly attend trade shows and are always paying close attention to the leading edge of new developments.
Up To Date Recommendations – we update our recommendations regularly as new products are developed and released.
Dedication to our Readers – we know that the gear we select as our top picks will end up in the field with our readers, and we take that responsibility very seriously. We view our readers as guests on our guided trips, just without the guides. We are committed to helping you be as well-outfitted and prepared as possible for your adventures.
*Disclosure: Some of the links above are affiliate links. At no cost to you, we earn a commission on any products purchased through these links. Any proceeds go to supporting our blog and operations. These affiliate links do not influence the products that we include in our gear round-ups. We only recommend products that we 100% support and that we have used in the field. 
MORE GEAR RECOMMENDATIONS
Check out our Wildland Gear Guide for more recommendations about hiking, trekking, camping and outdoor gear. We are always adding new products to help our guests and readers make the best choices to outfit their adventures.