Mission, Vision & Business Philosophy
Read about what drives our commitment at Wildland Trekking.
OUR MISSION
To be a global leader in the adventure travel industry by providing exceptional hiking adventures, in a responsibly sustainable way, which promotes the conservation of both natural and human communities.
OUR VISION
Healthy people. Healthy planet.
Total Donated to Conservation
$358,114
(Updated 3/14/2023. Includes direct financial contributions, fundraising proceeds, and trip and merchandise donations to non-profit fundraisers.)
4 PART BUSINESS PHILOSOPHY
In pursuit of this mission and vision we strive to follow a business philosophy that guides our day-to-day operations. This philosophy is broken down into four generalized areas that inform our company culture and decision making.
1. To Always Find Purpose in our work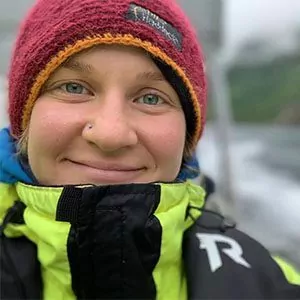 Purpose comes from a passion and belief that providing hiking and backpacking tours into majestic landscapes is meaningful. For the guides, leading these trips as a profession is often a dream come true. It would be difficult to find more inspiring "workplaces" than the backcountry of the Grand Canyon, the Peruvian Andes, the Greater Yellowstone Region, Utah's Canyon Country, Patagonia, Calfornia's Sierra Nevada Range, the Great Smoky Mountains or the Colorado Rockies to name a few. Many of our guides spend 150+ nights in the backcountry annually, and they wouldn't have it any other way!
For those of us in managerial and administrative roles, we're proud to be part of a business built on win-win relationships where, literally, everyone involved is enriched in some way. Whether it's a guest or guide out on the trail, a local hotel owner, an employee of one of the parks where we operate, or one of our non-profit partners, our goal is that everyone involved is positively impacted by the trips we operate.
2. TO PROVIDE IMPECCABLE CUSTOMER SERVICE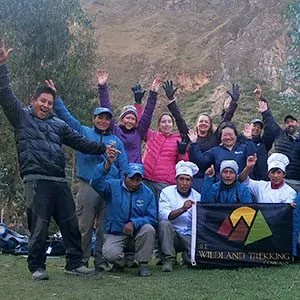 Customer service is a commitment to management style and professionalism. It's a cornerstone of any well-run business and an essential part of providing a quality experience for our guests. Our focus is to provide exceptional service from the first phone call or email, during the registration process and throughout your trip.
We have an amazing team of adventure consultants who are ready any day of the week to help you plan your adventure! We also have a 24-hour on call line for guides and guests who need immediate assistance. Your guide will take over approximately 10 days (45 days on global trips) before your trip. Wildland guides are proven professionals who love the outdoors and are equally passionate about sharing that love with our guests to provide unforgettable experiences.
3. TO ENRICH PEOPLE'S LIVES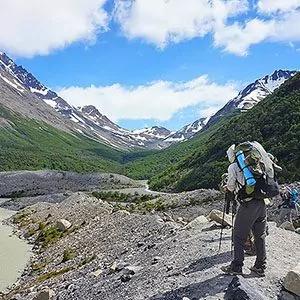 Enrichment of our guests' lives comes from the services we provide – from the form, rhythm, and renewing qualities of the beautiful and wild places in which we work. Simply "being out" awakens a part of many of us that's gone dormant from living around artificial lights, the noise of civilization, the demands of daily life, and a lack of wide open spaces. Our commitment is to run Unforgettable Hiking Vacations, and those are important words to us. Our goal is that the trip you do with us sticks with you for years to come, and every time you think back on it you feel a sense of fulfillment, inspiration and accomplishment. And even more importantly, we hope your trip sparks in you a desire to keep getting out whether it's on more of our trips or on your own.
4. USE OUR BUSINESS AS A TOOL FOR CONSERVATION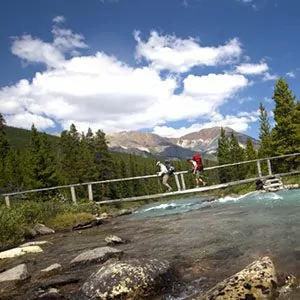 Unlike the first three areas, the fourth, that of conservation, is a bit more complex. This complexity relates to diverse societal values toward the land, onerous and contradictory land management policies, and complicated legal and political barriers to reform.
Societal values toward the land are diverse, but for many people there is no identity with nature, no intimate, direct experience with place. For these souls there is generally no realization that a connection with nature can help them to better realize their potential as humans, or that modern civilization is mounting an unprecedented assault on the natural world. In these cases exposure to the natural world can help to create an emotional identification with the land that can motivate day-to-day action on behalf of the places we love.
Emotional identification with the land is often a first step toward conservation, but it's not enough to simply love a place; effective environmental reform also requires scientific, legal, and political know-how. For example, resource management is often guided by science, but also by administrations with varying agendas. Because of this it is imperative that citizen activists and non-governmental organizations hold government and businesses accountable for their actions. We must, as stewards of our children's and grandchildren's planet, be willing to jump in and "fight the good fight" to protect what's left of the Earth's natural resources and wild places. It is our dream that these special places will be preserved and cherished by many generations to come!