Best Rain Jackets
Learn about our top picks for rain gear for your next hiking or backpacking adventure!
Having the right outer layer (also referred to as "rain gear," "shells," or "hard shells") is arguably one of the most important pieces of clothing for safe and enjoyable hiking and backpacking adventures. Below we provide our recommendations for the best rain jackets on the market today. We've evaluated these jackets based on their weight, bulk, waterproofing, breathability, and extra features. Because weight is critical for backcountry hiking trips, we've skipped over heavier options such as winter jackets or ski jackets and focused 100% on lightweight, waterproof, breathable shells. So let's dive in with important buying considerations and then review our top recommendations for the best rain jackets for hiking!
KEY CONSIDERATIONS
Weight
Weight is a critically important factor for all clothing and gear on hiking and backpacking trips. None of our recommendations are heavy by any means, but there is still a range of options to consider.
If you're aiming to find the most lightweight rain jacket, keep in mind that durability and performance often trend downward with lower weights while the price often goes up. However, heavier rain jackets often take up more space in your pack and feel bulkier when wearing them on the trail. Therefore, consider your priorities between weight, price, durability, and performance to pick out the best rain jacket for you.
Packability
Backpacks don't expand, at least not very much. This fact is what makes packability such a crucial consideration for all hikers. Whether your hike is for a day, a week, a month, or several months, you need your gear to fit into a backpack with an ever-changing load of other supplies.
When you need it, your rain gear is important – we're talking "life and death" important. But the rest of the time, it's probably not something you want to be wearing or have occupying an exorbitant amount of space in your pack. Therefore, the best rain jackets will perform phenomenally when needed and be easy to pack up when they're not. Finding the perfect balance between these two characteristics is a constant challenge for manufacturers, so keep an eye on your potential range jacket's packability rating to gauge how easy it is to store in your backpack.
Comfort
Sadly, rain jackets are often not among our "comfy" layers. They have a very narrow field of use, and comfort just isn't a high priority for these garments. So perhaps the name of this category should be Level of Discomfort, but alas, we've already named it, so we're going with it.
We've rated the comfort of our recommendations as Poor, Good, or Excellent. However, please keep in mind that we're talking about your rainproof, windproof outer layers here, and it's a very different standard than down jackets or wool socks, for example. So season our comfort recommendations with the knowledge that rain jackets have a low bar for comfort in the traditional sense. The best rain jackets will be comfortable enough to wear during hiking and adventuring, but you certainly won't want to snuggle up with them at night.
Breathability
Like our comfort category, rain gear breathability needs context. Rain jackets marketed as breathable simply mean that they allow slightly more airflow than a truly non-breathable fabric – like a plastic garbage bag. The latter is unbearable and perhaps dangerous for physical activities, whereas the former is manageable. So at times, a waterproof and breathable rain jacket doesn't feel that much better, but – and here's the important point – it does feel somewhat better.
We've rated the breathability of our recommendations below in the context that these are waterproof outer layers, and you're going to get condensation inside your jacket no matter what. But small amounts of improvement in the Breathability department can pay large dividends on long days of hiking in unrelenting rain, wind, or snow.
Pit Zips
Pit zips can be very helpful. There's no doubt about it, so let's talk about them. If you don't know what a pit zip is, it is a zippered opening under your armpit. Because it's under your arm, and rain comes from the sky, water will not easily get inside your shell. Additionally, your armpit is also where a lot of warmth is generated and stored by the body, so venting it out can help cool you down and cut down on condensation inside your jacket.
Not all the best rain jackets have pit zips, as some hikers love this feature and others prefer not to have it. Therefore, we've noted whether our recommendations include them, so you can use this as another factor in making your decision.
Black Diamond StormLine Stretch Rain Shell
Overall Best Rain Jacket for hiking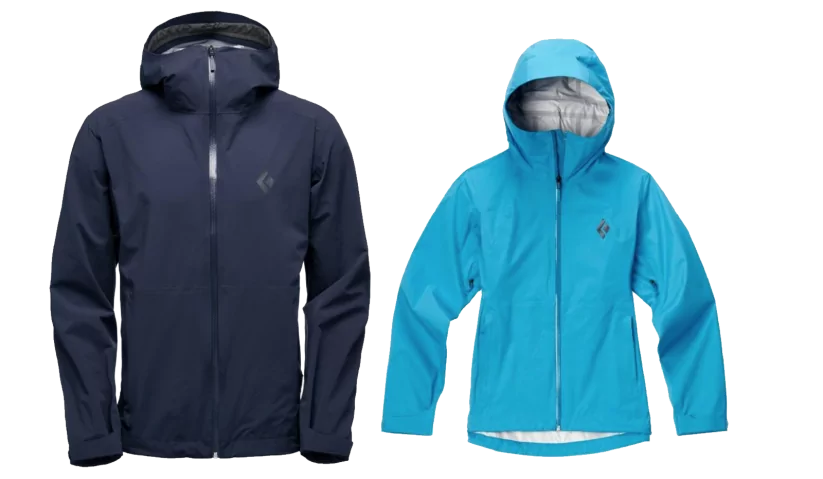 MSRP: $149.00
WEIGHT: 10-11 oz
PACKABILITY: Excellent
BREATHABILITY: Good
PIT ZIPS: Yes
PROS: Comfort – Warmth – Breathability (pit zips) – Durability – Helmet-sized hood – Stretchy for easy movement
CONS: Helmet-sized hood not for everyone – Fit may run slightly large
STRAIGHT TALK: We love Black Diamond's Stormline Stretch Rain Shell. It is a lightweight, bomber rain jacket that will keep the rain and wind out and the warmth in. Its stretchy fabric also increases comfort, durability, and mobility – which is perfect for hiking – while its cut is such that most people won't have any trouble adding layers beneath it. However, this cut may also give this rain jacket a slightly baggy feel if you're only wearing a thin layer underneath.
The Stormline Stretch is also an affordable option compared to the highest-end rain gear ($500-$800). Additionally, it features pit zips to increase breathability, and the outer coating is – from our experience – one of the most long-lasting. Put all these fantastic features together, and Black Diamond has developed one of the best rain jackets for hiking.
VIEW ON BACKCOUNTRY.COM
VIEW ON REI.COM
Patagonia Torrentshell 3L Jacket
Runner Up Best Rain JackeT for Hiking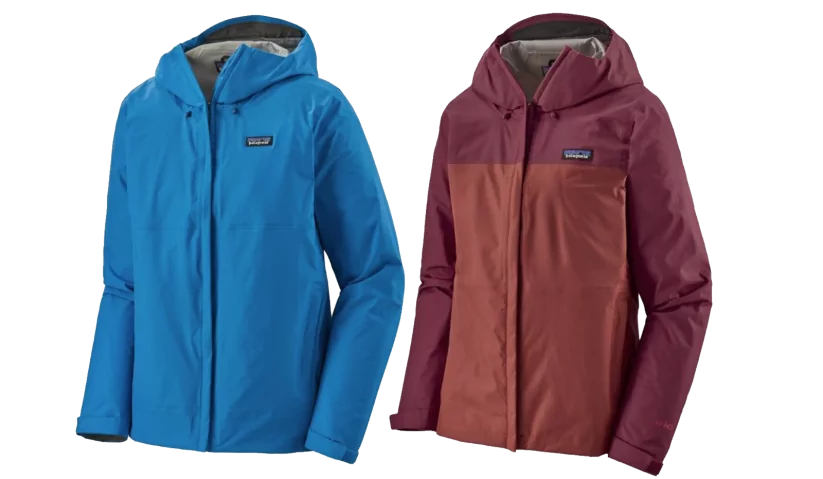 MSRP: $149.00
WEIGHT: 12.5-13.9 oz
PACKABILITY: Excellent
BREATHABILITY: Good
PIT ZIPS: Yes
PROS: Durability – Breathability – Packability – Active fit – Environmentally ethical production
CONS: Slim fit not for everyone – Stiff at first
STRAIGHT TALK: Patagonia's Torrentshell 3L Jacket features 3-layers of waterproof/breathable polyester (hence the "3L" in the name). These layers significantly increase this jacket's durability while still maintaining excellent weight and packability. This jacket also has a water-resistant coating on the outer layer, increasing its protection from rain and snow, along with pit zips for improved breathability. The fit is, for some, the biggest downside. It has a sleek, active cut, making it an awkward fit for people who are between sizes.
It packs snugly into a side pocket with a handy carabiner loop to connect to the side or back of your backpack. Finally, at an MSRP of $149.00, this jacket provides a tremendous amount of value for its price to make it one of the best rain jackets on the market today.
VIEW ON BACKCOUNTRY.COM
VIEW ON REI.COM
REI Co-op Rainier Rain Jacket
Best Rain Jacket For the Budget-Minded Hiker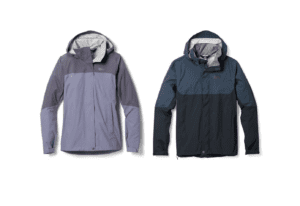 MSRP: $99.99
WEIGHT: ~13 oz
PACKABILITY: Good
BREATHABILITY: Average
PIT ZIPS: Yes
PROS: Affordability – Waterproof/breathable – Windproof
CONS: Durability – Boxy sizing – Heavy
STRAIGHT TALK: REI's Rainier rain jacket provides tremendous value relative to its comparatively budget-friendly price. This jacket does its job well with 2.5 waterproof/breathable layers and an outer coating to increase water resistance. We're also very pleased that REI thought to include pit zips, which can dramatically increase overall ventilation and comfort. Now the 2-layer design is a slight step down in durability from 3-layer rain jackets. Still, REI's Rainier is one of the best rain jackets for someone who needs a rain jacket only occasionally or for a special occasion.
VIEW ON REI.COM
Arc'teryx Alpha SV Jacket
Best rain jacket for a Durable, bombproof shell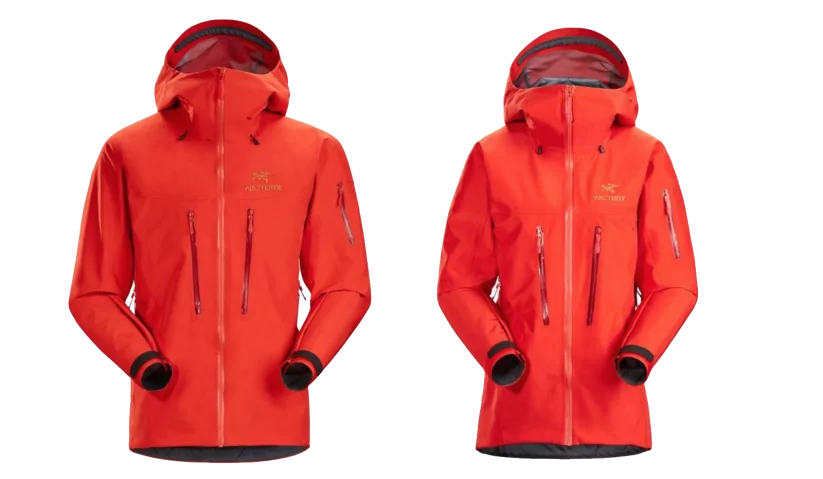 MSRP: $799.00
WEIGHT: 16-18 oz
PACKABILITY: Good
BREATHABILITY: Excellent
PIT ZIPS: Yes
PROS: Durability – High level of protection – Long-lasting –Breathability – Convenient pockets – Fit and comfort
CONS: Cost – Weight
STRAIGHT TALK: The bottom line is if cost is not a concern and you want the very best rain jacket you can find, Arc'teryx's Alpha SV Jacket is our top choice. Built for harsh alpine conditions, this shell provides superior protection from the elements. With patented GORE-TEX technology, it does not rely on a coating to create its waterproofness. GORE-TEX is a high-tech, waterproof, breathable fabric that out-performs coated synthetic layers – which many less expensive options use.
This jacket is also more durable and more breathable than its less expensive counterparts. Additionally, its cut is masterful and will accommodate mobility and comfort while wearing many layers beneath it. The downsides are its weight (part of the price to pay for its durability and protection) and cost. However, if you'll be using your rain/wind layer often for hiking or other adventures, then the cost may well be worth it to get one of the best rain jackets for long-term reliability and durability.
VIEW ON BACKCOUNTRY.COM
VIEW ON REI.COM
Outdoor Research Helium Rain Jacket
Best Rain Jacket For lightweight protection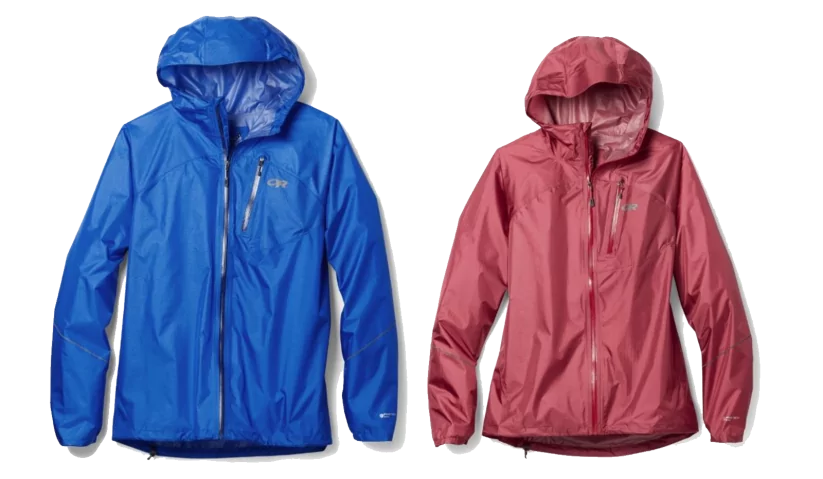 MSRP: $159.00
WEIGHT: 5.6-6.3 oz
PACKABILITY: Excellent
BREATHABILITY: Good
PIT ZIPS: No
PROS: Shockingly light – Very packable
CONS: Durability – Breathability – Performance
STRAIGHT TALK: Outdoor Research's Helium Rain Jacket is a phenomenally lightweight outer shell. It's difficult to overstate the importance of saving weight on hiking and backpacking trips, but it's also imperative that you stay dry on your trips. This option checks both these boxes and is certainly one of the best rain jackets available in this regard. The price, however, is durability. Do not expect this shell to stand up to repeated abuse, and be prepared to take good care of it. All in all, if saving weight is your top priority, this rain jacket offers a great option for a reasonable price.
VIEW ON BACKCOUNTRY.COM
VIEW ON REI.COM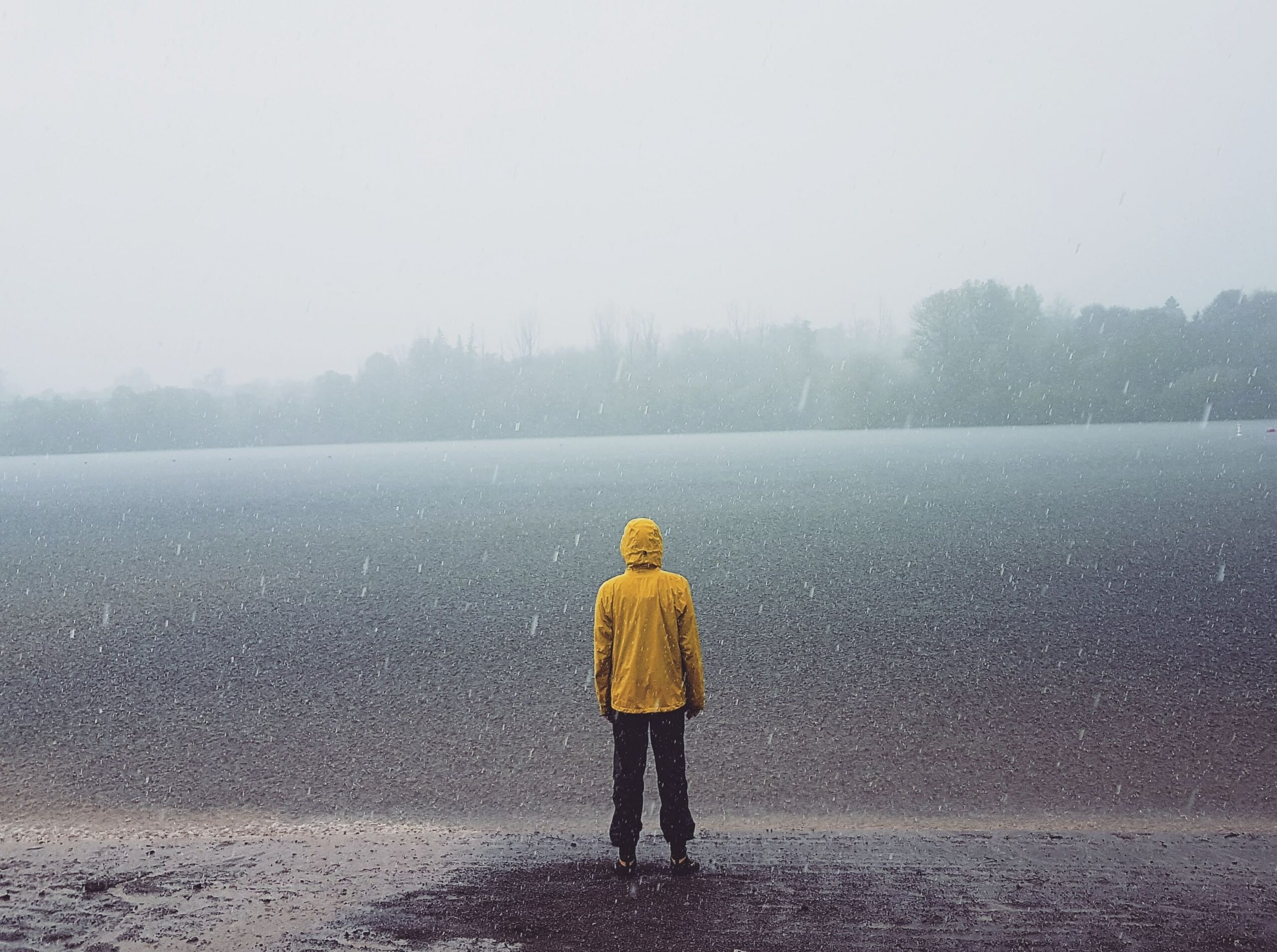 The North Face Lightriser Futurelight
Ultralight Rain Jacket for Day Trips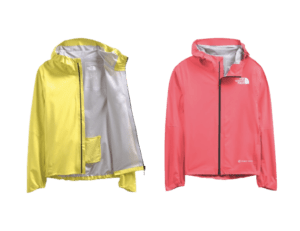 MSRP: $300.00
WEIGHT: ~7.0 oz
PACKABILITY: Excellent
BREATHABILITY: Excellent
PIT ZIPS: No
PROS: Lightweight – Very packable
CONS: Durability – Expensive
STRAIGHT TALK: For moving light and fast, the Futurelight from The North Face is an excellent option. It's fantastically lightweight yet robust enough to keep up with you on the trail. We're also very impressed that The North Face was able to create such a lightweight jacket while still using a 3-layer design for improved waterproofing over simple DWR treatments. However, the Futurelight still can't quite measure up to the heavier competition in terms of overall waterproofing. Therefore, we tend to recommend this jacket for day adventures.
VIEW ON REI.COM
Outdoor Research MicroGravity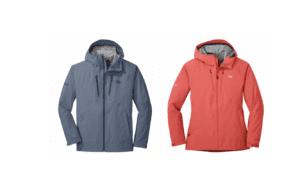 MSRP: $249.00
WEIGHT: ~14.5 oz
PACKABILITY: Good
BREATHABILITY: Excellent
PIT ZIPS: No
PROS: Excellent Waterproofing – Very Breathable
CONS: Not as stretchy as other options – Fairly expensive
STRAIGHT TALK: Outdoor Research has been improving the AscentShell technology since 2016, and this latest interaction in the Microgravity Rain Jacket is fantastic. Specifically, the waterproofing is remarkable and will work wonders to keep you dry on your adventures. We feel that the material isn't quite as stretchy as other options, which slightly limits your range of motion – but even a little stretch goes a long way for a rain jacket. The AscentShell material is also very breathable, allowing you to stay cool and comfortable on the trail.
VIEW At Outdoor Research
REI Co-Op XeroDry GTX Rain Jacket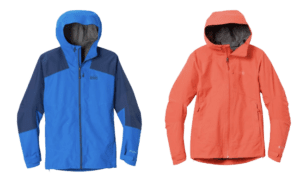 MSRP: $169.00
WEIGHT: ~12.5 oz
PACKABILITY: Adequate
BREATHABILITY: Excellent
PIT ZIPS: Yes
PROS: Great Price for Gore-Tex – Very breathable – Includes pit zips
CONS: DWR finish seems to fade more quickly (causes "wet out") – Less freedom of movement than other options
STRAIGHT TALK: REI once again makes our list with their XeroDry GTX coat. First and foremost, REI is offering a terrific price for a Gore-Tex rain jacket, as this type of jacket is typically noticeably more expensive. The Gore-Tex and fabric choices also make the XeroDry fantastically breathable, a characteristic that's further improved by the included pit zips. However, this being a budget option, we do have a few drawbacks in the realm of range of motion and longevity as the DWR coating appears to degrade fairly quickly. But for snagging a Gore-Tex jacket on a budget, the XeroDry is a fantastic option.
VIEW At REI.Com
Black Diamond Highline Stretch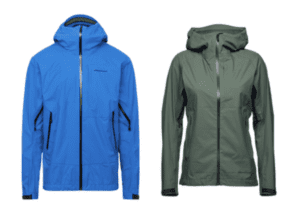 MSRP: $300.00
WEIGHT: ~12.0 oz
PACKABILITY: Excellent
BREATHABILITY: Good
PIT ZIPS: Yes
PROS: Reasonably lightweight – Excellent stretch and movement
CONS: Expensive – Seems less durable than thicker jackets
STRAIGHT TALK: The Highline Stretch from Black Diamond builds on their very popular and successful Stormline product line. Here, we have a full 3-layer design that still manages to stay reasonably lightweight. Black Diamond also included their signature stretchy material for exceptional movement and freedom. The increased protection from 3 layers and stretchy, lightweight material make this jacket ideally suited to mountain adventures where lightweight protection is key. The proprietary BD.dry material does a good job of keeping you dry; however, the thinner material seems a little less robust than its thicker Gore-Tex competitors.
VIEW At Black Diamond
Outdoor Research Foray II (Men's) and Aspire II (Women's) Jacket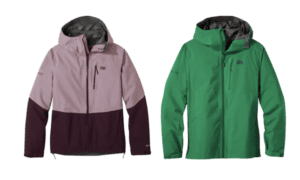 MSRP: $225.00
WEIGHT: ~11.5 oz
PACKABILITY: Good
BREATHABILITY: Excellent
PIT ZIPS: Yes (full-length side zips)
PROS: Versatile for almost any sport – Wide range of sizes – Great fit
CONS: Side vents aren't for everyone
STRAIGHT TALK: The newly revamped Foray II and Aspire II are fantastic options for folks looking for a solid and reliable rain jacket for any occasion. With the lightweight design, reliable Gore-Tex protection, and fairly reasonable price, you can rest assured that you're getting excellent bang for your buck. Additionally, we love the full-length side zips that allow you to vent your entire torso. This is particularly useful for staying cool while hiking and wearing a heavy pack. Now, this full-length zipper may not be for everyone, but it's a notable feature that sets the Foray II and Aspire II apart.
VIEW At Outdoor Research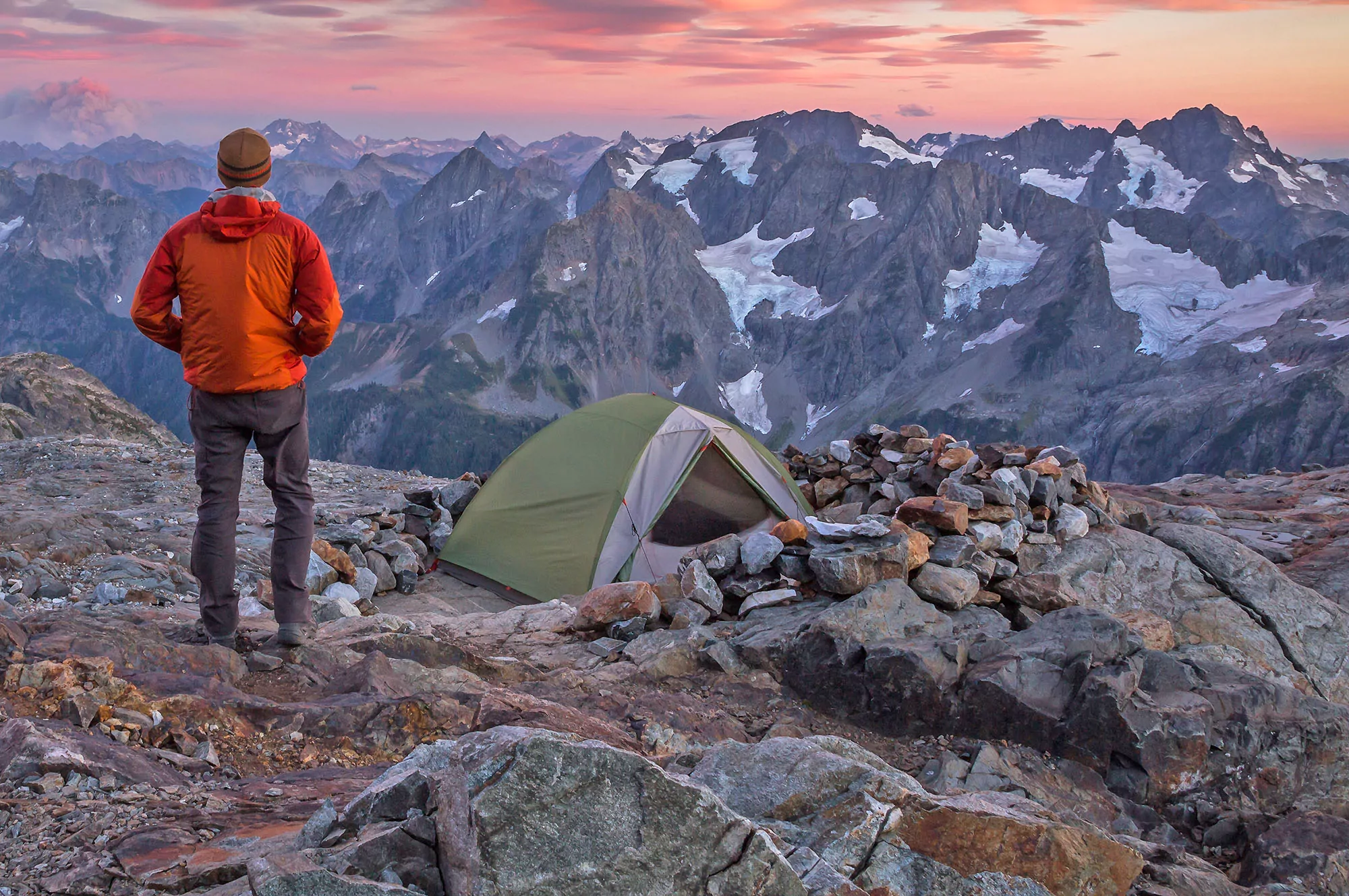 More Information About the Best Rain Jackets
Rain Jacket Layers
You'll often see a layer number listed with most rain jackets, such as 2-layer or 3-layer. But what does this mean?
Rain jackets have multiple layers of materials and fabrics to maximize their durability and waterproofing. To that end, the outermost fabric (what you see on the outside of the jacket and what faces the elements) is typically a highly-durable and abrasion-resistant material with a DWR (Durable Water Repellent) coating to add a little weatherproofing. This outer fabric is not intended to be 100% waterproof. Rather, it's designed to protect the waterproof layer from getting damaged – which brings us to the next layer.
The second layer is your water shield. It may be GORTEX or some other breathable waterproof membrane, and it's bonded to the outer layer. However, this membrane is susceptible to body oil and sweat – which we certainly produce a lot of when hiking. Over time, oil can slowly clog up the waterproof membrane to decrease its effectiveness and lifespan, bringing us to the last layer.
The third layer is bonded to the inside of the waterproof layer and acts as a shield against oils and sweat.
Bringing the Layers Together
The 3-layer rain jacket uses every piece that we described above. We have the rugged outer fabric, the middle waterproof membrane, and a third protective layer on the inside. This option tends to be the most durable and long-lasting choice and is designed for intense outdoor adventure. However, such quality comes with a steep price tag and a slightly heavier weight.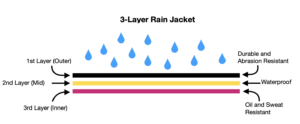 The 2-layer jacket also uses a durable outer fabric bonded to a waterproof membrane or coating on the inside. However, this option dispenses with the interior protective layer and instead opts for a simple loose mesh or liner to protect the waterproof layer. This option tends to be more cost-effective than 3-layer jackets but slightly less rugged.
The 2.5-layer jacket again uses the durable outer fabric. However, instead of a waterproof membrane, the 2.5-layer deploys a waterproof laminate/coating to the interior of the outer fabric. Lastly, this waterproof laminate then receives a very thin print finish (or sheen) that offers rudimentary protection for body oils – this is the 0.5 layer. These rain jackets tend to be the most lightweight on the market but lack the breathability of other options.
When To Clean Your Rain Jacket
Even the best rain jackets get dirty over time. This grime buildup can cause the durable outer fabric to stop repelling water, and instead absorb water as soon as it starts raining. If this "wetting out" occurs, it's time to clean your rain coat.
Your first resource is the manufacturer's instructions for cleaning the jacket. We recommend pairing these instructions with a dedicated technical fabric cleaner – such as NikWax Tech Wash. Remember, traditional detergents and soaps will make your rain jacket even less waterproof, so it's vital to use a cleaner specifically designed for waterproof garments. Follow both the manufacturer and NikWax instructions – you can typically use a standard washing machine – and your rain jacket will be revitalized in no time.
WHY TRUST US?
Choosing the right outdoor gear and apparel can be difficult. But at Wildland Trekking, we live and work with hiking gear every single day. It's an integral part of what we do, and we understand better than anyone how important it is to have the right equipment. In addition to our vast knowledge of backpacking gear, we also offer:
Independence – our recommendations are not influenced by partnerships or sponsorships with outdoor gear and apparel manufacturers.
Experience – as one of America's top guide companies, we take 8,000-10,000 people on hiking and backpacking tours annually. Since our inception in 2005, we have guided more than 75,000 people into the wilderness.
Cutting Edge Knowledge – we regularly attend trade shows and pay close attention to the leading edge of new developments.
Up To Date Recommendations – we update our recommendations regularly as new products are developed and released.
Dedication to our Readers – we know that the gear we select as our top picks will end up in the field with our readers, and we take that responsibility very seriously. We view our readers as guests on our guided trips, just without the guides. We are committed to helping you be as well-outfitted and prepared as possible for your adventures.
*Disclosure: Some of the links above are affiliate links. At no cost to you, we earn a commission on any products purchased through these links. Any proceeds go to supporting our blog and operations. These affiliate links do not influence the products that we include in our gear round-ups. We only recommend products that we 100% support and that we have used in the field. 
More Gear Recommendations
Check out our Wildland Gear Guide for more recommendations about hiking, trekking, camping and outdoor gear. We are always adding new products to help our guests and readers make the best choices to outfit their adventures.