Best Rain Jackets
Learn about our top picks for rain gear for your next hiking or backpacking adventure!
Having the right outer layer (also referred to as "rain gear," "shells," or "hard shells") is arguably one of the most important pieces of clothing or equipment for safe and enjoyable hiking and backpacking adventures. Below we provide our recommendations for the best options currently available. We've evaluated these jackets based on their weight, bulk, rainproofing, breathability, and extra features. Because weight is such a considerable factor with backcountry hiking trips, we have skipped over heavier options such as winter jackets, ski jackets…etc. and focused 100% on lightweight, waterproof, breathable shells. As you'll see, have categorized them based on our top choices for performance, weight, comfort and price.
QUICK LIST OF RECOMMENDATIONS
KEY CONSIDERATIONS
Weight
Weight is a critically important factor for all clothing and gear on hiking and backpacking trips. None of our recommendations are heavy by any means, but there is still a range of weights to consider. As weight goes down, durability and performance often go down as well, while price often goes up. Therefore, figuring out the right balance between weight, price, durability and performance will determine which is the right choice for you.
Packability
Backpacks don't expand, at least not very much. This fact is what makes packability such a crucial consideration. Whether your hike is for a day, a week, a month or several months, you need your gear to fit into a backpack with an ever-changing load of other supplies. Your rain gear, when you need it, is important – like "life and death" important. But the rest of the time it's probably not something you want to be wearing. So it will undoubtedly spend more time in your backpack than on  your back, and for this reason considering the packed size of your rain jacket is highly recommended.
Comfort
We don't know very many people who would call their rain jackets "comfortable." Unfortunately we know many people who would call their rain jackets "uncomfortable." So maybe the name of this category should be Level of Discomfort, but alas we've already named it so we're going with it. We have rated the comfort of our recommendations as Poor, Good, or Excellent. However, please keep it in mind that we're talking about your rainproof, windproof, outer layers here, and it's a much different bar than for, say, a down jacket or pair of socks. If we say a rain jacket's comfort is "excellent" that means it's pretty neutral – it doesn't mean you're going to want to snuggle up with it at night. The rating system goes down from there, again when compared to traditional rain gear or other options on the market.
Breathability
Breathability is a lot like the Comfort category when it comes to rain gear: it has to be put in context. If you've ever spent time in a truly unbreathable rain jacket, then you know how bad it can be – it's like wearing a trash compactor bag over your body. And at times a waterproof and breathable rain jacket doesn't feel that much better, but – and here's the important point – it does feel somewhat better. The former are unbearable and even dangerous, where the latter are manageable.
We've rated the breathability of our recommendations below in the context that these are waterproof outer layers, and you're going to get condensation inside your jacket no matter what. But small amounts of improvement in the Breathability department can pay large dividends on long days of hiking in unrelenting rain, wind and/or snow.
Pit Zips
Pit zips help. There's no doubt about it, so let's talk about them. If you don't know what a pit zip is, it is a zippered opening under your arm pit. Because it's under your arm, and rain comes from the sky, water will not easily get inside your shell. Your arm pit is also where a lot of warmth is generated and stored by the body, so venting it out can help cool you down and cut down on condensation inside your jacket. Not all jackets have them, and we've noted whether they do or don't so you can use this as another factor in making your decision.
Black Diamond StormLine Stretch Rain Shell
#1 ALl Around Rain Jacket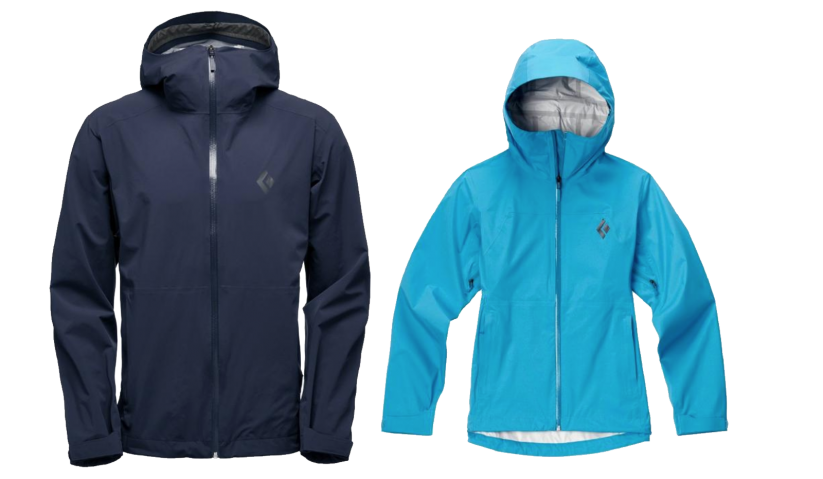 MSRP: $149.00
WEIGHT: 10-11 oz
PACKABILITY: Excellent
BREATHABILITY: Good
PIT ZIPS: Yes
PROS: Comfort, warmth, breathability (pit zips), durability, helmet-sized hood
CONS: Helmet-sized hoodie not for everyone,
STRAIGHT TALK: We love Black Diamond's Stormline Stretch Rain Shell. It is a lightweight, bomber rain jacket that will keep the rain out, the wind out and the warmth in. Its stretchy fabric increases comfort, durability and mobility, while its cut is such that most people won't have any trouble adding layers beneath it. It is an affordable option compared to the highest end rain gear ($500-$800). It features pit zips to increase breathability, and the outer coating is – from our experience – one of the most long-lasting. The one potential downside we found is that the hood is big enough for a helmet, which if you're not wearing a helmet may mean it feels larger than necessary.
VIEW ON BACKCOUNTRY.COM
VIEW ON REI.COM
Patagonia Torrentshell 3L Jacket
#2 ALl Round Rain JackeT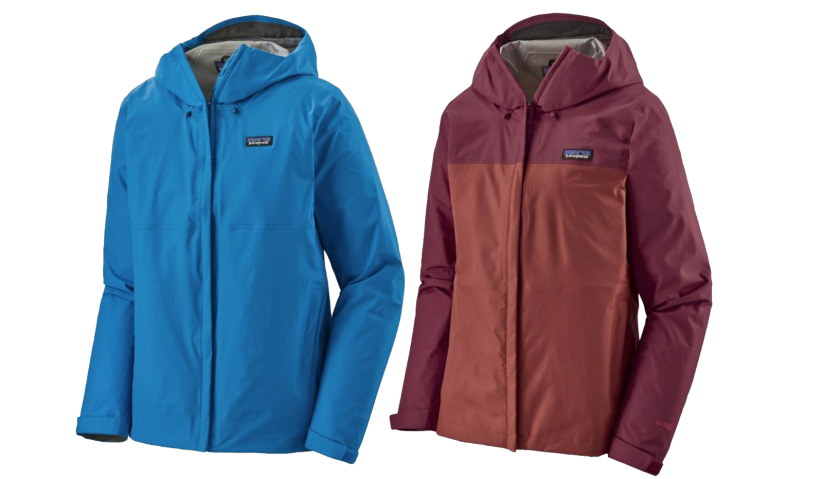 MSRP: $149.00
WEIGHT: 12.5-13.9 oz
PACKABILITY: Excellent
BREATHABILITY: Good
PIT ZIPS: Yes
PROS: Durability, breathability, packability, active fit, environmentally ethical production
CONS: Slim fit not for everyone, stiff at first
STRAIGHT TALK: Patagonia's Torrentshell 3L Jacket is made with 3 layers of waterproof/breathable polyester (hence the "3L" in the name), which make this jacket very nicely durable for its weight and packability. 2 layer jackets are significantly less durable from our experience. This jacket also has a water resistant coating on the outer layer, increasing its protection from rain and snow. And it has pit zips, increasing its breathability. The fit is, for some people, the biggest downside. It has a sleek, active cut and this can make it an awkward fit for people who are between sizes. It packs snugly into a size pocket with a carabiner to connect to the side or back of your backpack. Finally, at a MSRP of $149.00 this jacket provides a tremendous amount of value for its price.
VIEW ON BACKCOUNTRY.COM
VIEW ON REI.COM
REI Co-op Groundbreaker Rain Jacket 2.0
Best Rain Jacket For the Budget-Minded Hiker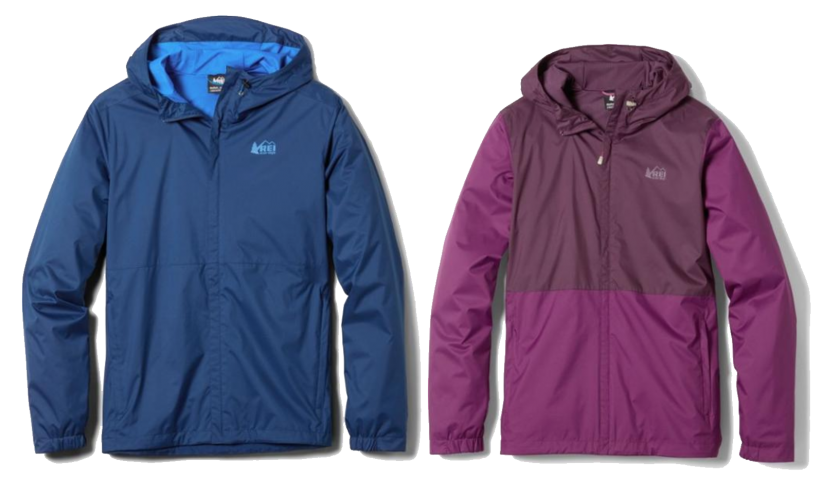 MSRP: $59.95
WEIGHT: 13-15 oz
PACKABILITY: Good
BREATHABILITY: Average
PIT ZIPS: No
PROS: Affordability, waterproof/breathable, windproof
CONS: Durability, breathability (no pit zips)
STRAIGHT TALK: REI's Groundbreaker 2.0 rain jacket provides tremendous value relative to its price. With 2 waterproof/breathable layers and an outer coating to increase water resistance, this jacket does its job well. Without pit zips, its breathability is good but not excellent, and with the 2-layer design it does not have the durability of 3-layer rain jackets. This jacket is an excellent choice for someone who needs a rain jacket on occasion but won't use it often, or for a special occasion like a guided backpacking trip.
VIEW ON REI.COM
Arc'teryx Alpha SV Jacket
Most Durable, bombproof shell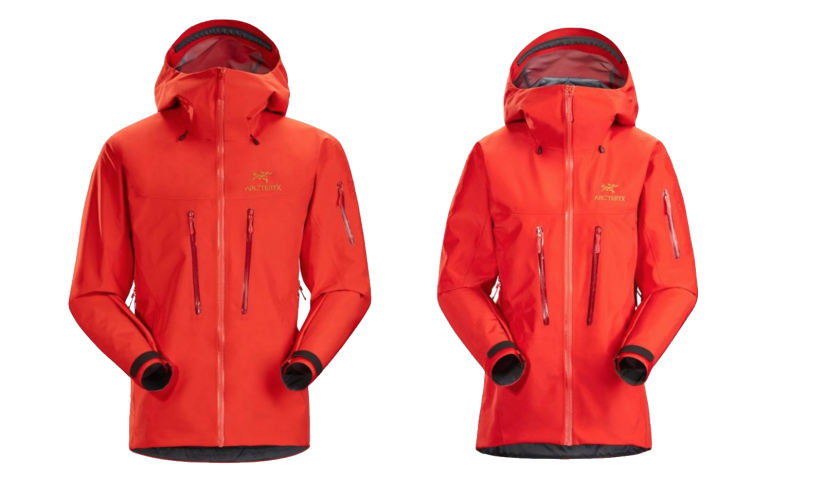 MSRP: $799.00
WEIGHT: 16-18 oz
PACKABILITY: Good
BREATHABILITY: Excellent
PIT ZIPS: Yes
PROS: Durability, level of protection, long lasting, breathability, convenient pockets, fit and comfort
CONS: Cost, weight
STRAIGHT TALK: The bottom line is if cost is not a concern and you want the very best rain and snow protection you can find, Arc'teryx's Alpha SV Jacket is our top choice. Built for harsh alpine conditions, this shell provides superior protection from the elements. With patented GORE-TEX technology, it does not rely on a coating to create its waterproofness. GORE-TEX is a high tech, waterproof, breathable fabric that out-performs coated synthetic layers like most less expensive shells. This jacket is more durable and more breathable than its less expensive counterparts. Additionally, its cut is masterful and will accommodate mobility and comfort while wearing many layers beneath it. The downsides are its weight (which is part of the price to pay for its durability and level of protection) and cost.
VIEW ON BACKCOUNTRY.COM
VIEW ON REI.COM
Outdoor Research Helium Rain Jacket
Best Lightweight Rain Jacket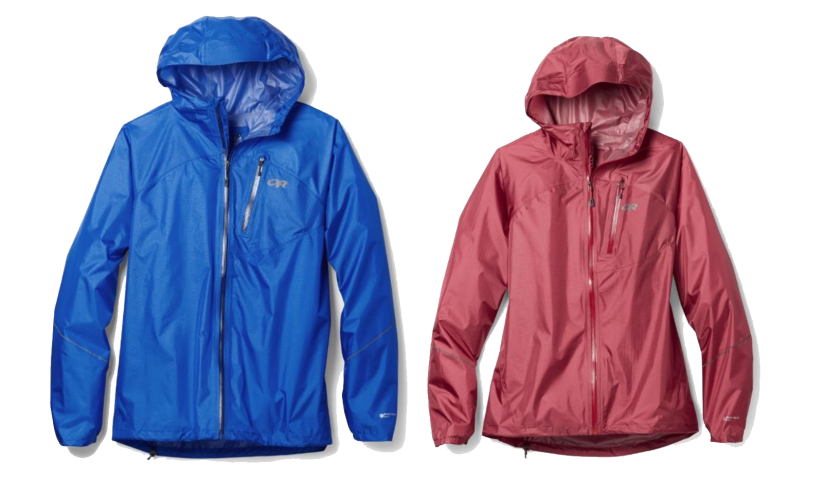 MSRP: $159.00
WEIGHT: 5.6-6.3 oz
PACKABILITY: Excellent
BREATHABILITY: Good
PIT ZIPS: No
PROS: Shockingly light, packability
CONS: Durability, breathability, performance
STRAIGHT TALK: Outdoor Research's Helium Rain Jacket is a phenomenally lightweight outer shell. It's difficult to overstate the importance of saving weight on hiking and backpacking trips but it's also imperative that you stay dry on your trips. This jacket checks both these boxes. The price though is in its durability. Do not expect this shell to stand up to repeated abuse, and be prepared to take good care of it. All in all, if saving weight is your top priority, this rain jacket offers a great option for a reasonable price.
VIEW ON BACKCOUNTRY.COM
VIEW ON REI.COM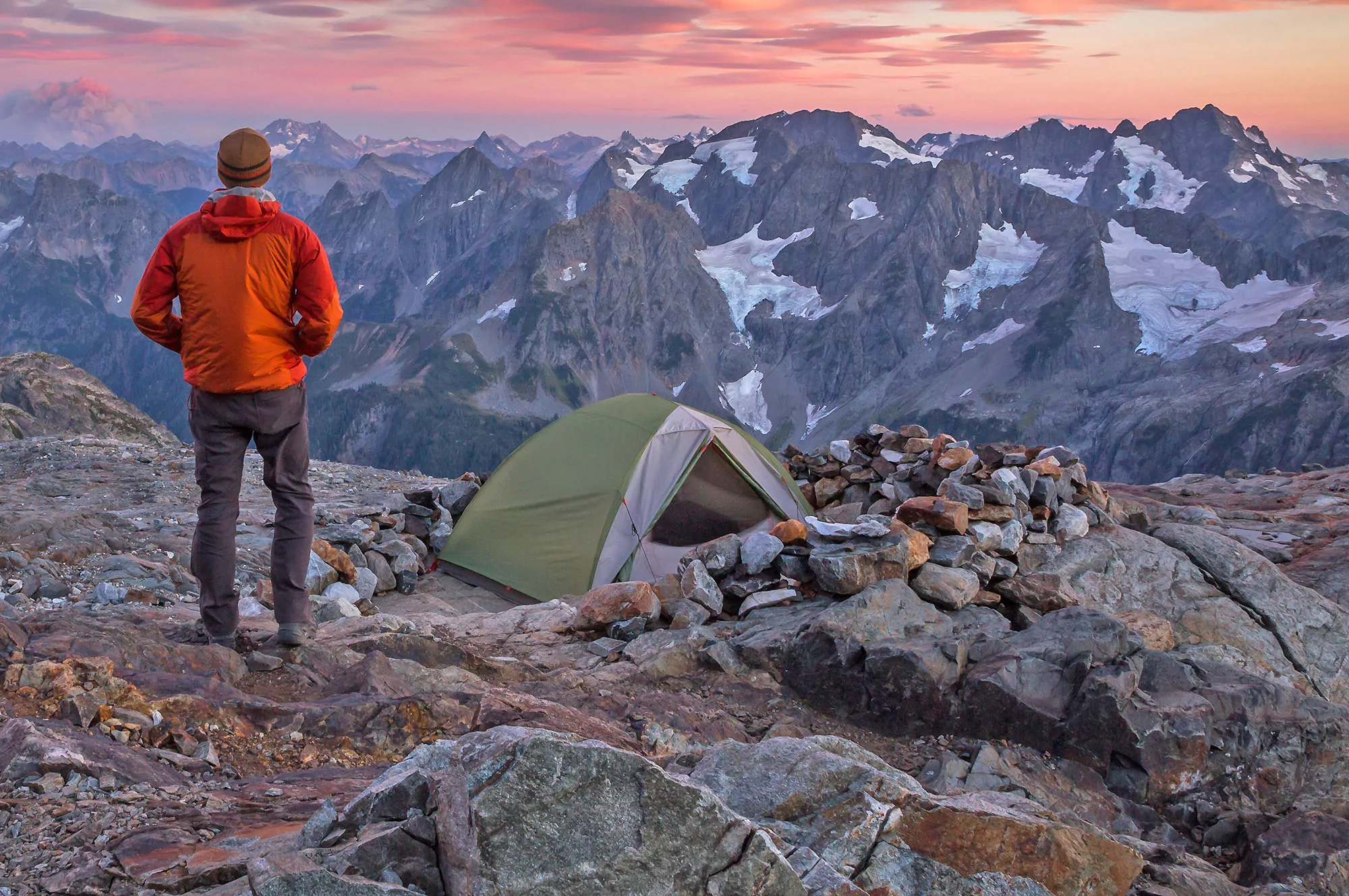 WHY TRUST US?
Choosing the right outdoor gear and apparel can be difficult. At Wildland Trekking, we live and work with gear on a day to day basis. It's an integral part of what we do, and we understand better than anyone how important it is to have the right equipment. Some of the reasons to trust us include:
Independence – our recommendations are not influenced by partnerships or sponsorships with outdoor gear and apparel manufacturers.
Experience – as one of America's top guide companies, we take 8,000-10,000 people on hiking and backpacking tours annually. Since our inception in 2005, we have guided more than 75,000 people into the wilderness.
Cutting Edge Knowledge – we regularly attend trade shows and are always paying close attention to the leading edge of new developments.
Up To Date Recommendations – we update our recommendations regularly as new products are developed and released.
Dedication to our Readers – we know that the gear we select as our top picks will end up in the field with our readers, and we take that responsibility very seriously. We view our readers as guests on our guided trips, just without the guides. We are committed to helping you be as well-outfitted and prepared as possible for your adventures.
*Disclosure: Some of the links above are affiliate links. At no cost to you, we earn a commission on any products purchased through these links. Any proceeds go to supporting our blog and operations. These affiliate links do not influence the products that we include in our gear round-ups. We only recommend products that we 100% support and that we have used in the field. 
More Gear Recommendations
Check out our Wildland Gear Guide for more recommendations about hiking, trekking, camping and outdoor gear. We are always adding new products to help our guests and readers make the best choices to outfit their adventures.