Best Backpacking Sleeping Pads
Take a look at our top sleeping pad recommendations to stay comfortable and warm on your adventures.
Taking a trip into the backcountry for one or more nights of hiking and camping attracts a certain type of adventurer. Those who don't mind giving up the comforts of a traditional bed to explore and backpack through stunning wilderness. But that doesn't mean we don't try to make backcountry sleeping a little cozier with the best backpacking sleeping pads!
Technology and materials have come a long way in recent years, offering excellent comfort even when you're perched on a mountainside or deep in the forest. The only task is to find the best products in a market chock-full of choices. But don't worry. We've meticulously tested and researched your options and arrived at this comprehensive guide to the best backpacking sleeping pads. Read on and start working on your comfy backcountry sleep system!
QUICK LIST OF RECOMMENDATIONS
KEY CONSIDERATIONS for the Best Headlamps
Foam vs. Air Pad
Sleeping pads traditionally come in three forms: foam, air pads, or self-inflating. Let's take a close look at these options to find the best sleeping pad for you.
Foam sleeping pads were once the most reliable and ubiquitous option in the backpacking world. Strong, almost indestructible, and very versatile for whenever a padded seat may be needed. However, they're also very bulky and awkward to carry around, along with offering only a relatively thin barrier against the rough ground beneath you. These drawbacks gave rise to the classic air pad that we now see more often.
Air pads – or air mattresses – create a soft cushion of air beneath you once they're inflated. Therefore, they provide excellent comfort by shielding you from sharp or uneven ground and roll up very small once deflated. Air pads are also exceptionally lightweight, often making them the best backpacking sleeping pads. However, their main drawback is the risk of punctures or tears, immediately rendering them useless. For this reason, many hikers carry a patch kit into the backcountry with them.
Self-inflating sleeping pads strike a delicate balance between air and foam by combining them into a single unit. Once the valve is unscrewed, open-cell foam expands and pulls air into the pad, using both to create a soft cushion. With this option, you still have a little bit of padding if the pad deflates, along with decent insulation. But keep in mind that self-inflating sleeping pads are bulkier and heavier than an air pad, which is why we'll primarily focus on air-pads in this backpacking-specific roundup.
Insulation R-Value
The ground is traditionally colder than our bodies. Therefore, we often lose heat while sleeping on backpacking trips as the air in our pads is cooled (convection) and as the ground absorbs our warmth (radiation). Losing this heat can result in waking up cold and cranky – no fun! The solution? Insulated sleeping pads.
Insulated sleeping pads create a barrier that resists thermal transfer, allowing you to stay nice and snug during the night without having your heat sapped by the ground. An R-Value measures this insulation; the higher the R-Value, the more effective the insulation is at preventing heat loss.
In the world of the best backpacking sleeping pads, we'll often see R-Values ranging from 1 to 6. The less-insulated options (lower R-Values) are ideal for warm summer camping, while more insulated options (higher R-Values) come into play during the colder shoulder and winter seasons.
For more information about insulation, take a look at this post about R-Values from Therm-a-Rest that includes fascinating details on how they test their products' insulation.
Weight and Packability
If we could take the biggest, comfiest, and warmest mattress into the backcountry without any repercussions, we might certainly try. As it is, the best backpacking sleeping pads are constrained by their weight as we need to be able to carry and pack them away for long days on the trail.
So keep an eye on your perspective pad's weight and packed size (measured when the pad is rolled up). The top ultralight sleeping pads will hover in the 12 to 16 oz. range (0.75-1 lb.)  and still provide acceptable insulation. Meanwhile, thicker and heavily insulated options will see that number climb between 16 and 32 oz. (1 to 2 lbs.).
The difference may be slight, but it can still be significant if you're counting every ounce! Therefore, consider your priorities regarding insulation, thickness, and additional features vs. the pad's overall weight.
Sleeping Pad Thickness
Your sleeping pad's thickness plays a huge role in your overall comfort during the night. After all, this is your separation from the hard ground below. The thinnest options on the market are foam pads, often coming in at less than 1-inch. Self-inflating pads are in the middle ground, and air pads are the thickest and can range from 2 to 4 inches.
An important point to think about when choosing a sleeping pad thickness is considering whether you're a side- or back-sleeper. Side-sleepers tend to put more weight on their hips and shoulders, and a thicker sleeping pad may be a better choice to help offset these pressure points. Conversely, a back-sleeper more evenly distributes pressure across the entire sleeping pad and will likely find a slightly thinner sleeping bag to be very comfortable.
Price
The best backpacking sleeping pads come in a wide range of prices from only $50 up to $250. Within that range is a large variation in insulation, overall durability, features, and quality. But nevertheless, a less expensive sleeping pad can still be a fantastic purchase for beginners or those on a tight budget. Meanwhile, avid backpackers may find their perfect match with a higher quality option to make those frequent nights in the backcountry as comfortable as possible.
So consider your priorities and the investment you're willing to make on your sleeping pad. Once you decide on a price range, it will easily narrow your search and help you find that perfect option for you.
Sea to Summit Ether Light XT Insulated
Best Backpacking Sleeping Pad Overall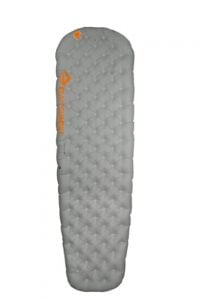 MSRP: $179.95
Type: Air Pad
Weight: 17.3 oz. (1.08 lbs.)
Insulation R-Value: 3.2
Packed Size: 9.5 x 4.5 inches
Thickness: 4 inches
PROS: Thick and comfortable design – Lightweight – Small Packed size – Included air pump.
CONS: Less insulation than other options – Might be excessive for back sleepers
CLOSE LOOK: Sea to Summit hit all our favorite sleeping pad features with their insulated Ether Light XT product. At 4-inches thick, the sleeping pad provides superior comfort, and the included air pump (which doubles as a stuff sack) makes inflation a breeze. For such plush comfort, this sleeping pad's weight is also reasonable at just over 1-pound. However, Sea to Summit sacrificed a little insulation to make that lower weight possible. The Ether Light's 3.2 R-Value – while adequate for summer and most shoulder seasons – is noticeably less than other options and makes this sleeping pad unsuitable for winter or extreme cold. We'll admit that the 4-inch thickness may be slightly excessive for back sleepers; nevertheless, the insulated Ether Light XT is a fantastically comfortable, durable, and compact option that easily earns its place among the best backpacking sleeping pads.
If you have your eye on cold-weather camping and backpacking, take a look at the Ether Light Extreme for more insulation (6.2 R-Value).
VIEW AT REI.COM
VIEW AT BACKCOUNTRY.COM
Sea to Summit Comfort Plus Insulated
Runner up: Best Sleeping Pad for Backpacking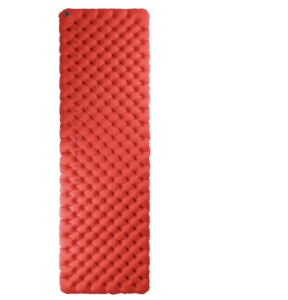 MSRP: $259.95
Type: Air Pad
Weight: 49.4 oz. (2.9 lbs.)
Insulation R-Value: 4.7
Packed Size: 6 x 11 inches
Thickness: 3-inches
PROS: Incredibly comfortable – Two-layer adjustability – Good packed size
CONS: Very expensive – On the heavier side
CLOSE LOOK: If you're looking for the most comfortable night's sleep you've ever had in the backcountry, then the Comfort Plus from Sea to Summit is for you. As the name implies, Sea to Summit designed this sleeping pad with a specific focus on comfort, and they nailed it. This sleeping pad has two inflatable layers. The bottom can be filled entirely for maximum support, while you can fine-tune the top layer to whatever softness you desire. Combine this adjustability with good insulation (4.7 R-Value) and a reasonably compact packed size, and we easily have the best backpacking sleeping pad for overall comfort. Keep in mind that this comfort comes for a very steep price and slightly increased weight, hence the Comfort Plus's place as the runner-up in our roundup.
Find Your Comfort Plus Insulated Sleeping Pad
Therm-a-Rest NeoAir XLite  ­
Best Lightweight Sleeping Pad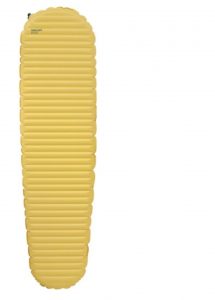 MSRP: $179.95
Type: Air Pad
Weight: 12.5 oz. (0.78 lbs.)
Insulation R-Value: 4.2
Packed Size: 9 x 4.1 in.
Thickness: 2.5-inches
PROS: Very lightweight – Good insulation – Packs down small
CONS: A little crinkly/noisy – Thin material might be easily damaged
CLOSER LOOK: When it comes to making every gram count, the NeoAir XLite from Therm-a-Rest is the best backpacking sleeping pad out there. Weighing in at about 12 oz., this pad is a breeze to carry for long days on the trail, and it packs down exceptionally small for easy storage. Therm-a-Rest also managed to include decent insulation (4.2 R-Value), a surprising bonus considering how light the pad is. We've noticed that the material tends to be a little noisy when rolling into a new sleeping position at night, but this is a minor critique compared to the lightweight benefits of the NeoAir Xlite. Lastly, the material certainly is very thin to trim off as much weight as possible, so we recommend throwing a patch kit in your bag – just in case.
*Testing update – The NeoAir XLite held up brilliantly after a full season among the volcanic rocks in Nicaragua. No nicks or tears, and we're very impressed with its durability for such a thin and lightweight sleeping pad. 
If you look at the XLite and think that it's still a little heavier than you'd prefer, take a look at the Therm-a-Rest Uberlite. This is an incredibly lightweight option at only 8.8 oz. for the regular size, but the insulation is almost halved to an R-Value of 2.3.
VIEW AT REI.COM
VIEW At BACKCOUNTRY.COM
Klymit Static V2 Sleeping Pad
Best Budget Sleeping Pad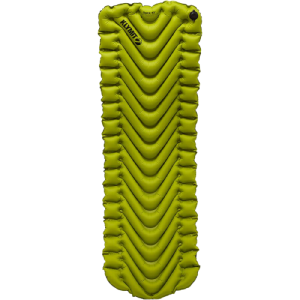 MSRP: $64.95
Type: Air Pad
Weight: 16.33 oz. (1.02 lbs.)
Insulation R-Value: 1.3
Packed Size: 3 x 8 in.
Thickness: 2.5-inches
PROS: Excellent price – Lightweight – Very packable
CONS: Not as thick as other pads (might not be suitable for side-sleepers) – Minimal insulation
CLOSER LOOK: Reasonable comfort in the backcountry doesn't need to come with a huge price tag. The Static V2 sleeping pad from Klymit is a lightweight, packable, and very wallet-friendly option that's absolutely perfect for beginners or budget-conscience hikers. The incredibly low price comes with one primary drawback – almost no insulation. Therefore, the Static V2 is best suited for mild climates only (or it'll need to be paired with a foam pad). However, this is still a solid contender and definitely the best backpacking sleeping pad for making every dollar count.
For an even more inexpensive – but slightly heavier – option, consider the original Klymit Static V sleeping pad.
Find Your Klymit Static V2 Sleeping Pad
Nemo Switchback
Best Foam Sleeping Pad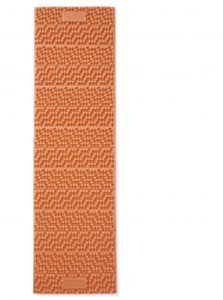 MSRP: $49.95
Type: Foam Pad
Weight: 14.5 oz. (0.9 lbs.)
Insulation R-Value: 2.0
Packed Size: 20 x 5.5 x 5 inches
Thickness: 0.9-inches
PROS: Almost indestructible – Easy to use – Excellent price
CONS: Bulky and hard to pack – Not as comfortable as an air pad
CLOSER LOOK: First and foremost, the Nemo Switchback pad will never pop, ever. This characteristic alone highlights the merits of a foam sleeping pad for some campers. The Switchback is also remarkably versatile, serving as a cushy camp seat or a quick place to sprawl out while taking a midday break from hiking. But it's equally important to note that the Switchback (like all foam pads) can't quite measure up to the comfort of air pads. At only 0.9-inches thick, you'll still feel uneven or rocky terrain beneath you, and the Switchback features lower insulation with an R-Value of only 2.0. Nevertheless, this sleeping pad still offers slightly more padding than other foam options on the market, comes for a very reasonable price, and will last you for years and years. Put all these points together, and we have the best backpacking sleeping pad for hikers interested in trying a foam pad.
Find Your Nemo Switchback Sleeping Pad
Therm-a-Rest NeoAir Xtherm
Best Sleeping PAd for Cold Weather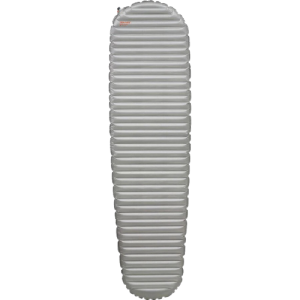 MSRP: $259.95
Type: Air Pad
Weight: 16.33 oz. (1.06 lbs.)
Insulation R-Value: 6.9
Packed Size: 9.0 x 4.0 in.
Thickness: 2.5-inches
PROS: Excellent insulation and warm retention – Extremely comfortable
CONS: Might be excessive for regular 3-season camping – Very expensive
CLOSER LOOK: If you're heading up into the chilly alpine or undertaking a backpacking trip mid-winter, it pays to have a thoroughly insulated sleeping pad. The Xtherm from Therm-a-Rest was designed for just these scenarios and features a whopping 6.9 R-Value insulation to keep you warm on even the coldest camping trips. Therm-a-Rest's ThermaCapture technology reflects your heat back at you and works in tandem with the insulating materials to maximize your overall heat retention. Combine this warm insulation with a very comfy padding system, and we have the best sleeping pad for all your cold-weather adventures. Unfortunately, the Xtherm comes with a very steep price tag and may be excessive unless you're confident you'll be needing it. If your hiking adventures tend to be centered on more mild temperatures, a sleeping pad with insulation between 2.0 and 4.0 will likely be a better fit for you.
Find Your Therm-a-Rest NeoAir XTherm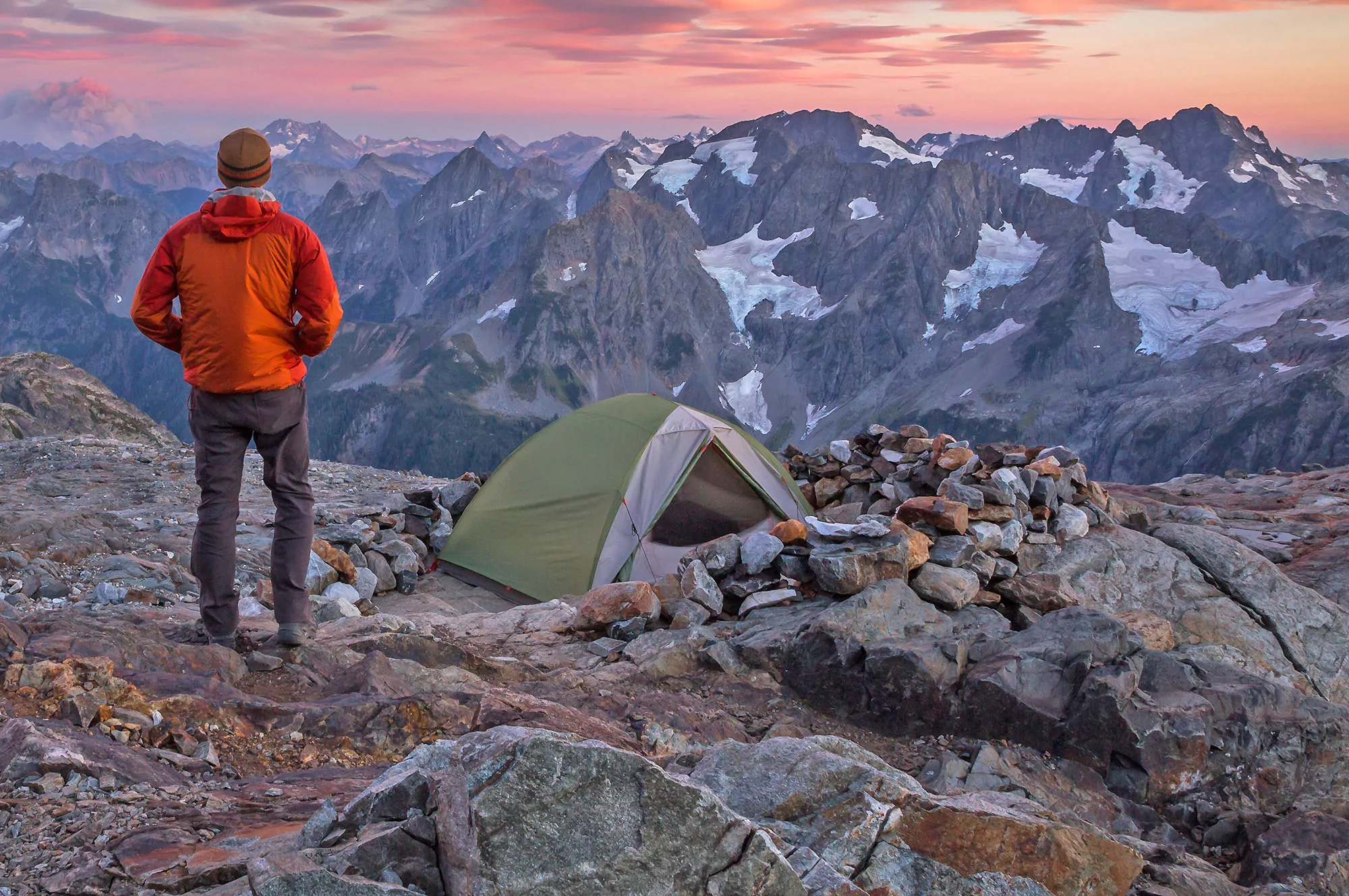 More Information About Sleeping Pads
Women-Specific Sleeping Pads
Most sleeping pads are designed as unisex. However, a select few manufacturers produce both men's and women's sleeping pads – so what's the difference?
The first difference concerns insulation. As women traditionally sleep colder than men, sleeping pads specifically designed for women often include increased insulation. The next difference is a shorter design and slightly increased padding at the hips.
Maintaining Your Sleeping Pad
As we've mentioned earlier, air pads run the risk of puncture and deflation if they encounter sharp rocks, roots, or implements. Therefore, part of looking after your pad means including a repair kit in your pack if you ever find yourself needing to fix an urgent puncture. These kits often include adhesive patches along with glue should you need it.
But punctures aren't all we have to worry about. Camping and backpacking often encounter moisture, either from rain or tent condensation, and this moisture has the potential to seriously damage your sleeping pad. Therefore, always hang up your pad after every trip to allow it to dry completely. Otherwise, you may find unwelcome mold developing.
Why Trust Us?
Choosing the right outdoor gear and apparel can be difficult. But at Wildland Trekking, we live and work with hiking gear every single day. It's an integral part of what we do, and we understand better than anyone how important it is to have the right equipment. In addition to our vast knowledge of backpacking gear, we also offer:
Independence – our recommendations are not influenced by partnerships or sponsorships with outdoor gear and apparel manufacturers.
Experience – as one of America's top guide companies, we take 8,000-10,000 people on hiking and backpacking tours annually. Since our inception in 2005, we have guided more than 75,000 people into the wilderness.
Cutting Edge Knowledge – we regularly attend trade shows and pay close attention to the leading edge of new developments.
Up To Date Recommendations – we update our recommendations regularly as new products are developed and released.
Dedication to our Readers – we know that the gear we select as our top picks will end up in the field with our readers, and we take that responsibility very seriously. We view our readers as guests on our guided trips, just without the guides. We are committed to helping you be as well-outfitted and prepared as possible for your adventures.
*Disclosure: Some of the links above are affiliate links. At no cost to you, we earn a commission on any products purchased through these links. Any proceeds go to supporting our blog and operations. These affiliate links do not influence the products that we include in our gear round-ups. We only recommend products that we 100% support and that we have used in the field. 
MORE GEAR RECOMMENDATIONS
Check out our Wildland Gear Guide for more recommendations about hiking, trekking, camping and outdoor gear. We are always adding new products to help our guests and readers make the best choices to outfit their adventures.