Best Backpacking Cookware
Let's review our recommendations for the best backpacking cookware currently available and important buying advice.
There are often two distinct camps when it comes to hiking, those that cook and those that only need to boil water. Some hikers can easily get by with hot water for oats in the morning and freeze-dried meals at night. However, there is also a significant proportion of adventurers who still enjoy setting up their pot and cooking a hearty meal at camp in the evenings. If you fall into this category, then it's worth exploring the best backpacking cookware on the market to make sure you have the perfect pot for your needs.
That's why we're here. As anyone who has joined us on our USA hiking vacations and guided backpacking tours knows, we at Wildland Trekking love to cook good food. And because of that experience, we know a thing or two about what makes the best backpacking cookware, and we're going to share all our information and top recommendations in this article.
If, on the other hand, you are quite content to boil water for all your culinary needs, check out our boil-only recommendations in our Best Backpacking Stoves article.
KEY CONSIDERATIONS for the Best Backpacking Cookware
Let's start this roundup by first examining a few key considerations that you should keep in mind as you pick out your backpacking cookware. We'll be zeroing in on pots with this article, but many of these points apply equally well to pans as well.
Size
Your first step is to determine what size camping pot you need. This is generally best measured by how many people you'll be cooking for – the more people you need to feed, the bigger a pot you'll need. To get you started, most campers can get by with about 0.5-0.75 liters per person. But also consider how much space you have for cooking if you're cooking entire one-pot meals (rice, pasta, soup, and so on). As a very general guide, take a look at the table below relating the number of campers to pot size.
1-2 People: 0.75-1.5-liter pot
2-3 People: 1.5-2-liter pot
3+ people: 2+ liter pot
Packability
Camping pots typically rank among the bulkiest items we take into the backcountry thanks to their lack of compressibility for easy packing. But there are still some very sleek features that manufacturers have introduced in order to make the best backpacking cookware as packable as possible. Chief among these features are collapsible or removable handles along with pot sizes large enough to carry fuel canisters and additional cookware – allowing them to earn the space they take up in your bag.
A new contender in the market is pots that have entirely collapsible sides (typically made from silicone), that allow them to collapse down to about the size of a thick plate for easy carrying. However, the fragility of these silicone sides does limit what you can cook and your heat source (open flame campfire cooking is out of the question), but it does offer some packing flexibility that some hikers may find worth it.
Weight and Material
We're hiking, so of course, we need to think about the weight we're putting in our packs! Luckily for us, material science has come a long way lately, shedding excess weight but still maintaining good durability and cooking properties. This allows us to pack a decent-sized pot into the backcountry without packing on the pounds for that luxury. We typically see weights ranging from 6 ounces to 1.5 pounds, and these weights are heavily dependent on both the pot size and material. We already covered pot sizes earlier, and the most common materials we'll see for the best camping pots are:
Anodized Aluminum – Lightweight and evenly distributes heat. Less durable than steel and titanium, and can get the occasional dent. However, for overall low weight and easy cooking ability, anodized aluminum is the way to go and this is our favorite camp pot material at Wildland.
Titanium – Good balance between weight and durability by being stronger than aluminum and lighter than steel. However, titanium distributes heat less evenly than aluminum and is better suited for boiling water than intensive cooking. This material also tends to be the most expensive pot option.
Steel – This is the burly indestructible beast when it comes to cooking pot materials. However, steel is also the heaviest option and not as good a cooking surface as aluminum.
Price
We typically see prices ranging between $30 and $90 when it comes to the best backpacking cookware. The cost is influenced by the material, if you're buying one item or a set, and the pot/pan's overall size. So think about what you need for your backpacking trip, any additional features or items that you'd like, and balance those needs against your budget.
Best Overall Backpacking Pot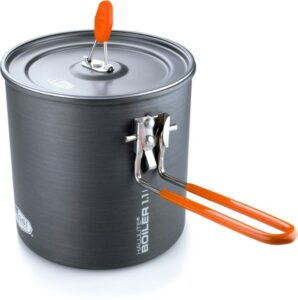 MSRP: $39.95
Volume: 1.1 liters
Material: Hard-anodized aluminum
Weight: 8.6 oz.
Pros: Lightweight – Good heat distribution – Compact design – Folding handle
Cons: Not as durable as other options (steel or titanium)
Closer Look: Simple, compact, and hardy, this 1.1-liter pot from GSI Outdoors has been a staple in the backcountry for years. The handle folds up to hold the lid in place during storage, and the pot diameter is just large enough to comfortably nest your fuel canister into. At 1.1 liters, this pot is perfect for a solo hiker or two adventurers. The anodized aluminum also distributes heat very well, and you can cook pot after pot of pasta without scorching the bottom layer. Now, the aluminum will show its age over time with the occasional scratch or ding, but its lightweight properties outweigh this inconvenience and this pot will last you season after season.
Find Your GSI Outdoors Halulite Boiler Pot
Best Personal Backpacking Pot 
MSRP: $34.95
Volume: 0.75 Liters
Material: Titanium
Weight: 3.6 oz.
Pros: Extremely lightweight – Durable – Accessible price for titanium
Cons: Small for more than one hiker
Closer Look: For a single backpacker looking for a lightweight and durable pot, the TOAKS Titanium 750ml is definitely one of the best backpacking cookware options on the market. This pot includes titanium's lightweight yet durable properties but for a reasonably accessible price. Additionally, it's sized to nest a fuel canister or Nalgene bottle but is still very compact and easily packable. However, keep in mind the 750ml (0.75 liters) is fairly small and gives you limited space to cook full meals such as stews or pasta. But if you don't mind the lower volume, this can be the perfect personal-sized pot for all your backpacking needs.
Find your TOAKS Titanium 750ml Pot
Best Camping Pot for Large Groups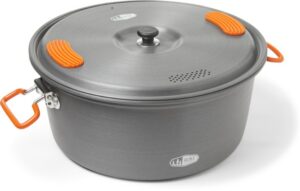 MSRP: $52.95
Volume: 4.7 Liters
Material: Hard-anodized aluminum
Weight: 1 lb. 5.2 oz.
Pros: Great size for groups – Handles fold down for storage – Wide design makes cooking large meals easy
Cons: Heavy – Bulky to store in a backpack
Closer Look: We at Wildland have been using these pots for our group backpacking trips for years and with good reason. The cavernous 4.7-liter space is ideal for preparing massive meals for big groups of backpackers (4 or more) while the wide diameter makes it convenient to cook and serve. While heavy at 1 lb. 5.2 oz., the anodized aluminum helps trim excess weight and the handles fold down to try and help with packing. But this is a massive pot, make no mistake, and it will certainly take up a lot of room in your pack. Therefore, it quickly becomes impractical for groups smaller than 4. But within its niche of cooking for large groups, this item is one of the best backpacking cookware options out there.
For a slightly smaller version of this pot, check out the GSI Outdoors Halulite 3.2 Liter Pot.
Find Your GSI OUtdoors 4.7 Halulite Pot
Best Backpacking Pan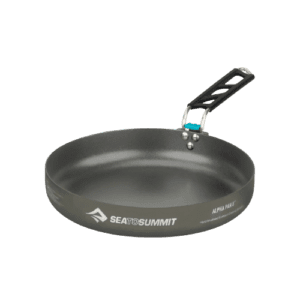 MSRP: $46.95
Size: 8-Inch Diameter (1-2 person)
Material: Hard-anodized aluminum alloy
Weight: 8.6 oz.
Pros: Reasonably lightweight – Collapsible handle is handy for transport – Textured base for grip on camping stoves
Cons: None that we can see!
Closer Look: When it's time to fry up some veggies, scramble some eggs, or flip a pancake, the Alpha Pan from Sea to Summit is there for you. This well-thought-out frypan features lightweight aluminum, plenty of space to cook for up to two people, and a foldable handle. We're particularly fond of the reasonably high sides that keep your food from spilling over the edge. For downsides, we honestly couldn't come up with any. This is a ruggedly built and highly useful frypan that easily earns its spot in your pack if you have some delicious items to fry up.
Find Your Sea to Summit Alpha Pot
Best Backpacking Cookware Set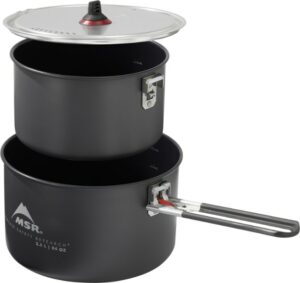 MSRP: $79.95
Volume: 1.5 and 2.5 liter
Material: Hard-anodized aluminum/ceramic coating
Weight: 1.0 lb. (both pots)
Pros: Versatile – Lightweight – Nesting design
Cons: Expensive
Closer Look: For those who have grand plans of culinary delectation on their backpacking trips and need multiple pots – or for folks who simply backpack a lot and like to have the choice between different sized pots – this 2-Pot set from MSR is for you. This set comes with a 1.5 and a 2.5-liter pot that seamlessly nest together since the handle is removable. With two pots, it's easy to cook more involved camp meals or you can simply choose to take one or the other depending on how many people you're hiking with. Anodized aluminum keeps the weight to a minimum while the PTFE- and PFOA-free ceramic, non-stick coating helps make cooking as easy as possible. But this cook set does come for a steeper investment as far as pots go, so make sure you'll use both of these pots before purchasing!
Find Your MSR Fusion Ceramic 2-Pot Set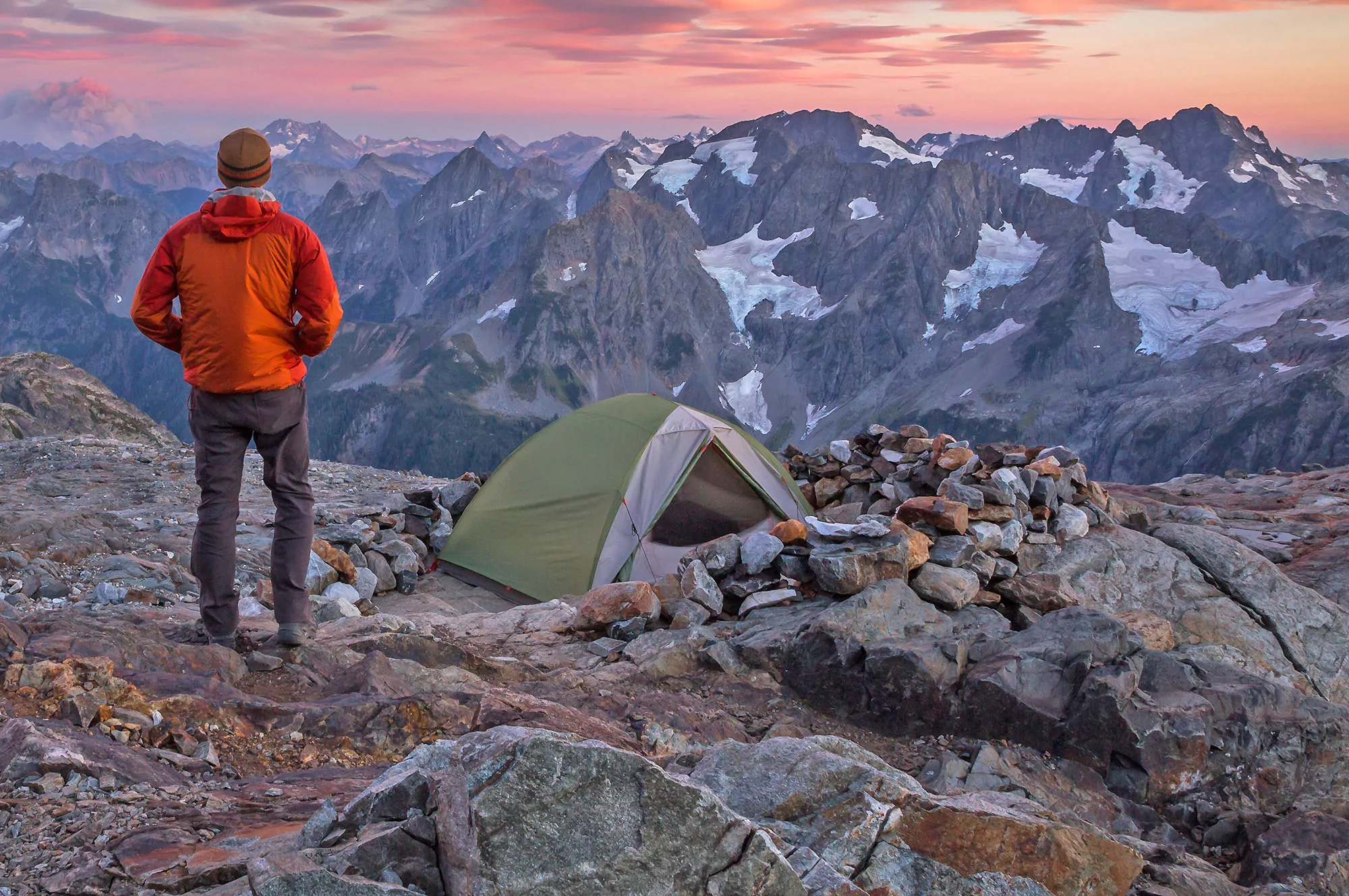 More Information About The Best Backpacking Cookware
There's a surprising amount of points to think about when perusing your next set of backpacking cookware, and we just have one more item to discuss! Picking safe materials and metal coatings.
Material Safety Concerns
Some non-stick coatings – such as PTFE and PFOA – have been shown to have the potential to cause some very serious health issues. However, such coatings have been largely phased out of US production, but it's still wise to be on the lookout for these potentially harmful coatings and avoid them. The Minnesota Pollution Control Agency has issued this handy guide to cookware coatings if you'd like more information.
Why Trust Us?
Choosing the right outdoor gear and apparel can be difficult. But at Wildland Trekking, we live and work with hiking gear every single day. It's an integral part of what we do, and we understand better than anyone how important it is to have the right equipment. In addition to our vast knowledge of backpacking gear, we also offer:
Independence – our recommendations are not influenced by partnerships or sponsorships with outdoor gear and apparel manufacturers.
Experience – as one of America's top guide companies, we take 8,000-10,000 people on hiking and backpacking tours annually. Since our inception in 2005, we have guided more than 75,000 people into the wilderness.
Cutting Edge Knowledge – we regularly attend trade shows and pay close attention to the leading edge of new developments.
Up To Date Recommendations – we update our recommendations regularly as new products are developed and released.
Dedication to our Readers – we know that the gear we select as our top picks will end up in the field with our readers, and we take that responsibility very seriously. We view our readers as guests on our guided trips, just without the guides. We are committed to helping you be as well-outfitted and prepared as possible for your adventures.
*Disclosure: Some of the links above are affiliate links. At no cost to you, we earn a commission on any products purchased through these links. Any proceeds go to supporting our blog and operations. These affiliate links do not influence the products that we include in our gear round-ups. We only recommend products that we 100% support and that we have used in the field. 
MORE GEAR RECOMMENDATIONS
Check out our Wildland Gear Guide for more recommendations about hiking, trekking, camping and outdoor gear. We are always adding new products to help our guests and readers make the best choices to outfit their adventures.