CANADIAN ROCKIES HIKING & BACKPACKING
With an incredible blend of wildlife, scenery, and solitude, the Canadian Rockies are a hiker's dream destination.
In the Canadian Rockies life is distilled down to water, rock, air, trees and animals. Rivers cascade from the high peaks, turned turquoise by glacial silt. Waterfalls can be seen miles away – thin white lines slicing down distant cliff bands. The air is pure, possibly the cleanest air you've ever breathed. Mountain lakes soak up the summer sunlight, shielded by towering cliffs and mountain summits. Bighorn sheep, mountain goats, wolves, coyotes, moose, elk, deer and bears are often seen in the backcountry.
On our Canadian Rockies hiking vacations you'll experience these extraordinary mountains in a way few people do. We get far away from the crowded highways and deep in to the backcountry for an unforgettable trekking experience. Our trips are all-inclusive, so you can let us take care of everything while you soak up the beauty, adventure, and rejuvenating experience of one of the world's most amazing mountain destinations.
We offer a backpacking trip in the Canadian Rockies and an inn-based hiking tour. If you're ready for an unforgettable adventure in the heart of the Canadian Rockies, give us a call at 1-800-715-HIKE (4453) to book a spot today!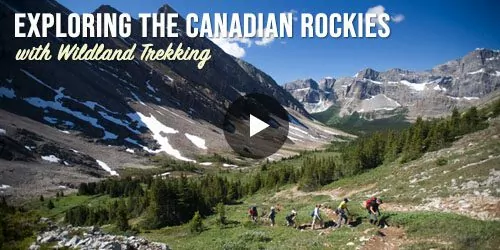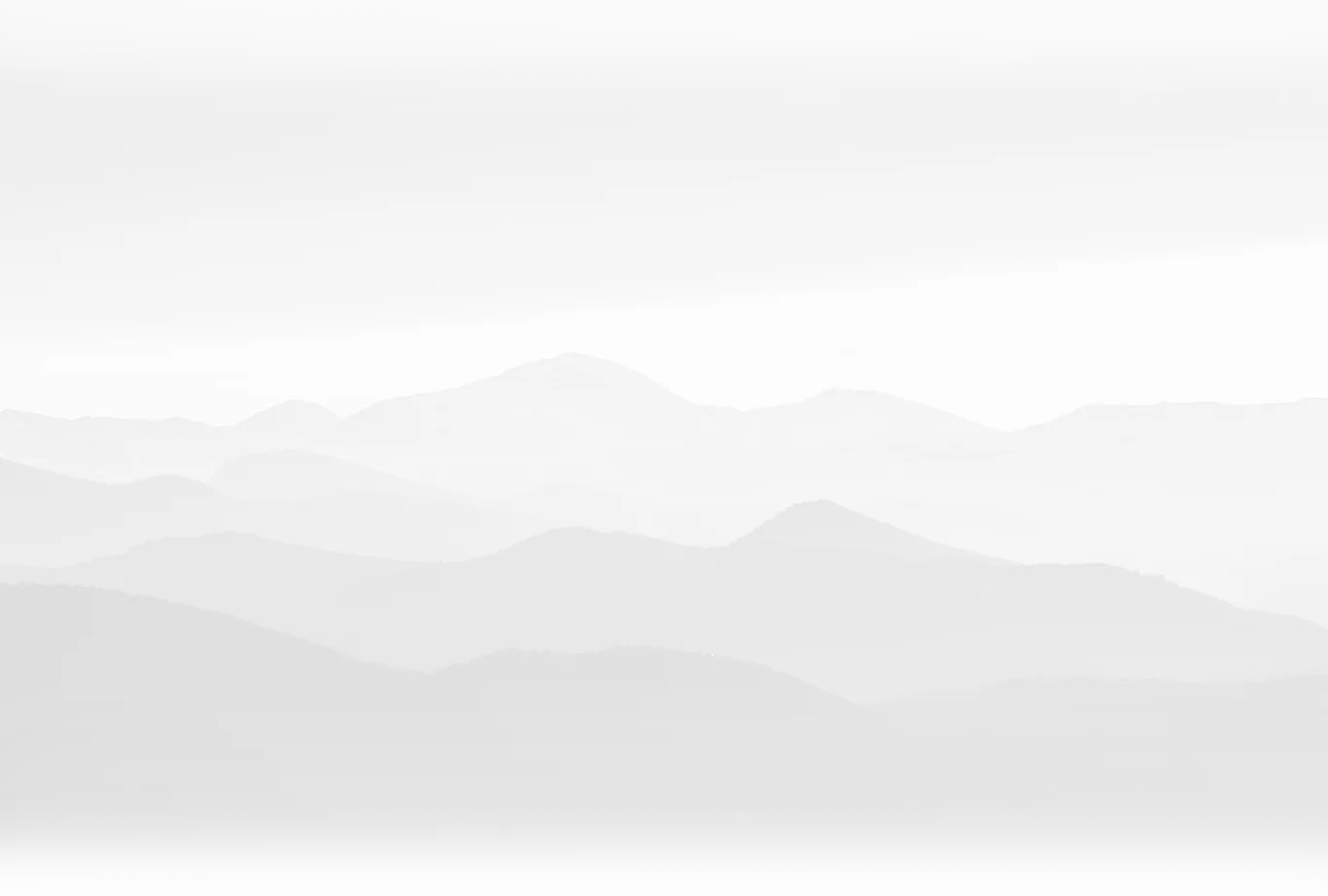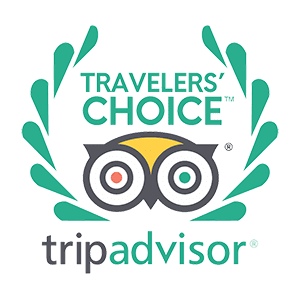 1. TOP RATED ADVENTURE TOURS
We accommodate approximately 10,000 people per year on guided treks across the United States and the world, and have earned top spots on multiple destination Trip Advisor pages (last count was 6) as well as a 5-star rating on Yelp, Google and Trust Pilot. We have earned this reputation through dedication to our guests and to providing outstanding trekking vacations since 2005.
3. ALL-INCLUSIVE TRIPS
We provide almost everything on these trips so you don't have to! That includes gear, local transportation, meals, professional guides, permits, reservations and more. We feel a huge benefit of joining a guided trip is being able to travel light and stress-free, and focus entirely on enjoying your exploration of the stunning Canadian Rockies! Which is why we take care of almost everything for you.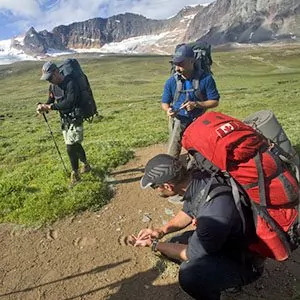 5. TOP OF THE LINE GEAR
The gear on our Canadian Rockies hiking trips is produced by award-winning, premier outdoor gear brands. This includes backpacks, trekking poles, tents, sleeping bags, sleeping pads and more. Having the right gear, and the best available gear, is a crucial part of a quality hiking or backpacking trip. On average across our trips, Wildland guests are outfitted with hiking and camping gear with a retail valuation of approximately $1000 per person (gear needs vary by trip, which is why this number is an average.)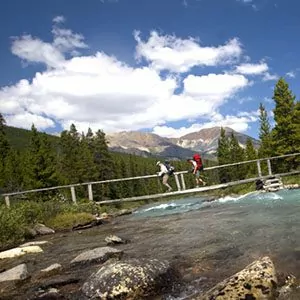 2. ALWAYS SMALL GROUP TRIPS
Our average group size for our Canadian Rockies trips are very low (5 guests on our Backpacking trip and 7 guests on our Inn-based tour.) Small groups allow each member of the group to feel like the experience is being tailored specifically for them. This personalized feel is something we feel very strongly about because providing quality hiking vacations that leave a lasting impact on our guests is our mission!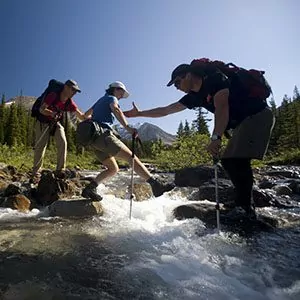 4. LOCAL, EXPERT WILDLAND GUIDES
No one knows an area like the locals – this is a fact. And yet going with local guides is often a roll of the dice as to the quality and consistency you can expect. We combine the best of both worlds – local, expert guides who know the Canadian Rockies inside and out, and that are also part of the Wildland team trained to exceed guest expectations through excellence in customer service, logistics, food and natural/cultural interpretation.
More about Canadian rockies hikes
Why the Canadian Rockies?
The "Canadian Rockies" are a collection of some of the world's most stunning national and provincial parks: Banff, Jasper, Kootenay, Yoho, Kananaskis and more. At a more northerly latitude than America's Rocky Mountains, Canada's Rockies are wetter, colder and in general more wild. They are home to intact glaciers; turquoise-colored, glacial-fed rivers; breathtaking alpine lakes and waterfalls; abundant wildlife and more. If you like mountains, then you'll love the Canadian Rockies!
Backpacking trip or inn-based trip?
When it comes to trips in Canada, we offer an adventurous backpacking trip and a wonderful, all-around lodge-based experience. Choosing between these two is usually pretty straight forward because they are so clearly different from each other. The backpacking trip is a backcountry, camping-based excursion in which we carry our gear for the duration of our trip. You can expect to shoulder a 30-40 pound backpack, camp in the wilderness and have an adventure of a lifetime. The inn-based tour on the other hand is based at a hotel in the town of Banff, and each day we embark on extraordinary day hikes to waterfalls, viewpoints, lakes and more. We also ride a gondola and eat dinner at a bistro literally in the sky. If you like to hike but also like your creature comforts and want to "live it up," then the inn-based tour is a good choice. If you're interested in a remote, wild experience of the Northern Rockies, and you are up for a physically demanding adventure, then the backpacking trip is the way to go.
Hiking in Grizzly Country
The Canadian Rockies are home to a very healthy population of grizzly bears. We believe all risks need to be addressed from a standpoint of adding layers of safety. From our experience, there is almost never one magic bullet that will resolve a possible risk. When it comes to bears, there are several key safety layers that must be in place:
Hike in groups. By joining a guided trip, you are going to be in a group. This is a very important layer of safety. Bears, like all predators, cannot afford to be injured (which for wild animals means almost certain death.) A group of people constitutes a far greater risk to the bear than one or two people.
Don't surprise a bear. Making noise, especially when in thick foliage, is another important layer of safety. If a bear hears a group coming, they will almost always run off, but if a bear is surprised at close range they may panic and attack.
Keep very clean camps. Bears can smell food inside a tin can that is stored in a cooler inside a car! Maintaining clean camps is a crucial layer of safety in bear country. It's important to never sleep with anything scented and to hang all scented items, trash and food in bear hangs or stored in bear canisters far from camp.
Carry bear spray. Bear spray has been proven again and again to be an effective deterrent of bear attacks. It should be worn in a holster on your hip and ready to use at any time.