PATAGONIA HIKING & TREKKING
Enjoy a once-in-a-lifetime trip to Patagonia, one of the most incredible hiking destinations in the world!
Patagonia is, simply put, a hikers' paradise. The region of Patagonia encompasses the southern tip of South America in both Chile and Argentina, here the weather and climate mirror that of Northern Canada and Alaska in the Northern Hemisphere, this awe-inspiring landscape is home to a stunning sliver of the Andes Mountains, as well as deserts, steppes and grasslands. Wildland's Guided Patagonia hikes are all-inclusive opportunities to discover Patagonia's sheer granite spires, towering mountains, glaciers, lakes, rivers, wildlife and more!
Our Patagonia hiking tours are focused on Torres del Paine National Park, an invaluable conservation and wilderness gem in Chile; and Parque Patagonia, a vast wilderness preserved through private conservation funding and donated as a national park to the Chilean Government. We have plenty of itinerary options for those that love to hike, for all abilities and levels of comfort. Come explore one of the world's most premier adventure travel destinations on your next unforgettable hiking vacation!
Check out our list of Guided Patagonia hiking and trekking tour options below or give us a call at 1-800-715-HIKE (4453) to request more information or reserve a spot today!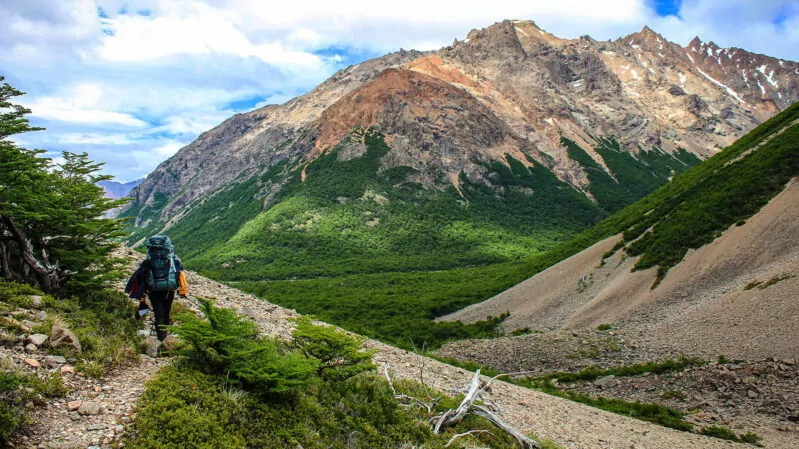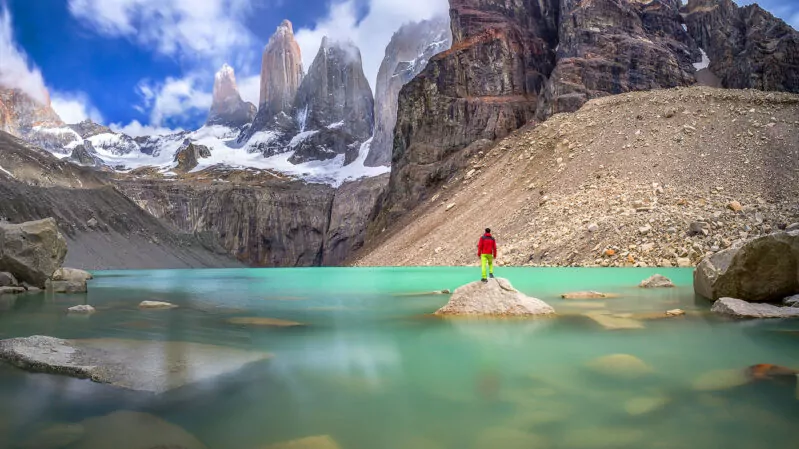 All Patagonia Hiking Tours Trips (

4

results)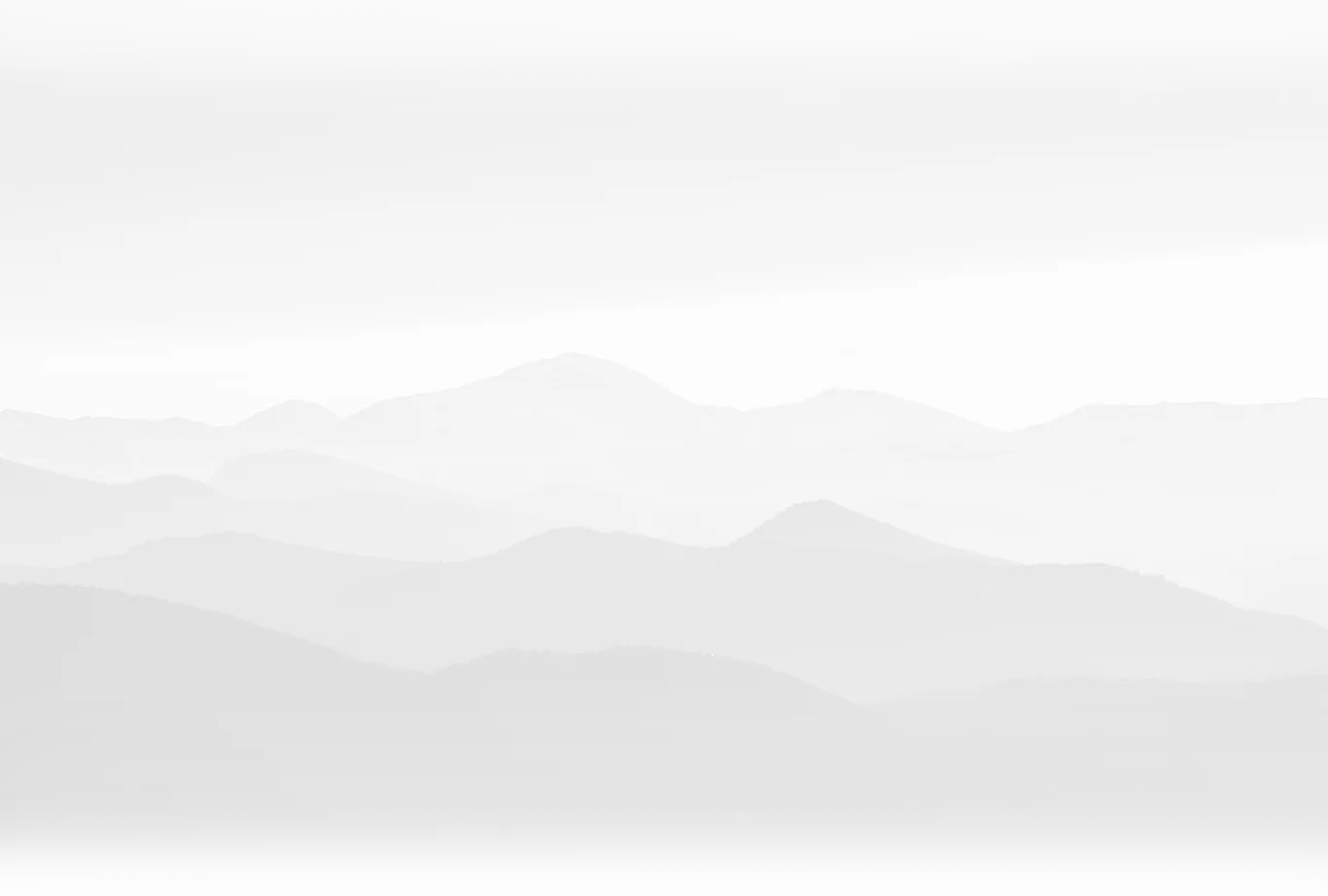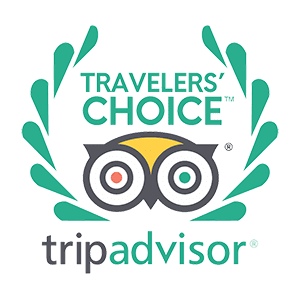 1. TOP RATED ADVENTURE TRAVEL COMPANY
For 15-plus years Wildland has been leading guests on hiking adventures around the USA and the world. In that time our trekking adventures have earned 4,000-plus online reviews, with more than 99% of those 5 stars. These reviews are also on third party review sites (Trip Advisor, Google, Trust Pilot…etc.) which has a much higher level of integrity than self-hosted reviews.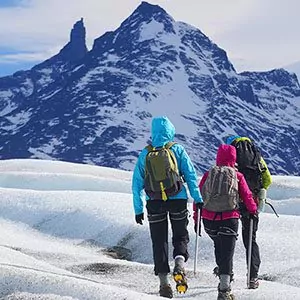 3. ALL-INCLUSIVE TRIPS
We designed our Patagonia hiking tours so you can focus all of your energy on enjoying the stunning landscapes and experiences this region offers. Our trips include local transportation (with pick-up and drop-off at the local airport), lodging for the duration of the tour, meals, top-of-the-line gear, permits and fees, and of course expert local Wildland guides.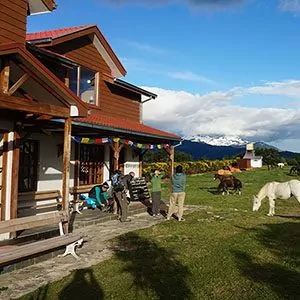 5. HAND PICKED ACCOMMODATIONS & GEAR
Our accommodations are carefully selected to provide a high quality pre-trek and post-trek lodging experience. On our treks, the lodging is in backcountry huts ("refugios"), or – on our Lodge-based Tour – at a wonderful, cozy lodge. And our gear is made by premier outdoor retail companies who specialize in outfitting hiking and camping enthusiasts.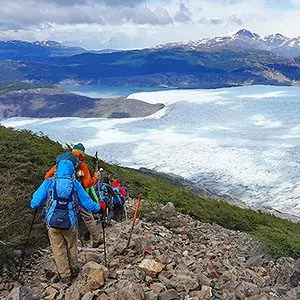 2. ALWAYS SMALL GROUP TRIPS
Our Patagonia trips, like all of our hiking and backpacking tours, are always small groups. Our Patagonia Treks specifically are capped at 12 guests and 2-3 guides. This intimate group size allows us to better customize the experience for each guest, and it also enables our guests to get a deeper and more authentic cultural experience with the local guides.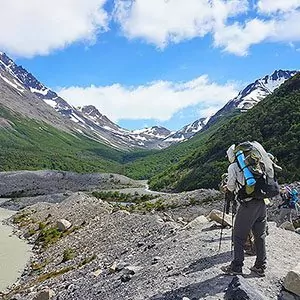 4. LOCAL, EXPERT WILDLAND GUIDES
Our Patagonia guides are some of the very best in the business. Local Chileans, they were carefully vetted, brought onto the Wildland team and trained to maintain our high standards. Our guests regularly rave about our Chilean guides, who are able to give you an immersive experience in the Patagonia culture as well as a world-class adventure travel experience.
MORE ABOUT PATAGONIA HIKING VACATIONS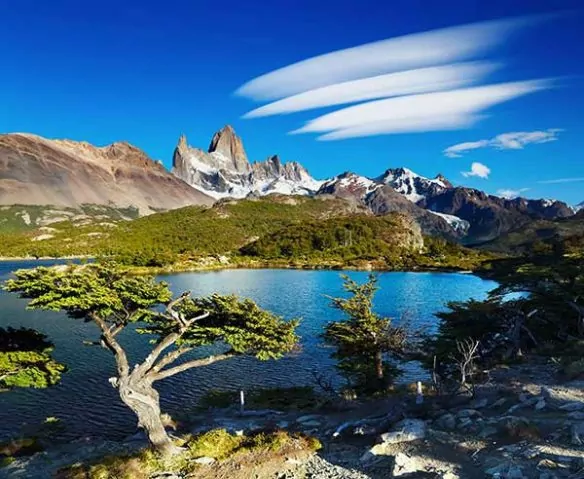 WHY A PATAGONIA HIKING TRIP?
Patagonia is in many ways the South American equivalent of Alaska – it's a region characterized by vast wilderness; harsh winters; stunning, short summers; and breathtaking, extremely photogenic mountain scenery. Patagonia's iconic landmarks are the soaring granite towers in Torres del Paine National Park in Chile and in Los Glaciares National Park in Argentina. Guided Patagonia hiking trips are wonderous adventures with glaciers, alpine lakes, waterfalls, unique wildlife, and cozy backcountry accommodations in the region's "refugios." Bottom line is if you like to hike and travel, Patagonia is a must-visit destination to add to your "Life List!"
THE WILDLAND HIKING EXPERIENCE
Our international trekking vacations are all-inclusive hiking packages that allow you to explore regions around the world without having to worry about many of the difficult logistics of international travel. We pick you up at the regional airport, provide lodging for the duration of the trek, and drop you back off at the airport on the final day. (If you'd like extra days in Patagonia before or after your trip, we're happy to help you set that up as well.) We hand-pick unforgettable hiking routes and provide expert trekking guides with in-depth local knowledge and expertise. You can expect wonderful meals, fantastic accommodations that put you right in the action, and top-notch customer service!
---
TORRES DEL PAINE OR PARQUE PATAGONIA?
One question we receive relatively often from our Patagonia trekking guests is whether to hike Torres del Paine National Park or join us in Parque Patagonia. The answer is pretty straight forward – are you looking to have an iconic and relatively comfortable national park experience, or a pretty hardcore wilderness experience?
In Torres del Paine, we (for the most part) stay in Patagonia's famous refugios, which are backcountry lodges with dorm-style sleeping, bathrooms, hot meals…etc. Trips in Torres del Paine National Park include the Torres del Paine W Trek, Torres del Paine O Circuit, Torres del Paine Basecamp Tour, and our Lodge-based Patagonia Hiking Tour (which stays in a cozy lodge outside the Park but in a perfect location).
Parque Patagonia, on the other hand, is a massive, recently-designated national park that is mostly deep wilderness and requires backpacking and camping. Not to worry though! The Wildland team has been operating guided backpacking trips since 2005 and are one of the world's premier backpacking guide companies. We know how to make a trip comfortable, exciting and enriching. We offer one trip in Parque Patagonia right now, which is our Parque Patagonia Trek. Regardless which Patagonia trekking tour you choose, one thing's for sure – it's going to be an unforgettable adventure!
---
HIKE PATAGONIA WITH OR WITHOUT A GUIDE?
Patagonia hiking trips can be done with a guide company or on your own. Patagonia hiking companies like Wildland provide a variety of packages from very, very basic options to premier tours like Wildland's which are all-inclusive. The value points of traveling with Wildland Trekking are many: the confidence and peace of mind that comes from traveling with a proven, premier trekking company; reservations, permits, and logistics are taken care of for you; worry-free adventure travel as you're accompanied by expert, highly trained guides; exceptional meals and gear; in-depth knowledge of the local area, flora, fauna…etc. and more!
WHEN TO HIKE IN PATAGONIA
Being in the Southern Hemisphere, Chile has opposite seasons to North America and Europe. That makes their summer months December through February, and shoulder season months October-November and March-April. We heartily recommend trekking in Patagonia in the shoulder months if possible, as the crowds are much lighter than summertime, although the weather can certainly be a bit more spicy. Average temperatures and precipitation in Torres del Paine National Park during these months are detailed in this table:
| | | | |
| --- | --- | --- | --- |
| Month | Hi | Low | Precip |
| October | 51° F (11° C) | 37° F (3° C) | 5 in |
| November | 55° F (13° C) | 40° F (4° C) | 5.6 in |
| December | 57° F (14° C) | 42° F (6° C) | 7.2 in |
| January | 59° F (15° C) | 44° F (7° C) | 5.1 in |
| February | 58° F (14° C) | 43° F (6° C) | 3.8 in |
| March | 55° F (13° C) | 41° F (5° C) | 4.9 in |
| April | 50° F (10° C) | 38° F (3° C) | 5.8 in |