Best Hiking Socks
Let's review our recommendations for the best hiking socks on the market and our top buying advice.
Often overshadowed by the bigger and more shiny pieces of gear such as tents and packs, our hiking socks nevertheless play a vital role in our adventures. They are the first line of comfort for our feet, those same feet which carry us every single step of the way along miles and miles of trail. From Utah hiking tours to Yellowstone backpacking trips, your socks are easily one of the most critical pieces of gear. So wouldn't we want to try and keep our feet happy and comfortable with the best hiking socks on the market?
That's why we've put in the time to test and research the best hiking socks on the market and complete this comprehensive list. From essential buying advice and material discussions to specific sock recommendations, we've covered everything you need to know in order to pick out the best socks for hiking for you. So read on, and pick out your feet's best friend to keep you nice and comfortable wherever your adventures take you.
QUICK LIST OF RECOMMENDATIONS
KEY CONSIDERATIONS for the Best Hiking Socks
Let's start by reviewing a few key characteristics and features that will greatly influence your search for the best hiking socks. Remember to consider what you need from your socks and how you'll use them as you read these considerations to paint a clearer picture of what you need.
Durability and Material
Our hiking socks may get the most wear out of our entire assortment of gear. With every single step on the trail, they're experiencing endless contact, heat, and potential rubbing against your footwear. To emphasize this point, many of us have felt the disappointment of seeing the sock footbed or cuff get rubbed to oblivion and begin to fray. Therefore, the best hiking socks will feature very durable materials that can hold up to the constant abuse of hiking.
The material blend will vary from sock to sock, but the most common contenders are synthetic fibers such as nylon, spandex, and polyester, often blended with natural fibers such as merino wool or bamboo.
Support and Comfort
Although our hiking footwear is often our primary source of support, our socks can also play a role. Specifically, compression material strategically placed around the foot arch and ankle can add a small but significant amount of support to those critical areas. The tradeoff is that some hikers may not like the sensation of their feet getting slightly squeezed inside of their socks. So keep an eye open for this feature, and decide if this additional support will be beneficial or detrimental to your hiking enjoyment.
Odor-Control
Perhaps one of the most cringe-worthy parts of your day, taking off your boots and peeling off your socks while bracing yourself for the tidal wave of hot, sweaty feet smells. But it doesn't have to be that way! The best hiking socks will often include a robust method of odor control, either through treating the materials or using natural fibers that are inherently anti-bacterial.
Remember, bacteria is what causes bad foot smells. Therefore, a material that inhibits bacteria from growing will automatically head off any bad smells from appearing. Merino wool is famous for naturally being anti-microbial and is, therefore, a powerful material to keep an eye open for if you want your socks to fight bad odors.
Moisture Wicking
Another vital property of the best hiking socks is to wick moisture away from your foot quickly. As we hike, our shoes get warm, and our feet sweat just like any other part of our bodies. If that moisture stays on our feet, it can combine with the constant rubbing to pave the way for blisters and become the ideal environment for bacteria and foul odors. Therefore, socks that can quickly wick moisture away from your foot will often perform much better on the trail than those that don't wick moisture away. Once again, merino wool tends to be the material of choice in this department as it is naturally moisture-wicking and also dries quickly.
Price
Of course, price always plays a role in our hiking gear selection. Luckily, as far as the best hiking socks go, we're not looking at gargantuan prices that take time to save up for and a deep, reflective look at your bank account. Nevertheless, there's definitely a range of prices on the market, typically starting from around $15 and going up to about $30 for a single pair of socks. Within that range, we see a wide variety of materials, features, quality, and styles.
But perhaps the very first step you can take in your search is to establish your budget. Are you on the market for premium-level socks with a higher price that reflects the superb quality and features? Or are you willing to sacrifice some of those features for a more affordable sock? Once you make this decision, balance your choice against the other considerations we've discussed above, and you'll be well on your way to knowing exactly what kind of sock you're looking for.
Best Hiking Socks for Overall Support and Features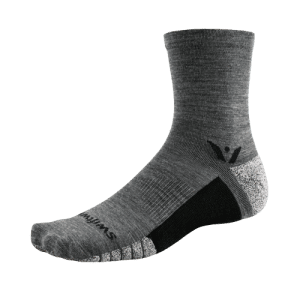 MSRP: $26.99
Material: 38% Nylon / 24% Merino wool / 22% Olefin / 13% Polyester / 3% Spandex
Height: Crew – Five Inches
Cushion: Medium
Pros: Excellent support – Good comfort – No rubbing or bunching
Cons: Higher price tag – Can retain odors
Closer Look: Wildland gear tester Liz Lucas tested the Swiftwick Flite XT Trail Socks in the field, and all its cutting-edge features performed brilliantly. The compression material along the ankle provided excellent support, while additional compressive material through the foot arch offered long-lasting comfort on the trail and limited foot fatigue. The snug fit also eliminated any sock movement or bunching, while the Olefin material did an excellent job wicking moisture away and keeping the foot dry to prevent blisters. The only drawback our testing revealed was that these socks tend to retain odors more than other options on the market. But in terms of overall performance and features, the Swiftwick Flite XT Trail Socks are superb.
Check out our full Swiftwick Flite XT Trail Five review to learn more about these socks and what makes them some of the best hiking socks on the market.
Find Your SWIFTWICK FLITE XT TRAIL FIVE
Best Cold Weather Performance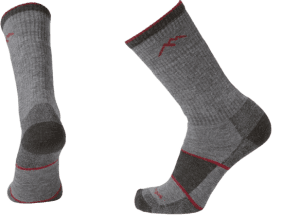 MSRP: $27.00
Material: 66% merino wool/32% nylon/2% Lycra spandex
Height: Crew
Cushion: Heavy
Pros: Very warm – Great odor control – Incredibly durable
Cons: Overkill for most hiking
Closer Look: If you're looking for extra cushion and warmth without the added bulk and bunching, then the full-cushion socks from Darn Tough are for you. Darn Tough's socks are manufactured in Vermont with high-quality, bombproof precision, and we love the extra warmth provided by the 66% merino wool blend. This high wool content also means fantastic moisture-wicking and odor control capability. However, what makes the Hiker Boot Full-Cushion socks stand out is that Darn Tough did a phenomenal job maintaining a performance fit in spite of all the additional cushioning. This means that even though these are heavy socks with lots of material, there's still no bunching or movement on the trail, which is a bit of a rarity for such a heavy-duty sock. The increased merino content plus the heavy cushioning definitely make this a very warm sock and likely overkill for many summer-season adventures. But if you're heading up into the mountains or logging some winter miles, these socks may be exactly what you need.
Find your Darn Tough Hiker Boot Full-Cushion Socks
Best Budget Wool Socks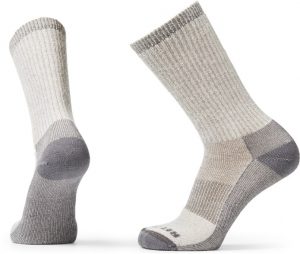 MSRP: $16.95
Material: 79% RWS merino wool/20% nylon/1% Lycra spandex
Height: Crew
Cushion: Light
Pros: Excellent price point – High wool content – Good odor control
Cons: Prone to pilling – Slightly loose fit
Closer Look: The near-endless benefits of merino wool socks don't have to break the bank, as REI has proved with their Merino Wool Lightweight Hiking Crew Socks. These socks feature abundant wool – 79% of the total blend – which imparts are very soft and cushy feel that is also highly odor-resistant and moisture-wicking. However, the lower price point comes with a few tradeoffs. Namely, these socks lack the performance fit of other premium options and instead feel a little looser on the foot – but the compressive arch band does make some gains in this department. Additionally, these socks tend to suffer from more pilling – where small balls of wool/fabric form on the surface – than other more expensive options. Nevertheless, the warm comfort provided by these socks, along with all the benefits of merino wool, all for a very accessible price, may make these tradeoffs well worth it.
If you want an even cushier and beefier version of these wool socks, check out REI's Merino Wool Expedition Hiking Crew Socks with increased cushioning, durability, and reinforcement in high-wear areas.
Find Your Merino Wool Lightweight Hiking Crew Socks
Best Ankle Socks for Hiking
MSRP: $19.00
Material: 47% merino wool/37% recycled nylon/12% nylon/4% elastane
Height: Ankle
Cushion: None
Pros: No rubbing – Lightweight and breathable – Good moisture-wicking – Very durable
Cons: No cushion
Closer Look: Lightweight and performance-focused, the Run Zero Cushion Ankle Socks are your path to moving light and fast. The 47% merino wool helps with odor control and wicking moisture away from your foot, while the synthetic materials add a very burly and durable aspect to these lightweight socks. With zero additional cushioning, these socks are designed to protect your feet from blisters and rubbing on the trail and stand up to all the abuse that those miles can rack up. However, the lack of cushioning may be a red flag to some hikers who prefer a little extra padding underfoot. But either way, these sleek ankle socks are durable and low profile, making them ideal for hikers who prefer a more minimalist approach to their footwear.
Find Your Smartwool Performance Run Zero Cushion Ankle Socks
Best Compression Socks for Hiking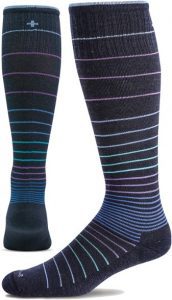 MSRP: $29.95
Material: 32% merino wool/32% stretch nylon/31% rayon from bamboo/5% spandex
Height: Knee-High
Cushion: Light
Pros: Stays in place on calf – Excellent muscle and foot support
Cons: Too high and bulky for most hikers – Expensive
Closer Look: Compression sock technology reputedly aids in blood flow and minimizing swelling – no matter if you're on your feet on the trail all day or stuck sitting down for a long day of travel. In this category, the Sockwell Circulator is an excellent choice as the compression gradient from the ankles up to the tops of the calves is designed to promote blood flow and decrease muscle fatigue. While knee-high socks for hiking may not be for everyone, the Circulator's support is worth the somewhat steep investment for those who want durable and reliable compression socks on the trail. We're also impressed with how secure the Circulator sock sits, and it won't ride down during steady walking on the trail.
Find Your Sockwell Circulator Compression Socks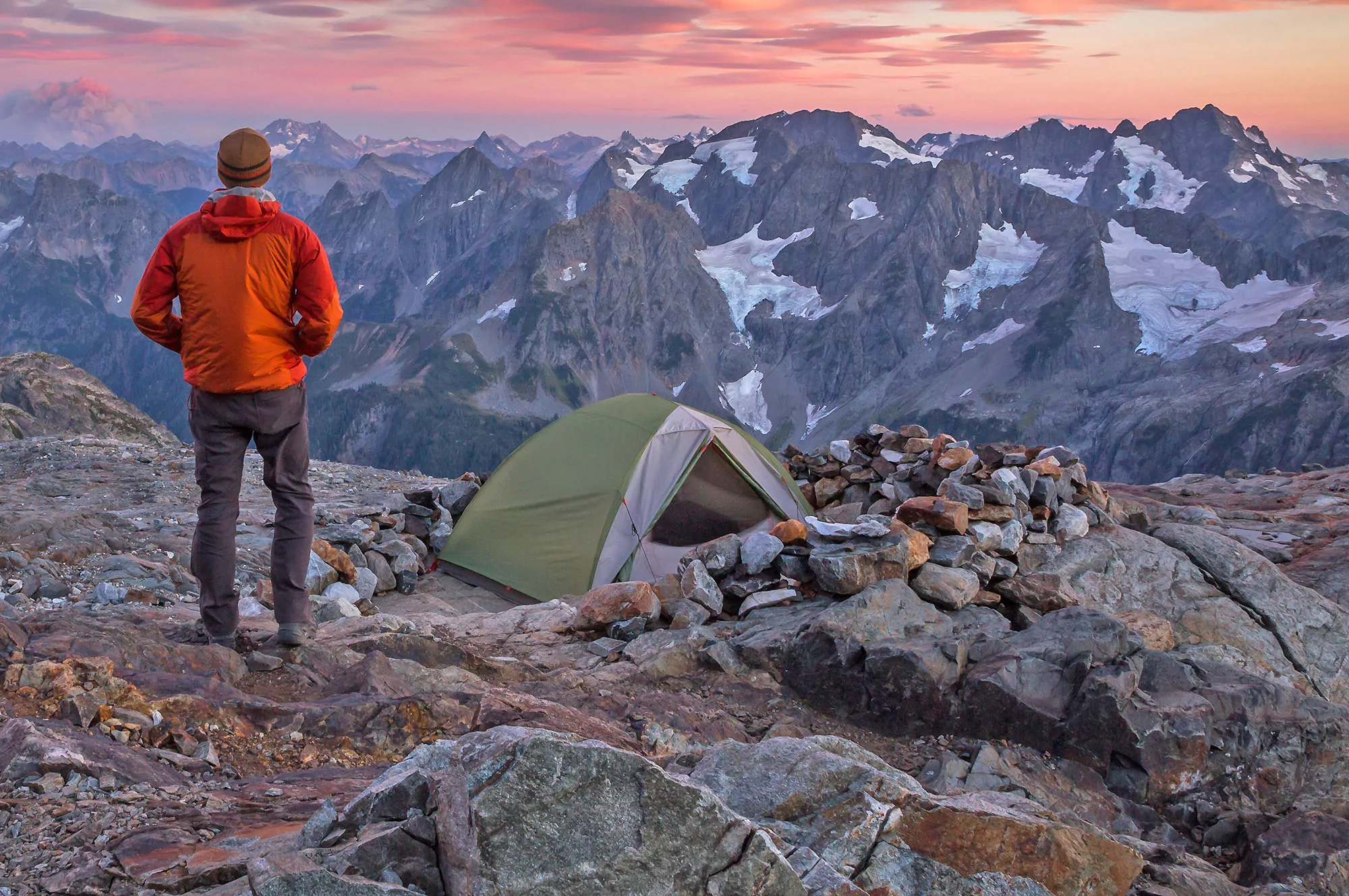 More Information About The Best Hiking Socks
A lot goes into finding the best socks for hiking! Let's take a look at just a couple more points to consider when purchasing your new socks.
Ethical Wool Considerations
As you search for the best socks for hiking, you'll often come across different certifications for natural fibers, most often merino wool. These certifications include RWS (Responsible Wool Standard) and ZQ-certified (a wool supplier that independently certifies their wool). These standards ensure that the sheep providing the wool are treated humanely and in compliance with proper animal welfare regulations.
Sock Care
Always take a moment to read the manufacturer's instructions regarding how to wash and dry your socks. Merino wool in particular tends to be a little picky, and high wool content socks may need some particular attention to ensure their longevity and performance. But while you're in the outdoors on a trip, our top recommendation for sock care is to make sure you completely dry them out every evening. This could mean hanging them to dry so they get some air, or throwing them in or under your sleeping bag and letting your body heat dry them.
Why Trust Us?
Choosing the right outdoor gear and apparel can be difficult. But at Wildland Trekking, we live and work with hiking gear every single day. It's an integral part of what we do, and we understand better than anyone how important it is to have the right equipment. In addition to our vast knowledge of backpacking gear, we also offer:
Independence – our recommendations are not influenced by partnerships or sponsorships with outdoor gear and apparel manufacturers.
Experience – as one of America's top guide companies, we take 8,000-10,000 people on hiking and backpacking tours annually. Since our inception in 2005, we have guided more than 75,000 people into the wilderness.
Cutting Edge Knowledge – we regularly attend trade shows and pay close attention to the leading edge of new developments.
Up To Date Recommendations – we update our recommendations regularly as new products are developed and released.
Dedication to our Readers – we know that the gear we select as our top picks will end up in the field with our readers, and we take that responsibility very seriously. We view our readers as guests on our guided trips, just without the guides. We are committed to helping you be as well-outfitted and prepared as possible for your adventures.
*Disclosure: Some of the links above are affiliate links. At no cost to you, we earn a commission on any products purchased through these links. Any proceeds go to supporting our blog and operations. These affiliate links do not influence the products that we include in our gear round-ups. We only recommend products that we 100% support and that we have used in the field. 
MORE GEAR RECOMMENDATIONS
Check out our Wildland Gear Guide for more recommendations about hiking, trekking, camping and outdoor gear. We are always adding new products to help our guests and readers make the best choices to outfit their adventures.