Best Hiking Daypacks
Let's review our recommendations for the best daypacks for hiking – with backpack options covering everything from moving light and fast to tackling technical terrain.
All hikers, from beginner to ardent through-hikers, should have at least one reliable daypack in their gear repertoire. Perhaps there's a fantastic summit trail from camp that you want to check out, or maybe it's a conditioning hike in the early season, or just a family outing and you need a daypack to carry snacks and water for the kids. Whatever the reason, the best daypacks for hiking will serve you well season after season, no matter if you're hiking in Utah or backpacking in Yellowstone.
However, the trick is to separate the best hiking daypacks from subpar options that will let you down – and we've already done it for you! Read on to review our top choices for the best daypacks for hiking and find the perfect one for your adventures.
QUICK LIST OF RECOMMENDATIONS
KEY CONSIDERATIONS the Best Hiking Daypacks
Weight 
Weight is always a concern for any form of hiking gear, and your daypack is no exception. We often see daypacks running the gamut between the ultralight and minimalist options at just 2.5 oz (the Sea to Summit Ultra-Sil) to feature-rich choices at around 32 oz/2 lbs. (the Osprey Talon or Tempest). 
Your choice in this department will often boil down to how much you want your daypack to emulate a full-sized backpacking pack. If you want a bombproof design, supportive hip belts, plenty of pockets and zippers, and a plush, supportive back pad (much like a backpacking backpack), you'll be looking at more heavyweight options. 
On the other hand, more lightweight options are for you if you're just looking for an easy-to-store sack that can hold your belongings without worrying about features or durability. 
Capacity 
In general, we tend to consider packs from 10 to 35 liters capacity as the classic "daypack." 
If you have short (half-day or less) hikes in mind, then 10 to 18 liters will likely get you through. Full-day trips – requiring more snacks and gear – will drive that capacity up into the 20-28 liter range. If you're aiming for a rugged, full-day summit in cold conditions with lots of layers and protection, then the larger options up to 35 liters (or even more) are for you.
Most hikers tend to gravitate to 22-25 liter daypacks as this size is suitable for just about any day adventure. 
Storage Options
There are many different methods that pack manufacturers use to secure gear in their backpacks. A few of the most common are zipper pockets, drawstring closures, mesh pockets, and roll-tops. Let's look at these options in more detail. 
Zipper pockets – the classic pocket and top closures that are as ubiquitous in the backcountry as they are effective. These are an easy and convenient option to keep your gear secure and are often included in full-feature packs where weight is less of a concern (as a plethora of zipper pockets do add a little more weight than other options). 
Drawstring Closures – these are sometimes used as the daypack's primary closure and feature cord that you simply cinch to close up the pack. These are used for top-loading daypacks, where the top access point opens up to the pack's large interior space with one convenient closure system. However, while very lightweight and easy to use, a drawcord system doesn't secure your gear as firmly as a bag with many zipper pockets or a roll-top closure. 
Roll-Top Closures – these bags feature a top-loading closure that you can roll up securely and then buckle in place. This option is very secure and compressible as you can roll it down as tight as you need in order to keep your gear battened down. 
Mesh Pockets – while not a primary closure method for your daypack, mesh pockets are a very common feature for additional storage outside the bag. Mesh side pockets with an elastic lip are widespread for water bottle storage. Meanwhile, a large all elastic mesh pocket on the back of the daypack is a handy feature if you like to keep layers within easy reach. These large pockets remain taut and snug against the pack when not in use but expand as you shove in coats, fleeces, or other bits of gear to keep them accessible. 
Weather Resistance 
Bad weather can roll in at a moment's notice, especially in the mountains. Therefore, it's worth thinking about how your daypack will hold up in the rain or other inclement weather. 
Most of the best daypacks for hiking will include a Durable Water Repellent (DWR) coating that can help it shed water if you get caught in a sudden squall. However, these coatings are not fully waterproof and won't protect your gear if you're in the rain all day. Additionally, these coatings will fade over time and need to be revitalized with an off-the-shelf spray – such as ReviveX treatment spray.
As an added shield against the weather, look for daypacks with an included rain cover that you can deploy in adverse weather. These daypack shells provide a solid barrier against bad weather and can help keep your pack dry through prolonged rainstorms. If your pack doesn't come with a cover, you can purchase them separately – such as REI's Duck's Back.
Price 
And the last consideration we need to cover is price, and there's a shocking range of options available to you. 
Budget-friendly options can hover around just $40 for a decent pack that will get the job done with less of a strain on your wallet. Meanwhile, high-end choices with premium features and quality can launch that price all the way up to $200 or more. 
So consider how much you're willing to invest. If you're just beginning to hike, then a budget-friendly choice may be a better option as you test the waters. But if you're an experienced hiker, know what you want, and are sure to use the pack to its full potential, then a more pricey investment may well be worth it. Establishing your budget and what you want will help zero in on the best daypacks for hiking for you. And on that note, let's dive into our top recommendations.
Best Overall Daypack for Hiking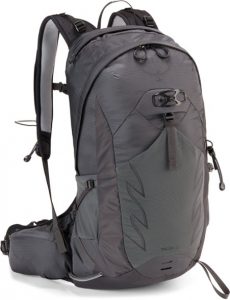 MSRP: $135.00
Capacity: 22L (Talon/Men's) or 20L (Tempest/Women's)
Weight: 2 lbs. 0.6 oz. (Talon/Men's) or 1 lb. 14.6 oz. (Tempest/Women's)
Hip Belt: Yes + Hip Pockets
Main Closure: Zipper
Sizing: 22L Talon (Men's) and 20L Tempest (Women's)
Pros: Very supportive – Comfortable padding – Large external mesh stuff pocket – Men's and Women's specific sizing
Cons: On the heavy side for a day pack
CLOSER LOOK: Osprey has an irrefutable reputation for quality, long-lasting hiking backpacks. Therefore, it's no surprise that their flagship daypack – the Talon for men and Tempest for women – tops our list of the best hiking daypacks on the market. These daypacks shine in terms of support (where many daypacks tend to skimp). The hip belt is large, padded, exceptionally supportive, and even includes pockets, while the back support is both comfortable and close-fitting for a streamlined and supportive fit. The large external mesh stuff pocket is also a nice feature to keep layers within easy reach. Lastly, Osprey offers these two fits (the Talon and Tempest) in a multitude of different sizes – from 11 to 40 liters – so you can always find a capacity that perfectly suits your needs.
Men's Osprey Talon 22
VIEW AT REI.COMView at Backcountry.com
Women's Osprey Tempest 20
Best Budget Hiking Daypack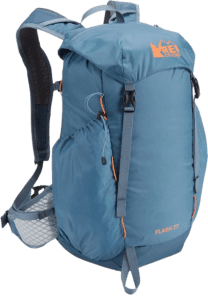 MSRP: $59.95 (22L) – $39.95 (18L)
Capacity: 22 or 18 Liters
Weight: 14 oz. (22L) or 9.5 0z. (18L)
Hip Belt: Yes
Main Closure: Drawcord (w/ Cinch Cover for 22L)
Sizing: Unisex
Pros: Affordable – Hip and sternum straps – Hydration reservoir – Adjustable top cover
Cons: Only one unisex size – Minimal padding
Closer Look: REI has done a phenomenal job balancing price and performance in their Flash line of backpacks. The Flash 22 features a drawcord closure with a buckled cover that you can cinch down to secure your gear. The hydration reservoir sleeve, hip belt, and two exterior side pockets all work together to make this a surprisingly feature-rich yet affordable daypack. However, the tradeoffs are there's only one unisex size while the straps and hip belt seem under-padded, which can lead to discomfort on long days or with heavier loads.
18L REI Flash Daypack
22L REI Flash DayPack 
Best Lightweight Hiking Daypack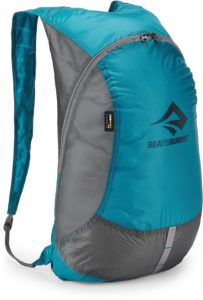 MSRP: $39.95
Capacity: 20 Liters
Weight: 2.5 oz.
Hip Belt: No
Main Closure: Zipper
Sizing: Unisex
Pros: Ridiculously lightweight and packable
Cons: No frame or support – No padding – Lightweight materials aren't as durable as other options
Closer Look: If your desire for a daypack that can roll up as small as a granola bar and be stashed anywhere outweighs any thoughts about padding or support, then the Ultra-Sil pack from Sea to Summit is the best option for you. At only 2.5 ounces, this pack takes up almost zero space in your larger backpacking pack or car. But for such packability and minimal weight, we still get a decent 20 liters-worth of storage via a single zipper. However, there are plenty of tradeoffs to such a lightweight daypack. Namely, the Ultra-Sil has zero support and padding while the durability is also far lower than other options thanks to the thin materials. But if you're laser-focused on low weight and packability, then the Ultra-Sil is for you.
Sea to Summit Ultra-Sil Daypack
best Large daypack for hiking with More Gear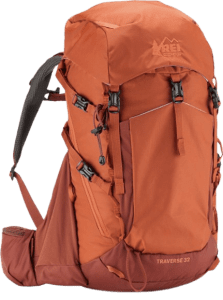 MSRP: $139.00
Capacity: 32 Liters
Weight: 2 lbs. 7 oz. (Women's) – 2 lbs. 10 oz. (Men's)
Hip belt: Yes + Hip Pockets
Main Closure: Drawcord + Cinching Lid
Sizing: Men's and Women's Sizing
Pros: Spacious build – Plush padding for comfort – Good support – Men's and Women's sizing – Reasonably priced – Very durable
Cons: Might be too large for shorter day hikes – Less breathability than other options
CLOSER LOOK: The Traverse 32 walks the line between a small backpacking pack and a large daypack, making it a perfect fit for hikers heading out for a long day hike with lots of gear. The hip straps are large and plushly padded while the Traverse's back support and shoulder straps also include good padding and support. This makes this daypack ideal for carrying heavier or larger loads in comfort, especially as there are men's and women's-specific models. But, be aware that copious padding can decrease breathability. The Traverse 32 also features a bombproof design with a burly steel frame and thick materials. These features increase the pack's overall weight, but REI still manages to keep the pack's weight reasonable for such a large capacity daypack. All-in-all, REI's Traverse 32 can work equally well for day hikers with a lot of gear or minimalist backpackers. So if you need more storage space on your day hike, the Traverse 32 is the best hiking daypack for you.
Men's Traverse 32 Backpack
Women's Traverse 32 Backpack
Best Technical Hiking DayPack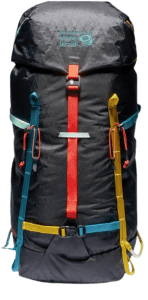 MSRP: $165.00
Capacity: 25 Liters
Weight: 1 lb. 14 oz.
Hip belt: Yes (Easily stashable)
Main Closure: Drawcord + Cinching Lid
Sizing: Unisex
Pros: Very durable – Space for all your gear (technical or otherwise) – Stashable hip belt – Padded shoulder straps – Beautiful color scheme (in our opinion)
Cons: Expensive – Might be overkill for many hikers
Closer Look: The Scrambler is perfect for hikers toting plenty of gear – with a particular emphasis on climbers and alpine hikers. We have easy-to-reach gear loops on each side, handy daisy chains on the back (very convenient spots to clip gear), and trekking pole or ice ax attachment points. Combine all this with a floating lid over the drawcord closure (where you can stash layers or even a rope), and the Scrambler's potential for technical hiking and climbing is obvious. However, the technical nature of this daypack may make it overkill for many regular hikers. But for folks that have use for these well-thought-out features, this pack is the best technical daypack for you.
Find Your Mountain Hardwear Scrambler 25
Best Minimalist Hiking DayPack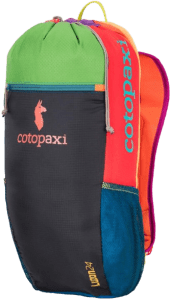 MSRP: $75.00 (24L) – $50.00 (18L)
Capacity: 24 Liters or 18 Liters
Weight: 14.4 oz. (24L) – 10.6 oz. (18L)
Hip belt: Yes
Main Closure: Drawcord
Sizing: Unisex
Pros: Beautiful and unique color scheme – Trim design with minimal fluff – Manufactured with leftover fabric to minimize waste.
Cons: Not very supportive – Can't cinch down top to secure gear
Closer Look: Every Del Dia pack is completely unique – manufactured from leftover fabrics from other productions. So you're getting a striking and one-of-a-kind color scheme and helping reduce waste at the same time! The Luzon 24 is a very minimalist pack with a large interior space accessed via a drawcord and a separate zippered pocket for a little extra organization. This minimalist approach makes the Luzon very packable and easy to stash in a larger backpacking bag, but it also means that the Luzon has very little support and padding.
18L Cotopaxi Luzon Daypack
VIEW AT REI.COMView at Backcountry.com
24L Cotopaxi Luzon DayPack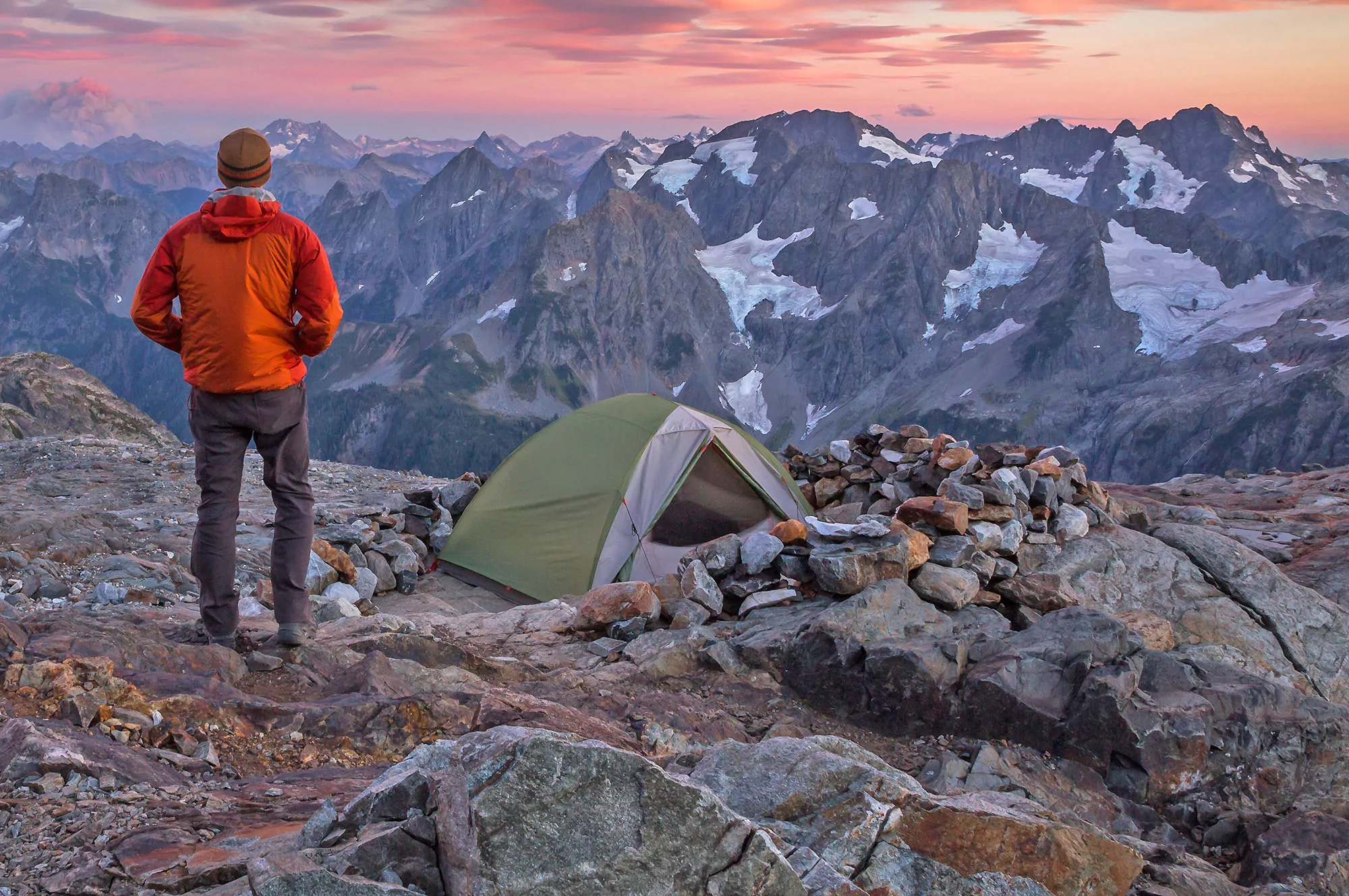 More Information About Daypacks
Hip Straps
We often see many daypacks without hip straps, so are they even necessary? Well, the answer to that is up to you. Some hikers consider daypack hip straps as non-functional or additional clutter that they'd rather forgo. Meanwhile, other hikers consider them absolutely essential to keep the pack centered on their backs and help distribute the weight.
So, think about what you'd like your new daypack to have. As a helpful third option, some manufacturers make their hip belts stashable or fully removable, so you can choose if you'd like to utilize them or not.
A final note on hip belts: Some hip belts may be very plushy padded, while others may just be a strip of webbing. So, in addition to deciding if you want them or not, also consider what type of hip belt you'd prefer.
Hydration Reservoir
Many hikers use water bladders/reservoirs during their hiking escapades. If that's you, then having a stash sleeve for your reservoir can be a key attribute to your best daypack for hiking. Some packs include this feature, while many don't. Therefore, don't forget to review your potential daypack to make sure it has a hydration sleeve if that's important to you. Along these same lines, if you're a Nalgene aficionado, then make sure your potential daypack includes mesh side pockets to stash your water bottles.
Padding/Support
As you can see among our bast daypack recommendations above, padding and support can range from plush to non-existent. Some packs have an internal frame to maintain their shape, while others are just a sack. Packs with frames also tend to include additional padding, while frameless options have next to none. Think about what you expect from your new backpack and how you'd like it to feel on your back, and from there, you'll be on the fast track to identifying the best hiking daypack for you!
Why Trust Us?
Choosing the right outdoor gear and apparel can be difficult. But at Wildland Trekking, we live and work with hiking gear every single day. It's an integral part of what we do, and we understand better than anyone how important it is to have the right equipment. In addition to our vast knowledge of backpacking gear, we also offer:
Independence – our recommendations are not influenced by partnerships or sponsorships with outdoor gear and apparel manufacturers.
Experience – as one of America's top guide companies, we take 8,000-10,000 people on hiking and backpacking tours annually. Since our inception in 2005, we have guided more than 75,000 people into the wilderness.
Cutting Edge Knowledge – we regularly attend trade shows and pay close attention to the leading edge of new developments.
Up To Date Recommendations – we update our recommendations regularly as new products are developed and released.
Dedication to our Readers – we know that the gear we select as our top picks will end up in the field with our readers, and we take that responsibility very seriously. We view our readers as guests on our guided trips, just without the guides. We are committed to helping you be as well-outfitted and prepared as possible for your adventures.
*Disclosure: Some of the links above are affiliate links. At no cost to you, we earn a commission on any products purchased through these links. Any proceeds go to supporting our blog and operations. These affiliate links do not influence the products that we include in our gear round-ups. We only recommend products that we 100% support and that we have used in the field. 
MORE GEAR RECOMMENDATIONS
Check out our Wildland Gear Guide for more recommendations about hiking, trekking, camping and outdoor gear. We are always adding new products to help our guests and readers make the best choices to outfit their adventures.