Best Headlamps for Hiking
Let's review our top headlamp recommendations – covering everything from lightweight to budget-friendly.
Your headlamp is incredibly easy to overlook, but it's perhaps one of the most important pieces of gear in your hiking kit. From late-night bathroom breaks to longer-than-planned hikes in the evening, your lighting method is absolutely crucial for every trip, from Colorado hiking tours to backpacking Olympic National Park. But what are the best headlamps for hiking on the market, and what makes them so good?
That's what we're here to answer. We've pooled our expertise as backcountry guides and compiled our top headlamp recommendations along with important points to consider when purchasing.
QUICK LIST OF RECOMMENDATIONS
Honorable Mentions
KEY CONSIDERATIONS for the Best Headlamps
Let's take a look at some of the most important headlamp characteristics to make sure you find the perfect one for you. Review our more complete, in-depth guide to headlamps for a comprehensive front-to-back look at headlamps.
Battery or Rechargeable
Your new headlamp will be powered by one of two methods: replaceable or rechargeable batteries. Let's look into the pros and cons and both options.
Replaceable battery headlamps utilize standard AAA or AA batteries. These headlamps make it easy to quickly revive a dim or dead light by simply swapping in new batteries, but keep in mind that you'll have the regular added waste and cost of these batteries as you go through them.
Meanwhile, rechargeable headlamps come with a cord – usually USB – that allows you to plug in your headlamp and recharge the batteries without needing to replace them. This is a very convenient option as you don't need to continually purchase new batteries, but it also means that you may need to carry a power bank on extended trips so you can charge your headlamp mid-trip.
While deciding on replaceable or rechargeable headlamps, it's also worthwhile to look at the stated run-time. This characteristic details how long the headlamp can function on high and low power and is useful for gauging how often you'll need to recharge your headlamp or replace the batteries.
Light Power – Lumens
Brightness is measured in lumens. The higher the lumen value, the brighter the headlamp's light. However, there's a very wide range of lumen values between different headlamps, so let's take a closer look.
Most ultralight headlamps for emergencies or as your backup will typically provide 50-150 lumens. As we move higher, many hikers and backpackers who often use their headlamp around camp or occasional night hiking will be very happy with 150-250 lumens. Lastly, folks who rely on their headlamps regularly for night adventures, anything from trail running to spelunking, will likely opt for 300+ lumens.
Now that we know the different power levels, it's important to note that your headlamp's max lumen value is probably not what you'll be using most of the time. That max setting will quickly drain the battery, but it's good to know how bright your lamp can go should you need it.
Additionally, remember that a high lumen value doesn't automatically equate to a better headlamp or increased light range on the trail. It remains a very handy indicator of the power you have on hand, but the next piece of the puzzle of the lens type using that power.
Lens Types – Spot, Flood, Red, or Strobe
The best headlamps for hiking will often feature three to four lens settings: Spot, Flood, Red, and Strobe.
The spot setting focuses the headlamp's light into the distance, allowing you to search for far-off items or look down the trail. This is often the most powerful setting for headlamps, and the max beam rating that you'll often see refers to how far this spot setting can illuminate on maximum power.
The flood setting spreads the headlamp's light over a very wide area, illuminating your immediate surroundings. This setting is most helpful for looking around your tent, cooking, or hanging out at camp.
The red-light setting will cast a red glow that illuminates the immediate area without causing your pupils to readjust. Therefore, it's much less harsh than the typical headlamp light and allows you to read, roll out of your tent for a bathroom break, or hang out with friends at camp without disturbing your eyes or your hiking buddies'.
Lastly, the strobe setting causes the headlamp to flash on and off at maximum power. This setting can prove pivotal during an emergency, allowing you to attract attention from a distance.
Weatherproofing
We always hope we'll never need to break out our rain gear, but those pesky showers always creep up now and again. With that in mind, it's worthwhile to keep an eye on your headlamp's weatherproofing capability.
There are several levels of weatherproofing, ranging from slightly weather-resistant all the way to fully waterproof. To keep track of the different levels, we have the IP (Ingress Protection) rating system. The system ranges from a rating of 0-8 where IPX0 offers no water protection, IPX4 protects from splashing water, and IPX8 protects in immersed water over 3 feet.
For strictly hiking, a rating of IPX4 or better is typically sufficient. But consider the conditions you expect your headlamp to stand up to, especially if you partake in water-based sports (such as kayaking),  and narrow down your search based on that criteria.
Price
Like most pieces of outdoor gear, the best headlamps for hiking come with a range of price tags ranging from just $20 up to well over $100. While more expensive options may offer more settings, waterproofing, and battery life, it's important to remember the cheaper options don't necessarily mean that they're a poor choice. Quality budget options offer reliable light minus excessive settings and beam types.
Therefore, weigh the quality and features you're looking for against your budget to help pick out the best headlamp for your adventures.
Black Diamond Spot 400
Best Overall Headlamp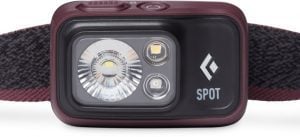 MSRP: $49.95
Batteries: Replaceable AAAs or Rechargeable BD 1500 Battery 
Light Settings: Flood, Spot, Red, Strobe
Max Brightness (Lumens): 400 Lumens
Weatherproofing: IPX8
Run Time: High: 2.5 hrs. – Medium: 5 hrs. – Low: 200 hrs.
Weight (w/ batteries): 2.7 oz.
PROS: Reasonable price – Powerful light – Multiple settings – Completely waterproof
CONS: Multiple buttons take a little getting used to
CLOSE LOOK: Black Diamond struck a perfect balance between weight, power, price, and versatility with their Spot 350, and now they've made it even better with the Spot 400. Black Diamond upped this headlamp's light power to 400 lumens while still skimming 0.3 oz. off the overall weight – a very impressive achievement. The 400 also boasts four light modes – spot, flood, red, and strobe – to give you maximum illumination and a PowerTap button to immediately shift to high power mode or back down to a lower light setting. This headlamp is also waterproof to 1m underwater, perfect for standing up to a sudden downpour or accidental drop in a river. We've tested this headlamp from the wet Pacific Northwest rainforest to the rugged Himalayan Mountains, and it's performed fantastically. The Spot 400 is also compatible with Black Diamond's rechargeable BD 1500 battery or regular AAAs. The multiple settings and buttons have a slight learning curve, but the Spot 400 is easily the best headlamp for hiking in our book.
If you're in the market for a fully rechargeable headlamp without needing to pop out the batteries to recharge them individually (like the BD 1500), look at the Black Diamond Spot 400-R. This headlamp is fully rechargeable via a micro-USB cable.
Black Diamond Spot 400 Headlamp
Petzl Actik Core
Runner up: best Headlamp for Hiking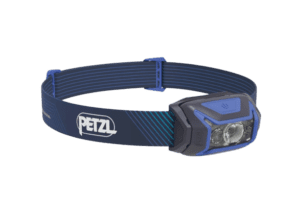 MSRP: $79.95
Batteries: Rechargeable battery pack or AAA compatible
Light Settings: Flood, Spot, Red, Strobe
Max Brightness (Lumens): 600 Lumens
Weatherproofing: IPX4
Run Time: High: 2 hours – Medium: 7 hours – Low: 100 hours
Weight (w/ batteries): 3.1 oz.
PROS: Rechargeable and AAA compatible – Excellent brightness – Single button streamlines use
CONS: More expensive than other options – Not fully waterproof – Slightly lower battery life
CLOSE LOOK: Petzl has revamped their Actik Core headlamp for 2023, and it includes several noticeable upgrades. First off, the max light output has increased from 450 to 600 lumens,  offering excellent power to illuminate your adventures. This new 2023 version also includes added white light strobe functionality – a potentially vital feature in an emergency. The Actik Core is also rechargeable, eliminating regular battery replacements. Don't want to invest in a power bank to recharge the headlamp in the field? No problem. The Actik Core is also compatible with standard AAA batteries, making it exceptionally versatile. All these features come with a larger price tag than other options and a slightly heavier overall weight (the weight increased from 2.7 to 3.1 oz in 2023). But all in all, this is easily one of the best headlamps for hiking on the market today thanks to its reliable and powerful capabilities.
Petzl Actik Core Headlamp
Petzl Tikkina
best Budget Headlamp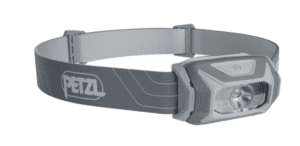 MSRP: $24.95
Batteries: AAA or compatible with Petzl rechargeable battery pack (not included)
Light Settings: Flood
Max Brightness (Lumens): 300 Lumens
Weatherproofing: IPX4
Run Time: High: 2 hours – Medium: 10 – Low: 100 hours
Weight (w/ batteries): 3.24 oz.
PROS: Very reasonable price – Easy to operate – Compatible with Petzl rechargeable battery pack (additional purchase)
CONS: No red-light capability – Light isn't as powerful as other options – Less light adjustability
CLOSER LOOK: Petzl contributes another excellent product to our list of the best headlamps with the Tikkina – also redesigned for 2023. At 300 lumens, the Tikkina offers decent power that's sufficient for standard camping operated from a single, easy-to-use button. This brightness is delivered via a floodlight, which can be fine-tuned with three different light settings. We're also pleased with a slightly more sleek overall design for 2023. Unfortunately, we don't get red-light capability with this headlamp. But as a starter option for beginners or those on a budget, the Petzl Tikkina is the best hiking headlamp available. So, when it comes to making every dollar count, you can't go wrong with this headlamp.
Petzl Tikkina Headlamp
Biolite Headlamp 325
Most Streamlined Headlamp for Hiking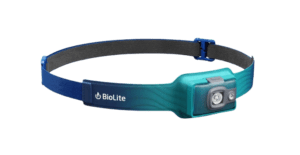 MSRP: $49.95
Batteries: USB Rechargeable 700 mAh lithium-ion
Light Settings: Spot, Red, and Strobe
Max Brightness (Lumens): 325 Lumens
Weatherproofing: IPX4
Run Time: High: 3 hrs. – low: 40 hrs.
Weight (w/ batteries): 1.8 oz.
PROS: Very slim profile – Comfortable design – Lightweight
CONS: Lower run-time (battery life) – No flood light
CLOSER LOOK: Too many headlamps feel overly bulky or wobbly on the forehead, making them slightly cumbersome for high-movement activities – like running or high-intensity hiking. But we have no such problems with the BioLite 325. This headlamp's profile is incredibly slim and integrated directly into the headband. The result is unparalleled stability and extreme comfort – especially if you're wearing it for long periods. We'd prefer that the Biolite 325 had floodlight capability for illuminating a wider field, and the rechargeable batteries don't quite measure up to the competition. But this is still a fantastic option and one of the best headlamps for hiking on the market.
Biolite 325 Headlamp
Petzl Bindi Headlamp
Best Ultralight Headlamp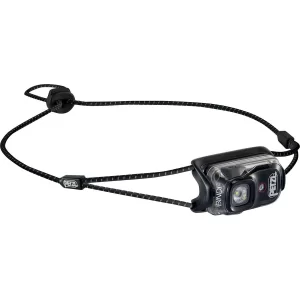 MSRP: $44.95
Batteries: USB-rechargeable battery
Light Settings: Spot, Red, and Flood
Max Brightness (Lumens): 200 Lumens
Weatherproofing: IPX4
Run Time:  [standard] 3 hours, [max power] 2 hours, [red light] 33 hours, [reserve mode] 3 lumens for 1.5 hours
Weight (w/ batteries): 1.23 oz. (35 grams)
PROS: Incredibly lightweight – Easily packable
CONS: Lower lumens/brightness – Shorter run time – Fastening cord is less comfortable than a strap
CLOSER LOOK: When every single gram matters, the Bindi Headlamp from Petzl is the clear winner. At only 35 grams, this featherlight headlamp can be stashed anywhere and provides decent light when needed. This headlamp is perfect for ultralight hikers and adventurers or as an emergency backup to your primary light source. Alternatively, the Bindi can also be stashed in a medkit for emergencies. We don't get the same run-time as other models (only 3 hours with standard use), but in a pinch, the Bindi can be an ideal light source while adding almost zero bulk to your pack.
Petzl Bindi Headlamp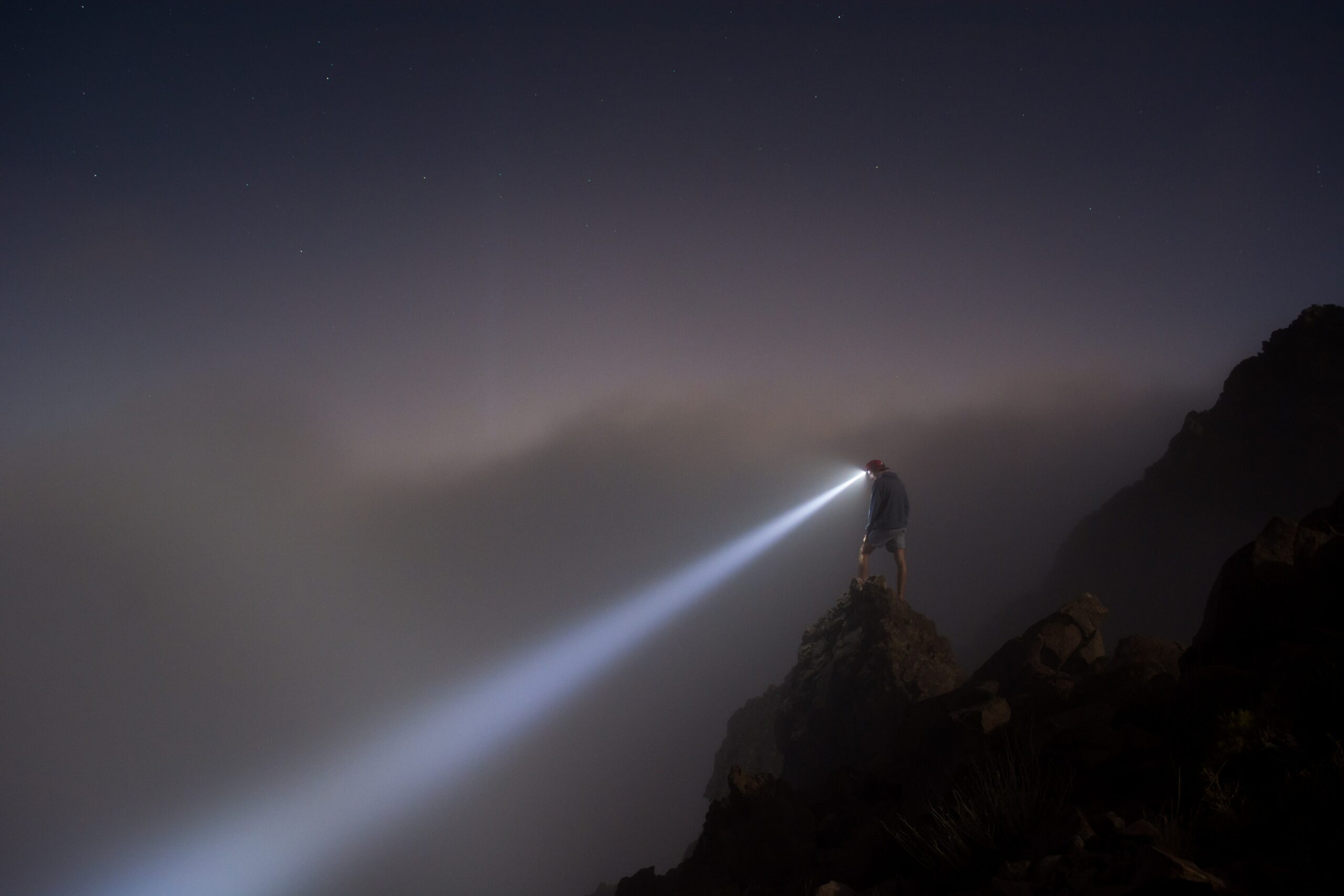 Black Diamond Astro 300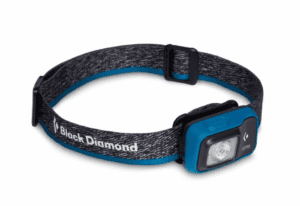 MSRP: $19.95
Batteries: AAA Batteries
Light Settings: Flood and Strobe
Max Brightness (Lumens): 300 Lumens
Weatherproofing: IPX4
Run Time: High: 4 – Medium: 8 – Low: 140 hours
Weight (w/ batteries): 2.65 oz.
PROS: Very affordable – Easy to use – Good quality
CONS: No spot or red light setting
CLOSER LOOK: At only $20, the Black Diamond Astro 300 is the least expensive option in our roundup of the best hiking headlamps. For that small initial investment, you get a reliable flood light that goes up to 300 lumens and includes dimming features so that you can fine-tune the light to your needs. We also receive Black Diamond's quality build and durability. Now, the Astro 3oo doesn't include spot or red light functions, but these frills are easily purchased with some of Black Diamond's premium-level headlamps. Instead, the Astro 300 offers budget-friendly, reliable illumination for hikers that seldom use their lamps or don't feel the need to have extra functions.
Black Diamond Astro 300 Headlamp
Fenix HM50R V2.0 Headlamp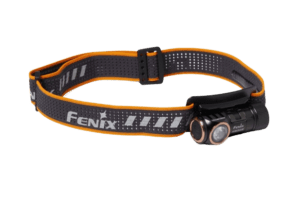 MSRP: $59.95
Batteries: USB Rechargeable 700 mAh lithium-ion
Light Settings: Spot, Red, and Strobe
Max Brightness (Lumens): 700 Lumens
Weatherproofing: IP68
Run Time: Turbo: 1 hour – high: 3 hours – medium: 8 hours – low: 42 hours
Weight (w/ batteries): 2.75 oz.
PROS: Very bright turbo mode – Rugged and durable – Rechargeable – Detachable from headband for use as flashlight
CONS: Low battery life – On the expensive side
CLOSER LOOK: What it comes to a tough headlamp that can take every bump, scrape, and drop that you can throw at it, the Fenix HM50R is the one for the job. The tough (and unique) aluminum body is practically bombproof, and the entire unit can withstand full water submersion down to 2m. It also includes a handy function to detach from the headband for use as a flashlight, and a memory circuit will keep the headlamp set to your last used light setting. For all these features and durability, however, the Fenix HM50R V2.o comes with a comparatively steep price tag. Also, be aware that the battery will drain extraordinarily fast on turbo and high beam modes, so only use them when you need them.
Fenix HM50R V2.0 Headlamp
Black Diamond Cosmo 350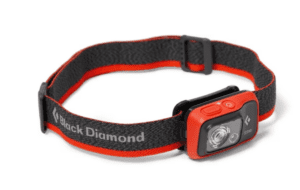 MSRP: $34.95
Batteries:3 AAA alkaline – also compatible with rechargeable BD 1500 mAh
Light Settings: Spot, Red, and Strobe
Max Brightness (Lumens): 350 Lumens
Weatherproofing: IPX8
Run Time: High: 3 – Medium: 6 – Low: 200 hours
Weight (w/ batteries): 2.8 oz.
PROS: Solid performance – Red and Spot light functions – Lock out feature to prevent accidental turning on
CONS: No flood light
CLOSER LOOK: The Cosmo 350 is Black Diamond's solid mid-range headlamp. It offers most of the functions that avid hikers need without getting into premium-level perks or prices. The spot and red light lamp settings are the two most commonly used features among hikers, and are therefore well placed in the Cosmo 350, along with excellent weatherproofing. Continuing this mid-range trend, the Cosmo 350 is also right in the middle of the pack in terms of price and provides excellent value for the cost.
Black Diamond Cosmo 350 Headlamp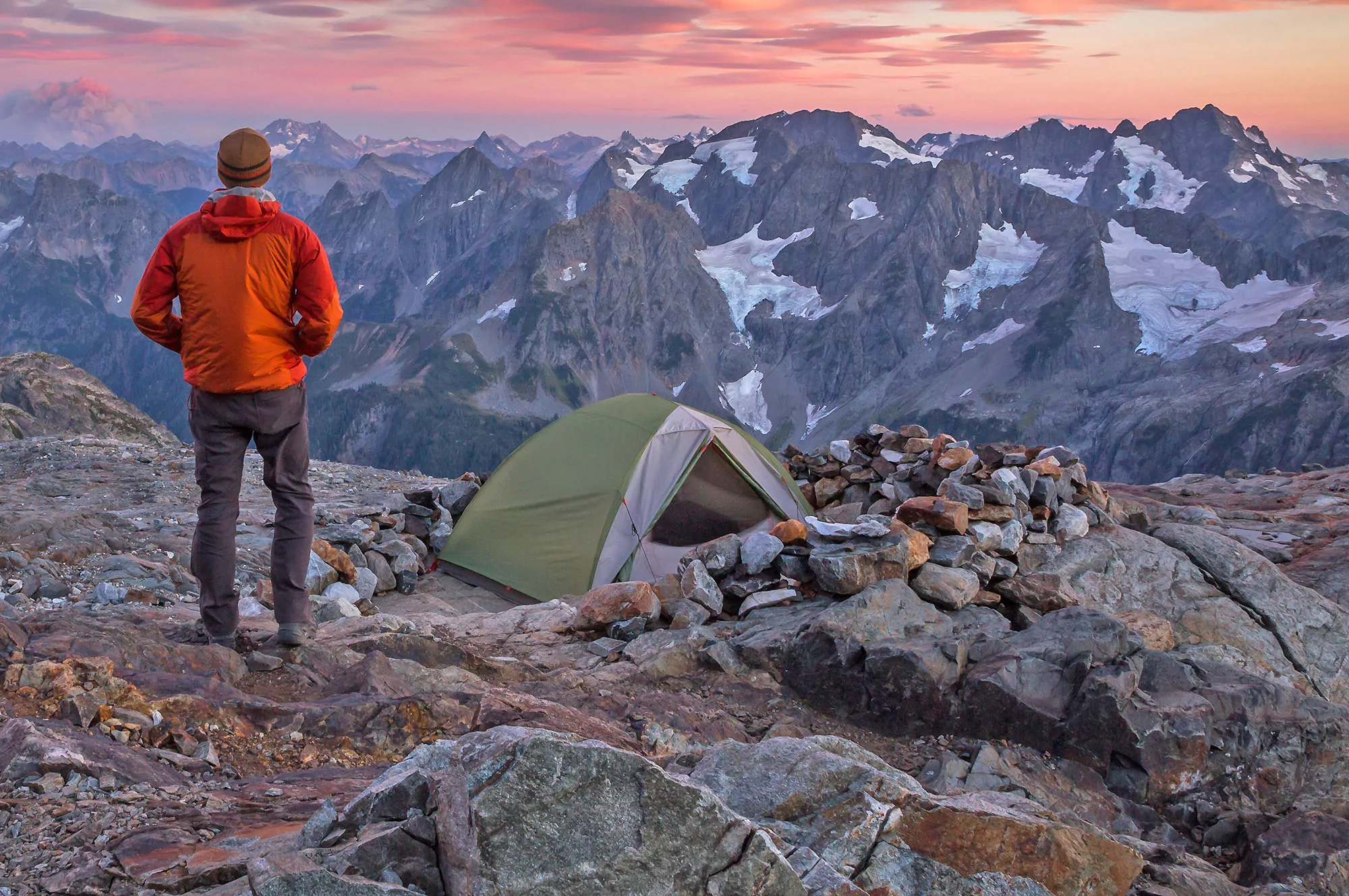 More Information About Headlamps
Don't forget to check out our comprehensive guide to headlamps if you want more information! In this article, we take a close look at specific features, adjustability, lighting colors (blue and green), and lens types.
Why Trust Us?
Choosing the right outdoor gear and apparel can be difficult. But at Wildland Trekking, we live and work with hiking gear every single day. It's an integral part of what we do, and we understand better than anyone how important it is to have the right equipment. In addition to our vast knowledge of backpacking gear, we also offer:
Independence – our recommendations are not influenced by partnerships or sponsorships with outdoor gear and apparel manufacturers.
Experience – as one of America's top guide companies, we take 8,000-10,000 people on hiking and backpacking tours annually. Since our inception in 2005, we have guided more than 75,000 people into the wilderness.
Cutting Edge Knowledge – we regularly attend trade shows and pay close attention to the leading edge of new developments.
Up To Date Recommendations – we update our recommendations regularly as new products are developed and released.
Dedication to our Readers – we know that the gear we select as our top picks will end up in the field with our readers, and we take that responsibility very seriously. We view our readers as guests on our guided trips, just without the guides. We are committed to helping you be as well-outfitted and prepared as possible for your adventures.
*Disclosure: Some of the links above are affiliate links. At no cost to you, we earn a commission on any products purchased through these links. Any proceeds go to supporting our blog and operations. These affiliate links do not influence the products that we include in our gear round-ups. We only recommend products that we 100% support and that we have used in the field. 
MORE GEAR RECOMMENDATIONS
Check out our Wildland Gear Guide for more recommendations about hiking, trekking, camping and outdoor gear. We are always adding new products to help our guests and readers make the best choices to outfit their adventures.