Best Rain Pants
See our top picks for rain pants for your next hiking or backpacking adventure!
Having the right outer layer (also referred to as "rain gear," "shells," or "hard shells") is undoubtedly one of the most crucial pieces of clothing or gear for safe and fun hiking and backpacking adventures. On this page we detail our recommendations for the top rain pants currently on the market. We've critiqued these pants based on their weight, bulk, rainproofing, breathability, and extra features. Because weight is such an important consideration on hiking trips, we have focused on lightweight, waterproof, breathable shell pants. You'll find below that we have categorized our recommendations based on our top choices for performance, weight, comfort and price.
KEY CONSIDERATIONS
Weight
Weight is a very important consideration for all clothing and equipment on trekking and backcountry hiking trips. None of our selections below are heavy by any standard, but regardless there still exists a variety of weights to consider. As weight decreases, durability and performance often decrease, and price often increases. As a result, determining the right balance between weight, price, durability and performance will help decide which is the best option for your needs.
Packability
Backpacks don't stretch, or at most very little. This characteristic is makes the volume of every item a critical factor. Whether your trek is for a couple hours, a day, a week, a month or many months, your supplies must fit into a backpack with an ever-varying load of food, clothing, gear and other supplies. Your rain pants, when you need them, are a crucial piece of gear. But when not needed, they are not something most people want to be hiking in. As a result, your rain pants will most likely spend much more time inside your backpack than on  your legs, which is why considering the volume of your packed rain pants is highly recommended.
Comfort
There aren't many hikers and trekkers who would describe their rain pants as "comfortable" or "comfy." Regrettably,  there are many hikers and backpackers who feel their rain pants are "uncomfortable." We have rated the comfort level of our selections for the best rain pants as Poor, Good, or Excellent. However, please remember that these are  rainproof, windproof, outer shells, and comfort is relative. Rating the comfort level of rain gear is a much different scale than it is for fleece pants or a sleeping bag. If we determine that a rain pants' comfort is "excellent," that translates differently than for almost all other clothing, and doesn't mean you're going to want to wear them constantly. It means that compared to other rain pants, they are very comfortable.
Breathability
When it comes to rain pants, breathability is similar to the Comfort rating in that it has to be put in context. If you've ever gone for a hike in legitimately unbreathable pants, you know how uncomfortable (hot, clammy) the experience can be. Nonbreathable pants feel like a trash compactor bag over your legs. The truth is waterproof, breathable rain pants don't necessarily feel much better, but – and this is crucial – they are more comfortable, they are cooler, and they don't cause as much condensation. Truly non-breathable rain pants are unbearable and can even be hazardous, while breathable rain pants are manageable, and possibly even relatively comfortable.
We've rated the breathability of our rain pants selections with the understand that they are waterproof layers, and you're going to experience condensation inside your pants, especially if you're strenuously exerting yourself. Small improvement in the Breathability of rain gear can lead to large improvements.
REI Co-op Rainier Full-Zip Rain Pants
#1 ALl Around Rain Pants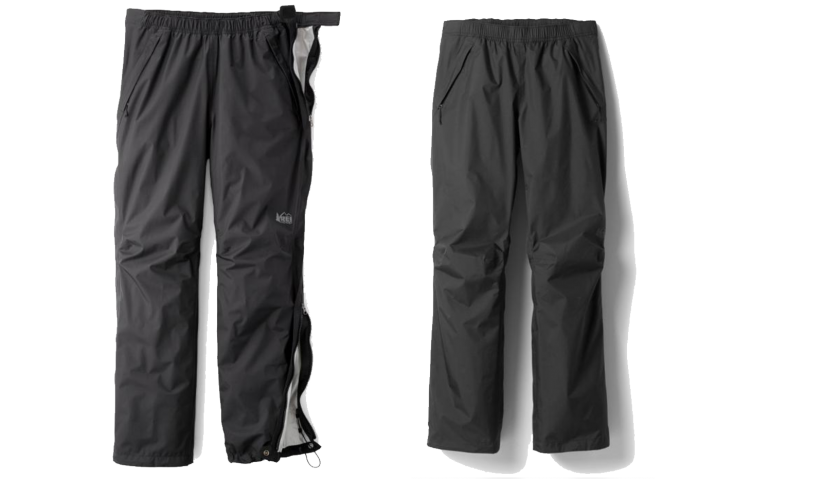 MSRP: $89.95
WEIGHT: 11.5-13 oz
PACKABILITY: Excellent
BREATHABILITY: Excellent
PROS: Comfort, warmth, breathability, durability, ease of use (full zips), adjustable cuffs
CONS: Noisy, run large, not lightweight (but not heavy either)
STRAIGHT TALK: We love REI's Rainier Full-Zip Rain Pants! They provide solid protection from rain, wind and snow with great breathability. What makes them even better are their full length side zippers, which can be used for venting or for putting them on or taking them off over muddy boots, crampons…etc. These pants are durable as well and should last you years if you take care of them. On top of all of that, they're also affordable. The only downsides we see in REI's Rainier pants are that they are a bit noisy when walking, and they are not as light as some other options, but they are certainly not heavy. Finally, they tend to run large, so we recommend moving up one size if you can't try them on in a store before purchasing. REI has a 1-year return for any reason policy, so if they don't fit you can always exchange them for the next size up or down.
VIEW ON REI.COM
Patagonia Torrentshell 3L Rain Pants
#2 ALl Round Rain Pants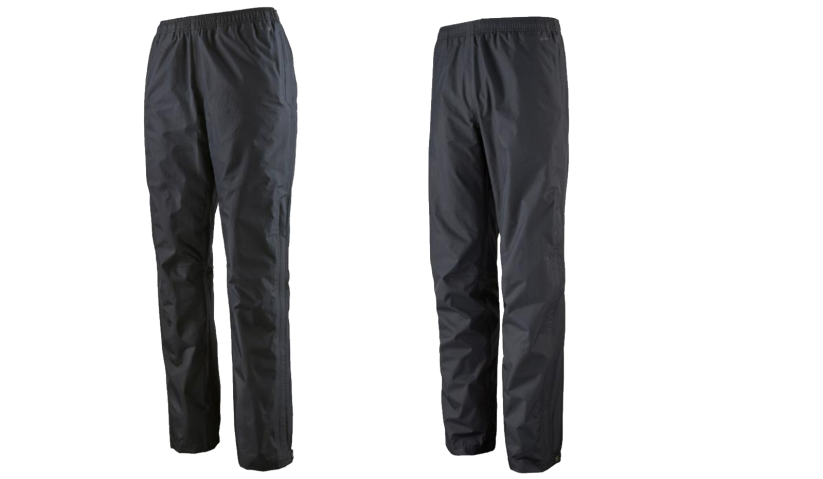 MSRP: $119.00
WEIGHT: 11-12 oz
PACKABILITY: Excellent
BREATHABILITY: Good
PROS: Durability, breathability, packability, environmentally ethical production
CONS: Higher price, half zips vs. full zips
STRAIGHT TALK: Our second favorite shell bottoms are Patagonia's Torrentshell 3L Rain Pants. All of the most recent models of Patagonia's Torrentshell line are 3 layers, which increases performance (i.e. not letting rain in and letting sweat out) and durability. These pants have netting pockets specifically for hand warmers, which we thought was a nice touch. Making them even better, they are made using recycled materials, many of which would end up in the ocean if they didn't end up in these pants. Additionally, these pants themselves can be recycled! Downsides include a higher price and half zips vs. full zips, which are more difficult to pull over muddy boots or crampons.
VIEW ON BACKCOUNTRY.COM
VIEW ON REI.COM
REI Co-op Essential Rain Pants
Best Rain Pants For the Budget-Minded Hiker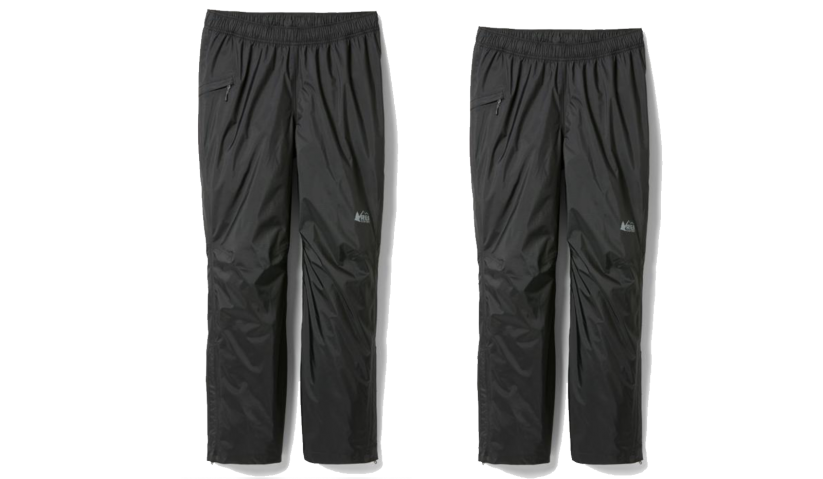 MSRP: $59.95
WEIGHT: 9-9.5 oz
PACKABILITY: Excellent
BREATHABILITY: Average
PROS: Affordability, waterproof/breathable, windproof
CONS: Durability, breathability (short side zips)
STRAIGHT TALK: REI's Essential Rain Pants are functional, very light weight, and packable. They will protect you from rain, snow, wind and are breathable. The biggest downsides are their 2.5 layer design, which reduces durability; and only lower leg zipper vents, which allow you to pull the pants over boots but not without getting the insides quite muddy/wet/dirty. Overall though, these rain pants are a solid choice, especially for people who value budget over nice-but-not-necessary perks, or for people who don't plan on using them often.
VIEW ON REI.COM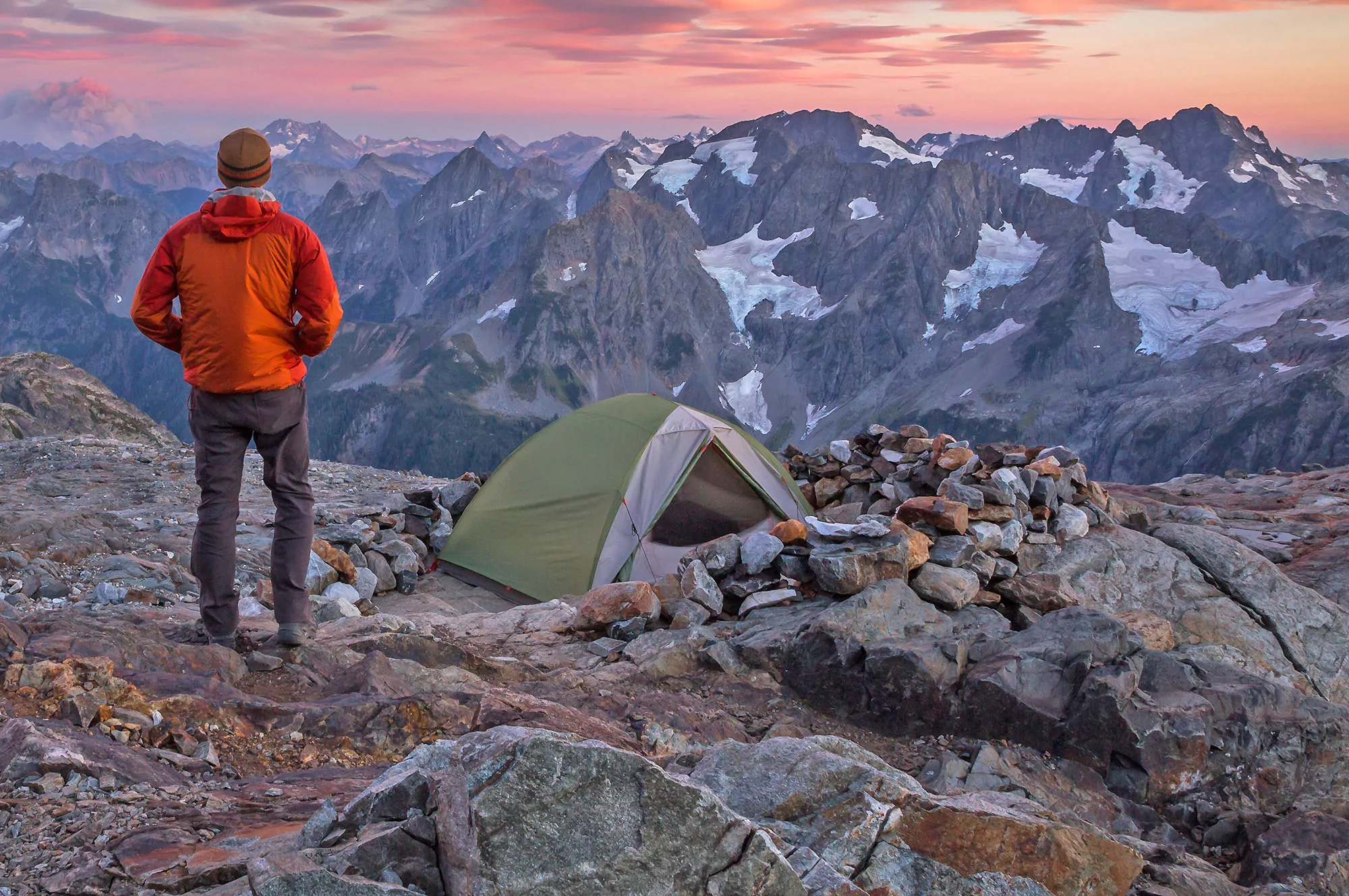 WHY TRUST US?
Choosing the right outdoor gear and apparel can be difficult. At Wildland Trekking, we live and work with gear on a day to day basis. It's an integral part of what we do, and we understand better than anyone how important it is to have the right equipment. Some of the reasons to trust us include:
Independence – our recommendations are not influenced by partnerships or sponsorships with outdoor gear and apparel manufacturers.
Experience – as one of America's top guide companies, we take 8,000-10,000 people on hiking and backpacking tours annually. Since our inception in 2005, we have guided more than 75,000 people into the wilderness.
Cutting Edge Knowledge – we regularly attend trade shows and are always paying close attention to the leading edge of new developments.
Up To Date Recommendations – we update our recommendations regularly as new products are developed and released.
Dedication to our Readers – we know that the gear we select as our top picks will end up in the field with our readers, and we take that responsibility very seriously. We view our readers as guests on our guided trips, just without the guides. We are committed to helping you be as well-outfitted and prepared as possible for your adventures.
*Disclosure: Some of the links above are affiliate links. At no cost to you, we earn a commission on any products purchased through these links. Any proceeds go to supporting our blog and operations. These affiliate links do not influence the products that we include in our gear round-ups. We only recommend products that we 100% support and that we have used in the field. 
More Gear Recommendations
Check out our Wildland Gear Guide for more recommendations about hiking, trekking, camping and outdoor gear. We are always adding new products to help our guests and readers make the best choices to outfit their adventures.