Best Sleeping Bags
Take a look at our top sleeping bag recommendations, along with comprehensive buying advice.
Almost nothing can compare to finishing an epic day of adventuring – perhaps hiking in the Tetons or trekking through the Smoky Mountains –  and then climbing into a cozy and comfortable sleeping bag for some well-deserved rest. But a sleeping bag that's not warm enough for the climate or not comfortable for you can turn that night's rest into a prolonged and intolerably cold ordeal. Therefore, it's essential to find the best sleeping bag for your adventure, and we've pooled our knowledge and expertise to help you do exactly that.
We'll cover the top sleeping bag buying considerations that you should think about before purchasing, followed by our comprehensive list of the best sleeping bags on the market today. So read on to find a cozy sleep system for your next hike!
QUICK LIST OF RECOMMENDATIONS
Honorable Mentions
KEY CONSIDERATIONS for the Best Sleeping Bags
Insulation Type: Down vs. Synthetic
One of the early choices in your sleeping bag search will be deciding what type of insulation you'd like to have. In this regard, you'll have two choices: down or synthetic insulation.
Down insulation features the incredibly soft and lightweight under-plumage from geese or ducks. It works by trapping heat within its feathery folds and holding it in place to create a reliable barrier against the colder temperatures on the outside. We'll discuss different types of down quality towards the end of this article, but for now, it's important to note that down is remarkably lightweight and very compressible yet offers superb warmth.
However, down's one foe is moisture. If your sleeping bag gets wet, the down plumage will clump together and lose all its ability to retain heat. Along these same lines – i.e., keeping your insulation happy and unclumped – down sleeping bags also have a more involved process for cleaning and maintenance than your other option.
Synthetic insulation features artificial fibers, often polyester, designed to provide the same service as down by trapping heat to provide a buffer against cold temperatures. This option is often noticeably less expensive than down and will retain its insulation capability even when wet. The tradeoff is that synthetic's weight-to-warmth ratio can't quite measure up to down and synthetic sleeping bags are typically heavier and less compressible than their down counterparts.
Temperature Ratings
We all want our sleeping bags to keep us nice and cozy during chilly nights, but there's a huge range of different temperatures that sleeping bags are aimed at. Let's look at different temperature ratings that you'll frequently see while looking for the best sleeping bags for backpacking.
The first number you'll see is the standard temperature rating as provided by the sleeping bag manufacturer. This temperature is the manufacturer's estimate of what temperature you should be able to comfortably sleep without getting too cold. However, this number is subjective to the testing method that the manufacturer employs. Therefore, it's very beneficial to compare this number to a standardized testing method.
Enter ISO (International Organization of Standardization) or EN (European Norm) ratings. These standardized procedures lay out the exact testing methods for determining a sleeping bag's temperature rating, and therefore allow us to accurately compare one manufacturer's sleeping bag to another's. These standardized tests yield two results: The Tested Comfort rating and the Tested Lower Limit.
The Tested Comfort Rating represents the lowest temperature at which folks who tend to sleep cold will remain comfortable all night long. As women traditionally sleep colder than men, the tested comfort rating is generalized to the lowest temperature that a woman could sleep comfortably in that particular sleeping bag.
Conversely, the Tested Lower Limit is the lowest temperature at which people who sleep warm (traditionally men) will stay comfortable.
Choosing a Temperature Rating
Now that we know what the different temperature ratings mean, it's time to pick which one best suits you. First off, think about the average low temperatures at night during the season where you'll be hiking. Secondly, take those average low temperatures, and give yourself a comfortable buffer – just in case.
So, if you're forecasted to encounter lows around 35º F, then perhaps aim for a 20ºF sleeping bag to ensure that you'll stay nice and comfortable. Or, if you're heading into balmy summer temperatures with lows in the 50s, aim for a 40-degree sleeping bag.
Down Fill Rating
Every down sleeping bag will include a fill-power rating – 550, 750, 800, and so on. This rating directly corresponds to that sleeping bag's overall down insulation quality. Specifically, this number represents how much loft the down has, where one ounce of 750-fill power down will expand to fill 750-cubic-inches.
In terms of finding the best sleeping bags for hiking, the down fill rating represents the bag's quality. A sleeping bag with higher quality down will provide excellent warmth for less weight and bulk. Conversely, lower quality down means more weight to achieve that same level of warmth – but it will also be less expensive.
Sleeping Bag Weight
As we're focusing on the best sleeping bags for backpacking in this article, weight will play a crucial role in your decision-making. There's a fairly wide range of sleeping bag weights on the market, and you'll typically see options between just 14 oz. all the way up to 3 lbs. (48 oz).
The best ultralight sleeping bags will typically feature high-quality down insulation and minimal frills. That means a very trim/tight cut, no extra pockets, and very thin shell material. On the other hand, heavier options will often include these additional features along with more durable shell materials that can stand up to more abuse and probably include a DWR (Durable Water Repellent) coating.
Therefore, it's crucial to consider what features and weight are important to you. To help get you started, most standard backpackers and hikers will likely be very happy with a sleeping bag in the 1.5 to 2lbs range. Ultralight thru-hikers can go lighter, while car campers will probably go heavier.
Packability/Compressibility
The best sleeping bags for backpacking should easily pack down so you can seamlessly load them into your bag each morning. In this regard, down sleeping bags are almost always the best choice as they're exceptionally compressible and quickly pack down to very small sizes for easy loading. However, don't disregard synthetic sleeping bags altogether, as their manufacturing technology has improved drastically over the years to make them more packable.
Keep an eye open for "compressed volume" on the manufacturer's website to help gauge how well a sleeping bag will pack down.
Sleeping Bag Sizing
It's vitally important to pick out a sleeping bag that fits you properly! Too small will make you compress the insulation when you zip up for the night, reducing your warmth and making you uncomfortable at the same time. On the other hand, too large a sleeping bag will create a lot of extra space that you'll need to warm with your body heat, therefore reducing your overall warmth efficiency.
So always pay close attention to the manufacturer's sizing guidelines – often covering height along with shoulder and hip circumference. If in doubt, take the time to measure yourself to ensure you get a proper fit.
Price
Finding the best sleeping bag for your adventures typically involves a hefty investment. Quality insulation and materials often drive up the price of sleeping bags, and high-quality options typically range in the $250+ range.
However, lower-cost options are also readily available, and the best budget sleeping bags offer excellent value for their price. So think about what you need and expect from your sleeping bag – whether premium features or a more budget-friendly price point – and tailor your search accordingly.
Best Overall sleeping Bag for Warmth, Packability, and Quality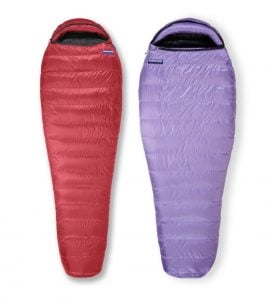 MSRP: $509.00
Insulation: 900+ Fill Goose Down
Tested Comfort Rating: Not Tested
Tested Lower Limit: Not Tested
Weight:

Men's: 1 lb 11 oz
Women's: 1 lb 13 oz

Shell Material: Pertex® YFuse®
PROS: Very high-quality down – Excellent warmth – Impressive weight and packability – DWR finish
CONS: Very expensive
CLOSE LOOK: For incredibly high-quality down insulation, a cozy and durable design, and excellent weight and packability for the trail, look no further than the Hummingbird and Egret YF 20 from Feathered Friends. Made in Seattle, WA, this sleeping bag features some of the best quality down on the market for a very warm yet lightweight design. The shell also includes a DWR (Durable Water Repellent) finish to help this sleeping bag resist damp conditions. While it hasn't been tested to the EN or ISO standards (i.e., lower limit and comfort ratings), the overwhelming consensus is that the bag's given 20ºF rating is accurate and may even be a little conservative. Keep in mind that his sleeping bag is a significant investment, but rest assured that it features excellent craftsmanship and will last for years and years of adventuring.
Note: The similar Hummingbird UL and Egret UL (ultralight) Sleeping Bags offer the same insulation and quality but feature a thinner shell material without a DWR finish to trim weight.
View At Feathered Friends
REI Co-Op Magma 15
Runner Up: Best Sleeping bag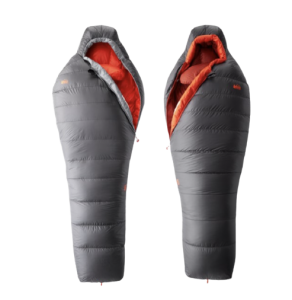 MSRP: $399.00
Insulation: 850-Fill Down
Tested Comfort Rating

Men's: 28ºF
Women's: 17ºF

Tested Lower Limit

Men's: 16ºF
Women's: 3º F

Weight:

Men's: 1 lb. 12.5 oz.
Women's: 2 lbs. 4 oz.

Shell Material: Pertex® 15-denier ripstop nylon (bluesign® approved)
PROS: Excellent warmth-to-weight ratio – Good quality down – Competitively priced for a premium down sleeping bag
CONS: Not as high quality as Feathered Friends or Western Mountaineering
CLOSE LOOK: REI has impressed us lately with a quality lineup of backpacking gear, including tents, packs, and (now) sleeping bags. The Magma 15 combines quality down with a very competitive, lightweight, and packable design. The upshot is a perfect middle-ground between lower-quality budget options and premium down sleeping bags (such as Western Mountaineering and Feathered Friends). The 15ºF rating also makes the Magma ideal for colder adventures in the shoulder seasons or at higher altitudes. While the material feels a little dangerously thin (15-denier thickness, whereas most manufacturers opt for 20), the Magma 15 still offers incredible value and is easily one of the best sleeping bags on the market today.
View At REI.com
Best Cold Weather Sleeping Bag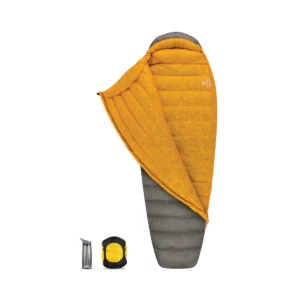 MSRP: $609.00
Insulation: 850+ Down
Tested Comfort Rating:

Men's Spark 5: 18ºF
Women's Flame 15: 15ºF

Tested Lower Limit (Spark 5):

Men's Spark 5: 5ºF
Women's Flame 15: 1ºF

Weight:

Men's: 2 lbs 3 oz
Women's: 1 lb. 15 oz.

Shell Material: Ultralight 10D Nylon
PROS: Extremely warm and comfortable – Down maintains excellent loft – Packable – Roomy
CONS: Expensive
CLOSER LOOK: Sea to Summit has done a phenomenal job with its Spark and Flame series. The sleeping bags feature fantastic warmth retention thanks to their high-quality down fill. What's more, Sea to Summit deployed lightweight yet durable shell materials to help keep the weight down while also making these sleeping bags very packable. The only downside is that these quality materials and construction have yielded a high price tag. But our gear tester loved taking their Spark 5 into the field, and we highly encourage you to read their full Spark 5 Sleeping Bag Review for more information.
View at REI.COm
SPARK 5 (Men's)Flame 15 (women's)
View at Sea To Summit
Kelty Cosmic Down 20
Best Budget Sleeping Bag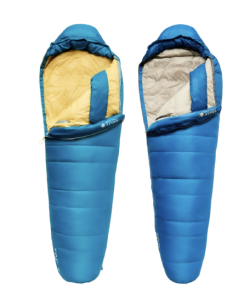 MSRP: ~$185.00
Insulation: 550-Fill Down
Tested Comfort Rating: Men's: 32 ºF – Women's: 25º F
Tested Lower Limit: Men's: 21ºF – Women's: 13º F
Weight: Men's: 2 lbs. 10 oz, – Women's: 3 lbs. 7 oz, (Regular Size)
Shell Material: 20-Denier Nylon
PROS: Very budget-friendly for a down bag – Good comfort and warmth – Durable design
CONS: Lower-quality down – Heavy for a down sleeping bag
CLOSER LOOK: When it comes to making every dollar count on a tight budget, you can't go wrong with the Cosmic Down 20 from Kelty. This sleeping bag comes for a remarkably reasonable price – especially for down insulation – and still offers decent quality and longevity. Keep in mind that the lower quality down fill results in noticeably increased weight than other options, but this sleeping bag still offers excellent value regardless. So for new hikers or those with a lower overhead, the Kelty Cosmic Down is easily the best budget sleeping bag for you.
View At REI.COM
MEN'S Cosmic Down 20women's Cosmic Down 20
View At Backcountry.com
Marmot Trestles Eco Elite 20
Best Synthetic Sleeping bag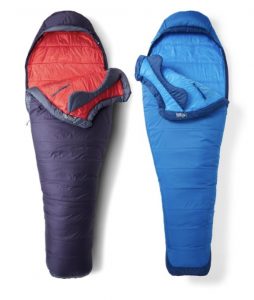 MSRP: $169.00
Insulation: Synthetic HL-ElixR Eco Micro recycled fibers
Tested Comfort Rating: Men's: 32.2 ºF – Women's: 20.3º F
Tested Lower Limit: Men's: 21.6ºF – Women's: 7.9º F
Weight: Men's: 2 lbs. 6 oz, – Women's: 2 lbs. 11 oz, (Regular Size)
Shell Material: 20-denier recycled ripstop polyester
PROS: Competitive weight – Doesn't lose insulation capability when wet – Durable and dependable design
CONS: Bulkier than down sleeping bags
CLOSER LOOK: Synthetic sleeping bags have become less common on the trails as lighter down options become the preferred sleeping apparatus, but they still have plenty to offer. In our opinion, none offer more than the Marmot Trestles 20. For a very approachable price, we get superb warmth with surprisingly low weight (almost identical weight to the Kelty Cosmic Down sleeping bag). In addition to the relatively low weight, the Trestles also costs less than other comparable synthetic sleeping bags on the market. Combine all these points, and we have a solid contender for backpacking that we believe is the best synthetic sleeping bag currently available.
View At REI.COM
Nemo Disco 30
Best Sleeping Bag for Side Sleepers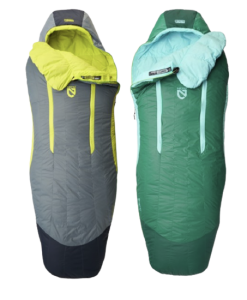 MSRP: $259.95
Insulation: Down – 650-Fill
Tested Comfort Rating: Men's: 41ºF – Women's: 31ºF
Tested Lower Limit: Men's: 31ºF – Women's: 20º F
Weight: Men's: 1 lb. 15 oz, – Women's: 2 lbs. 5 oz, (Regular Size)
Shell Material: 30-denier ripstop nylon
PROS: Very roomy design – Comfortable – Heat gills allow you to control temperature
CONS: Heavier than mummy-shaped down sleeping bags – Not as compressible as other premium options
CLOSER LOOK: There's no better way to give a side-sleeper a terrible night's sleep than making it uncomfortable for them to lie on their side. That's why Nemo launched their signature, spoon-shaped Disco Sleeping Bag. Increased wiggle room at the knees and elbows allows you to comfortably sleep on your side and even roll over to change positions without getting tangled. The result is an exceptionally comfortable sleeping bag that also boasts vertical heat "gills" that you can unzip to shed excess heat without needing to completely unzip the whole sleeping bag. The extra space does come with a weight and bulk penalty, however, but this may easily be worth it for folks looking for the best sleeping bag for side-sleeping.
View At REI.COM
MEN'S Disco 30women's Disco 30
View At Backcountry.com
MEN'S Disco 30women's Disco 30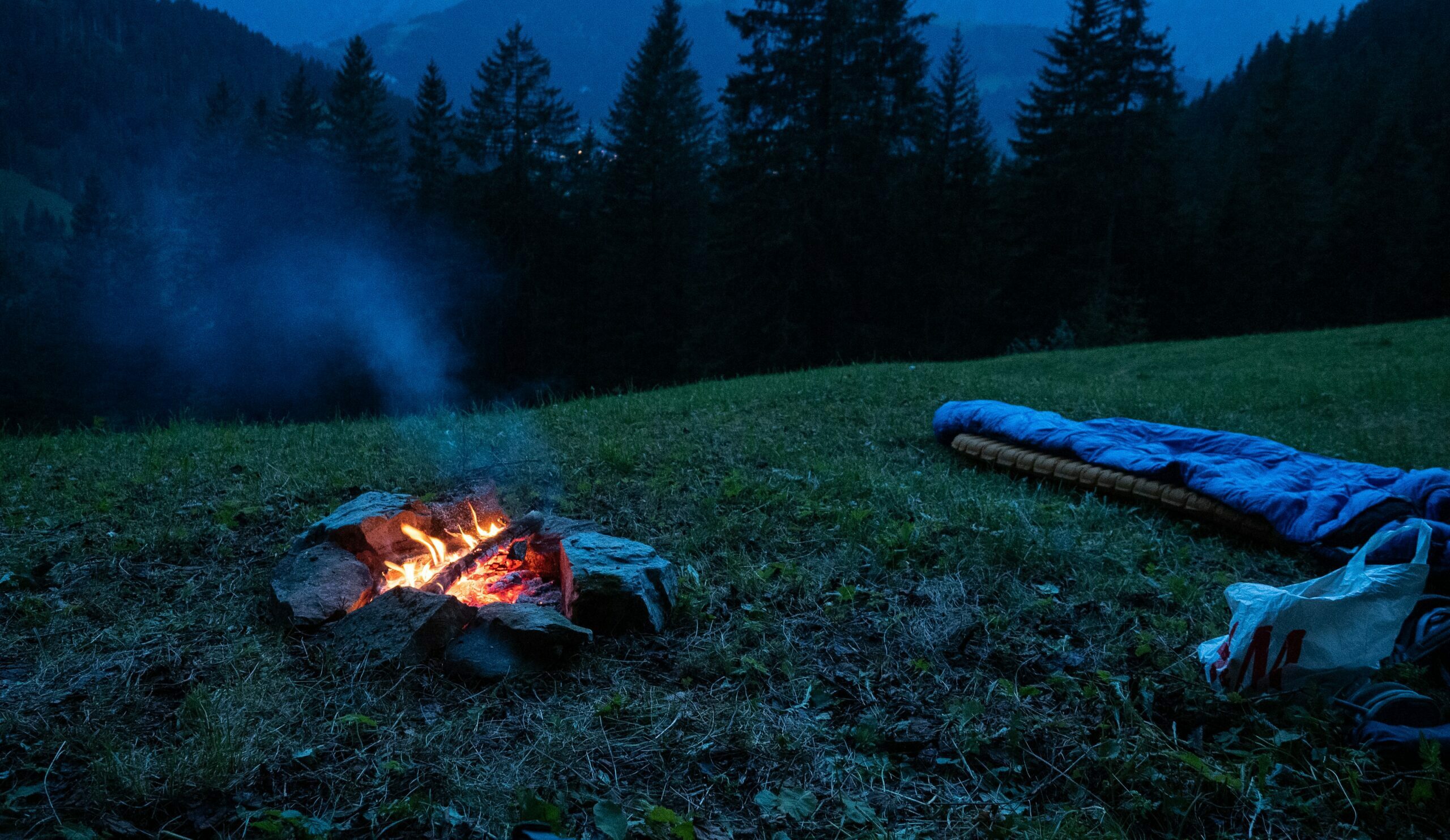 Western Mountaineering Versalite 10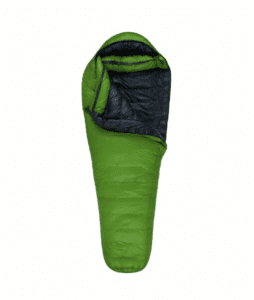 MSRP: $655.00
Insulation: 850+ Fill Goose Down
Tested Comfort Rating: 21ºF
Tested Lower Limit: 9ºF
Weight: 2 lbs (6′ size)
Shell Material: ExtremeLite, DWR coating
PROS: Fantastic warmth retention – Excellent down quality – Very packable
CONS: Thin materials feel less durable – Expensive
CLOSE LOOK: The Versalite Sleeping Bag is among the warmest of Western Mountaineering's ExtremeLite series, and they hit that warmth goal perfectly. With impressive tested temperature limits, high-quality and plentiful down insulation, and plush baffles and collar insulation, this sleeping bag is built for those chilly adventures and excels when the temperature drops.  Therefore, this is easily one of the best sleeping bags for shoulder-season hikers or those heading to higher elevations with cooler temperatures.
Western Mountaineering Versalite
Nemo Riff 15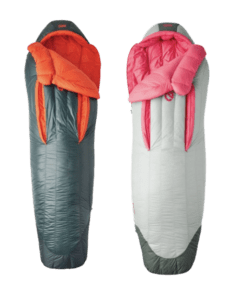 MSRP: $399.95
Insulation: 800 Fill Down
Tested Lower Limit: 16ºF (Men's) – 3ºF (Women's)
Tested Comfort Rating: 28ºF (Men's) – 15ºF (Women's)
Weight: 2 lbs. 6 oz. (Men's Regular) – 2 lbs 15 oz. (Women's Regular)
Shell Material: 20-denier ripstop nylon
PROS: Bags can zip together – Waterproof foot box – Pillow Sleeve
CONS: Heavier than the competition
CLOSE LOOK: Nemo's Riff series has a more athletic cut than their signature disco series, but still offers a little extra room at the elbows and hips for improved comfort. We're also big fans of the integrated pillow sleeve, heat gills to shed excess warmth, and waterproof foot box. The extra space adds a bit of weight to these bags, however, and they're not the lightest option on the market. But still, they strike a good balance between space, warmth, and durability and certainly earn their place among the best backpacking sleeping bags.
View At REI.COM
View At Backcountry.com

MSRP: $449.95
Insulation: 800 Fill Down
Tested Lower Limit: 20ºF
Tested Comfort Rating: 32ºF
Weight: 1 lb. 12 oz. (Regular)
Shell Material: Recycled Nylon
PROS: Very roomy  – Plush and comfortable feel – Relatively low weight – Competitive price
CONS: Not quite as warm as other options
CLOSE LOOK: The Parsec 20 brings the plush warmth that we expect from high-quality bags but offers plenty of wiggle room for those who don't like being constrained by narrow-cut, ultralight bags. We pay the price for this extra room with slightly increased weight. However, a plethora of features, including a draft tube, exterior pocket, and cinchable hood, all combine to make this a well-rounded hiking sleeping bag that delivers excellent comfort and warmth for a reasonable packed size and weight. What's more, Therm-a-Rest manages to price the Parsec very competitively for a little less than the competition, further adding to its overall appeal.
Find Your Parsec 20 Sleeping Bag
Big Agnes Sidewinder 20

MSRP: $299.95
Insulation: 650-fill-power DownTek w/ extra synthetic insulation at hip and feet
Temperature Rating: 20º F
Weight: 2 lbs. 4 oz. (Men's Regular)
Shell Material: Ripstop Nylon
PROS: Designed specifically for side sleepers – Extra cushion at hips – Unique zipper design to stay out of the way
CONS: Not as much space at the hips as similar bags
CLOSER LOOK: Sleeping bags designed just for side sleepers are a new addition to the industry, and Big Agnes joins the fray with the Sidewinder. Let us say from the start that we're very impressed! Big Agnes clearly thought a great deal about this bag. The extra synthetic padding at the hips and feet combined with the unique zipper designed to stay out of your way as you roll over all point to one of the best backpacking sleeping bags. We would have preferred a little extra space to put it on par with the Nemo Disco, but we can't argue with the lower weight of the Sidewinder. Lastly, the stretchy mesh pillow pocket is an excellent touch so you can stay comfortable in any position.
View At REI.COM
MEN'S Sidewinder 20women's Sidewinder 20
View At Backcountry.com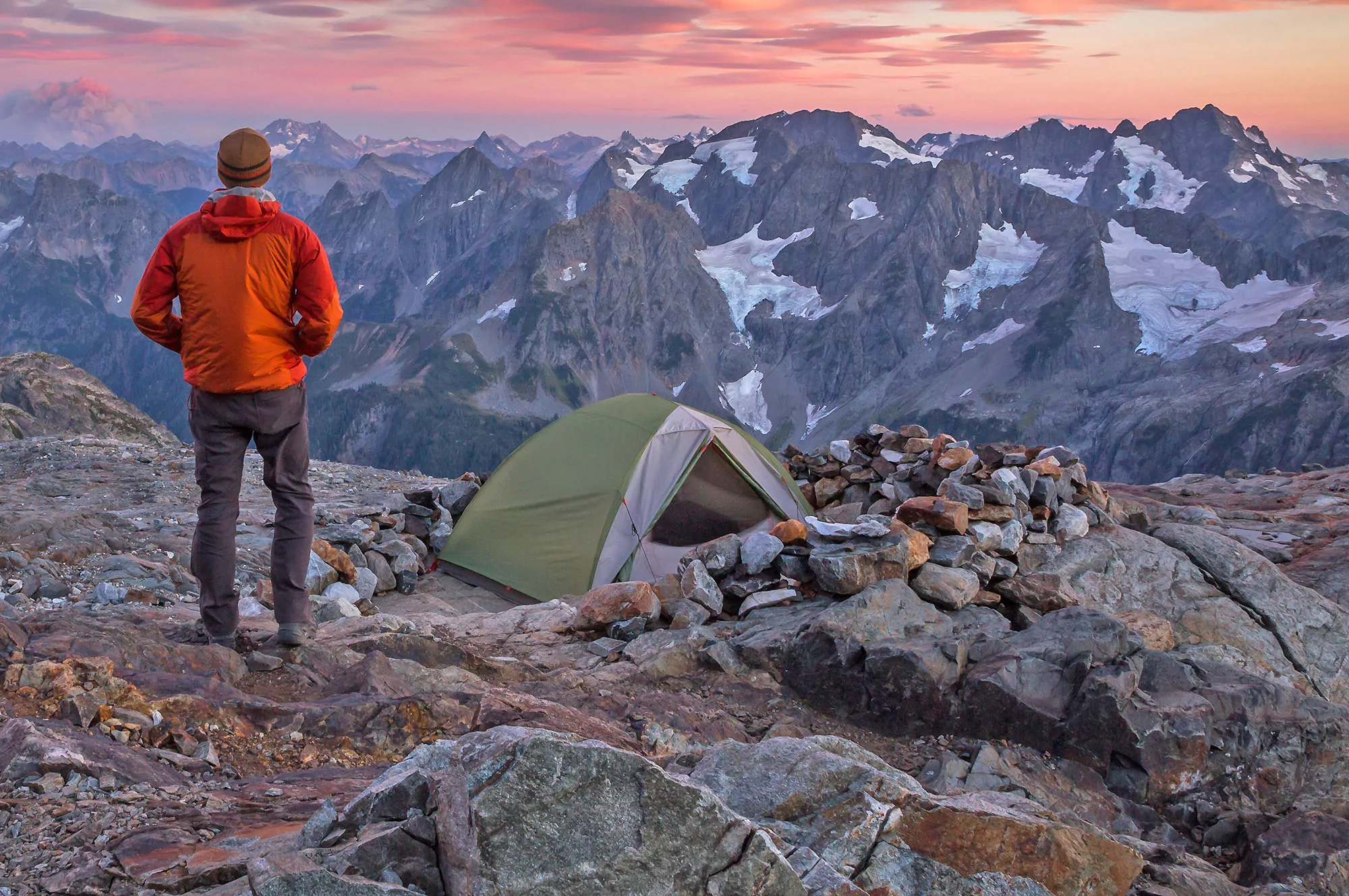 More Information About The Best Backpacking Sleeping Bags
A Note on Bag Liners
In addition to the sleeping bags themselves, we also see a wide range of liners on the market. But what are these exactly? In their base form, bag liners are a sleeping bag-shaped layer that you can add to the interior of your sleeping bag. They can be added for warmth – fleece liners are great for this purpose – or as another layer to help keep the sleeping bags from getting dirty.
Remember, sleeping bags (especially down) can be difficult to clean. But our bodies naturally release oil that can soak into the bag's material and insulation; Also, plain run-of-the-mill hiking grime can also build up over time. Therefore, adding a liner to the mix that you can easily throw in the washing machine may help increase your sleeping bag's lifespan and cleanliness.
Your decision on whether or not to get a liner will depend on a few things. First of all is price. Liners can cost anywhere between $25 and $100, so it's another expense to consider alongside your sleeping bag cost. Additionally, liners are yet another item that can take up space and add weight to your pack. Fleece liners in particular do not pack down very well and can take up noticeable space when you're packing them away. So against these points, you'll need to weigh the benefits of an easy-to-clean and potentially extra-warm layer. In general, hikers heading into extra-cold climates can often do with a little added warmth, and backpackers who use their sleeping bags often can benefit from the easy-to-clean nature of liners.
Sleeping Bag Care and Maintenance
Our sleeping bags are our warm refuge during cold nights in the backcountry, so it's important to take care of them! Grime, dirt, and body oil can slowly build up in your sleeping bag over time which ­– in addition to unseemly smells – can cause down to clump together and lose its insulating capability. Therefore, occasional cleaning is called for.
First and foremost, read the manufacturer's care and washing instructions and make sure you purchase a cleaner specially designed for down (if that's your sleeping bag's insulation type). Follow the manufacturer's instructions carefully, and your sleeping bag with stay fluffy and warm season after season. For more information about cleaning, take a look at this guide to cleaning your sleeping bag from Sea to Summit.
How to Store Your Sleeping Bag
The best method to store your sleeping bag is uncompressed and un-stuffed. If a sleeping bag is crammed into a stuff sack or bag for extended periods, the insulation can clump together and shift. This clumping can, in turn, lower the sleeping bag's insulating capability. For this reason, many of the best sleeping bags come with an oversized sack that you can store the sleeping bag in without compressing it. Use this, or a similar bag of your own whenever possible to prolong your sleeping comfort as long as possible.
Packing Your Sleeping Bag for Hiking
When it's time to hike, we're going to pack our sleeping bags the exact opposite of how we store them – as compressed as possible. Many bags will come with a compression sack for this exact purpose. If not, we highly suggest you invest with one as it will squish the sleeping bag down as small as possible to make it easy to pack.
Lastly, unless you are hiking into absolutely guaranteed dry weather (such as a desert), we highly recommend that you pack your sleeping bag-compression sack combo inside a waterproof liner bag. This could be as simple as a trash bag or a large specialty waterproof bag and will keep your sleep system 100% dry no matter if it pours or you accidentally drop your pack in a puddle.
Double and Zip-Together Sleeping Bags
Two sleeping bag options that are becoming more popular these days are double and zip-together sleeping bags. Doubles simply refer to sleeping bags big enough for two. Meanwhile, zip-togethers are single-sized sleeping bags with compatible zippers so that the bags can be zipped together to form a double.
These types of sleeping bags can be an excellent purchase for couples who'd like a little extra coziness when camping. But keep in mind that after multiple backpacking days, it can be tough to share your sleeping space when the hiking grime starts to build up and you just feel substantially dirty. Also, sleeping bags work best to retain heat when there is minimal unoccupied space so there's less air for your body to heat up. Large double sleeping bags have the potential to add more unoccupied space, not to mention larger openings than can cause drafts. So weigh the pros and cons before investing in this option!
Down Ethical Considerations
While down offers impressive insulation and warmth on our backcountry adventures, it raises the question of ethical treatment for the animals providing the down. Not too long ago, animal mistreatment raised serious ethical concerns surrounding how down was collected and necessitated the creation of a universal certification system to ensure proper animal treatment.
That certification came in the form of the Global Traceable Down Standard (TDS) and Responsible Down Standard (RDS). Now, many gear manufacturers have their down certified to these standards, and you should keep an eye open for these acronyms to ensure your product's down was sourced responsibly.
Why Trust Us?
Choosing the right outdoor gear and apparel can be difficult. But at Wildland Trekking, we live and work with hiking gear every single day. It's an integral part of what we do, and we understand better than anyone how important it is to have the right equipment. In addition to our vast knowledge of backpacking gear, we also offer:
Independence – our recommendations are not influenced by partnerships or sponsorships with outdoor gear and apparel manufacturers.
Experience – as one of America's top guide companies, we take 8,000-10,000 people on hiking and backpacking tours annually. Since our inception in 2005, we have guided more than 75,000 people into the wilderness.
Cutting Edge Knowledge – we regularly attend trade shows and pay close attention to the leading edge of new developments.
Up To Date Recommendations – we update our recommendations regularly as new products are developed and released.
Dedication to our Readers – we know that the gear we select as our top picks will end up in the field with our readers, and we take that responsibility very seriously. We view our readers as guests on our guided trips, just without the guides. We are committed to helping you be as well-outfitted and prepared as possible for your adventures.
*Disclosure: Some of the links above are affiliate links. At no cost to you, we earn a commission on any products purchased through these links. Any proceeds go to supporting our blog and operations. These affiliate links do not influence the products that we include in our gear round-ups. We only recommend products that we 100% support and that we have used in the field. 
MORE GEAR RECOMMENDATIONS
Check out our Wildland Gear Guide for more recommendations about hiking, trekking, camping and outdoor gear. We are always adding new products to help our guests and readers make the best choices to outfit their adventures.