Best Trekking Poles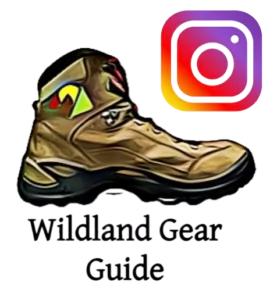 Don't forget to follow us on Instagram for the latest gear news!
Backpacking through amazing destinations is a tough endeavor. A fully-loaded pack can throw off our balance while challenging terrain is always waiting for just one misstep. But there's an easy and time-tested method to improve our stability, trekking poles! In fact, we at Wildland Trekking always recommend hiking poles for all our USA hiking vacations and guided backpacking trips.
The best trekking poles doubles your points of contact with the ground from two to four, offering stability on tricky terrain and allowing you to use your arms to take some pressure off your aching knees. But, trekking pole design has come a long way from the classic wooden stick, and now there are dozens of options on the market. To help with your decision, we've waded through these options and selected the best trekking poles on the market today. So let's take a look at important buying considerations and then review our top choices.
QUICK LIST OF RECOMMENDATIONS
KEY CONSIDERATIONS for the best trekking poles
Folding Mechanisms
One of the main aspects of trekking poles that we always consider is how it collapses down for storage and transportation – if at all. In this regard, we have three main categories to consider.
Folding trekking poles function very similarly to tent poles. You can pull the trekking pole segments – usually two to four – apart and pack them down very compactly for easy transportation. A durable cord connects all these segments, making these poles easy to reassemble.
Folding trekking poles typically boast a very slim and lightweight design, making them popular among trail runners and ultralight hikers. However, their thin and lightweight design is typically less robust than their beefier counterparts, and they lack the endless adjustability of our next category.
Telescoping trekking poles feature two or three sections that nest within one another when stowed and extend out through locking mechanisms at each joint to form a full-length pole. This type of trekking pole allows you to adjust the length by loosening the locking mechanism, making these poles very versatile and customizable. They also tend to be stronger and more durable than other options. However, be aware that telescoping trekking poles often lean on the little heavier side, and the lock mechanisms/joints tend to be weak points.
Fixed-length trekking poles make up our last category and are increasingly rare to see on the trail. These poles offer no adjustability and do not collapse or fold down for storage or transport. Despite this extreme drawback, they are lightweight and strong as they eliminate any extraneous hardware and joints. However, due to their cumbersome nature, no fixed-length poles made our list.
Weight
We're hikers and backpackers, so of course, we have to look at our gear's weight! In the world of trekking poles, heavier options tend to fatigue your arms more quickly and also add more weight to your pack when stowed.
Generally speaking, poles slide into the ultra-light category when a pair dips below 1 lb. They'll minimize arm fatigue and excess pack weight but will typically be less robust than heavier options. Conversely, most standard options that are a little heavier will feature thicker materials and will be better suited for supporting a lot of weight as well as 4-season use.
Handle Material
The best trekking poles include a comfortable and supportive handle for seamless trekking day after day. Therefore, it's worth looking at the handle design and material when comparing different pole options.
Rubber handles are the base option for standard hiking poles. The rubber is reasonably comfortable during long days on the trail but lacks moisture-wicking capability. This means that if you're working hard or hiking in precipitation, rubber handles tend to get a little slippery. Additionally, rubber handles lack the soft, supple feeling of other handle options.
Next up, we have EVA foam handles, which offer a softer feel combined with slightly improved moisture-wicking capability. EVA Foam tends to be a solid mid-range choice for trekking pole handles, especially for hikers who dislike the aesthetic of cork handles.
Cork handles are soft yet supportive, wick moisture away from your hand, and will conform to your hand's shape over time. With all these benefits, cork handles tend to be reserved for high-end poles focused on overall comfort and performance. The only downside to cork is that it has a distinctive appearance that some hikers may not appreciate. If that's the case, then EVA foam is a solid fallback.
Price
Price is an important consideration for most hikers, and trekking poles can come with a wide range of price tags. The most high-end and premium options will often retail between $150 and $200. Meanwhile, budget options can typically be found for a more reasonable price between $50 and $75.
Keep in mind, however, that budget options do tend to sacrifice overall quality and comfort. So it's up to you to decide on your priorities and what type of trekking pole you need.
LEKI Makalu Lite Trekking poles
Best Overall Trekking poles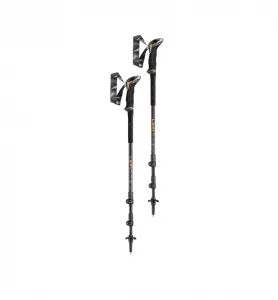 MSRP: $139.95
Type: Telescoping
Weight (Pair): 1lb. 2 oz.
Handle: Rubber
Pole Material: Aluminium
PROS: Bombproof design – Reliable lever locks that won't loosen up – Reasonable price point
CONS: On the heavier side – We wish it had cork grips
CLOSE LOOK: Leki has made some great strides in their pole designs lately, and it's evident in the Makalu Lite. This trekking pole utilizes Leki's brand new Aergon Air grip design with a fantastically ergonomic shape offering excellent pole control. The beefy aluminum construction is also very durable and is sure to hold up to season after season of adventures. Meanwhile, the strong SL+ lever locks won't loosen up on the trail but are still easy to adjust on the go. All-in-all, the Makalu trekking pole is our favorite on the market and one of the best trekking poles currently available.
Looking for a women's specific trekking pole? Check out Leki's Cressida Line of trekking poles.
Purchase from the link below and get a 20% discount!
Black Diamond Trail Back Trekking Poles
Runner up: best Trekking poles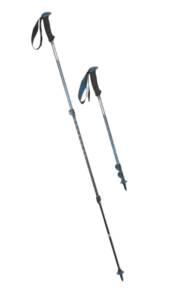 MSRP: $99.95
Type: Telescoping w/ lever lock
Weight (Pair): 1 lb. 1 oz.
Handle: Foam
Pole Material: 7075 Aluminum
PROS: Good Price – Extremely durable – Reliable lever lock system – Multiple colors available
CONS: Rubber grips aren't the most comfortable
CLOSE LOOK: Black Diamond has produced an extremely reliable workhorse in their Trail Back Trekking Poles. The hardy 7075 aluminum is very long-lasting and durable, while Black Diamond's lever lock system has a proven track record for ease of use and no slippage. The Trail Back also comes very competitively priced – especially for Black Diamon's quality – and propels the Trail Back to the front of our list of the best trekking poles on the market. However, some of the cost-cutting resulted in the rubber handle, which is less comfortable than cork or foam.
Black Diamond Trail Back Hiking Poles
REI Co-Op Traverse Trekking Poles
best Cork trekking poles for hikers on a budget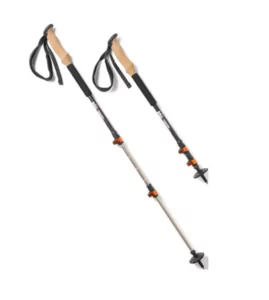 MSRP: $109.95
Type: Telescoping
Weight: 1 lb. 2.5 oz.
Handle: Cork
Pole Material: 7075 Aluminum
PROS: Good price for cork-handled poles – durable and robust construction
CONS: Heavy – Lower quality than premium cork trekking poles
CLOSER LOOK: REI's Trekking Poles are an excellent starting point for hikers who want the comfort and feel of cork handles without paying premium prices. What's more, REI utilized burly 7075 aluminum for these poles, giving them a beefy feel that will hold up to hard hiking over tough terrain. The more durable material, however, means that the traverse poles are on the heavier side and may feel slightly clunky at times. But the attractive price point for an excellent pair of cork hiking poles may outweigh this drawback.
REI Traverse Trekking Poles
Black Diamond Distance Carbon Z
ultralight trekking poles for hikers counting every ounce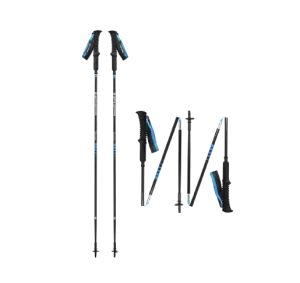 MSRP: $189.95
Type: Folding
Weight (Pair): 9.8 oz.
Handle: Foam
Pole Material: Carbon Fiber
PROS: Ultralight – Small packed size – Easy to collapse
CONS: Length not adjustable – Expensive
CLOSER LOOK: For hikers and trail runners counting every ounce, the Carbon Z from Black Diamond is the perfect option. They're incredibly lightweight at only about 10 oz. and have a very slim packed size, making them ideal for ultralight adventurers. The poles do sacrifice adjustability and a little durability to achieve their low weight, but overall they're easily the best trekking poles to keep your gear lightweight!
Black Diamond Distance Carbon Z Hiking Poles
MSR DynaLock Trail Backcountry
Best Trekking Poles for 4-season use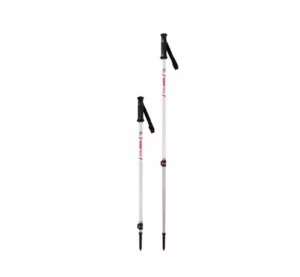 MSRP: $79.95
Type: Telescoping
Weight (Pair): Unavailable
Handle: Rubber
Pole Material: 6061 Aluminium
PROS: Comes with winter and summer baskets – Very affordable – Strong aluminum material
CONS: Bulky for regular 3-season use – Does not collapse as small as other options
CLOSER LOOK: If hiking and adventure call your name all year long, regardless of cold or snow, then MSR Dynalock may be a good choice for you. These budget-friendly poles come with both winter and summer baskets, allowing them to function well in everything from a dirt trail to snow. MSR also deployed strong aluminum alloy for the pole materials, providing extra durability to match rugged 4-season use. However, be aware that the Dynalock poles only have one lever lock collapse point, and therefore don't collapse down nearly as much as other options on the market.
MSR Dynalock Trail Backcountry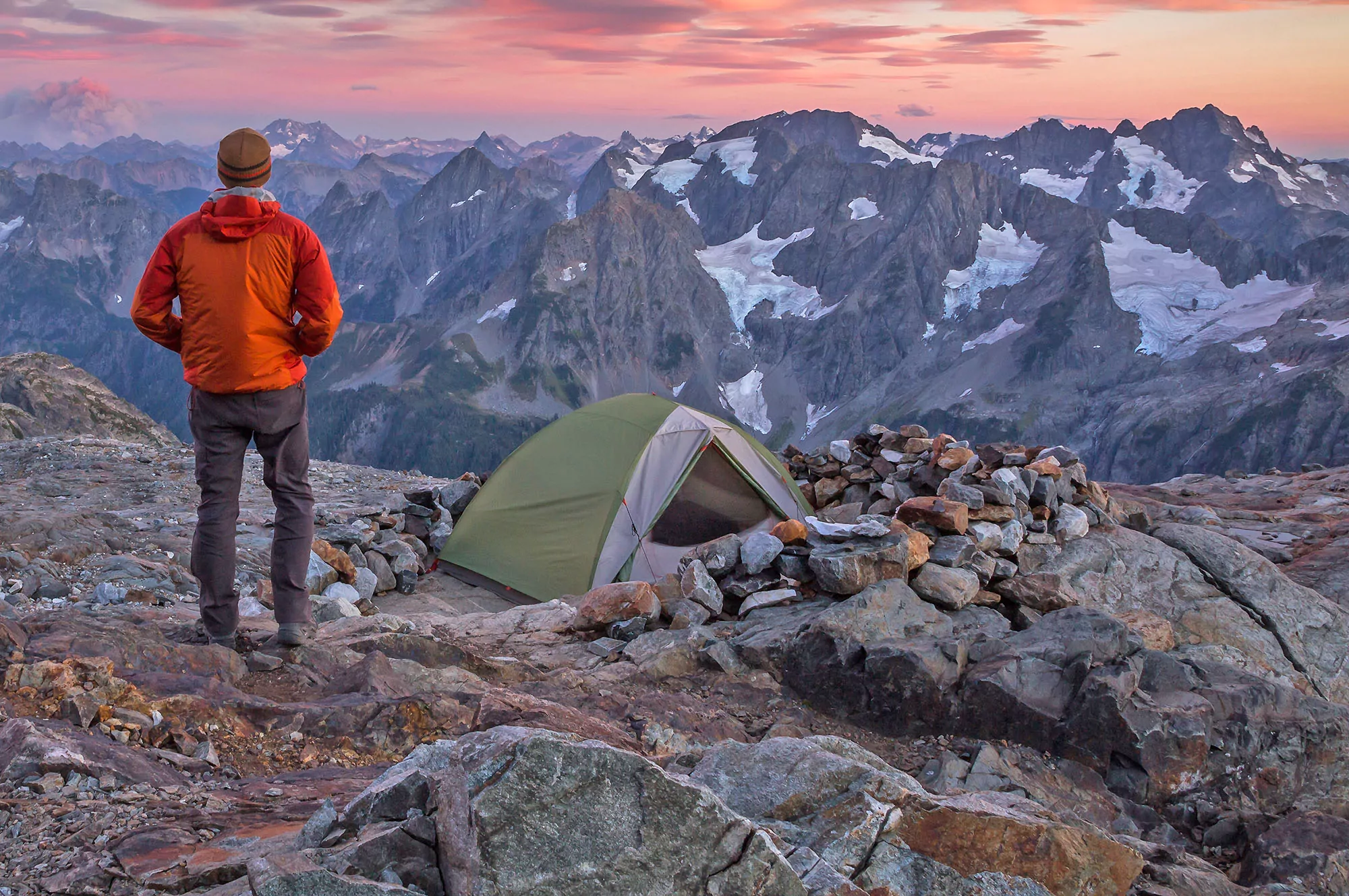 More Information About Trekking Poles
Now that we've covered our list of the best trekking poles, we have a few more topics to cover on when you need them and how to use them properly. As always, factor your gear choices into your overall hiking plan, stay safe, and follow the National Park Service's Safe Hiking Advice.
One vs. Two Poles
It's a common debate in the hiking world – one trekking pole or two? In the end, the answer to this question comes down to your hiking preference.
A single pole leaves one hand free for stabilizing on trees or boulders as needed, but you lose one of your points of contact on the ground. Conversely, two poles give you a little more traction for stabilizing or powering uphill, but you don't have a hand easily free to adjust your pack or for reaching out to stabilize on a tree. So, in the end, if you're unsure, try both methods and find the one that works for you.
Choke-Up Grip Extensions
In addition to the standard trekking pole handle, many options also include a choke-up grip extension. These are smaller foam grips just below the main handle. Choke-up extensions are very handy as they expand the useable surfaces that you can comfortably grip, giving you more options for wielding your trekking poles on steep and technical terrain.
However, not all trekking poles include these extensions, so it's another feature that you should consider beforehand to determine if it's important to you.
Hiking Pole Baskets
The best hiking poles will often include an attachment known as a basket. These items attach to the lower part of the pole just below the sharp end that contacts the ground. They're much wider than the pole – often made from durable plastic – and are intended to stop your pole from sinking too deeply into loose dirt or snow.
Why Trust Us?
Choosing the right outdoor gear and apparel can be difficult. But at Wildland Trekking, we live and work with hiking gear every single day. It's an integral part of what we do, and we understand better than anyone how important it is to have the right equipment. In addition to our vast knowledge of backpacking gear, we also offer:
Independence – our recommendations are not influenced by partnerships or sponsorships with outdoor gear and apparel manufacturers.
Experience – as one of America's top guide companies, we take 8,000-10,000 people on hiking and backpacking tours annually. Since our inception in 2005, we have guided more than 75,000 people into the wilderness.
Cutting Edge Knowledge – we regularly attend trade shows and pay close attention to the leading edge of new developments.
Up To Date Recommendations – we update our recommendations regularly as new products are developed and released.
Dedication to our Readers – we know that the gear we select as our top picks will end up in the field with our readers, and we take that responsibility very seriously. We view our readers as guests on our guided trips, just without the guides. We are committed to helping you be as well-outfitted and prepared as possible for your adventures.
*Disclosure: Some of the links above are affiliate links. At no cost to you, we earn a commission on any products purchased through these links. Any proceeds go to supporting our blog and operations. These affiliate links do not influence the products that we include in our gear round-ups. We only recommend products that we 100% support and that we have used in the field. 
MORE GEAR RECOMMENDATIONS
Check out our Wildland Gear Guide for more recommendations about hiking, trekking, camping and outdoor gear. We are always adding new products to help our guests and readers make the best choices to outfit their adventures.