Best Backpacking Backpacks
Learn about the best backpacking backpacks – lightweight, budget-friendly, extra durable, and more!
The hiking backpack is arguably the most critical piece of adventure gear you can purchase. It'll spend hours on your back and provide the means to have everything from your favorite snacks to a cozy tent and sleeping bag in the backcountry. So, finding the best backpacking backpack for you is a vital decision for any trip from hiking in Washington to trekking in the Grand Canyon. But with all the options out there, it can also be a very stressful one. That's why we've done the groundwork and found the best backpacking backpacks on the market and compiled them here for you to review.
From the best hiking backpacks for budget-minded explorers to ultralight options for thru-hikers, we've found the perfect pack for you. Let's first learn about our top considerations for selecting backpacks and then review our top choices.
QUICK LIST OF RECOMMENDATIONS
Honorable Mentions
KEY CONSIDERATIONS
Volume 
Hiking backpack volume is typically measured in liters and can vary from 18 liters all the way to 90 or more. That's a massive range of potential sizes! Therefore, let's take a look at the general use you can get from different backpack sizes. 
Day Hiking 
When you're heading out for just a day on the trail and plan to be back at your campsite or car that evening, then you'll only need a small daypack. These packs are typically around 20 liters or less and will have enough space for plenty of snacks, water, layers, and a medkit. 
As we're focusing exclusively on backpacking in this article, our recommendations below do not include any day packs. 
1-2 Nights of Backpacking 
A 30-50 liter pack will typically offer plenty of space for all your storage needs for these shorter backpacking trips. It certainly takes practice and discipline to fit all your gear into a pack on the smaller side of the spectrum, but it will also keep you from overpacking! 
3-5 Nights of Backpacking 
Packs in the 50-70 liter range will offer ample space for several nights out in the backcountry. The exact size that works for you will depend on your gear, packing proficiency, and culinary choices. If you're newer to backpacking, an option in the 60-70 liter range will likely suit you perfectly. 
Gear organization becomes a critical factor with these larger packs. Therefore, the best backpacking backpacks will often include more pockets and storage options to help keep you organized. 
5+ Nights of Backpacking 
Extended trips often require more supplies, food, and fuel. Therefore, the best backpacking packs for this category will be 65+ liters. Grizzled veterans of the backpacking world can make do with less, but 65 or more liters will offer plenty of space to accommodate your standard hiking and camping gear. 
Storage and Organization  
Perhaps the most challenging part of backpacking is keeping your gear organized. But the best backpacking backpacks will make it much easier for you. With that in mind, here are a few storage and organization features to keep an eye on. 
Main Compartment Access
Your main compartment is the vast central space where you'll store the majority of your gear. Most packs are top-loading, where you'll have access to the main compartment through a large opening on the top of the bag. However, some backpacks will also feature a zipper on the bottom – and sometimes the side – to offer more access points so you can get at your gear. 
These additional access points are beneficial for getting at your gear without pulling everything out. Additionally, they help ensure that your packing is efficient and not leaving any unused pockets of space in your pack. 
External Storage Compartments
Many backpacking packs will offer additional storage pockets to help keep your gear compartmentalized. A large exterior mesh pocket is common, offering a good spot for quick access to layers or rain gear. Additional zippered pockets also offer more organization options to keep your gear organized.
Lastly, almost all backpacking backpacks feature a top lid – or brain – that closes over the main compartment access point. These top lids offer varying levels of storage, and additional zippered pockets here are perfect for snacks, a headlamp, maps, and other small gear. 
Backpack Fit 
Finding a properly sized pack is crucial to enjoying your adventures. Too large or too small, and you'll be feeling the consequences in your hips, back, and shoulders. 
Most backpacks – but not all – come in men's and women's versions with Small, Medium, and Large sizes. These sizes are based on your torso and hip measurements, so take the time to measure yourself before purchasing! These sizes can often differ from your usual clothing sizing because they're not using the same metrics, so don't make any assumptions about your size before measuring. Manufacturer websites will include instructions for measuring yourself accurately. 
Material
Hiking packs take a lot of abuse on the trail. Trees, rocks, dirt, rain, and errant hiking poles are just a few of the many adversaries that our backpacks face. Therefore, your choice should include tough and durable materials that can stand up to many seasons' use of adventure.
Material thickness is measured in deniers. The higher this number, the thicker the material and more durable it is. Nylon and polyester blends are the most common choices among backpack manufacturers. However, high-strength and low-weight Dyneema is also an impressive material choice that offers superb durability but is much more expensive than more common nylon and polyester.
Weight 
As backpackers, we care about our pack weight. Spending days on the trail means we don't want to be toting unnecessary pounds. While backpack weights don't vary by a vast range, it's still worth considering your pack's bulk if you're worried about weight for your backpacking trip.
Generally speaking, we'll see most backpacking backpacks fall into the 3 lbs. range. Options on the heavier end of the spectrum will often hover around 4.5 lbs. or even approach 5 lbs. Meanwhile, ultra-light packs can weigh in at less than 3 lbs. So think about if weight is a major concern for your backpacking adventures, and weigh your options accordingly – pun intended.
Price
The best backpacking backpacks often have a hefty price tag to match their tremendous importance in the backcountry. Therefore, it's important to consider the features, quality, and price point that fits your budget and base your search on these criteria. Top-of-the-line premium packs can run above $300. However, most solid, quality backpacks will be priced in the $200-$300 range. Lastly, if budget is your primary concern and you don't mind sacrificing some features and comfort for a lower price, you can find budget pack options hovering around $150. 
Osprey Aura AG 65 (women's) and Atmos ag 65 (men's)
Overall Best Backpacking Backpack
MSRP: $300.00
CAPACITY: ~65 liters – Varies slightly with sizing
WEIGHT

Men's: 4 lbs 10 oz. (S/M Size)
Women's: 4 lbs. 7 oz. (XS/S Size)

MATERIAL: 210 denier x 500 denier nylon
PROS: Excellent ventilation – Comfortable suspension – Plenty of pockets and organization options – Solid warranty – High-quality feel
CONS: On the heavy side
CLOSER LOOK: Osprey makes fantastic packs, plain and simple. We've never tried an Osprey pack that we didn't like, but the Aura (Women's) and Atmos (Men's) epitomize their dedication to quality and comfort. The "anti-gravity" suspension system features a floating mesh back panel instead of the usual foam, optimizing airflow and comfort even for long days on the trail. We also have functional organization with top and bottom access to the main compartment, a massive exterior mesh pocket flanked by two individual zippered pockets, and a large lid/brain with two zippered pockets. All these features work together to make the Atmos and Aura the best backpacking backpacks for longer stays in the backcountry – both in comfort and gear storage. However, be aware that these packs are a little hefty at over 4 lbs. and are among the more expensive options on our list.
View on rei.com
View on Backcountry.com
granite gear blaze 60
Runner Up – Best Backpacking Backpack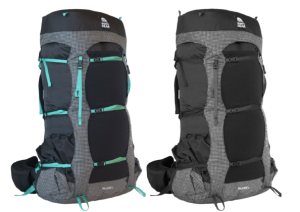 MSRP: $299.95
CAPACITY: 60 liters
WEIGHT:

Men's: 3 lbs. (Regular size)
Women's: 3 lbs. (Regular Size)

MATERIAL: 100 denier x 210 denier ROBIC nylon
PROS: Full-length zipper for main compartment – Great suspension for heavy loads – Reasonable weight
CONS: Less back ventilation – Fewer exterior pockets
CLOSER LOOK: Granite Gear has done a tremendous job handpicking all of the best features we like to see on a backpack and combining them into one excellent product, the Blaze 60. First off, the full-vertical zipper for easy access to the entire main compartment is fantastic for organizing your gear and getting at it quickly. The top lid/brain can also be converted into a chest pack to access more gear easily. Multiple compression straps, plushly padded load-lifting shoulder straps, and a comfortable hip belt all work together to make the Blaze 60 a very comfortable pack – even with heavier weights. Our only wishes are for a large exterior mesh stuff pocket and improved back ventilation. But altogether, the Granite Gear Blaze 60 is easily one of the best backpacking backpacks on the market today.
View on rei.com
MEN'S BLAZE 60WOMEN'S BLAZE 60
View on Backcountry.com
Hyperlite mountain gear 3400 southwest
Best Backpacking Backpack for Ultra-Light Hikers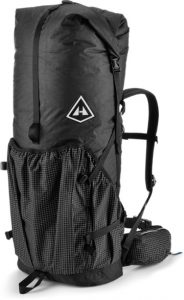 MSRP: $399.00
CAPACITY: 55 liters
WEIGHT: 2.29 lbs.
MATERIAL: Dyneema
PROS: Extremely lightweight – Very durable – Waterproof – Long-lasting – Roll-top design
CONS: Very expensive – Fewer pockets – No men's and women's options
CLOSER LOOK: A 55 liter (3400 cubic in.) backpack weighing a little over 2 lbs.? Oh yes. Hyperlite Mountain Gear has artfully used Dyneema – an exceptionally lightweight yet durable and water-resistant material – to craft the 3400 Southwest, and the result is spectacular. Bombproof, light, and very straightforward with minimal pockets, this pack with last a lifetime of adventure if well cared for. The distinct roll-top design further adds to the pack's weather resistance while making it easy to carry less gear for shorter trips. The main drawback for the 3400 Southwest, however, is the price. Dyneema is an expensive material to use, which is why we don't see it more often, and this backpack is the most expensive option on our list by far. However, if you're counting every ounce for your next backpacking trip and need a pack that will keep weight to a minimum and the elements out, then the 3400 Southwest from Hyperlite may well be worth the investment.
View on rei.com
View on Backcountry.com
Gregory paragon 48 (men's) and Maven 45 (women's)
Best Mid-Sized Backpacking Backpack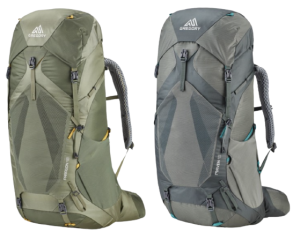 MSRP: $229.95
CAPACITY: 45-48 liters
WEIGHT:

Men's: 3 lbs. 8 oz.
Women's: 3 lbs. 5 oz.

MATERIAL: Nylon/polyester
PROS: Very comfortable fit – Plenty of organization options – Vertical-length zipper for easy access – Large exterior mesh pockets
CONS: A little heavy for its size
CLOSER LOOK: For tackling a shorter trip in the backcountry, you can't go wrong with the Gregory Paragon 48 (Men's version) or Maven 45 (Women's version). This pack makes the most out of its smaller size to maximize organization and comfort. A removable divider creates a dedicated space in the bottom of the bag – ideal for shoes, a sleeping bag, or perhaps dirty clothes at the end of a trip. The top lid/brain compartment is also surprisingly cavernous, and the shoulder straps and hit belt are perfectly contoured for a cozy fit – and they're also very adjustable! However, for its relatively small size, the Paragon and Maven weigh a little more than we expect (even more than some 60L packs). But for excellent organization and plush comfort, a few extra ounces are worth it to make the Paragon and Maven the best backpacking backpacks for one to three days in the backcountry.
View on rei.com
Osprey rook 50 (men's) and renn 50 (women's)
Best budget backpacking backpack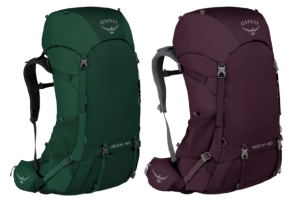 MSRP: $155.00
CAPACITY: 50 liters
WEIGHT: 3.2 -3.5 lbs.
MATERIAL: 600 denier polyester and 1000 denier nylon
PROS: Budget-friendly – Very durable design – Long-lasting – Excellent warranty
CONS: Less support – Fewer pockets – Not as comfortable with heavy loads
CLOSER LOOK: Osprey is one of the best backpack manufacturers globally, and the fact that they make a more affordable option is absolute gold for the budget-minded hiker. With the Rook and Renn, we still get Osprey's fantastic build quality and thoughtful design, but with a slight reduction in features to lower the price. The very thick 600D polyester and 1000D packcloth are robust and almost bombproof, and we still have convenient bottom zipper access to the main compartment. However, the Rook and Renn don't have a large exterior mesh stuff pocket or the same quality suspension system as other Osprey creations. So all in all, the Rook and Renn are tough, long-lasting options that sacrifice on your gear organization and shoulder comfort when carrying heavier loads. But for such an accessible price, this is the best backpacking backpack for budget-minded hikers, and you can't go wrong with this choice if you're watching your bank account!
View on Osprey.com
View on Backcountry.com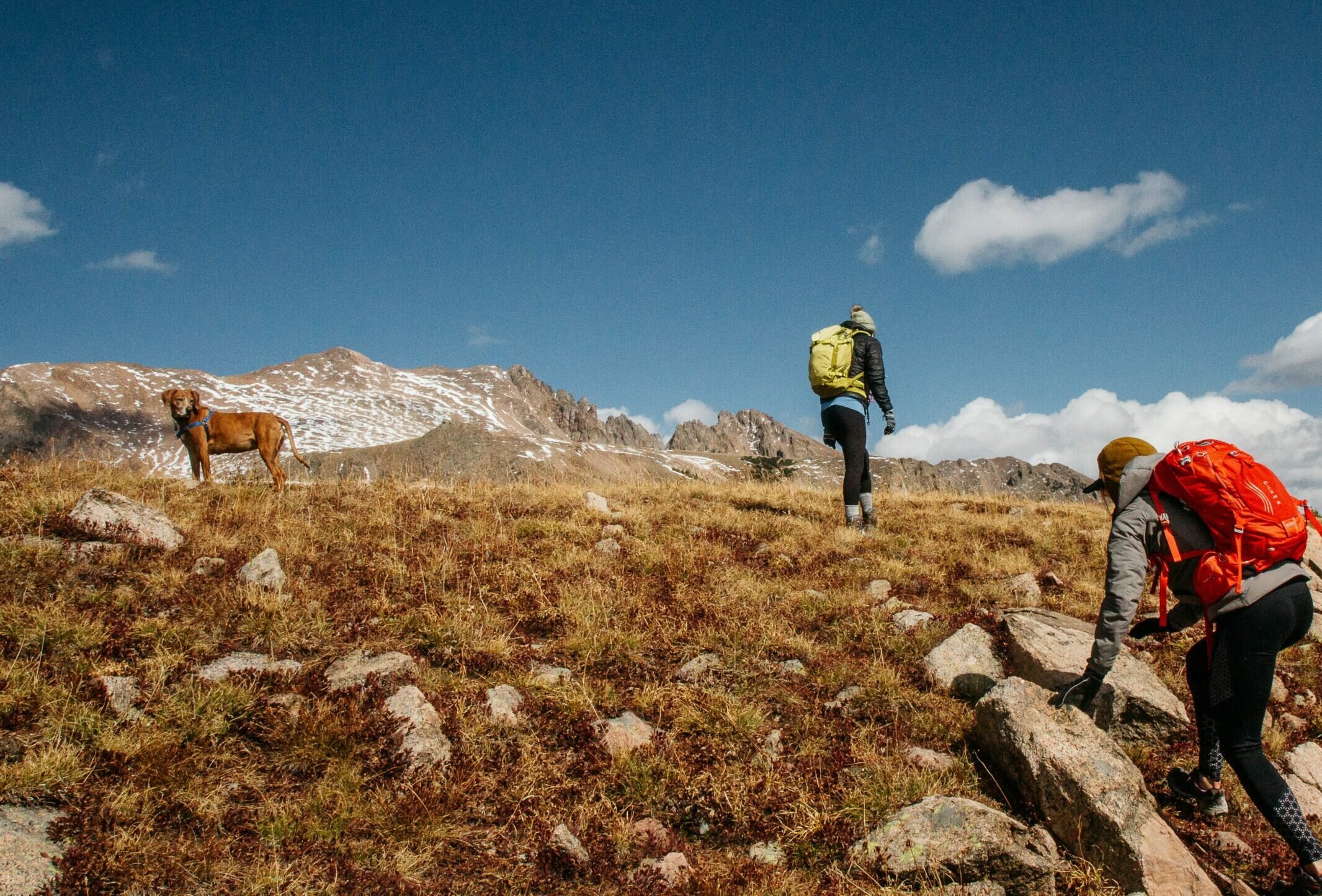 Deuter Aircontact Core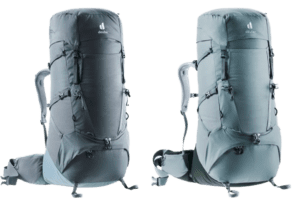 MSRP: $250.00
CAPACITY
Men's: 65 Liters
Women's: 60 Liters
WEIGHT
Men's: 4 lbs 15 oz
Women's: 4 lbs 8 oz
MATERIAL: 235-denier polyamide (50%+ recycled)
PROS: Robust and durable – Easy to adjust – Cavernous space for storage – Competitively priced
CONS: Bulky feeling – Heavier than other options
CLOSER LOOK: We've been using the Deuter Aircontact at Wildland for years, and with very good reason. These packs are reliable, durable, and can take everything the trail throws your way. The partially recycle external material holds up to scuffs and abrasions exceptionally well, while the straps our tough, adjustable, and versatile for a variety of loading styles. The padding and shoulder straps aren't groundbreaking, but they're plush, supportive, and offer decent airflow to keep you comfortable while hiking. The shoulder straps and hip belt, in particular, are well balanced and padded to support heavier loads, which the very large and unadorned 60- or 65-liter cargo space can easily accommodate. But we pay the price for this rugged durability and plush padding with a noticeably heavy pack that can feel a little clunky at times. But nevertheless, its reliable performance in the backcountry more than earns the Aircontact Core a space among the best backpacking backpacks currently on the market.
View on REI.com
MEN'S AIRCONTACT 65WOMEN'S AIRCONTACT 60
View on Backcountry.com
MEN'S Aircontact 65WOMEN'S Aircontact 60
REI CO-Op Flash 55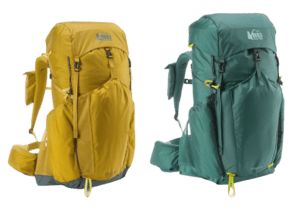 MSRP: $199.00
CAPACITY: ~55 Liters (Varies with sizing)
WEIGHT

Men's: 2 lbs 14 oz (L)
Women's: 2 lbs 12 oz (M)

MATERIAL: 100-denier recycled ripstop nylon
PROS: Lightweight – Great Price – Very customizable – Roll-top lid
CONS: Less padding and comfort than other options
CLOSER LOOK: REI reliably delivers excellent outdoor adventure products for those on a budget, and the Flash follows that trend perfectly to become one of the best backpacking backpacks. At a hair under $200, the Flash offers exceptional value along with a range of thoughtful and unique features. First, the Flash is highly customizable, where the top lid, hip belt pockets, and various straps are all removable – allowing you to shave off 7 oz from the total pack weight. Additionally, the roll-top closure is a convenient addition for compression packing and weather resistance. Spacious exterior mesh pockets are also an excellent touch to keep essential gear within easy reach. The tradeoff for the Flash, however, is a less sophisticated suspension and padding system. In this department, the Flash is fairly basic and doesn't offer a sophisticated suspension system – resulting in less comfort while fully loaded. But for a budget-minded option with fresh features, we love the REI Flash.
View on REI.com
MEN'S FLASH 55WOMEN'S FLASH 55
Mystery Ranch Glacier 70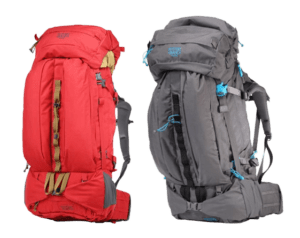 MSRP: $375.00
CAPACITY

Men's: 71 Liters
Women's: 70 Liters

WEIGHT

Men's: 6 lbs 6 oz
Women's: 5 lbs 9.6 oz

MATERIAL: 550-denier Lite Plus Cordura nylon
PROS: Bombproof design – High-quality materials – Incredibly comfortable
CONS: Very expensive – No exterior mesh pocket – Extremely heavy
CLOSER LOOK: Mystery Ranch has almost superpower levels of anonymity where it seems few hikers are aware of the brand, and yet Mystery Ranch maintains an incredibly loyal support base among folks who love their packs. Furthermore, that loyalty is definitely earned thanks to the exceptional build quality, materials, and comfort on display with the Glacier 70 pack. Every piece of this pack is built to last and take everything the trail can throw and more. Additionally, the Glacier offers handy side access via zipper to the main packing space and two massive "torpedo" pockets on the exterior of the pack for extra gear. Keep in mind that this burly build also means that the Glacier is the heaviest pack on our list by far. But if you don't mind shouldering a little extra weight in exchange for a pack that will last for years and years, then the Mystery Ranch Glacier may be the best backpacking pack for you.
View on REI.com
MEN'S GLACIER 70WOMEN'S GLACIER 70
View on Backcountry.com
MEN'S Glacier 70WOMEN'S Glacier 70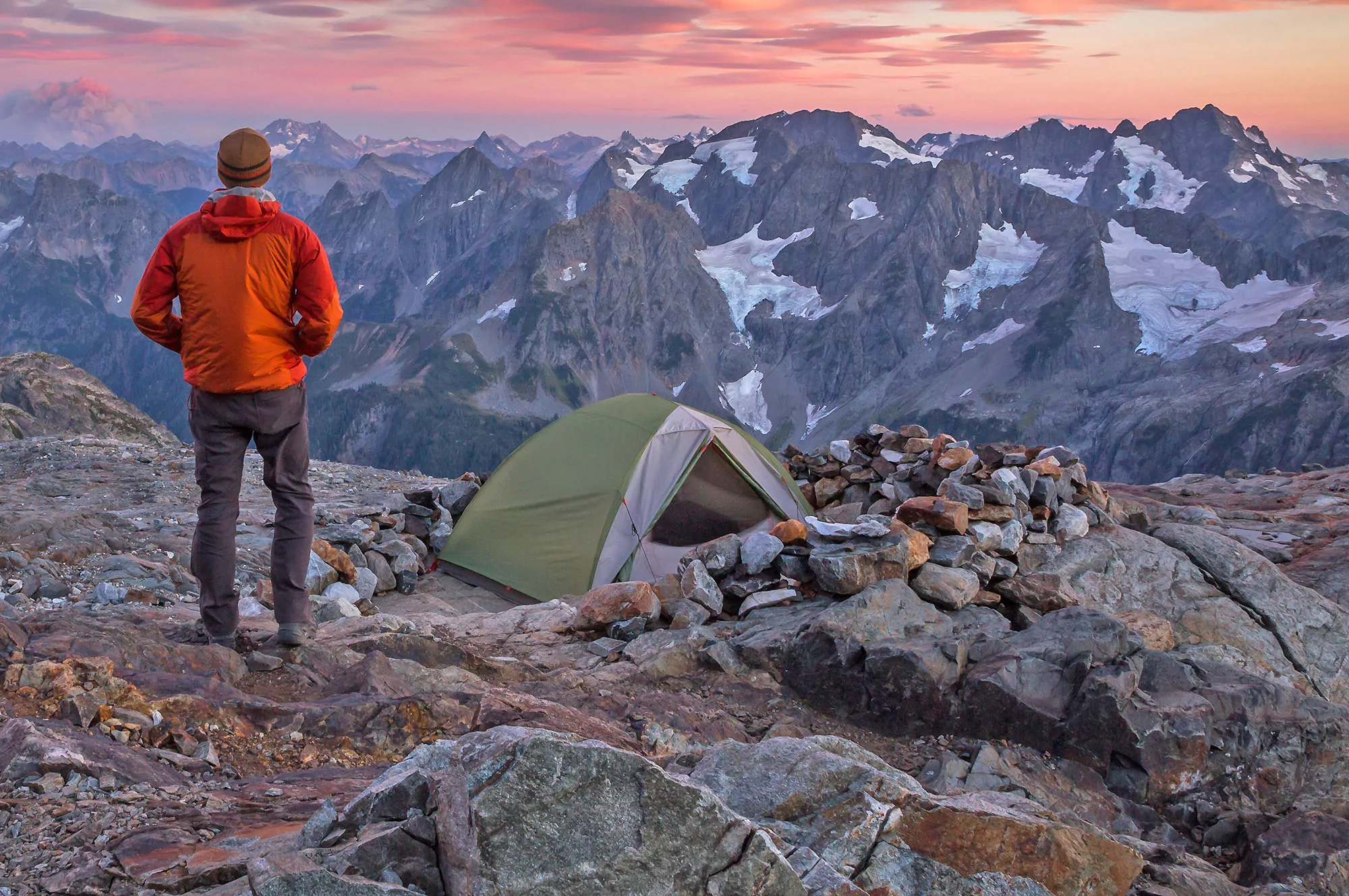 Why Trust Us?
Choosing the right outdoor gear and apparel can be difficult. But at Wildland Trekking, we live and work with hiking gear every single day. It's an integral part of what we do, and we understand better than anyone how important it is to have the right equipment. In addition to our vast knowledge of backpacking gear, we also offer:
Independence – our recommendations are not influenced by partnerships or sponsorships with outdoor gear and apparel manufacturers.
Experience – as one of America's top guide companies, we take 8,000-10,000 people on hiking and backpacking tours annually. Since our inception in 2005, we have guided more than 75,000 people into the wilderness.
Cutting Edge Knowledge – we regularly attend trade shows and pay close attention to the leading edge of new developments.
Up To Date Recommendations – we update our recommendations regularly as new products are developed and released.
Dedication to our Readers – we know that the gear we select as our top picks will end up in the field with our readers, and we take that responsibility very seriously. We view our readers as guests on our guided trips, just without the guides. We are committed to helping you be as well-outfitted and prepared as possible for your adventures.
*Disclosure: Some of the links above are affiliate links. At no cost to you, we earn a commission on any products purchased through these links. Any proceeds go to supporting our blog and operations. These affiliate links do not influence the products that we include in our gear round-ups. We only recommend products that we 100% support and that we have used in the field. 
MORE GEAR RECOMMENDATIONS
Check out our Wildland Gear Guide for more recommendations about hiking, trekking, camping and outdoor gear. We are always adding new products to help our guests and readers make the best choices to outfit their adventures.