Gear, Food & More
Learn About the Details that Make Wildland Trips Great
An exceptional hiking or backpacking adventure is made up of many key ingredients. The local landscape and itinerary are of course the most important ingredients, and we are privileged to run trips at many of the world's most spectacular destinations: Grand Canyon, Yosemite, Yellowstone, the Smoky Mountains, Iceland, the Andes, Patagonia, Kilimanjaro and many, many more! We handpick our itineraries so our guests see the best of each area. You can read more about our destinations here.
Having an experienced, trained guide is the next most critical element. At Wildland our commitment is to hire and train the best guides in the trekking industry. To ensure this is the case, we have an extensive vetting process followed up by training, shadowing and on-going quality control processes. You can read more about our exceptional guides here.
We invite you to read on to learn about additional ingredients that make Wildland an award-winning tour company, including the gear we provide our guests, meals, lodging on inn-based tours, and natural/cultural/historical interp!
Wildland Trips are All-inclusive!
Our trips include nearly all necessary gear so you can focus on enjoying the spectacular destination you've selected for your trip. This list includes backpacks, trekking poles, tents, sleeping pads, sleeping bags (or you can bring your own), cooking gear, eating utensils and more. The only gear items we ask our guests to provide are water bottles and a headlamp or flashlight.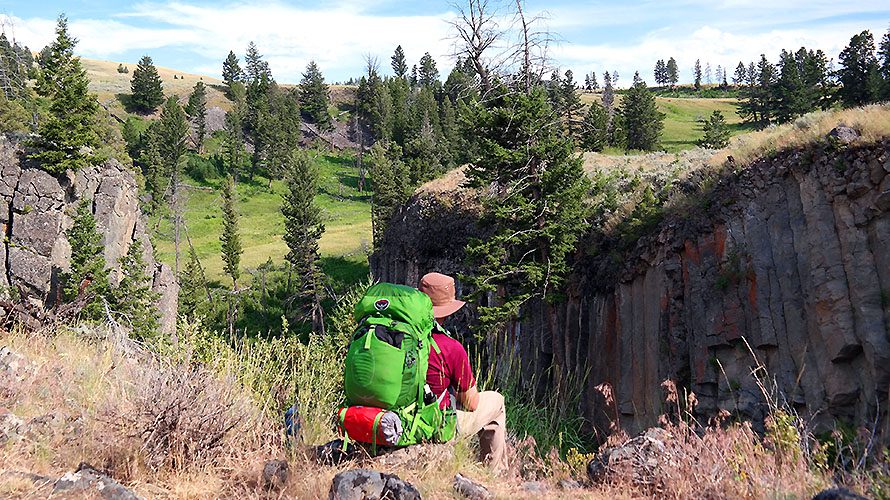 Wildland Gear
Gear Brands
On camping based trips (backpacking, portered, llama and basecamp), Wildland guests are outfitted with over $1000 of gear per person (retail value.) The provided gear is top-of-the-line, produced by premier outdoor retail companies. Below we list the main companies we use for the various gear items provided on trips: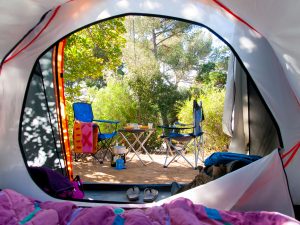 Backpacks: Deuter and Osprey
Trekking Poles: Leki
Tents: Kelty and Big Agnes
Sleeping Bags: Kelty, Big Agnes and Mountain Hardware
Sleeping Pads: Thermarest
Cooking Gear: Mountain Safety Research (MSR)
Water Filters: Mountain Safety Research (MSR)
Hiking Crampons: Kahtoola
Cleaning and Inspecting Gear
All gear is cleaned and inspected after every use. Tents are set up to dry, cleaned and swept, then stored for the next trip. Backpacks are washed with soap and water and dried after every use. Sleeping bags and camp pillows are professionally laundered between uses, and sleeping pads are cleaned and inspected.
REtiring/Recycling Gear
We retire gear when it has moved beyond commercial quality use, but can still be used for personal or nonprofit use. Wildland's used gear is donated to nonprofits, sold at "garage sales," or offered to staff.
Delicious, Nutritious Meals
Quality meals are a critical part of the Wildland experience. Anybody can cook up a package of noodles, but to make delicious, nutritious meals with real ingredients on all trip styles (backpacking, portered, llama, basecamp, inn-based...etc.) is a very different challenge. Inn-based tours feature a combination of restaurant meals and meals prepared by your guide(s); all other trip styles have almost entirely guide-prepared meals.
We customize our menus based on the preferences of the group and nature of each trip. We also cater to nearly all dietary restrictions, including gluten free, vegan, dairy free, nut free, Kosher and more.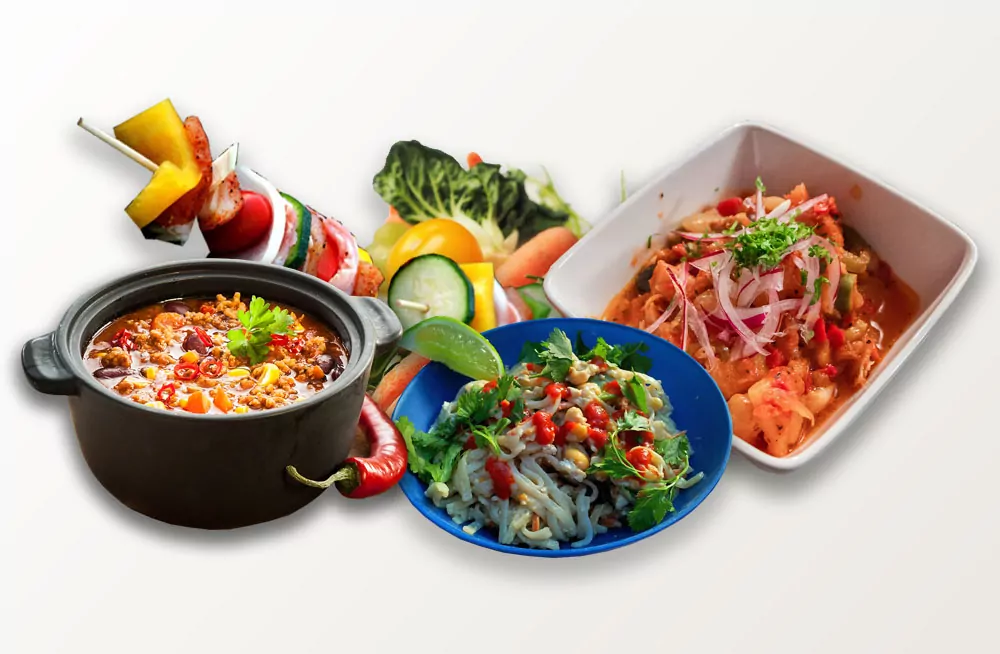 Sample Main Course Recipes
Backpacking, Llama and Portered Trips*
Doug's Epic Green Chili Stew
Chicken Teriyaki Fried Rice
Burritos Magnificos
Pasta with Asian Peanut Sauce
Fried Macaroni and Cheese with Vegetables
Potato Gnocci and Sausage with Creamy Red Sauce
Chicken and/or Shrimp Jambalaya
Good 'Ol American Hamburgers and French Fries
Basecamp Tours*
Wildland Taco Salad
"Surf and Turf"
Creamy Fettuccine with Peppers and Sausage
Marinated, Grilled Shishkabobs
Make Your Own Burrito Bar
BBQ Chicken and Corn on the Cob
Steve's Turkey Pumpkin Chili
Fire Roasted Bratwursts and Sauerkraut
Inn-based Tours*
Inn-based tours feature a combination of restaurant meals and meals prepared by your guide(s). Lunch recipes include:
Myriam's Southwest Salad Wrap
Bacon-Avocado Wraps
Wildland Lunch Spread (Assorted Meats, Cheeses, Crackers, Fruits, Vegetables and Sweets)
Tuna Salad with Sundried Tomatoes
Ron's Curry Chicken Salad Wraps
Cranberry Chicken Salad Sandwiches
DIY Sandwich Bar with Fruit, Vegetables and Chips
Fancy Grilled Cheese Sandwiches and Tomato Soup
International Tours
Meals on our international trips feature restaurant or hut meals paired with food prepared by your guide(s). The recipes vary by destination and culture. If you'd like to learn more about what to expect on your international adventure, feel free to call us at 800-715-HIKE (4453).
* Our guides design each trip's menu from an extensive database of recipes that have been accumulated and refined over more than a decade and a half. You may or may not see these exact recipes listed above on your trip.
Natural, Cultural and Historical Interp
Guides can help bring each destination to life in ways that would be difficult to experience without a professional guide. This is accomplished by sharing natural and cultural history, nuggets of knowledge, interesting stories, and most of all their personal passion for an area.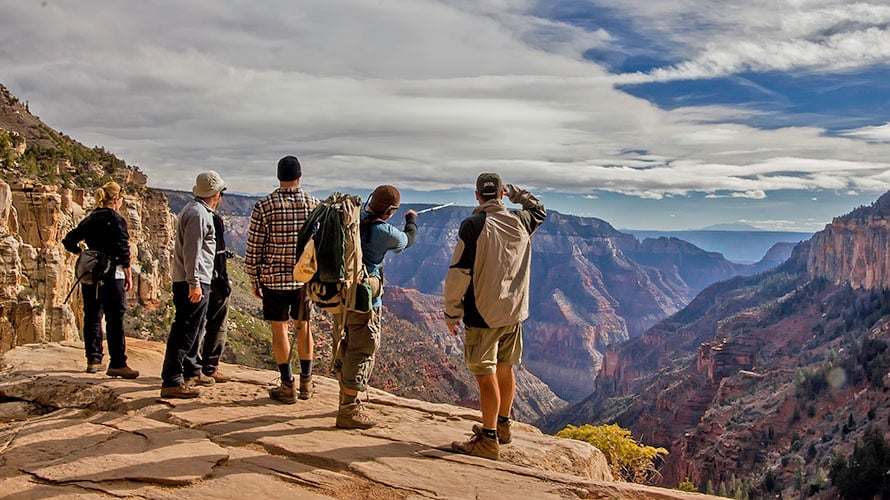 Sample Testimonials
"Wildland and it's guides place a premium on its customers experience while backpacking cross-country. That is not always the case with other outfitters. This was my second trip with Wildland and my first out of the country. The guides were well prepared and knew the area well enough to take advantage of some uncharacteristically nice weather. The value added from their knowledge of local geology, names of features, Icelandic history and mythology was incredible. Let's talk food. The meal plan was fantastic. I've never eaten so well out of a pack. Wildland is highly recommended and I can't wait to plan my next trip with them!" – Kenny Kohlndorfer
---
"Both Sam and Adam brought Death Valley to life for me. Their sense of humor, knowledge of the environment, and joy for the world were deeply appreciated. This was definitely not work for either of them (it's a calling), though they worked very hard to make this the best experience for everyone. Every meal was an adventure and something we all looked forward to experiencing-they were creative, thoughtful, and mindful of our likes and dislikes. This was also true with each hike for each person. There was something for everyone, whether it was a meal, a hike, or a piece of Death Valley lore. In addition, both Sam and Adam pushed us to try new things, but I never felt like I HAD to do anything I didn't want to do." – James Harris
---
"My son and I have backpacked with Wildland Trekking four times.  I initially chose WT for the safety and peace of mind taking my then 12-year old son down to the floor of the Grand Canyon.  What has kept us coming back is the overall experience – the safety; the incredible (and clean) gear; and although we certainly don't expect concierge treatment on a backpacking trip, that is the experience each WT guide has given us.  I am writing this as we fly home, and my son and I are already planning our next trek with WT." – Chris Lake
---
"Doug was amazing!  He joined the group as a team right from.the start. Felt like we were family. Doug is extremely knowledgeable about the tour content and could answer any questions I had. He is very professional and looked after every beed we had. He truly enjoys his job and made me feel safe and comfortable the entire multi day trip!" – Elizabeth Hampe
---
"The hike was stunning and we could never have done it without Shayne. In addition to his detailed knowledge and articulate descriptions of the the wonder of the canyon, he was relaxed, encouraging, and calmly congenial. I deeply appreciate that he was able to rearrange trip dates, due to my calendar error. The pre-trip info on the website and info that Shayne sent was very helpful We are inspired to explore the Grand Canyon and other national parks soon. Thank you." – Deborah Simmer
Lodging that Puts us in the Action
On inn-based tours we select accommodations that put us right in the action so we can make the most of our days out on the trail. Accommodations are of course also selected for their character, cleanliness, amenities and overall quality. On every inn-based trip page you can read about the lodging we utilize to ensure it meets your expectations.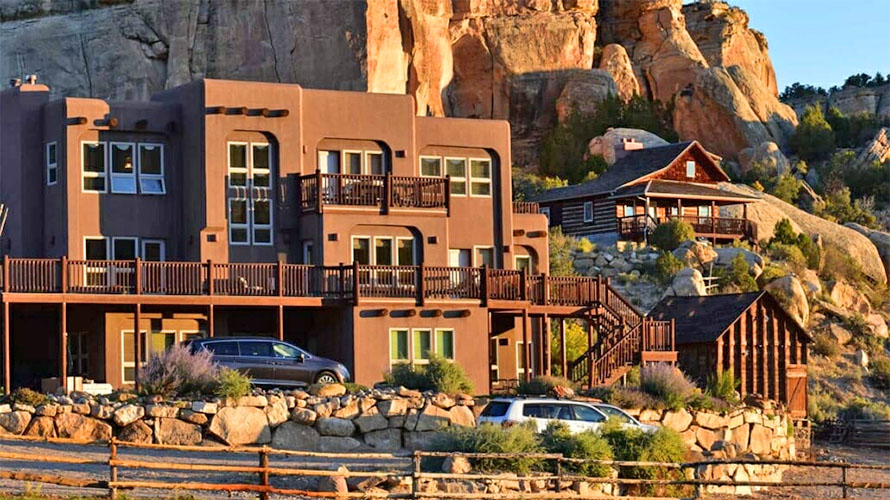 Lodging and Campgrounds
The quality and location of lodging and/or campgrounds is another major ingredient of Wildland trips. We hand pick our accommodations for all inn-based and international trips. Campgrounds and campsites are also carefully selected for the continuity of the specific itinerary, natural beauty, proximity to important features, cleanliness and overall quality.