Best Low Top Hiking Shoes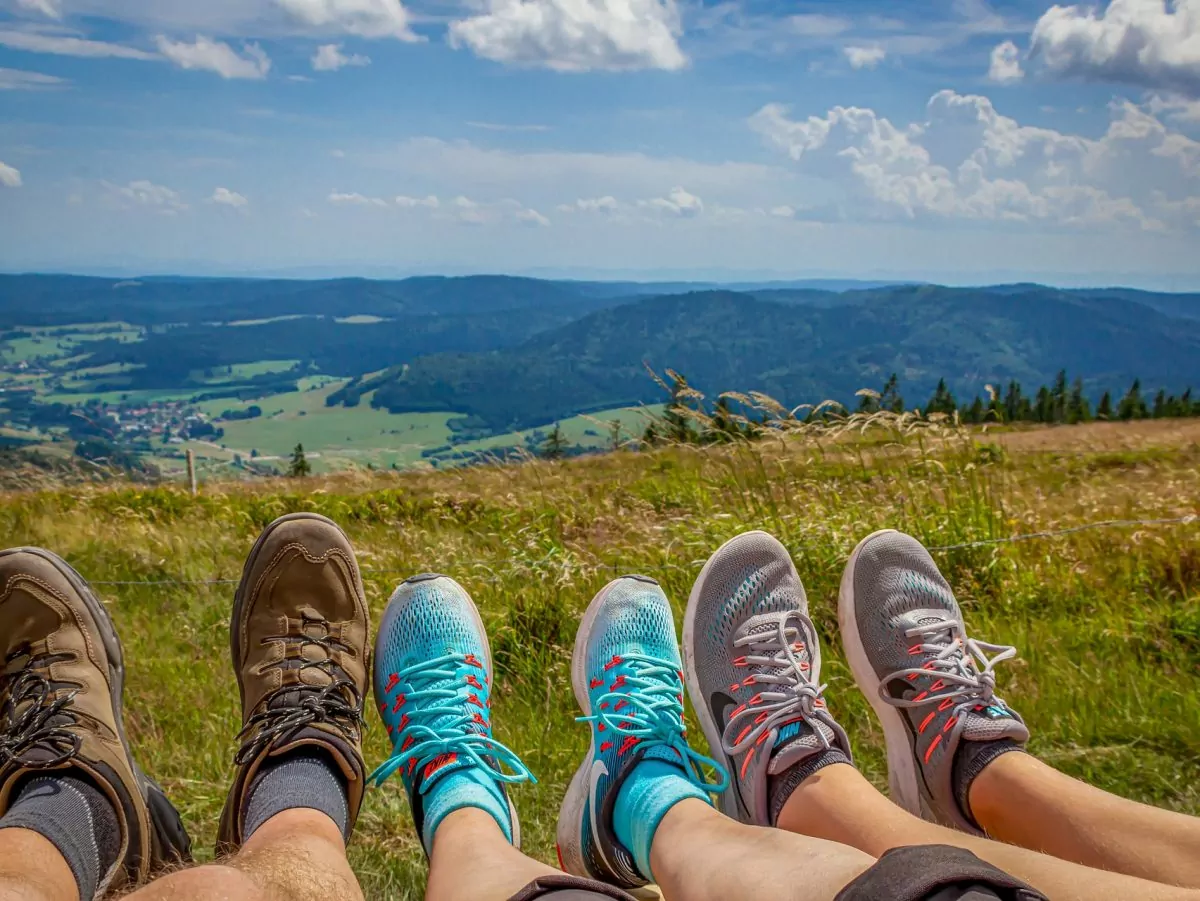 For years I struggled to find the perfect hiking footwear. Boots were too clunky, or too tight, or too bulky to pack for travel. But that's where hiking shoes came into the picture and saved my feet from constant pinching and discomfort. They're lighter, easier to pack, and much more breathable and comfortable than their larger cousins.
Now I fully accept that hiking boots have their place – ankle support, for example – and can be indispensable for certain hikers or conditions. But let's talk about your alternative in the low-top hiking shoe along with crucial buying advice to find the best fit for you. We'll then present Wildland Trekking's top five recommendations for hiking shoes to get you on the trail in no time, with happy feet to boot – or 'shoe' in this case.
Award Winning Hiking Adventures
How To Pick The Best Low Top Hiking Shoe

Comfort
You're looking for shoes to walk in for hours or even days on end. It, therefore, stands to reason that comfort should be your top priority at all times. The most waterproof and durable hiking shoe with the traction of a mountain goat won't be worth diddly to you if your feet are begging for mercy within five minutes of slipping them on.
So try on your options whenever possible. Every brand has its a distinctive fit and feel, and it's your job to find the one that your feet like the most. Pay special attention to your foot width. You wide-footed hikers out there won't find comfort until you try shoes specially designed for wide feet – I recommend you check out Altra.
This same advice holds true for narrow-footed folks, but set your sights on La Sportiva instead. Any extra space in your shoe means more sliding around, which in turn means blisters unless you're very careful. La Sportiva shoes are often on the narrow side and will be an excellent starting point.
Waterproofing
To waterproof or not to waterproof? It's a classic argument in the world of hiking shoes, and there are pros and cons to each side. So let's take a look at them.
Naturally, waterproofing offers your feet a barrier against rain and puddles. This is an attractive option to avoid jumping or skirting every little pool of water you come across. However, you sacrifice breathability to achieve this barrier, which can lead to some severe swamp foot on longer hikes in warm climates. Also, keep in mind that your waterproofing only extends as far as the hiking shoe does, or to just below your ankle. Step in any water deeper than that, and your shoes are wet anyway. They'll also take longer to dry out than easily ventilated non-waterproof shoes.
Non-waterproof shoes are almost the exact opposite. These shoes are very breathable and keep your feet nice and cool even when hiking for hours on end. But if you encounter any water, no matter how little, it will seep through the shoe straight to your socks. However, while non-waterproof shoes get wet easily, they also dry very quickly – thanks to increased ventilation.
This question, therefore, comes down to personal preference. For my part, I started with waterproof hiking shoes, but I eventually reached the conclusion that ventilation is more important and converted to non-waterproof hiking shoes.
Regardless of your decision in this department, remember that there are many items in your hiking kit that must be kept dry on a wet hike. Take a look at our tips for hiking in the rain to see how to prepare for a damp adventure.
Durability
The wide range of low top hiking shoe options means we have a wide range of durability. In general, we have the rugged hiking shoe that's designed for the trail. These shoes are tough and constructed from materials that can take a beating.
On the opposite side of the spectrum, we have trail runners. These shoes are very comfortable and place a premium on being lightweight, often at the cost of durability. That doesn't mean that a pair of trail runners will fall apart after just a few uses, but it does mean they will likely need replacing earlier than a pair of hiking shoes. I've found that my trail runners often last at least two years of heavy heavy use before I think about replacing them – and I'll then eek another season or two out of them before I actually replace them.
Once again, we have a question of personal preference. Purpose-built hiking shoes are typically stiffer and heavier than trail runners but are much more durable. Conversely, trail runners are agile and flexible but lack tank-like durability.
Traction
Nothing quite like slipping off a rock for a hard landing in the dirt with a heavy hiking pack on your back, right? I've been there, and I prefer to avoid it when I can, which is what brings us to traction. Every manufacturer on the market has their process and technology to form the outsole of your shoe. Altra has their MaxTrac, Salomon has their ContaGrip, and Merrell uses classic Vibram.
The method to separate the best from the rest? Research. Take a look at reviews and see what others have to say about the traction. Research the technology itself and determine its focus – be it traction in mud, snow, rain, or everything.
Also, keep an eye out for cushioning and support built into the shoe sole itself. This cushioning could be additional padding in the heel to absorb the impact of hiking or a stone-guard to protect your foot from sharp rocks on the trail.
Once you know your perspective shoe inside and out, make your decision, and find the best fit for your hiking style.
Budget
Low top hiking shoes have a wide range of prices. It's, therefore, essential to consider your future hiking plans and personal budget before investing in your new shoes. If you only hike intermittently or have only one trip on the horizon that you're preparing for, it may not be spending an excessive amount of money for a pair of premium hiking shoes. However, if you foresee plenty of hiking in your future, then it may well be worth paying a little extra for long-lasting comfort.
Now that we know what to look for, let's move on to our recommended low top hiking shoes!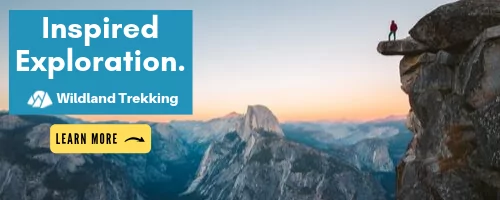 ---
Oboz Sawtooth X Waterproof Hiking Shoe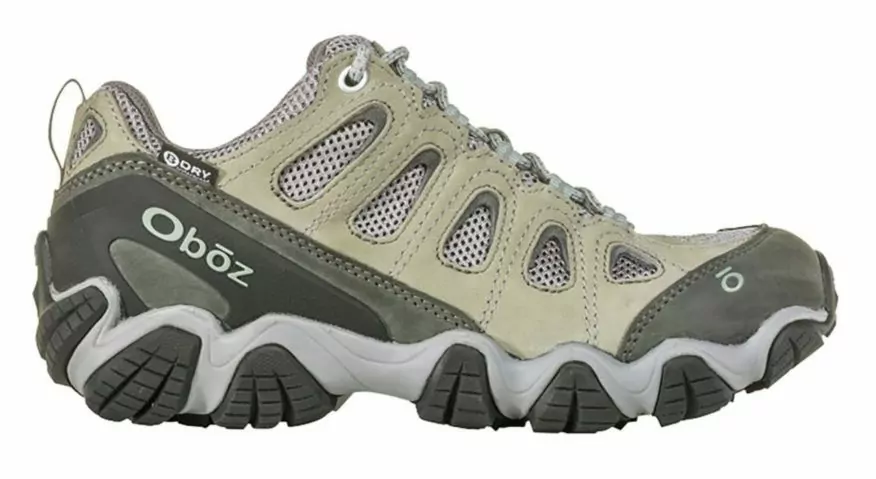 Specifications
Weight (Pair):

Men's: 2 lb. 1.8 oz.
Women's: 1 lb. 12.2 oz.

Waterproof: Yes – Breathable Non-Waterproof Version Available
Support: Adaptive Cushioning w/ TPU Heel Counter, Nylon Shank, and O FIT Insole
Price: $160.00
Gender:
Notable Features
Rugged design is built for heavy-duty hiking
Very burly materials protect your foot and improve shoe's longevity
Heel counter helps shoe maintain a snug and comfortable fit in the long run
Very stable over uneven terrain
What We Like
When we think of a tank of hiking shoe, we think Oboz Sawtooth. This low top hiking shoe is a classic and is ubiquitous on almost any trail in the country. The Sawtooth is built to handle anything and everything the trail can throw at you, and more. The plush cushioning absorbs the constant shock of hiking perfectly, without transmitting it to your feet. At the same time, the leather and CORDURA upper are incredibly durable and will last season after season.
Meanwhile, the outsole works in tandem with a perfectly placed nylon shank to deliver stellar stability over any trail type. We're particularly fond of the stiff heel counter, which maintains the heel area's rigidity and support, even after countless backpacking trips
What Could Be Better
Oboz has been working to streamline the Sawtooth over the years. But nevertheless, all the rugged durability and support included in the Sawtooth X comes with a weight and bulk cost compared to more minimalist shoes. These are the heaviest shoes on our list, and you'll feel it. Not that you're walking around with a couple of cinder blocks on your feet, but these shoes are certainly a little more clunky than lighter trail running shoes.
While the waterproofing is very useful, it also limits breathability. The heat will, therefore, build up very quickly on the trail, and you'll probably have to air out your sweaty socks in the evening. Oboz does offer a much more breathable non-waterproof version, however, which may be the perfect avenue to the Sawtooth's comfort and support without overheating.
Upshot
If you're looking for unparalleled support on the trail housed in an impregnable design that will last season after season, the Oboz Sawtooth X is for you. These shoes are tough, plushly cushioned, and supportive enough to tackle any hiking adventure you have in mind. Just remember that all this support and durability make these particular shoes significantly bulkier than other options. Think hiking boot in shoe form, and you have the Sawtooth X.
View ON Backcountry.com
View ON REI.com
---
Merrell Moab 3 Hiking Shoe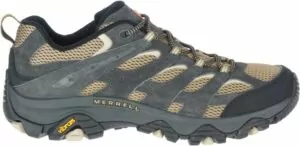 Specifications
Weight (Pair):

Men's: 2 lb. 1 oz.
Women's: 1 lb. 10 oz.

Waterproof: No – Waterproof version available
Support: Air Cushioned Heel, Nylon Arch Shanks, and Countoured Footbed
Price: $110
Gender:
Notable Features
Very comfortable right out of the box
Durable materials and construction
Good balance between weight and burly materials
Accessible price
What We Like
For plush comfort and improved support over trail runners, we have the Moab 3 from Merrell. These breathable low top hiking shoes are perfect for adding additional cushioning underfoot while still cutting down on the bulk of a full hiking boot.
The leather and mesh upper do an excellent job of keeping grit and dust out while still allowing decent breathability. Merrell has also made this upper more durable over the Moab's several iterations, so it's sure to hold up to the rigors of hiking. Merrell's quality construction continues down to the footbed, where we have a targeted contoured insole that works in tandem with targeted arch and heel support for a comfy ride.
Merrell also provides a waterproof version of the Moab 3 if you're willing a sacrifice a little breathability for waterproofing.
What Could Be Better
The traction on this hiking shoe is adequate but not exemplary. The Vibram soles provide a decent grip through most standard hiking conditions and trails but lose a little ground in wet and muddy conditions. On a similar note, we've also found that the Moab doesn't perform as well on technical or rugged terrain as the competition.
Upshot
These are excellent shoes for established trails. They're comfortable yet durable and very much show their worth on day hikes. What's more, they come at a very reasonable price for occasional hikes from the car. However, the Moab 3 lacks the high-end traction and support that we need for multi-day hikes over tough terrain. If you have your eye on these longer hikes, try looking for a more rugged-friendly shoe.
View ON Backcountry.com
View ON REI.com
---
Salomon X Ultra 4 GTX Low Top Hiking Shoe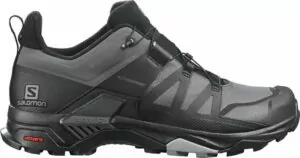 Specifications
Weight (Pair):

Men's: 1 lb. 11.2 oz.
Women's: 1 lb. 9.6 oz.

Waterproof: Yes – GoreTex
Support: SensiFit Cradle System
Price: $160.00
Gender:
Notable Features
Perfectly cushioned for long days on the trail
Quick-pull lacing system
Effective GoreTex waterproofing
Superb traction in almost all conditions
What We Like
The Salomon Ultra is the long-running favorite low top hiking shoe for many adventurers out there. This shoe strikes the perfect balance between weight, durability, support, and traction, which makes it ready for almost any terrain. The anatomical fit is very well designed, so it hugs your foot without pinching and keeps your foot centered on the excellent support system. This latest iteration of the Ultra also features a redesigned toe box with more space for your toes to spread out.
For support, we have Salomon's Sensifit and Active Support technology that provide excellent support through your foot's entire range of motion, adjusting as your foot moves. This pairing provides excellent arch and heel support without making the shoes too bulky in the process. This comfortable support sits atop Salomon's distinctive ContaGrip outsoles with their distinctively large lugs, which provide excellent traction in all conditions.
The GoreTex waterproofing is also very effective at keeping mud and water out. Salmon also produces a non-waterproof version for those of you looking for a little more breathability.
What Could Be Better
Salomon's quick-lace system is undoubtedly convenient and snug. However, the very narrow laces have been known to break on rare occasions. If this happens, you'll find that regular laces won't fit in this shoe while the Salomon laces are incredibly fiddly to replace. Although rare, it's still a potential hindrance to your hiking fun, and we recommend carrying replacement laces with you on multi-day backpacking trips, just in case. The overall fit of this shoe, from the snug midfoot to the non-adjustable laces and roomier toebox, also makes the Ultra 4 a more distinctive fit that's better to try on beforehand to make sure it works for you.
Upshot
The Salmon Ultra 4 is arguably the best low top hiking shoe on the market. Comfortable for almost all foot shapes, excellent support, effective traction, and still weighing in at less than a single pound per shoe. However, all these benefits come with a steep price tag. But if it's within your budget, you can't go wrong with the Ultra 4.
View ON Backcountry.com
View ON REI.com
---
La Sportiva Spire GTX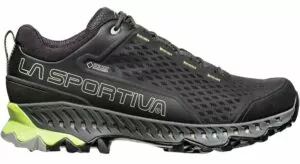 Specifications
Weight (Pair):

Men's: 1 lb. 15 oz.
Women's: 1 lb. 9 oz.

Waterproof: Yes
Support: 5mm Ortholite Insole and TPU (Thermoplastic Polyurethane) Inserts
Price: $199.00
Gender:
Notable Features
Very supportive yet lightweight
Ideal stiffness and plush cushioning are perfect for the trail
Durable outsole with good grip
What We Like
La Sportiva has specialized in low top trail and mountain runner shoes for many years. But in the Spire, we have a uniquely designed, purpose-built low top hiking shoe. The durability and quality materials that we've come to expect from La Sportiva are on full display in the Spire with their abrasion-resistant upper mesh combined with a GORETEX lining. The Spire also "feels" trail ready with its thick cushioning, including EVA foam and a 5mm Ortholite insole, along with a durable and grippy Vibram outsole.
What Could Be Better
The clearest drawback for the La Sportiva Spire is the price. At almost $200, these are the most expensive low top hiking shoes on our list. But if ready to make a significant investment in your hiking comfort, then rest assured that the Spires offer incredible quality and comfort for the trail.
Diving into specifics, the Spires are also noticeably heavier than their lighter trail-runner counterparts but don't include the more durable leather and suede uppers that we typically see on heavier hiking shoes. Therefore, the Spires sit right in the middle ground of these two camps, and time will tell if the mesh upper's durability fits with its heavier design.
Upshot
The La Sportiva Spire hiking shoes are purpose-built hiking footwear that places a premium on comfort and support. While the price is noticeably high, the quality and support are undeniable, and these shoes are sure to perform well on any trail. Note that La Sportiva's sizing has classically erred on the narrow side, and it's worth trying on these shoes at a local retailer before purchasing – if possible.
View ON Backcountry.com
---
Altra Lone Peak 7 Trail Runner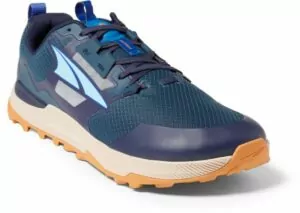 Specifications
Weight (Pair):

Men's: 1 lb. 6 oz.
Women's: 1 lb. 2.4 oz.

Waterproof: Yes, optional – All Weather Version
Support: 5mm Contour Footbed w/ Stoneguard
Price: $150 ($170 for waterproof version)
Gender:
Notable Features
Well-designed toe box for comfort
No break-in period
Good traction in almost all conditions
Effective waterproofing with Rain, Snow, and Mud (All Weather) version
Very comfortable for several days on rough terrain
Good for hiking, running, or just around town
What We Like
Most hikers can recall the tear-jerking pain of hiking in boots that are too rigid and narrow for any semblance of comfort. I've been there, and after trying on dozens of alternatives, I'm confident that the Altra is the best low top hiking shoe in terms of the toe box design. I started with Altra back with the Lone Peak 4's in 2019, and I've been a loyal wearer ever since, from my guiding work to personal adventures. There's plenty of room for your toes to spread out and breathe, along with good cushioning to keep your feet comfortable over tough terrain. The stone-guard is also very effective at protecting your feet from small and sharp rocks on the trail, further adding to the Lone Peak's rugged trail prowess.
What Could Be Better
The Lone Peak's greatest asset can also be its most significant drawback for some. With a toe box designed for a "natural fit" it comes plenty of space, and you'll definitely feel it on steep inclines if your feet begin to slide around. Fit is critical with this shoe – for me, it works great, but for some people, the same characteristics that make it work well for me could backfire.
Additionally, the Lone Peak 5 is, first and foremost, a trail running shoe. It's very light in both weight and support. While this lightness results in a very nimble shoe with excellent flex, it also means that the Lone Peak 5 lacks the stiffness and rugged protection that we see in thoroughbred hiking shoes. What's more, this shoe features a 0mm drop from heel to toe – meaning that your heel and ball of your foot will be even, whereas most shoes have the heel 7 to 10mm higher. All this results in a very unique feel that is perfect for many hikers, but may be unsuitable for others.
Upshot
The Lone Peak 7 is an acquired taste for hiking. Its trail running roots can liberate your feet from the constriction of traditional hiking boots and shoes, or remove much-needed support and rigidity. Although they are not true hiking shoes, I've found them to hold up very well to the rigors of the trail and provide adequate support and protection.
The well-designed toe-box is also absolute gold for many hikers. No more pinching or chaffing as your toes are free to spread out to their natural shape.
View on REI.com
---
Hoka Anacapa GTX Hiking Shoe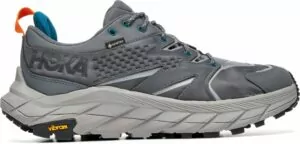 Specifications
Weight (Pair):

Men's: 1 lb. 12 oz.
Women's: 1 lb. 8 oz.

Waterproof: Yes – GORETEX
Support: EVA Foam, Molded Polyurethan Liner, and Thick Vibram Outsole
Price: $170
Gender:
Notable Features
Extremely thick and plush cushioning
Rockered outsole shape
Significant foot support
5mm grip lugs on the outsole
GORETEX Weather Protection
What We Like
When it comes to finding the most cushioning possible on the trail, many hikers have turned to Hoka. The brand is renowned for its thick-soled shoes that offer superior cushion over any terrain, and the Anacapa is the premier hiking version of that comfort. Featuring a tough nubuck leather upper with GORETEX liner and Vibram outsoles with 5mm grip lugs, these shoes are clearly built for the trail.
But the most eye-catching aspect of the Anacapa is the extra thick cushioning. The molded EVA foam and plush PU (polyurethane) liner work together for a very soft and plush feel as soon as you slip your foot into these shoes. Meanwhile, the thick foam sole provides extreme shock absorption as you cover those trail miles, and the rockered shape offers a very smooth ride with every step.
What Could Be Better
First off, Hoka's distinctive look with its extra thick foam sole may not fit everyone's style aesthetic. There's certainly no mistaking these shoes for another brand, and some hikers may be more comfortable with a less overt design. Along these same lines, the thick cushioning does lift your feet noticeably off the ground and may make some hikers feel wobbly or unsure of their footing. This, combined with the foam's propensity for damage and scuffing from rocks and branches, makes the Anacapa best suited for established trails and not for bushwhacking or trailblazing.
Upshot
The Hoka Anacapa is undoubtedly one of the most cushioned low top hiking shoes on the market. Extreme support and plush foam cushioning make these shoes ideal for hikers who suffer from arch pain or hate feeling every rock and pebble underfoot. This significant support yields a very distinctive shape and feel for the Anacapa, however, and some hikers may not appreciate the "fluffy" design.
View on REI.com
View on BAckcountry.com
Why Trust Us?
Choosing the right outdoor gear and apparel can be difficult. At Wildland Trekking, we live and work with gear on a day to day basis. It's an integral part of what we do, and we understand better than anyone how important it is to have the right equipment. Some of the reasons to trust us include:
Independence – our recommendations are not influenced by partnerships or sponsorships with outdoor gear and apparel manufacturers.
Experience – as one of America's top guide companies, we take 8,000-10,000 people on hiking and backpacking tours annually. Since our inception in 2005, we have guided more than 75,000 people into the wilderness.
Cutting Edge Knowledge – we regularly attend trade shows and are always paying close attention to the leading edge of new developments.
Up To Date Recommendations – we update our recommendations regularly as new products are developed and released.
Dedication to our Readers – we know that the gear we select as our top picks will end up in the field with our readers, and we take that responsibility very seriously. We view our readers as guests on our guided trips, just without the guides. We are committed to helping you be as well-outfitted and prepared as possible for your adventures.
*Disclosure: Some of the links above are affiliate links. At no cost to you, we earn a commission on any products purchased through these links. Any proceeds go to supporting our blog and operations. These affiliate links do not influence the products that we include in our gear round-ups. We only recommend products that we 100% support and that we have used in the field. 
---
More Gear Recommendations
Check out our Wildland Gear Guide for more recommendations about hiking, trekking, camping and outdoor gear. We are always adding new products to help our guests and readers make the best choices to outfit their adventures.
---
And there we have it. We've covered the best low top hiking shoes from the nimble and light to the rugged and durable. Look at your options, consider our purchasing advice, and pick out the best shoes for your next epic hiking adventure. Having trouble choosing where to hike next? No problem! Wildland Trekking offers dozens of trips to the very best hiking destinations around the world, pick your trip and let us handle the rest.
Have fun and stay safe, eh?
Wildland Trekking Hiking Adventures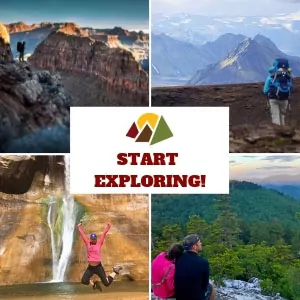 As the world's premier hiking and trekking company, Wildland believes in connecting people to fantastic environments in amazing ways. We offer an array of incredible hiking and trekking experiences both in the United States and internationally. Our trip types include backpacking, lodge-based, and basecamp oriented adventures to ensure that you'll always find an adventure perfectly suited to your traveling style.
To learn more about our guided backpacking trips and all of our award-winning hiking vacations, please visit our website or connect with one of our Adventure Consultants: 800-715-HIKE