WHY TRIP INSURANCE?
We heartily recommend purchasing trip insurance for a very simple reason: life is unpredictable. Injuries, illnesses, travel delays, family emergencies, natural events and an assortment of other occurrences can prohibit your ability to travel. Traveling with Wildland Trekking is an active vacation, and something as small as an injured toe could prevent your trip from happening.
We designed our terms and conditions with trip insurance in mind. When you register for a trip that spot is no longer available, and we begin turning away other would-be guests. Therefore, if you discover inside of 30 days (prior to your trip departure date) that you are unable to travel, a refund is not offered. With trip insurance, not only is your payment to us covered, but your flights, hotels and other travel costs can also be insured.
Important Note: To obtain full policy benefits and waiver of pre-existing conditions, please follow these guidelines:
Travel SE trip insurance should be purchased within 20 days of your initial payment or deposit.
Travel LX trip insurance should be purchased no later than 24 hours after your final payment or deposit.
Some of our international destinations require trip insurance.
TRIP INSURANCE PRODUCTS
TRAVEL SE
This is our best-selling policy. It includes trip cancellation and trip interruption protection in addition to medical and emergency evacuation benefits. Some commonly filed claims are injury prior to trip, travel delay, and hospitalization or death of a family member.
Example 1: John and Mary insure their trip for $2,000 each. John hurts his ankle prior to the trip. John and Mary submit a cancellation request and are refunded up to $4,000 of losses.
Example 2: Sarah and Emily graduate from college and book a Grand Canyon trip. They insure the trip. Sarah's grandma passes away before the trip. Both Sarah and Emily can file a cancellation claim.
TRAVEL LX
This policy includes trip cancellation and trip interruption protection in addition to increased medical and emergency evacuation benefits. The TRAVEL LX policy also offers an Optional Upgrade to CANCEL FOR ANY REASON (example, your football team makes it to the Super Bowl and you would rather not take your tour). To be eligible to CANCEL FOR ANY REASON you must purchase the policy within 20 days of initial trip deposit and purchase the Optional Upgrade.
Important Note (A): If your trip involves hiking at an elevation of 9,000 feet or greater, and you want medical evacuation coverage, you must purchase the Travel LX policy (the Cancel for Any Reason benefit is optional on this policy).
Your personal Health Insurance Policy would most likely cover an evacuation above 9,000 feet. If this is the case, the Travel SE would be a suitable option for these destinations.
The following areas are likely to have trips over 9,000 feet:
Domestic:
Jackson Hole Area
Lassen Volcanic National Park
Rocky Mountain National Park
Sequoia-Kings Canyon
Tetons
Wind River Range
Yosemite National Park
International:
Alps – All trips
Tanzania – Kilimanjaro Trek
Nepal – All trips
Peru – All trips
Important Note (B): Cancel for Any Reason Rider Not Available in the State of New York.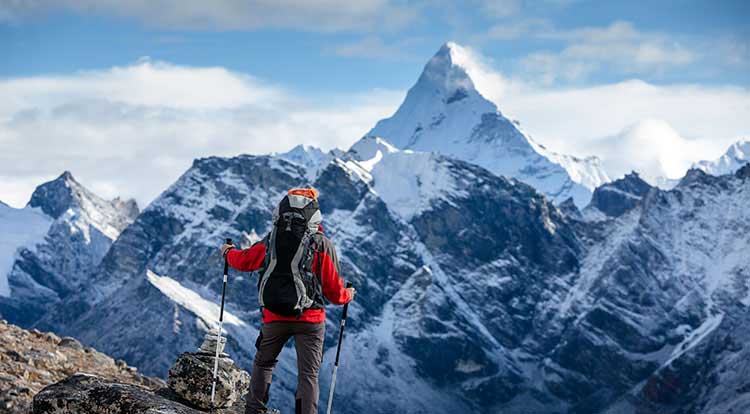 INTERNATIONAL TRIP INSURANCE
Wildland International requires trip insurance on all Alps, Chile, Greece, Nepal, Sweden, Tanzania, Vietnam & Vancouver Island, Canada trips, and strongly recommends trip insurance for all other destinations.
The TRAVEL SE and LX products both meet Chile, Sweden, Vietnam and Vancouver Island, Canada requirements. They also provide, in addition to the previously mentioned benefits, repatriation coverage and help with theft of passport/loss of ID. Finally, policy benefits are greater than recommended coverage as outlined by the U.S. Department of State.
The TRAVEL LX product is the only option that meets Alps, Nepal and Tanzania requirements.
Important Note: All Alps, Chile, Greece, Sweden, Tanzania, Vietnam and Vancouver Island, Canada trips require a minimum of field evacuation, repatriation and medical insurance. All Nepal trips require a minimum of field evacuation and repatriation insurance.
COVID CLAIMS: If you test positive for COVID-19 during an international trip and would like to make a claim to your trip insurance policy, it's very important that you visit a doctor to clearly document your diagnosis. Having verification from a doctor will make the claims process much smoother than if you only have self-tests as evidence.
NEED HELP? WANT TO LEARN MORE?
For additional information please see our FAQs Page here. Or, if you prefer communicating with a real, live person, feel free to contact our exclusive agent Laura Bass. Laura handles trip insurance and international medical insurance for a multitude of companies around the world. She will help you identify the best product for your needs, and there are no costs associated with her assistance. See her contact information below.
Notice: Covid is treated the same as any other illness. Contracting Covid before or during your trip would result in a claim.
Email Laura Bass at [email protected]US: Call 877-259-6186* Direct/Text/International: 615-843-0572*
*Due to high call volume, email will result in a quicker reply. Majority of people Laura speaks with do opt for the Travel SE plan.
MOST COMMON WILDLAND TREKKING CLAIMS
Surprising Fact: The majority of trip insurance claims occur 1-7 days prior to leaving your home.
Sickness or injury of insured, family member, or travel companion
Weather -missed connecting flight and cancellations
Job Loss or Job Relocation
Death of a grandparent, elderly parent or immediate family member
Getting called for Jury Duty
Documented Traffic Accident
Trip destination becomes uninhabitable from a wild fire or flooding
Theft of passport
The above list are just some of the problems that could occur to disrupt your trip.
Hot Tip: The top 1% of travelers in the United States ALWAYS have trip insurance. If you travel enough, you will have trip insurance claims….