SwiftWick Flite XT Trail Five Sock Review
Wildland Trekking guide Liz Lucas shares her experience after spending the 2022 spring season testing the Swiftwick Flite XT Trail Socks in the Southwest Desert.
Hello hikers! I am Liz Lucas, a backpacking guide with Wildland Trekking, covering many of our USA Hiking Vacations in the desert southwest. This season, I had the pleasure of testing the five-inch Swiftwick Flite XT Trail Socks during a few guided backpacking trips I took into the Utah backcountry. The trips involved hiking through water, on sand and sandstone, in the beating sun, and gaining and losing thousands of feet of elevation with a big pack. So, you can see how what is happening on my feet is critical to the success of these trips.
Let's take a look at how these socks performed in this comprehensive Swiftwick Flite XT Trail Sock Review and see if they're the right fit for your next adventure in the great outdoors.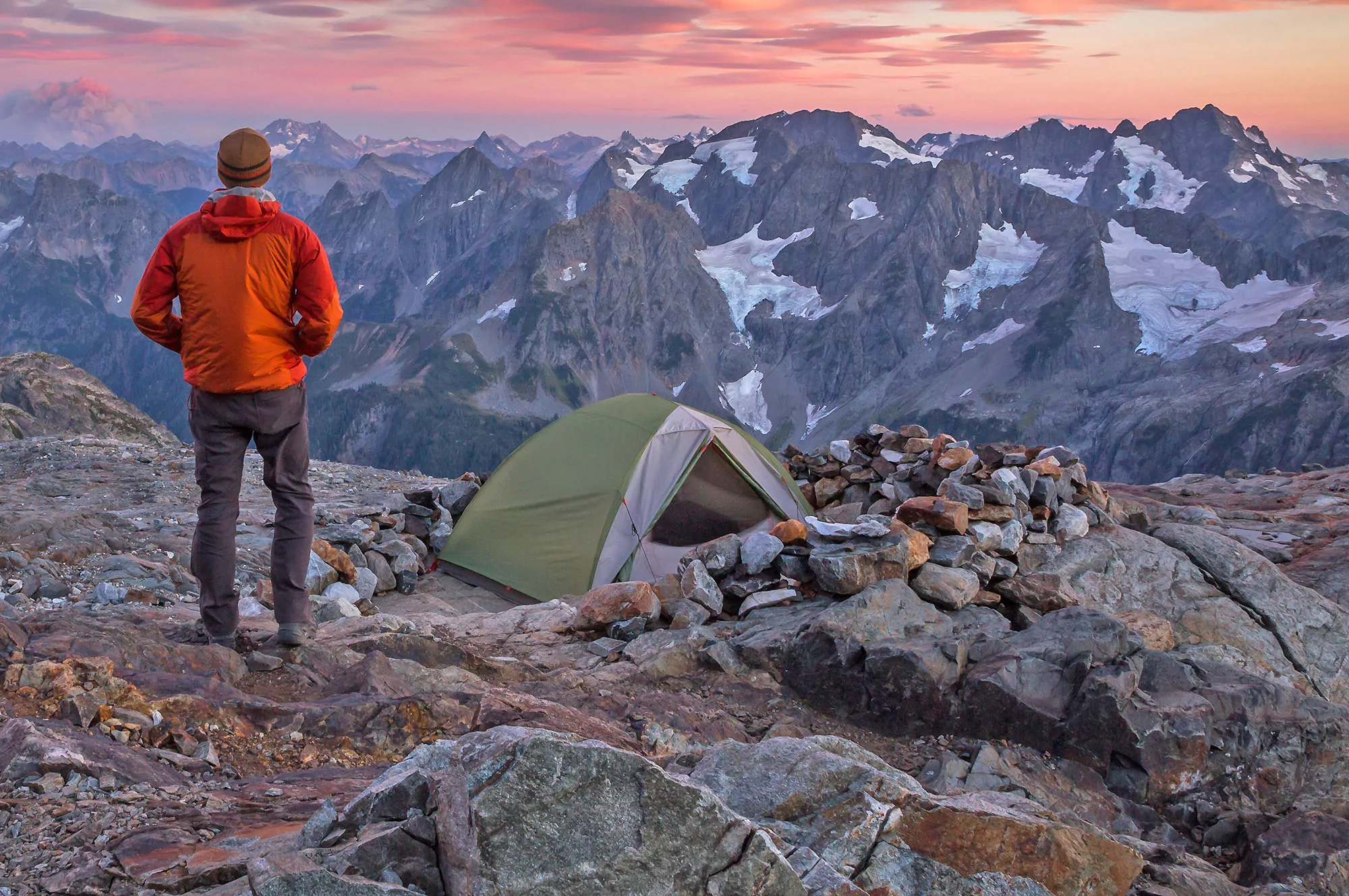 The Flite XT Trail Socks are designed to be your go-to adventure socks. Let's take a look at their basic specifications.
MSRP: $26.99
Material: 38% Nylon / 24% Merino wool / 22% Olefin / 13% Polyester / 3% Spandex
Sock Height: 5 inches
Cushion: Medium
Compression: Medium
Manufacturing: Made in the USA
Intended Use
SwiftWick designed these socks for the trail. From hiking to running, these socks are intended to keep your feet comfortable, supported, and ventilated. To accomplish this goal, they have extra cushion for the balls of your feet and feature a combination of Merino wool and Olefin fiber to keep your feet dry and blister-free.
Put all these features together, and these socks' rugged purpose is laid bare. They're designed to make your days on the trail as supportive and comfortable as possible so you can chase your adventures.
Notable Features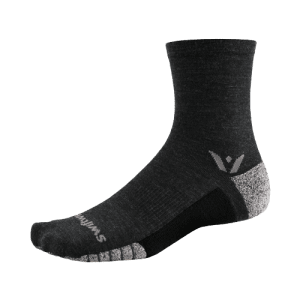 The Swiftwick Flite XT Trail Five Socks include several notable and high-tech features worth discussing in more detail. Therefore, let's take a closer look at what this sock offers and how these features help keep you comfortable on the trail.
Seamless Toe Box – No stitching or seams around the toes eliminates a common source of friction, which in turn helps reduce hot spots and potential blisters.
AnkleLock Technology – Wraps your ankles and heels in compression elastic to provide improved support and stability. This feature helps enormously on rocky or uneven terrain to help lower the risk of rolled ankles.
Arch Band Support – Durable elastic envelops the sock's mid-region to provide a supportive cocoon around your arch and prevent the sock from shifting during use. The result is continuous support on the trail along with no sock shifting or rubbing – which could lead to blisters.
SwiftWick Company Background 
Swiftwick is the master of socks, and they have engineers testing and creating socks for every kind of adventure, from golfing to biking to hiking. They use the combination of special fiber, cushioning, and compression to give your feet the best treatment while doing the activity you love.
The company is based in the USA – Franklin, Tennessee – and their socks are all made sustainably in the USA. They are committed to continuing to impact small communities positively and inspire a growth mindset. This growth mindset includes tackling customer complaints or issues head-on and is reflected in their "best sock guarantee." If any Swiftwick socks don't meet your standards, their supportive representatives will assist you in making it right.
THE TEST – QUICK OVERVIEW
I took these socks through the desert of Utah. I was backpacking through sandy creeks all day, hiking in knee-deep water, backpacking up and down sandstone, and wearing the socks for a couple of days in a row before the wash. The temperatures during these hikes ranged from about 66ºF to 100ºF, so there was plenty of sweating going on. In total, I covered about 40 hiking miles in them.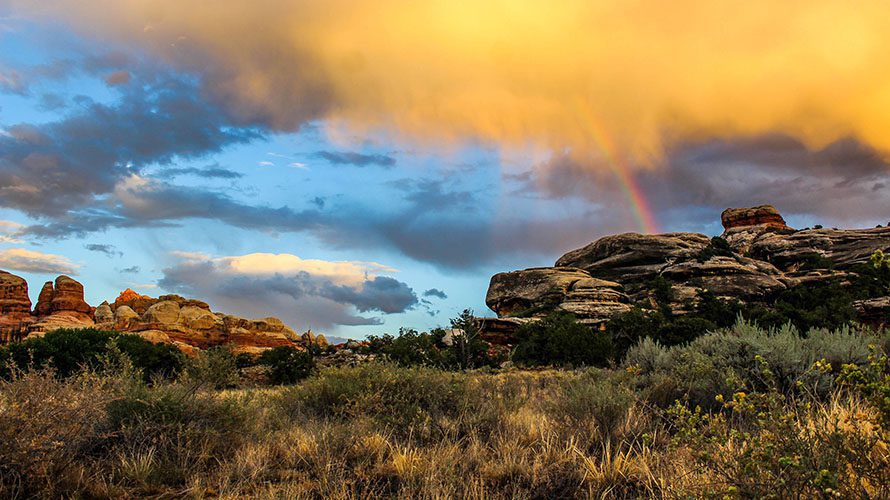 The Review
Now that we've covered the basics of the Swiftwick Flite XT Trail  Socks, it's time to dive into the full review. We'll cover basic performance characteristics, how the socks held up in each category, and important firsthand test data from our tester. Based on Liz's test results and impressions, each category will receive a ranking from 1 to 5 – where 5/5 is the best ranking.
Durability – 5/5

I was impressed by how well these socks held up during and after my desert and sandy creek hiking trips. At the end of the day, I would take them off and be shocked that no sand got in at all! My shoes were filled with the fine red sand of the desert, but the Swiftwick socks proved to be a great barrier to protect my feet.
Additionally, no hot spots developed after being in the water all day following river beds. This is where the Flite XT's advanced technology shines. No seams in the toe box, a compression fit, and excellent arch band support all work together for a secure fit that didn't shift on my feet throughout the day. The end result – no hot spots of blisters!
And lastly, these socks dried remarkably quickly. No bagginess or bunching up when they got wet, and I was able to use them multiple days in a row and didn't feel any decrease in durability or performance. Between trips, they washed just fine and felt brand new when I put them on for the next trip.

Overall Comfort – 4/5
Overall, these are comfortable socks. After a long day of hiking, I noticed that the balls of my feet were not as sore as they typically get at the end of the day. With that in mind, I say that the cushioning and support did their job well.
The only reason that I gave these socks a 4 out of 5 is because I found the sizing to be just a bit tight. I have a wider foot and large calves, which made putting them on less comfortable than I would have liked. However, once I got the socks on, they didn't move all day. The arch and ankle compression technology worked as expected, and there was no additional shifting or friction.

Moisture Wicking and Heat Management – 4/5
These socks were great in the warmer temperatures!
My feet were never overly warm in the hot temperatures – which I have certainly noticed with other sock brands in the past. What's more, I noticed that my feet were not as damp as they typically are after a hike of that caliber and heat. I'd take the socks off after a full day of hiking in the heat and think, "Wow! My feet aren't pruned up after dry hiking all day."
So, my testing revealed that the Swiftwick Flite XT Trail Socks have superior performance in hot weather. The Olefin footbed material did an excellent job wicking moisture away from my feet and keeping them dry.
The only downside I discovered in this category is that these socks can hold onto bad odors more than I have experienced with other socks in the past. After a day of hiking, they were more ripe than I expected them to be – most likely a reflection of the predominantly synthetic material, which tends to retain more smells.
Price – 4/5
For the quality the Swiftwick Flite XT Trail Socks bring to the table, their price is right on par with other technical socks. Price means a lot to the hiking and backpacking community, and knowing I can use these socks for multiple seasons of adventures is a huge perk.
Their overall value is also boosted by the fact that these are socks I would also use in everyday life. Therefore, the Flite XT Trail Five Socks aren't a steal or amazingly priced, but they're right on par with the current industry standard.
Bringing It Together – Overall Rating 4.5/5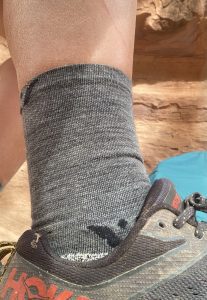 I would recommend these socks to anyone who wants a good high-quality hiking and backpacking sock. The -0.5 is a reflection on the sizing and recognizing that it might be a tighter fit than some of us are expecting as well as the odor of the socks after use. They look good, feel good, and perform well. What more can you ask from a trail sock?
Pros:
Sustainable product
Extra built-in cushion
Sweat-wicking
Strong, durable material
Made in the USA
Very supportive
Cons:
Sizing runs tight
Tends to retain odors
Compression Fit – What is it and How Does it Work?
The Swiftwick Flite XT Trail Five Socks include a durable compression feature that allows the fabric to mold to your foot. This close-fitting technology keeps the socks from shifting, reduces friction, and lowers the risk of blisters.
The Olefin fibers used for the sock footbed are specially formulated to wick away sweat while working in tandem with durable elastic to provide compressive support. These fabrics perform phenomenally, so my feet were still dry after a long and hot hike. The cushioning technology is woven into the fabric perfectly, so you don't even know it's there.
Final Thoughts
Overall, this is a great sock. My Swiftwick Flite XT Trail Five Socks did a fantastic job on my personal backpacking trips and Utah Hiking Tours I guided. They are undeniably burly and built to handle the trail for long periods – from trail running to thru-hiking. I especially liked putting them on for multiple days and having them perform well in every environment and weather element I encountered. In fact, when I was hiking in the field, one of my guests commented that her son loves his Swiftwick socks because they are the most comfortable socks for his skin sensitivities. I wholeheartedly recommend these socks to people out on the trail for anything from a single day to an entire season.