LEKI Makalu FX Carbon Trekking Poles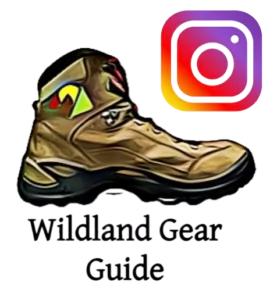 Don't forget to follow us on Instagram for the latest gear news!
Hello hikers, I'm Sarah Bennett. After years of hiking experience as a guide and for a plethora of personal trips, I'd like to talk about trekking poles. Ultralight poles seem fantastic in theory, but I've learned the hard way that I'm too foolhardy for a mere 5 oz telescope trekking pole. I fractured my first set during a 5-day trek in Patagonia. A week-long rain storm that had turned the trail into deep, thick fields of mud. I slipped on a root, holding onto my pole for dear life. And yup, ultralight trekking poles definitely aren't built to keep the full weight of your body from face-planting into a field of mud. Whoops.
I cracked my second set in Northern Yosemite when, upon finding a small stream and a patch of shade on an oppressively hot day, I dumped my backpack directly onto poles and then sat on my backpack, still on top of the poles. I heard them snap, and they became ultralight trash.
It was time to admit to myself that I needed something just a little bit sturdier. In the summers, I guide USA Hiking Vacations in the Sierra Nevadas and the Colorado Rockies. And even when I'm not guiding, I'm throwing myself into precariously long backpacking trips. My poles need to keep up! Enter: LEKI's Makalu FX Carbon poles.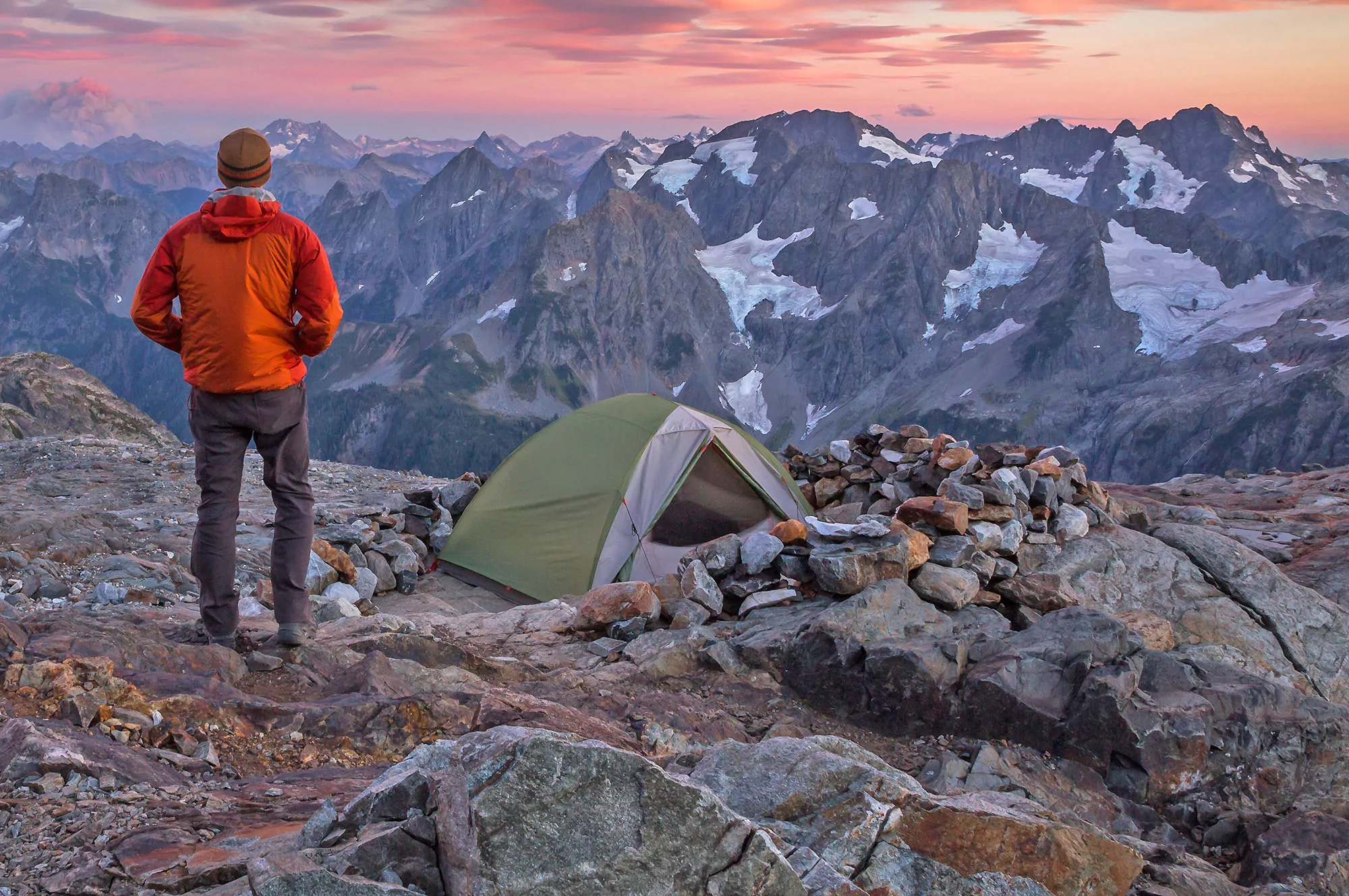 While still made of carbon like my ultralight poles (may they rest in peace), it looked like both the tensile strength and the flexible joints of the folding Makalu FX Carbons might save them from destruction at my hands. Let's take a look at their key features:
MSRP: $229.95
Type: Folding trekking poles
Weight (pair): 17.92 oz 
Handle: Foam
Pole material: Carbon
Size/Dimensions: Adjustable between 110 and 130 cm
Intended Use
LEKI's Makalu FX Carbons are billed as all-mountain poles, meaning they're not going to immediately snap at their first introduction to rough wear, but they're also probably not going to win in a fight against a rock slide. 
As you've probably already surmised from their name, these trekking poles are made of carbon. That's important for two reasons: weight and strength. Carbon is lightweight, but it's brittle when put under horizontal pressure – like, say, a human body violently collapsing into a mud field. (Who, me? I would never.) Aluminum, the other common material that trekking poles are made out of, is heavier and typically heavier duty – they'll bend here and there, but they can withstand a bit more abuse.
The Makalu FX Carbons are also "folding" trekking poles. I've only used telescoping poles until now, so this was a first for me. There are three pole segments internally linked by a cord, and they rely on tensile strength to stay together while in use.
Notable Feature: Aergon Air Grip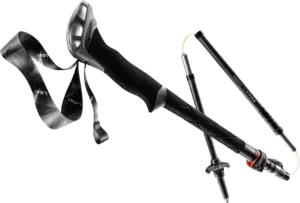 In addition to the Makalu FX Carbon Pole's basic specifications and carbon construction, it's also worth taking a closer look at the grips because the designers outdid themselves here.
Pole handles weren't even on my radar when I ordered these poles (I mean, how much innovation can be put into a handle?), but LEKI was right to list it as a selling point. These handles are nice, y'all. They've got a hollow, oval, rubberized grip, set at an angle for when you go downhill and want to put your hands on top of your poles to stabilize yourself. Kudos to whoever at LEKI designed these. They're terrific.
In fact, the Aergon Air Grip handles are a main selling point for these poles and seem to be the epitome of ergonomic handle design, in my opinion.
LEKI Company Background 
LEKI is an OG ski and trekking pole manufacturer. Their 1974 Makalu was the world's first adjustable trekking pole. They hold 250 patents. They've won countless awards, and they have been represented by many athletes at the Olympics and World Cups. I can all but guarantee that you or someone you know has heard of this company.
The "LEKI" name comes from the company's founder (Karl LEnhart) and the company's headquarters (KIrchheim, Germany). The company was founded in 1948 when Lenhart, who produced the wooden letters for lettering used by bakeries or butchers, was dissatisfied with his ski poles and used his wood processing equipment to manufacture his own pole parts. By the '60s, these parts went into mass production. Today, LEKI products are developed and manufactured in Kirchheim/Teck, Germany, and Tachov in the Czech Republic.
Like many outdoor companies, LEKI has made an effort to incorporate sustainability into their business practice. They installed a solar PV system in Kirchheim in 2005, reducing their CO² emissions by over 33 tons of CO² per year. (By comparison, the average American consumes 16 tons of CO² per year.) It's a terrific start that I'd love to see incorporated into their other locations.
LEKI also offers a 10-year availability guarantee, even on spare parts. If something breaks and you want to fix it yourself, you can order everything from pole segments, to straps, to dowels on their website. They also have a worldwide network of service and repair centers, and can presumably repair your poles for you (although I haven't had to take them up on this service yet).
THE TEST – QUICK OVERVIEW
I tested these Leki poles on day hikes, llama-supported treks and multi-day backpacking trips in Rocky Mountain National Park in June and July 2023. They were with me in the sun and rain; they held me up during river crossings and helped me navigate around puddles, through rocky and snowy trails, and down steep inclines.
I didn't encounter any more calf-deep mud (thank goodness) and I didn't sit on them this time (yay me), so if you want to nitpick, I suppose the scientific method doesn't exactly apply to this review. Still, ~50 miles is typically enough time to know if I like something or not. Let's see how the Makalu FX Carbons did.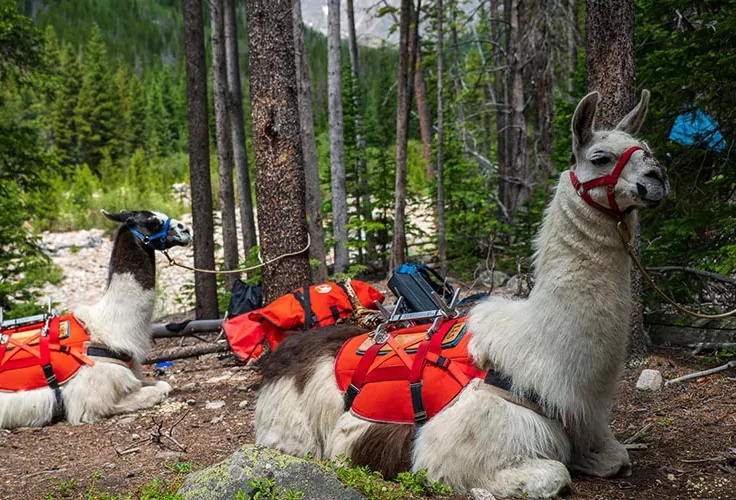 The Review
Let's jump into my specific review of the LEKI Makalu FX Carbon Poles. I'll cover important criteria for trekking poles below (comfort, durability, and so on) below and give each category a score from 1 to 5. A score of 5 means the poles were outstanding in that category, whereas a 1 indicates poor performance. Along with my score, I'll also go into detail about my experience and why I think the poles deserve the ranking I assigned. So let's see how they did!

Durability – 4/5
I didn't drop heavy objects on them or treat them like a pole vaulting pole, but they did hold most of my body weight through some precarious trail conditions, and I did ceremoniously fling them onto the ground every time I took off my backpack without them showing any signs of weakness.
All in all, they are still intact after a month of use, which is genuinely impressive considering how much I abuse my poles. And they didn't wobble, even when fully extended on the downhills. I'm knocking them down by one notch simply because they're made of carbon, which means that there are definitely stronger (but heavier) aluminum poles out there.
Overall Comfort – 5/5 
Remember when I mentioned how great the handle is? You guys, it's SO comfortable. It's the perfect shape to hold in the palm of my hand when descending a steep, uneven trail, and the rubber grips around the handle's top edges are a perfect soft-yet-clingy material to help keep my hands in the right spot.
The strap – the strap! I don't know what material they used for these, but it is smooth as silk. And I have to admit, I like the foam handle! It is as soft and breathable as advertised and feels nicer on my hands than the cork handles I've had in the past. (Disclaimer: I have heard that foam will eventually get sticky – something that's hard to test out in just a month – but it's been fabulous so far.)

Ease of Use – 4/5 
Overall, these poles were easy to use and deploy, with only a couple of exceptions that I'm going to outline here.
My main gripe – and I admit that this is nitpicking – is that these poles don't contract quite as much as some might like them to. I'm 5'8″ and typically set my poles at 115cm on uphills and 125cm on downhills… unless it's steep. Then I set them as far as they can go in either direction, and curse whoever didn't give them a wide enough range.
LEKI tries to get around this by providing a basic foam grip along the shaft below the handle so that a shorter person could hold on there if they needed to. (And miss out on those fabulous handles?! I don't think so!) In a perfect world, they would remove that grip and make small and large sizes. 
The only other issue I encountered was in the snow. In this case, the poles would posthole in the snow and get stuck. Because the segments attach to one another by a cord, they would bungee when I'd try to pull them out of the snow instead of stiffly jerking out. I had to be extra forceful to free them.
Weight/Bulk – 3/5
Ultralight poles typically weigh under 1 lb (my now-shattered pair were only 10 oz, poor things), but most carbon poles weigh between 12 and 18 oz per pair. The Makalu FX Carbons are on the high end of carbon trekking poles at 17.9 oz. But since they're carbon, they still beat out most aluminum poles on the market, which usually weigh between 18 and 22 ounces per pair.

Packability – 2/5 
Can they fit in the side pocket of my backpack? Yes. Are they three times as bulky as a pair of telescoping poles, so they can't share that pocket space with my water bottle? Also yes – and they require the help of a bag or a strap to keep them from getting loose.
None of this is LEKI's fault; all folding poles flop around like noodles when they aren't in use. They don't telescope into one another by definition. And LEKI kindly provides a bag to keep them in. But as someone who's used to telescoping poles, it was quite an adjustment (ha ha) to have to tame a pair of nunchucks all the time. I ended up ditching LEKI's bag and using a simple strap off Amazon to hold them together for backpacking trips. It worked fine. Not great, just fine.

Setup – 3/5 
Folding poles aren't intuitive. You need to be taught how to set them up and fold them down. But once you get it, they're quicker to set up than most. To lock them into place, you pull the middle shaft away from the handle until it clicks. You might have to YouTube it the first time you give it a go, but if you've ever opened an umbrella or set up an E-Z Up, the motion will be familiar.
I even gave the poles to one of my co-guide, who had never used folding poles in her life. And, with just a little bit of instruction, she was able to get them set up and adjusted in just a few minutes. So all-in-all, not as intuitive as telescoping poles, but definitely pretty straightforward after you've done it once or twice.
The upside to this setup is that adjusting your pole lengths as you hike is a quicker affair. You only need to flip open one clamp, not two.
Price – 2/5
We're talking purely about price here, not value. The cheapest poles on the market are around $30. (Are they good trekking poles, though? That's entirely up to you.) The most expensive options are around $270. (Is that money really worth spending on a pair of poles? Again, your call.) These poles are on the higher end of that price range. We'll discuss overall value and quality for these particular poles below .

Overall Quality – 5/5
While I may have stylistic differences when it comes to folding-style poles, it's clear that the Makalu FX Carbons are thoughtfully and carefully built. Nothing feels cheap or out of place, and there is clear attention to detail.
The geometric pattern on the handle, the carbon shafts, and even the Speed Lock 2+ lever system (which seems to be made of a nice, sturdy plastic) were designed with intention.
Bringing it Together
The Makalu FX Carbons truly are all-mountain poles. Where they shine most is comfort. Outside of that, they hit most specs somewhere in the middle: they're neither the lightest nor the heaviest on the market. For a carbon pole, they have great durability. They have a respectable amount of extension, but someone exceedingly tall or short may want to find a different pair. They're easy to set up once you know how. And while I'm evidently not a fan of folding-style poles, there are plenty of people out there who are, and who would be quite happy with these.
Pros:
Best handles I've ever used

Durable for a carbon pole

Quick to adjust length once assembled
Robust, quality materials
Very soft and comfortable strap
Cons:
Heavy for a carbon pole

Foldable poles aren't for everyone

Pricey investment
Final Thoughts
Overall? If you're in the market for poles, I recommend trying a folding-style pole out in a store before purchasing a pair. If you try them out and end up liking the nunchuck life, LEKI's Makalu FX Carbons hit a fantastic middle ground between weight, comfort, and strength.
As for me, I liked using these poles, and I plan to keep using them! However, my own personal preference is for telescoping poles, and I'll probably go back to this style if these current poles ever break or wear out. (I like my side pocket space too much.) And when I do, I'll check out telescoping LEKI poles that still have those sweet, sweet Aergon Air grips. So, in conclusion, if you like folding poles, I highly highly recommend the LEKI Makalu FX Carbons if you're ready to invest in your hiking support and comfort.