Sea to Summit Telos TR2 Review
Wildland Trekking guide, James Barrett, shares his experience after taking the Sea to Summit Telos TR2 Tent into the field for a month of intensive testing.
To lay the groundwork for this Sea to Summit Telos TR2 Tent Review, keep in mind that a good tent is one of the cornerstones of my career. I've been guiding with Wildland Trekking (WTC) since 2016 – after several years of cutting my teeth in multiple areas of guiding for Northern Arizona University. From Fall to Spring, I work with WTC in the Desert Southwest, mostly guiding our phenomenal Grand Canyon National Park and Sedona Red Rocks trips. During the summer, I escape the heat and travel up north and pack Llamas in the Greater Yellowstone ecosystem. But for this 2021-22 winter season, I was lucky enough to test out some new gear from Sea to Summit, starting with their Telos TR2 two-person backpacking tent.  
This model is the company's first foray into the world of tents, and they're implementing some clever design features to shake up the industry. Let's take a look at those features and the tent's field performance in this comprehensive Sea to Summit Telos TR2 Review.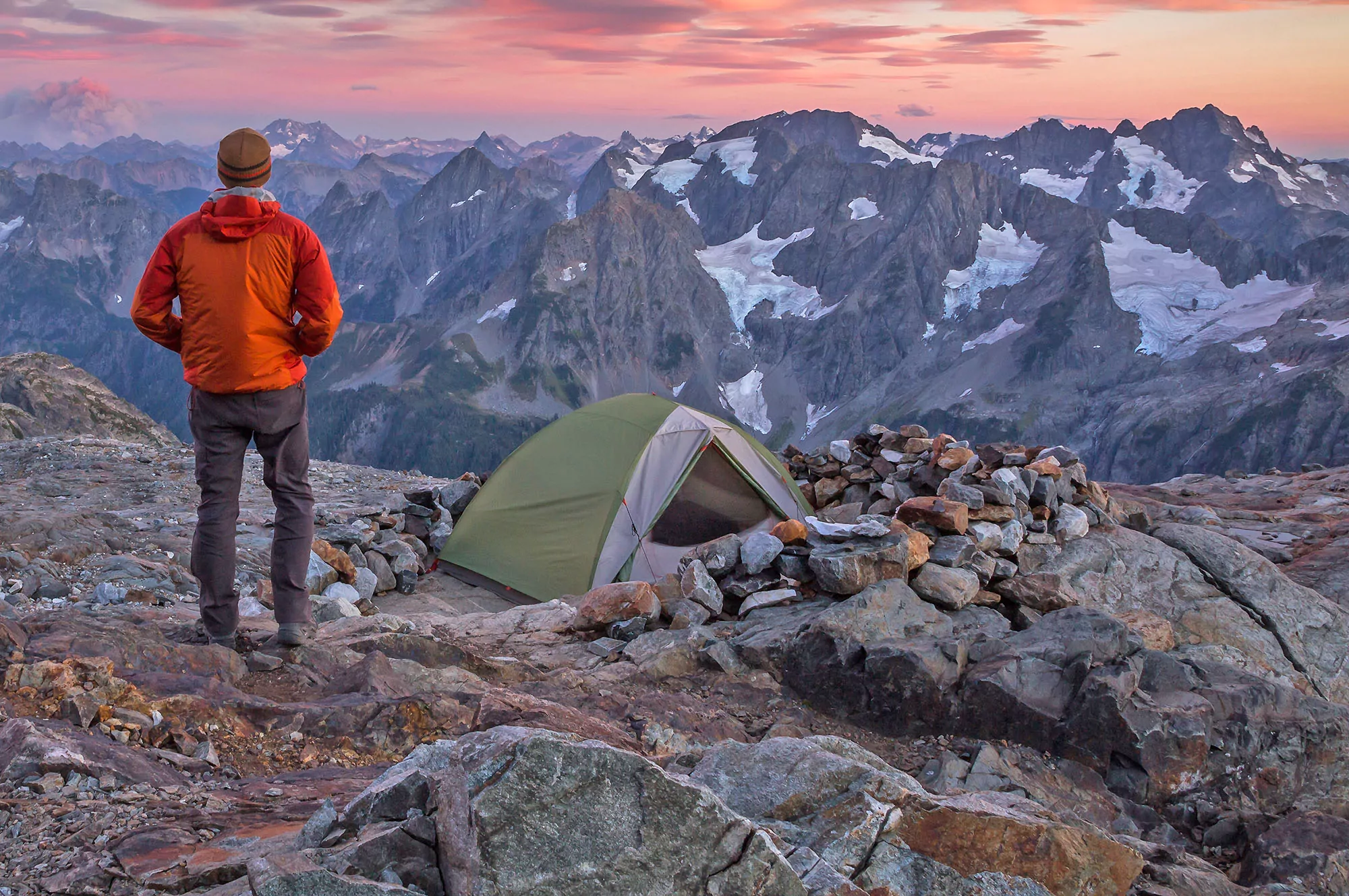 Telos TR2 Quick Look
The Sea to Summit Telos TR2 two-person tent is a lightweight freestanding tent with many new and innovative features. Let's look at the bare-bone specs before moving into our Telos TR2 Review. 
MSRP: $559

 

Trail Weight: 3lbs 4.3oz 

 

Packaged Weight: 3 lbs. 10.7 oz. 

 

Peak Height: 43.5 in. (3.6 ft.) 

 

Floor Area: 28 sq. Ft. 

 

Floor Fabric: 20-Denier Ripstop Nylon 
Canopy Fabric: 15-Denier Ripstop Nylon 

 
Intended Use
The Telos TR2 is a two-person, three-season tent that is relatively light and very spacious while maintaining a durable feel. The innovative ventilation system also makes condensation a thing of the past. I wouldn't hesitate to take this tent out in almost any type of weather, and the Telos TR2 would excel in every environment that I guide in – from the depths of Grand Canyon to the jagged Wind River Range.
However, if there's snow in the forecast, I would probably choose a different tent for true winter camping as the Telos isn't designed for these conditions. 
Notable Features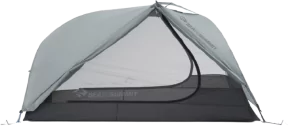 With their first foray into the tenting realm, Sea to Summit includes a few notable features in the Telos TR2 worth highlighting. These features include: 
Tension Ridge Design – A prominent inverted pole design allows for increased headroom along with larger doors for easy access.

 

6-Inch Bathtub Floor – No vulnerable seams near the ground improve the tent's overall weatherproofing and durability.

 

Fair Share Stuff Sack – Easily split the tent components among multiple hikers to evenly share the weight. 

 
Sea to Summit Background 
Sea To Summit is based out of Perth, Australia, and was started by Roland Tyson – a young man with a passion for the outdoors who started sewing gear in his childhood bedroom in 1983. From there, his love of gear grew into the company we know today, with Sea To Summit officially forming in 1990. Their primary goal is to balance weight, durability, and packability to create the best adventure gear on the market. Like most quality gear manufacturers, Sea To Summit offers a warranty standing behind their products covering materials and workmanship.
THE TEST – QUICK OVERVIEW
I made sure the Telos TR2 experienced everything the Grand Canyon has to offer. All my test trips involved trekking into the bottom of Grand Canyon National Park and crossing the Colorado River. Additionally, my 5-night Rim-to-Rim-to-Rim trip passed through the bottom and towards the North Rim – then doubled back and climbed out of the south side of the Canyon. I experienced the Canyon's entire weather spectrum during these trips and truly put the Telos TR2 to the test. From the extremes of 30mph+ winds and one 6-hour rainstorm to more calm and cool nights, this tent saw it all in a whirlwind of testing.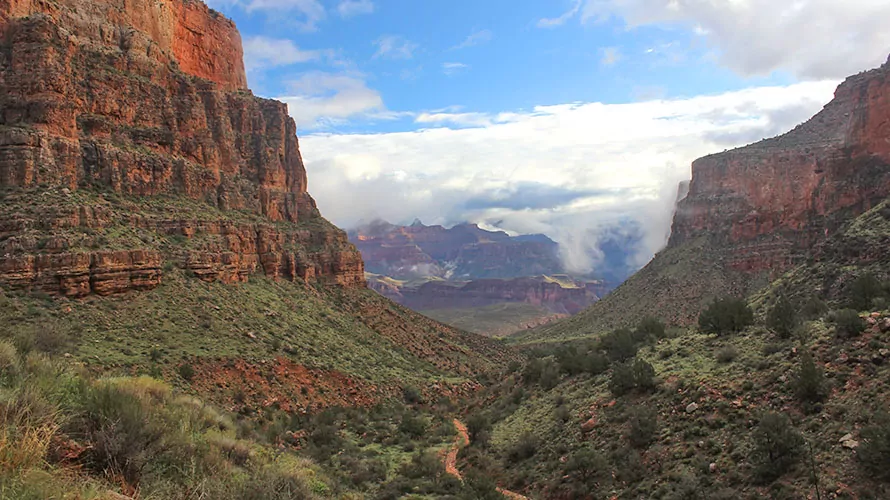 The Review
Now that we've established the tent's basic specifications along with the brand's background, let's jump into our comprehensive Telos TR2 Tent Review! We'll cover all the primary performance categories, from the setup to durability, and discuss how the Telos measured up. At the end of this review, we'll bring it all together in a short pros and cons list, along with my final impression.
Tent Weight/Bulk – 4/5
The weight and size of this tent are on par with some of the best options currently on the market. Weighing in at just over 3 pounds, the Telos TR2 is a comfortable and reasonably portable two-person three-season backpacking tent. 
Additionally, Sea to Summit included a nice touch with their Fair Share Stuff Sack, which features two separate stuff sacks for the body and fly to make it easy to split up the weight with your tentmate and avoid having to play backpack Tetris with a complete tent. Seeing as it's not the lightest or smallest offering on the market for a two-person tent, I would give the Telos TR2 a solid 4 out of 5 in terms of bulk. 

Setup – 5/5
I found the Telos TR2 extremely straightforward to set up, and I appreciated the thought and innovation that Sea to Summit put into this design. The Tension Ridge pole design and easy-to-use vent system were highly functional. At the same time, the adjustable stake pockets allow you to easily move your stake to avoid a rock instead of the whole tent – a common occurrence in the Grand Canyon! What's more, the pole structure is all one piece and color-coded with the tent's head and foot, which makes orientation quick and easy.  
The tent body simply clips onto the poles while the fly attaches securely with a new slot-style aluminum connector instead of a plastic buckle. I'm very impressed with this new aluminum connector as it will surely add to the tent's overall durability. These factors came together to quickly make a nice, taut pitch, earning a well-deserved 5 out of 5 on setup. 
Versatility – 5/5 
The Telos TR2 includes several features that significantly increase its versatility, and my favorite is the varied setup methods that adapt to every situation. There are three ways to use or set up the tent. First, we have the traditional method with the body, poles, and fly. Second, there's the ultralight set up with just the fly and poles (with the use of a footprint). And third, and most unique to the Telos, is the hangout mode where you can use trekking poles or the hangout mode pole set and have a taller open side structure to socialize in some light rain or on very sunny days.  
My testing focused exclusively on the traditional setup, but I love the thought of this tent being a multifunctional piece of gear. For versatility, I rate the Telos TR2 a solid 5 out of 5. 

Durability – Rating: 4/5
Granted, a few backpacking trips in the Grand Canyon isn't the same as an entire season of putting this tent through the wringer. Nevertheless, after a solid month of use, every aspect of the tent seemed well thought out and designed for the long haul.  
The tent sheds water and wind with ease and has reinforcements in the fabric at high-stress areas that make me feel that it will hold up season after season. The tent's design also has an aluminum connection between the body and fly, increasing durability over a plastic buckle. Without using the tent for a longer period, I can't weigh in too heavily on its true longevity. However, from what I experienced, I do believe it is a durable design, and I'd be confident taking this tent on any trip into the backcountry. 
Interior Size and comfort – 4/5
The Telos TR2 is deceptively large. It honestly doesn't look too big or spacious from the outside, but the 28 square-foot interior has plenty of space to comfortably fit two people – which you'll see for yourself once you crawl inside. This alone says a lot, especially as I have used (and even own) a two-person tent that only fits two people if they are willing to rub elbows all night.   
As mentioned earlier, Sea to Summit's unique Tension Ridge architecture also provides good headroom for such a seemingly compact tent. At 43.5-inches, the peak height isn't the tallest of the tents on the market, but it provides ample head space without necessitating a complex pole system or bulky design. This unique architecture also ushers in fantastic ventilation with vents at the base and apex, allowing for excellent airflow.
My only critique regarding the tent's interior is that there aren't as many storage pockets as I would have liked for gear and item storage. Seat To Summit does offer an optional gear loft, but I would have preferred this being included as part of the tent. Additionally, the tent's storage stuff sacks can clip into the corners as makeshift storage pockets. However, call me a purist, but I would prefer integrated, deep mesh pockets to help keep gear organized and visible. So, if Sea to Summit had included more integrated storage, I would have awarded top marks for the interior. But as it is, I'm going to have to give it a 4 out 0f 5. 

Price – 3.5/5 
For a high-end, feature-rich, two-person tent, I believe that the Telos TR2 is priced slightly higher than most of the competition at $559. I'll be the first to admit that the tent includes several unique features and includes a solid and high-quality feel. Nevertheless, it's my opinion that the current pricing is a little on the expensive side, especially for a brand just branching into the tenting industry without a tried-and-true tent lineup to back them. Therefore, I give the Telos TR2 a 3.5 out of 5 for price.  
Overall Quality – 5/5
During my month-long test, I felt that the tent was a great product that would last through many years of adventure and abuse. I enjoyed how solid the tent felt while pitched and never worried that a zipper or seam would come apart on me. 
Additionally, the tent fabric is strong and tough – representing a vast improvement over the flimsy or tissue-paper-like characteristics of other lightweight materials. I was pleasantly surprised by this high-quality feel as the canopy and rainfly fabrics are only 15-denier nylon, but they still exuded the toughness and quality of much thicker materials. The design is very well thought through and easy to use. Put all these points together, and the Telos TR2 is a solid 5 out of 5 in terms of overall quality.  
Bringing It Together
The Telos TR2 is an excellent tent laden with well-thought-out designs and features executed in ways I've never seen on any other tent I have used. The only complaints I have are the lack of interior pockets to stash my personal odds and ends, and it's slightly more expensive than I would expect when comparing it to the other tents on the market. Bring all my review points together, and we have: 
Pros: 
Tension Ridge architecture for excellent headspace

Stellar ventilation 

It doesn't flinch in even the worst winds

 

Quality fabrics

 

Individual stuff sacks for the parts of the tent

 

No plastic parts

 

The best tent stakes I've ever used

 
Cons: 
High price

 

Not enough integrated storage pockets inside

 
More Information About The Telos TR2 Tent
Let's take a closer look at a couple of this tent's characteristics before we wrap up this Telos TR2 Review.
Tent Material – What is a Denier?
The Telos TR2 canopy material is comprised of 15-denier ripstop nylon while the floor is 20-denier ripstop nylon – but what does that mean? In short, a denier measures a fabric's thickness. The higher the denier value, the thicker the material.
In the realm of backpacking tents, the Telos falls squarely on the lightweight side with slightly thinner materials in order to trim a little weight.
What more information? Take a look at this short video from Sea to Summit explaining fabric deniers.
Are Different Sizes Available?
Yes! The Telos line from Sea To Summit also offers the 3-person Telos TR3. If you're a solo backpacker looking for a new tent, consider the similarly designed Alto TR1.
Sea To Summit also offers the 3+ season version of all their tents. This option includes improved cold-weather performance and durability for hikers that want to push their adventuring season right up to the cusp of winter.
Final Thoughts
To summarize my time with the Telos TR2 tent from Sea to Summit, I loved every piece of it with just one minor critique centering on the lack of interior storage pockets.
The intuitive setup made pitching easy and fast, even in the rain or dark. As a guide, I often find myself busy and unable to set up my tent and sleep situation until well after dark. Then more often than not, I'm tearing it down again before the sun comes up the following day. But the Telos' design didn't make me dread late-night tent pitching or early wake-ups like other tents have, and I had no trouble setting up and breaking down this tent under less than ideal conditions. 
I tend to nerd out a bit as a guide and gearhead, and three additional elements of this tent got me really excited. These elements are the ventilation system, the adjustable stake loops, and the tent stakes themselves. The nice, big vent at the tent's apex appears to be very functional and well-placed – condensation wasn't an obstacle during my desert testing, but I can still appreciate this feature's potential! Meanwhile, the adjustable stake loops make setup easy in rocky areas like the Grand Canyon; I took full advantage of them every time I used the tent. Lastly, the oh so often underappreciated tent stakes for the Telos TR2 are the absolute best I've ever used – strong and light for a taut pitch! 
The lack of interior pockets was a little bothersome for me because I like to be very organized while working in the backcountry and fiddling with an add-on gear loft or stuff sack wasn't quite what I was hoping for, but I wouldn't consider it a deal-breaker for the tent. I have grumbled about the interior pocket situation previously, but that's because I couldn't find any other parts of the tent that I didn't like! 
I can honestly recommend this tent for anyone who wants a roomy two-person backpacking tent that is feature-rich and built for the long haul, especially if you often find yourself splitting up weight with your tentmate.