Women's Ether Light XT Insulated Sleeping Pad
Wildland Trekking guide, Jeanelle Carpentier, shares her experience after testing the Sea to Summit Women's Ether Light XT Insulated Sleeping Pad on her winter guiding trips in the Grand Canyon.
Hello gear lovers! My name is Jeanelle Carpentier, and I've been guiding professionally with The Wildland Trekking Company for 8 years. During this time, my guiding path has led me throughout the United States, and I've been fortunate also to guide while hiking in Nepal and leading trekking trips in Peru. My assignments have ranged from day hikes to multi-day backpacking trips and from base-camp style outings to stock-supported journeys. Throughout my career, the skills and knowledge I've developed, lessons I've learned, friendships I've made, and bucket list trips I've helped my clients accomplish have been outstanding.
In addition to guiding at Wildland Trekking, I am also a content writer and product tester. Today, I will be writing about the 3-Season Women's Etherlight XT Insulated Sleeping Pad by Sea To Summit. First, a huge thank you to Sea To Summit for sending me this awesome sleeping pad to test out! I now have a fluffy cloud to use in the backcountry, where sleeping well is crucial. So let's take a look at how this sleeping pad performed when I put it to the test.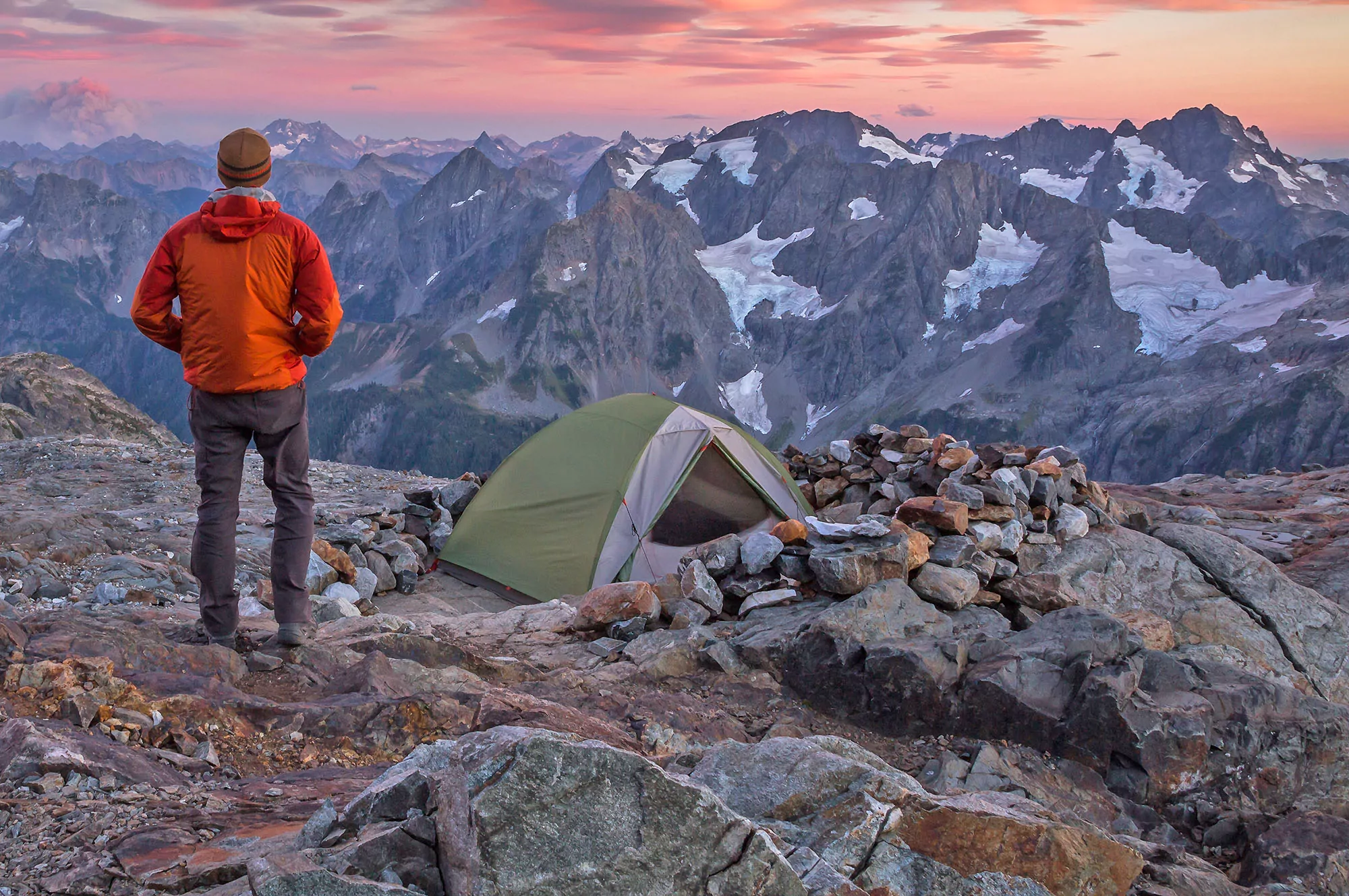 Let's start our review with a quick rundown of this sleeping pad's basic specifications. Remember that this review is focused on the regular-sized Women's Sea To Summit Etherlight XT Insulated Sleeping Pad.
MSRP: $189-$209
Weight: 17.5 oz/1.1 lbs (regular) – 21 oz/1.3lbs (long)
Thickness (when inflated): 4-inches
R-Value Insulation Rating: 3.5
Insulation:  Exkin Platinum® Fabric and Thermolite ® Insulation
Material: 30/40D TPU Laminated Nylon Fabrics
Intended Use
The women's Ether Light XT Insulated Sleeping Pad is aimed at 3-season (Fall, Summer, Spring) backpacking, camping, bike packing, and bike touring. The solid mid-level insulation offers good protection from the chill when temperatures dip, and the extra thick design makes this sleeping pad a powerhouse in the rough backcountry. However, it's not quite insulated enough for the extreme cold found during high-altitude mountaineering or mid-winter trips. For those adventures, Sea to Summit offers the Ether Light XT Extreme with almost double the R-value (insulating effectiveness).
Notable Features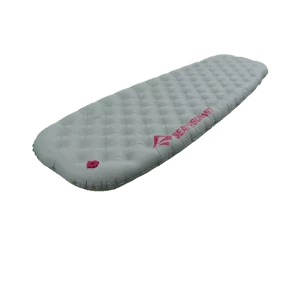 In addition to its impressive basic specs, the women's Ether Light XT sleeping pad also includes a few significant features that deserve some elaboration.
Air Sprung Cell ™ Baffled Construction provides a comfortable sleeping surface with dozens of connected chambers to perfectly support your body weight. These chambers connect the top and bottom pad materials to mimic a pocket-sprung mattress at home.
Extra Thick (XT) Design – creates a cloud-like cushion with a full 4-inches of support, padding, and insulation.
Airstream Pumpsack – provides a quick and clever method to inflate the pad. The sleeping pad's storage sack becomes a large pump that amplifies your breaths' effectiveness and reduces condensation entering the pad.
Pillow Lock™ System – features self-adhesive hook-and-loop patches that secure the pillow to the sleeping pad for slip-free snoozing.
Roland Tyson is the founder of Sea To Summit. He started to make gear at the young age of 17 in 1983 with a sewing machine in his room. An outdoor enthusiast, Roland first put his gear to the test in Australia and the Himalayas. Penny Sanderson later joined the company in 1993. With their experience and expertise in innovative designs and gear, the company has grown for many years as it continues to offer competitive and well-designed equipment for outdoor adventurers. Although Sea to Summit originated in Australia, the main headquarters is now based in Boulder, Colorado. Sea To Summit offers a great Lifetime Warranty on all of its products and continues to provide quality gear ranging from dry bags to ultra-light cookware to sleeping pads.
THE TEST – QUICK OVERVIEW
I tested this product while guiding two separate multi-day groups in Grand Canyon National Park for The Wildland Trekking Company. These tours were 2 and 3 days in total. We hiked down the Bright Angel Trail (a nearly 4,500ft descent) to Phantom Ranch/ Bright Angel Campground on both trips.
The early December temperatures at the bottom of the canyon were around 50˚F in daylight, dropping into the 30s˚F at night. Shady conditions, thanks to the canyon walls and nearby cottonwood trees, kept our campsite relatively chilly.
The weather, temperature, and time of year created the perfect test conditions for this sleeping pad.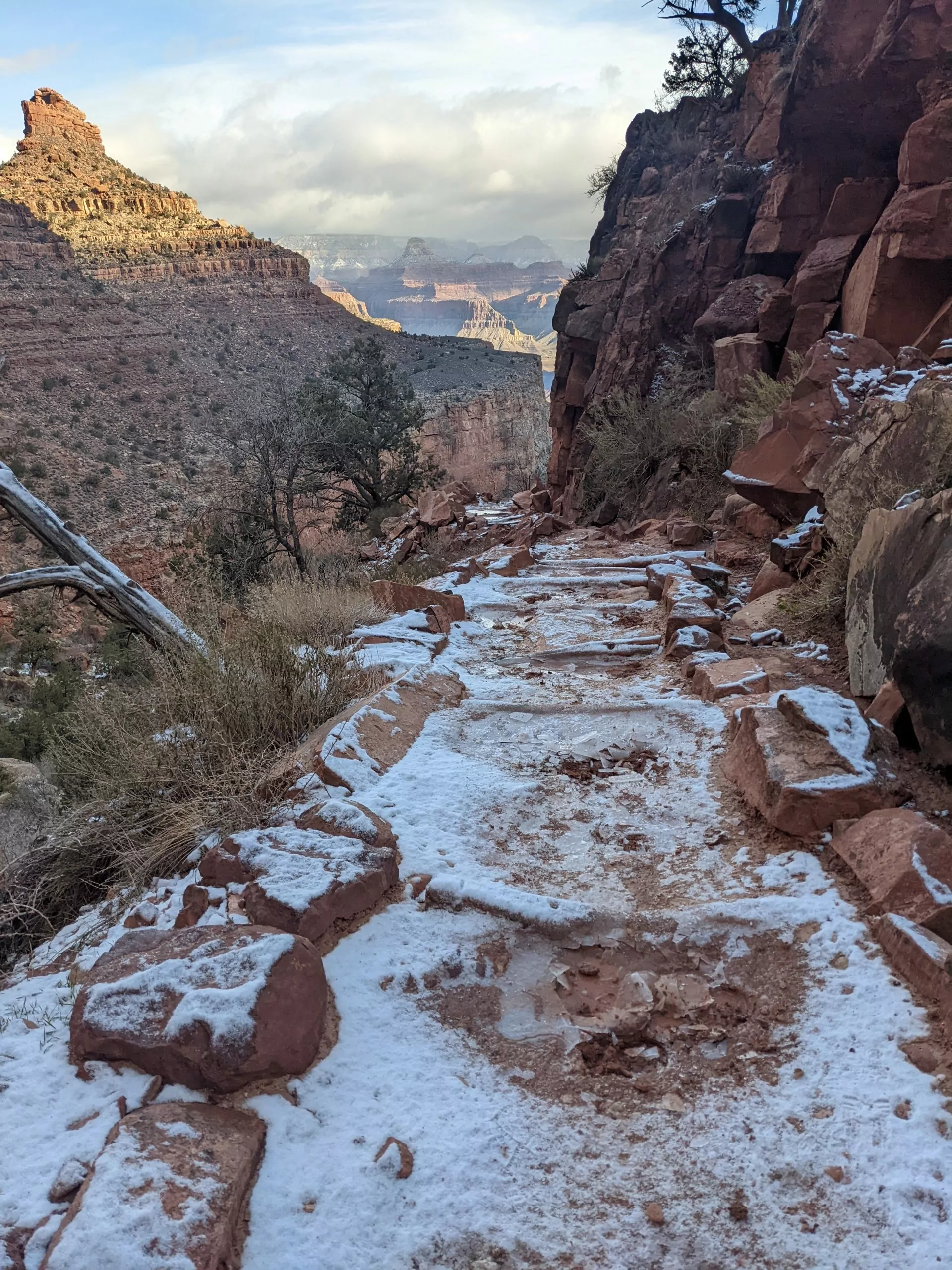 The Review
Now it's time to look at the specifics of my Ether Light XT Insulated Sleeping Pad review. I'll review important performance categories below, give my rating on a scale of 1 to 5 (where 5/5 is the best), and offer details from my testing to better explain each category's rating. At the end of this review, look for a bulleted list of Pros and Cons to sum up all of my key points. So let's see how this sleeping pad did!

Overall Comfort – 5/5
Let's start this Ether Light XT Insulated Sleeping Pad review with the most important category – comfort!
This sleeping pad provided plush comfort from the very second I laid down on day one. I immediately felt as if I was resting on a bed of clouds; it was so comfortable. I read the book that I brought along and noticed that while on my side reading, my hip didn't hit the ground (huge bonus!) and that I could lay on my side reading effortlessly. Before this test, I would often be reading in my tent on other sleeping pads with my elbow crammed into the ground, and my entire arm would go numb within minutes. It is so nice to be able to read without my limbs going numb!
The plush 4-inch cushioning definitely makes this the most comfortable sleeping pad I've ever used, so top marks in this category!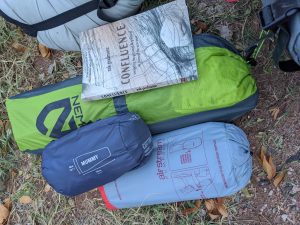 Weight/Bulk – 4/5
Upon receiving the sleeping pad in the mail, my initial thoughts concerned its weight and size. After all, as a backpacking guide, it's crucial that I keep my personal kit light and compact to make sure I have capacity for communal gear. The stated packed size for this pad is 4.5 x 11-inches and 17.5 oz, and this appears accurate from my testing.
This is a pretty bulky packed size for most air mattresses that certainly takes up an appreciable amount of space in my pack. BUT, it's important to remember that the Ether Light XT's insulation adds significantly to the overall bulk and value. So, while the pad is a tad bulky to carry, I found that it certainly earns that space by providing a plush and warm sleeping surface.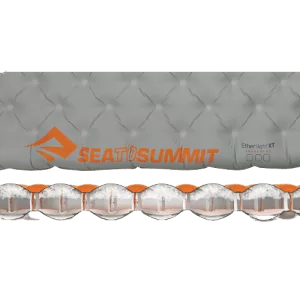 Warmth – 4.5/5
Sea to Summit did an excellent job insulating this sleeping pad. The Thermolite insulation prevents the cold ground from sapping warmth, while the Exkin Platinum fabric includes a metalized layer to reflect heat back at the sleeper. These features work together to make a decent insulation R-value of 3.5.
In the field, I found this insulation to be perfect for our chilly nights in the Grand Canyon. I didn't feel any cold drafts whatsoever. However, I'm admittedly a cold-sleeper, so I also relied heavily on my 0º sleeping bag. But nevertheless, I'm very impressed with the Ether Light XT's insulation and warmth.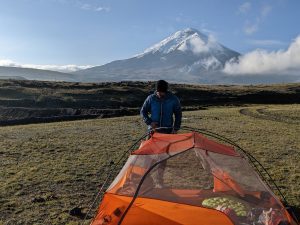 Durability – 3/5
The laminated TPU materials seem to be strong and supportive. It resists scratches and blemishes, and my testing indicated that it could easily handle the rocky and sharp Grand Canyon terrain. The anti-mold interior coating is also a nice touch to ensure the pad's overall longevity.
However, my testing also revealed an unfortunate seam issue near the valve after my first few uses, resulting in a deflated pad. This was a sad mishap, but it also allowed me to test Sea to Summit's warranty process. This process was very straightforward, and the company was responsive and quick to accept the sleeping pad back for repairs. So, even though I encountered a durability problem, I won't let it bring down my opinion of the Ether Light XT, and I believe the problem was likely a one-off issue. But the problem did bring this category's rating down to 3 out of 5.
Setup – 4/5
When all's said and done, the Ether Light XT setup is simple and efficient. Blowing it up by the usual mouth-to-valve method was easy, and I found the valve simple to work with. However, one of the main features of this sleeping pad is the airstream pump (which also doubles as the pad's stuff sack).
The airstream pump is essentially a large, rollable bag that attaches directly to the pad valve. A single breath inflates this whole bag, which you then roll up to force the air into the pad. This process takes a lot of the lung effort out of the process and only takes a couple of breath–roll/pump cycles to inflate the pad fully. However, in my opinion, I found this pumping process to be a little challenging to manage in the confines of a tent (when I didn't want to lay the pad out on the dusty dirt outside my tent). So if you've got some space and a reasonably clean area outside to work, this is a great feature but a little tricky inside a tent – hence my 4 out of 5 rating.
Price – 4/5
For a feature-rich, insulated, and high-quality sleeping pad such as the Ether Light XT Insulated, I believe the price to be fair and comparable to other options on the market. However, it's certainly worth noting that a "fair" price does not mean inexpensive, and this sleeping pad is a definite, long-term investment in your camping comfort. If you're in the market for a cheap sleeping pad, or are just a beginner and not sure if you want to invest a lot of money in your gear quite yet, then this probably isn't the sleeping bag for you.
But if you know that comfort and insulation are essential to your camp experience, and you plan on using your pad regularly, then the Ether Light XT Insulated can be a great addition to your kit.
Overall Quality – 4/5
The women's Ether Light XT Insulated Sleeping Pad projects excellent quality. The material is tough, durable, and easily cleaned, while the insulation and padding are spectacular. Also, the Air Sprung Cell construction is supportive and, most importantly, quiet. This pad didn't sound like you were laying on a potato chip bag and allowed me to get a peaceful sleep every night.
However, I did remove a point from this category due to the ruptured seam that I encountered amid my testing. High praise to Sea to Summit for quickly taking it back and getting it repaired. But nevertheless, the issue hints at a quality issue, and that's why I rated the overall quality a 4 out of 5.
Bringing it Together
We just covered plenty of information in this Ether Light XT sleeping pad review, so let's sum up the testing results below.
Pros:
The pillow-style lofting is extremely comfortable
One of the most comfortable back-country-style sleeping pads I have ever slept on.
The sleeping pad is quiet
Reasonably packable shape
Good insulation
Cons:
The Airstream pump sack adds some extra bulk and weight, and it seems hard to operate within the confines of a tent.
Excellent material and insulation quality was slightly marred by a leaky seam – which Sea to Summit repaired immediately under their warranty program.
Insulation – What is An R-Value?
The Ether Light XT insulated sleeping pad's R-Value of 3.5 is best for 3-Season use. This number gauges the resistance that the pad has from ground temperature loss. There is an industry-standard test for the R-Value known as ASTM F3340-18. This test was created to provide an understanding and clarity to customers, along with a universal system where brands and sleeping pads can be compared.
For sleeping pads, this rating system ranges from 0 to around 7. A zero or 0.5 R-Value pad would be ideal for very hot temperatures (such as at the bottom of the Grand Canyon in the summertime). Meanwhile, an R-Value of 7+ would be ideal for an alpine area or mid-winter trips.
Final Thoughts
If you are looking for a moderately warm, insulated, and extremely comfortable pad, look no further than the women's Sea To Summit Ether Light XT Insulated sleeping pad! My testing revealed it to be exceptionally comfortable, reasonably insulated for most 3-season trips, and a valuable asset in the backcountry.
Apart from a little quality-control issue centered on the valve seam (which Sea to Summit quickly repaired), I have very little to say against this product. It did everything it was supposed to do and kept my cold-sleeping self very warm during my winter test trips in the Grand Canyon. The Ether Light XT insulated also did a good job balancing comfort vs. weight and size. So all-in-all, I certainly recommend this product to all the hikers out there looking to invest in a plush sleeping pad to take their camp sleeping to the next level.