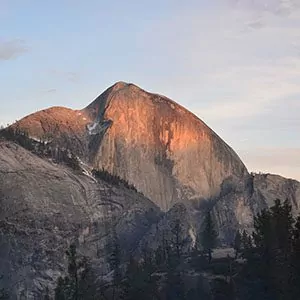 There are many things to take into consideration when planning a trip to Yosemite. First, it is important to know which roads are open when you are going to be there. Glacier Point Road and Tioga Road are both typically closed from October or November to May or June, all depending on the amount of snow the higher elevations received over the winter and spring. Whereas, the road through Yosemite Valley is open year-round, although snow chain restrictions may be in place during certain times. Another thing to consider is the crowds. Summer is by-far the busiest time in the park, especially in the Valley. How well you tolerate crowds should be considered before you pick a time to visit, and will also help you determine which areas of the park to spend your time in. Lastly, the activities you decide to do will affect when you should visit.
weather and temperature
Yosemite is a fairly large park, with many different and distinct areas. Even within those areas, the elevation (and therefore the temperature) changes quickly if you go on any uphill hike. The floor of Yosemite Valley is at 4,000 feet elevation, and north of the Valley, Tuolumne Meadows is 8,600 feet. Check the road conditions if planning a trip in the spring or fall, as Glacier Point Road or Tioga Road may open late or close early, depending on snow.
Taking weather and climate into account when planning a trip to Yosemite is very important.
Month
Yosemite Valley
Tuolumne Meadows
Days of Precip
Avg Hi
Avg Lo
Avg Hi
Avg Lo
January
48°F (9°C)
29°F (-2°C)
41°F (5°C)
10°F (-12°C)
8 Days
February
52°F (11°C)
30°F (-1°C)
40°F (4°C)
10°F (-12°C)
7 Days
March
58°F (14°C)
34°F (1°C)
44°F (7°C)
13°F (-11°C)
9 Days
April
64°F (18°C)
38°F (3°C)
47°F (8°C)
18°F (-8°C)
6 Days
May
72°F (22°C)
45°F (7°C)
55°F (13°C)
26°F (-3°C)
3 Days
June
81°F (27°C)
51°F (11°C)
65°F (18°C)
33°F (1°C)
1 Day
July
89°F (32°C)
57°F (14°C)
72°F (22°C)
38°F (3°C)
1 Day
August
89°F (32°C)
56°F (13°C)
71°F (22°C)
36°F (2°C)
0 Days
September
82°F (28°C)
51°F (11°C)
65°F (18°C)
31°F (-1°C)
2 Days
October
71°F (22°C)
42°F (6°C)
56°F (13°C)
25°F (-4°C)
3 Days
November
56°F (13°C)
33°F (1°C)
46°F (8°C)
17°F (-8°C)
5 Days
December
47°F (8°C)
28°F (-2°C)
40°F (4°C)
10°F (-12°C)
7 Days
best time for sightseeing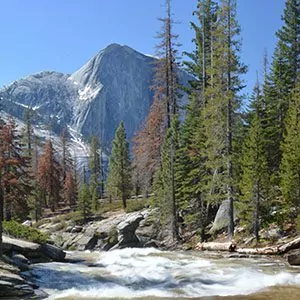 Spring is the best time for sightseeing in Yosemite National Park. Waterfalls are gushing as the snow melts at higher elevations, and wildflowers are blooming in the meadows. The park is alive with color and wildlife is frolicking as the weather warms. Although Tioga Road and Glacier Point Road may not be open to drive on, you can still hike to their sights in the spring. The crowds are also less this time of year, so you may be able to experience a more quiet park for your sightseeing.
best time for hiking and backpacking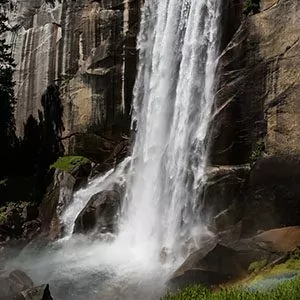 If you are planning on hiking or backpacking in Yosemite, the best time to do it is in the summer. You may be thinking, "Summer? Isn't that the busiest time of the year?". While it is the busiest season at the park, it is also when Tioga Road and Glacier Point Road are open, giving you access to so many more trails. And, although there are a lot of visitors in the park during the summer, going on a hike or even better, a backpacking trip, decrease the crowds right off the bat. This isn't to say that you'll have the trail to yourself, but the further you go on a trail, the more the crowds will thin out. The temperatures are nice and warm during the day, but chilly at night, making weather conditions perfect for a night of camping in Yosemite under the stars.
The only downfall to hiking in the summer is that obtaining a permit may be more difficult. If the thought of this stresses you out, book a trip with Wildland Trekking. We will eliminate all your burdens by taking care of the permits, providing appropriate gear and making delicious meals.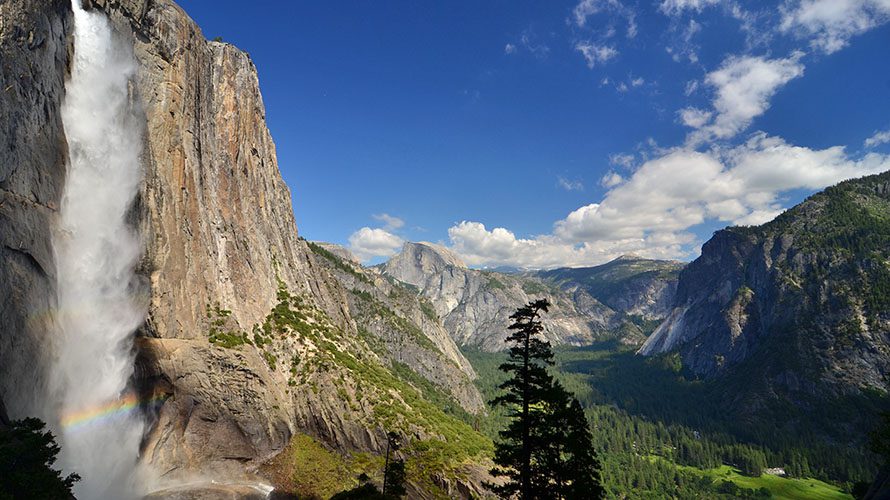 best time to avoid crowds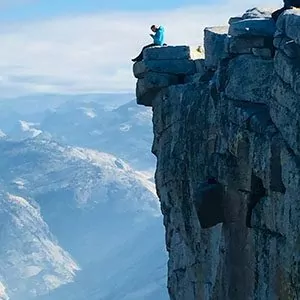 Without a doubt the best time to avoid crowds is the winter—December, January and February. While the weather may be downright cold, and some roads are closed, the crowds are exponentially less this time of year. Winter typically brings in low and streaking clouds, giving depth to photographs. And, there is nothing like waking up to a fresh dusting of snow on the granite peaks that surround you in the Valley. Yosemite in winter is truly a wonderland.
If the only time you can make it to Yosemite is in the summer, here are some tips to make the crowds more tolerable:
Go on a hike: the further from the main roads you go, the more the crowds will thin out.
Visit an area of the park besides the Valley: if you have multiple days in the park, it is best to spend a day in the Valley, then go check out the other areas. Hetch Hetchy or Wawona are both absolutely beautiful—in a very different way than the Valley, and will have less visitors.
Wake up early: try hitting the trail as early as possible, maybe try to catch sunrise from the top of Yosemite Falls; the earlier you rise, the more of the park you'll have to yourself before the crowds show up.
Go on a picnic: instead of visiting one of the busy eateries for lunch, go to the general store and pick up some picnic supplies, and eat lunch outside at one of the many overlooks in the park.
JOIN A GUIDED HIKING ADVENTURE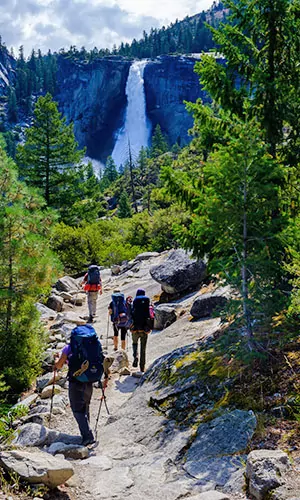 Yosemite National Park is home to some of the most epic and amazing hiking vacations in the world. Wildland Trekking offers trips with the best of Yosemite: waterfalls, views, wildlife, solitude, adventure and fascinating natural and cultural interpretation.
Guided Yosemite treks are all-inclusive which covers permits; local transportation (excluded on certain tours); meals; equipment; safety systems and professional hiking/wilderness guides; all of which allows visitors to maximize their time in Yosemite and focus entirely on enjoying the Park.
YOSEMITE ADVENTURE TOURS
GUIDED BACKPACKING ADVENTURES: these are for people interested in an authentic Yosemite hiking adventure away from the roads and crowds.
PORTERED TRIPS: on these innovative trips, guests hike with light day packs and camp near in stunning backcountry locations.
INN-BASED PACKAGES: these tours are all-inclusive packages with lodging, amazing daily hikes, expert guides, meals, transportation and more!
CAMPING-BASED HIKING PACKAGES: camping-based hiking packages provide all-around hiking experiences of Yosemite on wonderful outdoor vacations.
DAY HIKE TOURS: maximize your day in Yosemite on a fully guided, award-winning hiking tour on one of the Park's best trails.