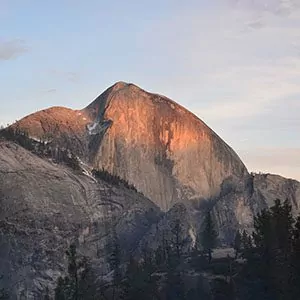 Updated: 08/15/22
There are many things to take into consideration when planning a trip to Yosemite. First, it is important to know which roads are open when you are going to be there. Glacier Point Road and Tioga Road are both typically closed from October or November to May or June, all depending on the amount of snow the higher elevations received over the winter and spring. The road through Yosemite Valley is open year-round, although snow chain restrictions may be in place during the winter and certain parts of the spring. Another thing to consider is the crowds. Summer is by-far the busiest time in the park, especially in the Valley. How well you tolerate crowds should be considered before you pick a time to visit, and will also help you determine which areas of the park to spend your time in. Lastly, the activities you decide to do will affect when you should visit. This page will answer many questions about when is the best time to do certain activities in the park.
weather and temperature
Yosemite is a rather large park with many different and distinct areas. Even within those areas, the elevation (and therefore the temperature) changes quickly if you go on any uphill hike. The floor of Yosemite Valley is at 4,000 feet elevation whereas  Tuolumne Meadows north of the valley is 8,600 feet. Check the road conditions if planning a trip in the spring or fall, as Glacier Point Road or Tioga Road may open late or close early, depending on snow. Additionally, you will need to consider if you have the appropriate gear to travel to the mountains in the winter or spring. Do you have warm layers that will retain warmth when wet? Good snow boots? Tire chains? What about winter jackets or outer layers? If you're planning on camping, are your sleeping bag and sleeping pad warm enough? Will your equipment freeze over night? All these questions need to be considered before planning a trip to Yosemite in winter as visitors who come unprepared will at best be cold and rather miserable and at worst be in danger of frost bite, hypothermia, or worse.
Taking weather and climate into account when planning a trip to Yosemite is very important. Check out our pages for Yosemite in each month to get more detailed information about the weather in each month in each location, and the best activities to do during that month.
Month
Yosemite Valley
Tuolumne Meadows
Days of Precip
Avg Hi
Avg Lo
Avg Hi
Avg Lo
January
48°F (9°C)
29°F (-2°C)
41°F (5°C)
10°F (-12°C)
8 Days
February
52°F (11°C)
30°F (-1°C)
40°F (4°C)
10°F (-12°C)
7 Days
March
58°F (14°C)
34°F (1°C)
44°F (7°C)
13°F (-11°C)
9 Days
April
64°F (18°C)
38°F (3°C)
47°F (8°C)
18°F (-8°C)
6 Days
May
72°F (22°C)
45°F (7°C)
55°F (13°C)
26°F (-3°C)
3 Days
June
81°F (27°C)
51°F (11°C)
65°F (18°C)
33°F (1°C)
1 Day
July
89°F (32°C)
57°F (14°C)
72°F (22°C)
38°F (3°C)
1 Day
August
89°F (32°C)
56°F (13°C)
71°F (22°C)
36°F (2°C)
0 Days
September
82°F (28°C)
51°F (11°C)
65°F (18°C)
31°F (-1°C)
2 Days
October
71°F (22°C)
42°F (6°C)
56°F (13°C)
25°F (-4°C)
3 Days
November
56°F (13°C)
33°F (1°C)
46°F (8°C)
17°F (-8°C)
5 Days
December
47°F (8°C)
28°F (-2°C)
40°F (4°C)
10°F (-12°C)
7 Days
best time for sightseeing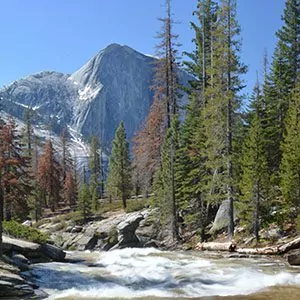 Spring is the best time for general sightseeing in Yosemite National Park. Waterfalls are gushing as the snow melts at higher elevations, and wildflowers are blooming in the meadows. The park is alive with color and wildlife is frolicking as the weather warms. Although Tioga Road and Glacier Point Road may not be open to drive on, you can still hike to their sights in the spring as the snow has lessened from the colder months of winter and many trails will be open. The crowds are also less this time of year, so you may be able to experience a more quiet park for your sightseeing.
Of course, all of these factors apply if you are looking to see spring sights. Yosemite offers a wide variety of sights to see that pop up through out different times of the year. If vast overlooks and vistas are what you're searching for, then summer is the best time to go because, while some of the trails up to higher points may be open in late spring, you won't be able to hike Half Dome, Cloud's Rest, or some of the other grand peaks until the snow is melted. If you're searching for waterfalls, then spring is the best time because the warm spring sun will be melting the snow pack at higher elevations, making the waterfalls gush like firehoses.
Yosemite's winter also offers some sightseeing like no where else in the world. The great overlooks that you can drive to will take on an entirely ethereal feel as they are completely wrapped in snowy wonder. The famous Yosemite firefall only happens in February and draws visitors from around the world to see this majestic sight. And while many of Yosemite's trees are evergreen and the park is not renown for its fall colors, the oaks, dogwoods, cottonwoods, and aspens all change to autumn shades before the winter months set in. Bus tours in the park that cater to sipping hot cocoa or lemonade (depending on the season) while getting a taste of what Yosemite has to offer operate all year round and are a fantastic way to take in the sights no matter what the season is.
best time for hiking and backpacking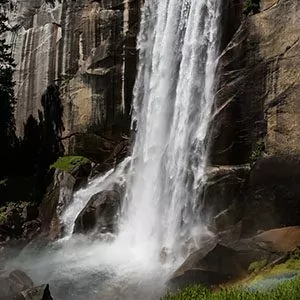 If you are planning on hiking or backpacking in Yosemite, the best time to do it is in the summer. You may be thinking, "Summer? Isn't that the busiest time of the year?" While it is the busiest season at the park, it is also when Tioga Road and Glacier Point Road are open, giving you access to many more trails. And although there are a lot of visitors in the park during the summer, going on a hike or even better, a backpacking trip, decreases the crowds right off the bat. This isn't to say that you'll have the trail to yourself, but the further you go on a trail, the more the crowds will thin out. The temperatures are nice and warm during the day but chilly at night, making weather conditions perfect for a night of camping in Yosemite under the stars.
The only downfall to hiking in the summer is that obtaining a permit may be more difficult. If the thought of this stresses you out, book a trip with Wildland Trekking. We will eliminate all your burdens by taking care of the permits, providing appropriate gear, and making delicious meals.
If you're determined to avoid the crowds, backpacking is possible in Yosemite in the spring and fall, but your selection of trails is much more limited due to snow. In addition, if you do find an accessible trail that is relatively clear of snow, you are more than likely to encounter snow fields that require expertise to navigate and traverse as well as possible snow storms when you are out on the trail. If you are not equipped to handle these conditions, then its best to book camping or other lodging in the valley. Hiking on the other hand, is much more feasible in the spring and fall and while summer is undoubtedly the best time for backpacking, spring and fall are arguably better times for hiking at least certain trails. While of course, there are many trails that are still simply inaccessible during these times of the year, the weather is on the cooler side, making strenuous treks more comfortable. Plus, you definitely avoid the crowded trails during the spring and fall compared to summer when you have to go on a long, relatively unknown hike or a backpacking trip for the crowds to thin out. Of course, spring and fall come with disadvantages for day hiking as well when it comes to unpredictable weather and sometimes adverse conditions, but they are worth considering if you the main activity you had planned was day hiking.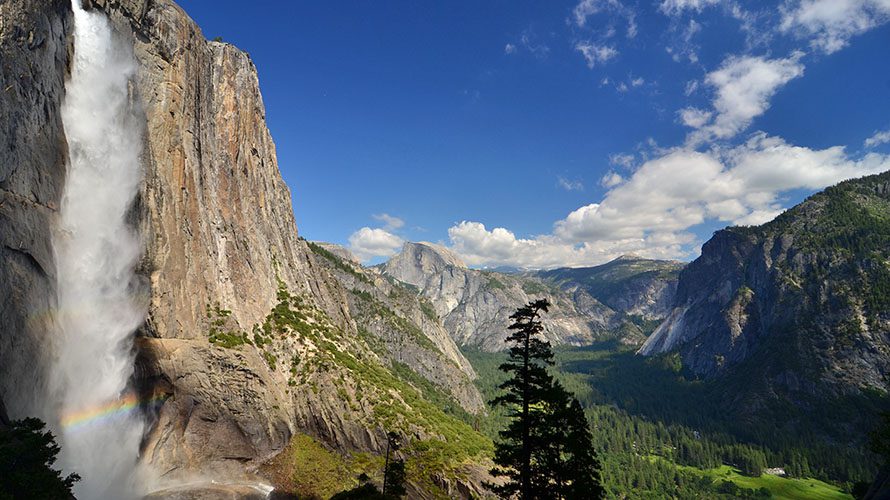 best time to avoid crowds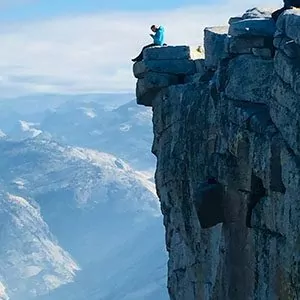 Without a doubt the best time to avoid crowds is the winter—December, January and February. While the weather may be downright cold and some of the roads closed, the crowds are exponentially less this time of year. Winter typically brings in low and streaking clouds, giving depth to photographs and some of the shyer wildlife is easier to catch a glimpse of– at least you are more likely to see their tracks in fresh snow. There is truly nothing like waking up to a fresh dusting of snow on the granite peaks that seem to touch the sky when looking up at them from the valley. Yosemite in winter is truly a wonderland of snow and snow activities that are well worth a visit. As an added bonus, the lack of crowds in winter not only make finding accommodations easier but also less expensive.
Second to winter in avoiding the crowds is spring and fall. Of course, the months when the weather is the worst and most unpredictable of these months– March and November– are the least busy while the each month closer to summer gains numbers in visitors. While the crowds during these seasons are not nearly as thin as in winter, they are significantly less than in summer with many campgrounds still first-come-first-serve and lodging still available less than six months in advance. While it won't be an isolated experience, spring and fall surely give you a better chance of experiencing some peace and quiet– particularly if you want to see some of the more elusive wildlife– than summer does.
If the only time you can make it to Yosemite is in the summer, there are still ways to make it enjoyable despite the crowds. While not fool proof, here are some tips to make the crowds more tolerable even in the hustle and bustle of summer in the park.
Go on a hike: the further from the main roads you go, the more the crowds will thin out.
Visit an area of the park besides the Valley: if you have multiple days in the park, it is best to spend a day in the Valley, then go check out the other areas. Hetch Hetchy or Wawona are both absolutely beautiful—in a very different way than the Valley, and will have less visitors.
Wake up early: try hitting the trail as early as possible, maybe try to catch sunrise from the top of Yosemite Falls; the earlier you rise, the more of the park you'll have to yourself before the crowds show up.
Go on a picnic: instead of visiting one of the busy eateries for lunch, go to the general store and pick up some picnic supplies, and eat lunch outside at one of the many overlooks in the park.
Best time to visit with kids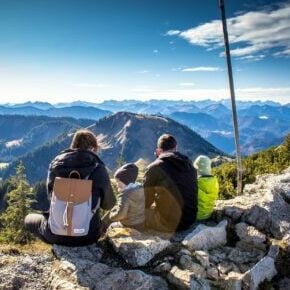 Yosemite is awesome to take the family to because there is such an abundance of things to do and places to go. For the most part, the same reasons to visit– and reasons not to visit– Yosemite generally apply to families with kids as well. Summer is the easiest as far as gear and extra clothing is concerned, but fighting crowds with kids, attempting to apply bug repellent and sunscreen, and paying higher prices for accommodations can be limiting factors. In the winter, you can get cheaper accommodations, but it requires more gear and the kids might not want to do anything but play in the snow, making going to a snow area closer to your home the more sensible option. Another consideration to take into account when bringing kids to Yosemite is what kind of activities you are planning. In the winter months, the high action snow sports like skiing and snowshoeing might not be suitable for young kids in some families, while on the other hand, a young family who has an adventurous spirit might jump at the opportunity to introduce their kids to these actives. Similarly in summer, think about how much hiking in the intense heat your little ones will be up for or whether a rain storm in April might provide welcome respite to explore the visitor center or Yosemite Museum.
The shoulder seasons of early fall and late spring are great for the same reasons as they always have been with more favorable weather than winter but less crowds than summer, but can be difficult as school age children enter the school year. There are pros and cons to all the times to visit and when is best might depend on each family– how adventurous and flexible they are and what age the kids are. Just before school starts or just after it ends are theoretically the best times to visit, but each family will have to make their own decision about what they value most in the trip and what the kids can handle.
Best time to hike half dome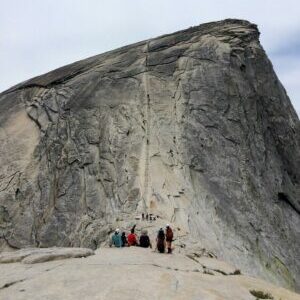 Your options are severely limited as far as what months you can hike Half Dome because the cables that allow day hikers to summit the monolith without rock climbing equipment are only up during the warmer months of the year. The cables usually go up the Friday before Memorial Day (the last Monday in May) and are taken down the Tuesday after Columbus Day (the second Monday in October). Visitors should not attempt to ascend Half Dome if the cables are down or if there are wet conditions, as most accidents happen during wet conditions. Between the end of May and the middle of October, the best time to hike Half Dome– put simply– is when you can get a permit. The limited number of permits are allotted through a lottery system and can be difficult to obtain. If you are backpacking in the area and want to secure a permit for Half Dome, you should enter the lottery for a wilderness permit. This will allow you to camp nearer to the base of Half Dome and avoid the very long and strenuous day hike. If, theoretically, you could secure a permit for any time the cables of Half Dome are up, you are still left with options for what you prefer. If you choose the mid summer months, you are very likely to run into lots of people on the trail  which can make the hike more stressful as you try to maneuver around crowds on the cables. It will also be hotter in mid summer and require you to carry more water and be better prepared for the trek. On the other hand, if you get a permit for one of the shoulder seasons of late may or mid fall when the cables are still up, you are less likely to run into hot weather or crowds, but you are more likely to get rained out and miss your opportunity altogether. There are no make up days for permits and permits on other days are likely not to be had because so many visitors want to do this iconic trek. If you want to avoid the headache of getting permits for this hike, Wildland Trekking offers multiple hikes that include Half Dome as part of the all-inclusive experience.
The choice of when to obtain a permit is a difficult one: better conditions with a higher risk of not going at all because of rain or have a better chance of making the trek with less than ideal crowds and heat. This tough choice has led many to make the trek in late spring or mid fall even during rainy conditions or when storms clouds are overhead and are threatening rain. If you find yourself in this situation, do not make the trek as it is not worth risking your personal safety. The smooth granite and metal cables become incredible slippery when wet and the last thing you want is to be at the summit when it begins raining as you try to traverse down. While there have been few people who have fallen and died on the cables in the last century, there have been accidents even from those who were not being irresponsible. While this hike is certainly worth attempting if you are a condition where you can finish it, visitors should be advised it is not for the faint of heart or of limb. What time of the season you chose to hike Half Dome is ultimately dependent on your risk tolerance of getting your hike cancelled due to rain or wet conditions.
Best time to see wildlife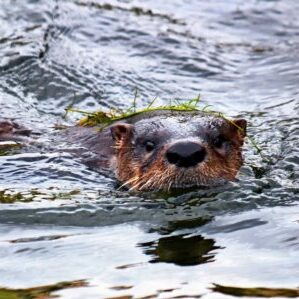 Yosemite is teeming with wildlife no matter what time of year you go. If wildlife viewing or wildlife photography is one of your reasons for visiting Yosemite, you definitely have some decisions to make when it come to what time of year you go. For overall best wildlife viewing, spring is probably your best bet. The bears and reptiles are out of hibernation, insects such as butterflies and beetles are back for the warmer weather, species of migratory birds are in town for the season, and many other species are generally more active than in the colder months. Of course, wildlife isn't typically attracted to a crowd unless you're a bear or coyote looking for poorly stored food, so spring is your best chance to be able to see these creatures in small groups without other, large groups loudly hiking down the trail scaring the animals. While it is not wise to travel alone, small groups are appropriate for wildlife viewing. Be prepared to wait patiently however, as wildlife will hear you coming even if you are not making a lot of noise. Instead, stay in one spot and see what passes by. One of the best places to do this is the river as many species of mammals, reptiles and birds come to the Merced to drink or live there consistently. John Muir's favorite bird and the only aquatic songbird in Yosemite, the American dipper, can often be see diving beneath the water of shallow steams. Otters and occasionally minks can also be seen at this river along with deer, bears, and marmots.
However, like many activities in Yosemite, when you go will depend on what you want to do and see. While spring is by far the busiest time for wildlife to be out and about, the winter offers a unique opportunity to see– or at least see the evidence of– wildlife that is seldom even noticed in the summer. Some of the park's most elusive creatures like mountain lions, big horn sheep, bobcats, fishers, and porcupines all inhabit this area of the Sierras but are rarely seen by visitors. The lack of crowds and the fresh snow which preserves animal tracks better than dirt might allow patient visitors to catch a glimpse of one of these animals, although it is more likely to only see its tracks. No matter what time of year you visit, ask a range about what has been sighted lately or what remote, motion sensor cameras have captured.
best time to go ROCK CLIMBING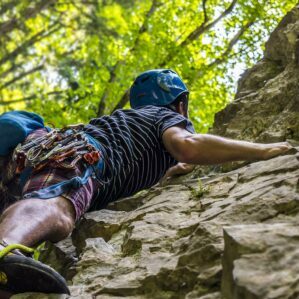 Rock climbing in Yosemite is world class and many climbers travel from across the country or world to visit. Rock climbing is dangerous and should not be attempted by those who do not have gear for or experience in outdoor climbing. The famous routes are the big ones, El Capitan and the North Face of Half Dome, that only expert climbers attempt. But there are many other climbing areas, which include bouldering, in and around the park. If you are a climber and looking to do some rock climbing, if you are a photography and want to grab some cool pictures, or if you just want to search the face of El Capitan with your binoculars to find climber clinging to its face, spring and fall are you best times to go. Winter is too dangerous to rock climb as it would be more akin to ice climbing. Spring and fall not only allow fewer crowds and ease of getting permits, but the cool temperatures allow for climbers to get up the larger rock faces without burning their hands on rocks that havev been baking all day in the summer sun.
Best time to avoid bugs
The bugs, especially mosquitos and other biting insects, can be a real pain when visiting Yosemite. Not only do they require visitors to put on bug repellent in addition to sunscreen, but their bites can quickly make the entire vacation, including when you are inside, very miserable very quickly. Kids in particular often have low tolerance for bugs and their itching bites. Without a doubt the best time to avoid biting insects in Yosemite is winter; its too bad that they don't like it for the same reasons most people don't– it's cold. Mosquitos and most other bugs cannot live in the cold, but all your skin is covered anyway, so you definitely won't get bitten. Fall is a close second to winter and is far better than both spring and summer because of the dryness. Mosquitos need standing water to lay their eggs and in the spring when all the snow is melting and the temperatures are getting warmer, mosquitos thrive. But after long and usually dry summers, fall brings cooler temperatures and less water flow that significantly decreases mosquito populations. Spring and summer are both equally swarmed– literally– with mosquitos so if you're planning to travel in these months, pack your bug spray. One thing to keep in mind however, especially is you are backpacking is that mosquito eggs tend to hatch a different elevations in cycles of around two weeks. So if you start you backpacking trip in the valley and can't stand the bugs, don't give up. Chances are they will thin out at higher elevations. Areas that are clear of trees and dense underbrush also tend to have less bugs as well as areas farther from standing water.
best time to see waterfalls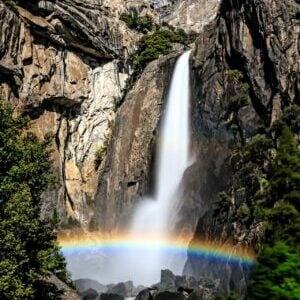 Without a doubt, spring is the best season to see waterfalls simply because they are flowing the most. The warmer weather and longer days begin to melt the snow from higher elevations and cause the waterfalls in the park to gush like thousands of firehoses. Many small, unnamed waterfalls will emerge during spring and spill over the tops of cliffs from overflowed rivers and streams. These thundering powers of nature are incredibly impressive as thousands of gallons of water pass over them every minute.
Summer and fall both have their fair share of gorgeous waterfalls and but they are not flowing at spring time levels. Most of the snow is melted and if it has been a low-snow winter or dry summer without much rain, the falls will be less than normal. Of course, they are still fantastic and impressive even when they are low, but not like when they are at spring levels. Usually the water levels get lower and lowers as summer progresses and on into fall as there has yet to be snow.
Winter, perhaps unexpectedly, affords its own waterfall masterpieces. While the water is not running nearly as higher or strong as in the spring, the waterfalls are still a sight to see in the winter. The large falls will continue running at least some and many create snow cones, giant mountains of snow at their base, which create neat photo opportunities as they are completely surrounded by snow and ice. Many of the smaller falls will freeze in winter and frozen waterfalls are anything but boring to see and take pictures of. And, of course, the main waterfall attraction in Yosemite's winter is the famous fire fall on Horsetail tails that runs down the north side of El Capitan. For about two weeks every February, the sunset light hits this small water fall at such an angle that it appears to light on fire and glow of its own accord. This attracts photographers from all over the world and is well worth a visit in winter.
JOIN A GUIDED HIKING ADVENTURE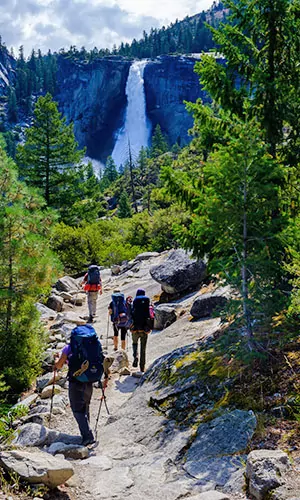 Yosemite National Park is home to some of the most epic and amazing hiking vacations in the world. Wildland Trekking offers trips with the best of Yosemite: waterfalls, views, wildlife, solitude, adventure and fascinating natural and cultural interpretation.
Guided Yosemite treks are all-inclusive which covers permits; local transportation (excluded on certain tours); meals; equipment; safety systems and professional hiking/wilderness guides; all of which allows visitors to maximize their time in Yosemite and focus entirely on enjoying the Park.
YOSEMITE ADVENTURE TOURS
GUIDED BACKPACKING ADVENTURES: these are for people interested in an authentic Yosemite hiking adventure away from the roads and crowds.
PORTERED TRIPS: on these innovative trips, guests hike with light day packs and camp near in stunning backcountry locations.
INN-BASED PACKAGES: these tours are all-inclusive packages with lodging, amazing daily hikes, expert guides, meals, transportation and more!
CAMPING-BASED HIKING PACKAGES: camping-based hiking packages provide all-around hiking experiences of Yosemite on wonderful outdoor vacations.
DAY HIKE TOURS: maximize your day in Yosemite on a fully guided, award-winning hiking tour on one of the Park's best trails.