Visiting Yosemite in October
Learn what to expect when visiting Yosemite National Park in October
Updated: 10/27/22
October in Yosemite is beautiful, with its warm, classically fall days and chilly evenings. There are many benefits to visiting in October and some drawbacks. Below, we have categorized the most common "when to go" questions to help you determine if October is the best time for you to visit Yosemite National Park.
benefits of visiting in october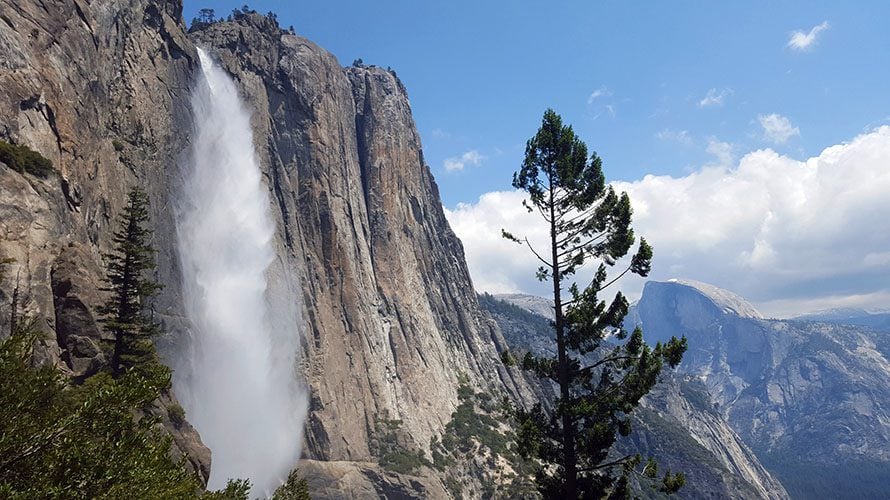 October in Yosemite is one of the best times of year to be in the park. The number of visitors has severely decreased, making crowds much more manageable. The roads will be clear of traffic and the parking lots more accessible. Another perk to visiting this time of year is that most of the trails are open, giving you hundreds of miles of trail to choose from. Tioga Road will probably still be open in October, giving you access to the park from the northern entrance as well as making hundreds more miles of hiking trails available. However, services on Tioga Road are closed in September, and there is no overnight parking after September 14th. The road to Glacier Point may or may not be open depending on the snow at higher elevations, but the strenuous hiking trails up the point will probably still be accessible.
While Yosemite is not known for its impressive fall colors since most trees are evergreen, the maples, oaks, and dogwoods put on quite a show in mid-October, especially when they are hit with the warm rays of a setting sun behind the mountain peaks. Another benefit of visiting Yosemite in October is that accommodations will be easier to find and much less expensive. The campgrounds have switched back to walk-up only, and the lodges will probably have availability even as little as a few weeks out. Anyone who has tried to plan a last-minute trip to Yosemite in the summer months knows how nice this is compared to the race to get permits and reservations during the peak season.
While the weather will be cooler and require warmer clothes during the day, many visitors enjoy the cooler weather, making hiking longer distances more enjoyable as you warm up because of the exercise. The cool days and cold nights also allow visitors to enjoy a mosquito-free park, as the bugs cannot survive in the cold. Many migratory birds are still in Yosemite this season if the weather is fair to soak up the last rays of sunshine while food is still available before journeying to warmer climates for the winter. There are many activities to enjoy in October, and the quieter roads and shorter days make for a more relaxed trip to soak up the wonders of this valley in one of the lesser-known seasons.
drawbacks of visiting in october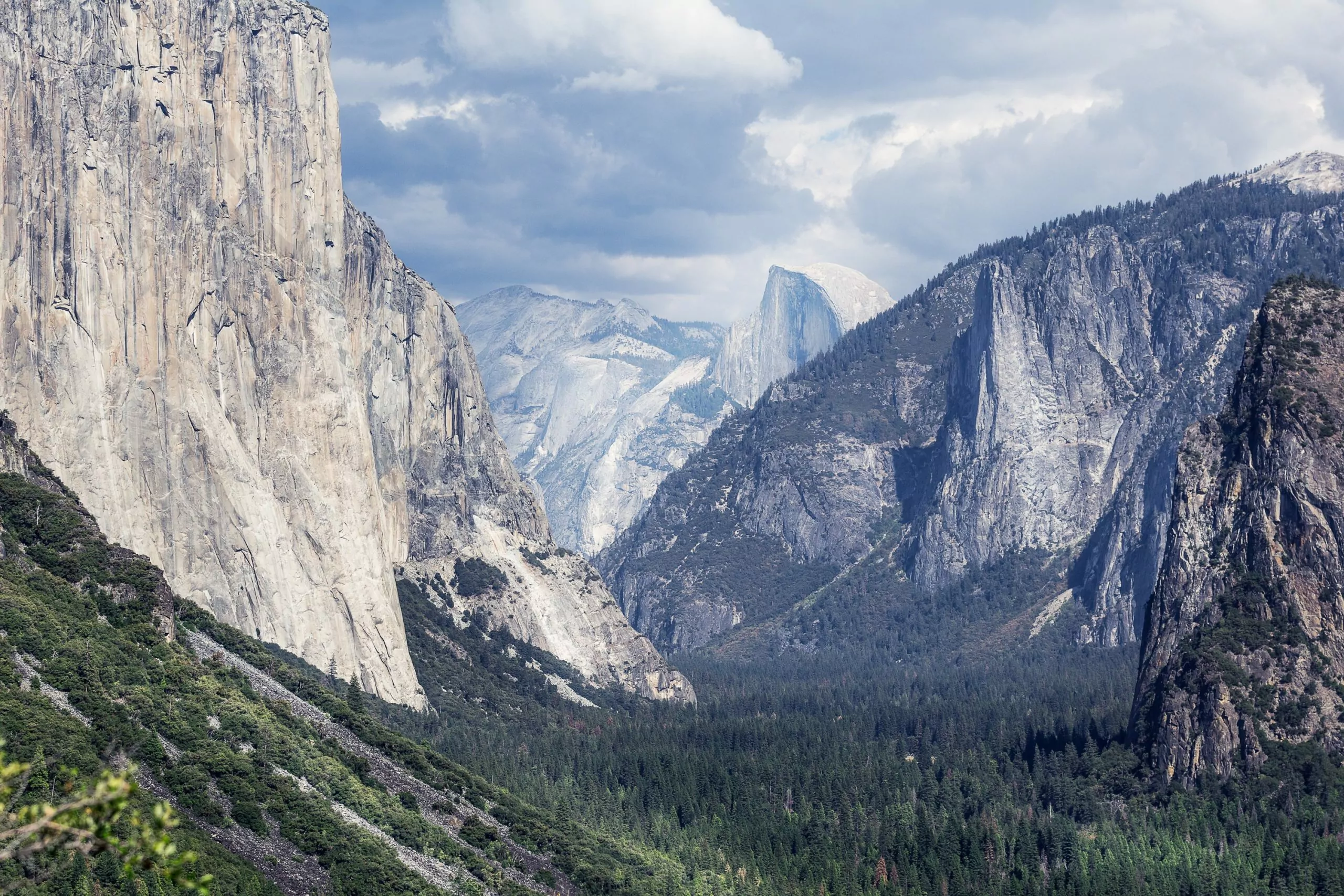 The biggest drawback to visiting in October is that the weather can be unpredictable. It could be warm and sunny or cold, cloudy, windy, and rainy. This leaves travelers in a tough spot trying to plan what activities to do and what gear to pack. Do you bring snow jackets and board games to wait out the storm inside or hiking pants and trekking poles to explore the trails while they are still free of snow until later in the year? While not nearly as risky as traveling later in the season when you might be snowed out– or in– as when visiting the park in November, there is still a chance for adverse weather that visitors must be prepared for.
Waterfalls will be very low this time of year as the summers are usually dry. Any snow that has fallen at higher elevations will begin building the snowpack and probably not melt until the following spring. Yosemite Falls and some of the other falls in the park might dry up completely, and while Vernal and Nevada Falls flow all year, they will be significantly smaller than you might remember from a spring or summer trip. Some of the wildlife will also be retreating for the winter as bears retreat to their winter dens for hibernation.
things to do in october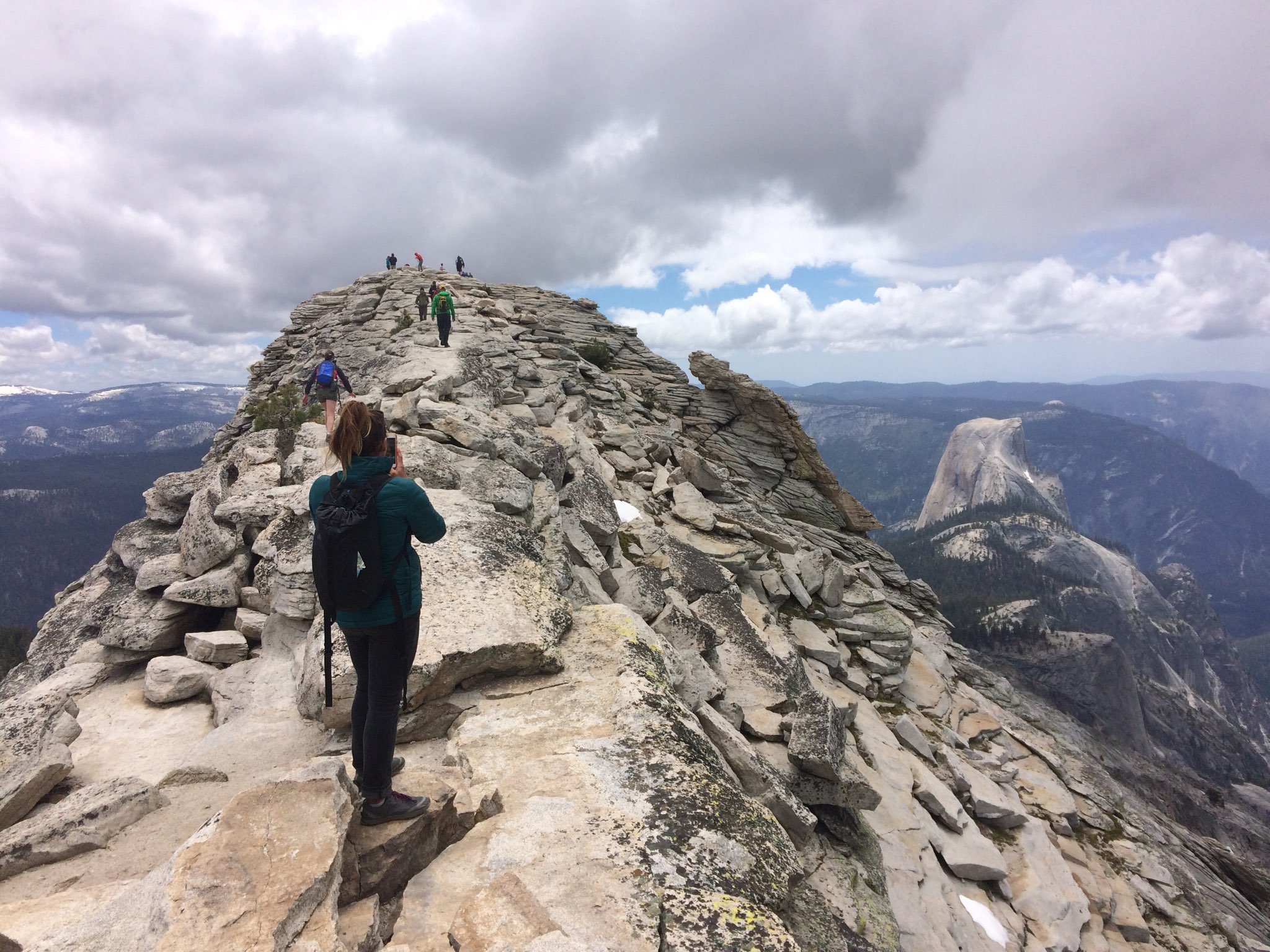 There is a lot to do in Yosemite in October. Most of the trails are still open, so you should be able to climb to higher elevations if there hasn't been early snow for an incredible and panoramic vantage point of the Valley and high country. Day hiking is a great option if you want to experience Yosemite's backcountry in a day. With the crowds thinner than in summer, you will have some of the trails much to yourself and can even do some of the more popular hikes like Vernal and Nevada Falls without having to fight the crowds.
If there is snow at higher elevations, there are fantastic options in Mariposa Grove, Hetch Hetchy, and Wawona that will also be free of snow and crowds. During some years, many hikes are limited due to snow; adventurous options are always available, including guided, all-inclusive hikes that allow you to enjoy the area and not worry about logistics or the current weather.
Backpacking is a great option if you have multiple days in the park and want to sleep in the backcountry among the granite, pines, and stars. While planning a backpacking trip can be tricky in the high country due to snow, there are options in Wawona and Hetch Hetchy that are more likely to be snow free this time of year. Biking in the Valley is a great way to cruise through the valley and sightsee, with 12 miles of paved and flat bike trail. Winter sports such as skiing and snowshoeing don't typically open in the Badger Pass area until mid-December.
If sports aren't your thing and you want a quieter visit to the park, there are plenty of options. Bus tours of the Valley and Glacier Point Road offer many different road tours in the park through October and are designed to show you the park's incredible scenery while you relax with a cup of hot cocoa from the warmth of a heated bus.
Yosemite Village is a charming little town with some shops, eateries, and museums that won't be swarmed with visitors like it is in the summer. Visiting the Ansel Adams Gallery or the Yosemite Museum, both by the Yosemite Valley Visitor Center, are great options if you'd like a slower but still culturally enriching experience. The gallery always has exhibits up and puts on free photography walks, while the museum has rotating historical exhibits about Yosemite and the surrounding region.
Photography is a popular activity, and autumn gives the park a feel of warm colors and deserted roads that doesn't happen any other time of year. The wildlife still out and about getting ready for the colder season are wonderful subjects and much more likely to stay in one place for you without crowds scaring them away. While the waterfalls will be low, and some of them may have stopped flowing altogether, the deciduous trees in the park that drop their leaves in the fall are beautiful in October and will make your pictures stand out among the millions of photos of this area.
Things to see in october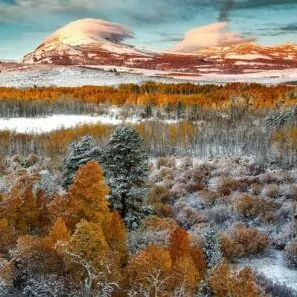 October truly has some amazing sights to see, but they are not all the typical ones from the other months of the year. Fall is the only season in the park where the waterfalls are not one of the biggest draws for sightseeing (despite still being impressive), but other park features are just as fantastic to witness. Here is a list not to miss in the fall, but do your research and see what piques your interest.
Tunnel View: Perhaps the most famous overlook anywhere in the park, the tunnel view is not to be missed, no matter how many times you've seen it. With the entire valley laid out before you like a map with views of Half Dome, El Capitan, and Bridalveils Falls, it's amazing that this view is right off the side of the road leading into the valley from the park's main entrance. Make sure to catch the view at sunrise or sunset, as the warmer color will light up El Capitan with an orange glow and perhaps illuminate the fall colors in the valley to be even warmer in yellows and reds.
Fall Colors: While the park is not known for its fantastic fall colors, as many of the pines and other native trees are evergreen, Yosemite still boasts some brilliant warm colors that are worth trying to see. Clear, dry, and cool but not freezing conditions are best for the leaves to turn their magnificent hues, and October is usually the best fall month to see them. Dogwoods and oaks turn red and golden brown. They can be seen in the valley near Happy Isles while quaking aspens that thrive at higher elevations will turn bright yellow and can be seen along Tioga Road near Tuolumne Grove trailhead and the Yosemite Creek picnic area.
Mariposa Grove: Even if there is some snow in October, Mariposa Grove should still be snow free, and even if it isn't, you can hike from the parking lot to the grove of giant sequoias. However, the shuttle to the grove should still be running this time of year and is an excellent way to save your energy for hiking in the grove of massive trees hundreds of years old.
Wildlife: Wildlife is still active in the park this time of year, just not at spring and summer levels. Depending on the weather, migratory birds are soon on their way to warmer climates, but many resident animals are a treat to see. The river is a good place to start, as water levels are low, and more animals will come to the Merced to drink or make their seasonal homes, such as mule deer, otters, and minks. Lucky visitors might spot one of the herds of big horn sheep that also call the park home.
Hetch Hetchy: As home to one of the longest hiking seasons in the park, sitting at only 3,900 ft, Hetch Hetchy is a must-see for those wanting to go day hiking and see the sights. This valley, which was once rather similar to Yosemite Valley, was dammed in 1913 to provide water for the 2.5 million residents in the San Francisco area. But the reservoir and valley are still great destinations for hiking, fishing, and general sight seeing in October as well as getting to see some of the fall colors in reds, golden yellows, and light browns.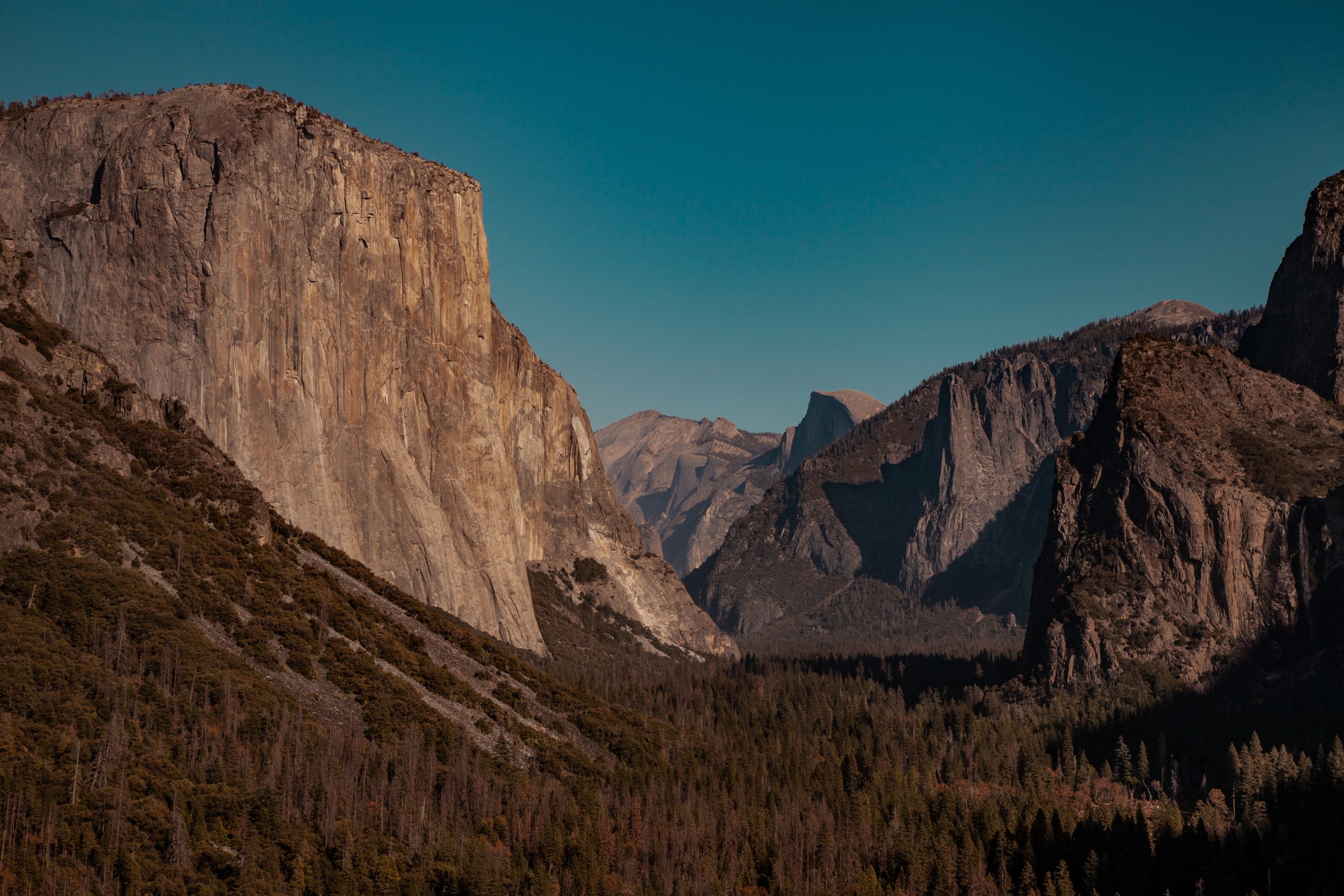 hiking in october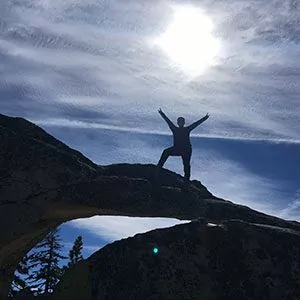 The hiking in Yosemite is world-class, and it is ideal in October since most of the trails are still open, and the weather is usually warm during the day. The park has over 800 miles of hiking trails which may lead to waterfalls, alpine lakes, or granite peaks. Trails vary in distance and difficulty, so there is something for all ages and levels of experience. Each area of the park has easy to strenuous trails, so you are guaranteed to find a trail that will spark your interest. You can read about the best hiking trails in Yosemite, and NPS' list of trails here.
Day hiking in October is almost always an option because even if there is snow at higher elevations, the Valley, Wawona, and Hetch Hetchy should all be clear for you to hike without the use of snowshoes. Whether the trails at higher elevations are accessible is impossible to know until close to your trip, and even if it snows just before your visit, the weather might swing to be warm enough during the day to melt the snow and make the trails accessible again. Keep in mind, however, that if this does happen, it can make the trail wet and muddy, with somewhat treacherous conditions.
The cables on the famous Half Dome hike usually come down the day after Columbus Day (which is the second Monday in October), so you still have the opportunity to get permits and hike Half Dome this month. However, visitors should not attempt the hike if there are wet conditions or if it is threatening to rain, as this is when most accidents happen on the cables. If you do decide to try to trek Half Dome in October, there may be fewer crowds, and getting a permit may be less difficult, but the unpredictable weather causes your hike to be at risk of getting canceled altogether.
Many other hikes are excellent in the fall. If Tioga Road is still open to private vehicles (even with snow chain restrictions), there are some excellent day hiking options there that will also give you a glimpse of some fall colors as well as many walking trails in the valley that boast everything from strenuous hikes to easy flat, paved trails. While the conditions in October are not nearly as unpredictable as they are later in fall, there is still a chance of early snowstorms or heavy rain.
backpacking in October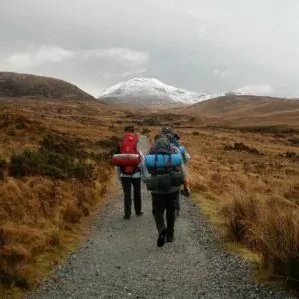 October is on the brink of the end of the backpacking season, and sometimes it teeters right off as it is a weather-permitting activity. Much of the high country above 8,000 feet will probably have snow and be impossible to traverse without expertise and equipment. This leaves you with options in and around the valley at lower elevations. Either way, backpacking does require a wilderness permit. You can still hike the north rim of the valley or up to Glacier Point, as these will probably still be available this time of year and can give you a chance to get into the backcountry without leaving the valley too far behind.
Backpackers should abide by the same general rule as day hikers: be prepared for the worst weather you might encounter. While a snowstorm in Hetch Hetchy or Wawona in October is rare, it is not impossible, so backpackers should bring four-season tents and be prepared to make an early exit off the trail if need be. Generally, however, the weather is warm during the day and chilly at night, and hikers might appreciate the coolers days on long hikes with heavy packs. Just bring a warm sleeping bag and down jacket for the evening as well as a good outer layer to be able to wear over your down in case of precipitation as your down won't hold warmth when wet.
Read the best trails for backpacking to decide which trip is best for you in this season. Of course, many of the campgrounds in the valley remain open all year and are available to camp in backpacking style if you only want to bring fall weather gear and be close enough to the lodge to run inside if the weather turns bad. The backcountry ski huts won't be open until winter is in full swing, so backcountry hikers don't have access to these accommodations.
weather in october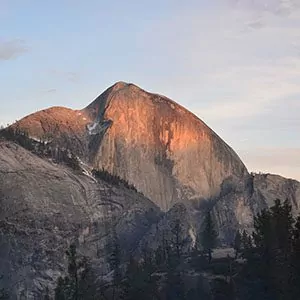 Yosemite is a large park with elevations ranging from 4,000 to over 10,000 ft. Meaning the weather varies drastically between locations and elevations. As it is moving toward winter, Yosemite in October can be unpredictable, either being warm and sunny or cold and overcast. There are few ways to know which way the weather will swing, and it is possible that it will oscillate back and forth between these two for the entire month. Generally, the average temperature in Yosemite Valley is a high of 71 and a low of 42 degrees Fahrenheit (22/ 6 degrees Celsius). At 8,000 feet, the average temperature in Tuolumne Meadows is a high of 56 and a low of 25 degrees Fahrenheit (13/ -4 degrees Celsius). On average, there are three days of rain in October. The mornings and evenings will be cooler than midday, so try to plan your activities during the early afternoon as long as you are sure you can finish them before nightfall, as the days in October are growing shorter with each day moving toward winter.
The unpredictable nature of October's weather leaves visitors in a tough spot as they try to pack and plan. Do you bring the snow gear just in case, or only the hiking boots and trekking poles for regular day hiking? While winter has not arrived in the park in most years, there are occasionally snow chain requirements in October, and guests would be wise to throw the chains in the car just in case, especially if they are planning on driving on Tioga Road. Visitors should be prepared to handle the worst weather they might encounter.
Wildlife in october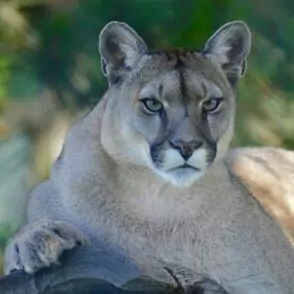 October is a great time to view wildlife in Yosemite, even though they are not as active as they are in the spring and summer. The iconic Yosemite black bears might still be out and about if the weather is fair, but many retreat to their winter dens as early as October. Reptiles and amphibians have either gone into hibernation or moved on for the colder months, but many other animals are still roaming about. Visitors will likely see many species of birds, from tiny songbirds like the mountain chickadee to the population of great gray owls that drift silently over the treetops. Rodents are abundant, and more unusual ones, such as marmots and pikas (if you get high enough in elevation), can be seen among the many common squirrels and chipmunks. A few herds of big horn sheep call the park home, but these are difficult to pick out as their coats are gray against the gray granite they inhabit.
With the bears mostly gone for the winter, you are more likely to see coyotes scavenging around the campgrounds or hunting for rodents. These smaller relatives of wolves prefer solitary hunting and aren't big enough to go after bigger game like their pack-hunting cousins. Bobcats and mountain lions are also present but shy and aren't often seen by visitors as they tend to stay up in the high country. Fishers, porcupines, and weasels also call the park home but keep their distance from people and commotion.
One of the reasons that October is a good time to see some of these animals is because there are fewer crowds to scare them off. If there is snow in the high country, some of the shyer animals might come into the valley for warmer temperatures and more food. You are much more likely to have a section of river to yourself to watch for otters or for a bend in the trail to be clear of loud, noisy groups to scare off the mule deer you are observing. If you've come to Yosemite specifically to see wildlife, ask a ranger about the best places to find the animals you want to see and what has been seen lately on remote cameras.
Recommended wildland trips in october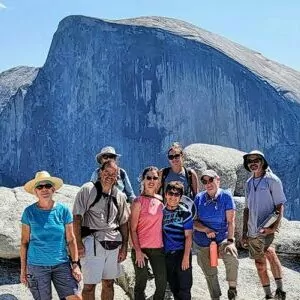 Planning a trip to Yosemite in October can be overwhelming as you try to keep up with the weather, current conditions, and road closures that could impact your trip. But you can bypass all the headaches by booking a trip with Wildland Trekking and going with one of our expert guides, who will show you around and take care of all the pesky logistics. All of our trips are all-inclusive, so you don't have to worry about lodging, meals, itineraries, or anything else besides having fun. We put on a variety of trips, from full-blown backpacking in the high country to camping at a base camp or staying in hotels. Feel free to explore all the trips we offer in Yosemite in October, but here are a few we picked out, especially for this month.
Grand Canyon of Tuolumne: If you want to be adventurous and make a backpacking trip in October in Yosemite, this is the trip for you. This 5-day through hike, beginning in Tuolumne Meadows and ending at Camp 32 in the White Wolf area miles down the canyon, travels through the deepest gorge in the park and will take you past some of the most stunning scenery. While this trip also runs in early summer, it is ideal for October as fewer people are on the trail, and the fall colors are gorgeous.
Yosemite Valley Basecamp Tour: Want to camp in Yosemite but stay in the valley where you'll be sure to have hot showers and access to services? This 4-day camping and hiking experience will allow you to enjoy Yosemite at one of its finest seasons. With fewer crowds in the campground and cool evenings by the fire to relax after a full day of hiking, this trip is a must for that perfect balance between rustic and relaxing.
Best of Yosemite Inn-Based Tour: Choose a luxurious but alpine-style stay while still getting to experience the hiking and sights that Yosemite has to offer. On this 5-day tour, you'll stay in a cozy lodge with wonderful meals after long days of exploring the park. The trip includes a variety of popular hikes and lesser-known gems so that you get the full taste of what Yosemite has to offer and can come back to a warm bed and comfortable room in the evening to look over the day's pictures or relax with a cup of tea or hot cocoa.
JOIN A GUIDED HIKING ADVENTURE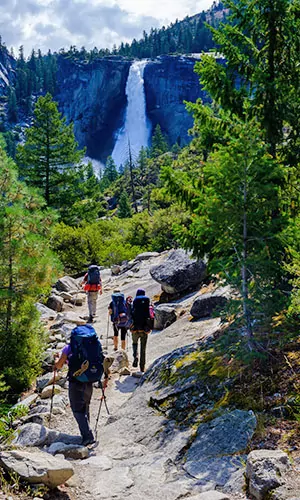 Yosemite National Park is home to some of the world's most epic and fantastic hiking vacations. Wildland Trekking offers trips with the best of Yosemite: waterfalls, views, wildlife, solitude, adventure, and fascinating natural and cultural interpretation.
Guided Yosemite treks are all-inclusive, which covers permits; local transportation (excluded on specific tours); meals; equipment; safety systems, and professional hiking/wilderness guides; all of which allow visitors to maximize their time in Yosemite and focus entirely on enjoying the Park.
YOSEMITE ADVENTURE TOURS
GUIDED BACKPACKING ADVENTURES: these are for people interested in an authentic Yosemite hiking adventure away from the roads and crowds.
PORTERED TRIPS: on these innovative trips, guests hike with light day packs and camp near stunning backcountry locations.
INN-BASED PACKAGES: these tours are all-inclusive packages with lodging, amazing daily hikes, expert guides, meals, transportation, and more!
CAMPING-BASED HIKING PACKAGES: camping-based hiking packages provide all-around hiking experiences of Yosemite on wonderful outdoor vacations.
DAY HIKE TOURS: maximize your day in Yosemite on a fully guided, award-winning hiking tour on one of the Park's best trails.