Visiting Yosemite in September
Learn what to expect when visiting Yosemite National Park in September
Updated: 10/27/22
September in Yosemite is warm and dry, and is the close of the beautiful, but busy summer season. There are many benefits to visiting in September, as well as some drawbacks. Below, we have categorized the most common "when to go" questions to help you determine if September is the best time for you to visit Yosemite National Park.
benefits of visiting in september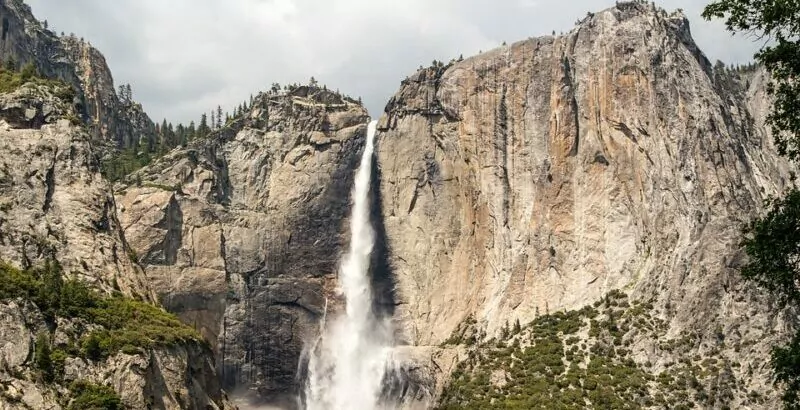 September in Yosemite a wonderful time of year to visit the park. Wildlife is out and about, enjoying the last of the warm weather, and the park is alive with flora and fauna. You'll have a fairly good chance of getting to see the iconic American black bear along with mule deer lounging the meadows full of long grass and late blooming wildflowers. Another perk to visiting this time of year is all of the trails are open, giving you hundreds and hundreds of miles of trail to choose from. Day hiking is one of the most popular activities and the weather in September is ideal as the heat of summer begins to wane but it is still warm enough to prevent the risk of snow as well as take a dip in an alpine lake the cool off. The cables are still up on the famous Half Dome hike and there are many other– often less strenuous–options for day hiking that bring you to breathtaking overlooks and alpine lakes. Tioga Road and Glacier Point road will be open, not only giving visitors access to hundred of miles of trail but also another entrance into the park through Tioga Pass and Lee Vining. With all the roads and trails open, visitors are free to explore the famous and popular sections of the park or travel into the lesser known areas, often inaccessible later because of snow, and attempt to get away from the crowds. September is truly a time where you can visit Yosemite and not worry about the weather when you are planning and packing.
Backpacking in September is also ideal since the snow has melted from the high country and you can experience the best of the backcountry on multi-night trips without having to haul around all your winter gear just in case or have expertise to navigate snow fields. September is a great time for new backpackers to plan a trip around the valley to get their feet wet in the backpacking world. Backpacking also has the perk of getting away from the tourists in the valley, although you will by no means have the trail to yourself even in the backcountry. Water sports are still active this time of year as well as Yosemite's summer warmth always spills into September, although not nearly at July or August levels.
drawbacks of visiting in september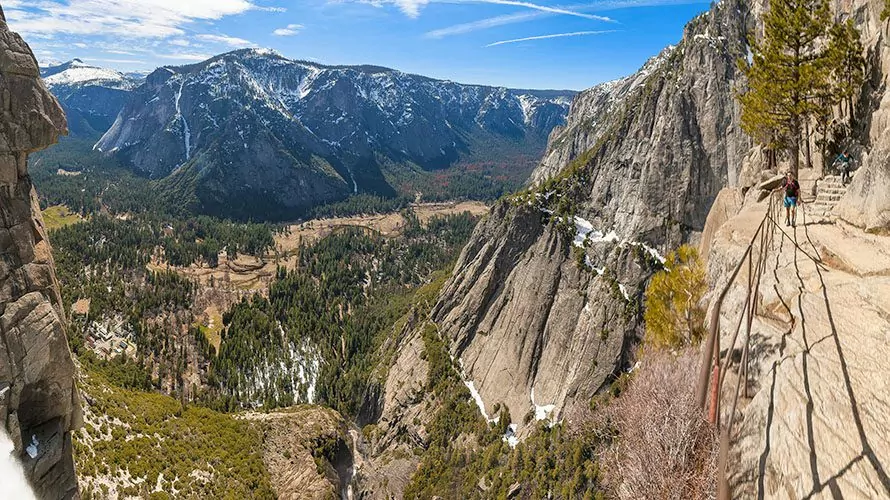 Although not as busy as the earlier summer months, there is still a crowd in September. This means long lines for shuttle buses, difficulty obtaining permits, and expensive peak season accommodation rates. Lines of traffic can build up both at the entrance to the park and in the valley, especially if an unexpected event occurs such as a bear on the side of the road or a car accident. There is pretty much only one road in the valley, so when it becomes busy there is no other alternative to turn off on. These kinds of events can back traffic up for hours. However, despite the large crowds and difficulty getting permits and reservations, it's not impossible to plan an enjoyable trip to Yosemite in September. Make sure to plan your trip far in advance and to remain flexible about activities and schedules. To avoid the stress of getting permits and to get off the beaten path, we recommend going with a guiding company.
Another downside to Yosemite in September is that waterfalls will not be gushing as you always see in the pictures. The snow from the previous winter will be all but melted and with Yosemite's typically dry summers, there will not be very much water to tumble over the cliffs in late summer. Some of the falls, such as Yosemite Falls, usually dry up altogether, although not usually until late September. While other falls such as Vernal and Nevada Falls flow all year, they will be reduced to a trickle. Well, not like a trickle out of the kitchen faucet, but they will be significantly smaller than you might remember from a trip in spring or earlier in the summer. The bugs will also still be buzzing about in September obliging visitors to put bug spray on top of their sunscreen to avoid getting mosquito bites. The accommodation rates this time of year will also be very high if you can find anywhere to stay all as many accommodations in Yosemite in peak season book up 6 months in advance or more.
Overall, however, September is ideal for visiting Yosemite except that everyone else also knows it's ideal which makes the park crowded. If you have a low tolerance for crowds, but the only time you can visit the park is in the summer, there are ways to still enjoy your time in the park. Listed below are the best ways for escaping the crowds in the summer:
Get an early start: the earlier you rise, the more of the park you have to yourself before the crowds arrive.
Go on a hike: the further you go on a trail, the more the crowds thin out.
Plan ahead: the earlier you make reservations, the more likely you are to get the permits that you want.
Go on a picnic: try to avoid the crowded eateries at lunchtime, instead gather supplies from the general store and enjoy a picnic at one of the many overlooks in the park.
things to do in september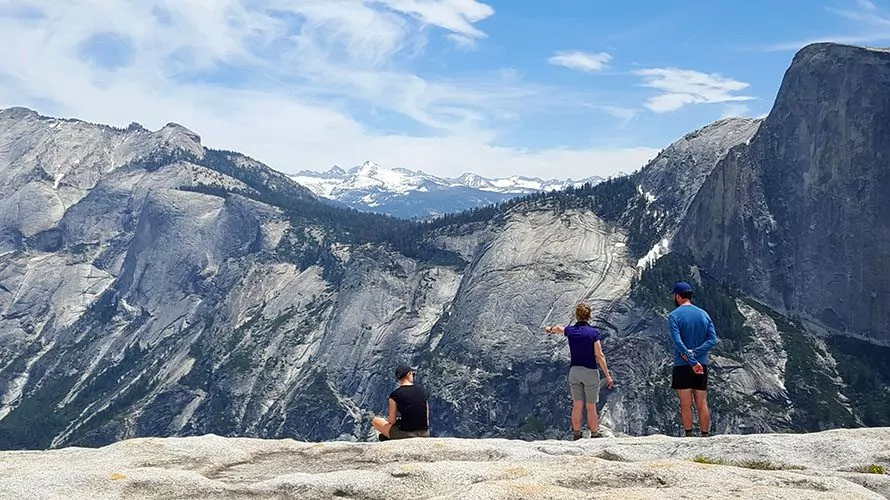 There is a ton to do in Yosemite in September. All of the trails are open, so you are able to climb to higher elevations for a incredible and panoramic vantage point of the Valley and high country. Day hiking is a great option if you want to experience Yosemite's backcountry in a day. The cables are up on Half Dome and while this hike is strenuous and requires permits, it is well worth the trek that brings you to the peak of one of the park's most famous summits for a fantastic view of the entire valley. If you're looking for something shorter or didn't manage to get a permit for Half Dome, the Four Mile trail up to Glacier point is another strenuous hike that brings you to a fantastic overlook and North Dome is a lesser known option that will probably be less busy and also boasts a natural rock arch off a short detour from the main trail. Backpacking is also an extraordinary option if you have multiple days in the park and want to sleep in the backcountry among the granite, pines, and stars. All the trails are open and accessible, so you can take your pick of where you want to go and what you want to see.
You can also enjoy a Yosemite camping trip in September and soak up the magic of the outdoors with many conveniences of not being in the backcountry. There are many campgrounds in the valley, but make sure to reserve them far in advance to get a site. There is also biking in the Valley, with 12 miles of paved and flat bike trail which provide a great alternative to driving if you are planning on staying around the valley. Not only will you get to experience Yosemite from the open air of a bike, but you can also bypass those long lines of traffic on the roads. Whitewater rafting is available just outside the park in September and is a popular options as well as still water rafting, also known as floating. You can rent floats at Curry Village and take your time drifting down the calm Merced River. There is also horseback riding, fishing, and wildlife viewing that all afford visitors chances to see the park from a different perspective.
If the action and adventure activities aren't you're thing, Yosemite still have some great options such as bus tours that will take visitors around the Valley and Glacier Point Road on many different roads throughout the park through the month of September. Yosemite Village, while it will be busy this time of year, is a great little area to explore with shops and eateries. The Ansel Adams Gallery, which is near the visitor center, offers photography workshops and free camera walks, and the Yosemite Museum is another great option as it features seasonal historical exhibits about Yosemite and the surrounding region. Of course, photography is extremely popular in the park as you can hardly take a bad picture surrounded by all the beauty of nature. Set up a photo scavenger hunt where you collect as many pictures as you can of one thing or just snap photos as memories all around the park. There is a plethora of things to explore around Yosemite in September, so take you pick and get out there to start exploring.
Things to see in September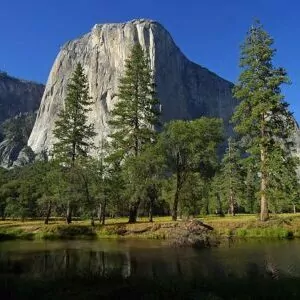 There are almost as many things to see as there are to do in Yosemite in September and the choice is up to you of what piques your interest around the park. Here are two lists, one of the famous and crowded sights that some would like to visit, and the other of the lesser known but no less impressive sights for those who want to try to escape the crowds. Neither list is exhaustive so make sure to do your own research on what you would like to see in the park.
Classic– but crowded– options
Glacier Point: Spectacular views are to be had at this overlook of the northern half of the valley with Half Dome as the focal point instead of El Capitan at the Tunnel View. If you drive this road the same day or after you visit the Mist Trail, the thunderingly large waterfalls you saw yesterday are silent and small from this high up, giving you some real scale of how high you are and how vast the valley really is. This is the end of Glacier Point Road which many drive to see the sights along the way, so be prepared for lots of crowds and maybe trouble finding a parking place.
Tunnel View: This pull out on the main road into the valley is not to be passed without a stop even if you've seen it before. Perhaps the most photographed spot in the entire park, the tunnel view gives you a view from the southern end of the valley with El Capitan and Bridalveil falls in the foreground and Half Dome rising up in the distance. If you catch this spot at sunrise there will be less crowds and the warm light will give an entirely new perspective on this overlook in the same way it does at sunset (except with more crowds).
Granite Monoliths: Half Dome and El Capitan; these massive pieces of granite are not to be missed, but don't worry– you literally can't miss them. The outstanding features of the park besides the thundering waterfalls, these monoliths are worth more than a glance out the car window. Get up close or even to the base of these huge stones and try to get some perspective on how large they really are. You can also grab some binoculars and try to see rock climbers clinging to the rock's face. They look like ants on these massive monoliths.
ROAD LESS TRAVELED OPTIONS
Taft Point: Taft Point is only a short walk from a bus stop one away from Glacier Point, but not many visitors go to it because of the short trek and because it is overshadowed by the fame of Glacier Point. This overlook requires a short hike, but the view of absolutely worth it. Away from the crowds at Glacier Point which looks east, Taft Point looks north as you stand on the top of the cliff straight across the valley from El Capitan. Besides the fewer crowds, Taft Point allows brave visitors to get the iconic pictures at the edge of a 3,000 ft cliff that plummets to the valley floor. Many guests choose to peer over while lying on their bellies.
Hetch Hetchy: This valley once very much resembled Yosemite valley with its deep gorge and waterfalls, but was dammed to provide drinking water to millions in the San Francisco Bay area in the early 1900s. However, this doesn't mean that a visit to Hetch Hetcy is pointless. The reservoir and the valley are still stunningly beautiful with lots of hiking, fishing, and wildlife viewing to enjoy. Because it's outside the valley by about an hour's drive, it doesn't receive nearly as many visitors.
Cloud's Rest: Around 1,000 feet higher than Half Dome, Cloud's Rest is anything but a restful hike, but is well worth the trek. Providing a nearly identical views as Half Dome as well as great views of Half Dome itself, this trek is a little know gem that can be accessed from Tioga Road. Just around 14.5 miles roundtrip, Cloud's Rest is peaceful and doesn't require permits unlike the crowded Half Dome.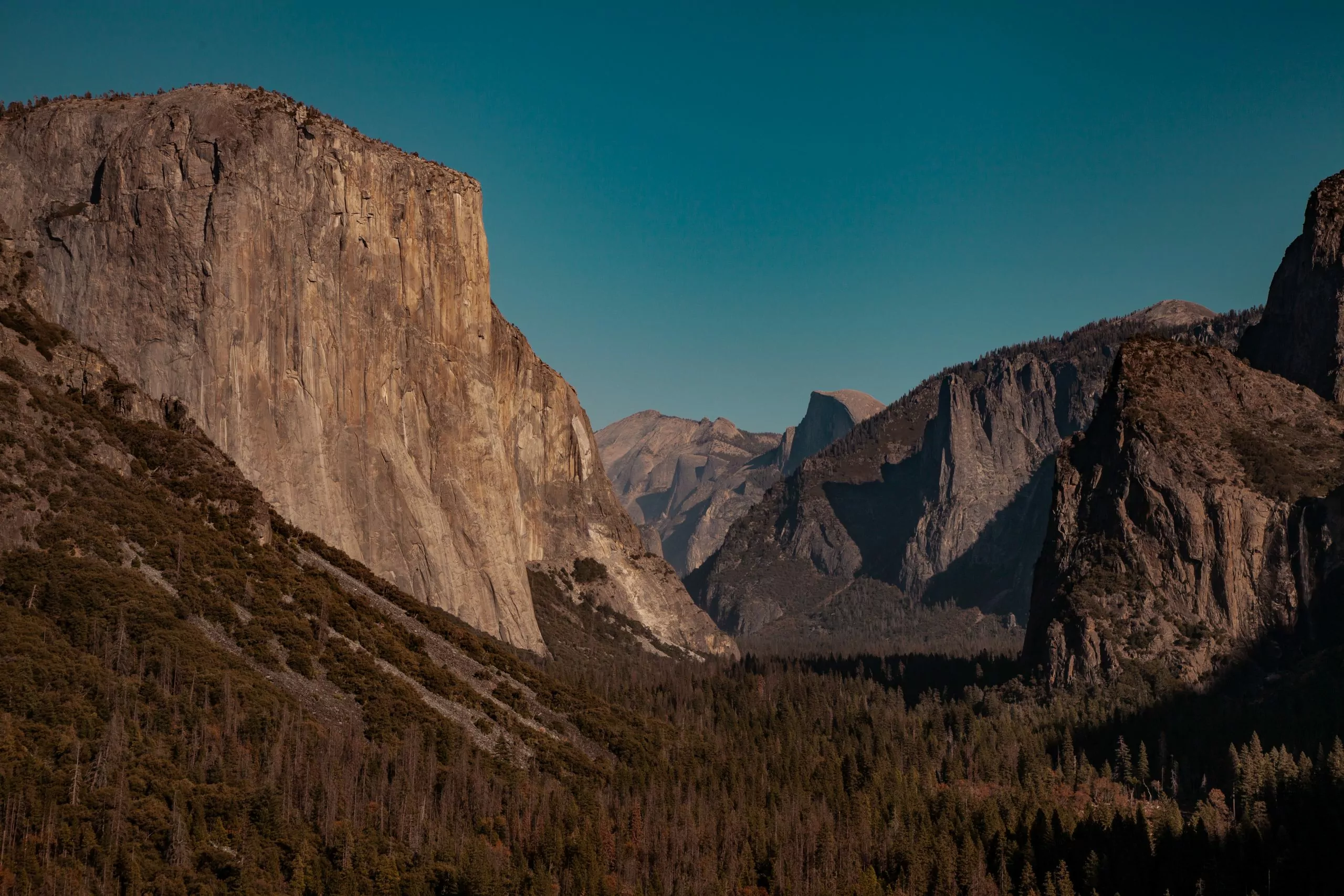 hiking in september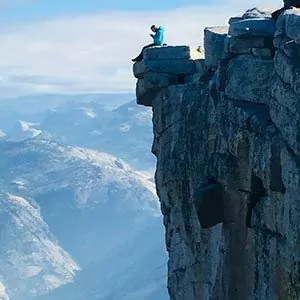 The hiking in Yosemite is world-class and it is ideal in September since most of the trails are open and the weather is near-perfect. The park has over 800 miles of hiking trails, and many lead to waterfalls, alpine lakes, and granite peaks. Trails vary in distance and difficulty, so there is something for all ages and levels of experience. Each area of the park has easy to strenuous trails, so you are guaranteed to find a trail that will spark your interest. You can read about the best hiking trails in Yosemite, and NPS' list of trails here.
The iconic Half Dome day hike is much sought after by many visitors and requires permits to limit crowds. The hike is very strenuous takes most people around 12 hours to complete coming in around 14 miles at least. Both Cloud's Rest and North Dome are alternatives to Half Dome. They are both still strenuous but are accessed from the Tuolumne Meadows area and don't require permits as they are much less busy. North Dome even boasts a natural stone arch with only a short detour onto an adjacent trail. For those looking for something on the easier side, Mirror Lake Trail as well as Bridalveil Falls are short and relatively flat options in the valley, but if you are wanting to stay on a flat trail while getting away from the crowds, try Lyell Canyon. Accessed from Tuolumne Meadows, this canyon merges with the famous John Muir Trail and leads away from the valley toward Donohue Pass which is the border between Yosemite National Park and the Ansel Adams Wilderness. This stunning canyon with its slow moving river, meadows of long grass, and waterfall streaked cliffs is little known to anyone besides backpackers and is a certainly sight to behold. You can hike all the way to the end of the canyon which is about eight miles roundtrip or turn around anywhere you'd like and head back toward the car.
It's important to keep in mind that Yosemite is in the mountains and the weather can change quickly, especially regarding afternoon thunderstorms at higher elevation. Remember to bring and drink plenty of water while you are on the trail and to use common sense, like not going off trail and not swimming in a pool above a waterfall. Some guests from humid areas will find the dry mountain air to feel hotter than it really is and may experience allergy like symptoms as well as cracking skin on their hands and feet. This is normal, but guests should bring extra water if they are getting dehydrated.
Backpacking in September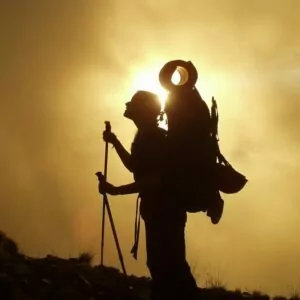 Backpacking is spectacular in September, but does require a wilderness permit. With the weather being warm during the day and chilly at night, it is ideal for camping out among the granite and the stars. Read the best trails for backpacking to decide which trip is best for you. If you're not sure which trail to take or where to start in planning your first backpacking trip, you can book a trip with one of our professional guides who will show you the ropes of backpacking before you get out there on your own.
September is the perfect month for backpacking as the snow from the last winter has melted in the backcountry and at higher elevations but you aren't in any danger of getting a snow storm from this winter quite yet. The temperatures are cooler than in July and August, but not yet cool enough to make camping at elevation uncomfortable at night if you have a good sleeping bag. Backpacking is often seen as a way to escape the crowds and immerse yourself in the wilderness, and while some of that is true, you will by no means have the trails to yourself. Everyone else also knows that September is an ideal month for backpacking so expect to see others on the trail and to share lakes with other hikers. But the community in the backcountry is like no other and most people are friendly and willing to help each other out in a pinch. The famous John Muir Trail which stretches more than 200 miles begins in Yosemite and is a very popular option because it can be done as a long through hike of about 2 months or as section hikes of as little as an extended weekend. There are also plenty of options for staying around the valley and going up to Tuolumne Meadows. You can backpack through the classic summits of Yosemite or arrange a trip to see as many of Yosemite's alpine meadows and waterfalls as you can. Many chose to do some of Yosemite classic summits like Half Dome while backpacking to avoid the long, long day hike by camping at the base of the peak and then getting to the top before any day hikers have had time to get there. This is one of the best ways to escape the crowds on Half Dome. There are also backpacking options along the rims of Yosemite valley that take visitors up and away from the crowds but still close to the valley to accommodate shorter trips.
Even though the park is moving toward fall, September is still a hot month and the mosquitos will be out. Sunscreen and sun hats are also often a good idea when backpacking to protect your skin from prolonged exposure to intense heat and sunlight. The water levels in the streams that you may have to cross on your trip should be low by this time of year and thus make it easier to find a safe crossing point. Make sure to bring a light rain jacket as well as afternoon storms can still blow in even in the warmer months.
weather in september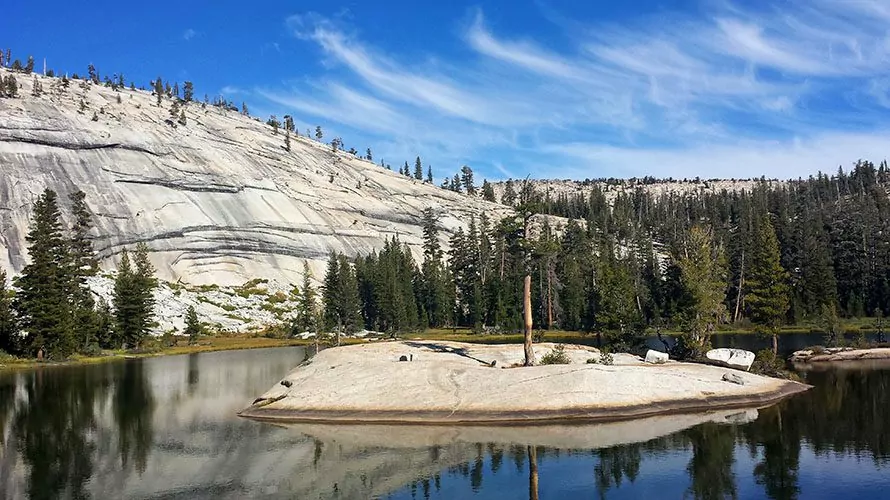 Yosemite is a large park with elevation ranging from 4,000 to over 10,000 ft. Therefore, visitors hiking in the backcountry will almost definitely have different weather than those day hiking in the valley. Always check the weather specifically where you want to go or find the closest town with the same elevation and look at its weather to get an accurate idea of what the temperature will be. Generally however, weather in Yosemite in September is usually warm and sunny, and all around beautiful. The average temperature in Yosemite Valley is a high of 82 and a low of 51 degrees Fahrenheit (28/ 11 degrees Celsius). At 8,000 feet, the average temperature in Tuolumne Meadows is a high of 65 and a low of 31 degrees Fahrenheit (18/ -1 degrees Celsius). On average, there are two days of rain in September.
While July and August are the hottest months in Yosemite, September can also be very warm and feel warmer because of the dry heat. Visitors that are used to humid climates will most likely think it feels hotter than the temperatures reads and may also have dry or cracking skin on their hands and feet. Many chose to bring lots of lotion and moisturizer to prevent this from happening as it can be painful. Guests planning on spending any time in Tuolumne Meadows, elsewhere in the high country, or are planning on doing any activities at night such as star photography would be wise to bring a jacket. The temperature can vary widely from day to night especially at higher elevation. Outside the southern entrance of the park near Bass Lake and the little town of Oakhurst, visitors should prepare for lots of heat as these areas can be hotter than in the valley. While the northern entrance through Lee Vining is at higher elevation and not as warm, it will still be dry and hot at midday.
September is still wildfire season in Yosemite. The usually dry summers coupled with the snow being melted away provides an excellent environment for lightning strike fires to burn small parts of the forest. The NPS also occasionally runs prescribed fires for the health of the forest. Both of these kinds of fires can be annoying as they may cause smoky conditions, but they should not be a health risk due to air quality. However, Yosemite also experiences larger, dangerous fires, usually started accidentally by humans through carelessness, that can burn large sections of forest and sometimes cause evacuations. It is important that every visitor does their part to understand how wildfires start and what they can do to prevent them. Follow all ranger instructions concerning a fire and if evacuation is necessary, leave the park.
Wildlife in September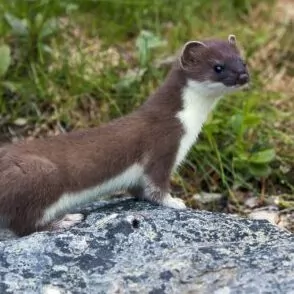 September is a fantastic time to view wildlife in Yosemite as the animals are out and about enjoying the last of the warmer months before fall sets in. September is the last month of the year that bears are guaranteed to be out as some of them retreat to their winter dens as early as October depending on the weather. These animals are often around the valley searching for scraps of food someone didn't throw away or store properly. It is important never to feed any of the wildlife for both your safety and theirs. Mule deer will also be about lounging in the meadows full of long grass between the roads. Many migratory birds will still be in the park for the warmer months and these often colorful songbirds are a treat to see. The Merced River is a great place to start if you are looking to see wildlife as the animals stay away from busy trails and village. But you are more likely to have a section of river to yourself without others unaware of your endeavors scaring off the animals. Both otters and minks lives near and in the river as well as a few species of frogs and salamanders. Keep your eyes peeled upward on the cliffs for one of Yosemite's herds of big horn sheep that call the mountains home or the a great gray owl sitting quietly at dusk in a large tree looking for a meal. Wildlife is most often out in the morning and evening, avoiding the heat of the day and the people that come with it. Although sitting beside a river when there is hiking to be had seems like a waste of time, a glimpse of an otter or weasel will not disappoint. Many other more elusive creatures also call this park home such as bobcats, mountain lions, porcupines, and red foxes that are rarely seen by visitors or even rangers and wildlife ecologists. Much of what we know about these creatures' presence is through remote cameras triggered by motion or heat. If you're interesting in seeing some of the more unusual animals or are just curious about the conservation efforts in the park, ask a ranger about the best places to see certain animals and what has been recently captured on remote cameras.
RECOMMENDED wildland trips in september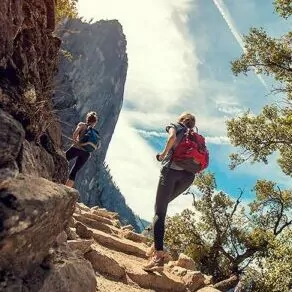 Planning a trip to Yosemite in September can be a headache. The trip itself is fun, but managing all the logistics of crowds, conditions, and accommodations can be cumbersome. You can bypass all the worries and work of planning your trip by booking a trip with Wildland Trekking and letting one of our expert guides show you around the park. We offer a variety of hiking tours and you are free to explore all the options for backpacking treks, camping trips, and inn-based tours, but here we've picked out just a few trips that we especially recommend for September.
Heart of Yosemite Backpack: Experience the best that Yosemite has to offer with this 5-day point-to-point trek from Tuolumne Meadows to Yosemite Valley. With much more moderate hiking trails and distances than some of our other backpacking trips, this is a great option if you are new to backpacking and want to take it easy or don't want to push yourself on a more strenuous trek. Hiking through deep gorges and over famous peaks, this trip is all inclusive with meals and much of your equipment included, so gear up for this adventure of a lifetime.
Wonders of Yosemite: This extended trip of 8-days is one of the most strenuous trips we offer in Yosemite but is well worth the trek. Journey into the backcountry away from the valley and the crowds to see epic mountain views, pristine alpine lakes, and solitude like you won't find anywhere else in the park. This guide's choice trip is all inclusive so enjoy much of your backcountry gear, delicious meals freshly prepared, and an expert guide to lead you through Yosemite wonders.
Yosemite Valley Basecamp Tour: So you want to go camping but also want to make sure you have a shower and access to amenities for your trip? We have something for you as well. This 4-day, all-inclusive, Yosemite valley tour is based in one the campgrounds in the valley. Enjoy days of epic hiking and seeing the sights then to come back to a comfortable camp that you don't have to set up and relax by the fire or look over the days' pictures. With the perfect balance of rustic and relaxing, this trip is not to be missed in Yosemite breathtaking valley.
JOIN A GUIDED HIKING ADVENTURE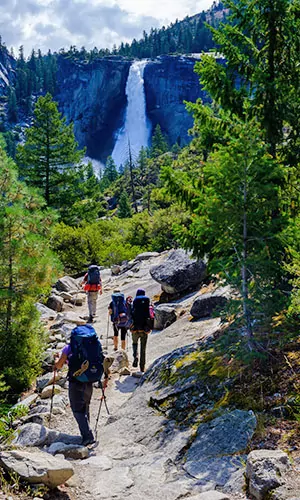 Yosemite National Park is home to some of the most epic and amazing hiking vacations in the world. Wildland Trekking offers trips with the best of Yosemite: waterfalls, views, wildlife, solitude, adventure and fascinating natural and cultural interpretation.
Guided Yosemite treks are all-inclusive which covers permits; local transportation (excluded on certain tours); meals; equipment; safety systems and professional hiking/wilderness guides; all of which allows visitors to maximize their time in Yosemite and focus entirely on enjoying the Park.
YOSEMITE ADVENTURE TOURS
GUIDED BACKPACKING ADVENTURES: these are for people interested in an authentic Yosemite hiking adventure away from the roads and crowds.
PORTERED TRIPS: on these innovative trips, guests hike with light day packs and camp near in stunning backcountry locations.
INN-BASED PACKAGES: these tours are all-inclusive packages with lodging, amazing daily hikes, expert guides, meals, transportation and more!
CAMPING-BASED HIKING PACKAGES: camping-based hiking packages provide all-around hiking experiences of Yosemite on wonderful outdoor vacations.
DAY HIKE TOURS: maximize your day in Yosemite on a fully guided, award-winning hiking tour on one of the Park's best trails.