Visiting Yosemite in May
Learn what to expect when visiting Yosemite National Park in May
Spring is in full swing in Yosemite National Park in May, making it the most lovely time to visit. The park comes to life with wildflowers, waterfalls and wildlife. There are definite benefits to visiting Yosemite in spring, but there are some drawbacks also. Below, we've broken up your most common "when to go" questions into categories to make it easy to see if May is the best time for you.
benefits of visiting in may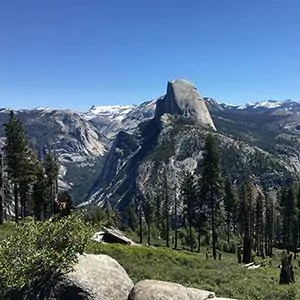 The biggest benefit of visiting in May is the awakening of the park after a long winter. By mid May, wildflowers are blooming through meadows at lower elevations. Evening primrose, western azalea and seep-spring monkeyflower are just some of the wildflowers in Yosemite. Redbud and dogwood trees also blossom in mid to late May. It is a truly beautiful and hopeful time to be in the park. Waterfalls are also rushing this time of year, as snow melts at higher elevation, their flow peaking in May. And, wildlife is out and about, excited about warmer weather and lush green land.
Another benefit of visiting Yosemite this time of year, is the roads may open in late May (depending on the amount of snowfall during the winter and the prediction of upcoming snow storms). Typically, Tioga Road and Glacier Point Road open late May to June. Mariposa Grove Road opens in April most years, so much more of the park is becoming accessible.
drawbacks of visiting in may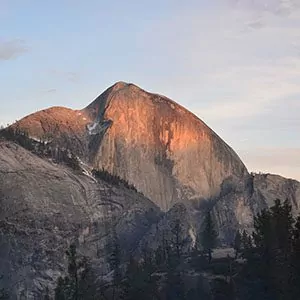 The biggest drawback to visiting Yosemite in May is that it is starting to get more crowded. While it is not as busy as it is in the peak summer season, you can definitely tell that the warm weather is drawing people in, and that school is getting out of session. Another drawback is that the weather is sometimes unpredictable, and a lot of the trails' opening dates are up in the air, depending on the weather. Make sure you stay up to date on current closures and conditions.
things to do in may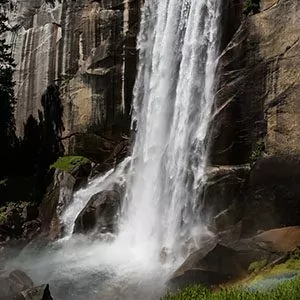 May in Yosemite in the perfect time to start chasing waterfalls. As the warmer weather begins to melt snow from higher elevations, even small creeks and streams are rushing with water. You will see many, unnamed waterfalls cascading down the Valley walls. And the big waterfalls, like Yosemite Falls and Bridalveil Falls are pouring over their cliff. There are many trails that are starting to be cleared from snow in May, making hiking to the waterfalls accessible. Be careful when hiking to these waterfalls, however, stay on the trail and never swim in the pool above a waterfall.
The roads in the Valley are cleared from snow in May, so biking through the Valley is a great option. Bikes are available for rent at Curry Village, or at the Yosemite Valley Lodge. With 12 miles of paved and flat bike paths, biking is a great way to see the Valley.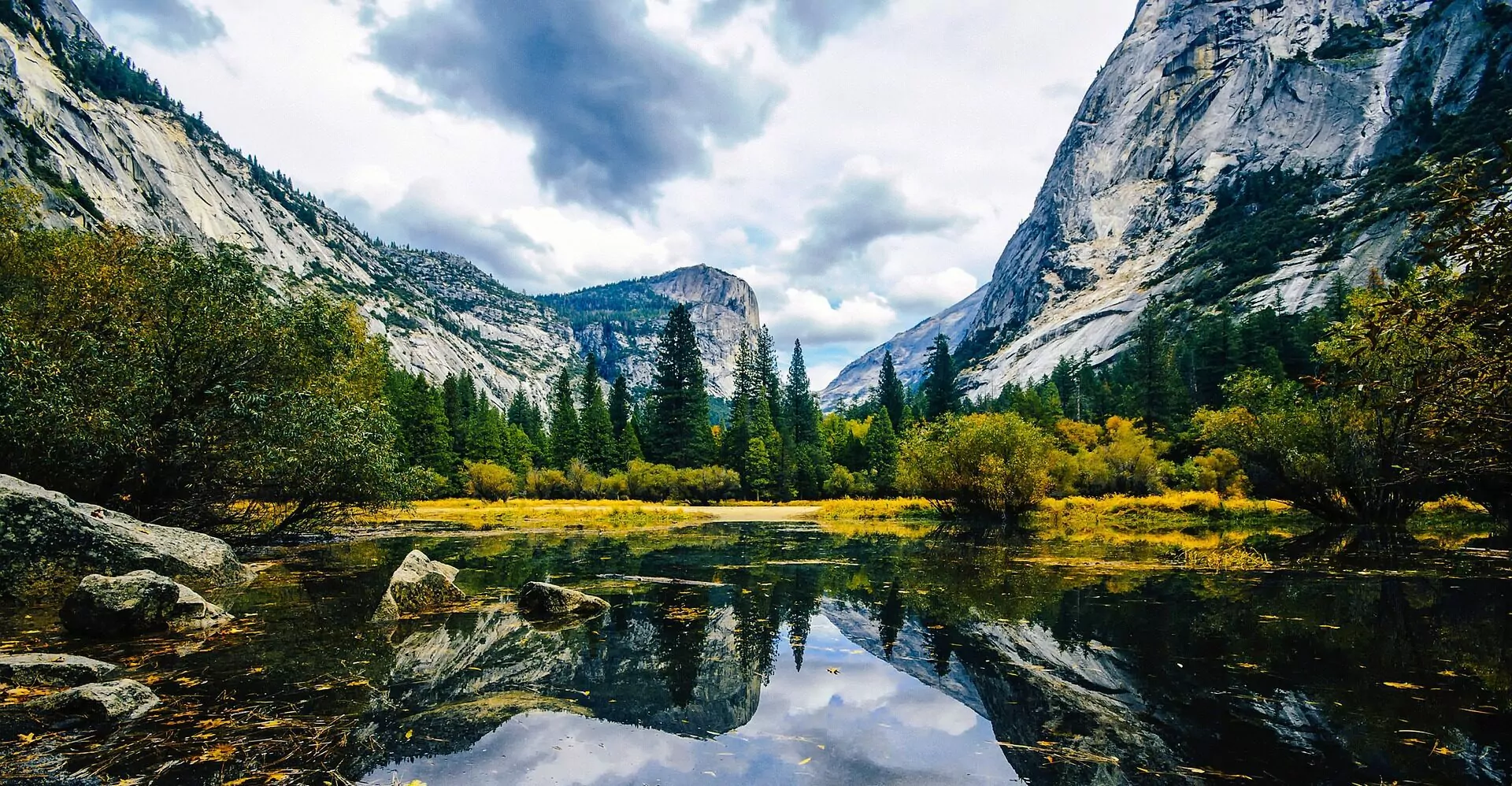 hiking in may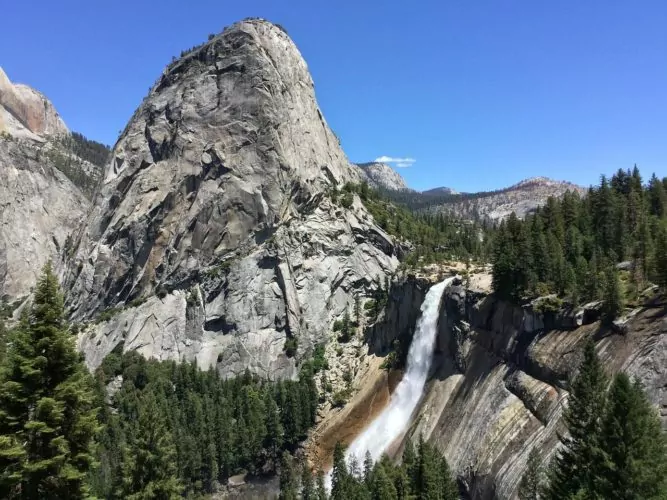 While many trails at higher are still covered in snow, or are very wet in May, trails in lower elevations may be accessible. Mirror Lake Trail and Cook's Meadow Loop in the Valley, Wapama Falls in Hetch Hetchy, and Wawona Meadow Loop in Wawona may be options for hiking trails. Trails along the northern or southern rim of the Valley are usually inaccessible. You can read NPS' current conditions to see what trails are open before heading out for the day. Backpacking in May is also limited, as the higher elevations are still snow-covered, and if you plan a trip in Wawona or Hetch Hetchy, you will be lucky to go two days out without running into significant snow.
Most years, the cables of Half Dome go up on the Friday before Memorial Day, at the end of May. Permits are required to hike Half Dome. You can read about how to get Half Dome permits here (insert link for "How To Hike Yosemite's Half Dome" page).
weather in may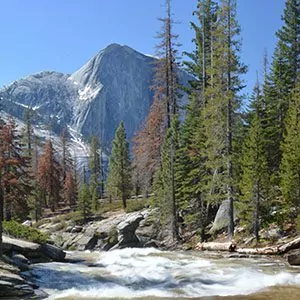 The average temperature in Yosemite Valley and Wawona in May is a high of 72 and low of 45 degrees Fahrenheit (22/ 7 degrees Celsius). If Tioga Road has opened, the average temperature of Tuolumne Meadows in May is a high of 55 and a low of 26 degrees Fahrenheit (13/ -3 degrees Celsius). On average, it rains approximately 3 days in May.
JOIN A GUIDED HIKING ADVENTURE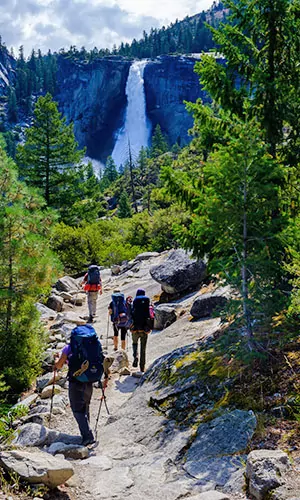 Yosemite National Park is home to some of the most epic and amazing hiking vacations in the world. Wildland Trekking offers trips with the best of Yosemite: waterfalls, views, wildlife, solitude, adventure and fascinating natural and cultural interpretation.
Guided Yosemite treks are all-inclusive which covers permits; local transportation (excluded on certain tours); meals; equipment; safety systems and professional hiking/wilderness guides; all of which allows visitors to maximize their time in Yosemite and focus entirely on enjoying the Park.
YOSEMITE ADVENTURE TOURS
GUIDED BACKPACKING ADVENTURES: these are for people interested in an authentic Yosemite hiking adventure away from the roads and crowds.
PORTERED TRIPS: on these innovative trips, guests hike with light day packs and camp near in stunning backcountry locations.
INN-BASED PACKAGES: these tours are all-inclusive packages with lodging, amazing daily hikes, expert guides, meals, transportation and more!
CAMPING-BASED HIKING PACKAGES: camping-based hiking packages provide all-around hiking experiences of Yosemite on wonderful outdoor vacations.
DAY HIKE TOURS: maximize your day in Yosemite on a fully guided, award-winning hiking tour on one of the Park's best trails.