Visiting Yosemite in May
Learn what to expect when visiting Yosemite National Park in May
Updated: 08/11/2022
Spring is in full swing in Yosemite National Park in May, making it the most lovely time to visit. The park comes to life with wildflowers, waterfalls and wildlife. There are definite benefits to visiting Yosemite in spring, but there are some drawbacks also. Below, we've broken up your most common "when to go" questions into categories to make it easy to see if May is the best time for you.
benefits of visiting in may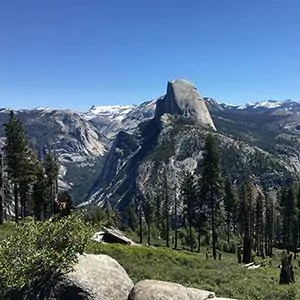 The biggest benefit of visiting in May is the awakening of the park after a long winter. By mid May, wildflowers are blooming through meadows at lower elevations. Evening primrose, western azalea and seep-spring monkeyflower are just some of the wildflowers in Yosemite. Redbud and dogwood trees also blossom in mid to late May. It is a truly beautiful and hopeful time to be in the park. Waterfalls are also rushing in May as the longer days and warmer sun melt the snowpack at higher elevations making May have the highest of water levels of the year. Wildlife is out and about during this time of year as well, excited about warmer weather and food that isn't buried under feet of snow.
Another benefit of visiting Yosemite this time of year is that many of the roads that were closed all winter will begin opening up. Of course, this all depends on snowpack and the prediction of any upcoming snowstorms. Typically, Tioga Road and Glacier Point Road open late May to June. Mariposa Grove Road opens in April most years, so much more of the park is becoming accessible, not to mention the increased number of hiking trails that will be snow free and available to trek even at higher elevations than the valley.
Another benefit to visiting in May is the weather. With highs in the mid-70s during the day, this leaves visitors with perfect hiking weather and without the blazing heat of summer. May is also less unpredictable than March or April when snow is still a very real possibility. While afternoon cells can still roll over the park in May, snow is much less likely.
Early to mid May is about the closest you will get to a visit to Yosemite with good weather and minimal crowds. While there will still be more visitors than winter or even April, May isn't as crowded as summer and this is a big bonus considering the good weather, active wildlife, rushing waterfalls, and blooming wildflowers.
drawbacks of visiting in may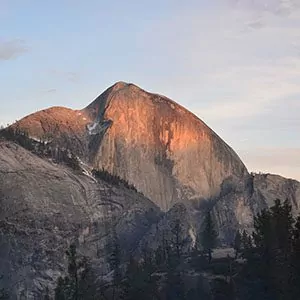 The biggest drawback to visiting Yosemite in May is that it is starting to get more crowded. While it is not as busy as it is in the peak summer season, you can definitely tell that the warm weather is drawing people in and that school is getting out of session. If you arrive after mid-morning at the entrance gate, expect delays and a line of cars also trying to get in. Another drawback is that the weather is sometimes unpredictable (it still gets cold at nigh) and the opening dates of trails are difficult to know with any advanced notice. Make sure you stay up to date on current closures and conditions.
An additional drawback of May is the difficulty in reserving accommodations. May begins the time of year where you must plan you trip months at least 6 months in advance to be able to secure accommodations. Even campgrounds fill up very quickly, having all switched to reservations for the summer instead of first-come, first-served.
While the weather is typically warmer in May, the higher elevations in the park are still blanketed in snow. Unless you are visiting in late May or there was been a very dry winter, Glacier Point Road with its iconic overlooks and plethora of hiking options will be closed. Even the Four Mile Trail, a strenuous hike to Glacier Point may still be too treacherous to have open in early May. Tioga Pass which gives access to Tuolumne Meadows as well as another entrance into the park also might still be closed. These closures can make the lower than summer crowds feel like summer levels as visitors have less options particularly on the roads that lead in and out of the park.
things to do in may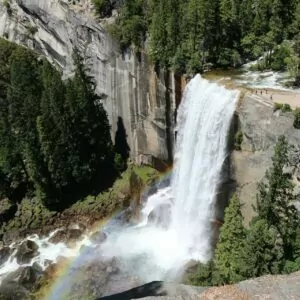 May in Yosemite in the perfect time to start chasing waterfalls. As the warmer weather begins to melt snow from higher elevations, even small creeks and streams are rushing with water. You will see many unnamed waterfalls cascading down the Valley walls. And the big waterfalls, like Yosemite Falls and Bridalveil Falls will be dumping water over the cliffs like firehoses. May is usually the peak of the water levels for the year, so if waterfalls are what you are looking for, then May is your month. There are also many trails that are starting to be cleared from snow in May, making hiking to the waterfalls accessible. Be careful when hiking to these waterfalls, however; stay on the trail and never swim in the pool above a waterfall. While your hiking options are still somewhat limited due to snow at higher elevations, there are more options than in the previous early spring months. Just be aware that you may come across snowy or flooded trails if you venture out of the valley and may need to change plans.
The roads in the Valley are cleared from snow in May, so biking through the Valley is a great option. Bikes are available for rent at Curry Village, or at the Yosemite Valley Lodge. With 12 miles of paved and flat bike paths, biking is a great way to see the Valley and as a bonus they bypass any lines of traffic and you don't have to look for a parking spot.
Photography is also a great activity in May as it is difficult to take a bad picture in this park full the brim of wonders. From the tiniest wildflowers to the largest single piece of granite in the world (the famous El Capitan), the park's features make this place a wonderful sight for photography. Try to capture the sheer size of El Capitan by finding the rock climbers that look like ants clinging to the rock's surface or go on a photo scavenger hunt and collect as many pictures as you can of one type of thing such as waterfalls, rocks, squirrels, or clouds. If you're really feeling ambitious, try out some star photography at night. Keep in mind though that May is still cold at night, with averages in the mid 40s, so bring you cold weather gear.
If you're into the arts and want a break from the constant hiking, you can visit The Ansel Adams Gallery, which offers photography workshops, free camera walks, and other activities. The Yosemite Museum is another great option and features seasonal historical exhibits about Yosemite and the surrounding region. Both are located by the Visitor Center in Yosemite Valley. There are multiple companies that offer horseback riding in Yosemite that are open in the spring and options for guided, all-inclusive treks abound. Fishing and wildlife viewing are also popular activities in May as the residents animals around Yosemite are very active. Deer, bears, coyotes, and many rodents are all common sights in Yosemite in May even around the populated sections of the valley.
Things to see in may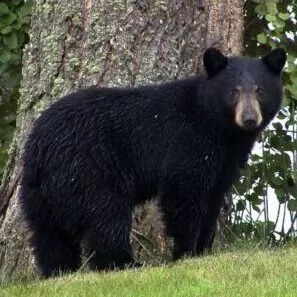 With so many options for things to do, we had to make a bucket list for things to you absolutely cannot miss when visiting Yosemite in May. This list is by no means exhaustive and doesn't include activities, so make sure you do your research on what else you should do while in Yosemite. 
Vernal and Nevada Falls: These two falls are positioned along the same hike up Mist Trail. While the trek is moderate, most visitors can make it up to the foot bridge which provides a stunning view of Vernal Falls. If you're willing to make the trek up the steep and misted stone steps to the top of Vernal Falls, the view is well worth it. Nevada Falls is further up the trail, but the crowd thins once you begin hiking toward Nevada Falls and you won't regret the work it takes to get to this majestic sight.
Tunnel View: Perhaps the most famous of the pull outs along the road into the valley, the Tunnel View is not to be missed no matter how many times you've seen it. With the great El Capitan to your left, Bridalviel Falls to your right, Half Dome rising in the distance, and the Merced River weaving through the entirety of the valley, this spot has been the subject of millions of photos for a reason.
Half Dome and El Capitan: These great granite monoliths are sights to behold and don't worry, you can't miss them. Photos don't do these giant rocks justice so spend some time getting up close to them to appreciate their size or try to pick out rock climbers inching up the cliffs to get some scale.
Yosemite Falls: Perhaps the most iconic of all Yosemite's waterfalls, Upper and Lower Yosemite Falls are not to be missed in May when they are rushing at their highest point. Check the conditions before attempting the strenuous hike to the upper falls as it may still be covered in snow or flooded depending on how wet the winter was.
Wildlife: Wildlife is so abundant in Yosemite this time of year, it is hard to miss it. The bears, of course, are the main attraction, but birds of prey, mule deer, big horn sheep, bobcats, and even mountain lions all call Yosemite home, so don't forget to keep your eye peeled for the tracks of these more elusive creatures.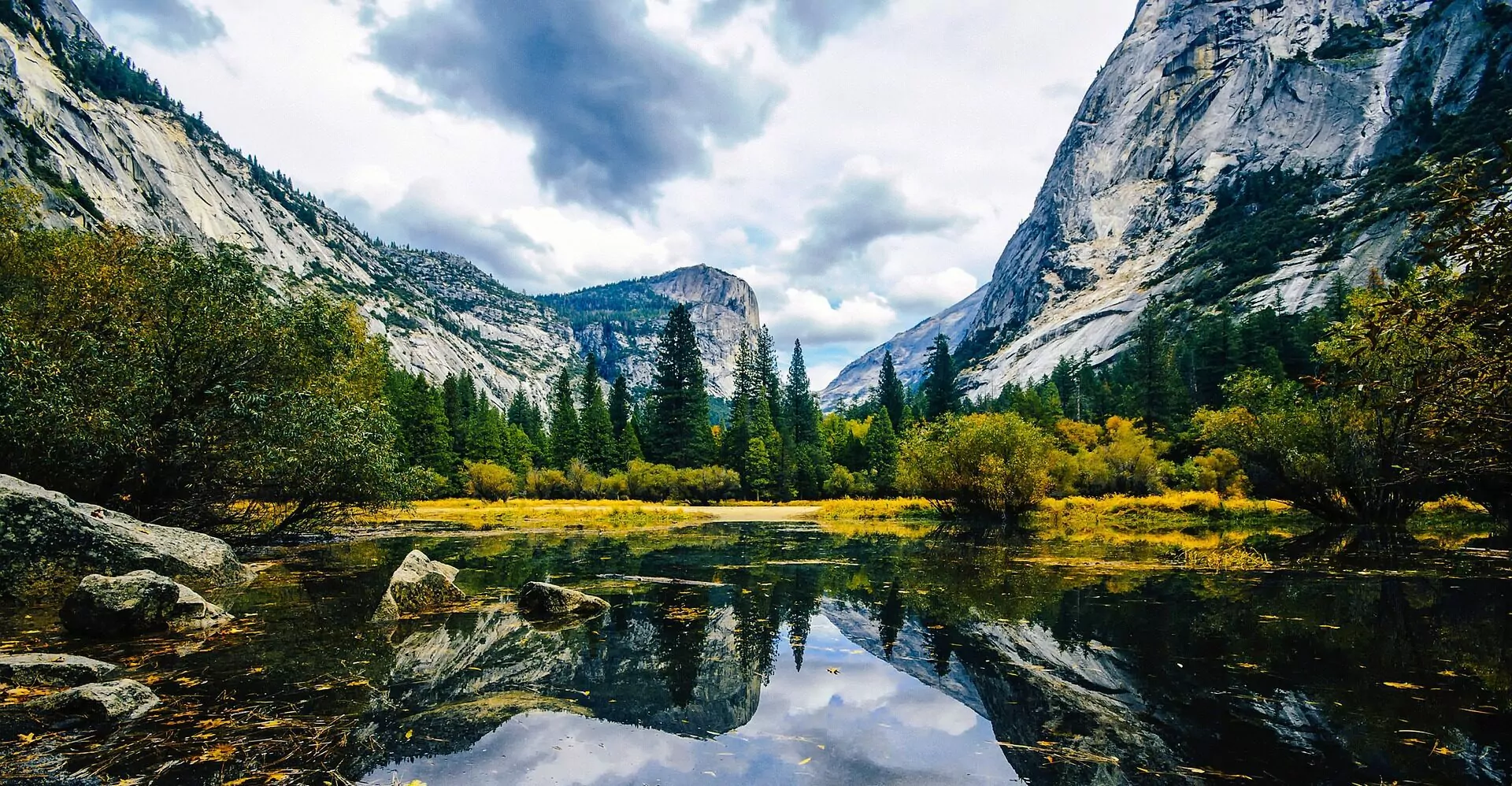 hiking in may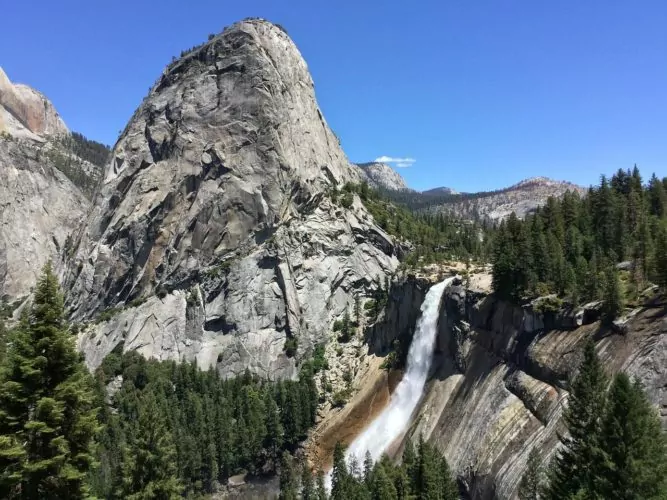 While many trails at higher elevations are still covered in snow or are very wet in May, trails at lower elevations will be accessible. Mirror Lake Trail and Cook's Meadow Loop in the Valley, Wapama Falls in Hetch Hetchy, and Wawona Meadow Loop in Wawona may be options for hiking trails. Trails along the northern or southern rim of the Valley are usually accessible by mid May if not before. You can read NPS' current conditions to see what trails are open before heading out for the day.
The Mist Trail to Vernal and Nevada Falls is a great option for seeing waterfalls as the moderate hike is paved up until the first viewpoint of Vernal Falls at the footbridge. You can continue on to the more strenuous part of the hike, the Mist Trail section, which is a hike up tall and steep stone steps that are often moist from the mist of the falls (hence the name). While the mist is cooling on hot days and the rainbow constantly hung in the air is beautiful, make sure to watch your step on this section as it can be slippery. Once at the top of Vernal Falls, you can continue on a few miles to Nevada Falls (see the image left) where there will be few crowds and more peace and quiet. If you are up for a longer hike but don't want to do the treacherous Mist Trail section, the John Muir Trail adds a few miles to your trip, but will take you all the way to Nevada Falls and eventually to the backpackers campground of Little Yosemite Valley. When these trails open will depend on the snowfall during the winter, but by mid to late May they should be accessible.
If you still want to do a waterfall hike, but want to avoid the elevation gain of the hike to Vernal and Nevada Falls, try Bridalveil Falls. This easy, half mile hike with almost no elevation leads you right up to one of the most stunning waterfalls in the entire park. Alternatively, a hike in between these two options in difficulty is Lower Yosemite Falls, which will be clear of snow even though the upper falls might still be inaccessible due to snow or flooding.
Most years, the cables of Half Dome go up on the Friday before Memorial Day, at the end of May. Permits are required to hike Half Dome. You can read about how to get Half Dome permits here. Be advised though, that this hike is strenuous, not only because of the very steep cable climb to get to the top but also because the hike is at least 14 miles (if not more) round trip.
Backpacking in may

The backpacking season is open in May as the snow along the rims of Yosemite Valley has begun to melt and the trails become accessible. Although you still might run into snow if you try to head too far from the valley into higher elevation like on the John Muir Trail that leads toward Tuolumne Meadows, there are some options nearer to Yosemite Valley that are more akin to summer backpacking than winter adventures. Instead of staying in the valley with the extra crowds, these overnight hikes will lead you away from the crowds up to the rims of the valley while still letting you to enjoy the marvelous spring season. A traverse along El Capitan or an overnight trip on the North Rim of the valley that begins near Half Dome are great options for 4-5 day trips and are also great as first time trips if you book them with a guide to show you the ropes of backpacking before you set out on your own.
If you want stray on the more adventurous side, you can backpack up to the still-closed-to-vehicles Glacier Point for an experience like no other with this magical location all to yourself instead of swarmed with visitors. Hikers should keep in mind however, that this trek up to Glacier Point is strenuous and comes with a lot of elevation gain, but the views and solitude are worth it.
Backpacking in the late spring is great way to enjoy the season but still escape that crowds that are flooding back to the area for the warmer months. With a bird's eye view of the visitors in the valley and your perch all to yourself, it is a great way to experience Yosemite like you never have before.
weather in may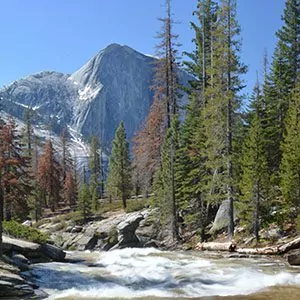 Yosemite is a large park with elevations ranging from 4,000 to 10,000 ft and thus encompasses a large range of weather forecasts. As some of the locations with higher elevation become more accessible, the weather page that says "Yosemite" doesn't quite give you enough information. The average temperature in Yosemite Valley and Wawona in May is a high of 72 and low of 45 degrees Fahrenheit (22/ 7 degrees Celsius). If Tioga Road has opened, the average temperature of Tuolumne Meadows in May is a high of 55 and a low of 26 degrees Fahrenheit (13/ -3 degrees Celsius). It still snows regularly in Tuolumne this time of year, so if you plan on venturing into that area be prepared with winter time gear. On average, it rains 3 days in May.
The gateway to Yosemite from the north over Tioga Pass, if it's open, is Lee Vining which has highs in the 60s and lows in the 40s in May. The southern entrance, however, is skirted by the town of Oakhurst, which is significantly warmer with highs in the 80s and lows in the 50s.
Even though snow is very unusually in Yosemite Valley in May, visitors should still bring some warm layers for the evenings and mornings that are chilly as well as if you plan on venturing along the rim where the elevation is higher and there may still be snow. While the heat of summer is not yet at it's peak, the park and its surrounding areas especially around Oakhurst and Bass Lake can still be warm and the air will be very, very dry. Visitors from coastal areas or areas that are humid in the summer should prepare with lots of water and lots of lotion for the very dry heat of the Sierras which feels hotter if you are not used to it.
Natural wildfire are more likely to occur in spring than in winter, but the ground is still so saturated with snow that they are uncommon. However the National Parks Service often runs controlled burns that mimic natural fires for the health of the forest. These happen more often in the spring as the conditions are right to easily control a fire and not allow it to quickly spread to dry areas as it would in summer. These fires can cause smokey or hazy conditions throughout the valley. While this can be annoying if it obscures your view of the landscape, they shouldn't cause a health hazard due to air quality.
Wildlife in may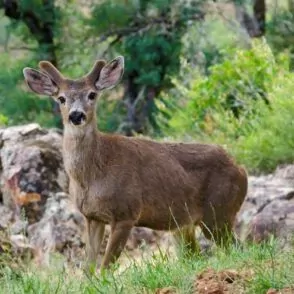 May is an excellent time to view wildlife as both animals and plants abound as the park blooms with life. It's difficult to visit Yosemite without seeing some of the wildlife that has grown used to the crowds and pays no heed to all the people and cameras. Mule Deer are calm as can be while foraging or lounging in the meadows between the roads and patiently pose as guests take their pictures. Even though these animals seem tame and unthreatening, please don't approach them for your safety and to keep Yosemite's animals wild. Many guests also get to see a black bear while in the park. These iconic staples of the valley forage for scraps and can recognize ice chests in the backs of cars, so best keep your food stored properly in bar boxes provided at campgrounds or in bear cans. Yosemite is also home to a wonderful variety of birds and in May many birds such as warblers, vireos, flycatchers, and tanagers all come to the park on their migratory routes. The distinct population in California of the Great Gray Owls are also a treat see silently perched high in the boughs. Those who come to the park especially to see wildlife and who want to see some of the park's shyer animals would do well to venture up to the higher rims of the park where there are less crowds and more space. Bobcats, fishers, big horn sheep and even mountain lions all call this part of the mountains home, but visitors are more likely to see their tracks than the creatures themselves. Ask a park ranger at the Yosemite Visitor Center to find out what has recently been observed or caught on a motion sensor cameras.
REcommended Wildland Trips in May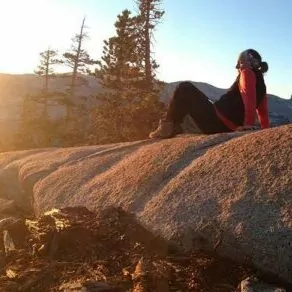 May begins the season of backpacking and hiking in Yosemite and who better to do it with than expert guides who will take all the hassle out of getting permits and all the headache out of planning an itinerary. Wildland Trekking offers a large array of options in May from inn based tours to basecamp trips and backpacking treks, but we've picked out just a few here that we especially recommend in May.
Yosemite North Rim: One of the best backpacking trips that keeps you near the valley but away from the growing crowds is the trek up the north rim. With lots of solitude, stunning waterfalls and views, and a summit of North Dome, Half Dome's sibling, this trek includes much of your backcountry gear along with all your meals. This is still an early season trip and you may encounter some snow, so pack your winter gear and your sense of adventure before you set out on this trip.
Glacier Point Trek: Glacier Point Road may or may not be open this time of year, but that doesn't stop backpackers from making the strenuous trek up the famous overlook that you could potentially have all to yourself. This is a newer trip offering and boasts fantastic view from the Tunnel View to Taft Point and spectacular waterfalls. All-inclusive with much of you backcountry gear along with all meals already waiting for you, this is a trek you won't want to miss.
Cloud's Rest Private Hike: A little known alternative to Half Dome that is just as strenuous but provides the same stunning view and views of Half Dome itself is Cloud's Rest. The cables on Half Dome don't typically go up until the end of May, so this is a fantastic opportunity to do this amazing granite climb for spectacular views of the valley. At a lengthy 14 miles, this trip will be a day long adventure that you won't ever forget.
JOIN A GUIDED HIKING ADVENTURE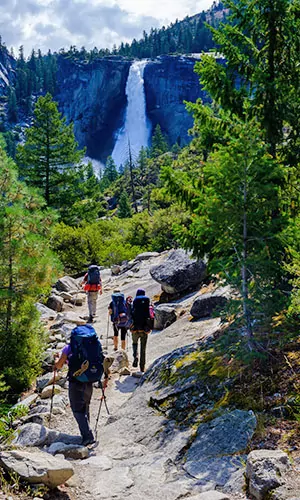 Yosemite National Park is home to some of the most epic and amazing hiking vacations in the world. Wildland Trekking offers trips with the best of Yosemite: waterfalls, views, wildlife, solitude, adventure and fascinating natural and cultural interpretation.
Guided Yosemite treks are all-inclusive which covers permits; local transportation (excluded on certain tours); meals; equipment; safety systems and professional hiking/wilderness guides; all of which allows visitors to maximize their time in Yosemite and focus entirely on enjoying the Park.
YOSEMITE ADVENTURE TOURS
GUIDED BACKPACKING ADVENTURES: these are for people interested in an authentic Yosemite hiking adventure away from the roads and crowds.
PORTERED TRIPS: on these innovative trips, guests hike with light day packs and camp near in stunning backcountry locations.
INN-BASED PACKAGES: these tours are all-inclusive packages with lodging, amazing daily hikes, expert guides, meals, transportation and more!
CAMPING-BASED HIKING PACKAGES: camping-based hiking packages provide all-around hiking experiences of Yosemite on wonderful outdoor vacations.
DAY HIKE TOURS: maximize your day in Yosemite on a fully guided, award-winning hiking tour on one of the Park's best trails.