April is the start of spring in Yosemite National Park, making it the most lovely time to visit. The park comes to life with wildflowers, waterfalls and wildlife. There are definite benefits to visiting Yosemite in spring, but there are some drawbacks also. Below, we've broken up your most common "when to go" questions into categories to make it easy to see if April is the best time for you.
benefits of visiting in april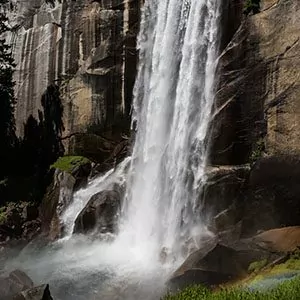 The biggest benefit of visiting in spring is the awakening of the park after a long winter. In late April, wildflowers are blooming in west Merced River canyon. As the first buds of tufted poppies and spider lupines explode throughout fields, this is the first mark of spring, and there is more beauty and life to come. Waterfalls are also rushing this time of year, as snow melts at higher elevation. And, wildlife is out and about, excited about warmer weather and lush green land.
Another benefit of visiting Yosemite in spring is the lack of the crowds that summer brings. There are definitely more visitors than in the winter months, but it is much more manageable than the summer. Also, while most trails remain snow-covered in April, some trails in Yosemite Valley, Hetch Hetchy and Wawona may be snow-free in April.
Lastly, Mariposa Grove Road typically opens in April. While it is closed, you are still able to car your car at the Masiposa Grove Welcome Center, and take the 2 mile Washburn Trail to the grove. Once the road opens, you can park your car the Welcome Center, and take a shuttle bus to the grove; the bus leaves from the parking area every 15 minutes.
drawbacks of visiting in april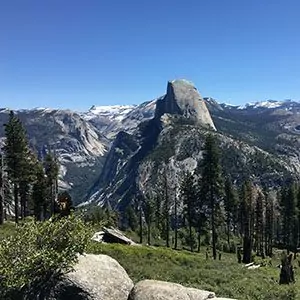 The biggest drawback to visiting Yosemite in April, is that Tioga Road and Glacier Point Road are still closed; they don't typically open until late May or June. Also, the weather is sometimes unpredictable. For the most part, the weather is warmer, but it will occasionally snow. Snow chains are sometimes required in the spring. Lastly, many trails in the park remain covered in snow through May, so your hiking options will be more limited.
things to do in april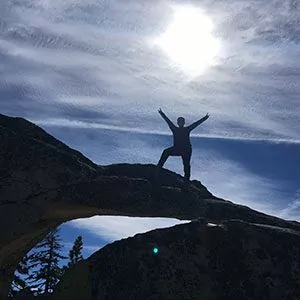 April in Yosemite in the perfect time to start chasing waterfalls. As the warmer weather begins to melt snow from higher elevations, even small creeks and streams are rushing with water. You will see many, unnamed waterfalls cascading down the Valley walls. And the big waterfalls, like Yosemite Falls and Bridalveil Falls are pouring over their cliff. Many trails at lower elevation in the Valley are accessible and free from snow in late April. Mirror Lake Trail and Lower Yosemite Falls Loop give a great perspective to the giant granite domes looming over the Valley, sometimes flowing with waterfalls.
If the weather is unfavorable while you are visiting, check out The Ansel Adams Gallery, which offers photography workshops, free camera walks, and other activities. The Yosemite Museum is another great option if the weather restricts you from being outside, it features seasonal historic exhibits about Yosemite and the surrounding region. Both are located in by the Visitor Center in Yosemite Valley.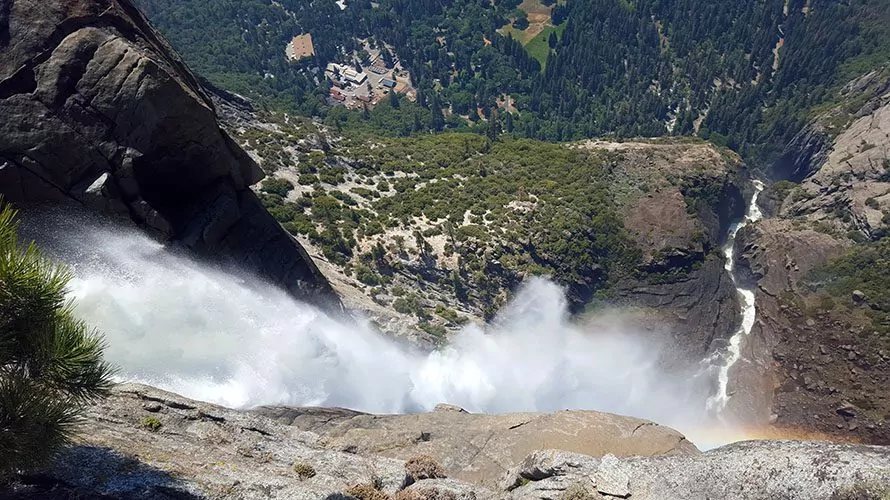 hiking in april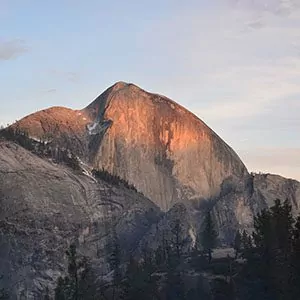 While many trails are still covered in snow in April, trails in lower elevations may be accessible. Mirror Lake Trail and Cook's Meadow Loop in the Valley, Lookout Point in Hetch Hetchy, and Wawona Meadow Loop in Wawona may be options for hiking trails. Early mornings will be very chilly in Yosemite, so be prepared with hats, gloves and warm layers. You can read NPS' current conditions to see what trails are open before heading out for the day.
weather in april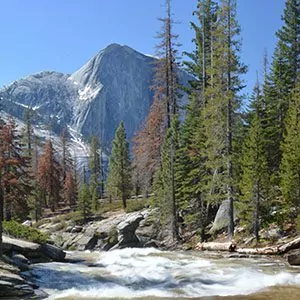 The average temperature in Yosemite Valley and Wawona in April is a high of 64 and low of 37 degrees Fahrenheit (18/3 degrees Celsius). On average, it rains or snows approximately 6 days in April.
JOIN A GUIDED HIKING ADVENTURE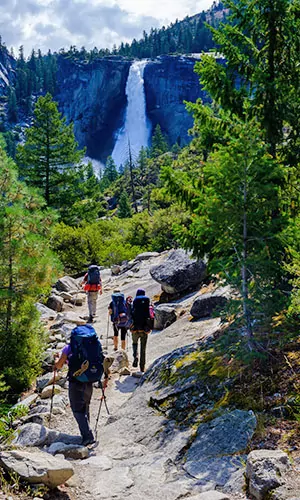 Yosemite National Park is home to some of the most epic and amazing hiking vacations in the world. Wildland Trekking offers trips with the best of Yosemite: waterfalls, views, wildlife, solitude, adventure and fascinating natural and cultural interpretation.
Guided Yosemite treks are all-inclusive which covers permits; local transportation (excluded on certain tours); meals; equipment; safety systems and professional hiking/wilderness guides; all of which allows visitors to maximize their time in Yosemite and focus entirely on enjoying the Park.
YOSEMITE ADVENTURE TOURS
GUIDED BACKPACKING ADVENTURES: these are for people interested in an authentic Yosemite hiking adventure away from the roads and crowds.
PORTERED TRIPS: on these innovative trips, guests hike with light day packs and camp near in stunning backcountry locations.
INN-BASED PACKAGES: these tours are all-inclusive packages with lodging, amazing daily hikes, expert guides, meals, transportation and more!
CAMPING-BASED HIKING PACKAGES: camping-based hiking packages provide all-around hiking experiences of Yosemite on wonderful outdoor vacations.
DAY HIKE TOURS: maximize your day in Yosemite on a fully guided, award-winning hiking tour on one of the Park's best trails.