Best Winter Hikes in Yosemite
Learn What Hikes to Do in Winter in Yosemite National Park
Yosemite National Park is an amazing winter destination. The park has two main parts. Yosemite Valley, which is the most famous and photographed part of the park is at a relatively low elevation of approximately 4500 feet. The other part of is the high country, which is basically all around Yosemite Valley and stretches high into the alpine zone of the Sierra Nevada Range to over 13,000 feet. These massive elevation changes are what make Yosemite excellent in the winter, because while the high elevations will be inundated in snow in winter, Yosemite Valley is a much more temperate environment where you can often hike or snowshoe in relative comfort. Read on to learn about our top recommendations for Yosemite winter hikes!
Top Rated Yosemite Hiking Tours
Best Winter Hikes in yosemite

Winter is a special time of the year in Yosemite National Park. No matter how many times we venture through the Yosemite Valley, we're always awe-struck by the picture-perfect sights of winter in this breathtaking landscape. Every glimpse of snowy granite domes, frozen lakes and wildlife roaming across these serene surroundings gives us a new appreciation for the diverse beauty that seasonal changes bring to the Yosemite Valley.
Wildland Trekking invites you to come out and experience Yosemite National Park in a way you'll only find in the winter. Many trails, roads and viewpoints are open and accessible for adventurers of all abilities, with the added bonus of a much small crowd than in the summer. If you've never ventured into one of the country's most popular national parks during the season of snow and solitude, you're missing out on the trip of a lifetime!
TIPS FOR VISITING YOSEMITE DURING THE WINTER
Winter in Yosemite National Park is a wonderful time to visit. Whether you're visiting Yosemite in December for a holiday getaway or you're trekking through the last patches of snow before spring arrives, it's always wise to gather as much helpful information as possible to plan a hassle-free trip. The first thing you should know is that the park has three distinct elevations — upper, middle and lower. The upper and middle elevations are perfect for snow lovers while the lower trails are snow-free for most of the winter.
As you plan your trip, it's important to know which areas of the park will cater to your desired itinerary, and the different elevations offer plenty of things to do in Yosemite in winter. Hiking through the lower trails enables you to experience Yosemite's beauty without contending with much snowfall. If you'd prefer to spend your trip in snowshoes, places like the Yosemite Ski & Snowboard Area, once known as the Badger Pass Ski Area, is the perfect place for a flurry of fun activities in the snow.
Before you head out on any Yosemite adventure, you should always check the Yosemite National Park website to learn about current park conditions. This resource is regularly updated to ensure the safety of all visitors to the park. Throughout the year, environmental hazards could cause roads or trails to temporarily close, which may interfere with your planned route. Check this website daily to learn about the latest alerts on park closures, road status, seasonal information, campground information and trails and wilderness conditions.
One important alert to know is that although Yosemite Valley is accessible by car all year, Tioga Road closes in the winter. Because the upper, middle and lower elevations of the park differ in snowfall, it's best to assume that you might encounter snowy, icy or slick roads anywhere you travel. For this reason, tire chains are typically required on park roads due to variable conditions. You should be prepared to use tire chains at any time — this includes all vehicles that have four-wheel drive.
BEST WINTER HIKES IN YOSEMITE NATIONAL PARK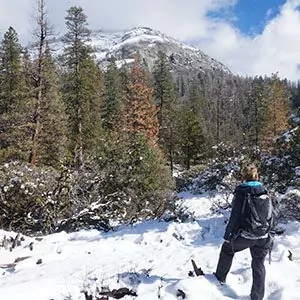 If you've already ventured through the Yosemite Valley in the summer, be prepared for a completely different experience when the temperature drops. Hiking Yosemite in the winter is unlike any other hiking trip you've ever been on. We've gathered a list of five spots you should add to your hiking route that are conveniently located near the best things to do in Yosemite in the winter. No matter if you're here for a week or a day, these trails are definitely worth a visit!
YOSEMITE FALLS TRAIL
The Yosemite Falls are composed of three waterfalls that join together to become one of the highest waterfalls in North America. Water cascades down from the Upper Yosemite Fall to the Middle Yosemite Fall before making its final descent from the Lower Yosemite Fall to the ground below. The falls flow from late fall until mid-summer, almost guaranteeing that you'll see the Yosemite Falls in all their glory during your winter visit. They are among the most popular landmarks in the park and deserve a spot on your itinerary.
Although there is a small one-mile loop trail at the base of Lower Yosemite Fall, we suggest that you get a little closer to the action with a trip further up the falls. The Yosemite Falls Trail is open all year long — including December 31 — which makes it an ideal trail to include on your route through the park. A moderate to difficult trail hike of just over seven miles provides you with great views of the Yosemite Valley, Half Dome and Upper Yosemite Fall.
You have two options for hiking the oldest historic trail in the park — hike to Columbia Rock or hike to the top of Yosemite Falls. The Columbia Rock hike is a one-mile moderate climb which can be extended an additional half-mile to see landmarks like Half Dome and Sentinel Rock. Getting to the top of the Yosemite Falls is a little more strenuous, as the route is steep and rocky, but the views are worth the trek. You also can extend this hike to Yosemite Point or Eagle Peak.
The hike to the top of Yosemite Falls is around seven miles long, and you can add another mile-and-a-half or six miles for Yosemite Point and Eagle Peak, respectively. Because the lower part of the trail receives plenty of sunlight, hiking to Columbia Rock will likely be free of snow or ice. However, the upper part of the trail receives limited sunlight, so prepare for a more cautious hike. We recommend taking this arduous climb slowly and carefully in the winter, especially if you hike in the early morning or late afternoon.
Upper Yosemite Fall day hikes offered through Wildland Trekking start from the base and continue up through Columbia Point to the top of the fall before heading back down. Though the trails of the Upper Yosemite Fall are well maintained, they could be covered by snow or ice at any time. This journey takes approximately five to seven hours depending on the weather, so be sure to plan your day accordingly and take every safety precaution.
The Yosemite Falls Trailhead and Lower Yosemite Fall Trailhead are also conveniently located near fantastic amenities. You can stay at the Yosemite Valley Lodge, which is surrounded by a handful of eateries. This location also places you just a few miles from the El Capitan Trail, Mirror Lake Trail and the Four Mile Trailhead, which leads to Glacier Point and Sentinel Dome, though Four Mile Trailhead and Glacier Point Road often close in the winter.
 TUNNEL VIEW
Yosemite National Park offers an unlimited number of breathtaking views at nearly every turn, but perhaps one of the most notable viewpoints is the Tunnel View overlook. As one of the most famous views of Yosemite Valley — not to mention the focal point of one of Ansel Adam's iconic photographs — Tunnel View lets you gaze upon Bridalveil Fall, El Capitan and Half Dome. This vista changes with the season, and our favorite time to visit is when fresh blankets of snow cover the trees and granite domes.
A stop at Tunnel View should be at the top of your list of what to do in Yosemite during winter. On the opposite side of the street is the Pohono Trailhead, which leads to other spectacular views at Artist Point. If you're ready for a strenuous hike that delivers amazing sights, you can make your way across the 13-mile trail in approximately eight to 10 hours. Start at Tunnel View and you'll hit Dewey Point and Sentinel Dome before finishing at Yosemite Village near Glacier Point.
The Pohono Trail can be difficult even in the summer, so make sure you're dressed and packed for the long haul before attempting this trail without a guide in the winter. Those who don't wish to go farther than Artist Point or Tunnel View will enjoy other viewing spots nearby including the Valley View along the Merced River and the Bridalveil Fall viewing point just a few minutes east.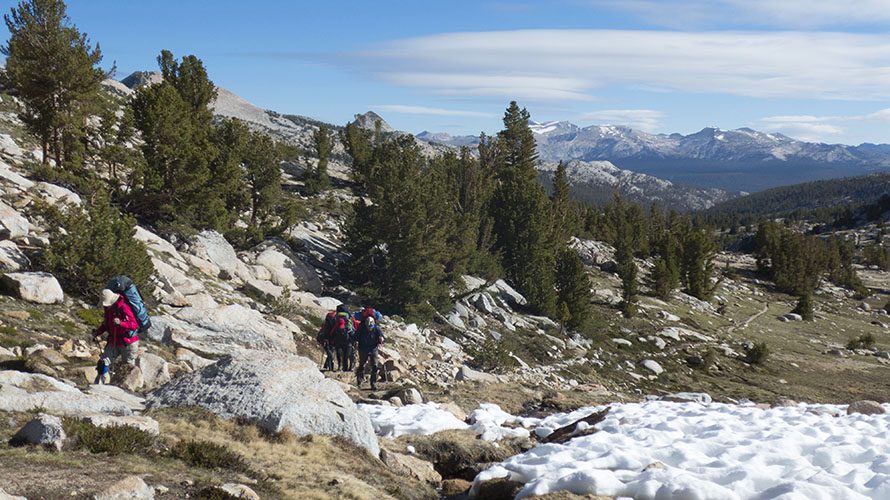 VALLEY LOOP
The Valley Loop Trail is one of the best trails in the park that caters to visitors of all abilities. The full loop measures out to just under 12 miles, and you can hike the half loop, which will reduce your journey to just over seven miles. This trail is moderately difficult, but its key feature is its lack of elevation. Frequent shuttle stops along this trail provide a convenient opportunity to end your hike early or head back into town for food or supplies before continuing on.
There are many access points to this trail, though hikers find it convenient to begin at the Lower Yosemite Fall area. To access the half loop, you'll head back toward Yosemite Village after crossing the El Capitan Bridge. If you want to take the full loop from Lower Yosemite Fall, follow the trail markers towards Bridalveil Fall. Whichever route you choose, we suggest always carrying a map of the area in case you are unsure of your direction.
 BRIDALVEIL FALL
The Yosemite Valley has too many waterfalls to count. From the Vernal and Nevada Falls to the Yosemite Falls, it can be difficult trying to decide which of these wonders you should visit. If you're hiking Yosemite in the winter, we suggest you head for one of the most prominent waterfalls in the Yosemite Valley — Bridalveil Fall. Not only is this one-mile hike easy to access, but it's also conveniently located near the entrance to Yosemite Valley with a parking lot situated right at the trailhead.
This trail can be conquered quickly. However, we insist that you keep a steady pace during the winter. Although it is heavier during the springtime, the flow of the water is quite powerful and causes water to spray nearly all year long. This can create wet conditions along the trail that become icy and slick when the temperature drops. Even the rocks and areas near the viewing platform and just off of the trail can be very slippery without moisture.
Whether you're visiting for a few quick hikes or backpacking Yosemite in the winter, you'll likely combine your stop at Bridalveil Fall with another activity. You can continue along Southside or Northside Drive and reach the Yosemite Valley Visitor Center within a few minutes where you'll find the Yosemite Falls Trailhead. Alternatively, you could head 30 minutes south to the Yosemite Ski & Snowboard Area where you'll be able to snowshoe, snow tube, snowboard or head out on a downhill, cross-country or backcountry ski trail.
You can access the Valley Loop Trail throughout the winter, but don't let its lack of elevation lower your safety precautions. The surface of the trail will vary from old pavement and rocks to sand and dirt. Although some way-finding signs are present, some backpackers have difficulty navigating portions of the route. In the winter, light snow can quickly obscure the pathway, and ice can easily make you lose your footing.
After seeing the Lower Yosemite Fall, Bridalveil Fall and other landmarks in the distance, you can easily transition from the Valley Loop Trail into your next activity almost immediately. You can spend time in the area at the Ansel Adams Gallery and Yosemite Valley Visitor Center, or you can continue onward to your next destination in a different area of the park.
MIRROR LAKE
Mirror Lake is the perfect trail for those who want to gaze upon unique landmarks without enduring a workout. You can quickly make the two-mile round trip to the lake itself or extend it to five miles by looping around the lake. The low elevation of this trail and paved section going to and from the lake lets you easily stroll over to see Half Dome right at its base as well as other great sights like Tenaya Canyon, Mount Watkins and Washington Column.
Hiking the Mirror Lake Trail in the winter is possible and quite easy for most travelers to accomplish. However, you should keep in mind that icy and snowy conditions can be found at any point in the trail, particularly on Tenaya Creek's southern end. We suggest you stay on the northern side of the trail if you want to avoid these conditions. We also recommend that you do not attempt to cross Tenaya Creek or walk on Mirror Lake even if it is frozen.
If you hike the full loop around the lake, the Mirror Lake Trail only takes a couple of hours, leaving you more time to explore. Yosemite Falls and Bridalveil Fall are on the opposite side of Yosemite Valley. Even closer, the John Muir Vernal Fall Trailhead and the Mist Trail Trailhead are within walking distance from Mirror Lake Trail and will take you to Vernal and Nevada Falls. For a longer hike, use these trails to access the Half Dome Trailhead and Cloud's Rest Trailhead.
You can also choose another activity in the area like paying a visit to the Yosemite Valley Stable and watching the animals roam against the perfect winter backdrop. The Curry Village Ice Rink is an outdoor rink that lets you skate in the shadow of the mighty Half Dome. Combining the Mirror Lake Trail hike with a few activities around the village makes for a relaxing yet exciting day.
YOSEMITE IN WINTER  WITH WILDLAND TREKKING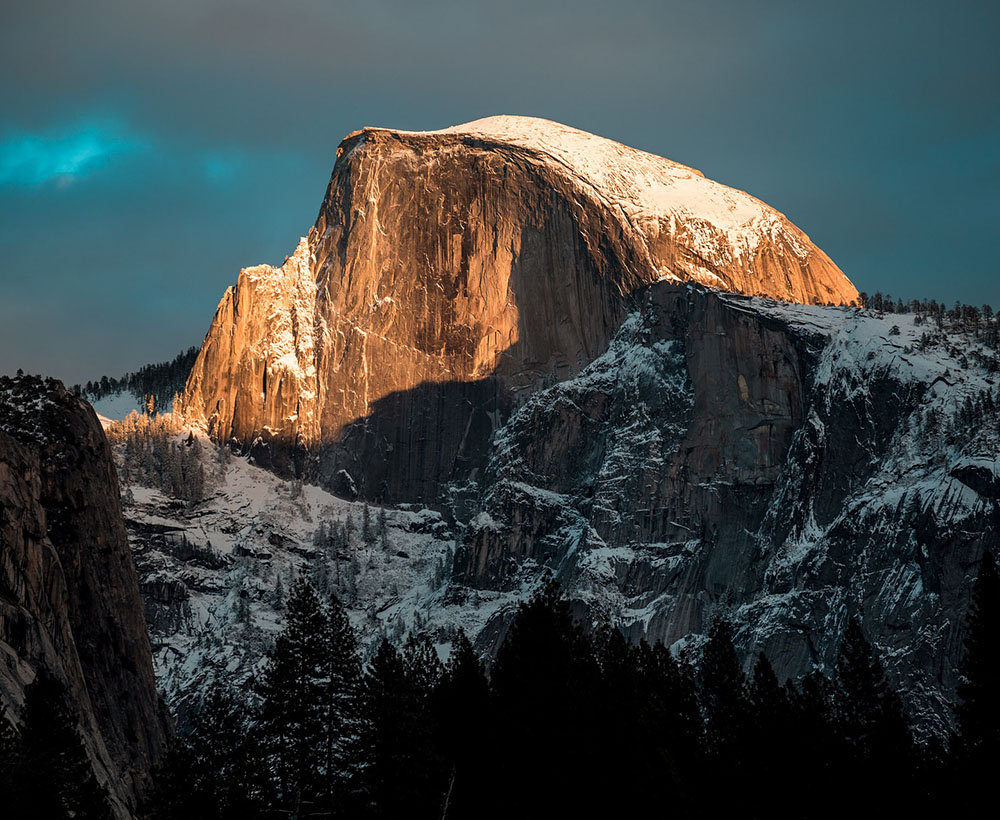 As a bucket-list destination for many backpackers, hikers and campers, winter in Yosemite National Park is an amazing time of year to plan an outdoor adventure. With so many things to do in Yosemite in the winter, you'll wish you had unlimited time to explore every trail, scope out every viewpoint and enjoy every activity the area has to offer. This park offers you the freedom to plan and modify your unguided group trip on the fly, or you can schedule a worry-free guided hike with Wildland Trekking.
Join us in Yosemite in December or any other snowy month for an unforgettable winter hike. We've got an incredible four-day Yosemite winter hike that exposes you to the most popular sights and lesser-known gems of Yosemite. You'll hike to awe-inspiring waterfalls, snowshoe through picture-perfect landscapes and spend cozy nights in the Yosemite Valley Lodge. This low-difficulty tour will take you across more than 20 miles of snowy serenity. Wildland Trekking also offers seven custom single-day Yosemite hikes that will take you from Mariposa Grove to Clouds Rest and everywhere in between!
Experience the best winter hikes in Yosemite with one of the highest-rated Trip Advisor tours in Yosemite National Park. Call Wildland Trekking today and let our experienced guides take you on the adventure of a lifetime!
JOIN A GUIDED HIKING ADVENTURE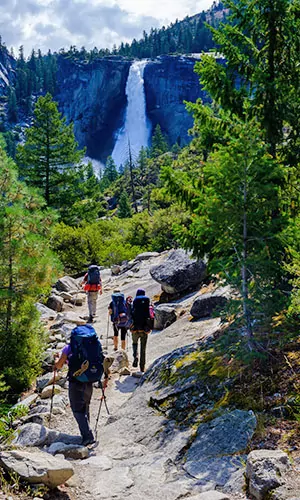 Yosemite National Park is home to some of the most epic and amazing hiking vacations in the world. Wildland Trekking offers trips with the best of Yosemite: waterfalls, views, wildlife, solitude, adventure and fascinating natural and cultural interpretation.
Guided Yosemite treks are all-inclusive which covers permits; local transportation (excluded on certain tours); meals; equipment; safety systems and professional hiking/wilderness guides; all of which allows visitors to maximize their time in Yosemite and focus entirely on enjoying the Park.
YOSEMITE ADVENTURE TOURS
GUIDED BACKPACKING ADVENTURES: these are for people interested in an authentic Yosemite hiking adventure away from the roads and crowds.
PORTERED TRIPS: on these innovative trips, guests hike with light day packs and camp near in stunning backcountry locations.
INN-BASED PACKAGES: these tours are all-inclusive packages with lodging, amazing daily hikes, expert guides, meals, transportation and more!
CAMPING-BASED HIKING PACKAGES: camping-based hiking packages provide all-around hiking experiences of Yosemite on wonderful outdoor vacations.
DAY HIKE TOURS: maximize your day in Yosemite on a fully guided, award-winning hiking tour on one of the Park's best trails.