Best Yosemite Tours
Learn about our top picks for tours to join in Yosemite National Park
Yosemite National Park can be enjoyed immensely on your own or on guided tours. Some of the benefits of joining a guided tour are:
learning more about the natural and cultural history of Yosemite and the greater region
exploring the park with experts to minimize exposure to crowds, increase safety, and maximize your enjoyment
getting to do things you may not be able to do on your own like climbing, rafting, helicopter tour…etc.
experiencing something new, and possibly outside your comfort zone, which is an almost sure way to have an unforgettable vacation
hiking tours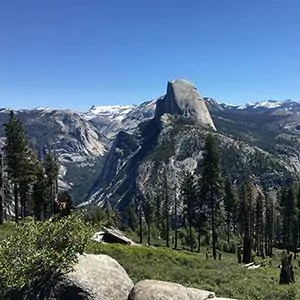 One of the best ways to experience the majesty of Yosemite is to go on a guided day hike. With over 800 miles of hiking trails, it may be difficult to decide what trail to take to maximize your time and experience. Wildland Trekking provides gear, lunch and snacks, and expert knowledge of the park's history, geology, wildlife, etc. Day hiking options include popular trails such as Clouds' Rest, Vernal and Nevada Falls, Upper Yosemite Falls, Cathedral Lakes, and Mariposa Grove. These tours offer views of waterfalls, alpine lakes, and granite galore, so whichever trip you choose, you are sure to have the view of a lifetime. Trips vary in distance and length to suit all ages and levels of ability. Read more about Yosemite hiking tours.
backpacking tours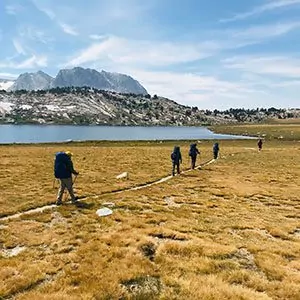 Backpacking Tours are perfect for visitors wanting to experience the grandiosity of granite walls, deep blue alpine lakes and incredible views without the crowds. By joining a guided backpacking trip, you can focus on the scenery around you, because the guide is planning all the details. Backcountry permits and logistics are taken care of by the company, and they provide gear (such as backpacks, sleeping bags, sleeping pads, tents, trekking poles, etc.), all food, expert knowledge, and safety precautions. Trips vary in length and difficulty, from moderate 3-day trips to strenuous 7-day trips. Read more about Yosemite Backpacking Tours.
Camping Tours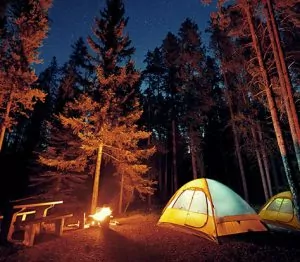 A wonderful option for multi-day tours in the spring, summer and fall are Yosemite camping tours.  Lodging can be very difficult to secure in the peak months, and it often costs as much as $350 to $500 per room per night. Camping tours provide "lodging," meals, transportation, guides, amazing hikes, natural and cultural interpretation and more all in a cost that is going to be equal or even less than paying for hotel rooms. Camping trips in Yosemite also allow for a wonderful outdoor experience of this world class national park, while still enjoying modern comforts and conveniences.
mountaineering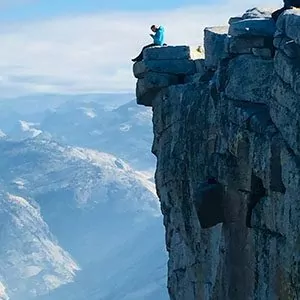 Rock climbing has a long pioneering history in the park. Lessons and courses are offered, from beginner to advanced, in rock climbing. Classes take off out of Curry Village, where most of the big objectives of the Valley are able to be climbed, or they take off out of Tuolumne Meadows, where there is still great climbing, but since it is at higher elevation, it is much cooler than the Valley. Safety is their biggest concern, with one guide per six participants. Guides teach Yosemite-specific approaches and techniques to help you get the best and safest experience. The company suggests a multi-day succession, where each day builds on the skills from the prior day.
art and photography workshops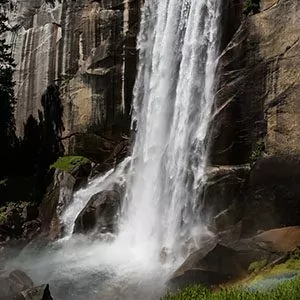 There are many art and photography workshops that are offered throughout the park. Each one has a little different focus: The Yosemite Conservancy offers 4-hour classes for visitors wishing to capture the park's beauty through drawing and painting. Classes are at the Happy Isles Art and Nature Center and are taught by the Artist in Residence or a Volunteer Art Instructor. Supplies are available to be purchased before the class begins.
The Ansel Adams Gallery offers multi-day photography workshops, half-day classes and private guided photography sessions. Classes offer insight about how to use your own digital camera while using Ansel Adam's techniques for lighting and composition in the field. The Gallery also offers free camera walks, where a staff photographer will talk about the importance of photography in the establishment of National Park and other various topics.
snowshoeing tours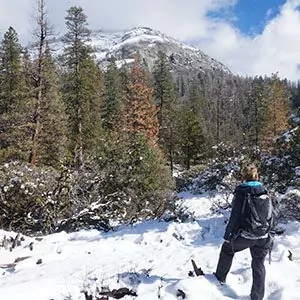 If you decide to visit the Winter Wonderland of Yosemite, be sure to check out a snowshoeing tour. The tours go to to Dewey Point, at the rim of the Valley. From this vantage point, you are able to see Half Dome, El Capitan, Mt. Conness and the Clark Range. This tour leads participants through the snowy forest and meadows to one of the most beautiful views in the park. During the full moon, the company offers evening Full Moon Snowshoeing Tour in the Yosemite Ski and Snowboard Area. Snowshoes are also available for rental if you want to take them out on your own.
backcountry skiing tours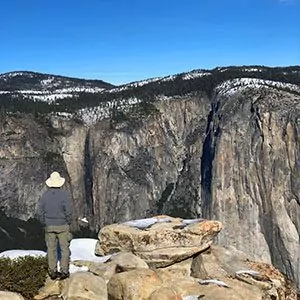 Backcountry ski tours are offered during the winter months. So again, if you are one of the lucky ones that gets to see the majesty of Yosemite blanketed in snow, take a tour that helps you experience the majesty to the fullest. With a guide leading the way, participants will glide through beautiful and pristine areas of the park, and gain knowledge about the park's history and wildlife. Tours range in distance to accommodate all levels of experience. There are also backcountry hut tours available, where participants can ski to and stay overnight at the historic Glacier Point Ski Hut.
bus tours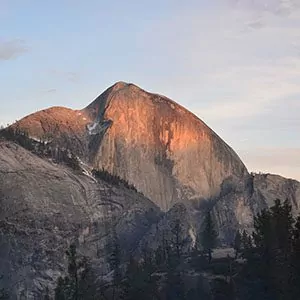 Guided bus tours are available in Yosemite Valley. These tours offer knowledge about the history, indigenous peoples and wildlife while driving with an expert guide. Tours offered include Glacier Point Tour, Yosemite Valley Floor Tour, and Yosemite Valley to Tuolumne Meadows Tour.
helicopter tours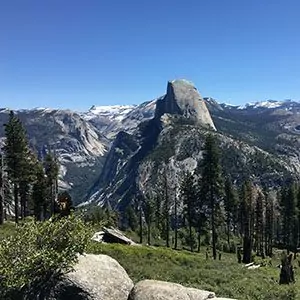 Helicopter tours fly over Yosemite, but do not leave from inside the park. Yosemite Flight Tours operate out of the Columbia Airport and will fly you over impressive landmarks such as El Capitan, Half Dome, Yosemite Falls, Glacier Point, Vernal and Nevada Falls, and more. These tours are great for visitors who want to see a lot of the park from a very unique vantage point.
ranger and nature programs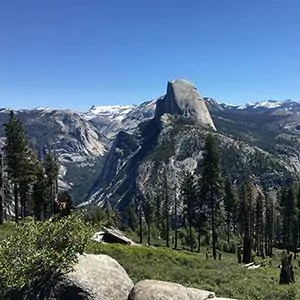 Rangers and Naturalists lead tours and programs daily in Yosemite. Programs include art classes, interpretive talks, live theater programs, naturalist strolls, and more. Check out the National Park Service's Yosemite Guide for programs and events happening during your stay.
JOIN A GUIDED HIKING ADVENTURE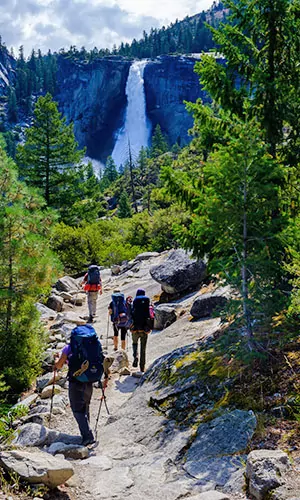 Yosemite National Park is home to some of the most epic and amazing hiking vacations in the world. Wildland Trekking offers trips with the best of Yosemite: waterfalls, views, wildlife, solitude, adventure and fascinating natural and cultural interpretation.
Guided Yosemite treks are all-inclusive which covers permits; local transportation (excluded on certain tours); meals; equipment; safety systems and professional hiking/wilderness guides; all of which allows visitors to maximize their time in Yosemite and focus entirely on enjoying the Park.
YOSEMITE ADVENTURE TOURS
GUIDED BACKPACKING ADVENTURES: these are for people interested in an authentic Yosemite hiking adventure away from the roads and crowds.
PORTERED TRIPS: on these innovative trips, guests hike with light day packs and camp near in stunning backcountry locations.
INN-BASED PACKAGES: these tours are all-inclusive packages with lodging, amazing daily hikes, expert guides, meals, transportation and more!
CAMPING-BASED HIKING PACKAGES: camping-based hiking packages provide all-around hiking experiences of Yosemite on wonderful outdoor vacations.
DAY HIKE TOURS: maximize your day in Yosemite on a fully guided, award-winning hiking tour on one of the Park's best trails.