12 Best Hikes in Yosemite
Yosemite National Park is a world-class destination that attracts outdoor enthusiasts from around the globe. And there is no better way to experience this national treasure than by hiking its trails, which provide you with up-close views of its magnificent lakes, waterfalls, peaks and valleys. To help you plan your next Yosemite hiking excursion, we've compiled a list of the 12 best hikes in Yosemite National Park.
Top Rated Yosemite Hiking Tours
1. HALF DOME
Rising nearly a mile over the Yosemite Valley floor, the 8,800-foot-high Half Dome is an iconic peak, and the route leading to its summit is one of the park's most popular trails. The Half Dome Trail has an elevation gain of 4,800 feet and offers stunning views of Nevada and Vernal Falls and Liberty Cap.
Most hikers can complete this trail in 10 to 12 hours. If you're planning to hike the trail in one day, we recommend that you start at sunrise or earlier and plan to turn around by a particular time. For example, if your group hasn't made it to the summit of Half Dome by 3:30 p.m., you will turn around. Before hiking, check when sunrise and sunset will be. Even if you're fairly certain you will return before dark, you should still prepare for the possibility by bringing along a headlamp or flashlight with working batteries. It is common for hikers caught in the dark to struggle to find their way back because they didn't bring a flashlight.
2. MIST TRAIL
Thought to be one of the best hiking trails in Yosemite, the strenuous, three-mile Mist Trail features dramatic scenery all along its course, including the Merced River, an overlook at a bridge, two spectacular waterfalls and, at the end, views of Nevada Fall, Liberty Cap and Half Dome's backside. The trail gains 1,000 feet of elevation and takes three to four hours to complete.
The trailhead is located at Happy Isles, which is shuttle stop #16. After reaching the shuttle stop, go over the stone bridge and take the path on your left.
This is considered one of the best winter hikes in Yosemite as it is significantly less crowded at that time.
3. NEVADA FALL
If you've hiked the Mist Trail to Vernal Fall and are eager to see more, you can continue to Nevada Fall, a stunning waterfall that plunges 594 feet into the valley below. This steep and strenuous trail is significantly less crowded than the Mist Trail and offers incredible views at the top. If you want different scenery on your trip back, you can return on the John Muir Trail. The round-trip hike is seven miles and takes four to five hours to complete.
4. FOUR MILE TRAIL
The challenging Four Mile Trail starts near the bottom Sentinel Rock and climbs 3,200 feet as it makes its way up to Glacier Point. The trail follows an old toll train path built in 1872. There have been several changes to the trail since it was first made, including the fact that the trail is now closer to five miles.
Visitors willing to hike this strenuous trail will enjoy breathtaking views of Yosemite Falls, El Capitan and Half Dome. Along the path, hikers have the choice to take a side trip to Union Point, which offers impressive views of Yosemite Valley.
At Glacier Point, where the trail ends, parking, restrooms and snacks are available. If you're only planning to hike the trail one way, make sure that someone is available from your group to drop you off at the start or pick you up at the end. No free shuttle is available between Yosemite Valley and Glacier Point, but there is a guided bus tour that runs three times a day and stops at Glacier Point. You can buy a ticket at any of the tour desks, and you should buy the ticket in advance.
5. YOSEMITE FALLS
The historic Yosemite Falls trail is one of the park's oldest. This 7.2-mile round-trip hike climbs to the top of the tallest waterfall in North America, which towers a stunning 2,425 feet over the floor of the valley. The trailhead is near Camp 4, and the trail immediately begins its ascent and meanders through oak forests. The trail eventually rises above the forest, offering hikers a preview of Yosemite Valley's many famous landforms. Hikers should make sure not to stray from the trail, as there are many steep drop-offs nearby.
When arriving at Columbia Rock, you can take in breathtaking views of the valley, Sentinel Rock and Half Dome. If you hike up another half mile, you can enjoy an unforgettable view of Upper Yosemite Fall. During the wetter seasons, you might even feel mist from the fall, which can be refreshing after a challenging climb.
From then on the trail becomes rocky and steep, but the amazing vistas at the top make the arduous ascent worth it. When near the creek, keep in mind there is a waterfall directly downstream. This strenuous hike takes six to eight hours to hike and has an elevation gain of 2,700 feet.
6. CLOUDS REST
Clouds Rest is a prominent landform over 1,000 feet higher than the more famous Half Dome and is visible from places all around the park.
While you can reach Clouds Rest by starting at Yosemite Valley, this is a 16-mile hike with an elevation gain of 6,000 feet, which is a bit too ambitious for most hikers. Hiking from the trailhead on Tioga Road, on the other hand, is considerably easier and is thought to be one of the best Yosemite day hikes.
The main attraction on this trail is the destination, which provides visitors with views in all directions — even straight down into the Tenaya Canyon. From Clouds Rest, you can see a multitude of Yosemite landmarks, including Half Dome, Sentinel Dome, North Dome, Tenaya Lake, Mt. Hoffman and parts of El Capitan, Cathedral Rocks, Merced Lake and many others.
Hiking this trail and back takes between seven and ten hours and has an elevation gain of roughly 2,000 feet. If you bring binoculars along, you'll be able to spot hikers climbing up the cables on Half Dome.
Explore Yosemite with Award Winning Guides
7. NORTH DOME HIKE
North Dome is a fantastic 8.8-mile round-trip hike that ends with perhaps the most beautiful view of Half Dome in the entire park. Most of the trail leading to North Dome is a standard hike through the woods, but the final destination is spectacular. Once hikers reach the summit, they can enjoy views of Half Dome, Clouds Rest and Yosemite Valley.
The trailhead begins off Tioga Pass at the Porcupine Creek Trailhead and meanders through mixed-conifer forests. There are several junctions on the trail, so make sure you follow the signs pointing to North Dome. The route then passes through a meadow and goes down along a ridge. Near the trail's end, hikers will go down steep steps made of rock until they reach the North Dome's base. On the way back, you can also take a short detour to Indian Rock Arch, which stands 15 feet high and is made of granite.
The North Dome trail is fairly challenging, and a round-trip hike takes four to six hours. Bring lots of water along, as the trail is quite exposed in places and little water is available.
8. GLEN AULIN TRAIL
The Glen Aulin Trail is a magical route with a wide variety of attractions, including waterfalls, steep cliffs, breathtaking valleys, verdant meadows and lush forests. This 13-mile-round-trip has an elevation gain of 600 feet and follows the Tuolumne River for its entirety. Along the way, kiosks describe ecological, zoological, geological and historical features that you might see ahead. Four miles into the trail, it gets steeper and descends down cobblestone steps to the Glen Aulin High Sierra Camp, where you can sleep in a tent and enjoy a filling meal. The camp is typically open from June through September, and you need to book a stay in advance. Just next to the camp, you can see spectacular waterfalls and the famous meadows of Glen Aulin.
This trail is particularly beautiful in mid to late summer when the mosquitos are gone and you can enjoy the wildflowers in full bloom. If you'd like to go swimming, there are some peaceful, slow-moving parts of the Tuolumne River where you can take a dip.
9. CATHEDRAL LAKES TRAIL
This eight-mile round-trip trail passes by two gorgeous lakes and features spectacular views in every direction, including the impressive Cathedral Peak to the east and Tresidder and Echo Peaks to the south.
The trail to Cathedral Lakes follows the John Muir Trail and ascends steadily. Although not terribly steep, you will likely feel it due to the high elevation. At the three-mile point, which is a half a mile before you reach Upper Cathedral Lake, you can take a half-mile spur trail that leads to Lower Cathedral Lake. Here you can relax on the banks of granite and enjoy the peaceful waters before continuing to the beautiful Upper Cathedral Lake. As this is a popular trail, try to start before 10 a.m. so that you can avoid the crowds.
This moderately difficult trail takes three to five hours to complete and has an elevation gain of 1,101 feet. It also passes through marshy areas where mosquitoes thrive, so make sure to bring along some repellent.
EASY HIKES
While all visitors come to Yosemite to enjoy beautiful nature, not all of them want strenuous exercise. Visitors who prefer a more relaxing hike can take advantage of Yosemite's short, flat and easily accessible trails.
10. TENAYA LAKE
Tenaya Lake lies at 8,150 feet above sea level and is perhaps the most beautiful lake in the park. It is sometimes called the "Jewel of the High Country" and is a popular destination for boaters, kayakers, swimmers and sunbathers. It was created by the Tenaya Glacier, which extended from Yosemite Valley up to Tuolumne Meadows.
The Tenaya Lake trail is considered one of the best hikes in Yosemite Valley. It follows the southern shore of the lake and connects the rocky coves and scenic vistas on the west side to the picnic areas and beaches on the east side. Only 2.5 miles long, this trail is easily accessible and has no elevation gain, making it a great hike for families or those who just want a relaxing stroll. You can access the trail from either the east shore, where the main parking area for Tenaya Lake is located or from the west shore, by the trailhead for Sunrise Lakes and Clouds Rest.
Visitors who want to walk completely around Tenaya Lake must walk along the shoulder of Tioga Road for part of the journey.
11. GLACIER POINT
This one-mile trail offers a 270-degree panorama with sights including Clouds Rest and Half Dome and is considered the best hiking trail in Yosemite to watch the sunset. This paved, level trail leads to a dramatic point that looks down on Curry Village 3,214 feet below. A round trip takes around 20 minutes.
Glacier Point is about 30 miles from Yosemite Valley and takes about an hour by car via Glacier Point Road, which is typically open from late May to October or November. When this road is open, the Glacier Point Tour is also generally in operation, and you can buy a one-way ticket to Glacier Point if you'd like to hike back down to the valley. If you plan to hike to or from Glacier Point and want to ride the bus back, make sure to check the bus schedule ahead of time. The route between Yosemite Valley and Glacier Point is not regularly serviced by a shuttle.
12. MIRROR LAKE
Mirror Lake is a small, seasonal lake located in Yosemite Valley's northwest corner and offers gorgeous reflections of the surrounding cliffs when the waters are calm. The trail to the lake features various exhibits that explain how Mirror Lake formed and introduce some of the area's cultural history as well. In late summer, when water is scarce and grasses are present, Mirror Lake is often called Mirror Meadow.
This trail leading to the lake begins at the Mirror Lake Trailhead, which is shuttle stop #17. This paved, 2.4-mile trail only takes 15 to 30 minutes to complete and has minimal elevation change, making it a perfect hike for families. The trail is accessible year-round, although weather conditions can be unpredictable. The best times to come are during the springtime and early summer, when the lake is the fullest.
JOIN A GUIDED HIKING ADVENTURE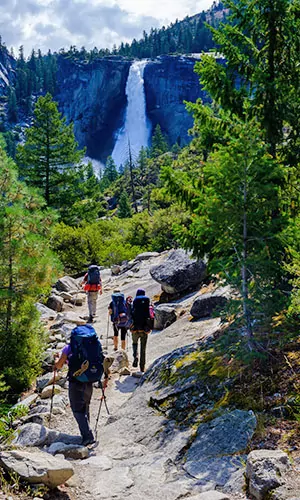 Yosemite National Park is home to some of the most epic and amazing hiking vacations in the world. Wildland Trekking offers trips with the best of Yosemite: waterfalls, views, wildlife, solitude, adventure and fascinating natural and cultural interpretation.
Guided Yosemite treks are all-inclusive which covers permits; local transportation (excluded on certain tours); meals; equipment; safety systems and professional hiking/wilderness guides; all of which allows visitors to maximize their time in Yosemite and focus entirely on enjoying the Park.
YOSEMITE ADVENTURE TOURS
GUIDED BACKPACKING ADVENTURES: these are for people interested in an authentic Yosemite hiking adventure away from the roads and crowds.
PORTERED TRIPS: on these innovative trips, guests hike with light day packs and camp near in stunning backcountry locations.
INN-BASED PACKAGES: these tours are all-inclusive packages with lodging, amazing daily hikes, expert guides, meals, transportation and more!
CAMPING-BASED HIKING PACKAGES: camping-based hiking packages provide all-around hiking experiences of Yosemite on wonderful outdoor vacations.
DAY HIKE TOURS: maximize your day in Yosemite on a fully guided, award-winning hiking tour on one of the Park's best trails.