Yosemite Day Hike Tours
Maximize your time in Yosemite by embarking on a day hike tour with one of our expert guides! Enjoy the assurance that comes with hiking with a guide who knows the area!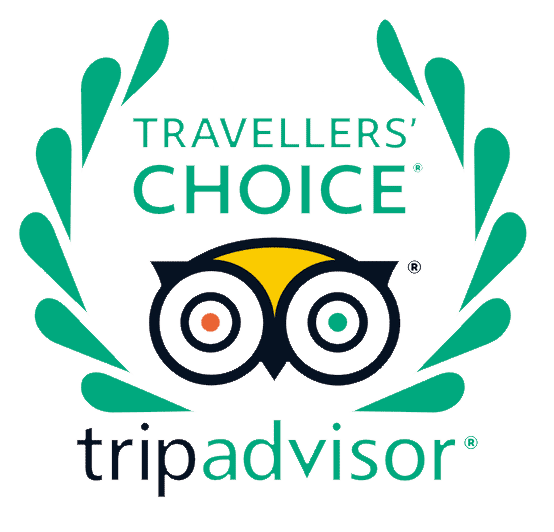 Breathtaking vistas. Thundering waterfalls. Serene alpine lakes. These are just a few of the sites you'll experience when you take a day to hike in Yosemite's backcountry.
Leave the highways behind and join one of our expert Yosemite guides on a one-day hiking journey. Our day hikes in Yosemite include a picnic lunch, trail snacks and use of a top-notch backpack and trekking poles. A professional, medically trained guide and naturalist will lead your group through the landscape, teaching you about the biological and cultural history of your surroundings. Explore our selection of Yosemite National Park day hikes and join us for an unforgettable day of hiking Yosemite!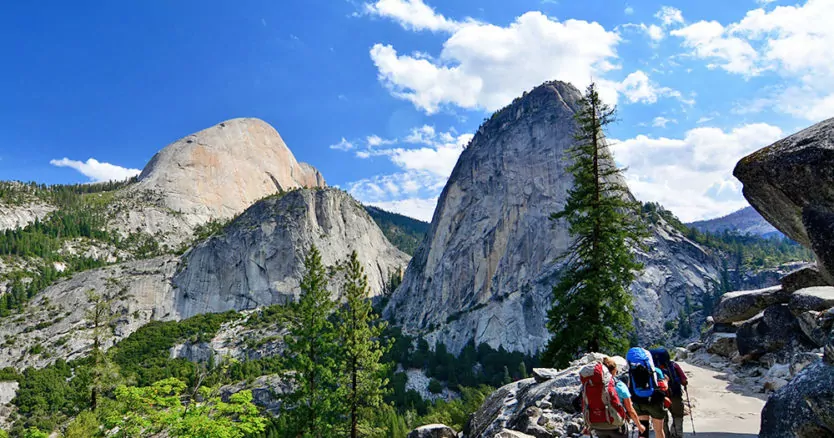 Yosemite Backpacking Trips
If you're interested in experiencing Yosemite National Park in a powerful, daring and unique way then a guided Yosemite backpacking adventure is for you! Our Yosemite backpacking offerings range from ultra-famous hikes like backpacking Half Dome, off-the-beaten-path trips like our High Sierra Loop. Regardless of which trip you choose, you'll spend several days in intimate contact with the waterfalls, views, glacial-carved valleys, massive domes, and peaceful backcountry of Yosemite!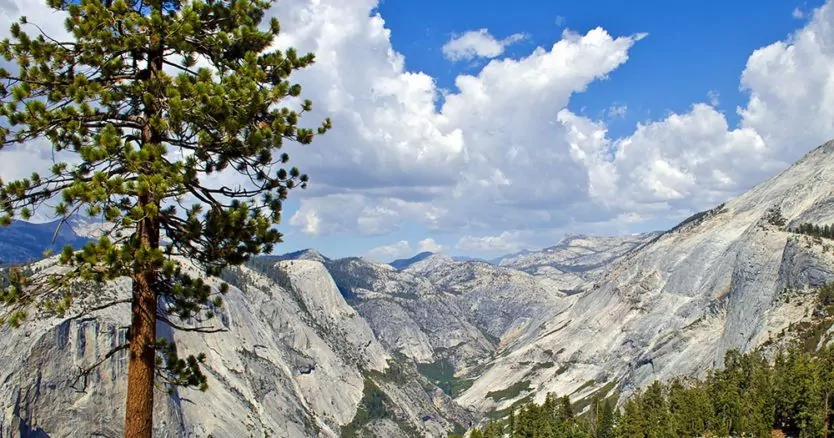 Yosemite Basecamp Tours
Our Yosemite Camping Tours are an opportunity explore the highlights of Yosemite on a variety of exciting, diverse tour options throughout the Park. We'll tackle what we consider to be the best hikes in Yosemite, which take us to thundering waterfalls, jaw-dropping views, towering granite monoliths, glacial-sculpted cliffs and valleys, remote mountains and more. Each evening we'll return to our comfortable camps where we'll enjoy showers, fantastic outdoor meals, campfires and relaxation.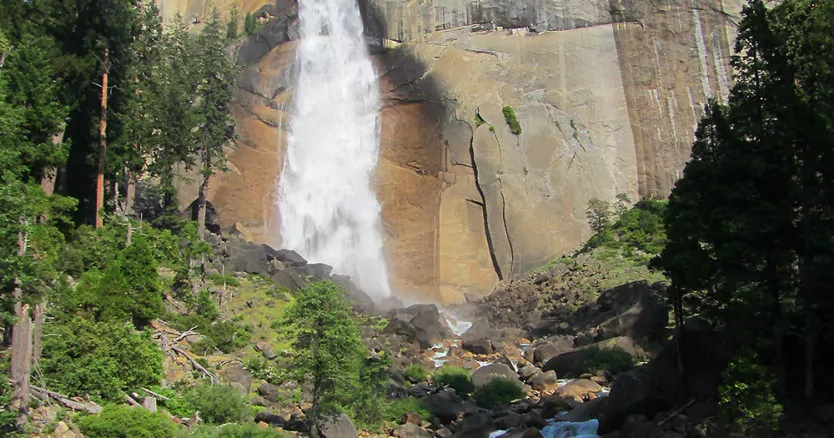 Yosemite Inn-based Tours
If you want to experience the best of Yosemite in style, these trips are for you! Our Yosemite Inn-based Hiking Tours combine the best of Yosemite with comfortable and cozy lodging in or just outside Yosemite Valley. One benefit of staying outside the Valley, or in the Valley in winter, is the peace and quite we'll have between our day hikes. The hikes, like on our basecamp tour, will take us to thundering waterfalls, jaw-dropping views, towering granite monoliths, glacial-sculpted cliffs and valleys, remote mountains and more!
MORE ABOUT YOSEMITE DAY HIKE TOURS
CHOOSING A YOSEMITE NATIONAL PARK DAY HIKE
Our Yosemite day hike tours are designed to deliver once-in-a-lifetime sights at every turn.
Our guides' choice is the Clouds Rest Day Hike, where you'll summit the iconic 9,926-foot peak. Before arriving at our final destination, we'll spend a spectacular day on the trails. See the beautiful Tenaya Lake, cross streams of the Sunrise Lakes and trek along the south edge of Tenaya Canyon. From the top of Clouds Rest, you'll have a 360-degree view of famous sights like Half Dome, Mount Hoffmann, Vogelsang Peak and the Yosemite Valley.
Want to see North America's tallest waterfall? Join us on the Upper Yosemite Falls Trail to get up close and personal with this breathtaking waterfall. As you trek along the steep trails, you'll be treated to panoramic views of Yosemite Valley for the perfect photo opportunity. Experience the challenging yet fulfilling ascent to Columbia Point and onward to Upper Yosemite Falls, where water thunders down for 1,430 feet.
The largest tree in the world is the Giant Sequoia, which Yosemite National Park offers in abundance. Come hike in the Mariposa Grove and meet the famous 1,800-year-old Grizzly Giant. Learn about the natural and cultural history of the Sierra Nevadas from your knowledgeable, friendly wilderness guide. Your final destination, Wawona Point, offers stunning views of Wawona Dome and the South Fork of the Merced River.
BENEFITS OF A YOSEMITE DAY HIKE
A guided day hike with Wildland Trekking will maximize the value of your time in Yosemite National Park. No need to plan and prepare for a multi-day trek — we guarantee you'll see many incredible sights in just one day. Led by our experienced guides, you can immerse yourself in the wonders of Yosemite.
Choosing Wildland Trekking will allow you to arrive at Yosemite National Park with everything ready to go. Just bring hiking shoes and water, and we'll provide the rest.
Here are a few more reasons Wildland Trekking makes for the best Yosemite day hikes:
Stress-free logistics: Our trips are all-inclusive, including top-of-the-line packs, trekking poles, trail snacks and a picnic lunch.
Expert guides: We hire professional guides who are committed to making your tour exciting, informative and challenging.
High safety standards: Your guide will either be a Wilderness First Responder or an EMT. You're in safe hands on the trail.
Browse our world-class day hikes in Yosemite, or get in touch with our team to book your next adventure!
yosemite visitor information
tips for visiting yosemite