How To Hike Yosemite's Half Dome
Half Dome Overview
Rising over 5,000 feet above the Yosemite Valley, Half Dome is probably the most iconic granite feature in Yosemite National Park. From the top of Half Dome, you are able to look down on the Valley floor, with a panoramic view of the surrounding granite peaks and domes. The view is world-class and utterly majestic. Half Dome's trail starts on the Mist Trail at Happy Isles. You can either stay at the Mist Trail at the fork, and continue past Vernal and Nevada Falls to the John Muir Trail. Or at the fork, take the John Muir Trail all the way to the base of Half Dome. Depending on which route you decide to take, the trail is 14 to 16 miles, and usually takes hikers 10 to 12 hours. Once you reach the base of Half Dome, the infamous cables take you straight up the face of Half Dome. The cables are only seasonally installed, most years going on at the end of May, and taken off in the middle of October. Because of the popularity of the trail and the limited time that it is open, the National Park Service requires hikers to carry a permit, and allots 225 day hiking permits and 75 backpacking permits per day on Half Dome. One permit is good for up to 6 people.
In this guide, we provide tips and recommendations for making your Half Dome trek an exceptional experience, including how to obtain permits, when to go and what to bring.
how to enter the lottery for half dome permits
Permits for Half Dome must be reserved on recreation.gov. They are done on a lottery system, so there is no guarantee that you will get a permit. To apply for a permit, fill out the form on recreation.gov, and pay the 10 dollar application fee. The lottery for preseason permits opens March 1st, and closes March 31st, and the notification of the results is sent out April 10th. Lottery winners must accept and pay for their permits by the set acceptance date. Cables for Half Dome are typically installed on the Friday before Memorial Day, in late May. However, if weather restricts the installation of the cables, and they are not up by the date of your permit, the National Park Service will refund the permit fee (but not the application fee). Unfortunately, it is not possible to switch the dates on awarded permits.
If you did not apply in time for the preseason lottery, or did not receive permits in your preseason application, you can apply for the daily lottery two days out from when you wish to hike Half Dome, starting May 22nd (when cables are installed May 24th). For instance, if you desire to hike Half Dome on June 3rd, you can apply for the daily lottery on recreation.gov on June 1st. Cables are taken down most years on Columbus Day, in the middle of October, therefore, the last day to enter the lottery for permits is two days before Columbus Day. Recreation.gov has a chart with all the dates for the year for further reference.
There are about 225 permits per day that are available in the preseason lottery. At least 50 permits are available for the daily lottery. The main takeaway here is to plan and apply early for the preseason lottery; and if you are not selected for a permit, be flexible and apply for the daily lottery as many days as you can.
trailhead and parking information
The trailhead for the hike to Half Dome is at Happy Isles Trailhead (shuttle stop #16). You will begin on the Mist Trail from there. Shuttle buses don't begin until 7 am, so if you plan on starting the hike before then, you will have to drive to the trailhead. Parking areas are located at Happy Isles or at Curry Village (it is a ¾ mile walk from this parking lot to the trailhead).
best time of the year to hike half dome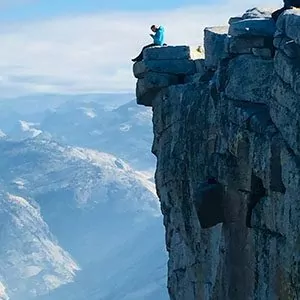 Hikers are limited to when they can hike Half Dome, as the cables are only installed seasonally, typically the end of May to the middle of October. Also, there are only 300 permits that are given out each day for Half Dome. Even in the very crowded summer months, there will be the same number of permits as the less crowded fall. However, less people will be applying for permits in the slower months of September and October, so your chances of getting a permit is higher. The best thing you can do to make your trek up Half Dome enjoyable and less crowded is to get an early start. The earlier you can start the hike, the better.
how to prepare for hiking half dome

Obtaining permits for Half Dome is a huge part of the preparation process. But physical preparation for a long and strenuous hike like Half Dome is even more important. This 14 to 16 mile hike will take you a majority of the day to complete; for most hikers it takes about 10 to 12 hours. Any long hike is going to wear you down, but Half Dome will even more. The elevation change from the trailhead at the Valley floor to the top of Half Dome is 5,000 feet. Meaning, you will feel it in you legs, lungs and heart. So getting your body prepared is essential to having a safe and fun experience on Half Dome.
Below are some ways to build your stamina and strength for hiking Half Dome:
Climb Stairs: Running up and down stairs is a great way to train your body for Half Dome. It will boost your aerobic fitness, strengthening muscles in your hamstrings, glutes and other leg muscles. Before starting to run the stairs, warmup your muscles by walking the stairs or running a few laps.
Train in the heat: Unless you start your trek before the sun comes up and have completed by mid-morning, you will be hiking in the heat of the day. It is important to see how your body reacts to physical exertion in the heat. Some good and safe ways to train are to go for a walk in the sun or practice hot yoga.
Hike Difficult Trails: If you live in lower elevation, the drastic change in elevation is going to hurt your lungs and body. If possible, try to hike challenging trails that have elevation change of 1,000 feet. This will help train your lungs for the arduous elevation change of Half Dome. Hike these trails multiple times and try to improve your time each hike.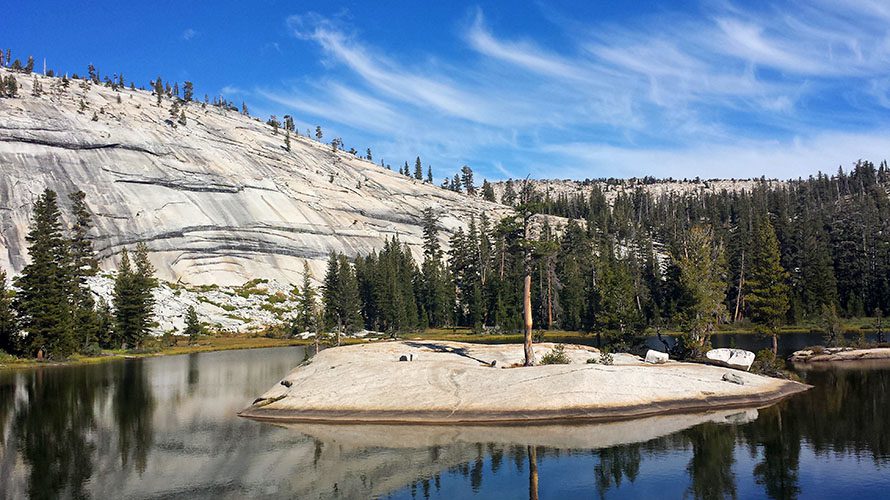 what to bring on your trip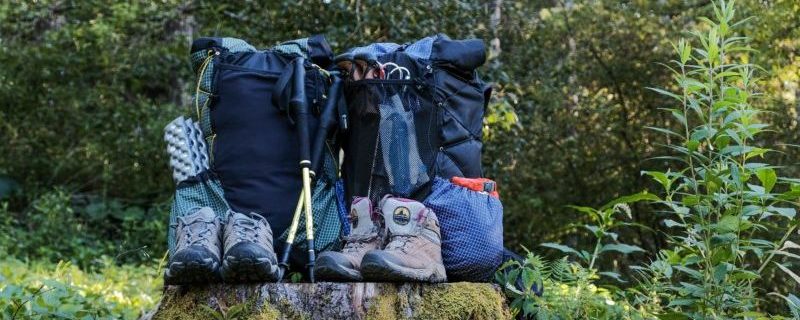 Bringing the right gear and food on your journey to Half Dome will make or break your day. Below is a list of recommended items to bring with you:
Water: You want to be sure to bring at least 3 liters of water. This hike is very strenuous and you will most likely be hiking for a majority of the day, and in the heat of the day, so making sure you stay hydrated is essential.
Food: Your hiking food should be high in energy, without making you feel heavy, and should be full of carbohydrates, proteins and electrolytes. Salty snacks are also recommended, as they help replenish any salt you are sweating out.
Well broken-in boots: According to the National Park Service, the most common injury on Half Dome is sprained ankles and blisters. The best way to prevent these injuries is hiking in your boots prior to hiking Half Dome.
First Aid Kit: To treat any blisters or small injuries, a first aid kit is essential.
Sun Protection: You will be embarking on a long day when you leave from the trailhead. It is very important to bring along sunscreen, a hat and a long-sleeved sun protection shirt.
Headlamp: It is recommended to bring a headlamp, just in case you take longer than planned to get back to the trailhead.
Gloves: Many people prefer to wear gloves on the cables, as they are helpful when the cables are cold in the morning, and they also help with grip when your hands get sweaty.
JOIN A GUIDED HIKING ADVENTURE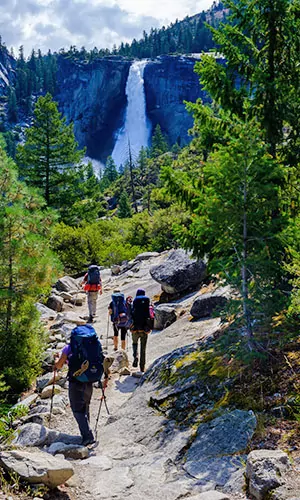 Yosemite National Park is home to some of the most epic and amazing hiking vacations in the world. Wildland Trekking offers trips with the best of Yosemite: waterfalls, views, wildlife, solitude, adventure and fascinating natural and cultural interpretation.
Guided Yosemite treks are all-inclusive which covers permits; local transportation (excluded on certain tours); meals; equipment; safety systems and professional hiking/wilderness guides; all of which allows visitors to maximize their time in Yosemite and focus entirely on enjoying the Park.
YOSEMITE ADVENTURE TOURS
GUIDED BACKPACKING ADVENTURES: these are for people interested in an authentic Yosemite hiking adventure away from the roads and crowds.
PORTERED TRIPS: on these innovative trips, guests hike with light day packs and camp near in stunning backcountry locations.
INN-BASED PACKAGES: these tours are all-inclusive packages with lodging, amazing daily hikes, expert guides, meals, transportation and more!
CAMPING-BASED HIKING PACKAGES: camping-based hiking packages provide all-around hiking experiences of Yosemite on wonderful outdoor vacations.
DAY HIKE TOURS: maximize your day in Yosemite on a fully guided, award-winning hiking tour on one of the Park's best trails.