Visiting Yosemite in November
Learn what to expect when visiting Yosemite National Park in November
Updated: 10/28/2022
November in Yosemite is beautiful, with its brisk, classically fall days and chilly evenings. There are many benefits to visiting in November and some drawbacks. Below we have categorized the most common "when to go" questions to help you determine if November is the best time for you to visit Yosemite National Park.
benefits of visiting in november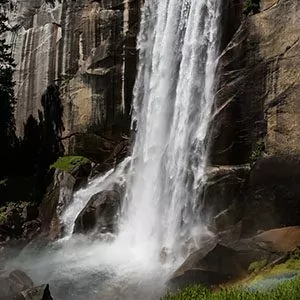 November in Yosemite is one of the best times of year to be in the park. Summer crowds have long gone, and November visitor numbers are more akin to winter than early fall. With much of the park to yourself and many of the trails still open, you are in for a treat in November. Usually, in this month, many of trails in the valley and at lower elevations in Hetch Hetchy and Wawona remain open unless there has been an unusual amount of snow early in the season. Day hiking is wonderful in November, when the weather cools, and hikers can dress in warmer layers they can take off if they get too hot. The cooler weather also means the bugs and mosquitos, often very annoying in the spring and summer, have moved on to warmer climates, so visitors are free to enjoy the park without the need for bug repellent.
Another major benefit of visiting in November is the availability and decreased price of accommodations compared to the summer months. While it is nearly impossible to plan a trip to Yosemite in the summer less than six months in advance for any reservations to be available, November brings more accommodations available and at a reduced price than the same lodges in the summer.
While some roads, like Tioga Road and Glacier Point Road, may be closed, this can be a mixed blessing as it allows guests to spend more time exploring the areas that are open. Summer visitors often spend more of their time driving from one place to another when all the roads are open than they do enjoying the areas of the park. But in November, when some of the park's locations at higher elevations are closed, visitors get a chance to explore the open areas.
And while some of the bears and reptiles will be in hibernation because of the colder weather, many of the other animals will still be out and about, not nearly as sensitive to the fewer visitors that November brings. And while most of the trees in the park are pines and evergreens that retain their needles throughout the colder months, there are a variety of deciduous trees such as the oaks, dogwoods, and aspens that turn their leaves to autumn colors before they fall off for winter. Of course, the timing of these leaves will depend on how warm it is; they may have fallen to the ground by November.
drawbacks of visiting in november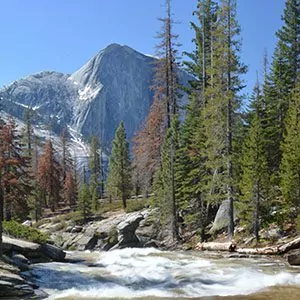 The biggest drawback to visiting in November is the unpredictable weather. It could be nice and warm, with most of the trails still open and available for day hiking and sunny days that are pleasant to hike in. On the other hand, the entire park could be covered with snow, and many trails closed early for winter. There is no good way to predict which way the weather will swing, leaving guests at a hard stop when planning a trip. Do you bring skis and snow gear or hiking boots and T-shirts? In addition, any visitors who want to spend time in the park in late fall but don't have the snow equipment to travel in the winter could be stuck in a position of having to buy additional gear at the last minute or cancel their trip if the snow has come in early.
Another drawback is that Tioga Road and Glacier Point Road are closed and will not open until May or June, which severely limits the hiking options that are available to visitors. Tuolumne Meadows, along with all the trails and sights near it, is inaccessible. Glacier Point, Taft Point, Dewey Point, and Sentinel Dome, which are all reached by driving Glacier Point Road, are also inaccessible. The cables on Half Dome have been taken down, and some of the hiking trails that lead out of the valley, such as Upper Yosemite Falls and possibly Nevada Falls via that Mist Trail, may be covered in snow.
Additionally, the fall's waterfalls are at their lowest as the snow from last winter has melted, and summers are often relatively dry in Yosemite. Yosemite Falls is decreased to a trickle if it doesn't disappear altogether, and while Vernal and Nevada Falls flow year round, they are significantly decreased. Some of the wildlife, such as bears and snakes, along with other reptiles, are in hibernation by this time of the year, and even the wildlife that doesn't hibernate is around at lower activity levels. The Merced River is low and thus isn't the playground that it is earlier in the year, and the migratory birds will be on their way out of the park to search for warmer regions.
As a result of the unpredictable weather in November, the temperature can be either a pro or a con for this month. More likely than not, however, November will be quite cold, limiting some camping opportunities. This unpredictability forces guests to plan for the worst and bring the more cumbersome (and incidentally more expensive) gear that they will need for winter. While November is typically cold, if there is no snow, it can often be very dry, still posing a risk to the park for wildfires. The National Park Service also occasionally burns controlled fires for the health of the forest. Both of these can cause smokey or hazy conditions that may obscure your view of the park. However, they shouldn't cause health risks due to air quality and very seldom cause evacuations in November.
things to do in november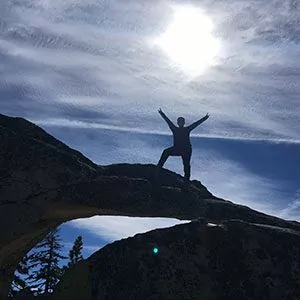 There is a lot to do in Yosemite in November. Some of the trails are still open, so you are able to climb to some elevations for an incredible and panoramic vantage point of the Valley and high country. Day hiking is a great option if you want to experience Yosemite's backcountry in a day. There are a number of options in Mariposa Grove, Hetch Hetchy, and Wawona that offer great views and snow-free areas to explore without the aid of snowshoes. Some of the valley trails, such as Bridalveil Falls and Vernal Falls, may still be open, although the waterfalls will be low. Backpacking isn't much of an option as the presence or chance of snow is too great to be in the high country overnight. While most of the hikes are limited in length and elevation, there are some more adventurous options, including guided, all-inclusive hikes that allow you to enjoy the area and not worry about the logistics of the current weather.
Biking is a fun option in the Valley, with 12 miles of paved and flat bike trails throughout the valley that will most likely be clear of snow. This is a great option if you want to exercise but don't want to venture onto the trails. Bus tours of the Valley and Glacier Point Road also offer many different road tours in the park through November. Fishing is also popular in the valley and neighboring regions such as Wawona and Hetch Hetchy.
Yosemite in the fall is a photographer's playground. Anyone with a camera and a sense of adventure can make photography enjoyable, whether with photo scavenger hunts or simply snapping photos as memories. While the park's waterfalls are not at their fullest and the ethereal snow of winter may not have arrived yet, the deep reds, oranges, and browns of the park's deciduous trees, coupled with the light of sunset and maybe a mule deer in the meadow make for some stunning photos that stand out from the millions of photos that show Yosemite green and full of life.
The winter sports typically don't open until mid-December, such as skiing at the Badger Pass Ski Area or the outdoor ice rink at Curry Village. However, the small town area is still worth a visit. Visiting the Ansel Adams Gallery or the Yosemite Museum, both by the Yosemite Valley Visitor Center, are great options if the weather prevents you from spending time outside. The gallery offers free photography walks and exhibits, while the museum has seasonal historical information about the park and the surrounding region. These attractions will be much more enjoyable without the crowds of summer.
THings to see in november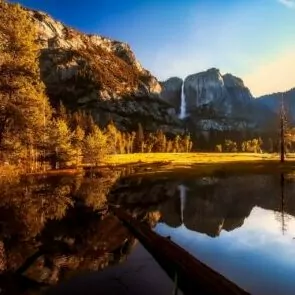 The sights in Yosemite are breathtaking any time of year, but November offers some special treats for those willing to brave the unpredictable weather and come to the park during this month. We've put together a list of a few sights that should be on your bucket list for visiting Yosemite in November, but make sure to research what piques your interest to see.
Mariposa Grove: This vast grove of giant sequoias is a must-see for those coming to Yosemite, as the size of the trees is simply overwhelming. While the road to the grove closes in the winter, it is usually open until the end of November, allowing guests to take the shuttle to the grove and hike within. Even if the road is already closed due to early snow, you can still hike to the grove (about 2 miles) to see these amazing trees with few others around.
Tunnel View: Perhaps the most famous overlook in all of Yosemite, the tunnel view is a must-stop pull-out on the drive into the valley from the southern entrance. With El Capitan on your left, Bridalveil Falls (if there is anything flowing) on your right, Half Dome rising in the distance, and the entire valley spread out before you like a map with hints of fall colors sprinkled throughout, you have to stop here in November, no matter how many times you've seen it before.
Hetch Hetchy: As home to one of the longest hiking seasons in the park, sitting at only 3,900 ft, Hetch Hetchy is a must-see for those wanting to go day hiking and see the sights. Originally a valley very similar to Yosemite that was dammed in 1913 to provide water for the 2.5 million residents in the San Francisco area, this valley and reservoir are still great destinations for hiking, fishing, and general sightseeing in November.
Wildlife: While the wildlife may have become less active than it was in the summer, with colder temperatures causing the bears and reptiles to go into hibernation, there is still an abundance of wildlife to be seen, and the lack of crowds certainly increases visitors chances of seeing some of the shyer animals that are rarely seen in the summer. There are also some migratory birds that are still in Yosemite for November, though many will have moved on to warmer regions.
Granite Monoliths: El Capitan and Half Dome– the unofficial icons of this park. You can't visit Yosemite in November and not take the time to see these massive pieces of granite. Good thing, too, because it is impossible to miss them. As some of the largest monoliths in the world (El Cap is the largest single piece of granite on the face of the earth), these massive stones are a sight to behold. Try to get up close to them and appreciate their massive size, or if it is still warm, look for rock climbers taking advantage of the last part of the season clinging to the face of the rock to get some scale.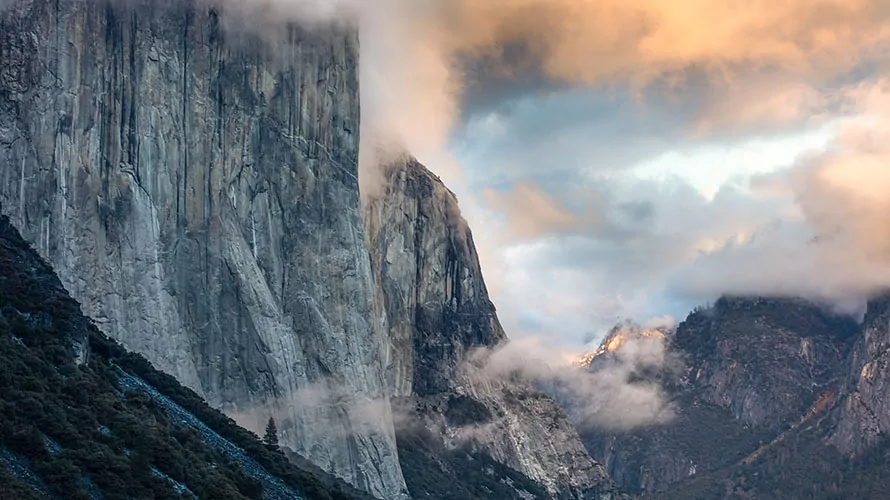 hiking in november
The hiking in Yosemite is world-class, and many trails are still open in Hetch Hetchy and Wawona. The hiking in Hetch Hetchy is particularly good, with options such as Lookout Point, Wapama Falls, and Rancheria Falls, all of which are moderate. Mariposa Grove of Giant Sequoias' shuttle bus runs through the middle of November most years, and there are wonderful choices for hiking in the grove. The Grizzly Giant Loop, a moderate trail in the grove around 2 miles long, is a great option and allows you to see some amazing trees. If there is already snow, Mariposa Grove is an excellent area to try snow shoeing as many options are available. There are always options for walking trails in the valley among the many meadows or along the Merced River if you want to stay on a flat and/or paved path. These trails will take you all around the valley and village and offer some amazing sights to behold, mostly up as you can see waterfalls and giant granite cliffs even from the floor of the valley.
Trails at higher elevations in Tuolumne Meadows or along the rim of the Valley are sometimes closed for snow in November. Since the weather is so unpredictable, knowing precisely what trails will be open is hard. The range truly is anywhere from nice and warm during the day to covered in snow. The National Park Service has a list of trail closures on its Current Conditions website. You can also read about the best hiking trails in Yosemite and NPS' list of trails here.
When hiking in Yosemite in the late fall and winter, it is always best to prepare for the worst conditions you might come across. Carry hats, gloves, and outer layers that will keep out moisture in case of rain or snow. Trekking poles are great aids when it comes to hiking, especially in snow or on rough or uneven terrain. The mornings and evenings will be cold, so plan your activities in the early afternoon as long as you can finish them before the early onset of winter nights. Make sure to drink plenty of water even though it is cold. If you are camping and having trouble keeping your water from freezing, you can keep it in your tent or your sleeping bag to ensure it stays liquid through the night.
Backpacking in NOVEMBER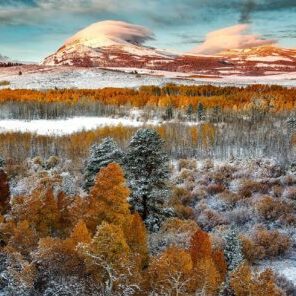 Backpacking in Yosemite in November is usually unavailable and not wise to attempt. The upper elevations, if not the valley itself, are already covered in snow, and hikers would struggle to find any overnight trip that didn't involve snow camping. Depending on the year, Hetch Hetchy may have some shorter options involving less snow, but it is impossible to know what to expect when getting permits six months in advance. For the same reason that it is challenging to pack for Yosemite in November at all, it is doubly difficult to know whether to bring your three-season tent and hiking boots or your four-season tent and snowshoes.
Of course, many of the campgrounds in the valley remain open all year, and some of them are walk-up, making it easy to plan a last-minute trip to camp if you see that the weather should be fair. This way, you can try out your winter gear at base camp backpacking style and still get some of the isolated experience as the park gets fewer visitors as the weather gets colder. The two cross-country ski huts that provide visitors with a winter back-country experience do not open until mid-December and are not an option for those wanting a backcountry experience in November. If visitors plan to do any backcountry camping in November, be advised to prepare for winter camping, even if the weather doesn't call for it.
weather in november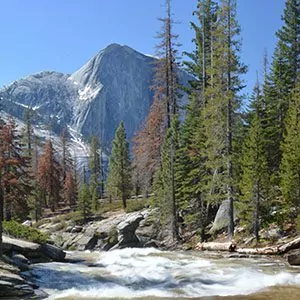 Yosemite is a large park with elevations ranging from 4,000 to over 10,000 ft. As a result of this, the temperature and weather can vary dramatically from one area of the park to another. However, in November, the roads to higher elevations, such as Tioga Pass and Glacier Point Road, will probably already be closed due to snow. Generally, November starts to get a little chilly in the valley, with some chances of snow most years. The average temperature in November in Yosemite Valley is a high of 56 and a low of 33 degrees Fahrenheit (13/ 1 degrees Celsius). At 8,000 feet, the average temperature in Tuolumne Meadows is a high of 56 and a low of 17 degrees Fahrenheit (8/ -8 degrees Celsius). There are, on average, five days of rain or snow in November. Mornings and evenings will be colder than mid-day, so try to plan your activities to peak around early afternoon as long as you are sure you can get everything in before the early onset of autumn nights.
As has been said in other sections on our November page, weather will probably be your limiting factor in November as it can be very unpredictable. Some years it is warm and sunny with little precipitation and long days of sun. In other years, it will be winter in full force with the valley as well as locations at higher elevations, covered in snow. This leaves guests will an interesting dilemma as they try to pack and plan activities without knowing what trails will be covered in snow or even what roads will be open. Should we bring snow gear and plan on making snowmen or long pants and t-shirts and plan on going hiking? This is one of the major drawbacks of visiting in November.
Visitors should plan and pack for the worst weather they might encounter while in the park. If Yosemite is just a stop on a longer trip, this might mean bringing the gauntlet of gear and clothing in case it is warm, sunny, cold, and snowy. Guests should be advised that winter in the Sierra Nevada Mountains is no joke, and those who are not prepared will, at best, be miserable and cold and, at worst, be in danger of frostbite, hypothermia, or worse. The best way to pack for unexpected conditions without bringing everything and the kitchen sink on your trip is to pack and dress in layers.
Wildlife in November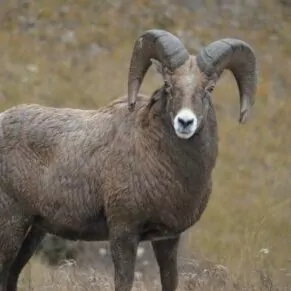 Wildlife in November has definitely lowered its activity levels with the temperature lowering, but it has not vanished. While the bears and reptiles are hibernating to wait out the cold, many other species are gearing up for the colder months. The Merced River is a great place to start to look for wildlife, as many waterfowl and sometimes minks and otters can be seen in the icy water. Rodents abound all year, from chipmunks to marmots, and some visitors might even catch a glimpse of a snowshoe hare in the middle of shedding its brown summer coat for its winter coat of pure white. California's distinctive popularity of great gray owls is also a treat to see standing loftily in the highest boughs or flying silently among the trees. Some of the migratory birds will still be in the park in early November, but many of the residents that remain all year are well worth seeing and taking pictures of. John Muir's favorite bird and Yosemite's only aquatic songbird, the American dipper, can often be seen diving beneath the water–and sometimes beneath the ice– searching for aquatic insects and other tasty meals. Mountain chickadees also remain all winter; these fast little birds are known for their distinctive call that sounds something like "Cheeseburger."
Fall also ushers in a time when some of the larger, lesser-known animals come into the valley because of the lack of crowds. A large group of noisy people who are unaware of the wildlife you are trying to see is the quickest way to scare the animals away. But in November, you are much more likely to have a certain area of a river or the bend in the trail to yourself and be able to observe some of these animals that wouldn't venture so close to the village in the summer. Mountain lions, bobcats, fishers, big horn sheep, porcupines, and even the rarely even Sierra Nevada red fox all call this part of the mountains home. Visitors have a better chance of seeing these creatures during the off-season.
Recommended wildland trips in november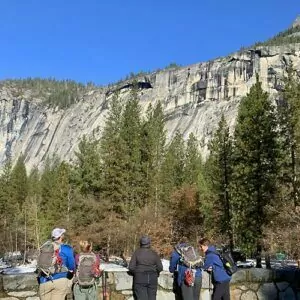 Trying to plan a trip to Yosemite in November can be overwhelming as there are so many variables, including the weather, what roads will be open, and what trails will be accessible. But you can skip the headache of planning a trip by booking one with Wildland Trekking and being shown around by one of our fantastic guides. Feel free to check out all the trips we offer in November in Yosemite, but here are a few we especially recommend for this month.
Yosemite Autocamp Winter Tour: Combine fantastic day hiking and sightseeing with unique accommodations, and you will get this 4-day trip to Yosemite National Park. Don't worry about conditions or weather, as our expert guides will handle making informed, on-the-spot decisions if there needs to be changes to the itinerary due to weather. After fun-filled days of hiking and exploring the park without the crowds, relax in your private airstream accommodation at Yosemite Autocamp. An all-inclusive trip, we provide all the meals, lodging, and local transportation for your adventure to Yosemite.
Best of Yosemite Inn-Based Tour: If camping isn't your thing, try out this 5-day inn-based, all-inclusive tour of Yosemite and many of the sights beyond. Spend all your energy outside during the days full of adventure, knowing you have a warm bed at your cozy lodge accommodation and probably a cup of hot cocoa waiting for you to wind down at the end of the day. This trip includes some of the more popular hikes and lesser-known gems of the valley, all of which will leave you breathless with wonder.
Best of Yosemite Valley Winter Tour: This daytime tour comes with half-day and full-day options for you to explore the park while being guided by one of our professional guides. Experience this authentic Yosemite adventure and enjoy breakfast, trail snacks, a picnic lunch, a top-of-the-line day pack, trekking poles, and snowshoes (if required).
JOIN A GUIDED HIKING ADVENTURE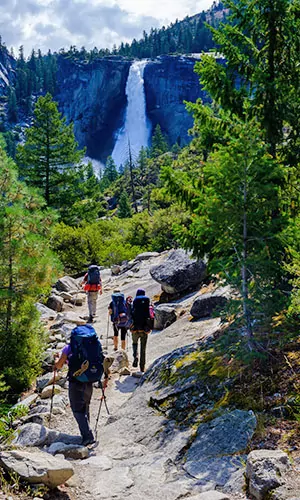 Yosemite National Park is home to some of the world's most epic and amazing hiking vacations. Wildland Trekking offers trips with the best of Yosemite: waterfalls, views, wildlife, solitude, adventure, and fascinating natural and cultural interpretation.
Guided Yosemite treks are all-inclusive, which covers permits; local transportation (excluded on specific tours); meals; equipment; safety systems, and professional hiking/wilderness guides; all of which allow visitors to maximize their time in Yosemite and focus entirely on enjoying the Park.
YOSEMITE ADVENTURE TOURS
GUIDED BACKPACKING ADVENTURES: these are for people interested in an authentic Yosemite hiking adventure away from the roads and crowds.
PORTERED TRIPS: on these innovative trips, guests hike with light day packs and camp near stunning backcountry locations.
INN-BASED PACKAGES: these tours are all-inclusive packages with lodging, amazing daily hikes, expert guides, meals, transportation, and more!
CAMPING-BASED HIKING PACKAGES: camping-based hiking packages provide all-around hiking experiences of Yosemite on wonderful outdoor vacations.
DAY HIKE TOURS: maximize your day in Yosemite on a fully guided, award-winning hiking tour on one of the Park's best trails.