Yosemite Backpacking Trips
Our guided backpacking tours take you into the heart of world-renowned wilderness destinations. Enjoy solitude and adventure as you embark on a self-sufficient journey deep into Yosemite!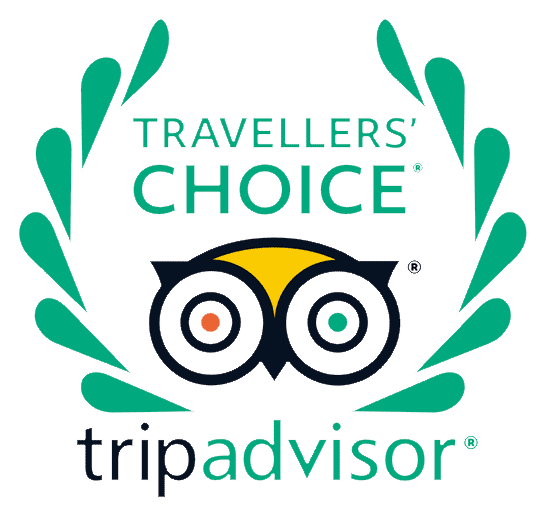 California's Yosemite National Park contains some of the most beautiful mountain scenery in the world. With towering granite walls, deep blue alpine lakes, stunning vistas and cascading waterfalls, this incredible national park will blow you away! A backcountry hiking trip in Yosemite will take you away from the crowded highways so you can experience these truly grand mountains in an intimate and adventurous way.
On our trips you'll be able to focus on enjoying yourself while we take care of the details. Your guide will outfit you with gear, cook the meals, inform you about the landscapes you're hiking through, and do everything they can to make your trip an unforgettable one.
Yosemite Backpacking Trips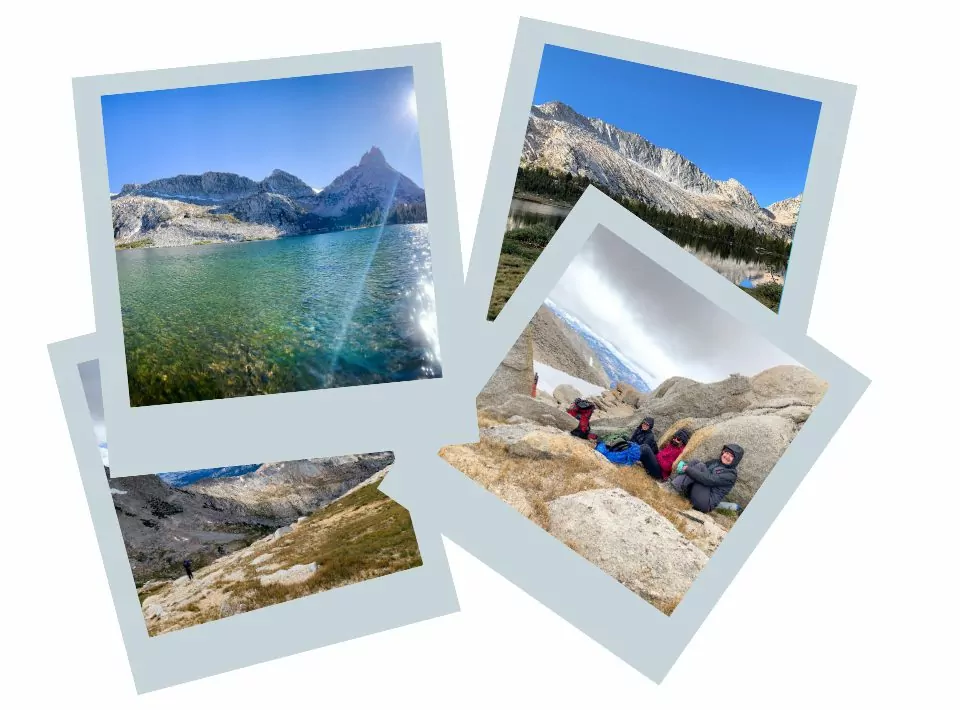 "Wildland Trekking is a wonderful organization that is committed to ensuring a positive experience for each individual. They are well organized, prompt and helpful for all the details that are needed for this type of an adventure. We would definitely use them again for future trips."
– Melanie Sullivan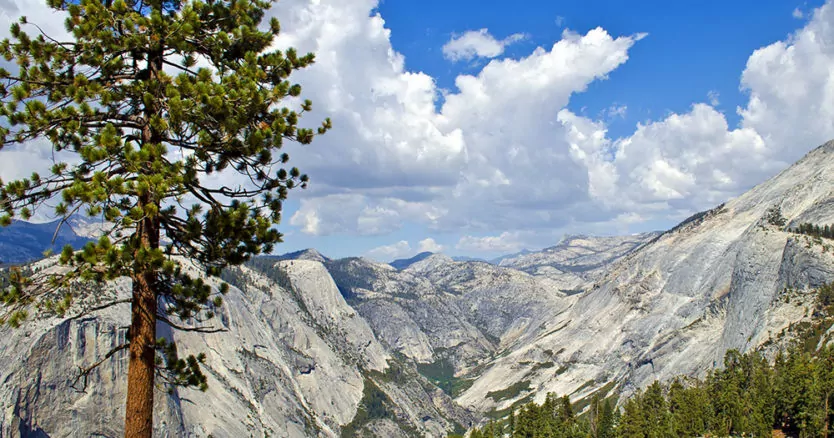 Yosemite Basecamp Tours
Our Yosemite Camping Tours are an opportunity explore the highlights of Yosemite on a variety of exciting, diverse tour options throughout the Park. We'll tackle what we consider to be the best hikes in Yosemite, which take us to thundering waterfalls, jaw-dropping views, towering granite monoliths, glacial-sculpted cliffs and valleys, remote mountains and more. Each evening we'll return to our comfortable camps where we'll enjoy showers, fantastic outdoor meals, campfires and relaxation.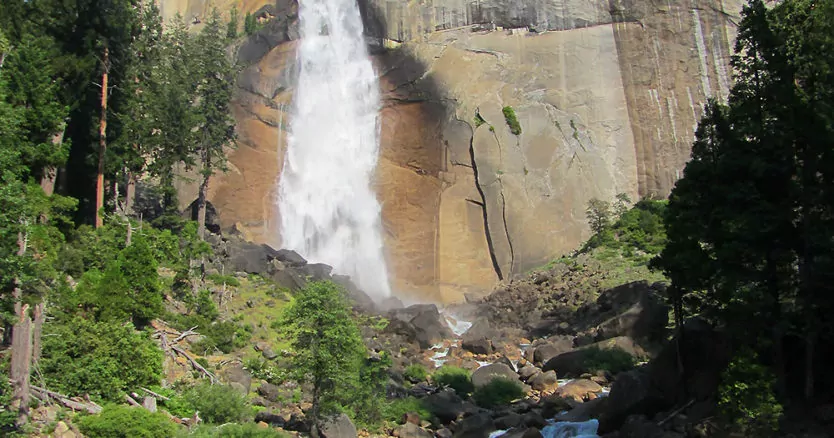 Yosemite Inn-based Tours
If you want to experience the best of Yosemite in style, these trips are for you! Our Yosemite Inn-based Hiking Tours combine the best of Yosemite with comfortable and cozy lodging in or just outside Yosemite Valley. One benefit of staying outside the Valley, or in the Valley in winter, is the peace and quite we'll have between our day hikes. The hikes, like on our basecamp tour, will take us to thundering waterfalls, jaw-dropping views, towering granite monoliths, glacial-sculpted cliffs and valleys, remote mountains and more!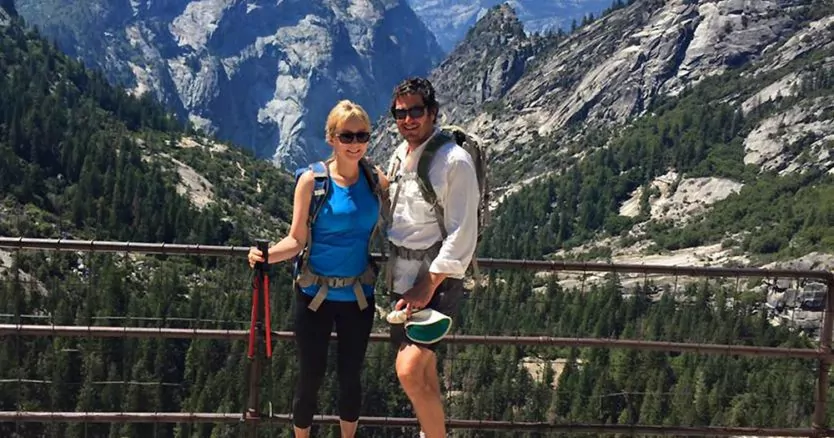 Yosemite Day Hike Tours
Yosemite is a big place, in fact a massive place with endless possibilities for sight-seeing, scenic drives, hikes and more. Maximize your visit by joining one of our guided Yosemite day hikes! Join one of our expert guides for a long, fulfulling hike through some of the best scenery in Yosemite. Enjoy the knowledge and stories your guide conveys as you hike and soak up the views. If you want to make the most of your time at Yosemite, join us for a day of hiking you'll never forget!
MORE ABOUT YOSEMITE BACKPACKING Trips
WHY A GUIDED Backpacking TRIP?
Yosemite National Park is a vast wilderness with many, many backcountry hiking options. Every trip requires a backcountry permit, which is obtained 5.5 months in advance via a lottery system. Backpacking trips require significant amounts of gear, and backcountry experience is critical to make your adventure a fun and fulfilling one. Going with a backpacking guide company like Wildland Trekking gives you the opportunity to travel light, show up, have nearly everything taken care of for you, and then embark on a carefully selected itinerary that provides a world-class hiking experience of Yosemite led by an expert guide.
What's Included
Our guided Yosemite backpacking trips include nearly all your gear, which includes backpack, tent, sleeping bag, sleeping pad, trekking poles, kitchen gear and more. We do ask guests to bring a couple small gear items like a headlamp and water bottles. Trips also include all meals from breakfast the first day through lunch the final day, transportation from the meeting point to the trailhead and back (this varies by trip due to Yosemite transportation logistics.) Of course every tour includes a professional Wildland Trekking wilderness guide to lead your trip, prepare meals, provide interp about Yosemite's natural and cultural history and more. Finally, the finer details such as Yosemite backpacking permits are included so that our guests can focus on enjoying themselves and leave the tedious work to us.
CHOOSING THE RIGHT Yosemite TRIP
Yosemite has an overwhelming number of backpacking route options, and we offer a dozen trips at Wildland. So how do you pick the right one? Many guests want to do Half Dome because of its iconic nature, so that's what they think of first. However, Half Dome is a unique experience that may or may not fit what you're looking for. If being around quite a few people is ok with you, and summiting Half Dome is a top priority, then our Half Dome Backpacking Trip or our Classic Summits Trek will be great choices. If you'd like a longer trip with plenty of solitude and also want to do Half Dome, then our Cathedral Range Trek is perfect for you. If getting away from people and experiencing the silence and beauty of Yosemite's wilderness is a priority, then a trip into Tuolumne Meadows, or down the Grand Canyon of the Tuoloumne, or Ten Lakes Basin, Wonders of Yosemite, or Mount Conness would be worth looking at. We're here 7 days a week to help you as well at 800-715-HIKE (4453)!
WHY WILDLAND TREKKING?
Wildland Trekking began in 2005 as a backpacking company. Backpacking is still a major focus, but we also provide other trip styles including  llama treks, basecamp tours, and inn-based tours. At our core, we're a backcountry guiding company and always will be, and we're expert at what we do. Our trips are all-inclusive; and our guides are carefully vetted, well-trained, and thoroughly supported with exceptional regional management and logistical teams. We've earned #1 spots on 6 national park Trip Advisor pages, and we hold solid 5-star review status at several more.
WHEN SHOULD I START PLANNING MY ADVENTURE?
We recommend beginning to play your trip approximately 4 months beforehand. Because of the limited number of backpacking permits awarded through the lottery system, and the high demand for guided backpacking trips in Yosemite, our trips tend to fill up quickly. Of course, there are often last-minute spots available, so if you didn't make the 4-month mark don't worry! There's still a great chance of getting on a world-class Yosemite adventure.
How Do Yosemite Permits Work?
Yosemite backpacking permits become available 5.5 months in advance. We recommend registering for your trip before that time if possible, but waiting until the trip is confirmed to make your concrete travel arrangements like airfare and hotel rooms. We apply for the permits starting several days before the 5.5 month mark and know pretty quickly whether we were successful. When we're successful, we immediately confirm the trip and guests are notified. If we are unsuccessful we continue applying each day so we can offer alternative dates. Certain iconic trips like the Half Dome Trek are much more competitive than lesser known trips like our Young Lakes and Mount Conness trip or the Wonders of Yosemite. We very strongly encourage guests who are booking Half Dome or Yosemite's Classic Summits treks to think about backup itineraries like the two mentioned above. These more obscure trips can be equally or even more rewarding for many guests than the classics.
When to Go
The Yosemite backpacking season is significantly longer than many mountain destinations because of the elevation differences between Yosemite Valley (home to iconic landmarks like Half Dome, El Capitan, Yosemite Falls and more) and the high country. Yosemite Valley is at about 4,500′ and the high country starts around 8,500′ and goes up to 13,000′.
Trips in Yosemite Valley – like our Yosemite Valley North Rim backpacking trip – can begin in late April or May. Half Dome and Grand Canyon of the Tuolumne open up in June, and our high country trips are fantastic from July through September. Then, again in the fall, the spring trips are great again while winter sets in in the high country.
How Fit Do I Need to Be to Backpack in Yosemite?
The level of fitness required to backpacking in Yosemite depends on the route or itinerary you'd like to do. For the most part, you can expect moderate to high levels of physical exertion. Yosemite is a mountainous national park, with a low elevation of 2,105 feet and a high elevation of 13,114 feet. That's a very impressive 11,009 feet of vertical relief! You won't have to hike that much uphill, you may have to gain some serious elevation. Add the weight of a multi-day backpack on your back (25-45 pounds), and you definitely need to be in good shape.
Backpacking trips range in difficulty from Level 3 to Level 5. We provide descriptions of the physical requirements for each level. Level 3 trips are a good place to start if you're active and in good health. Level 4 and 5 trips are great to start with if you're very fit and active, or to work up to by doing multiple tours.
Is Previous Backpacking Experience Required?
No. Our trips are designed for people who want to have a memorable backcountry experience in some of the world's most amazing national parks and wilderness areas, whether they have backpacked before or not. It is important to be physically active and in good health, but the level of experience of our guests ranges from completely new to backpacking  to very experienced and everything in between.
Logistical Considerations
Gear: we provide almost everything. We do ask that you provide a headlamp and water bottles. Some guests choose to bring their own sleeping bags.
Clothing: when you register, we provide you with a packing list that details the required clothing. An abbreviated list includes hiking shoes or boots, hiking socks, long underwear, trekking pants/shorts, fleece or wool layers, an insulated jacket, rain gear, warm hat and gloves, sun hat and more.
Vehicle: most of our Yosemite backpacking guests have a vehicle and must leave it somewhere during the trip. These tours rendezvous at Curry Village, and you can leave your vehicle there.
Luggage: the best places to leave your luggage while on the tour is either in your vehicle or at your pre-trip or post-trip hotel.
yosemite visitor information
tips for visiting yosemite