Visiting Yosemite in July
Learn what to expect when visiting Yosemite National Park in July
Updated: 10/26/2022
July in Yosemite is hot and dry and is the peak of the spectacular, but busy summer season. There are many benefits to visiting in July, as well as some drawbacks. Below, we have categorized the most common "when to go" questions to help you determine if July is the best time for you to visit.
benefits of visiting in july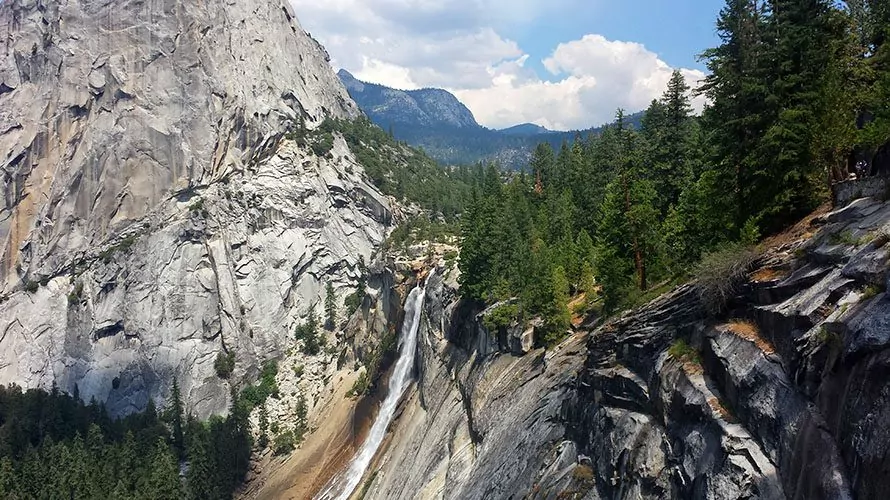 July in Yosemite is absolutely beautiful. Wildlife is out frolicking, enjoying the warm weather, and the park is alive with flora and fauna. Bears have come out of hibernation, and the Yosemite mule deer lounge in the meadows full of wildflowers. The roads that have been closed all winter and spring are open by July, giving you access to the entire park. Glacier Point Road and Tioga Pass–the latter giving you significant options to escape the crowds in places like Tuolumne Meadows– are open to personal vehicles as well as giving you an alternative entrance to access the park through Lee Vining.
Another benefit of visiting in July is that your hiking and backpacking options are at the peak of accessibility. Despite it being the busiest season of the year, summer gives you the most access to the park's trails without snow fields to cross or the threat of it actively snowing while you are on the trail. The weather is much more predictable this time of year, so you can plan your trip and get permits without the risk of being snowed out. Backpacking is a great way to escape the valley crowds and July is the perfect time to do it. In addition, July sees some of the most iconic hikes in the park open such as the hike up the cables on Half Dome and the overlook/hiking around Glacier Point, both of which are hikes the adventurous visitor shouldn't miss.
Besides the better hiking and backpacking conditions, summer is the only season where Yosemite water sports such as whitewater rafting and still water rafting down the park's Merced River are available. With the increased temperatures and extreme dryness in the summer, you might welcome a chilly plunge into the icy water.
drawbacks of visiting in july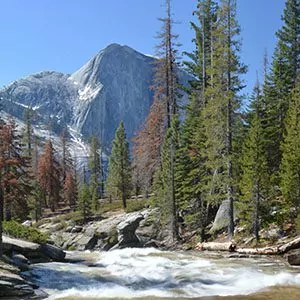 The biggest drawback to visiting in July is the crowd. This means lines for shuttle buses, difficulty obtaining permits, and expensive peak season accommodation rates. Lines of traffic both to get into the park and inside the park can be long, especially if there is an unexpected event such as a bear on the side of the road or a car accident. These events can back up traffic for hours so it's best to be flexible with your activities. Visitors often have to circle around parking lots like vultures waiting to get a spot only to stand in long lines for food or other services. Wilderness permits to backpack and hike Half Dome are also hard to obtain and can be stressful due to the lottery system they operate by. Even though it is really crowded and obtaining permits is harder, it is not impossible to plan an enjoyable trip to Yosemite in July; just make sure to plan well in advance and to be flexible. To avoid the stress of getting permits and to get off the beaten path, we recommend going with a guiding company.
Another drawback of Yosemite in July is the heat. July and August are the hottest months of the year with highs in the 90s that often feel much hotter because of the extended sunlight hours and the extreme dryness of the mountain air. Guests that are accustomed to humid heat should bring lots of lotion to prevent dry and cracking skin on your hands and feet. Despite this however, summer is the busy season in Yosemite for a reason: there aren't many downsides to the park in July except that everyone else knows there aren't many downsides to the park in July.
If you have a low tolerance for crowds, but the only time you can visit the park is in the summer, there are ways to enjoy the park. Listed below are the best ways for escaping the crowds in the summer:
Get an early start: the earlier you rise, the more of the park you have to yourself before the crowds arrive.
Go on a hike: the further you go on a trail, the more the crowds thin out.
Plan ahead: the earlier you make reservations, the more likely you are to get the permits that you want.
Go on a picnic: try to avoid the crowded eateries at lunchtime, instead gather supplies from the general store and enjoy a picnic at one of the many overlooks in the park.
things to do in july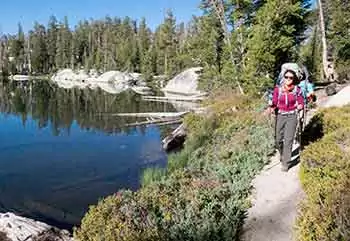 There is plenty to do in July in Yosemite. All of the trails have opened, so you are able to climb to higher elevations for a fantastic vantage point of the Valley and high country. Day hiking is a great option if you want to experience Yosemite's backcountry in a day. There are a range of day hikes available from the 14 mile, incredibly strenuous Half Dome hike to the half mile completely flat hike to Bridalveil Falls. Backpacking is an extraordinary option if you have multiple days in the park and want to sleep in the backcountry among the peaks, pines, stars, and away from most of the crowds. These trips can be anything from an extended weekend up to Tuolumne Meadows with only a couple nights in the backcountry to months at a time if you want to take some of the trails that leads away from Yosemite that are hundreds of miles long. Alternatively, there is also backpacking along the rims of the valley that is a wonderful respites from the crowds.
A Yosemite camping trip is also a fantastic option but plan on making campground reservations in advance or getting there early to secure a first-come-first-serve site. The campgrounds book months in advance and the only first-come-first-serve campground in the summer, Camp 4, fills up immediately in the mornings. There is also biking in the Valley, with 12 miles of paved and flat bike trails to explore. This also provides a wonderful alternative to driving as bikes get to bypass any huge lines of traffic. While Yosemite Valley is sizable, it is not unrealistic to get around on a bike even if you drive into the park early in the morning, find a parking space, and then bike everywhere you want to go. Electric bikes are also allowed in the park and will give further reason for choosing to bike instead of drive. Rafting is another popular activity in the park in July. Whitewater rafting is available just outside the park and still water is available from Curry Village. Horseback riding is also available along with fishing and wildlife viewing as the residents animals around Yosemite are very active in July. Deer, bears, coyotes, and many rodents are all common sights in Yosemite in July even around the populated sections of the valley.
If the outdoorsy, adventure sports aren't your thing, there are bus tours of the Valley and Glacier Point Road that offer a wide variety of scenic drives that will give you a good taste of the park. You can also visit The Ansel Adams Gallery which offers photography workshops and free camera walks. The Yosemite Museum is another great option and features seasonal historical exhibits about Yosemite and the surrounding region. Both are located by the Visitor Center in Yosemite Valley. Photography is a great activity in Yosemite in July because there is a never ending supply of things to take pictures of. Yosemite is the most photographed national park for a reason as everything makes a great subject from the giant granite monoliths to the tiny chipmunks scurrying about. You can also try your hand at star photography on the clear summer nights. It will probably still be in the 50s, however, so make sure to bring some warmer layers for being out there at night. You'll very likely have the area to yourself if you venture out at night and be able to experience Yosemite in an entirely different way: alone with only the wind in the pines and maybe a coyote scavenging through the campground. There are truly endless possibilities for activities in July, so take you pick and get out there to enjoy them.
Things to see in July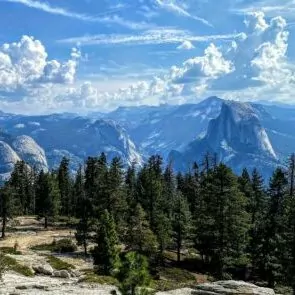 There are as many things to see in July as there are to do, and if you read the above section, you know that's a lot. These two lists of must-sees are arranged depending on whether you want to see the classic sights or if you want to escape the crowds. Both strategies can be rewarding and neither of these lists is exhaustive, so make sure to do your own research to see what piques your interest.
The classic– but crowded– sights
Tunnel View: This overlook is perhaps the most famous and the most photographed in the park. A pull out with a small parking lot just after one of the tunnels on the road into the valley, you have to stop at this overlook no matter how many times you've seen it before. The whole valley is laid out before you framed by the might El Capitan to your left, Bridalveil Falls to your right, and Half Dome rising in distance straight ahead. While it is often crowded, it is well worth it to stop here.
Vernal and Nevada Falls: With sections that are both moderate and strenuous, this hike is a great option for big groups who want to hike different distances. The trail is moderate and rather short up to the first overlook of Vernal Falls at the footbridge. It then become strenuous up Mist Trail, so called because of the constant mist is receives from the falls. The stone steps are steep and tall though, so watch you step as they can be slippery. After you reach the top of Vernal Falls you can go on to Nevada Falls farther up the same trail if you like. If you really want to get to the top of Vernal Falls but don't want to do the Mist Trail, the John Muir Trail adds a couple miles to your trek, but takes you the long way around to the top.
Glacier Point: One of the highest driving accessible viewpoints in the park, Glacier Point is not to be missed for any Yosemite first time visitor as it gives a spectacular view of Half Dome, the eastern end of the valley, and Vernal and Nevada Falls. If you drive this road the same day or after you visit the Mist Trail, you'll be even more amazed as the thunderingly large waterfalls you saw yesterday are silent and small from this high up. Half Dome is to your left and if you look carefully, you might be able to see hikers scaling the cables on the rounded side.
ROAD LESS TRAVELED OPTIONS
Taft Point: Very close to the incredibly crowded, drive-up Glacier Point, Taft Point requires a short hike to access. Being lesser known combined with the short trek make it far less popular than Glacier Point, but no less stunning. Instead of looking towards Half Dome, Taft Point brings you to the very brink of the cliff opposite El Capitan and shows you the valley from a different angle than anywhere else. Besides the fewer crowds, Taft Point allows brave visitors to get the iconic pictures at the edge of a 3000 ft cliff that plummets to the valley floor. Many guests choose to peer over while lying on their bellies.
Tuolumne Meadows: Outside the valley on Tioga Pass lies Tuolumne Meadows, a gorgeous highland filled with lakes, streams, and rock formations. While it still gets a good amount of visitors, Tuolumne Meadows is out of the way and a fair drive from the valley which means there are less crowds here. One of the signature hikes of the area is the climb up Lambert Dome, which grants hikers wonderful views from the top. Drive up for the day or spend some time and camp at the campground and explore the area. It will be cooler up at the high elevations as well, providing a double respite from the valley.
Cloud's Rest: Do not be fooled by the name; this hike is anything but restful. Cloud's Rest is around 1,000 feet higher than Half Dome and provides a nearly identical view as well as great views of Half Dome itself. Just around 14.5 miles roundtrip, it is just as strenuous as Half Dome, but while the more famous hike is swarmed with crowds and has cable climbing, Cloud's Rest will be peaceful and doesn't require permits.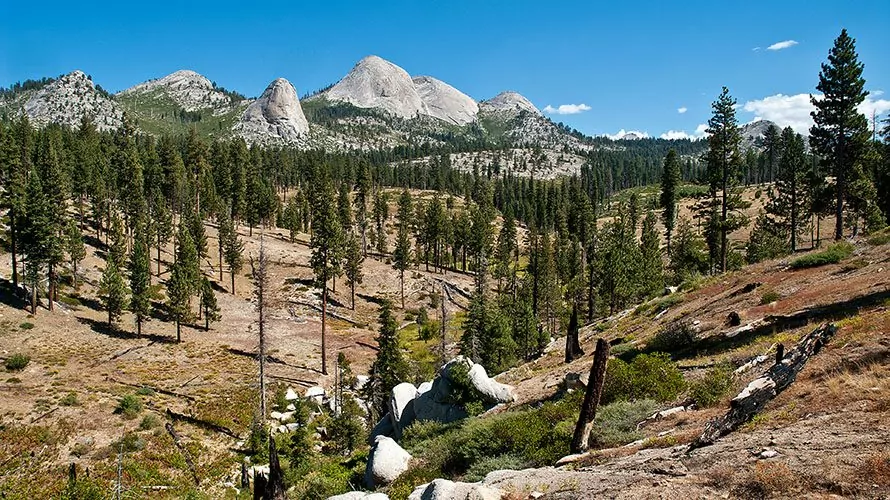 hiking in july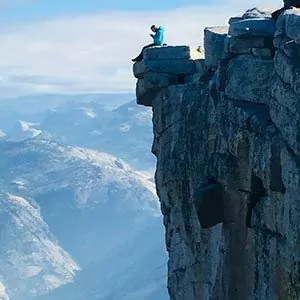 The hiking in Yosemite is world-class and it is perfect in July as most of the trails have opened and the weather is near-perfect. The park has over 800 miles of hiking trails, and many lead to waterfalls, alpine lakes, or granite peaks. Trails vary in distance and difficulty, so there is something for all ages and levels of experience. Each area of the park is unique with hikes ranging from easy to strenuous, so there is surely something to spark your interest. You can read about the best hiking trails in Yosemite and NPS' list of trails here.
Half Dome is probably the most famous hike in all of Yosemite. This trek comes in around 14 to 16 miles roundtrip and can take up to 12 hours or more. While incredibly famous, those who are not prepared should not attempt this hike as it can be dangerous and extremely fatiguing. The views from the top of the granite dome, however, are something to behold. The famous cables that run the length of the rounded side of the dome are available for hikers to use, allowing them to climb the dome without rock climbing equipment. While there have been few deaths on the cables in the last century, injuries are not uncommon for those not acting responsibly. Most of the distance comes from the hike to the cables and not on them because you cannot drive to the base of the dome. The hike also requires permits that limit crowds which are allotted by a lottery system. However, you can avoid the headache of the longer hike and securing your own permits by booking a backpacking trip with a guiding company that will make the hike up the monolith much shorter.
There are also plenty of other– shorter– options for day hiking such as the many waterfall trails. Vernal and Nevada Falls as well as Upper Yosemite Falls are on the challenging side while Bridalveil Falls and Lower Yosemite Falls are much easier and suitable for young children or those with accessibility needs. There are additional hiking trails on Glacier Point Road in the many pull offs where there will be fewer crowds. Dewey Point and Sentinel Dome are both lesser known options that will still bring you to some stunning scenery. Remember that Glacier Point is almost 3,000 ft higher than the valley, so take it easy in the altitude as you might find yourself breathing heavier and becoming tired more quickly.
Keep in mind that even day hiking in Yosemite can be dangerous if you are not prepared to face the mountainous conditions. Bring at least 3 liters of water for you hike as well as sunscreen and a hat to shield you from the summer sun. Visitors from coastal regions or areas with warm, humid weather like the American south should also keep in mind that the extreme dryness of the mountain air might cause allergy like symptoms and will definitely dry out your skin. It's also important to use common sense while hiking. Stay on the trail as going off-trail can lead to erosion and/or injury to yourself, and if hiking to a waterfall, never swim in a pool above the falls.
Backpacking in July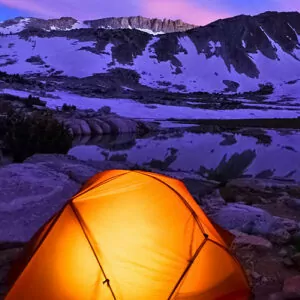 Backpacking is spectacular in July but does require a wilderness permit. With the weather being hot during the day and chilly at night, it is ideal for camping out among the granite and the stars. What trail is best for your preferred backpacking adventure will depend on each individual, but we've come up with a list of some of  the best trails for backpacking that you can reference if you need ideas.
Backpacking can be intimidating especially if you've never done it before with all the gear and planning it requires. If you'd like to try backpacking out but don't know where to start, you can book with a guiding company that will supply much of what you need and show you the ropes of how to execute a safe and fun trip. There are a multitude of options when it comes to backpacking in Yosemite in July as the high country trails are open and typically free of snow. Many backpackers chose to begin their trek on the John Muir Trail from Yosemite in Happy Isles which is the northern most point of the trail. While the trial is 211 miles, it can be done is sections from as little as an extended weekend to weeklong treks. These all take you up and away from the valley fairly quickly, which can be a brutal trek up to the higher elevations, but it is a fantastic option and frequently used so newbies don't have to worry about being completely alone with no one to help in a pinch.
If you're looking for a shorter trip that will keep you near Yosemite Valley, there are many options for rim trails and weeklong trips that will let you experience this beautiful area from a different perspective. The north rim of Yosemite Valley or a traverse on top of El Capitan are great 4 or 5 day options that will take you away from the crowds but still with views of one of the most famous valleys in the world. Alternatively, you can stay right in the valley as well as backpack through the higher regions in Tuolumne Meadows to get that backcountry feel while remaining close the civilized parts of the park.
With the weather getting hotter toward the end of the summer, backpackers should be aware of the heat; some even plan on taking rests during the midday heat and continuing on later in the evening. As there is still snow at the highest peaks, it is still possible to run into snow fields, but they shouldn't be large or require much navigation. If there has been a large snow year, water levels will still be high in July which can result in deeper and more dangerous stream crossings for backpackers in the high country, but if the winter was less wet and there has been little rain, the rivers won't be nearly as treacherous as earlier in the season. As far as conditions go, July is some of the best of the year for backpacking, so don't let the dangers discourage you from trying out this activity.
weather in july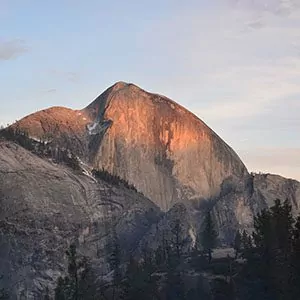 Yosemite is a large park which encompasses areas from 4,000 to over 10,000 ft in elevation. With the backcountry being open for the summer and the locations with higher elevation accessible by car, there comes a point when the weather page that says "Yosemite" no longer gives you enough information for the weather specifically where you are going. But overall, weather in Yosemite in July is typically warm and sunny– in fact some would call if downright hot. The average temperature in Yosemite Valley is a high of 90 and a low of 57 degrees Fahrenheit (32/ 14 degrees Celsius). At 8,000 feet, the average temperature in Tuolumne Meadows is a high of 72 and a low of 38 degrees Fahrenheit (22/ 3 degrees Celsius). On average, it rains only one day in July.
July and August are the hottest months in Yosemite and even though the average highs are only in the low 90s, it can be hotter and almost always feels hotter because of the long summer days and the extreme dryness of the mountain air. Visitors that are used to more humid climates should bring lots of lotion to keep their skin from cracking if you are staying more than a few days. It can, however, still be cool at night which is often a welcome respite from the daily heat. Best to always bring a jacket especially if you are planning to spend any time at Tuolumne Meadows or at higher elevation which will be cooler than in the valley. You can always take a dip in the Merced or in an alpine lake to cool off, but the water is snow melt so be prepared for a shock of cold.
Visitors planning on entering the park through the southern entrance near Bass Lake and the little town of Oakhurst should prepare for hot weather as these areas are typically warmer than inside the park. Lee Vining, the gateway to the northern entrance to the park over Tioga Pass, has highs in the 80s for July and is pleasant being at higher elevation. If you're planning to do any backpacking in the high country or even some star photography in the evening in the valley, remember that it can still be cool in the evening. Also don't forget to bring bug repellent or light long sleeve shirts as the bugs will be out and about with the warm summer air.
More likely than June, July will probably be fire season in Yosemite. Natural lightning strike fires from afternoon storm cells are healthy for the forest as they clear brush and cycle different species through the area. These are typically small and do not threaten visitors, although the smoke can cause hazy conditions. However, the number one cause of larger wildfires that can destroy huge sections of forest is humans. These fires can spread easily because of the dryness of the summer along with other issues in the park like bark beetle which kills and drys out trees. It is important for everyone to do their part in preventing wildfires as well as responding to local authorities if there is one in the area. Most often, the fires are annoying because they cloud the views of the valley, but occasionally they pose health risk due to air quality or even cause evacuations. It's best to be prepared for whatever weather conditions come your way while visiting the park and you can ask a local ranger about conditions or visit the National Park's Service page on wildfires if you want more information
Wildlife in July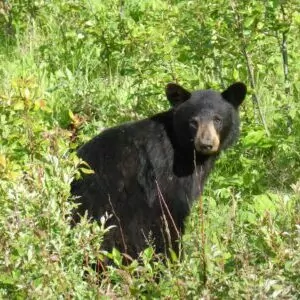 Yosemite National Park is bursting with wildlife from the largest bears to the smallest rodents and reptiles. It is difficult to drive through the park without seeming some of the local wildlife such the mule deer lounging in the meadows or birds of prey flying over head. Of course, the big one everyone wants to see is the Yosemite black bears. These predators do more scavenging than active hunting, so you're chances are pretty good of getting to see one of these animals eating berries or roots on the side of the road or wandering through the campground looking for food that wasn't stored correctly. Always make sure to store food indoors or in bear boxes at the campground and cover coolers in the back of your cars because these bears have learned to recognize them as an easy meal. Many birds, including John Muir's favorite, the aquatic songbird the American dipper and California's distinctive population of  great gray owls, can be seen at the rivers or in the tree tops, particularly in the morning or later afternoon since these animals don't care for the heat any more than the crowds do. In contrast to the obvious creatures, however, the shyer animals that inhabit this park aren't willing to be around the crowds are require more effort to see. Otters and minks can be seen in the Merced if you are patient and big horn sheep are a treat, but the herds of gray sheep often move among the gray granite and are difficult to spot. If you journey into the backcountry even on a day hike you might see marmots or even a pika if you are at high enough elevation. Bobcats, mountain lions, fishers, and even red foxes all inhabit this part of the mountains, but visitors are more likely to see the tracks of these animals rather than the animals themselves. If you've come to Yosemite for the wildlife, ask a range about where the best places are and what animals have been recently sene or captured on a motion sensor camera.
RECOMMENDED wildland trips in july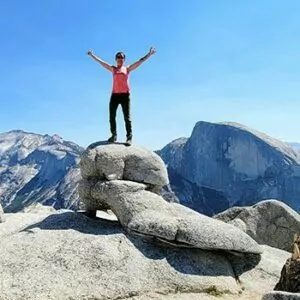 Planning a trip to Yosemite in July can be overwhelming as there are so many reservations, permits, and restrictions to keep in mind. If you don't want to spend all that time and energy working on logistics and instead want to simply enjoy your trip, you can book backpacking trips, camping tours, day hikes and even trips that stay in hotels with Wildland Trekking and be shown around the park by one of our professional guides who will take care of the logistical headache before you even arrive. There are a plethora of trips that we offer but here are a few we especially recommend for July.
Glacial Basin Thru Hike: This 5 day backpacking trip will take you through some of the most stunning scenery in all of Yosemite National Park including Tuolumne Meadows and the Grand Canyon of Tuolumne. Up in the high country and away from the valley and the crowds, this trip provides a certain amount of solitude as you hike through meadows sprinkled with wildflowers and sleep under velvet skies studded with stars. An all inclusive trip with all meals and much of your backcountry equipment included, this is a fantastic trek into the lesser known parks of the park.
Cathedral Range Trek: This 7 day, all inclusive, backpacking tour leads visitors through the Cathedral Range, and its name does not disappoint. Experience a longer stay in the backcountry both in the high country away from the crowds and also with ventures into the valley with a trek up Half Dome (but without the 14 mile day and with an early summit before any day hikers can reach it). This tour is a loop and begins and ends in Curry Village in Yosemite Valley. Don't worry about meals and much of your gear, we've got you covered on this amazing Yosemite experience.
Yosemite Autocamp Summer Tour: This camping tour of Yosemite is not to be missed as you will trek out on day hikes and then in the evening return to your unique accommodations: private airstreams at Yosemite autocamp. Experience the classic sights in Yosemite Valley and also venture to some lesser known gems in the valley as well as in Tuolumne Meadows. We provide the lodging, meals, local transportation, and an expert guide to lead you through the park, so prepare to sit back and enjoy Yosemite.
JOIN A GUIDED HIKING ADVENTURE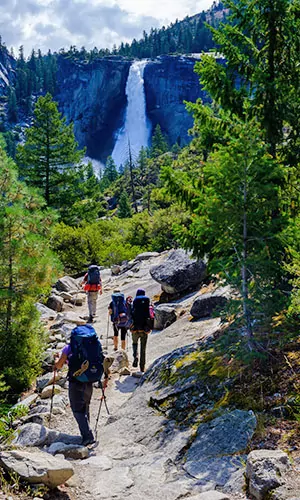 Yosemite National Park is home to some of the most epic and amazing hiking vacations in the world. Wildland Trekking offers trips with the best of Yosemite: waterfalls, views, wildlife, solitude, adventure and fascinating natural and cultural interpretation.
Guided Yosemite treks are all-inclusive which covers permits; local transportation (excluded on certain tours); meals; equipment; safety systems and professional hiking/wilderness guides; all of which allows visitors to maximize their time in Yosemite and focus entirely on enjoying the Park.
YOSEMITE ADVENTURE TOURS
GUIDED BACKPACKING ADVENTURES: these are for people interested in an authentic Yosemite hiking adventure away from the roads and crowds.
PORTERED TRIPS: on these innovative trips, guests hike with light day packs and camp near in stunning backcountry locations.
INN-BASED PACKAGES: these tours are all-inclusive packages with lodging, amazing daily hikes, expert guides, meals, transportation and more!
CAMPING-BASED HIKING PACKAGES: camping-based hiking packages provide all-around hiking experiences of Yosemite on wonderful outdoor vacations.
DAY HIKE TOURS: maximize your day in Yosemite on a fully guided, award-winning hiking tour on one of the Park's best trails.