Visiting Yosemite in December
Learn what to expect when visiting Yosemite National Park in December
Updated: 10/28/22
Winter is a magical time in Yosemite National Park. There is nothing like watching snow blanket the granite domes and lodgepole pines. Visiting the park in December has terrific benefits as well as some drawbacks. If you can make it to Yosemite in December, you will have a fantastic trip and leave with an appreciation for the snow and solitude of winter in the park.
benefits of visiting in december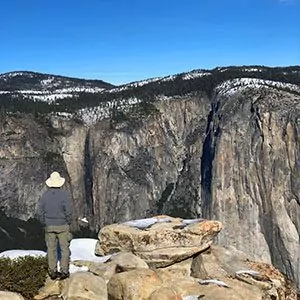 The biggest benefit to visiting Yosemite in December is the lack of crowds. Summer is the busiest time of the year, and spring and fall are also bustling—although not nearly as busy as summer. Winter is a season of peace and quiet without long traffic lines to get into the park or struggle to find a parking place. The other main benefit to visiting in December is the beauty of the snow covering the Valley's domes or the giant sequoias of Mariposa Grove. It is truly a winter wonderland. And the low lighting in winter makes for great photography.
Another benefit of visiting the park in December is that you are more likely to be able to plan a last-minute trip. Anyone who has tried to plan a spur-of-the-moment trip to Yosemite in the summer knows the headache of finding a hotel or campground with space available at all, never mind anything affordable. But in winter, rates are much more reasonable, and accommodations can still be found even just a few weeks before your trip if you are in the area or have a couple of extra days off work.
While the closures of Glacier Point Road and Tioga Road are annoying, especially if you want to see some of the sights off those roads, they are a mixed blessing as they allow visitors to experience the park in the areas that are open truly. With the park being so large, summer visitors often spend more of their time driving from one place to another than they spend enjoying the scenery where they are. There is so much to see that you feel you have to drive the distance to squeeze everything in. But in winter, visitors are restricted to the valley and a few other areas that let you truly explore the area without the fear of missing out on something elsewhere.
Besides these, visiting the park in December has a few other perks. The bugs will be away because of the cold, so you won't have to worry about annoying mosquitos, and the chance of wildfires is severely decreased. You probably won't have to worry about evacuations or smoke clouding your views at the overlooks. And while some of the bigger wildlife, like bears, are in their winter dens to wait out the cold, much of the park's resident wildlife will more often venture into the valley in winter, and you are much more likely to see them because of the lack of crowds. And as a bonus, winter is the only time that winter sports are available in the park (go figure), with skiing, snowshoeing, and sledding, to name a few.
drawbacks of visiting in december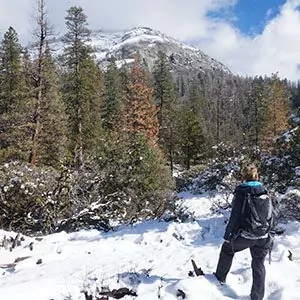 The snow in Yosemite is a double-edged sword, making it beautiful and closing many roads. The biggest drawback to visiting in December is Tioga Road and Glacier Point Road closures, typically closing in November and opening in late May. Highway 140 runs through the Valley and is open year-round but may have snow chain restrictions. Mariposa Grove Road is also closed in December, although you can park your car at the Mariposa Grove Welcome Plaza and walk the two-mile Washburn Trail to the grove.
The weather is also a drawback in December, as temperatures rarely get above 50 during the day and are bitingly cold at night. This means that visitors need to be better prepared for the conditions than those coming in the summer and have more gear to bring along. Visitors that don't have the proper clothing and equipment to deal with the cold won't have the winter wonderland experience they were hoping for. Instead, they will be miserable and, at worst, be in danger of frostbite, hypothermia, or worse. The weather can also impede any outdoor activities at all if it is actively snowing or so windy that it is miserable.
While much of the park's wildlife will still be out and about in December, your chances of seeing the iconic Yosemite black bear is next to nothing as they have retreated into their winter dens for the season. While they don't technically hibernate and can still venture out in winter, they are very unlikely to do so because of the lack of food. In addition, traveling to the park may be dangerous due to winter conditions as roads wind through the mountains and sometimes are cut through sheer canyons that can drop snow and rocks onto the road, blocking the traffic.
things to do in december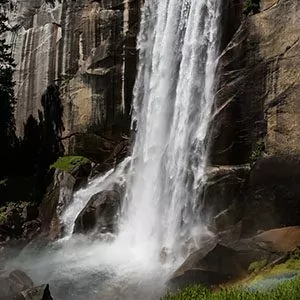 December is a great time to explore Yosemite without the crowds. The beauty and majesty of snow in the Valley make the park very photography-friendly. Ensure you catch sunrise or sunset from Tunnel View, just outside the Valley. There are also great hiking options in the Valley, Hetch Hetchy, Wawona, and Mariposa Grove. Visiting the Ansel Adams Gallery or the Yosemite Museum, both by the Yosemite Valley Visitor Center, are great options if the weather prevents you from spending time outside.
A unique experience in Yosemite at the end of December is cross-country skiing, downhill skiing, snowboarding, or snowshoeing at Yosemite Ski and Snowboard Area. This is a great way to see areas of the park that are closed to cars and only accessible by cross-country skis or snowshoes. There are groomed cross-country ski and snowshoe routes on Glacier Point Road and also in Mariposa Grove. Yosemite Ski and Snowboard Area for traditional downhill skiing and snowboarding opens for the season on December 20th and closes on March 31st.
If the more adventurous sports aren't your thing, the whole family will enjoy plenty of areas for sledding, building snowmen, and other playing-in-the-snow activity. Crane Flat and Yosemite Hospitality are both great areas for this kind of snow play. Guided bus tours also operate in the Valley year-round and are a fun way to see the beautiful winter in the Valley from the warmth of a heated bus, perhaps sipping hot cocoa. There's also an outdoor ice rink at Curry Village that offers a unique experience of ice skating while surrounded by such beautiful scenery.
Hiking and backpacking are severely limited in December due to the snow, but some hiking trails, such as Bridalveil Falls and Mirror Lake, are open for day hiking. Most hikes are short and flat because of the snow, but there are some more adventurous options, including guided, all-inclusive hikes that allow you to venture out into the more remote areas. Most hiking and backpacking, however, are subbed out for snowshoeing and cross-country skiing to accommodate the weather. Don't forget to go star gazing night sky photography on clear winter nights.
Another popular activity in December is wildlife viewing and photography. While the black bears are hibernating to wait out the cold, many other animals are still active and are more easily seen than in summer because of the lack of crowds. Many of the more elusive animals, like big horn sheep, snowshoe hares, bobcats, mountain lions, and even red foxes, are sometimes seen in the winter as the snow preserves their prints perfectly for visitors to see. With some of your hiking options limited, sitting at the icy Merced looking for otters or birds is much easier on your travel conscience than it is in summer when there are many other things to do.
THings to see in December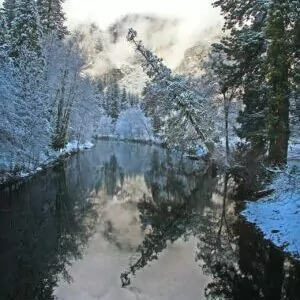 December is simply stunning in Yosemite Valley as the pines and peaks are topped with snow, and there is a winter hush over everything around you. Because of the ethereal look of the park, sightseeing is one of the most popular activities in December for good reason. Research what piques your interest in the park, or follow along for a must-do list for visiting in December.
Tunnel View: Perhaps the most famous overlook in the entire park, the tunnel view is a pull-out with a small parking lot on the main road leading into the valley from the south. This view is worth a stop no matter how many times you've seen it, especially with its unique view in winter. With El Capitan and Bridalveil Falls in the foreground and Half Dome rising in the distance, you shouldn't miss this overlook's fantastic view.
Yosemite Valley Chapel: Often driven by quickly without a second glance, Yosemite Valley Chapel is well worth a spot and a few pictures. Still an operating community church, the little chapel is arguably most beautiful in winter as the snow warps around its snug red walls and single steeple. In the past, they've done a candlelight Christmas Eve service if you happen to be in the park for the holiday.
Hetch Hetchy: Hetch Hetchy was once a valley much like Yosemite with deep gorges and high waterfalls, but it was dammed in the early 1900s to provide water for millions of people that live in the San Francisco Bay area. However, that doesn't mean that visiting this valley isn't worth the trouble. With one of the longest hiking seasons in the park, Hetch Hetchy will probably have snow in December and is a great place for snowshoeing, fishing, wildlife viewing, and seeing waterfalls.
Granite Monoliths: The famous El Capitan and Half Dome are not to be missed on a visit to Yosemite any time of the year, but in winter, they take on a new feel with their mantle of pure white snow. Try to get up close to these rock behemoths (El Capitan is the largest single piece of granite in the world) and allow yourself to truly appreciate their size.
Wildlife: The wildlife in Yosemite in winter is not nearly as active as it is in the warmer months, but it is still very much worth some effort to see. Snowshoe hares and weasels turn white to blend in with the snow, otters play in the Merced, and the occasional bobcat or even mountain lion can be seen in the backcountry. The snow preserves the tracks of all these animals clearly so you can see what has passed by the same place you've come to.
Glacier Point Road: If you're up for an adventure on snowshoes or cross-country skis, take a trek up Glacier point road, closed to cars all winter. Offering stunning vistas and many trail options, this road is great for experienced and newbies alike, as you can go as far as you'd like before turning around and returning to your car.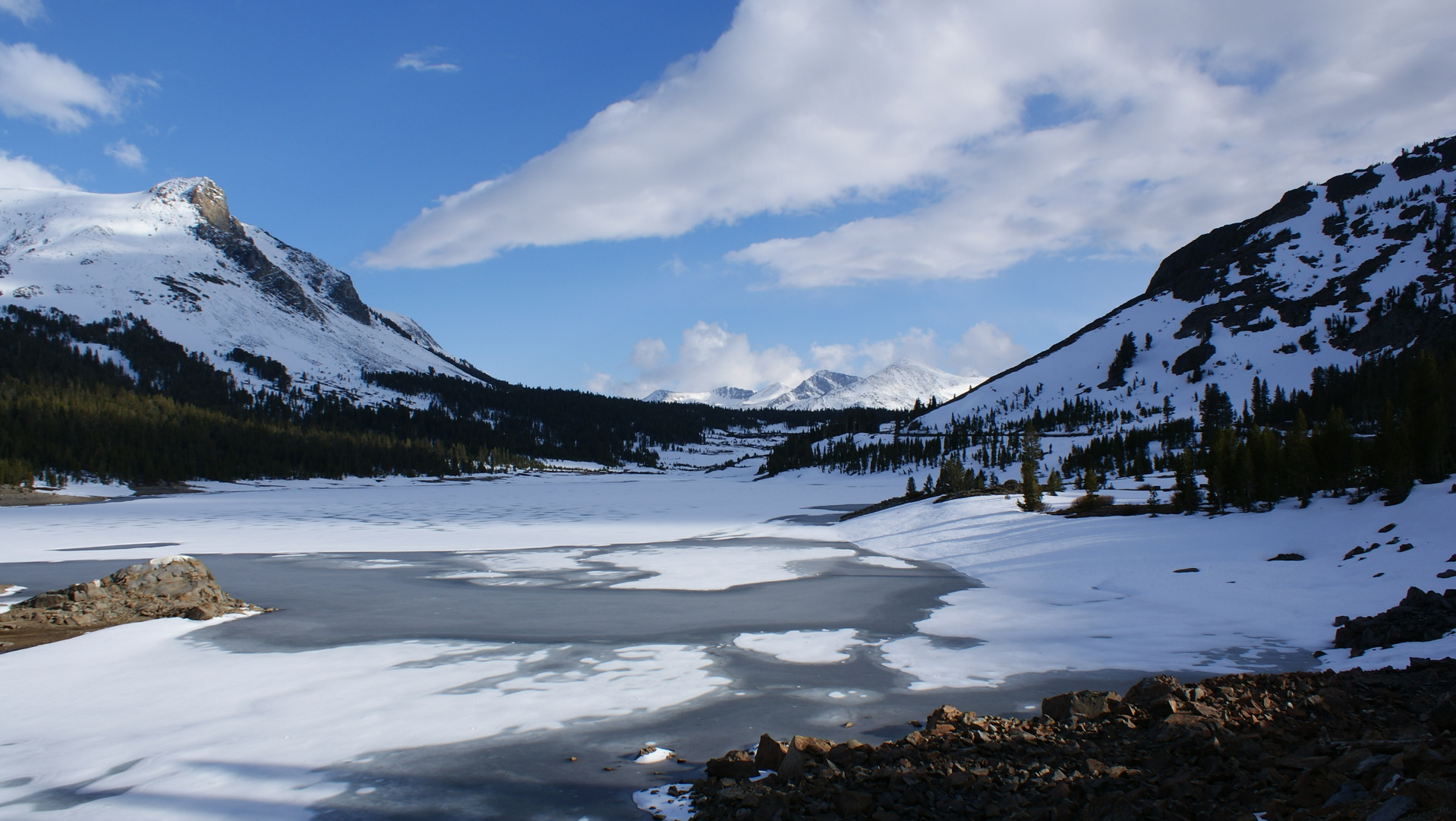 hiking in december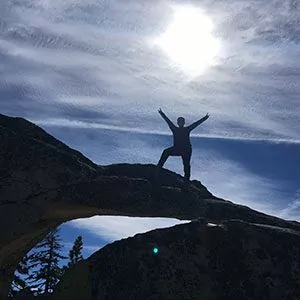 While many trails are closed for the winter, plenty are still accessible in December. Many of the lower trails in the Valley, such as Bridalveil Falls, Mirror Lake, Lower Yosemite Falls, and the Vernal Falls footbridge on the Mist Trail, stay open through the winter. But trails that take you higher in elevation, like Upper Yosemite Falls and the 4-mile Trail, are closed. The cables for Half Dome are taken off at the end of October, so this hike is inaccessible until next May. However, Hetch Hetchy and Wawona remain open all year, and their trails will be snow-covered but open. You can read NPS' current conditions before heading out for the day.
If you're up for an adventure, snowshoeing is a great alternative to hiking in December, allowing you to travel over deeper snow without sinking in. Glacier Point Road and Dewey Point off Glacier Point Road are great options. If you're looking for something on the flatter and easier side, Crane Flats offers options for beginners and experts alike, from the moderate Clark Range View Trail to the strenuous Tuolumne Grove Trail that will bring you to one of the park's three groves of massive sequoia trees. There is also snowshoeing in Mariposa Grove, perhaps the most famous of these groves. The shuttle is closed this time of year, but visitors can park at the beginning of the two-mile road and trek to the grove with snowshoes despite the snow.
Early mornings will be chilly, so be prepared with hats, gloves, and warm layers. It will get warmer throughout the day, so bring a daypack where you can put your layers as you take them off. Even though it is cold out, ensure you still drink plenty of water throughout the day. Plan on starting your hike around 7 or 8, and make sure you can finish it within 6-8 hours due to the shorter days of winter.
Keep in mind that if you are not using snowshoes but staying on the trails that are (more or less) clear of snow in the valley, that microspikes or crampons for boots, along with trekking poles, can be helpful for keeping your balance. It is not recommended to hike any trails with over a foot of snow without snowshoes because of the dangers of post-holing in snow that is deeper than you thought it was. Some trails may be partially or completely obscured by snow, forcing hikers to navigate by GPS or map instead of following a dirt path. Visitors should be aware that even if it is not actively snow, relying on your footprints to return to your vehicle is not a reliable method of navigation.
Backpacking in December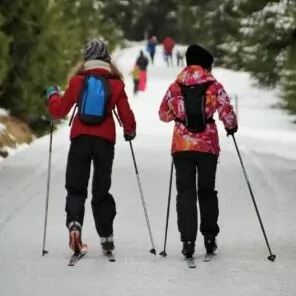 Traditional backpacking in December is nearly impossible because of snow. While some of the short walking trails in the valley remain clear of snow, any trails long enough for an overnight stay will take hikers out of the valley and into large and deep snowfields. While some might find a single night of hiking snow free in Hetch Hetchy or Wawona, anything beyond this, hikers should be prepared for hiking in avalanche zones, along with all the other things to come with winter camping such as four-season tents, -10 degree sleeping bags, other winter gear, and winter hiking expertise. These activities are dangerous and should only be attempted by experts. However, Yosemite Valley has many established campgrounds that remain open in the winter if you want to try out your winter backpacking gear without the dangers of being in the backcountry.
As an alternative to winter backpacking, visitors can try cross-country skiing to one of the two ski huts in the park, one at the top of Glacier Point and one at Ostrander Lake. These primitive stone and log structures are rustic but a shelter from the winter weather and often tempt guests to stay the night on their ski trips. While the hut at Ostrander Lake can only be accessed by experts, the one at the end of Glacier Point Road can be accessed by beginners who will want to stay the night instead of doing the long ski down the same day. Reservations and/or wilderness permits are required for overnight stays.
weather in december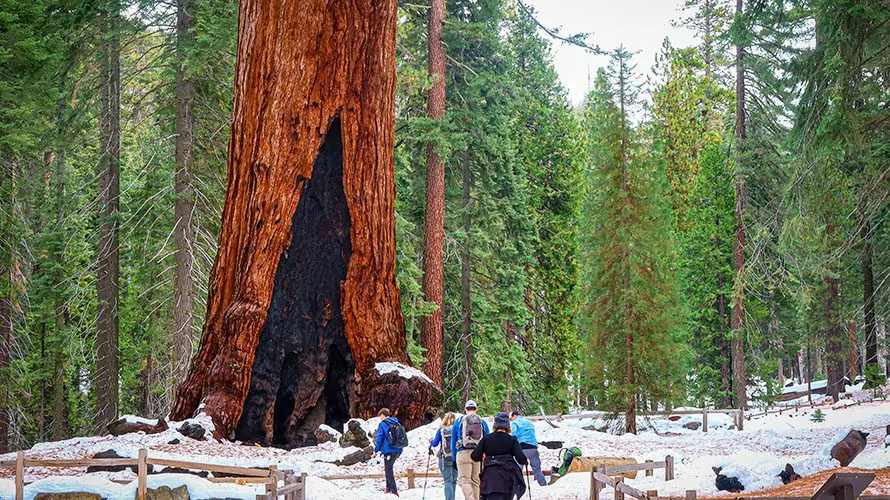 Yosemite is a large park with elevations ranging from 4,000 to over 10,000 ft. Thus the weather page that says "Yosemite" is not going to give you enough information based on where specifically you are going. But with the high country closed for the winter, most visitors will only be in Yosemite Valley and other low-elevation areas south of the Wawona and Hetch Hetchy. December in Yosemite is typically cold and snowy, although sunny and warmer days are not uncommon.
The average temperature in Yosemite Valley and Wawona in December is a high of 47 and a low of 28 degrees Fahrenheit (8/-2 degrees Celsius). On average, it snows seven days in December. To put this in perspective, if you are traveling to Yosemite for a week in December, it is very likely to snow one– if not more– of the days that you are there. Water levels tend to be low as the new snow has not had time to melt. Many of the waterfalls, such as Yosemite Falls, dry up completely in winter, and others that flow all year, such as Vernal and Nevada Falls, are significantly reduced.
The evenings and mornings in December will be colder than midday so best to plan your shorter activities for early afternoon as long as you are sure you can complete them before the early onset of winter nights. Visitors should remember that December has the shortest hours of daylight of any month in the year, and you may want to bring a deck of cards, board games, or a book to occupy some of the nighttime hours when you will have to be inside because of the darkness and cold.
It's best to prepare for the worst conditions you might face when traveling to Yosemite in December, so ensure you have the proper gear and clothing to make your trip enjoyable, not miserable and cold. Snow presents an additional complication to cold weather as many materials lose their warmth when wet. The best way to ensure you are neither too hot nor too cold is to dress in layers so that you will be able to regulate your temperature as the temperature around you changes. If you only bring your ski jacket, you will be too hot when you're wearing it, but too cold when you're not. With good base layers, a warm fleece, and a waterproof shell, you'll be able to withstand the weather and enjoy yourself outside.
While natural wildfires are less likely to occur in the winter months, the National Parks Service does occasionally burn mimic wildfires for the health of the forest, which can create hazy or smokey afternoons.
Wildlife in December
Wildlife in Yosemite in December is a little-known gem, as many of the species are easier to find than in the winter months. This is due to a variety of reasons, the first being that the animals are more likely to be in the valley due to the lack of crowds and warmer weather/more food than in the high country that is completely buried in snow. Many of the animals with dark coats that blend in in the summer stand out against the bright snow and are easier to spot, even from long distances. Plus, snow preserves the tracks of these animals much better than dirt does and allows guests to see what animals have recently passed by. These principles don't apply to all the wildlife in the park. Snowshoe hares and long-tailed weasels turn pure white in December but are still a treat to see bounding across the snow. Many birds, such as John Muir's favorite bird, the American dipper, are still active in the winter. An aquatic songbird, this little bird can be seen on the Merced River and in creeks, diving beneath water and ice, searching for its prey of aquatic insects. Great gray owls and mountain chickadees are often heard and sometimes seen with their distinctive calls in December. While the black bears are in their winter dens to wait out the cold, many of the other large animals in the park are still out about. Otters can be seen in the rivers as well as minks if you're lucky. The brown coats of coyotes and bobcats make them easier to spot if they roam around the valley, mostly hunting for rodents. Big horn sheep also can be seen in the high country, and the tracks of some of the park's more elusive species, such as mountain lions, fishers, red foxes, and porcupines, are often seen, sometimes along with a glimpse of the animals themselves. The river is a great place to start waiting for some of these creatures to come and drink from the icy waters while the crowds are away. Some of the other animals you might be happy are in hibernation are the mosquitos and other biting bugs, as well as snakes and amphibians.
Recommended wildland trips in december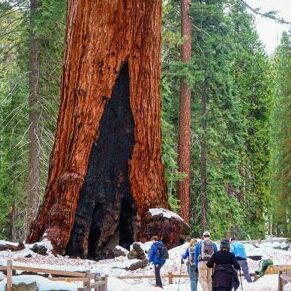 Planning a trip to Yosemite in December can be overwhelming as you try to keep up with the weather, current conditions, and which trails are open. But you can bypass all the headaches by booking a trip with Wildland Trekking and letting one of our expert guides take care of the pesky logistics so that you can relax and enjoy your trip. Our trips are all-inclusive, so you don't have to worry about meals, accommodations, or any logistics besides having fun. While backpacking trips are some of our favorites, Yosemite in December isn't well suited to this kind of tour, but we do offer day hikes and camping tours. Explore them all, or follow along for a couple we recommend for December.
Mariposa Snowshoe Private Tour: Probably the most famous of Yosemite's three groves of giant sequoias, Mariposa Grove, is not to be missed and is even more surreal in winter as the snow cloaks the massive trees. Join us for this snowshoeing tour that will take your breath away as we hike to and then around this remarkable forest. Including a daypack, snowshoes, trekking poles, trail snacks, hot drinks, and a picnic lunch, this tour is a beautiful experience you won't ever forget.
Yosemite Autocamp Winter Tour: This tour is the perfect balance between adventure and luxury as you spend your days exploring the valley and on spectacular hikes while in the evening coming back to your unique accommodation to relax: private airstreams at Yosemite Autocamp. With freshly prepared meals made by your guide after long, exciting days of hiking and snowshoeing, this tour gives guests all the best there is to see Yosemite in winter without the hassle of having to plan it all themselves.
JOIN A GUIDED HIKING ADVENTURE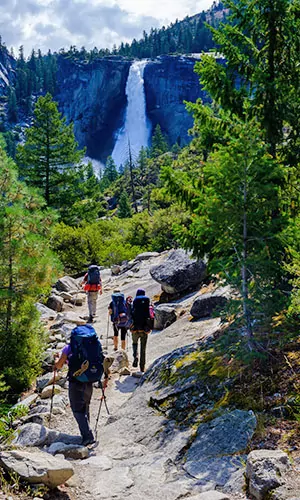 Yosemite National Park is home to some of the world's most epic and fantastic hiking vacations. Wildland Trekking offers trips with the best of Yosemite: waterfalls, views, wildlife, solitude, adventure, and fascinating natural and cultural interpretation.
Guided Yosemite treks are all-inclusive, which covers permits; local transportation (excluded on specific tours); meals; equipment; safety systems, and professional hiking/wilderness guides; all of which allow visitors to maximize their time in Yosemite and focus entirely on enjoying the Park.
YOSEMITE ADVENTURE TOURS
GUIDED BACKPACKING ADVENTURES: these are for people interested in an authentic Yosemite hiking adventure away from the roads and crowds.
PORTERED TRIPS: on these innovative trips, guests hike with light day packs and camp near stunning backcountry locations.
INN-BASED PACKAGES: these tours are all-inclusive packages with lodging, amazing daily hikes, expert guides, meals, transportation, and more!
CAMPING-BASED HIKING PACKAGES: camping-based hiking packages provide all-around hiking experiences of Yosemite on wonderful outdoor vacations.
DAY HIKE TOURS: maximize your day in Yosemite on a fully guided, award-winning hiking tour on one of the Park's best trails.