10 Must-See Sights of Yosemite
Learn the 10 things you must see when you visiting Yosemite National Park.
There is an almost infinite number of things to do and see in Yosemite National Park, so we created a list of 10 things you don't want to miss. Our goal with this piece is to help you cut through the noise and get down to the heart of what's great about Yosemite. As one of Yosemite's top-rated hiking and backpacking tour companies, we know this park inside and out. Trust the experts to make the most of your time in one of America's most impressive national parks!
10 Yosemite must-see highlights
1. Yosemite Falls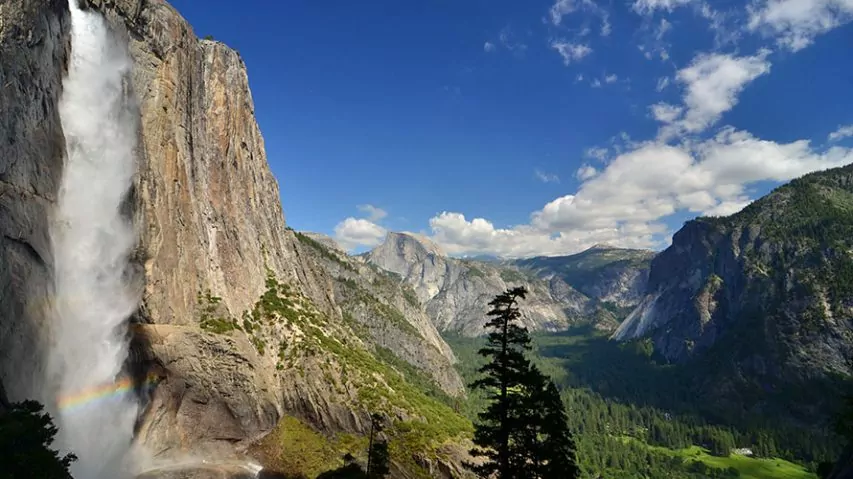 Sharing the namesake of the national park, the Yosemite Falls are indeed a sight to behold. This massive cliffside features three waterfalls — The Upper Yosemite Fall, Middle Yosemite Fall and Lower Yosemite Fall — that come together to create one of the highest waterfalls on the continent.
The best time to visit Yosemite Falls is between late fall and midsummer when the falls are flowing. Plenty of opportunities are available from November through July. However, we suggest visiting in May if you want to experience peak flow. Melting snow creates an unfathomable amount of water that cascades down the three falls with impressive force. Make sure you point your camera a little to the left of Yosemite Falls as well — you may just see someone climbing the Lost Arrow Spire directly adjacent to the Upper Falls.
Yosemite Falls is a perfect point of interest for any one-day tour of Yosemite National Park. A quick one-mile loop trail will lead you to the base of Lower Yosemite Fall. This trail is also wheelchair-accessible, making it a fast and easy journey for families. If you want an up-close-and-personal view of the falls, hike the seven miles of trail that provide amazing outlooks of the Yosemite Valley. You can experience these gorgeous views during a customized Yosemite day hike with Wildland Trekking.
2. El Capitan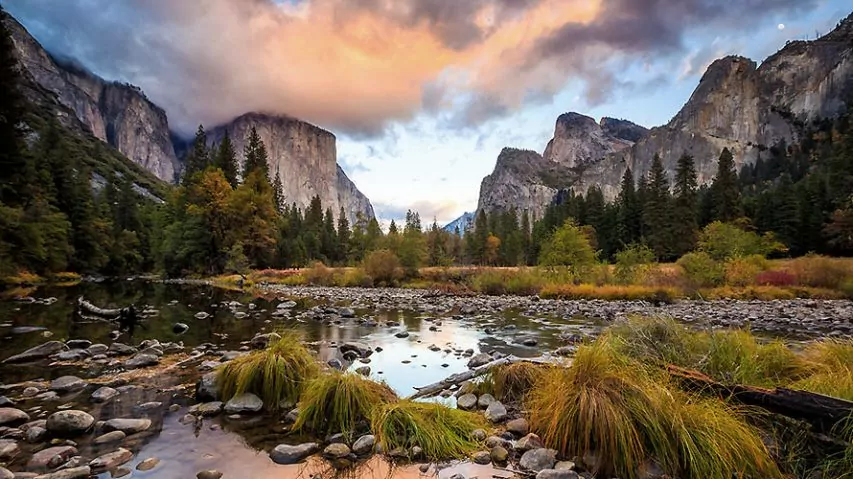 The western end of the Yosemite Valley is home to El Capitan, a gargantuan granite mountain that dominates the base of the Merced River. This behemoth, standing at over 3000 feet, is one of the most notable landmarks in Yosemite National Park and one of the most iconic rock formations on the planet.
As you gaze in awe at this vertical wall of rock, you might be shocked to learn scaling it is not impossible. For more than 50 years, climbers have traveled from near and far to ascend the peak, whether by rope climbing or via a trail. Some brave adventurers have even made their way up the face without using ropes!
You can easily see El Capitan any day of the year, especially from most places in the western Yosemite Valley. Depending on the season, a lush green meadow may surround the base of this mountain in the spring, or a cool mist may shroud it in the winter. It's a can't-miss photo op, especially given its convenient location. El Capitan is opposite another jaw-dropping Yosemite Valley landmark — Bridalveil Fall.
3. Bridalveil falls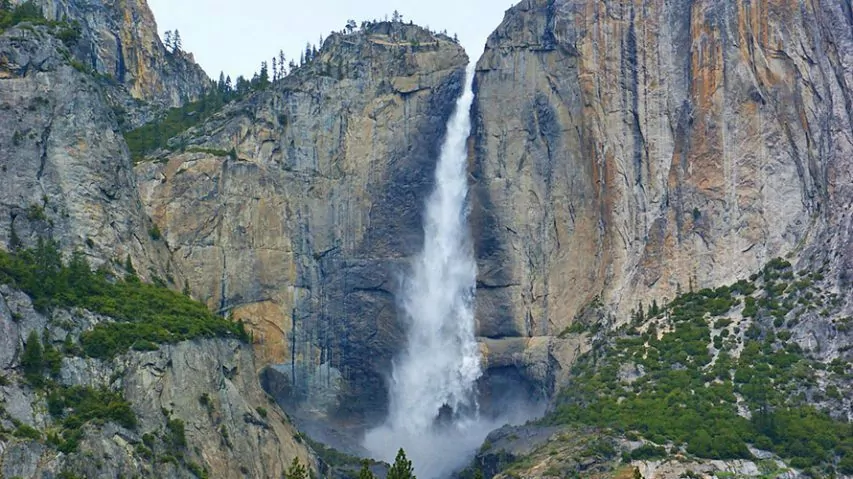 Contrasting the strength and power of El Capitan is the serene beauty of Bridalveil Fall. This famous waterfall welcomes visitors as they enter Yosemite Valley with windblown mists that appear to cast a veil across the 620-foot deluge of falling water. Restoration efforts began in 2017 to provide a better experience for visitors, which include providing more unobstructed viewpoints, clearer navigation throughout the loop trail and reducing the crowding to offer more intimate viewing areas that are easily and universally accessible.
Although the flow peaks in May as waterfalls throughout the Yosemite Valley experience large volumes of water thanks to melting snow, Bridalveil Fall flows all year, giving visitors a reliable opportunity to see these gorgeous falls year-round. It is one of the first waterfalls most people see on their journey through Yosemite National Park, and with a base that's very easy to walk to, Bridalveil Fall offers a picture-perfect viewpoint that is convenient to access on your single-day trip.
4. The View From Cloud's Rest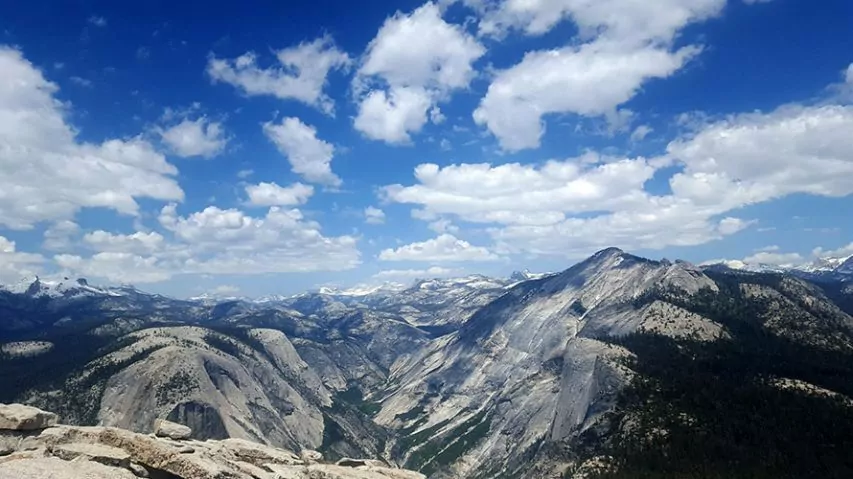 Trade elevation for exhilaration with a journey up Clouds Rest. Although it's not one of the highest mountains in the park, its location offers breathtaking views. What can you see from Clouds Rest? Half Dome, Tenaya Lake, Mt. Hoffman, Mt. Conness, North Dome, Sentinel Dome — the better question is what can't you see from the mountain, which offers one of the best panoramic views in Yosemite National Park.
We can talk for hours about the view from Clouds Rest, but words and photographs alone won't do it justice. Experiencing this view in person is a must for your Yosemite what-to-do list, and the guides at Wildland Trekking are ready to take you there. You can climb to the summit at nearly 10,000 feet above sea level in a single day. Our Clouds Rest Day Hike will take you past Tenaya Lake, Sunrise Lakes and Tenaya Canyon before you gaze upon a 360-degree panoramic view of the Yosemite Valley.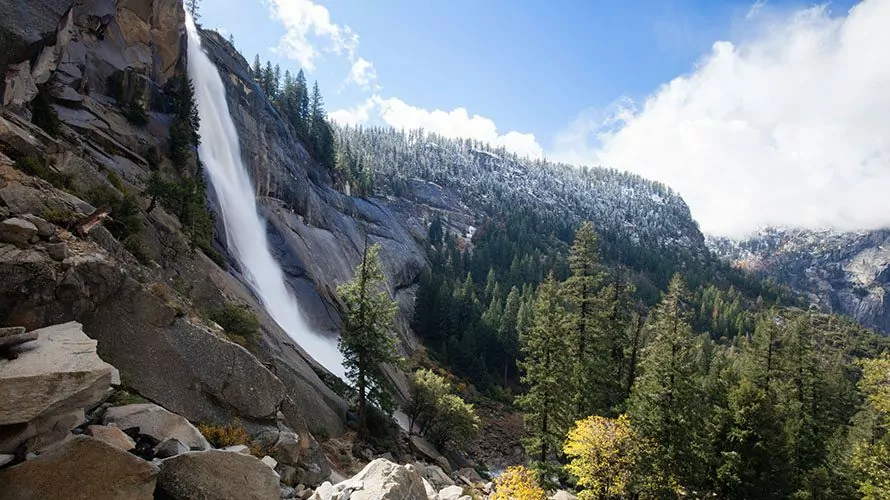 5. Vernal and Nevada Falls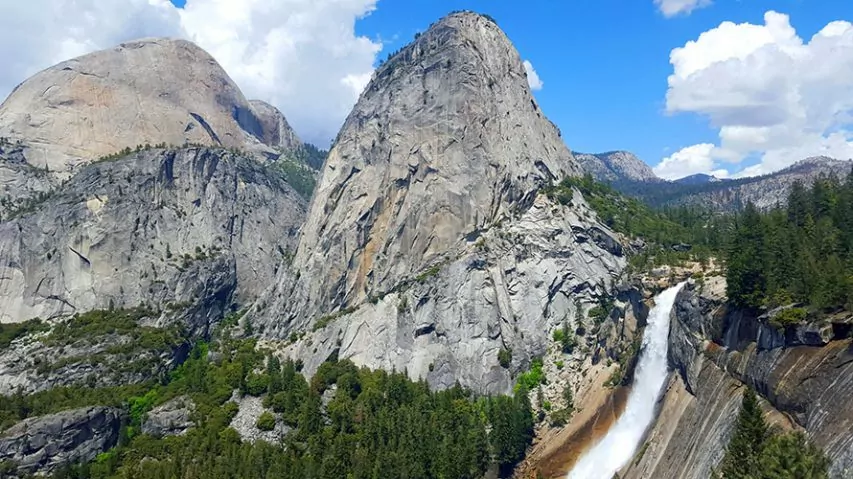 Connecting the Merced River from the High Sierra into the Yosemite Valley, Vernal and Nevada Falls feature the paved cliffside Mist Trail that offers many comfortable places to rest and enjoy the view. Unlike some other falls within the park, you'll have to make your way on foot to see the Vernal and Nevada Falls. Those who want to see both falls will enjoy a half-day hike surrounded by beautiful tree-lined hills and striking rock faces.
If you've only got one day to really enjoy hiking in Yosemite National Park, we suggest you join the Wildland Trekking guides for our Vernal and Nevada Falls Hike. First, we'll climb above the Merced River and enjoy views of Vernal Fall. We then continue climbing higher, passing the Emerald Pool and Silver Apron before ascending the Nevada Fall. These falls are enduringly popular, which is why during tourist season, we'll visit these falls via the John Muir Trail to enjoy some solitude in the Yosemite.
6. Tenaya Lake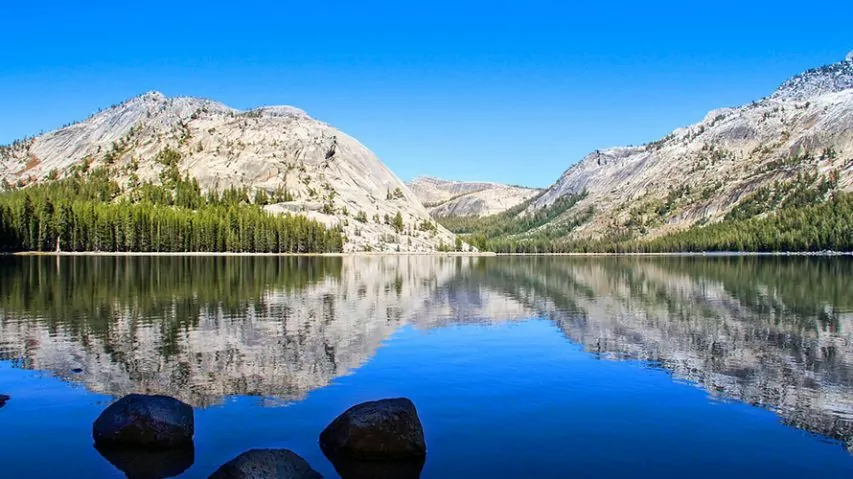 If you have already fallen in love with the waterfalls of Yosemite National Park, get ready to have the still waters of Tenaya Lake steal your heart. Surround yourself with granite domes, gorgeous green forests and the beautiful blue water of the High Sierra at this serene alpine lake. Perfect for swimming and kayaking in the summer or even ice skating during the winter, Tenaya Lake is one of the most beautiful and beloved Yosemite Park must-see spots with recreation and relaxation the whole family will enjoy.
Located just off Tioga Road between the Yosemite Valley and Tuolumne Meadows, Tenaya Lake is an easily accessible Yosemite must-see sight you can hit as a quick photo-op or spend an afternoon enjoying unbeatable scenic views. Tioga Road — a continuation of Highway 120 — does close for the winter, so be sure to check seasonal opening schedules as summer approaches. If you're planning to visit in the warmer months, the "Jewel of High Country" offers plenty of opportunities to hike, fish, boat and sunbathe.
7. Glacier Point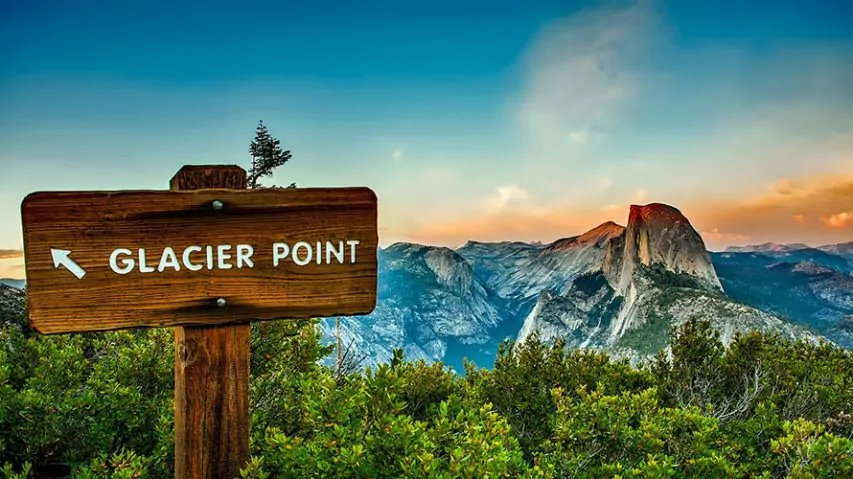 Grab the perfect family photo at Glacier Park, one of the top Yosemite places to see. This convenient overlook is the starting point for many fun activities within the Yosemite Valley. During the winter, you can ride the slopes at the Yosemite Ski and Snowboard Area. Throughout the rest of the year, you can hike the trails, spot beautiful birds among the trees, stargaze at night or set up camp and enjoy spending time away from it all with your loved ones.
There is no way you can miss Glacier Point, so why not see this sight and many more with a guided tour from Wildland Trekking? The Panorama Trail single-day hike begins at Glacier Point and takes you on a journey throughout the Yosemite Valley. You'll see Half Dome, Vernal Fall and Nevada Fall before ascending the Panorama Cliffs for more amazing views. We'll also pass the Silver Apron, Emerald Pool and walk the Mist Trail, so you'll feel like you've seen Yosemite from top to bottom.
8. Half Dome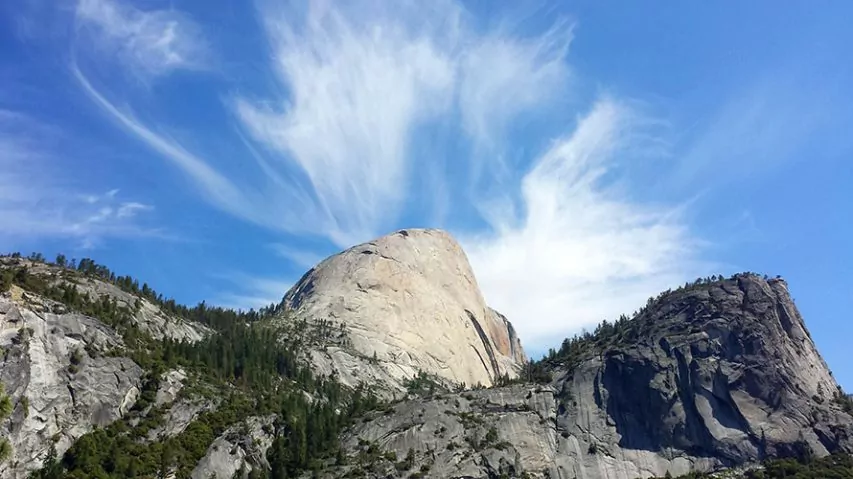 Though an 1865 article described Half Dome as the only spot in Yosemite that "never will be trodden by human foot," today, Half Dome invites you to rise above the impossible and claim victory at the summit. Half Dome is a Yosemite icon that dares you to see the world from nearly 9,000 feet above sea level.
Half Dome touches the sky at almost 5,000 feet and presents a challenge to hikers and climbers who want to earn their view of the Yosemite Valley. Those who wish to scale the granite dome's sheer face will certainly be in luck if they can secure permits via the permit lottery. Those who desire a less vertical adventure can hike through the wilderness trail, which is home to black bears, chipmunks and Steller's jays.
If you want unbelievable views, add the Half Dome to your list of places to go in Yosemite Park. However, if you're interested in seeing more Yosemite Park sights, you should join one of our guided day hikes. You'll get an excellent look at Half Dome on our Upper Yosemite Falls while seeing other great landmarks across the Yosemite Valley. Let Wildland Trekking take care of all the planning, permits and packing, so your only worry is deciding which stunning photo is going to be your next profile picture.
9. Horsetail Fall — "The Firefall"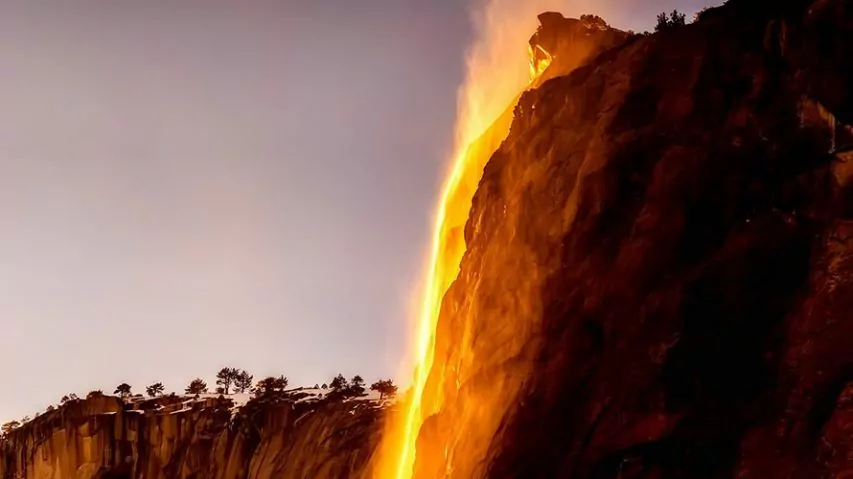 The waters of Horsetail Fall dive off the eastern edge of El Capitan over 1,000 feet to the ground. Don't let this small waterfall sneak off your itinerary of Yosemite spots to see. Not only is Horsetail Fall a lovely addition to your views of El Capitan, but it also offers an incredible sight to behold for visitors who make the trek to Yosemite just before spring arrives.
After you've seen the peaceful plunge of Bridalveil Fall and the rolling waters cascading down the three Yosemite Falls, you've got to hit Horsetail Fall for an experience like no other. During sunset between mid-to-late February, the often overlooked Horsetail Fall becomes one of the most popular destinations in the park. On a clear evening, the sun's rays hit the waterfall and create a deep orange glow nicknamed "The Firefall." This natural phenomenon showcases a fiery spectacle that makes it one of the top must-see places in Yosemite.
Even if you're planning a trip to Yosemite National Park outside The Firefall's limited time frame, you should still take a moment to marvel at Horsetail Fall as you view El Capitan. When else will you get the opportunity to watch in wonder as crystal-clear water spills over one of the most iconic rock formations in the world?
10. Mariposa Grove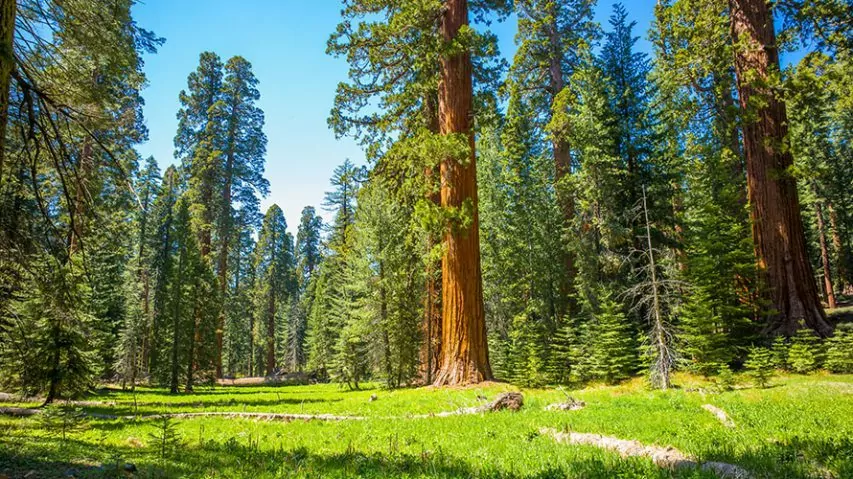 We're headed to the southernmost part of Yosemite National Park to cap off our list with a larger-than-life look at the majestic sequoia trees of Mariposa Grove. No Yosemite must-see list would be complete without a trip to Mariposa Grove of Giant Sequoias. Recently reopened after a completed restoration, Mariposa Grove features four trails of varying lengths where you'll view notable giant sequoias like California Tunnel Tree and the Bachelor. Once you stare up at trees taller than 10-story buildings, all other trees will seem like houseplants.
See the most massive trees in the world with a single-day hike with Wildland Trekking. Our Mariposa Grove adventure gets you up close and personal to one of the best things to see in Yosemite — the great Grizzly Giant. This 1,800-year-old tree is just one of the hundreds of giant sequoias we'll visit. At Wawona Point, we'll enjoy a delicious, fresh lunch in full view of the Wawona Valley and Merced River. Tackle these well-maintained trails and see one of the best parts of Yosemite with Wildland Trekking
JOIN A GUIDED HIKING ADVENTURE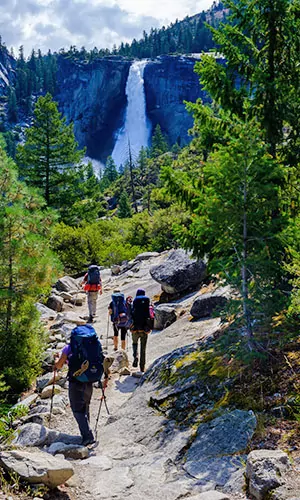 Yosemite National Park is home to some of the most epic and amazing hiking vacations in the world. Wildland Trekking offers trips with the best of Yosemite: waterfalls, views, wildlife, solitude, adventure and fascinating natural and cultural interpretation.
Guided Yosemite treks are all-inclusive which covers permits; local transportation (excluded on certain tours); meals; equipment; safety systems and professional hiking/wilderness guides; all of which allows visitors to maximize their time in Yosemite and focus entirely on enjoying the Park.
YOSEMITE ADVENTURE TOURS
GUIDED BACKPACKING ADVENTURES: these are for people interested in an authentic Yosemite hiking adventure away from the roads and crowds.
PORTERED TRIPS: on these innovative trips, guests hike with light day packs and camp near in stunning backcountry locations.
INN-BASED PACKAGES: these tours are all-inclusive packages with lodging, amazing daily hikes, expert guides, meals, transportation and more!
CAMPING-BASED HIKING PACKAGES: camping-based hiking packages provide all-around hiking experiences of Yosemite on wonderful outdoor vacations.
DAY HIKE TOURS: maximize your day in Yosemite on a fully guided, award-winning hiking tour on one of the Park's best trails.