visiting Yosemite in February
Learn what to expect when visiting Yosemite National Park in February
Updated: 08/10/2022
Winter is a magical time in Yosemite National Park. There are few experiences like watching snow blanket the granite domes and lodgepole pines. Visiting the park in February has terrific benefits, such as fewer crowds and drawbacks, like road closures because of snow. If you can make it to Yosemite in February, you will have a fantastic trip and leave with an appreciation for the snow and solitude of winter in the park.
benefits of visiting in february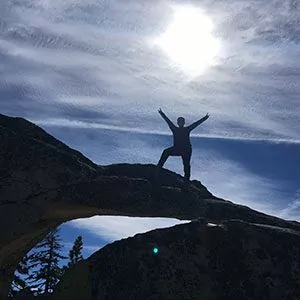 The biggest benefit to visiting Yosemite in February is the lack of crowds. Summer is the busiest time of the year, and spring and fall are also bustling—although not nearly as busy as summer. Winter is a season of peace and quiet. The other main benefit to visiting in February is the beauty of the snow covering the Valley's domes or the giant sequoias of Mariposa Grove. It is truly a winter wonderland, and the low lighting in winter makes for great photography.
An additional benefit to visiting in February is the ease of last-minute trips. While a spur-of-the-moment trip to Yosemite in the summer will leave you nowhere to stay and not even a campsite available, you are much more likely to find accommodations in the winter, even if your trip is only a few weeks away. Check the availability if you are in the area or have a couple of extra days off work.
While road closures due to snow can be annoying as they block off places you may have wanted to visit, they are a mixed blessing as they make visitors really explore the areas that are accessible. Many summer visitors spend much of their time in the park driving around from one place to another or sitting in heavy traffic. Still, with limited options when visiting Yosemite in February, guests really get to explore the valley without feeling as though they are missing out on other areas. While some of the bigger wildlife, like bears and snakes, will be hibernating, most of the resident animals are far from dormant during this season. Visitors are more likely to see more elusive creatures absent in summer. As an added bonus, the bugs that are such a nuisance in the summer can't live in the cold and thus don't bother the visitors.
But perhaps the most famous benefit of visiting Yosemite in February is the fire fall. This very strange phenomenon occurs around the second week of February each year. Horsetail Falls, a small waterfall cascading over the east side of El Capitan, is barely noticed among the abundance of thundering falls in the park. Still, in mid-late February, when the sunset lighting hits the water at the perfect angle, the falls seem to emit it's own brilliant orange light, making it look like a stream of fire being poured off the cliff. This phenomenon draws in quite a crowd as it is becoming more well-known, and it is well worth the hype it creates.
drawbacks to visiting in february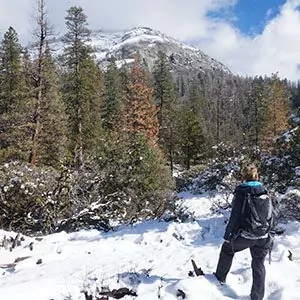 The snow in Yosemite is a double-edged sword, making it beautiful but also closing many of the roads. The biggest drawback to visiting in February is the closures of Tioga Road and Glacier Point Road, typically closing in November, and opening in late May. Highway 140, which runs through the Valley, is open year-round but may have snow chain restrictions. Mariposa Grove Road is also closed in February, although you can park your car at the Mariposa Grove Welcome Plaza and walk the two-mile Washburn Trail to the grove.
Besides the road closures, it's exceedingly cold in Yosemite in February, requiring visitors to come with more gear and prepare beforehand. Many trails will be wholly swallowed up in the snow, so even if the trail is still open, visitors will have to navigate by other means than following the cleared dirt path. While accommodations may be easier to find, be prepared to spend more time packing as you will need many layers to enjoy the park and have the winter wonderland experience, you are hoping for.
While much of the wildlife is still active in the winter, the iconic black bears and reptiles such as snakes and lizards will be hibernating and are not to be found. So if seeing a black bear is the reason for your visit, better to wait for the summer months when they will be out and about.
things to do in february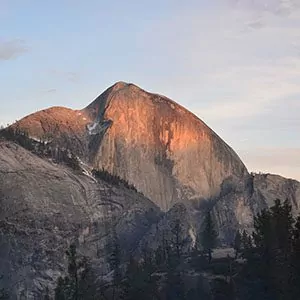 February is a fantastic time to explore Yosemite Valley without crowds. The beauty and majesty of snow in the Valley make the park very photography-friendly. Ensure you catch sunrise or sunset from Tunnel View, just outside the Valley. Also, there are short but sweet hiking options in the Valley, Hetch Hetchy, Wawona, and Mariposa Grove. If the weather gets too nasty, the Ansel Adams Gallery or the Yosemite Museum, both by the Yosemite Valley Visitor Center, are great options to learn more about the park from the shelter of a heated building. You can read NPS' current conditions before heading out for the day.
A unique experience in Yosemite when visiting in February is to go downhill skiing or snowboarding at the Yosemite Ski and Snowboard Area. There are also many wintertime alternatives to hiking, such as snowshoeing and cross-country skiing. These options are great for seeing some parts of the park that are closed to cars in the winter, such as Mariposa Grove and Glacier Point Road. Guided bus tours also operate throughout the winter months if you'd prefer to sip hot chocolate while observing the scenery out the window. If the more adventurous snow sports aren't your thing, the whole family will enjoy ample opportunities for sledding, building snowmen, and other play-in-the-snow activities. Both Crane Flat and Yosemite Hospitality host areas for such snow play. There's also an outdoor ice skating rink at Curry Village that is not to be missed.
While there are some options for hiking and backpacking in Yosemite in February, the options are limited due to the massive amounts of snow. However, some short hiking options and guided, all-inclusive hikes will allow you to relax and enjoy the area without being pressured about planning your own itinerary.
Another popular activity when visiting Yosemite in February is wildlife and landscape photography. The stunning vistas that have been the subject of thousands– if not millions– of pictures take on an ethereal feel when mantled in snow and present some unique photo opportunities. You don't need a fancy camera or much photography skills besides clicking the shutter to capture these amazing scenes. The local wildlife is also a typical subject for photography, and those who patiently wait by the river or hike into the backcountry are likely to see animals such as mink, otters, waterfowl, eagles, and perhaps even bobcats, many of which are seldom observed in the summer.
Things to See in February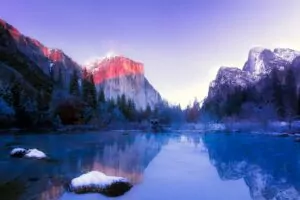 Among the many things, there are to do, there are some must-see sights if you're visiting Yosemite in February. Here is a short list of things you should probably consider putting on your bucket list while you are there.
Tunnel Overlook: Perhaps the most famous of the overlooks on the road into the valley, you won't want to miss this fantastic vista with El Capitan to the left, Bridalveil Falls to the right, Half Dome rising in the distance, and the Merced river weaving through the pines through the valley. While this view is spectacular any time of year, the scene takes on a new air of wildness when every rock and tree is dusted with snow.
Waterfalls: Besides the famous fire fall on Horsetail Falls during this season, the other waterfalls throughout the park seem unfamiliar, even if you have seen them in summer due to the surrounding ice and snow. Don't forget to look for the "snow cones" under the waterfalls, particularly Yosemite Falls, which builds up such a mountain of snow at its base it resembles a giant, upside-down snow cone.
Wildlife: While some wildlife, such as bears and reptiles, are waiting out the cold in hibernation, there are still plenty of resident animals to see in February, including otters, minks, owls, coyotes, bobcats, fishers, snowshoe hares, and even mountain lions.
Granite Monoliths: Half Dome, El Capitan, and the other majestic cliffs that surround Yosemite Valley are a must-see– or maybe a can't-miss– on a trip to Yosemite in February as they are part of what makes this park so unique. During the summer, these massive rocks stand out among the green and brown shades of earth and trees, but during the winter, they wear a mantle of snow that makes them appear altogether different.
Yosemite Valley Chapel: Nestled among the pines along the road into the village is the seldom noticed Yosemite Valley Chapel. This chapel is still a functioning church and is so picturesque that it deserves a quick stop and a picture or two. Arguably more beautiful in the winter, this red brick building with its single spire will make you think you wandered into a fairytale.
Glacier Point Road: This one is always on the bucket list for all the seasons, but in February, the road is closed to all but snowshoers and skiers. Offering a chance to get away from the village and into the wilderness, those willing to take the trek up this road will get to greet stunning vistas, possibly see some elusive wildlife, and have an unforgettable winter experience.
Fire fall in February
By far, the most unique of all things to see in February in Yosemite is the Yosemite Fire Fall. Every year in mid-to-late February, photographers come to Yosemite in far greater numbers than winter usually brings. They set up their cameras and sit and wait in front of a seemingly unimpressive waterfall that looks like little more than a running facet from nearly 2000 ft up on top of El Capitan. Horsetail Falls, as the cascade is called, is one of the lesser known falls because it does not have the thundering volume of other waterfalls in the park, despite dropping more than 2100 ft from the top of the park's biggest granite monolith. In fact, it dries up each summer and disappears completely because it is fed exclusively by snowmelt. But each year in February, the light of the sun is such that around 5 minutes before sunset, the small stream of water seems to ignite and give off a brilliant orange light like a steam of fire falling from the rock. The timing and dates vary each year, and conditions sometimes prevent it if no water is flowing or if clouds and fog obscure the light.
There are a few places where you can see the magical events, but the best is the El Capitan Picnic area at the eastern edge of El Capitan on the valley floor. The logistics for viewing this phenomenon can be quite complicated as the National Park Service periodically changes the requirements to try to decrease the traffic in the area, but seeing this is well worth the hassle.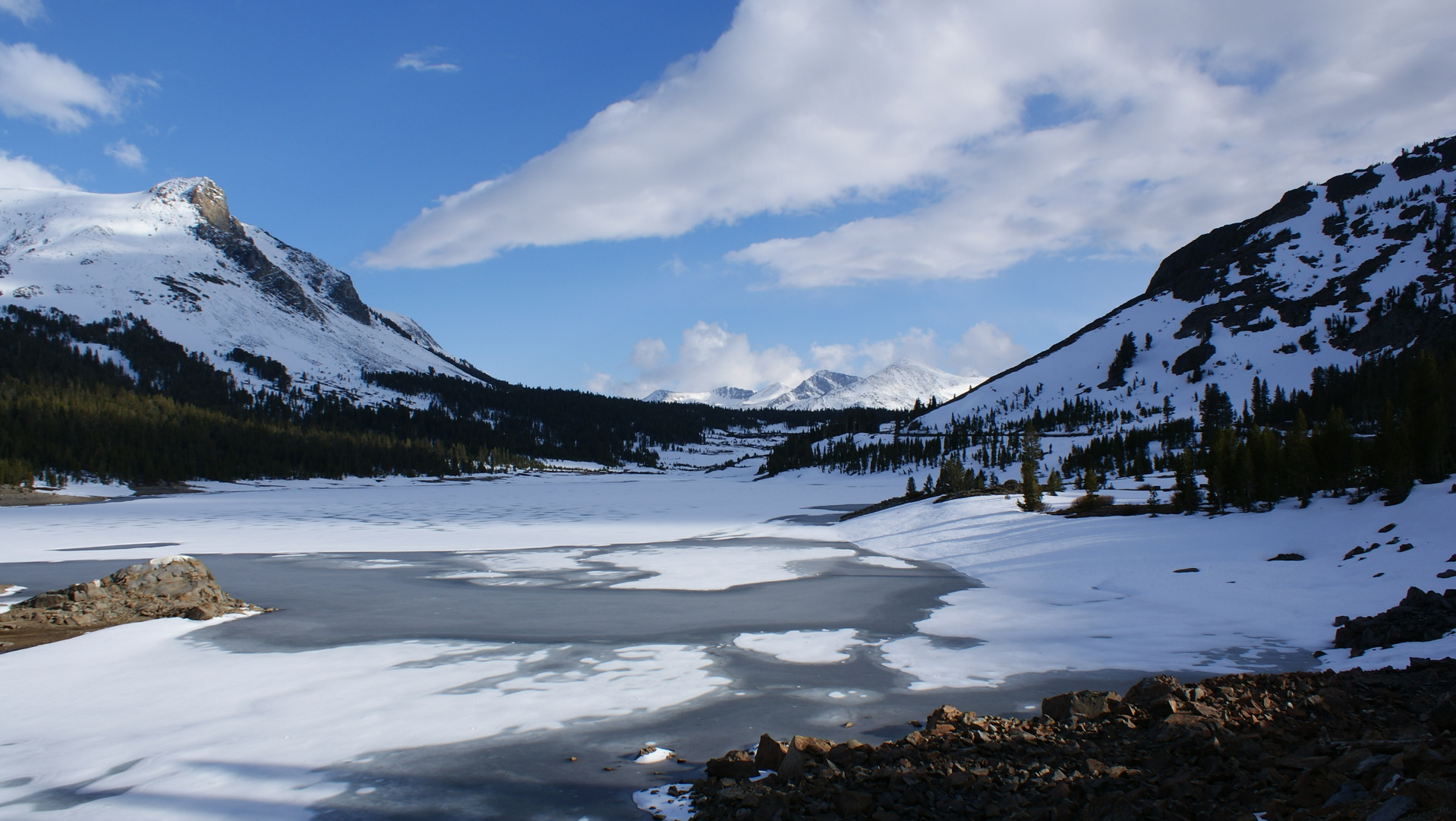 hiking in february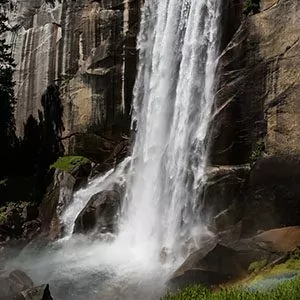 While many trails are closed for the winter, plenty are still accessible. Many of the lower trails in the Valley, such as Bridalveil Falls, Mirror Lake, Lower Yosemite Falls, and the Vernal Falls footbridge on the Mist Trail, stay open through the winter. But trails that take you higher in elevation, like Upper Yosemite Falls and the 4-mile Trail are closed. Hetch Hetchy and Wawona remain open all year, and their trails will be snow-covered but still open. You can read NPS' current conditions before heading out for the day or check out the best Yosemite hikes for more ideas on where to go.
If you're up for an adventure, snowshoeing is a great winter alternative to hiking. Glacier Point Road is open to snowshoeing (as well as cross-country skiing)  for an unmated view of the valley and Badger Pass Ski area. Another great snowshoeing trail is Dewey Point Meadow Trailhead which branches off of Glacier Point Road. The Crane Flats area also offers snowshoeing options for beginners and experts alike. Clark Range View Trail, about 4 miles round trip, is nice for beginner snowshoers and lets guests observe the Merced for much of the way. The Tuolumne Grove Trail will take you through a remarkable sequoia grove if you're up for a challenge. While shorter than Clark Range View, coming in around 2.5 miles, it is a bit of a climb and definitely a harder trek. There is also a great option toward the southern end of the park in Mariposa Grove, which boasts massive sequoias that you won't want to miss
Early mornings will be very chilly in Yosemite, so be prepared with hats, gloves and warm layers. Even though it is cold out, ensure you still drink plenty of water throughout the day. Plan on starting your hike around 8 or 9 in the morning, and make sure you can finish it within 5-6 hours before the early onset of winter nights. Many visitors bring crampons or microspikes for their boots, as this helps with traction and balance. Trekking poles can also be really useful when hiking through snow.
While hiking is one of the most popular options in all seasons, visitors should remember that trails can be partially or completely obscured in the snow, leaving visitors with the possibility to wander off the trail. While some trails are marked with tall, bright triangle markers, not all trails have these, and it is recommended that hikers have a GPS, map, and compass (that they know how to use) for navigation. Remember that even if it is not actively snowing, you should not rely on your footprints to return to the trailhead.
BACKPACKING in February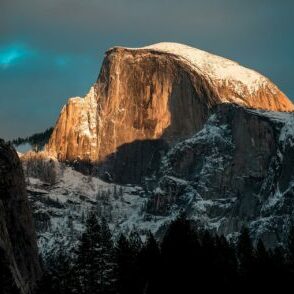 Traditional Backpacking in February in Yosemite is very limited, if not impossible, due to snow. Many famous backpacking trails, such as the John Muir Trail, which begins at Happy Isles in Yosemite Valley, lead you up to higher elevations and are quickly swallowed up by the snow and ice. But if you're determined to test out your winter gear, break out the four-season tent and your -10 degree sleeping bag because Yosemite does have some campgrounds that remain open in the winter where you can base camp backpacking style.
As an alternative to backpacking with hiking boots and trekking poles, you can spend a night in the wilderness with skis and ski poles up at one of two cross-country ski huts only open in the winter, one at Glacier Point and the other at Ostrander Lake. There are also a few other marked trails in the Mariposa Grove and Crane Flats areas, but anywhere beyond this, backpackers should expect to be hiking and camping in deep snow and avalanche areas. Only experienced skiers should attempt to access the hut on Ostrander Lake. Still, beginners can get to the one at Glacier Point, and its rustic accommodations might tempt you to stay the night instead of skiing back down the same day. Reservations and/or wilderness permits are required for overnight stays.
weather in february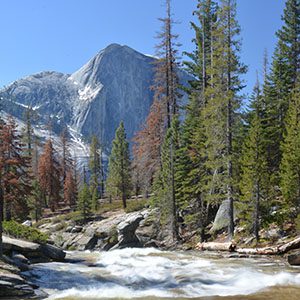 Winter in Yosemite in February is winter in the mountains. It's rather cold with a good amount of snow and sometimes sleet/rain. While sunny and warm days are uncommon, visitors should know that mountain storm systems can come in quickly. Yosemite National Park encompasses a large area with varying levels of elevation. Still, most of the higher areas, such as Tuolumne Meadows, are inaccessible to most visitors in the winter months. The average temperature in Yosemite Valley and Wawona in February is a high of 52 and a low of 30 degrees Fahrenheit (11/-1 degrees Celsius). On average, it snows seven days in February. The water levels are still relatively low as the spring suns haven't yet begun to melt the snow, but some of the waterfalls will still be flowing. Both morning and evening will be brisk and cold, so plan your activities in the afternoon if you have enough time to finish them before the early onset of winter nights.
The gateway to Yosemite on the southwest side, the town of Oakhurst, has lows in the 40s and highs in the 60s in February with less snow than the valley, while the northeastern gateway, Lee Vining, which will only be used by skiers in the winter, has lows in the low 20s and highs in the 50s.
The weather in February in Yosemite can be unpredictable, and it's best to prepare for the toughest conditions you might face, even if most of your days are sunny and on the warmer side. Visitors should remember that even though Yosemite is in one of the mildest mountain ranges in the world, it is still the mountains, and the weather can change quickly, with storms often rolling in in the late afternoon. Snow is another complicating factor as many materials lose their warmth when wet. Layering clothing and knowing where the nearest shelter is (and when to start heading that way) are the best ways to prepare for the winter weather.
While natural wildfires are not as common in the winter, the National Parks Service occasionally has controlled burns for the health of the forest. These may create smoky or hazy conditions in the afternoons but should not cause health risks as a result of air quality.
Wildlife in February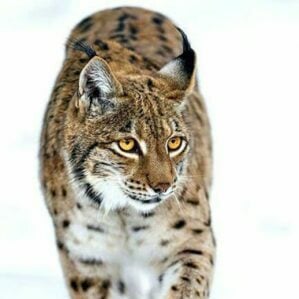 February in Yosemite may not seem like a great time to view wildlife, but the winter months in this park provide opportunities to see animals a summer visitor would never dream of. This is largely due to the lack of crowds and the ease of tracking these animals, as their footprints are left crisp and clear in the snow. While you will not see the iconic black bears or any snakes or lizards because they will all be in hibernation, there is still an abundance of wildlife to see and photograph. The Merced River running through the length of the valley, is home to many creatures that a patient visitor might see frolicking in the icy water. Otters, minks, and all kinds of birds, such as waterfowl and eagles, frequent the river.
In the summer, animals you might see exhibit different behaviors, such as a coyote diving head first into the snow to catch a mole or the mule deer resting in a white, snowy meadow. Those willing to make the trek into the backcountry on skis or snowshoes might have the chance to see some of the more reclusive creatures, such as an owl flying silently overhead or a snowshoe hare with its pure white winter coat leaping across the snow. Some of the bigger animals, like bobcats, fishers, Sierra Nevada Red Foxes, and even mountain lions, can still be seen lurking in the woods, but visitors are more likely to see their footprints in the snow than the creatures themselves. It is also believed that a wolverine or two still lives in the Sierras.
Recommended Wildland trips in february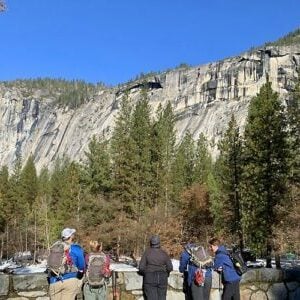 Visiting Yosemite in February is really tempting, but it can also be intimidating to try and juggle planning out what to do each day and how to handle the snow and occasionally adverse weather conditions. If you want to visit Yosemite in winter but don't know where to start, you can book a tour with Wildland Trekking guides and have all the logistics taken care of by one of our expert guides so you can enjoy the remarkable scenery. Feel free to browse all our day hiking options or winter tours, but here are a few we especially recommend for traveling to Yosemite in February.
Best of Yosemite Valley Winter Tour: This tour comes in half-day or full-day options and will take guests through some of the most majestic sections of Yosemite but without the crowds of summer. Both versions of the tour include light hikes and/or snowshoe treks, breakfast, snacks, a picnic lunch, transportation, and a day pack. Visit Yosemite in winter without the headache as you relax on either version of this guided tour through a winter wonderland.
Yosemite Autocamp Winter Hiking Tour: With hardly anyone around, winter is one of the best ways to enjoy Yosemite from right inside your private airstream sipping hot cocoa, at least in the evening. This 4-day tour will find you and your fellow travelers embarking on day hikes or snowshoe treks through the accessible regions of the park during the day. But perhaps just as fun as the hiking, the accommodations at Yosemite Autocamp are indeed a unique experience where guests will have private Airstream accommodations to watch the snowfall. You'll visit Badger Pass, a grove of giant sequoias, and get a thorough taste of what Yosemite has to offer in February.
JOIN A GUIDED HIKING ADVENTURE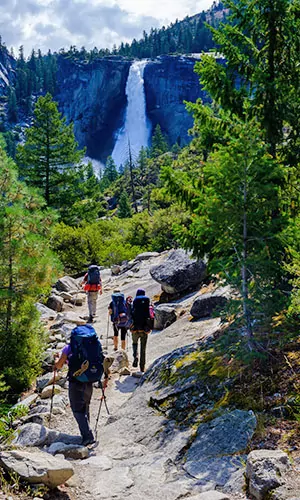 Yosemite National Park is home to some of the world's most epic and fantastic hiking vacations. Wildland Trekking offers trips with the best of Yosemite: waterfalls, views, wildlife, solitude, adventure, and fascinating natural and cultural interpretation.
Guided Yosemite treks are all-inclusive, which covers permits; local transportation (excluded on specific tours); meals; equipment; safety systems, and professional hiking/wilderness guides; all of which allow visitors to maximize their time in Yosemite and focus entirely on enjoying the Park.
YOSEMITE ADVENTURE TOURS
GUIDED BACKPACKING ADVENTURES: these are for people interested in an authentic Yosemite hiking adventure away from the roads and crowds.
PORTERED TRIPS: on these innovative trips, guests hike with light day packs and camp near stunning backcountry locations.
INN-BASED PACKAGES: these tours are all-inclusive packages with lodging, amazing daily hikes, expert guides, meals, transportation, and more!
CAMPING-BASED HIKING PACKAGES: camping-based hiking packages provide all-around hiking experiences of Yosemite on wonderful outdoor vacations.
DAY HIKE TOURS: maximize your day in Yosemite on a fully guided, award-winning hiking tour on one of the Park's best trails.