Visiting Yosemite in August
Learn what to expect when visiting Yosemite National Park in August
Updated: 10/26/22
August in Yosemite is warm and dry and is the peak of the beautiful, but busy summer season. There are many benefits to visiting in August, as well as some drawbacks. Below, we have categorized the most common "when to go" questions to help you determine if August is the best time for you to visit.
benefits of visiting in august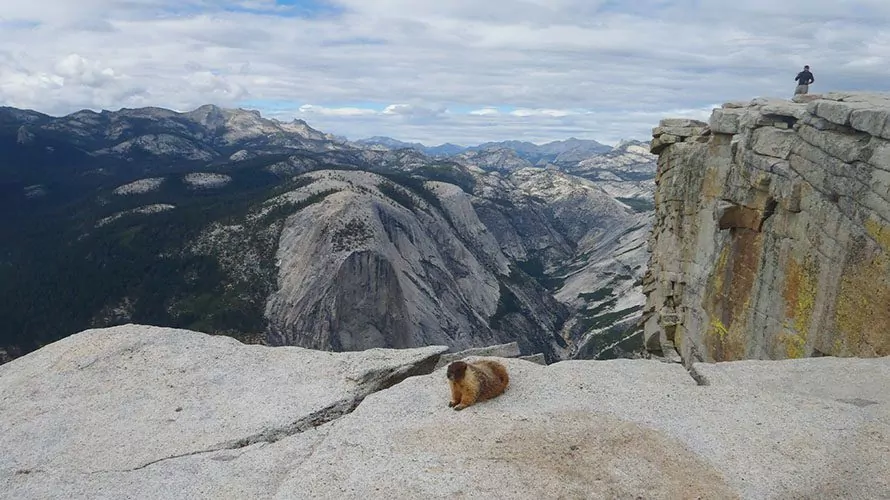 August in Yosemite one of the best times of year to be in the park. The weather is wonderful and warm during the day, and the sun sets late at night, giving you plenty of time to enjoy the park. Wildlife is out and about, enjoying the warm weather, and park is alive with flora and fauna. Bears are out of hibernation and are in the valley for visitors to see and the mule deer are lounging in the meadows full of wildflowers. The roads that have been closed all winter, Tioga Road and Glacier Point Road, are definitely open in August even after big snow years which give visitors access to hundreds more miles of trails and many more sights to see. You are free to roam around the highest elevations in the park without the worry of running into snowfields or needing to have winter gear on hand, just in case the weather turns bad. In August, you can just enjoy the park and for the most part not worry about the weather.
In addition to all the roads being open, all the trails are open as well, giving visitors the ability to spread out and not congregate all in one place. With so many trails in the park, if you go far enough you will find one that isn't busy. The cables are up on Half Dome and there is a ton of hiking around Glacier Point that offers stunning views of the valley. Backpacking is also ideal in August since the snow has melted from high country, and you can experience the best of the backcountry on multi-night trips without having to haul around extra winter gear or have the expertise to camp in winter. August is a fantastic time for new backpackers to try get into the backcountry as the difficulty of snowstorms and snowfields are both removed, and you can focus on enjoying your trip. Backpacking is a great way to visit Yosemite in the summer and be able to get away from the crowds as they continue to thin out the farther into the back country you go.
Besides hiking and backpacking conditions being ideal, summer is the only time when Yosemite water sports are operational. There is whitewater rafting just outside the park or you can rent a float/raft from Curry Village and gently drift down the Merced. After the warm summer days, you might welcome a plunge into the chilly waters.
drawbacks of visiting in august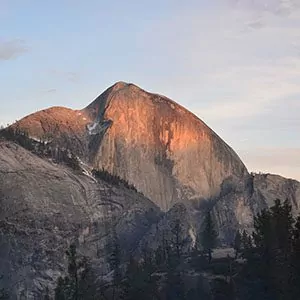 The biggest drawback to visiting in August is the crowd. This means long lines for shuttle buses, difficulty obtaining permits, and expensive peak season accommodation rates. Traffic lines can back up both at the entrance to the park and while in the park, especially in the valley. Unexpected events such as a bear on the side of the road or a car accident can back traffic up for hours, so it's best to remain flexible with your day's plan. Visitors often have to circle around parking lots like vultures looking for a spot only to stand in long lines for food or other services. Even the park's trails– the very popular ones anyway– will be crowded with many people trying to get to the top. Even though it is really crowded and obtaining permits is harder, it is not impossible to plan an enjoyable trip to Yosemite in August as long as you plan well in advance and are flexible. To avoid the stress of getting permits and to get off the beaten path, we recommend going with a guiding company.
Another downside to Yosemite in August is that waterfalls will be much lower than early summer and spring. By this point, most of the snow is melted from the high country and if there hasn't been much rain, the waterfalls will be significantly reduced in size, although the falls that sometimes stop flowing altogether such as Yosemite Falls probably won't be completely gone until later in the fall. The biting bugs and mosquitos will be plenty active this time of year and many visitors will need to apply bug spray over their sunscreen. Accommodations for August book far in advance and you will probably have to be planning your trip the winter before to be able to get rooms or campsites. And even if you do manage to find accommodations last minute, the rates will be much higher for peak season.
Overall, however, August doesn't have that many downsides to visiting Yosemite, which is why it's so busy. Everyone wants to come for the best weather and during vacation season. So be prepared for a huge crowds. If you have a low tolerance for crowds, but the only time you can visit the park is in the summer, there are ways to still enjoy your time in the park. Listed below are the best ways for escaping the crowds in the summer:
1. Get an early start: the earlier you rise, the more of the park you have to yourself before the crowds arrive.
2. Go on a hike: the further you go on a trail, the more the crowds thin out.
3. Plan ahead: the earlier you make reservations, the more likely you are to get the permits that you want.
4. Go on a picnic: try to avoid the crowded eateries at lunchtime, instead gather supplies from the general store and enjoy a picnic at one of the many overlooks in the park.
things to do in august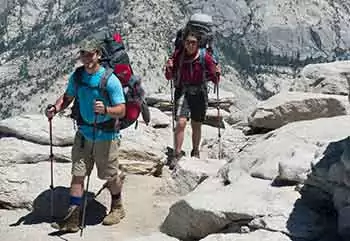 There is no end to activities to do in Yosemite in August. All of the trails have opened, so you are able to climb to higher elevations for expansive vistas of the Valley and high country. Day hiking is a great option if you want to experience Yosemite's backcountry in a day. The iconic Half Dome Hike is open, but requires permits and is very strenuous. The hike to Vernal and Nevada Falls is a great moderate option but will probably be busy for the first few sections. Bridalveil Falls is a short and easy trail if you only have time for a quick walk. Backpacking is also an extraordinary option if you have multiple days to explore the park and want to sleep in the backcountry among the peaks, pines and stars. This can also help get you away from the crowds in the valley as you explore some of the lesser known areas of the park. Many longer through hikes begin from Yosemite as you can access both the John Muir Trail and eventually the Pacific Crest Trail from the park. Alternatively, if you only have a few days to spend, there is also backpacking along the rims of the valley that is a wonderful respite from the crowds.
Yosemite camping trips are wonderful in August, but expect the campgrounds to be full. You will have to book well in advance to be able to get a site or chance walking up the Camp 4, the only campground that remains walk up during the summer and it fills up immediately each morning. There is also biking in the Valley, with 12 miles of paved and flat bike trail. Electric bikes are allowed in the park and can allow guests to cover more ground. Bikes are a great alternative to driving if you are planning on staying in and around the valley as bikes can bypass any lines of traffic on the roads. Bus tours of the Valley and Glacier Point Road are also great options as they offer many different road tours in the park. Whitewater rafting is available just outside the park in August, and still water is available from Curry Village. Horseback riding, along with fishing and wildlife viewing are also popular activities that take guests to different areas of the park and allow them to see the park differently. Bears, coyotes, snakes, lizards, owls, songbirds, and rodents of all kinds are all active in the park this time of year and are a treat to see.
If the outdoorsy, action sports aren't your thing, there is still plenty to do in Yosemite on the slower side. The Ansel Adams Gallery offers photography workshops and free camera walks. And the Yosemite Museum is another great option and features seasonal historical exhibits about Yosemite and the surrounding region. Both are located by the Visitor Center in Yosemite Valley. Photography is a great way to experience the park as it's difficult to take a bad picture surrounded by so much beauty. Try setting up a photo scavenger hunt or simply stroll around the valley snapping photos as memories. If you're really adventurous, you can try your hand at star photography in the cool summer evenings. It will probably still be in the 50s in the evening so make sure to bring layers and maybe a blanket for while you are waiting for your exposure to finish. You'll likely get an entirely different sense of the park while most of the other visitors are sleeping as you alone with only the wind in the pines and maybe a coyote slinking through the campground. There are truly endless activities to try in Yosemite in August, so get out there and start exploring.
Things to see in august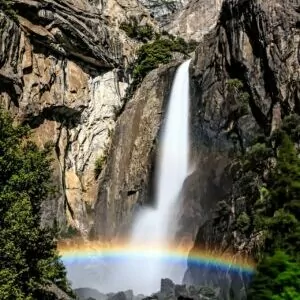 There are almost as many things to see in August in Yosemite as there are to do, and if you read the previous section, you know that's a bunch. These two list are just starting points for you to do your own research to see what piques your interest. They are arranged based on whether you would like to see the famous sights where there will probably be crowds or if you want to get off the beaten path and try some lesser known gems around the park.
THE CLASSIC– BUT CROWDED– SIGHTS
Tunnel View: While it will be crowded, this overlook is worth a stop no matter how many times you've seen it. The entire valley is laid out before you like a 3D museum map with El Capitan and Half Dome looking like paintings and Bridalveil Falls shimmering on your right. Perhaps the most photographed site of all, this is a can't miss stop and is right along the road into the valley from the southern entrance.
Vernal and Nevada Falls: You can make this trail moderate or strenuous as you please depending on how far and what trails you decide to take. The first section up to the footbridge below Vernal Falls is paved and pretty short but rather steep. From there you can either take the Mist Trail– a short steep climb with large stone steps that are always moist from the spray of the falls– up to the top of Vernal Falls or you can take the longer John Muir Trail which adds a couple miles to your trek but lets you avoid Mist Trail. From the top of Vernal Falls, you can either head back to the valley floor or continue on toward Nevada Falls a few more miles up the trail.
Glacier Point: Spectacular views are to be had at this overlook of the northern half of the valley with Half Dome as the focal point instead of El Capitan at the Tunnel View. If you drive this road the same day or after you visit the Mist Trail, you'll be even more amazed as the thunderingly large waterfalls you saw yesterday are silent and small from this high up. Half Dome is to your left and if you look carefully, you might be able to see hikers scaling the cables on the rounded side.
ROAD LESS TRAVELED OPTIONS
Taft Point: Nestled away close to Glacier point but on the north side of it so that many visitors don't even see the trail head is Taft Point. This overlook requires a short hike, but the view of absolutely worth it. Break away from the crowds to stand on the southern edge of the valley across from El Cap and wonder at its massive size with Yosemite Falls to you left. Besides the fewer crowds, Taft Point allows brave visitors to get the iconic pictures at the edge of a 3000 ft cliff that plummets to the valley floor. Many guests choose to peer over while lying on their bellies.
Tuolumne Meadows: This stunning highland filled with lakes, streams, and rock formations is outside the valley and lesser known than the rest of the park. While it still gets a good amount of visitors, Tuolumne Meadows has less crowds despite its jaw dropping scenery. One of the signature hikes of the area is the climb up Lambert Dome, which grants hikers wonderful views from the top. If you have more than a couple days in the park, Tuolumne is definitely worth the bit of a drive it takes to get there and you can even spend a few days camping at higher the elevation where it will be cooler as well as having fewer crowds.
Cloud's Rest: Around 1,000 feet higher than Half Dome, Cloud's rest is anything but a restful hike, but is well worth the trek. Providing a nearly identical views as Half Dome as well as great views of Half Dome itself, this trek is a little know gem that can be accessed from Tioga Road. Just around 14.5 miles roundtrip, Cloud's Rest is peaceful and doesn't require permits unlike the crowded Half Dome.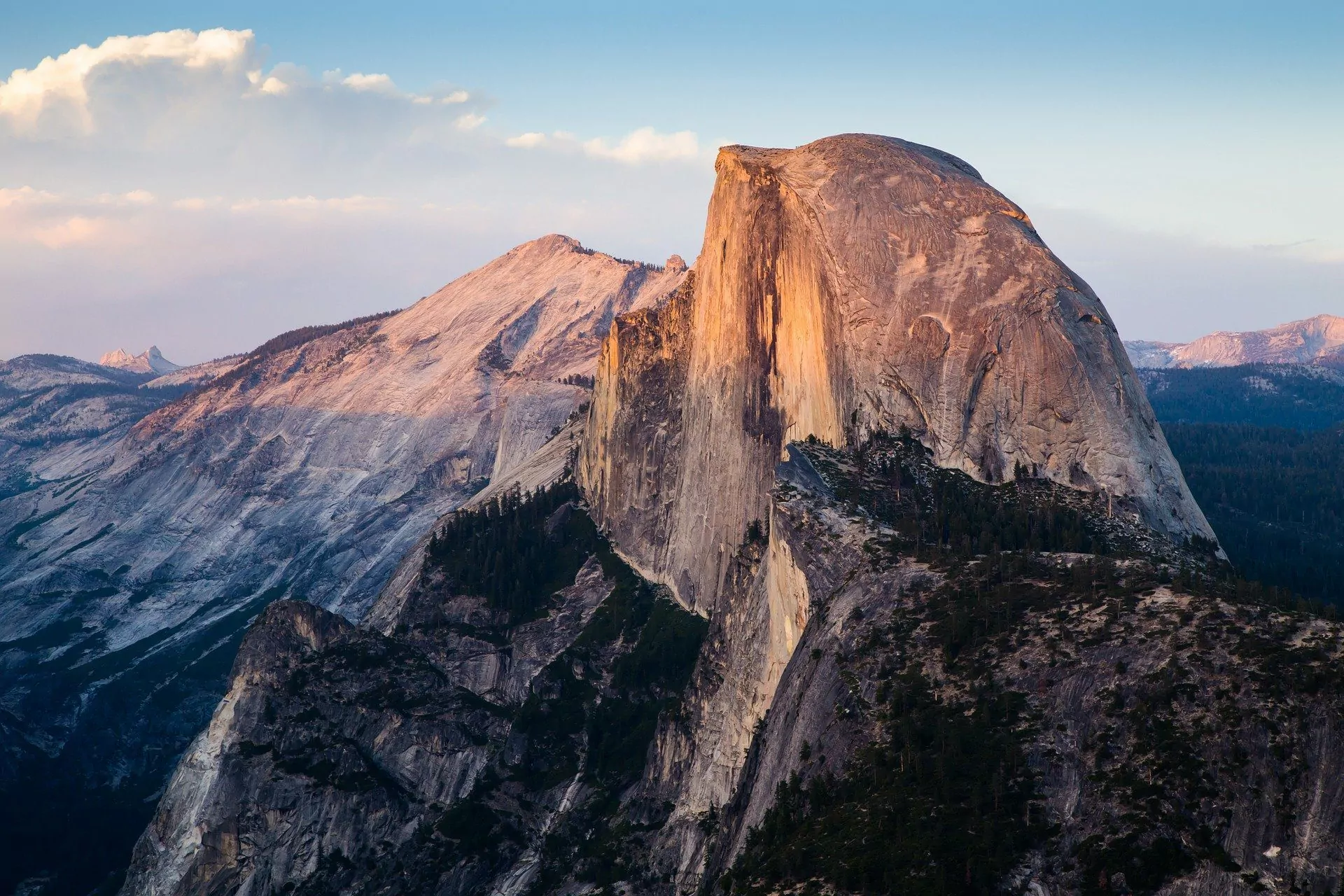 hiking in august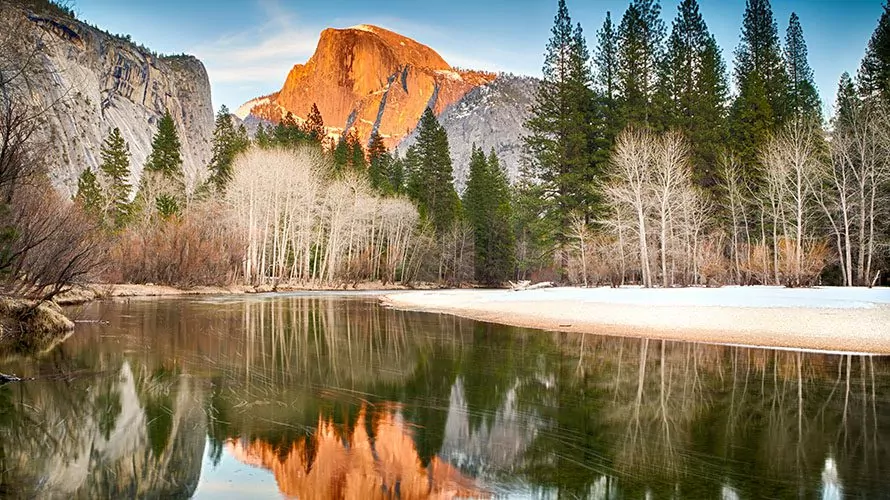 The hiking in Yosemite is world-class, and it is ideal in August, as all of the trails have opened and the weather is near-perfect. The park has over 800 miles of hiking trails, and many lead to alpine lakes, waterfalls, granite peaks, and panoramic overlooks. Trails vary in distance and difficulty, so there is something for all ages and levels of experience. You can read about the best hiking trails in Yosemite, and NPS' list of trails here. The easy to moderation Mirror Lake Loop is a great option for visitors wanting an easy trail that still brings them to a stunning view: mountains perfectly reflected on the surface of a lake. On the other hand, if you're looking for harder hike that is away from the crowds, North Dome, the little sibling of Half Dome, is a strenuous hike that begins in the White Wolf area off Tioga Road. There is even a chance to see a natural stone arch on a small detour off this trail that provides wonderful views of Half Dome and Yosemite Valley.
Of course, the iconic Half Dome hike is sought after by many visitors and permits can be difficult to obtain. But this strenuous hike is well worth the trek it takes as the views from the top are out of this world. One last easy hike to mention begins at Tuolumne Meadows and goes for as long as you want it to. Lyell Canyon via the John Muir Trail is an easy, flat trail that leads visitors away from the road and into one of the most beautiful canyons in the park, though it's not known to many besides backpackers. The canyon leads south with a gorgeous river of turquoise running through its center surrounded by grassy meadows filled with wildflowers and finally framed by sheer cliffs with waterfalls trickling down its sides. The canyon ends at the base of Donahue pass which forms the border between Yosemite National Park and the Ansel Adams Wilderness. If you hike all the way to the pass, it's eight miles round trip but you can turn around anytime you want and head back toward the visitor center and your car at Tuolumne Meadows.
Remember, when hiking in Yosemite to bring (and drink) plenty of water. It is recommended to bring at least 3-liters water for a day hike. August is one of the hottest months, so be prepared with sunscreen, a hat, and cool hiking clothing that will dry quickly if you decide to take a dip into a river or lake. The heat will feel more intense to visitors that are used to humid heat as the intensely dry mountain air will make your skin crack if you are not careful. Also make sure to use common sense while hiking. Stick to the trail, as going off-trail can lead to erosion as well as injury. And if hiking to a waterfall, never swim in a pool above the falls.
Backpacking in august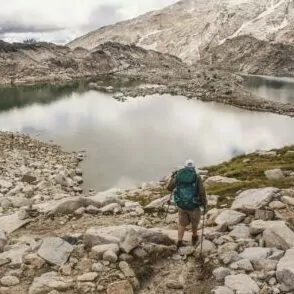 August is the perfect time for backpacking in Yosemite, but does require a wilderness permit. With the weather being warm to hot during the day and chilly at night, it is ideal for camping out among the granite and the stars. Read the best trails for backpacking to decide which trip is best for you. If you're not sure which trail to take or where to start in planning your first backpacking trip, you can book a trip with one of our professional guides who will show you the ropes of backpacking before you get out there on your own.
Backpacking is often seen as a way to get away from the crowds in the valley, and while there are fewer people in the backcountry, summer is also peak backpacking season and you will by no means have the trail to yourself. The John Muir Trail, which begins (or ends, depending on which way you hike it) in Yosemite Valley is very popular as it can be a two month long through hike or an extended weekend section hike. There are also plenty of options for staying around the valley and going up to Tuolumne Meadows. You can backpack through the classic summits of Yosemite or arrange a trip to see as many of Yosemite's alpine meadows and waterfalls as you can. Many chose to backpack around the valley as it gives you access to summits, like Half Dome, through a different permit as well as allowing you to start at the base of the summit from your backcountry camp instead of doing the long day hike from the farthest point cars can reach. There are also backpacking options along the rims of Yosemite valley that allow you to get up to higher elevations without trekking to far away from civilization.
August is usually the hottest month of the year and backpackers should be aware of the heat especially when hiking at altitude. Some hikers opt to take a rest in the middle of the day and continue on once it's cooler in the evening. By this time in the year, the water levels should be lower in the creeks and rivers making stream crossings easier, but limit extra water supply while you are hiking. Even in the summer, there is still the chance of an afternoon rain shower, so make sure to bring your rain jacket and a rainfly for your tent. Backpacking in August is some of the best conditions you will get in the Sierras get out there and enjoy it.
weather in august

Wildlife in August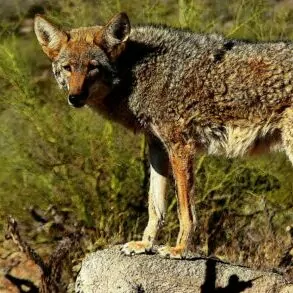 Yosemite in August is bursting with wildlife as the animals work on storing food for the coming winter. The iconic Yosemite black bears are still out and about and many visitors get the chance to see one of these amazing creatures foraging for nuts, roots, or tourist lunches for an easy meal. It is important to store all food properly as these bears have an excellent sense of smell and know where food can be found. Strangely enough, most bears are seen in the valley or near the visitor centers as backpackers will sometimes hike for days in the backcountry and not meet a bear. Mule deer are also abundant in Yosemite and are rather used to the crowds, seeming to pose for pictures. Even though these creatures seem tame, please do not approach them for your safety and for the safety of the animal. You might also catch a glimpse of a coyote even in the populated parts of the valley. These solitary relatives of wolves are much smaller and more abundant than their larger cousins, preferring to scavenge and hunt rodents instead of larger game. Besides the larger, more abundant animals, small creatures can be rewarding to see as well. There are many species of snakes in the park, but the northern Pacific rattlesnake is the only one that is venomous. Birds are also a favorite with wildlife photographers. California has a population of great gray owls that is distinct from populations in other states and can be seen flying silent and low between the trees in the evening. The American dipper is also fun to watch as it dives beneath the water of streams and rivers, searching for aquatic bugs to make a meal of.
The park is also home to many more elusive creatures rarely seen by visitors. Mountain lions, bobcats, fishers, minks, otters, and red foxes all inhabit the valley, but visitors usually see their tracks if anything at all. The Merced is a good place to sit and wait if you are wanting to see wildlife as many creatures come to the river to drink or live on its banks such as the otters and minks. If you are interested in seeing some of the scarcer wildlife, talk to a ranger about the best time and/or places to look for your animal and what has recently been caught on motion sensor cameras.
Recommended wildland trips in august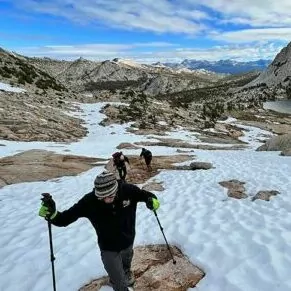 Planning a trip– whether it be backpacking, camping, or hotel based– to Yosemite in August can be overwhelming as you try to keep up with the current conditions, crowds, and find accommodations that aren't crazy expensive. But you can bypass all the headache and logistics of planning your own trip by booking a trip with Wildland Trekking. We offer a variety of hiking tours and you are free to explore all the options for backpacking treks, camping trips, and inn-based tours, but here we've picked out just a few trips that we especially recommend for August.
Wonders of Yosemite Backpacking Trip: This strenuous 8-day trip is those looking for a true adventure in the Yosemite backcountry. Get away from the crowds and hike on the famous John Muir Trail before branching off into other sections of Yosemite's highland. You'll get to see the famous sites– like Half Dome and the Valley– but for the most part you will get to truly immerse yourself in the heart of the great Sierra Nevada Mountains. All-inclusive with meals and much of your backcountry equipment included, this trek is one of the most adventurous trips in Yosemite National Park.
Summer Yosemite Camping Tour: Experience Yosemite's quieter side without going into the backcountry on this 4-day camping and hiking experience. You'll camp on the Eastern "quiet side" of Yosemite at a private campground overlooking Mono Lake. Drive into the park each day for stunning overlooks, rushing waterfalls, and hiking you won't ever forget. Enjoy all your meals included and prepped outdoors by your excellent guide along with included camping equipment as well. We've got you covered on this amazing hiking experience that– unlike backpacking trips– comes with showers at the end of the day.
High Sierra Loop Backpacking Trip: Join this backpacking trip for an adventure of a lifetime in some of the most beautiful sections of the "Range of Light" in the Sierra Nevadas. Escape the crowds by trekking through Tuolumne Meadows and Lyell Canyon on the John Muir and Pacific Crest Trails. This trip is all inclusive with meals and much of your equipment provided, so gear up for a fantastic trip in Yosemite's high country.
JOIN A GUIDED HIKING ADVENTURE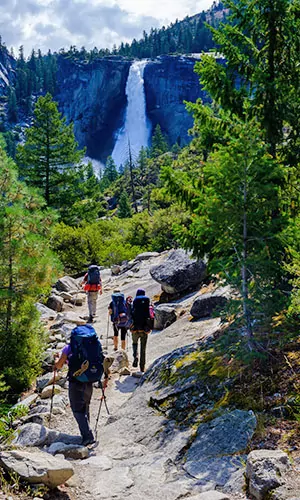 Yosemite National Park is home to some of the most epic and amazing hiking vacations in the world. Wildland Trekking offers trips with the best of Yosemite: waterfalls, views, wildlife, solitude, adventure and fascinating natural and cultural interpretation.
Guided Yosemite treks are all-inclusive which covers permits; local transportation (excluded on certain tours); meals; equipment; safety systems and professional hiking/wilderness guides; all of which allows visitors to maximize their time in Yosemite and focus entirely on enjoying the Park.
YOSEMITE ADVENTURE TOURS
GUIDED BACKPACKING ADVENTURES: these are for people interested in an authentic Yosemite hiking adventure away from the roads and crowds.
PORTERED TRIPS: on these innovative trips, guests hike with light day packs and camp near in stunning backcountry locations.
INN-BASED PACKAGES: these tours are all-inclusive packages with lodging, amazing daily hikes, expert guides, meals, transportation and more!
CAMPING-BASED HIKING PACKAGES: camping-based hiking packages provide all-around hiking experiences of Yosemite on wonderful outdoor vacations.
DAY HIKE TOURS: maximize your day in Yosemite on a fully guided, award-winning hiking tour on one of the Park's best trails.