Visiting Zion in May
Learn all about what to expect visiting Zion National Park in May
Updated: 10/12/22
May is an excellent time of year to visit Zion National Park. The valley of Zion Canyon is lush with green flora, the Virgin River is rushing quickly and cleanly, and wildlife is frolicking in the warm sun. There are many benefits to visiting Zion in May, as well as some drawbacks. If you can visit the park in May, you will have a fantastic trip and leave with an appreciation for the beauty and magnitude of Zion. Benefits of Visiting Zion in May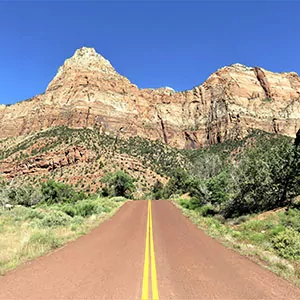 The biggest benefit of visiting Zion in May is the breathtaking scenery. Zion's classic red, pink, and cream rocks contrasted against the lush green cottonwoods, junipers, grasses, and other plants are nothing short of gorgeous. As the snow melts at high elevations, the Virgin River is fed with clean, aqua-blue water, creating another beautiful contrast in the valley. Wildflowers are in full bloom, and the desert is alive with animal and plant life. It is genuinely breathtaking in Zion in the spring. The lighting in May can create marvelous sunrises and sunsets, and it is an excellent time of year for photography. Wildlife is also out and about this time of year, with the mule deer growing new antlers and the big horn sheep lambs running with the herd. Reptiles, amphibians, and small mammals will be out and more active, and some of the larger animals will be willing to spend more energy on play instead of conserving it for warmth. Watch for these animals running across the road or sunbathing on a trail. You won't want to miss getting some pictures of the park's amazing wildlife.
Another benefit of Zion in May is the perfect weather and the accessibility of trails. Depending on your location, the highs will be in the 70s to 80s, and the lows will be in the 40s at night. This weather is perfect for hiking and camping as the days have not yet gotten to their extreme desert heat, and the nights are cool enough for a camping trip. You won't have to deal with the lingering winter weather in May, and all the trails will be accessible, even those at high elevations. Angels Landing Via Scout Lookout is one of the most famous trails in the Park and is accessible in May. It does require permits, however, and they can be very competitive to get, so make sure you plan and do your research or book a trip with a guiding company to do this day hike where permits are included.
Additionally, the Narrows will most likely be open in May if they were closed in the spring for high water levels due to snow melt. This is one of the most iconic hikes in the park, and the warmer temperatures during the day will make the cold Virgin River water feel better for hiking. Backpacking is entirely accessible to those with summer gear, as you won't have to deal with snow fields or freezing temperatures at night. May is truly a spectacular season, and you won't regret visiting in a month when you don't have to fight the weather. With little rain and pleasant temperatures, this is a perfect time to visit Zion with the whole family.
Drawbacks of Visiting in May
By far, the biggest drawback of May is the summer crowds. While it is not technically summer, the warmer weather and perfect temperatures will bring in the crowds. Spring, summer, and fall are the busiest seasons in Zion National Park, and you will notice the crowds in May. This means long lines for the shuttle buses, crowded eateries, and limited parking inside the park. In addition, accommodation availability will be low, and rates will be high. Hotels and lodges know when the peak season for park visitation is, and the rates will increase significantly. Anyone who has tried to plan a last-minute trip to Zion in the summer months knows that accommodations book up in and around the park months in advance. If you find any available accommodations last minute, prepare to shell out peak season prices for them. We recommend booking a trip with a guiding company to avoid the stress of navigating the busy National Park and for help getting off the beaten path.
Another drawback of May is you cannot drive your private vehicle past Canyon Junction in the park and will have to take the shuttle bus to get around. This significantly limits your schedule as you are tied to the times of the bus as well as makes traveling with lots of gear cumbersome. The shuttle buses can be very crowded and have long lines, so factor those times into your plans for the day. However, there aren't many downsides to visiting Zion in May. It is a great time to visit; your only significant downside is that everyone else knows it's a great time to visit. If spring or summer is the only time of year that you can make it to Zion, here are some tips to avoid the crowds:
1. Get to the park early: The earlier you get to Zion, the more likely you are to get a parking spot and the more of the park you have to yourself before the crowds arrive.
2. Visit Kolob Canyons: The Zion Canyon is small and crowded—since most visitors spend most of their time there. On the other hand, Kolob Canyons are in a more isolated area of the park, provide incredible and unique views, and are much less traveled.
3. Go on a picnic: Avoid the eateries at busy eating times and go on a picnic instead. You can stop at the grocery in Springdale before heading into the park. There are wonderful places along the river and in the shadows of the cliffs above you for a picnic meal.
4. Read our list of Trails Less Traveled: these trails will give you a better chance for incredible views with less of a crowd.
Things To Do In May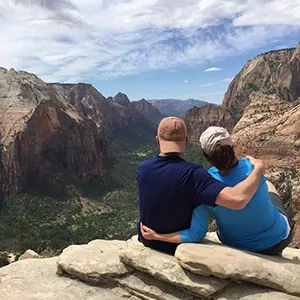 Hiking is ideal in May—with trails ranging from easy to strenuous, there is something for everyone in Zion National Park, giving you the chance to experience the best of Zion from amazing vantage points. You can read our list of best trails in Zion for recommendations. Make sure to catch sunrise or sunset from Canyon Overlook Trail or Watchman Overlook Trail. The Riverwalk trail is a great option and leads you to the trailhead of the Narrows, but it is relatively flat and easy. The Narrows hike is a great option if you're feeling adventurous. The hike takes you through one of the most famous slot canyons in the world as you hike through the river that acts as your trail. In May, water levels may still increase due to snowmelt in the Rockies, so you may be wading or swimming through the river.
Angel's Landing via Scout Lookout is another famous option requiring some nerve. For a notoriously precarious hike, it's best to do this hike with a guiding company that will take care of getting permits (very competitive and challenging to get) and send an experienced guide with you on the hike itself. The Subway, a strenuous trail through a distinct canyon that requires some canyoneering and wayfinding, is also only available by permit but is well worth it if you're in the condition to be able to do this hike.
Backpacking is also a popular option in Zion this time of year, but check Zion's backpack regulations regarding group size and human impact, as they are different from other national parks.
Bicycling through Zion Canyon is wonderful in May, letting you avoid the crowds of the shuttle bus and feel the crisp spring air whoosh past you as you cruise down the road without cars. Shuttle buses have bike racks in front if you wish to take your bicycle on them.
Canyoneering and rock climbing are popular activities in the park, and May is a great time to do them. These types of activities, however, should only be attempted by those who are experienced or with those who are experienced. Be sure to check out our best tours page for more details.
Visiting Kolob Canyons is a great way to escape crowds, as this northwestern corner of the park is much less frequented than the more famous Zion Canyon. But we're sure you'll find this park is just as stunning as the more famous areas. Other national parks within short driving distance make great day trips from Zion. Bryce Canyon and Grand Staircase Escalante are two options for day trips.
Wildlife viewing and birdwatching are both very popular in the park. Keep your eye out for mule deer and bighorn sheep crossing the roads, foraging in the meadows, or ambling along the cliffsides.
Suppose the weather worsens, and you need indoor activities to warm up. In that case, the visitor center has excellent interpretive exhibits and a 22 min park film that is informative and entertaining. The Zion Human History Museum is also a great option and has exhibits on Native American history, the effect that water has on the park, and much more.
things to see in may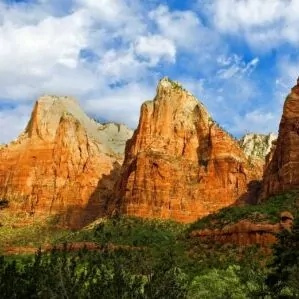 There are nearly as many things to see in Zion National Park in May as there are to do. Sightseeing is an activity everyone can enjoy and is very popular in the park due to its remarkable geological structures and topography. Sightseeing can be done in various ways: on the shuttle bus, in your car, on your bike, or on foot. With so many things to see and options, we've compiled a short list of some of the must-see sites in May, but don't forget to do your research to see what piques your interest in the park, as this list is by no means exhaustive.
The Narrows: Perhaps the most iconic hike in the entire park, the Narrows is not to be missed. Whether you want to embark on this hike or not, you should at least see the trailhead with the Virgin River winding far into a slot canyon and the walls getting narrower and narrower the farther you hike. The Riverwalk Trail will take you to this trailhead, and the sights only get better the further you go if you decide to do this hike.
Angels Landing: Again, even if you're not going to do this hike or if you wanted to but couldn't get permits, you should see Angels Landing. This giant rock formation is hard to miss being so huge, but a few points have especially great views. The Big Bend shuttle stop lets you get great views from below, and if you're willing to do a little hiking, the West Rim Trail or Scout Lookout also offers great views.
Kolob Canyon: If you're craving a break from the crowds, drive to the northwest corner of the park in Kolob Canyons. This much less frequented but no less breathtaking park area will give you fresh air away from the crowds and fantastic overlooks, gorgeous slot canyons, and many trail heads. It's about an hour's drive from Zion Canyon, but well worth it.
Zion Human History Museum: If you need to get away from the crowds but don't feel like driving to Kolob Canyons and think you might enjoy some time indoors, then the Zion Human History Museum is a great option. The museum centers on two main factors that have impacted the canyon: humans and water. First tracing human history in this land from indigenous people to early pioneers and settlers, the museum then takes time to observe how water has impacted this area, both as a creator and destroyer.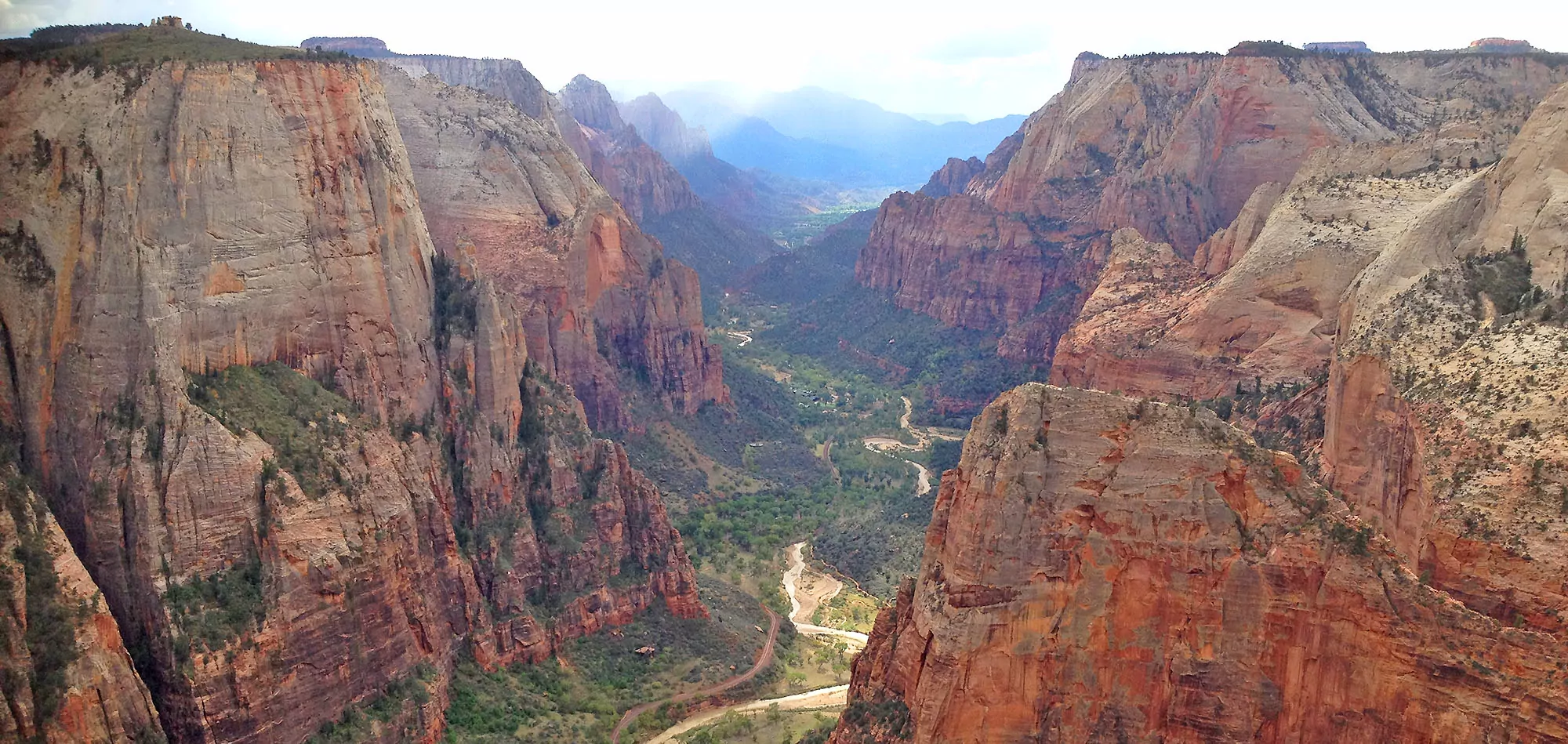 Hiking in May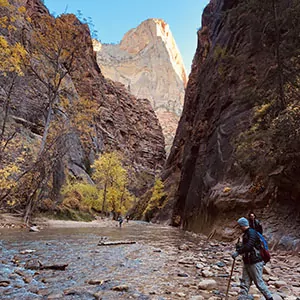 Hiking and backpacking are wonderful in May. Trails to high elevations are typically open and give you amazing, panoramic views of the canyon below, alive with flora and fauna. There are also wonderful trails along the valley floor that take you next to the rushing Virgin River through the cattails and lush cottonwoods. With trails that range from easy to moderate to strenuous, all ages and levels of ability can enjoy hiking in Zion. Make sure you read the current conditions for up-to-date information on trail conditions.
The Riverwalk–which leads you to the very trailhead of the Narrows and allows you to see the beginning of the slot canyon– or the Watchman Overlook Trail— which guides you up to one of the most spectacular overlooks in part– are both great options and relatively easy and short. The Emerald Pools is also a very popular option, and the path to the lower pools is wheelchair accessible with assistance. One of the most famous hikes in the park, the Narrows, will probably be accessible this time of year as the higher spring water levels will have subsided, allowing guests to do this hike. You can access the trailhead via the Riverwalk Trail, where you will join the Virgin River as your trail and hike through one of the most famous slot canyons in the world. The water is very cold, and many people describe this hike as trying to walk on slippery, wet bowling balls. You will need shoes with lots of traction despite hiking in the water. It's also wise to carry your belongings in a dry bag; it's possible that you will encounter areas where you will have to swim or that you will fall in. You won't want your belongings to get wet. This hike is truly spectacular, and the water will feel more refreshing with the warmer air temperatures, but be aware that the slot canyon gets little sunlight and is relatively cool, so best to bring a light jacket.
The other extremely famous hike in Zion is Angels Landing via Scout Lookout. This strenuous hike takes you up a giant rock formation and has some places that have extremely high exposure. But for those who are willing to brave the trail, the view from the top is unmatched. If you want to do this hike but aren't sure if you want to do it on your own or if you'll be able to get permits, you can book a trip with Wildland Trekking. We'll provide permits for you and an expert guide who has done the trek before and knows all the safety information.
Inn-based tours are an excellent option for spring, where you will experience the best of Zion, Grand-Staircase Escalante, and Bryce Canyon on day hikes with a local and knowledgeable guide before returning to an exceptional lodge. These trips take care of all the planning, accommodations, and meals, so you can enjoy your trip without the stress of planning a National Park vacation. Camping tours are another wonderful option for seeing much of Zion and nearby Snow Canyon. Appropriate gear, including tents, sleeping bags, trekking poles, daypacks, and all meals, are provided by the company. And day hikes are great for those who want to maximize their time in the park while gaining knowledge from a local and experienced guide.
backpacking in may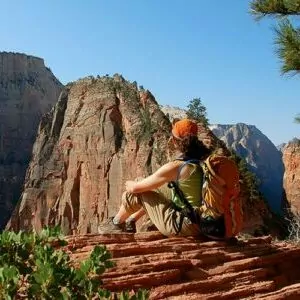 Backpacking is world class in Zion and there are many routes and trails to choose from. May is a fantastic time to go backpacking as the temperatures are pleasant during the day but not yet at high summer levels, and the nights are just cool enough to be comfortable in a tent and sleeping bag. However, Zion has different and stricter regulations about human impact on the wilderness, group size, and campsites compared to other national parks, so it's important to know the backpacking regulations and to abide by them for your safety and the health of the park. Most backcountry campsites are marked; you must use these predesignated sites in many areas. This includes along the Narrows, typically an option for backpacking in May, with 12 designated sites along the river. Because many routes are popular, it's important to have backup plans for alternate campsites and trails if you can't get the permits you want. Talk to a ranger or others who have backpacked independently for more trail recommendations for the park. Zion has a strict pack-it-in, a pack-it-out rule that includes all trash and human waste. The backpacking season starts in May, so be prepared for more people on the trail and more competition getting permits. But the weather and the sights are well worth being patient to get the route you want.
The threat of hypothermia is beginning to subside for backpackers in May. However, temperatures below 45 at night are still a risk for hypothermia, especially if you are hiking the Narrows and have not completely dried off by the time the sun goes down and the temperature drops. Flash floods can pose a risk to those in the backcountry and anyone hiking in a river or flood-prone area. These floods are deadly and can happen with clear skies overhead. You cannot outrun or outswim a flash flood, and most deaths that occur due to flash floods are not from drowning but blunt trauma as the waters often carry boulders, tree trunks, and other large debris. Heed all warnings about flash floods and watch for warning signs yourself, such as changes in water color and clarity, rising water levels, roaring water upstream, and thunderstorms even miles away.
At the time of writing, there is another significant threat to backpackers and all hikers in and around Zion's waterways: toxic cyanobacteria. There has been a recent bloom of cyanobacteria that can cause illness or death if ingested or otherwise contracted through an opening in the skin. The Virgin River is known to have high levels of this toxin, and toxin levels at other more remote locations are not known. Do not put your head under the water if you are swimming in the river, and if you have to filter drinking water while in the backcountry, do it directly from a spring and not from a river or stream. No known commercial filtration system effectively removes the toxin. This makes backpacking more difficult as you will need to make sure to camp near springs where you can filter drinking water. Check the national park website for current updates on cyanobacteria toxins.
Weather in May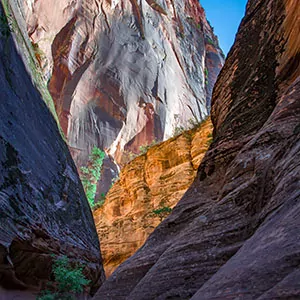 Zion is a large park with various locations and elevations that change weather patterns daily. But typically, spring is in the air in May, and warmer temperatures follow. The average temperature for Zion Canyon in May is a high of 83 and a low of 52 degrees Fahrenheit (28/11 degrees Celsius). In Kolob Canyons, the average temperature is a high of 71 and a low of 44 degrees Fahrenheit (21/6 degrees Celsius). On average, it rains five days during May. Visitors should remember that these temperatures are only averages and that the park can experience much colder and much warmer temperatures than these.
Regarding weather, May is one of the best months to visit Zion because the temperatures are warm during the day and cool at night, and rain is much less likely than it is later in the summer. From mid-summer to early fall, the desert monsoon season arrives in Utah, bringing frequent afternoon rainfall. This has not yet arrived in May, and you will find pleasant temperatures and less rain. While it is still important to understand and heed the warnings of flash floods, they are less likely to occur this time of year. It is also not nearly as hot as it is later in the summer, which makes hiking and backpacking more pleasant, and hypothermia is less of a threat in May than it is earlier in the year.
Wildlife in may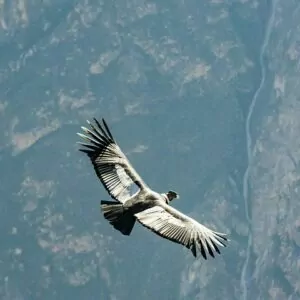 May is a great time to view wildlife in Zion as the animals are active with the warmer weather, and the springtime young are out and about. Watch for some of the park's larger ungulates, like mule deer and bighorn sheep. The bighorn sheep will have given birth earlier in the spring, so their lambs might be a little larger and able to run with the herd on the high and steep cliffs. Mule deer, conversely, will just be giving birth to their fawns, usually twins, covered in spots with brown coats. Buck mule deer will be regrowing their antlers that they have a shed in the winter, so keep an eye out for males with stubby antlers.
Spring offers opportunities to see the more elusive animals that call this area home. Gray foxes, coyotes, bobcats, and mountain lions are the main predators in the park. Foxes and coyotes are sometimes seen at night, running across the road or caught in the beam of a camper's headlamp, but the two feline members of the group of predators in Zion are very elusive and seldom seen.
Zion is also a center for birdwatching as many species are rarely found elsewhere. If you're in one of the incredible slot canyons, keep your eye out for the nest of a Mexican spotted owl. These monogamous animals usually prefer cooler mountain climates, but the naturally air-conditioned slot canyons provide excellent places to breed and nest. At dusk, you might see one hunting small rodents silently gliding through the air.
Another famous avian resident of the park is the California condor, the largest bird native to North America. With a wingspan reaching up to 9 1/2 feet, these scavenging birds are magnificent to see and often sighted riding warm thermal air up from the canyons. An endangered species, the California condor was brought back from the brink of extinction through captive breeding programs. They have recently been re-introduced to the park, where a small but stable population is now. Condors are still closely monitored in Zion, so if you see one, see if you can make out the number on its wing tag and ask a ranger about the individual.
If you're interested in seeing a specific animal, you can talk to a ranger about the best place to see one or ask what has been caught lately on motion sensor camera traps.
recommended wildland tours in may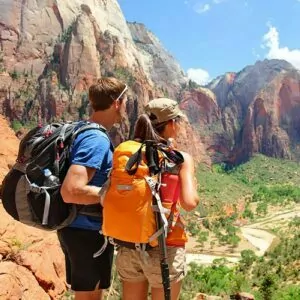 Planning a trip to a national park as remote as Zion can be rewarding, but it can also be a hassle as you must keep up with current conditions, where to stay, and what activities might let you avoid some of the crowds. If you don't have time to plan out every last detail of your perfect trip or would rather enjoy a trip where the itinerary, logistics, meals, transportation, and things to do are all laid out for you, then you can book a trip with Wildland Trekking and enjoy one of our amazing national park hiking tours. All our trips are all-inclusive, and our guides will take care of all the details, meal prep, and safety information so that you can relax and enjoy your vacation. Whether you want to camp with us, stay at a lodge on an inn-based tour, or spend a day with one of our expert guides, we have something for you. Feel free to check out all the trips we offer in Zion, but here are a few we especially recommend for May.
Zion, Bryce, Grand Canyon Tour: If you're looking to do some of the best national parks in the west in one trip, this is the tour for you. A six-day inn-based tour that will take you to Zion, Bryce Canyon, and Grand Canyon National Parks, this trip gives you a taste of each of the parks so that you know where you want to return. With premier cuisine, excellently located and comfortable lodging, and local transportation, this trip is truly one of the best we offer in this area of the country.
Angel's Landing Private Day Hike: Angels Landing is one of the most famous hikes in the country. Still, the chain section of this hike with narrow trails and precipices on either side of you is very intimidating, and getting permits can be a headache because of the hike's popularity. If you want to do this hike but aren't sure if you want to go on your own or don't want to go through the hassle of getting permits, you can book this day hike with us, where we provide permits and an expert guide to go with you on the hike. Enjoy tasty trail snacks, a picnic lunch on top of the world on us, and a top-of-the-line day pack and hiking poles.
Snow Canyon Private Day Hike: While it's not technically in Zion National Park, Snow Canyon is well worth a visit, and you won't regret taking this tour to explore the stunning area. Enjoy this area's cultural and geological history as you walk through slot canyons and over ancient lava flows. With private day hikes only being open to your group, you'll enjoy this exclusive adventure with included snacks and lunch and top-of-the-line day packs and hiking poles. This is an excellent option if you spend multiple days in Zion and want a day trip to a different area.
Join a Guided Hiking Adventure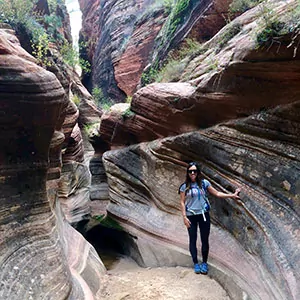 Zion National Park is home to some of the world's most epic and fantastic hiking vacations. Wildland Trekking offers trips with the best of Zion: canyons, views, wildlife, solitude, adventure, and fascinating natural and cultural interpretation.
Guided Zion treks are all-inclusive, which covers permits; local transportation (excluded on specific tours); meals; equipment; safety systems, and professional hiking/wilderness guides, allowing visitors to maximize their time in Zion and focus entirely on enjoying the Park.