Visiting Zion
Learn all about Zion National Park and how to make the most of your visit
As one of the most famous National Parks in the United States, Zion is a must-visit destination for lovers of nature, geological wonders, and unique landscapes. The Zion Canyon reveals millions of years of rock history in it's impressive layers and rock formations. Some of the most famous hikes in all of the National Parks are in Zion; it is truly a place of marvel and majesty.
So, add Zion National Park to your must-see list, you will not be disappointed. Whether you decide to see it on your own or with a tour company, sightsee or hike, stay in a hotel or camp, you are sure to have a fantastic time in the park!
 WHAT MAKES ZION UNIQUE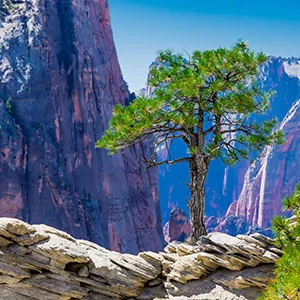 Zion National Park is in the midst of the Colorado Plateau, thus making it a geological hotspot. The rock layers that make up the cliffs of Zion were deposited 110 to 270 million years ago. Then, in relatively recent geological time, the rock was uplifted and the mighty Virgin River sliced through, revealing millions and millions of year of rock history, gradually creating the Zion Canyon as we see it today. Some of the cliffs in Zion National Park tower 2,000 feet above the ground. The scenery in the park and the surrounding areas is unbeatable.
There are so many great hiking trails in Zion that give you panoramic views of the canyon from above, as well as trails that take you beside the rushing Virgin River for a nice and easy stroll. There is truly something for everyone in Zion National Park.
 HOW TO GET THERE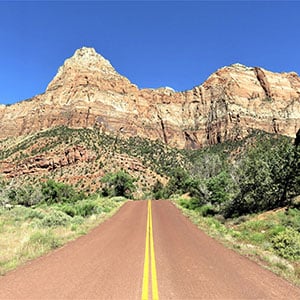 Zion National Park has two main areas: Zion Canyon and Kolob Canyons. There are two entrances to Zion Canyon—the east entrance, from Highway 89 at the Mt. Carmel Junction, and the south entrance, from Highway 9 through Springdale. Kolob Canyon can be accessed from one entrance, off Highway 15 that runs from Cedar City to La Verkin.
If you are flying to visit Zion National Park, the closest airport is Las Vegas, only a 3 hour drive from Zion. If you want to maximize your time in southern Utah and visit all five Utah National Parks, you might as well throw the Grand Canyon in to your trip—so, you could fly into Flagstaff, which is 1 ½ hours from the Grand Canyon, and 4 ½ hours from Zion. There are also airports in St. George and Salt Lake City.
 WHAT TO DO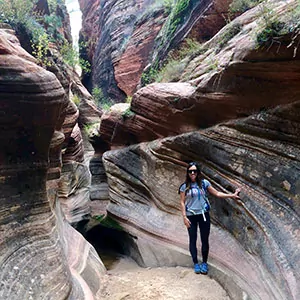 There is something for everyone to enjoy in Zion National Park. The primary activities in the park are sightseeing, hiking, backpacking, rock climbing, and bicycling.
Hiking in Zion is world-class, and is best during the spring, summer and fall. Zion Canyon has many hikes, ranging from easy to moderate, and from short to long, that will just blow your mind. Kolob Canyons is much quieter and has just as fantastic landscapes along it's hiking trails. Check out our list of best hikes in Zion for recommendations. Backpacking in the Zion Wilderness is extraordinary if you have multiple days to spend in the backcountry. Trails provide isolation and serenity from the hustle and bustle of the busy day hikes, and give you time and space to fully enjoy your unique surroundings.
Rock climbing is a very popular activity in Zion National Park, with it's spectacular sandstone cliffs. If you want a up close and personal experience with the walls of Zion, rock climbing is the best option for you. There are tour companies based out of Springdale that will provide equipment and knowledge to enhance your climbing experience. You can read up on the latest route information here.
Lastly, bicycling through the canyon is a popular way to explore Zion National Park. The shuttle buses that operate in Zion Canyon from March to November have bicycle racks on the front, so you can take your bike wherever you like in the canyon. And, there are no cars allowed on the road, so it will just be you and the shuttle buses. Bicycling through the canyon allows you to experience the walls and cliffs above you at your own speed and interest, and lets you see the entire canyon, with the wind whooshing past you.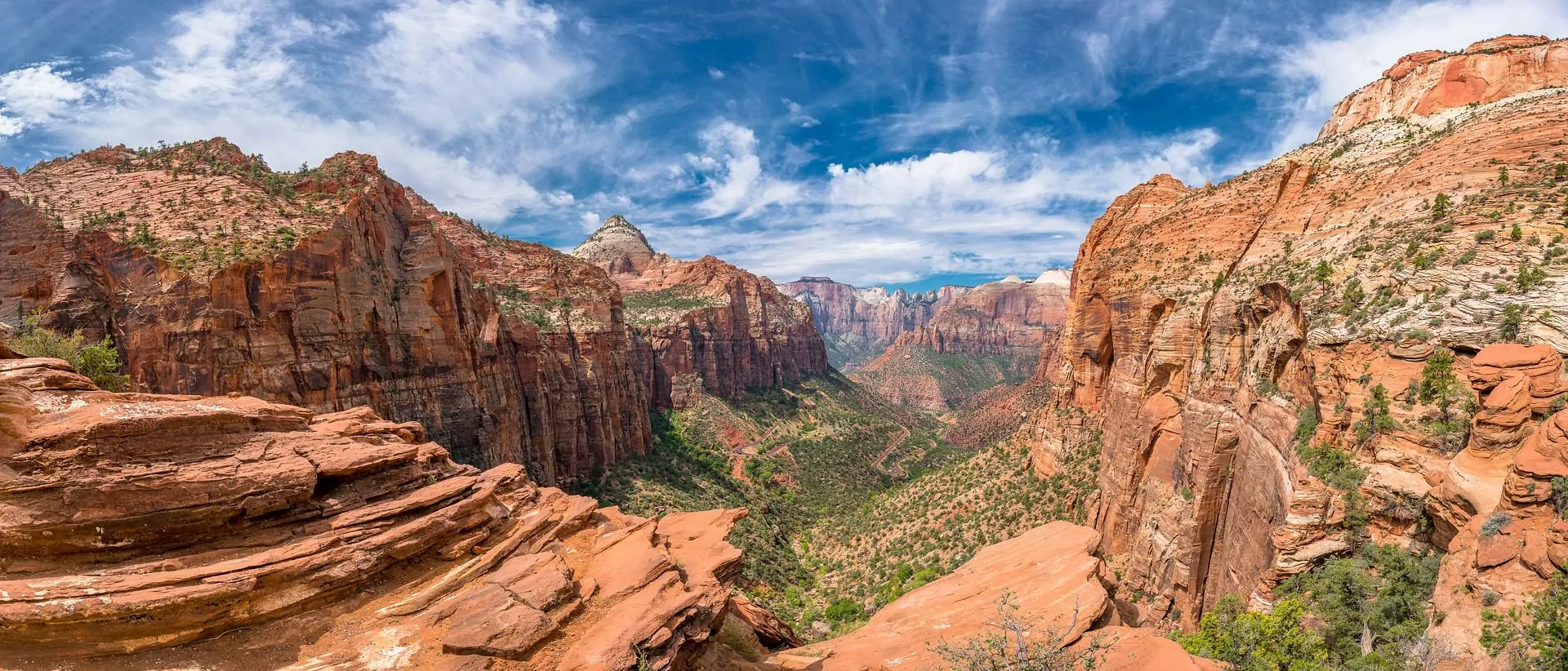 WHEN TO GO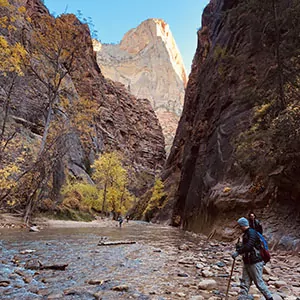 Zion is open year-round and very much an all year National Park destination. However, planning your trip should be centered around the types of activities you'd like to do, and how well you handle crowds. Zion is one of the most visited National Parks in the United States, and sees it's peak visitation during the summer.
The weather should also be taken into consideration when planning a trip to Zion. It is very hot in the summer, and cold in the winter—the tops of towers getting snow through the season. There is also a monsoon season in Zion, that could cause flash flooding. It is very important to consider the weather when planning your trip, as well as staying up-to-date on the weather while in the park.
Below are the average temperatures and days of precipitation in Zion Canyon and Kolob Canyons.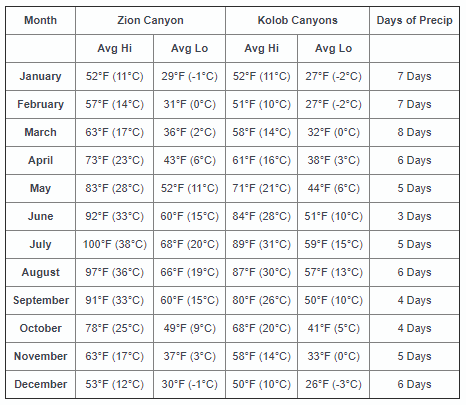 VISIT ON YOUR OWN OR WITH A GUIDED TOUR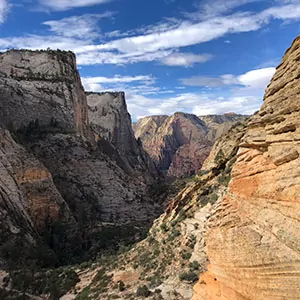 Many visitors choose to explore Zion on their own, and many others decide to go with a guiding company. Both have their advantages:
If you are interested in maximizing your time in Zion, minimizing the impact of crowds, learning about the geology and human history of Zion National Park and the surrounding area, being pushed outside your comfort zone, and/or not having to stress about the details of planning a national park vacation, then going with a guiding company is a fantastic option!
However, if you like the thrill of planning your own vacation, love researching trails and the history of the park, and want to be on your own time schedule, then visiting on your own is a great way to go.
JOIN A GUIDED HIKING ADVENTURE
Zion National Park is home to some of the most epic and amazing hiking vacations in the world. Wildland Trekking offers trips with the best of Zion: canyons, views, wildlife, solitude, adventure and fascinating natural and cultural interpretation.
Guided Zion treks are all-inclusive which covers permits; local transportation (excluded on certain tours); meals; equipment; safety systems and professional hiking/wilderness guides; all of which allows visitors to maximize their time in Zion and focus entirely on enjoying the Park.