Visiting Zion
Learn all about Zion National Park and how to make the most of your visit
Updated: 10/31/22
As one of the most famous National Parks in the United States, Zion is a must-visit destination for lovers of nature, geological wonders, and unique landscapes. The Zion Canyon reveals millions of years of rock history in it's impressive layers and rock formations. Some of the most famous hikes in all of the National Parks are in Zion; it is truly a place of marvel and majesty.
So, add Zion National Park to your must-see list, you will not be disappointed. Whether you decide to see it on your own or with a tour company, sightsee or hike, stay in a hotel or camp, you are sure to have a fantastic time in the park!
 WHAT MAKES ZION UNIQUE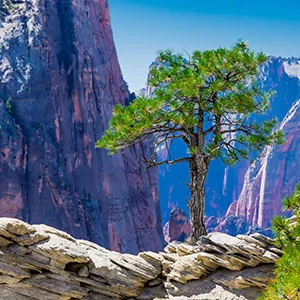 Zion National Park is in the midst of the Colorado Plateau, thus making it a geological hotspot. The rock layers that make up the cliffs of Zion were deposited 110 to 270 million years ago. Then, in relatively recent geological time, the rock was uplifted and the mighty Virgin River sliced through, revealing millions of years of rock history, gradually creating the Zion Canyon as we see it today. Some of the cliffs in Zion National Park tower 2,000 feet above the ground. The scenery in the park and the surrounding areas is unbeatable. Being part of the Colorado plateau also means that Zion serves as one of the steps in the drainage system of the Rocky Mountains. This creates what is called the Grand Staircase made up of many national parks and other areas draining the water from the mountains towards the ocean. The bottom layer of rock at Bryce Canyon is the top layer of rock in Zion, and the bottom layer of rock in Zion is the top layer of rock in the Grand Canyon. Much of the water that results from snowmelt in the mountains ends up in the Grand Canyon and the Colorado river, but a good portion of it comes through Zion in the Virgin River. This is what makes Zion more than a desert as it has water all year round in many slot canyons and natural springs. Without the Virgin River draining from the Rocky Mountains, not only would Zion not have a canyon but it wouldn't have water to sustain all the life that gathers in the park as a desert oasis from the dry surrounding areas. The park is home to 78 species of mammals and an abundance of other species of birds, reptiles, and amphibians, many of which are threatened or endangered such as the California condor, the Mexican spotted owl, and the Mojave desert tortoise. Due to its varied elevations from around 8500 feet to 3500 feet, Zion hosts a wide variety of habitats and ecosystems from desert highlands to deep slot canyons and the Virgin River and its tributaries. There are five major ecosystems in the park all of which shelter vulnerable species with high biodiversity that are essential for maintaining the habitat for future generations.
Zion is also home too important archaeological history with many sites containing pictographs and petroglyphs of the ancient Native American peoples that lived in this area. It has some of the best sand stone cliffs for rock climbing in the world and because of the sandstone nature of this rock, it is constantly changing. Erosion due to wind and water is having an effect on the park and visiting now will be different than visiting in 50 years. Zion also boasts very old volcanic activity, mostly in the Kolob Canyons area of the park. Ancient volcanoes and lava flows may seem out of place in Zion, but they are what has helped to uplift this huge section of rock. Due to fantastic feats of engineering to make the park accessible, there are also many great hiking trails in Zion that give you panoramic views of the canyon from above, as well as trails that take you beside the rushing Virgin River for a nice and easy stroll. There is truly something for everyone in Zion National Park.
 HOW TO GET THERE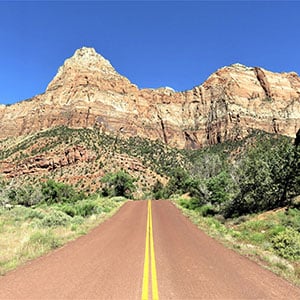 Zion is a fairly remote park with few large cities nearby. The park has two main areas: Zion Canyon and Kolob Canyons. There are two entrances to Zion Canyon—the east entrance, from Highway 89 at the Mt. Carmel Junction, and the south entrance, from Highway 9 through Springdale. Kolob Canyons can be accessed from one entrance, off Highway 15 that runs from Cedar City to La Verkin. If you were coming anytime besides winter, be prepared to meet restricted private vehicle access by the time you get to Canyon Junction in Zion Canyon. The rest of the canyon is closed to private vehicles from early March through mid November, so the shuttle bus is the only way to get around. However, you can drive to Kolob Canyons anytime of the year as long as it's not closed due to winter weather. While this area of the park is much less frequented, don't expect it to be empty, especially in the summer. If you're flying to this area of the country just to visit Zion, do your best to avoid renting a car to drive to the park. If you're going to be spending much or all of your time in Zion Canyon, you won't be able to drive around unless you're staying at the lodge, so a rental car will be wasted money as you have to take the shuttle. However, if you're planning on visiting many of the national parks in this area of the country, a rental car will be worth the hassle to be able to get to the other parks.
If you are flying to visit Zion National Park, the closest big airport is Las Vegas, only a 3 hour drive from Zion. If you want to maximize your time in southern Utah and visit all five Utah National Parks, you might as well throw the Grand Canyon in to your trip—so, you could fly into Flagstaff, which is 1 ½ hours from the Grand Canyon, and 4 ½ hours from Zion. There are also airports in St. George and Salt Lake City, but these airports are much smaller and you will probably find that they are more expensive. Zion is going to be a bit of a drive from whatever airport do you fly into, but if you'd like to avoid the hassle of a rental car, some guiding companies include local transportation in their all inclusive packages so you can be picked up at your hotel in a major city nearby.
 WHAT TO DO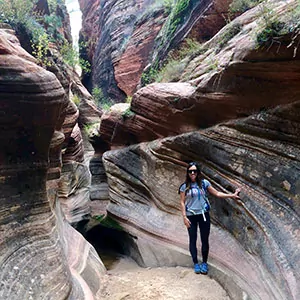 There is something for everyone to enjoy in Zion National Park. The primary activities in the park are sightseeing, hiking, backpacking, rock climbing, bicycling, wildlife viewing, and photography. Sightseeing is a great activity in Zion. Huge sandstone cliffs, dramatic, deep gorges, and the gorgeous Virgin River make for amazing sightseeing. Depending on what season you go, you will have access to see different things and some of the best sights require a short hike. Make sure to go to Kolob Canyons as well, especially if you're there in the summer, to experience a quieter Zion and some amazing views. Check out our pages on when to go to Zion to see what season would be best for what you're looking to see. Hiking in Zion is world-class, and is best during the spring, summer and fall. Zion Canyon has many hikes, ranging from easy to moderate, and from short to long, that will just blow your mind. Kolob Canyons is much quieter and has just as fantastic landscapes along it's hiking trails. Check out our list of best hikes in Zion for recommendations. Of course, the Narrows hike through the Virgin River and Angels Landing, a strenuous and treacherous hike up to the top of a huge rock formation, are two of the most famous and fantastic hikes in the park. Make sure to do your research on both of these hikes, however, as Angels Landing requires permits and the Narrows can be treacherous or closed certain times of the year. Backpacking in the Zion Wilderness is extraordinary if you have multiple days to spend in the backcountry. Trails provide isolation and serenity from the hustle and bustle of the busy day hikes and give you time and space to fully enjoy your unique surroundings. Rock climbing is also a very popular activity in Zion National Park with it's spectacular sandstone cliffs. If you want an up close and personal experience with the walls of Zion, rock climbing is the best option for you. There are tour companies based out of Springdale that will provide equipment and knowledge to enhance your climbing experience. You can read up on the latest route information here. Rock climbing, however, should only be attempted by those who are experienced in outdoor climbing. Zion climbing is very different from climbing in Joshua Tree or even Yosemite as those rocks are granite while Zion's are sandstone making holds much less dependable and prone to crumbling. Make sure you understand the proper technique, risks, and how to minimize danger before going rock climbing in Zion.
Bicycling through the canyon is a popular way to explore Zion National Park. The shuttle buses that operate in Zion Canyon from March to November have bicycle racks on the front, so you can take your bike wherever you like in the canyon. Since there are no private vehicles allowed inside the canyon during these months, biking is a great alternative to driving if you want to avoid the crowded shuttle buses. And because there are no cars on the road, it will just be you and the shuttle buses. Bicycling through the canyon allows you to experience the walls and cliffs at your own speed and interest and lets you see the entire canyon with the wind whooshing past you. Wildlife viewing is also a very popular activity in the park, as Zion boasts a variety of species. Bighorn sheep and mule deer are the biggest animals that you are likely to see, ambling up on the cliffs or frolicking in the meadows depending on the time of year. California condors and Mexican spotted owls are some of birdwatchers favorite sights, as the owls are threatened and the condors are endangered. If you're visiting the park in the summer and would like an opportunity to escape the heat during the day, nights are a great opportunity to see some of the more elusive animals in the park like ringtails, gray foxes, coyotes, bobcats, and just may be if you're very lucky, a mountain lion. Photography of both the animals and the landscape is simply stunning in Zion as it's nearly impossible to take a bad picture. Getting up at sunrise or staying out until sunset provides the best and warmest light for illuminating the red rock cliffs. If you're out at night looking for animals, try your hand that star photography as Zion's dark skies are spectacular for stargazing. There is nearly no end to things to do in Zion, so take your pick of the adventure of your choice.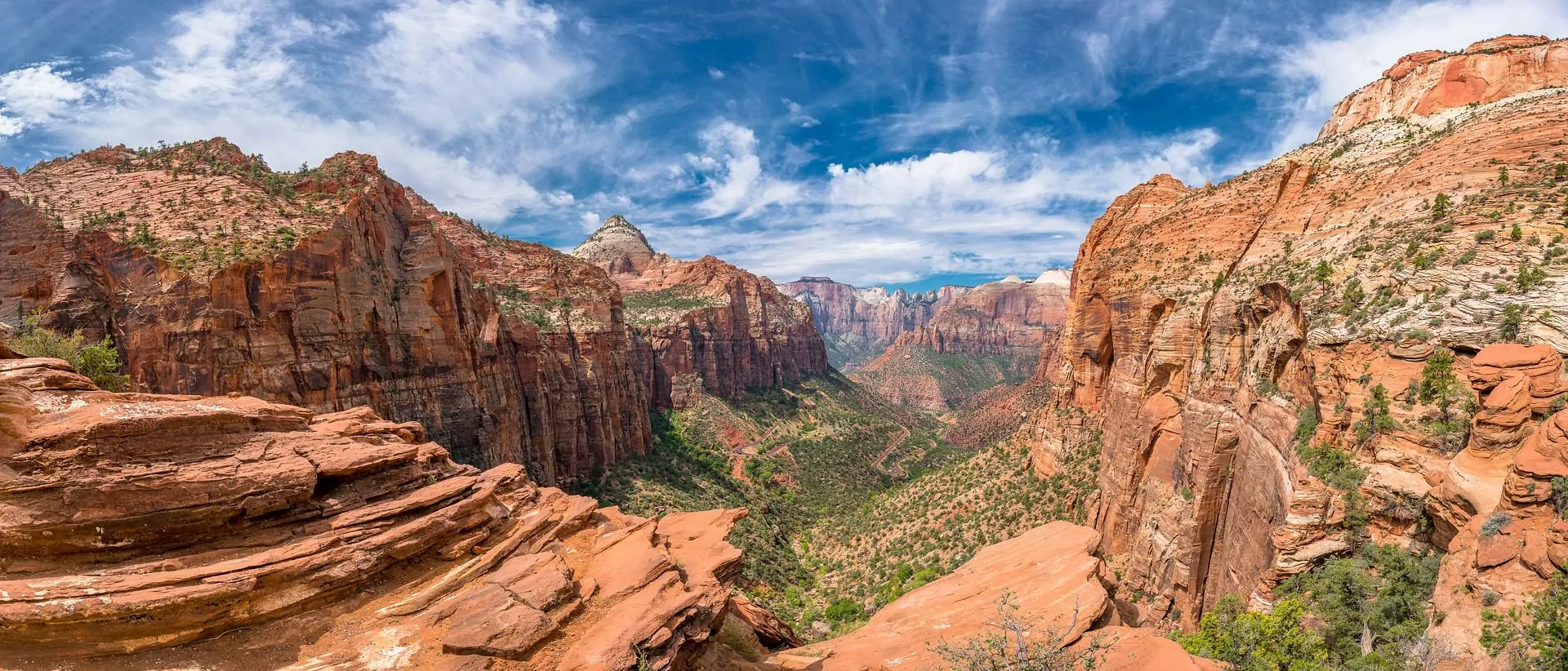 What to expect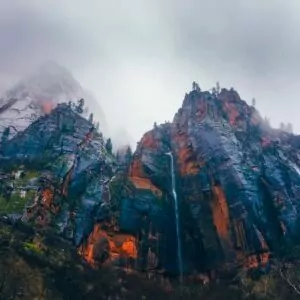 Zion is a very famous park with millions of visitors every year, but despite its fame many visitors don't know what to expect when they come to the park. There are many different variables that you should take into consideration when visiting Zion to make sure that your trip is fun and safe. Below, we've listed just a few of the things that you might not know and that you will want to be aware of before traveling to Zion
Crowds: Due to the park's growing popularity in the last years, you should expect crowds in Zion almost any season that you visit. Winter is the only season that the park cannot be called "crowded," though you certainly shouldn't expect it to be empty. In spring, summer, and fall, people flock to Zion to see the spectacular sights of the seasons. Shuttle buses run throughout the park as visitors only means of transportation if they are not staying at the lodge. A lodge reservation is the only way you can drive your personal car past Canyon Junction into the canyon nine months out of the year. You'll find that the shuttle buses will probably get you around faster than if everyone had a personal car and traffic was backed up, but navigating them with the crowds can be annoying. You are bound to the schedule of the buses and should expect to wait in long lines in the summer to get on. In spring and fall, the buses are less crowded and can be pleasant to ride, but still limit the gear you can bring and your schedule. Trails can also get crowded in Zion Canyon as it is not a very large canyon and yet it is where many of the famous sites are located. Permits for backpacking and day hiking trails such as Angels Landing and the Subway can be very competitive and difficult to obtain. The crowds in Zion can also cause accommodation availability to be low in prices to be high. Anyone who has tried to plan a last-minute trip to Zion knows how difficult getting accommodations within six months of a travel date is, and if you find accommodations at all, you will have to shell out peak season rates for them in the summer. It's important to seriously think about how well you and your group handle crowds when deciding went to visit Zion. There are ways to escape the swarms of other visitors, but if you can't stand crowds at all you might want to consider traveling in winter.
Buses: As we talked about above, shuttle buses run through Zion Canyon after canyon junction from early March through mid November. During this time no private vehicles are allowed past canyon junction unless you're staying at the Zion lodge. You can drive your private car through Kolob Canyons any time of the year as long as it's not closed for winter weather. The shuttle buses can be a benefit, especially in spring and fall, when the burden is taken off you to drive and they are not yet crowded. In summer, however, one of the biggest drawbacks of the shuttle buses is how crowded they are and how long the lines are. It can take multiple buses stopping at your location for you to get on one and there may only be standing room. This also limits you to the schedule of the buses and makes your day more rushed instead of leisurely as it would be if you had your own car. While the buses are overall a benefit to the park as they significantly reduce traffic, they can be a hassle to deal with. Be prepared to ride the shuttles and to make the best of the schedules they offer.
Weather: Zion is known as a desert, but the park has many severe weather patterns that vary throughout the year. Anyone visiting Zion will need to be aware of what's the weather will be when they visit, as this will greatly impact what you can do and where you can go. In winter, Zion is very cold and sometimes receives snow. Kolob Canyons may be closed at this time of year as well as hiking trails that lead to higher elevation, sometimes for ice and snow on the ground and sometimes for the risk of falling ice. Winter will also make Angels Landing incredibly dangerous and the Narrows only accessible for those with wet suits or dry suits. Winter is great for avoiding the crowds, but the cold can keep people away. It doesn't snow as often in winter as the pictures seem to portray, but the park does get a lot of ice from rain during the warmest part of the day freezing overnight. Spring is generally nice in Zion, as the park warms up heading towards summer. Ice and snow can still linger at higher elevations especially in early spring, so you may not get to hike the trails to higher elevations as early as you would like. Spring also brings very high water levels in the Virgin River, so the Narrows are typically closed for at least a portion of the spring. Summer is incredibly hot in Zion with highs of into the triple digits many days in July and August. Late summer to early fall is Zion's monsoon season when you can expect afternoon thunder showers frequently. These storms can be dangerous due to lightning strikes and the increased risk of flash floods. Because of Zion's many slot canyons, flash floods can happen at any time of the year, but they are particularly common in summer when rain storms even miles away can cause flooding. These floods can be dangerous and need to be treated with respect. Heed all warning signs and advisories about flash floods. Fall brings to Zion the least remarkable weather of any season. The temperatures are still pleasant during the day, sometimes tending towards cool as you will be able to hike in long sleeves and be comfortable. The monsoon season ends sometime in September and the fall brings with it a steady period in Zion's weather until the ice and snow begin usually in December.
WHEN TO GO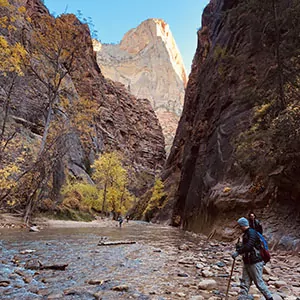 Zion is open year-round and is very much an all year national park destination. However, planning your trip should be centered around the types of activities you'd like to do and how well you handle crowds. Zion is one of the most visited National Parks in the United States and sees its peak visitation during the summer. Spring and the fall aren't as bad as summer, but are still very busy. Zion is a popular spring break destination, so if you're planning to go in March or April, you can expect bigger crowds. Winter is very quiet in Zion with the weather and recent holidays warding people off. If you're trying to decide which season to visit, think about what the number one activity is that you'd like to do and research when is a good time to do it. If you want to hike, for instance, then winter is probably not the best option as trails at higher elevations will be closed due to weather. But summer is not ideal either as midday temperatures can reach well into the triple digits in exposed areas. Spring brings nicer weather, but high water levels will most likely close the Narrows. Fall has the best all around weather for hiking, but you run the risk of having colder temperatures at night that might make camping or being out late less pleasant. The weather should also be taken into consideration when planning a trip to Zion. It is very hot in the summer, and cold in the winter—the tops of the towers getting snow through the season. There is also a monsoon season in Zion, that could cause flash flooding that lasts from mid summer through early fall. It is very important to consider the weather when planning your trip, as well as staying up-to-date on the weather while in the park. Check out our when to visit Zion page as well as our monthly pages for more information about when the best time to visit is and when you are do certain activities.
Below are the average temperatures and days of precipitation in Zion Canyon and Kolob Canyons.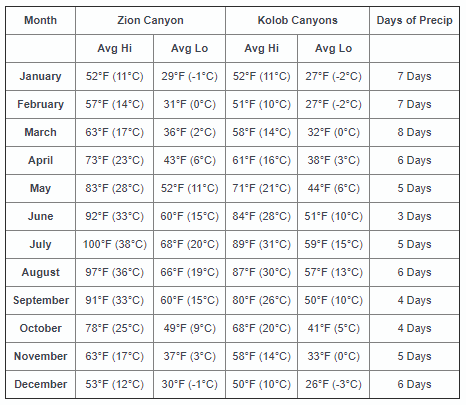 VISIT ON YOUR OWN OR WITH A GUIDED TOUR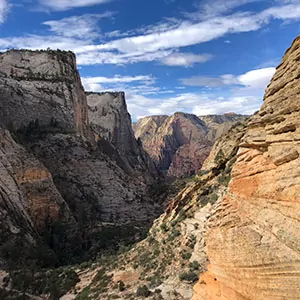 Many visitors choose to explore Zion on their own while others decide to go with a guiding company. Both have their advantages and disadvantages. If you are interested in maximizing your time in Zion, minimizing the impact of crowds, learning about the geology and human history of Zion National Park and the surrounding area, being pushed outside your comfort zone, and not having to stress about the details of planning a national park vacation, then going with a guiding company is a fantastic option. Here at Wildland Trekking, all of our trips are all inclusive so you won't have to worry about itineraries, logistics, meals, local transportation, or accommodations. Depending on what style of tour you choose to take with us, you'll get to experience comfortable lodges and premier dining or provided camping equipment and delicious outdoor meals. You'll also get the chance to be shown around the park by one of our expert, local guides who has been on all the hikes before, understands the safety information needed to make your trip safe, and will be there to answer all your questions. If you book a private day tour with us, no one outside your group will be able to sign up for that same trip, but all of our trips are kept to small numbers so that you can get to know each other and truly experience the park.
On the other hand, if you like the thrill of planning your own vacation, love researching trails and the history of the park, and want to be on your own time schedule, then visiting on your own is a great way to go. Visiting on your own is the way that many people have grown up visiting a national parks and it is a great way to experience it. Many people, however, simply don't have the time to plan out every detail of their trip before they leave. This leaves you planning late at night or losing time in the morning deciding what you want to do. If you're going to be in Zion for a few days but aren't sure if you want to book a camping or inn based tour with us, book one of our private day hikes so that you can see what spending a day with Wildland Trekking is like. Whether you go on your own or with a tour company really depends on what you want to see and do, but don't rule out the option of booking a trip with us just because you've never been on a guided hiking tour before. Trust us, you won't regret it.
JOIN A GUIDED HIKING ADVENTURE
Zion National Park is home to some of the most epic and amazing hiking vacations in the world. Wildland Trekking offers trips with the best of Zion: canyons, views, wildlife, solitude, adventure and fascinating natural and cultural interpretation.
Guided Zion treks are all-inclusive which covers permits; local transportation (excluded on certain tours); meals; equipment; safety systems and professional hiking/wilderness guides; all of which allows visitors to maximize their time in Zion and focus entirely on enjoying the Park.