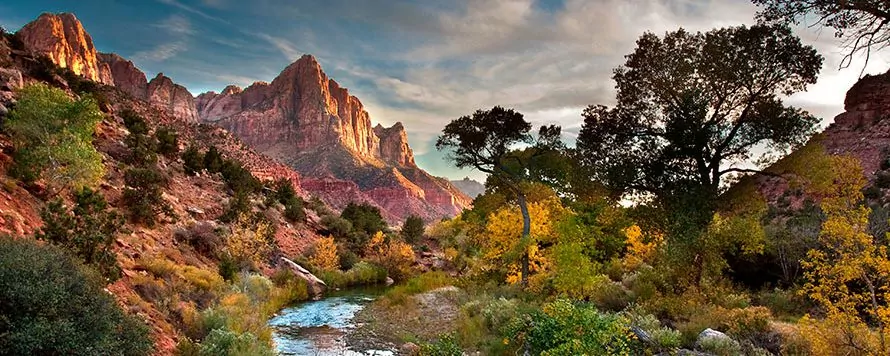 Watchman Overlook Trail
General Description
The Watchman Overlook Trail is a hidden gem in Zion National Park.  While most visitors are scrambling to get to the iconic Angel's Landing and Narrows hikes, the Watchman Overlook Trail is largely overlooked.  If you are looking for a dirt trail and a little peace and quiet, this is your hike.  The trail is 3 miles round trip with about 500 feet of elevation gain and is suitable for almost everyone.  Hikers are quickly swept away into a quiet little side canyon headed by massive cottonwood trees, a trickling spring, and cattails.  Take the loop hike out to incredible views of Observation Point and Angel's Landing 6 miles to the north.  Don't forget to turn around and get the best views of the Watchman as he stands silent guard at the mouth of Zion Canyon. Guide's tip: This trail makes an unforgettable sunrise hike.
Explore Zion with Expert Guides
Getting to the Watchman Overlook Trailhead
The beauty of the Watchman Trail is just how easy it is to access.  From the Visitor Center, walk past the shuttle stop and cross the road that leads to the Watchman Campground.  The trail begins just across the road.  Follow along the river to cross the park housing access road where the Watchman Overlook trail continues up a series of steps.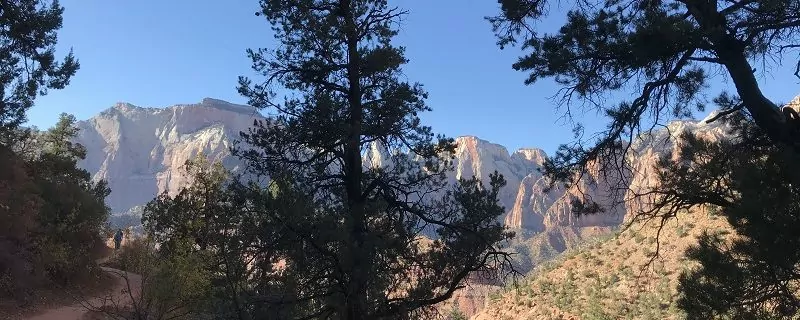 3 Best Day Hikes Near Watchman Overlook Trail
Feel like knocking out a few more day hikes in addition to Watchman Overlook?  Check out these great nearby trails to get in those extra steps.
| | | | | | |
| --- | --- | --- | --- | --- | --- |
| | Destination | Miles | Elev | Difficulty | Style |
| | Pa'rus Trail | 1.7 mi (One Way) | 100 ft | Easy | Out and Back or Thru-Hike |
| | Emerald Pools Trail | 1-3 mi | 50-400 ft | Easy-Moderate | Out and Back, Loop, or Thru-Hike |
| | Sand Bench Trail | 5.5 mi | 700 ft | Moderate | Out and Back |
1. Pa'rus Trail
The Pa'rus Trail is a mostly flat, paved trail that is accessible for hikers, bikes, and pets on leashes. The trail follows and crosses the North Fork of the Virgin River and offers spectacular views of some of the peaks and temples in the lower canyon. Most visitors to the park would overlook this trail in favor of more grand adventures, but don't be fooled by its easy access. Some of the best views of the towering features of the lower canyon are found along the Pa'rus Trail. Take one of the many river access points and find a quiet sandy beach to relax on or take a dip in the cool waters of the river. The Pa'rus trail is a great cool down hike at the end of the day or a route around the long shuttle lines at the Visitor Center.
2. Emerald Pools Trail
Whether you are looking for a short stroll for the whole family or a moderately strenuous loop hike, the Emerald Pools Trail has it all.  Start at the Zion Lodge and hike the half mile trail to the beautiful falls of Lower Emerald Pools.  If you're in for a little more adventure, continue up to the top of the falls at Middle Emerald Pools.  Still not satisfied? Then stair climb your way up to the sublime Upper Emerald Pools nestled at the base of sheer-walled Lady Mountain.  The nearby Kayenta Trail offers the option of making this trail a loop hike.  Whatever size adventure you are after, the Emerald Pools Trail is a fantastic showcase of Zion Canyon's stunning diversity. The Emerald Pools Trail can be quite crowded later in the day, so it is best to hike this trail early.
3. Sand Bench Trail
The Sand Bench Trail is largely overlooked due to its proximity to Emerald Pools and Angel's Landing, but it has views that make it a worthy day hike.  As its name suggests, the trail is quite sandy and also used by horses on trail rides.  However, the willing hiker is treated to relative solitude and fantastic views of the soaring walls of Zion Canyon from the perch atop the bench at the far end of the trail.  This is a great winter hike when the horses have taken a break for the season.
Maximize Your Visit to Zion National Park on a Hiking Tour
Guided day hike tours and multi-day packages allow visitors the opportunity to make the most of their time in Zion National Park and to do it hassle-free. Guided tours include gear (backpack, trekking poles, crampons in winter), meals, accommodations on multi-day tours, local transportation, and a professional Utah hiking guide. Through their knowledge, stories, and personal passion, guides can bring a place to life in a way that's much more difficult to do on your own.
Award Winning Utah Hiking Vacations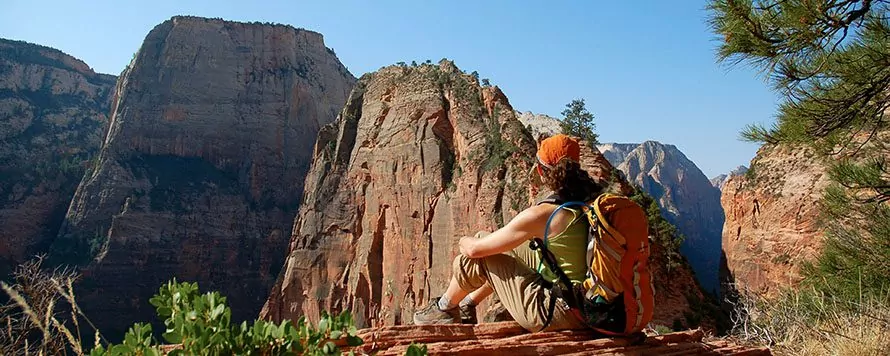 Join a Guided Utah Backpacking Trip
Joining a backpacking tour near Zion National Park is a worry-free, adventurous way to experience Southern Utah. With your gear, meals, local transportation, permits, and fees taken care of for you, you can travel light and focus 100% on enjoying the hiking experience, while the guide company takes care of everything else. Also, by going with local experts you'll enjoy a greater level of safety and gain a much better understanding of the history and ecology of this remarkable region. Read more about a guided backpacking trip near Zion National Park.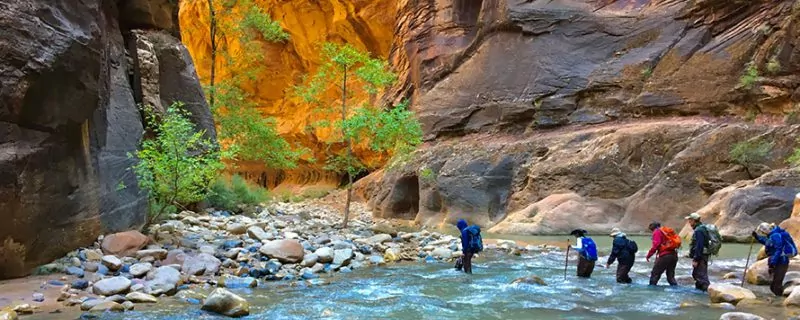 When to Hike and Seasonal Considerations
The Watchman Trail can be hiked year-round but is best hiked fall through spring.  During the summer the trail is best hiked early in the morning or later in the evening.  There is very little shade along the trail and temperatures can be well into the triple digits.  In the winter there can be snow and ice along the north-facing side of the trail, so exercise caution and consider wearing crampons. Check the weather and trail conditions before you go. Guide Tip: The Watchman Overlook Trail makes a great sunrise or sunset hike, featuring awe-inspiring views of the West Temple and the Watchman.
Necessary Permits
Day Hike Permits
No permits are needed to day hike the Watchman Overlook Trail
Backpacking Permits
Permits are required for all overnight trips in Zion National Park.  Hikers can apply for permits 3 months in advance on the 5th of each month.  There is a $5.00 non-refundable fee for an online calendar reservation, and there is an additional charge for a permit that is determined by the size of your group.  About one third of backcountry permits can also be obtained the day before or day of a trip by walk-up only. For more information on Zion National Park's permit system, click here.
Suggested Packing List
Day Hike Packing List
2-3 liters of water (more in summer)
Salty, calorie-rich snacks
lunch
backpack
trekking poles
crampons (in winter)
wide-brimmed hat
sunscreen, sunglasses
cotton t-shirt (spring-fall)
non-cotton t-shirt (winter)
rain jacket
warm non-cotton layer
1st-aid kit
Please Respect Our National Parks – Leave No Trace
We strongly recommend abiding by all Leave No Trace ethics guidelines and practices so that our national parks and public lands are preserved for the enjoyment of future generations and for the people and animals who call these places home. Simple things like packing out your trash, obeying national park rules, and respecting the peace and quiet of our national park trails is a great start. If you're going on a backpacking trip, you can read about more about the 7 Leave No Trace Principles.