Visiting Zion in March
Learn all about what to expect visiting Zion National Park in March
Updated: 10/11/22
Visiting Zion National Park in March allows you to breathe in the fresh and crisp air of winter turning into spring, see incredible landscapes dusted with snow, and have space to enjoy it fully. There are many benefits to visiting Zion in March, as well as some drawbacks. If you can visit Zion in March, you are sure to have a fantastic trip and leave with an appreciation for the beauty and solitude of Zion—something that not many get to experience. Benefits of Visiting Zion in March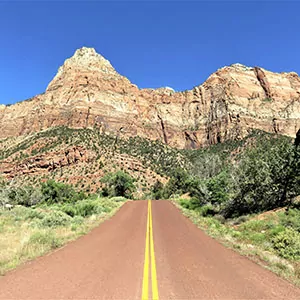 The lack of crowds is the most significant benefit of visiting Zion in March. With so many fewer people, you can experience the magnitude of the park without the hustle and bustle of summer crowds. This means trails that are clear of swarms of people, services that don't have crazy long lines, and accommodations that are more reasonably priced and more often available. Increased availability of accommodations in March is truly a blessing, as anyone who has tried to plan a last-minute trip to Zion in the summer will know. Accommodations and campsites book up months in advance in the summer, but in March, you are more likely to find last-minute or walk-up campsites. Not only is availability up, but prices are down in March as this is not the peak season, and the lodges and hotels will not charge peak season rates.
Another benefit is that the shuttle bus starts running in March, taking you to popular trailheads in the canyon. This can be seen as an advantage or a drawback, as you can't drive your car through the canyon. Even though this is your only way to travel through Zion Canyon, you don't have to worry about finding a parking place or fighting traffic. While during the summer, the shuttle buses can be very busy, crowded, and have very long lines, March is still winter and transitioning to spring, so the buses will not be as crowded. Without worrying about long lines, you'll still be able to spend as much time as you please on the trails or at the overlooks, knowing that the next shuttle will be there soon. You might find riding in the shuttle buses relaxing as you can listen to your stop and not worry about which turn to take. Shuttle bus drivers are often great resources for things to do if your initial plans were thwarted or you have a free day. Parking for the shuttle bus is available at the Visitor Center and outside the park in the town of Springdale. You can drive your car up to Canyon Junction before you park and take the shuttle for the day.
An obvious benefit of March is that the scenery is breathtaking. The walls and formations at higher elevations are often dusted with snow, and although it could melt as the day progresses, there is nothing like sunrise photography in Zion this time of year. The warmer temperatures at lower elevations and less frequent snow also mean hiking and backpacking are becoming more readily available for those without winter experience. While it is still cold and hiking the Narrows is not recommended for those without the proper gear, many other hikes closed for winter will be opening up. If you have your eye on Angels Landing, ensure there's no snow before you attempt this hike, and ask a ranger about the current conditions.
Much of the wildlife that has been in hibernation for the winter, such as reptiles, amphibians, and small mammals, may be coming out for the season in March, depending on the weather at lower elevations. Some of the park's larger animals, like mule deer, elk, and bighorn sheep, will still congregate at lower elevations for warmer temperatures and greater food. Keep an eye out for these animals crossing the road or up on the cliffs awaiting the coming of spring. March is truly a fantastic time to come to the park as the crowds are still lessoned, and the winter weather is beginning to lift.
Drawbacks of Visiting in March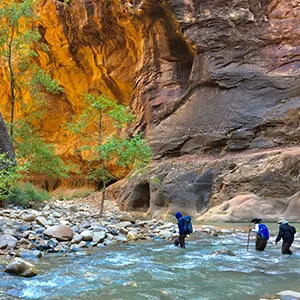 One of the most significant drawbacks to visiting Zion National Park in March is that the weather is rather unpredictable. It could be very spring-like and warm, or the winter may drag along with snow and cold temperatures. This complicates packing and planning day activities, as you won't be able to see the weather until a few days before your trip. Should we bring our snow gear and crampons? Or should we pack our water shoes and rain jackets? There is a possibility for heavy ice and snow in March, and visitors need to come prepared for any of weather they might encounter. If there is still ice and snow, some trails at higher elevations may be closed. Check the current conditions when planning your trip.
It's important to heed all warning signs and never to attempt a closed trail due to winter conditions, even if there doesn't appear to be ice and snow at the trailhead. The trail may lead up in elevation, have significant areas of shade where ice is less likely to melt, or be closed due to the danger of falling ice. The unpredictable weather can also cause road issues, as rainwater from the warmer part of the day may freeze overnight if the temperature dips below freezing.
Perhaps obviously, if the main item on your bucket list for Zion is to hike and swim in the rivers, then March is not the month to visit. The water in the Virgin River can get down to 38° in the winter, (nearly freezing!) and you will need a neoprene wetsuit or a dry suit with warm layers to be able to hike the Narrows. Unless you are experienced in canyoneering and have the right gear, the Narrows is out for a March trip. Many guests feel as though they have missed out if they don't get the chance to do this iconic hike in the park.
Hypothermia is still a danger for those in the park, especially those camping or hiking in the rivers. Immersion in cold water is the quickest way to contract hypothermia, so ensure any person who falls into any body of water in the park is warmed up immediately. Depending on whether you are a glass-half-full or a glass-half-empty person, the shuttle bus can be seen as a drawback as most of the park is closed to private vehicles. While this significantly decreases the traffic you would encounter if you were to drive your private vehicle, it limits your schedule and forces you to not bring as much gear as you might if you were driving your own car. This can be especially difficult for those traveling with young children that need lots of equipment or elderly persons who may have trouble getting on and off the bus.
Things To Do In March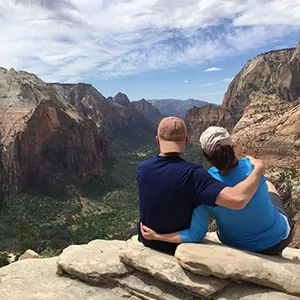 March is a great time to explore Zion without the crowds. The winter/spring lighting of March makes the park very photography-friendly, and if you're lucky, you might even see a late winter dusting of snow at the higher elevations. Make sure to catch sunrise or sunset from Canyon Overlook Trail or Watchman Overlook Trail. The Virgin River runs quickly and cleanly with the increased snowmelt, a bonus that makes sightseeing in Zion even more magical. There are many pullouts on the road into the canyon before you have to park your car, but once you're inside the park at Canyon Junction, you will need to take the shuttle bus. You'll see a lot from the shuttle bus window, and you can visit Kolob Canyons in your car as well as Bryce Canyon and Grand Staircase-Escalante, nearby national parks. Sightseeing is one of the most popular things to do in Zion in March, as the weather, either rain or snow, might encourage you to stay in your car. If snow is forecasted for overnight, get up early in the morning to catch those winter pictures before it melts or changes into the rain and quickly turns to slush.
Another incredibly popular activity in March is hiking, allowing you to experience the best of Zion from fantastic vantage points. Most trails are open in March, giving you the space to enjoy the scenery without the crowds you'll experience at other times of the year. The Riverwalk trail is an excellent option for those who want to experience some of the Narrows Canyon but aren't ready to brave the cold waters of the Virgin River this time of year. The relatively flat trail takes you right up to the trailhead of the Narrows and allows you to see the narrowing of the canyon the farther you hike. Don't forget to look up at the soaring canyon walls that will get narrower and narrower as you approach the slot canyon. The Watchman Overlook Trail is another excellent option that poses a bit more of a challenge but is still short. The view from the overlook will make it well worth the hike. You can read our list of Zion's best trails for recommendations.
Backpacking is becoming an option in March as the weather warms up and the snow subsides. However, freezing temperatures overnight and the possibility of winter weather at higher elevations still make this activity challenging this time of year.
Wildlife viewing is also very popular in March as the larger animals are still congregated in the valleys and canyons for the warmer temperatures. Still, the smaller animals are beginning to come out of hibernation, depending on the year. Watch for a group of mule deer crossing the road or a herd of bighorn sheep traveling across the cliffs. Bobcats, coyotes, and red and gray foxes are all often seen in the park and you won't want to miss a chance to see the famous and rare California condor. If you're interested in wildlife photography or want to see a specific animal, talk to a ranger about the best place and time of day to see it.
If the weather takes a turn for the worse and you need some indoor activities to warm up, the visitor center has great interpretive exhibits and a 22 min park film that is informative and entertaining. The Zion Human History Museum is also a great option and has exhibits on Native American history, the effect that water has on the park, and much more.
Things to see in march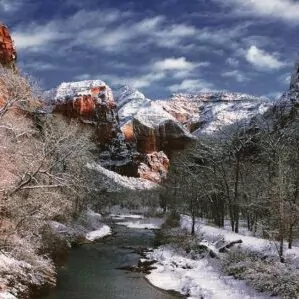 Sightseeing is one of the most popular activities in March in Zion because there are so many things to see, and the subsiding winter weather makes it easier to get out and see them. From dramatic canyons and lava flows to sweeping vistas and jutting buttes, this park is truly a wonder of geography, geology, and history. You might find your schedule a little tighter in March than earlier in winter as you are tied to the shuttle bus schedule, but you will still have ample time to see what you want. There are many things to see in Zion in March, but we've compiled a short list of must-see sights. Make sure, however, to do your research to see what piques your interest in the park, as this list is by no means exhaustive.
Kolob Canyons: Located in the northwest corner of the park, Kolob Canyons is far less visited but no less spectacular than Zion's main canyon. While you won't need to flee here to escape the crowds as you would in summer, Kolob Canyons is still a fantastic day trip. Only about an hour's drive from Zion Canyon, you can take your private vehicle through this canyon on a scenic drive with many overlooks and trailhead options. With gorgeous red rock, slot canyons, and wonderful ancient lava flows, you won't regret taking a trip to this part of the park.
Zion Human History Museum: One of the best places to visit when the weather has taken a downward turn, or you need a break from the hiking and walking around outdoors, the Zion Human History Museum has some of the best exhibits in the park centering around two themes: people and water. The museum exhibits explore the rich human history of this area, from indigenous peoples to early pioneers and settlers, until its designation as a national park. The museum also spends a lot of its space discussing water and the effect that it has had, both as a creator and destroyer, on the people and the land.
The Narrows: It's hard to imagine visiting Zion without doing this iconic hike, but in March, the water in the Virgin River can be in the high 30s or low 40s, and you will need a neoprene wetsuit or dry suit with warm layers to be able to do this hike. But you don't have to get in the water to be able to see the Narrows and experience some of that slot canyon feel. The Riverwalk Trail takes you right up to where the trail disappears into the Virgin River, and the canyon walls begin to narrow for that famous slot canyon feeling. The hike is relatively flat and easy, so make sure you put this one on your bucket list for Zion.
The Canyon Overlook: This overlook is one of the absolute best in the park and can be accessed by about 1 mile, albeit steep, hike. With plenty of parking off Highway 9, a shaded area in a hidden cave to rest if you feel like it, and the spectacular sweeping view at the top of the trail, this hike is a must for those wanting the classic panorama views of Zion's canyons.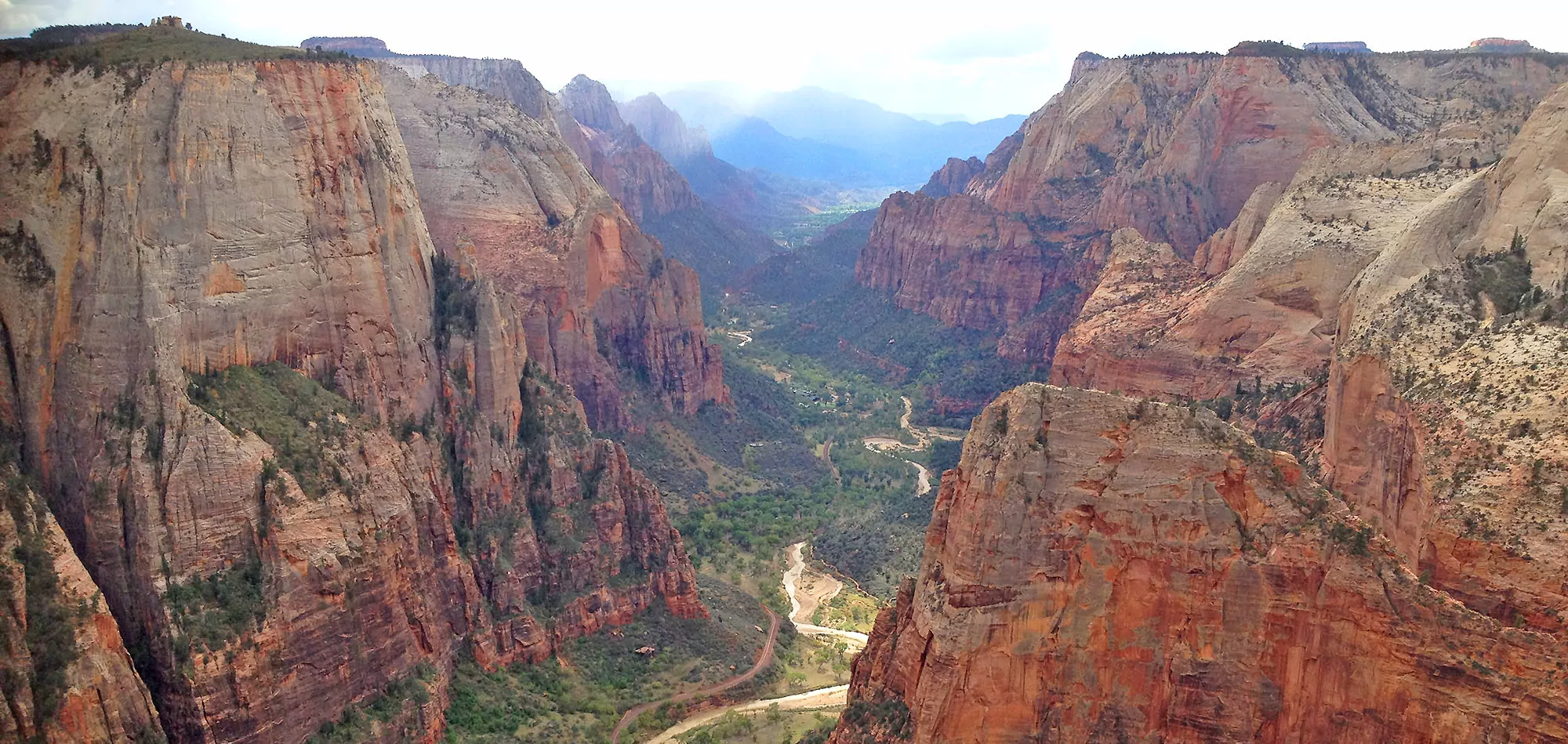 Hiking in March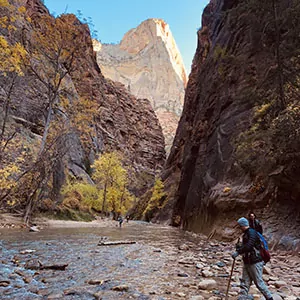 Hiking is ideal in March, as the temperature rises, snow and ice may begin to melt from higher elevations, and trails become more accessible. March is still before the rush of summer crowds, so you have a good chance of solitude on trails. Of course, hiking in March is dependent on the weather, which can be somewhat unpredictable this time of year. You may run into ice, snow, and very cold temperatures during the day while on your hike, but it's also possible for temperatures to be warm, skies to be clear or rainy, and trails to be slushy with snow melt. It's a good idea to still have traction devices like crampons or micro spikes in March, even though you're less likely to use them compared to January or February. It only takes one section of ice on a trail to make you glad you had these devices. Never attempt any closed trail due to ice or snow, even if it doesn't appear like there is any at the trailhead. Many trails go up in elevation, have shaded sections where ice is less likely to melt, or are closed due to the danger of falling ice. Make sure you read the current conditions for up-to-date information.
The Riverwalk Trail is a great option this time of year if you want to experience the slot canyon feeling of the Narrows but don't have the gear or expertise to do this hike in the cold. Relatively flat and easy, the Riverwalk will take you right up to the trailhead of the Narrows, where the trail disappears into the Virgin River. The Watchmen Overlook Trail is also a great option; a little more strenuous but provides fantastic views.
Perhaps the two most famous trails in the park are the Narrows and Angel's Landing via Scout Lookout. While both trails are possible in March, visitors should use extreme caution and ensure they have the gear and expertise they need to complete these hikes safely. The Narrows is a slot canyon that uses the Virgin River as its trail. You will be hiking in the water, and this time of year, due to the increased water flow from snow melt, you will probably have some sections where you have to swim, depending on how far you hike. The snow-melt water of the Virgin River can be in the low 40s in March, and immersion in cold water is the quickest way to contract hypothermia. If you're going to do this hike, you will need a neoprene wetsuit or a dry suit with insulating layers to keep you warm. Bring a dry bag to keep your valuables and extra dry clothes to warm you up.
At the time of writing, there has been a bloom of cyanotoxin bacteria in the Virgin River and other water sources in the park. Visitors should not put their heads under or drink water from the river, even if it is filtered. No known commercial filtration system removes the toxins from the water, which can lead to illness and death. Check the NPS website for current information.
Angels Landing via Scout Lookout is also a hike of extremes but in a different way. This strenuous hike brings you to a vast rock formation with amazing views. The chain section of this hike has extreme height exposure as the trail is narrow, with a cliff on one side and only a chain against the wall for you to hold onto. Further along the hike to Angels Landing, cliffs are on both sides of you. This hike is incredibly treacherous; many have died here due to falls. But in winter, the hike becomes even more treacherous as what was a steep staircase becomes a wall of slippery ice. This hike should not be attempted if snow and ice are on the trail. Talk to a ranger about the current conditions on Angels Landing, and consider visiting the lower, but no less spectacular, Scout Lookout as an alternative.
backpacking in march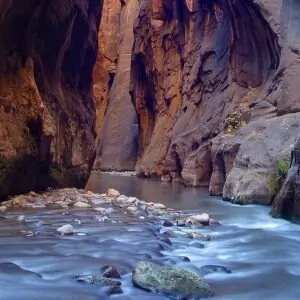 March generally comes with warmer temperatures in Zion, so backpacking is becoming more readily available to those without winter backpacking experience. Zion is a world-class backpacking destination with many routes and trails to choose from. However, Zion has different and stricter regulations about camping, group size, and human impact on the wilderness than other national parks do. It's essential to know the backpacking regulations that Zion has and to abide by them for the health of the park. Most park areas require backpackers to use designated campsites for overnight stays. Talk to a ranger or others who have backpacked independently for more trail recommendations for the park. Zion National Park has a pack it in, pack it out the rule that includes all trash and human waste.
Backpacking in March presents additional complications as you will need to bring warm gear in case it is cold and gear for the heavier spring rain in case the temperatures have already warmed up. Zion's desert environment is very unforgiving, especially in a transition season, as hypothermia, lack of drinkable water, flash floods, winter weather, wildlife, and freezing temperatures are all possible and can pose significant threats to those in the backcountry.
Despite the park moving toward spring, hypothermia is still one of your biggest threats when backpacking. Temperatures at night can still drop below freezing, and you will need a four-season tent and a low-rated temperature sleeping bag. If you're hiking the Narrows, dry off as soon as you exit the water. Campfires are not allowed anywhere in the park, so you cannot rely on fire to warm you back up. Because hypothermia causes recklessness and confusion, all the members of your party must know the symptoms to look for, including intense shivering, mumbling, stumbling, disorientation, and confusion.
Weather in March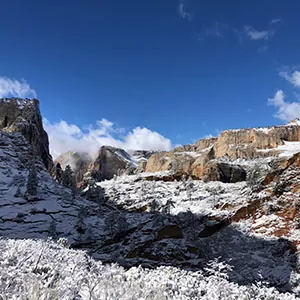 Zion is a large park, and the canyon features make weather patterns vary. As one of the steps in the Colorado plateau drainage system, Zion gets most of its water from the Virgin River, making the weather north of the park significantly affect the weather inside the park. As March progresses, the hope of spring becomes more prevalent. Days get warmer, while it is still quite chilly in the evenings. The average temperature for Zion Canyon is a high of 63 and a low of 36 degrees Fahrenheit (17/2 degrees Celsius). In Kolob Canyons, the average temperature is a high of 58 and a low of 32 degrees Fahrenheit (14/0 degrees Celsius). On average, it rains or snows eight days during March. It should be noted that it rains or snows eight days in March. Visitors should also remember that temperatures varying between very cold and warm during the day can cause adverse weather conditions. Never hike any trails that are closed for ice and snow, even if it doesn't appear like they have ice at the trailhead. Trails are often closed for the danger of falling ice and black ice, which is not uncommon in the shade.
Weather in March forces visitors to be prepared for two different seasons: winter and spring. The weather in March varies yearly as winter drags on or the hope of spring comes early. The later you visit, the more likely you are to have spring weather, but be prepared for winter weather, including freezing temperatures at night. The temperature drops sharply after dark, so ensure your activities are finished before winter nights' early onset.
Flash floods are also a threat to anyone hiking in the rivers or other areas of the park prone to these events. Heed all warning signs and advisories regarding flash floods. Water from a flash flood can travel down slot canyons in the walls of 12 feet or higher; you cannot outrun or outswim a flash flood. Most deaths due to flash floods are not caused by drowning but by blunt force trauma, as these floods often carry boulders, tree trunks, and other large debris. Watch for warning signs of change in water color, temperature, or speed, the sound of roaring water upstream, gathering rain clouds (even miles away), and rapid rise in water level. Seek higher ground immediately; even a few feet can save your life. Zion has some fierce weather in March, but those who know the risks are much less likely to be harmed by weather events. Make sure you do your research and know how to react to an emergency to keep yourself and your group safe.
wildlife in march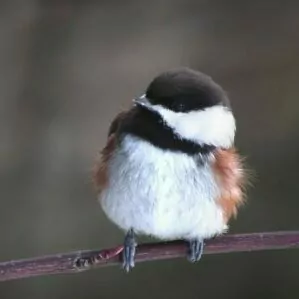 March is a great time to view wildlife in Zion as many of the animals are becoming more active as spring approaches. Earlier in the month, if there is still snow and colder weather at the higher elevations, you might see some of the park's ungulates congregating in the valleys and canyons for the warmer weather and the abundance of food. Watch for mule deer crossing the road or feeding in the meadows. Zion also boasts a large population of bighorn sheep, often seen on the cliffs, ambling along in herds. If the weather turns warmer, many of the park's reptiles and smaller mammals will begin to emerge from hibernation. Keep your eye out for snakes, lizards, rocks, squirrels, and chipmunks.
Zion has a fair population of predators: bobcats, coyotes, red and gray foxes, and mountain lions. Coyotes and foxes are often seen after dark, sometimes caught in the headlamp of a camper walking around the campground. But the two feline predators are much more elusive. You might see a bobcat around dawn or dusk, but visitors rarely see mountain lions. Black bear sightings are also rare in the park, and whether any of these bears live year-round is unknown. If you see a bear, try to take a picture from a safe distance and report the sighting to a ranger; as they are so rare in this area, the NPS makes an effort to record every sighting.
Many other animals, such as porcupines, beavers, weasels, ringtails, and an abundance of birds, both residents and migratory, make their homes in the park. One of the most famous park residents is the California condor, the largest bird native to North America. With a wingspan reaching 9 1/2 feet, these birds are truly majestic and can often be seen riding updrafts from warmer air in the canyon to the colder area along the mountains. If you're interested in seeing a specific animal, talk to a ranger about the best time of day and where the best place would be to see them.
Recommended Wildland trips in march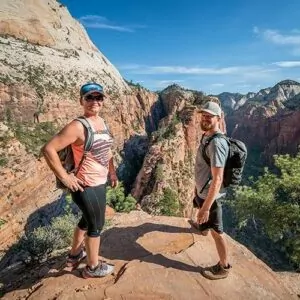 Planning a trip to Zion in March can be a headache as the seasons are changing, and you must keep up with the weather, current conditions, where to stay, and what to do. While planning out your own itinerary and logistics can be a rewarding experience, it can also be a hassle and make you worry that you've missed some important detail. But you can bypass all that headache by booking a trip with Wildland Trekking and letting one of our expert guides show you around. All our trips are all-inclusive, and our guides will take care of all the details, meal prep, and safety information so that you can relax and enjoy your vacation. Whether you want to camp with us, stay at a lodge on an inn-based tour, or spend a day with one of our expert guides, we have something for you. Feel free to check out all the trips we offer in Zion, but here are a few we especially recommend for March.
Angels Landing Private Day Hike: If you're looking to do the famous Angel's Landing Day hike but aren't sure if you have the technical expertise to do it in March, this is the trip for you. Our expert guide, who will go with you on this trek, is well-versed in safety information and know if the conditions are too treacherous. Enjoy a delicious picnic lunch on the top of Angels Landing along with the use of top of a line day pack and hiking poles.
Best of Utah Basecamp: March is finally beginning to warm up in Zion, and camping is becoming a more pleasant option as nights are not so cold. On this all-inclusive basecamp tour, you'll explore Zion and Bryce Canyon, enjoy delicious outdoor cuisine, experience slot canyons and waterfalls, and have all your meals, local transportation, and gear included. To give you the best taste of these places, take this camping tour in March when the parks are quiet, and the weather will be warmer.
Best of Utah Inn Based: If you want to experience the best of Utah's national parks but want to ensure you have a few luxuries in the evening, then we have the trip for you. On this 6-day, inn-based tour, we'll visit Zion, Bryce Canyon, and Grand Staircase-Escalante and embark on exciting day hikes before returning to comfortable lodges in the evening. All-inclusive with the guest count capped at seven guests, you won't want to miss out on this fantastic inn-based adventure.
Join a Guided Hiking Adventure
Zion National Park is home to some of the most epic and amazing hiking vacations in the world. Wildland Trekking offers trips with the best of Zion: canyons, views, wildlife, solitude, adventure, and fascinating natural and cultural interpretation.
Guided Zion treks are all-inclusive, which covers permits; local transportation (excluded on specific tours); meals; equipment; safety systems, and professional hiking/wilderness guides, allowing visitors to maximize their time in Zion and focus entirely on enjoying the Park.