Visiting Zion in December
Learn all about what to expect visiting Zion National Park in December
Updated: 10/28/22
Visiting Zion National Park in December gives you the opportunity to breathe in the fresh and crisp winter air, see incredible landscapes dusted with snow, and have space to fully enjoy it. The breathtaking scenery of Zion is even more remarkable as it's walls are blanketed in a fresh layer of snow. There are many benefits to visiting Zion in December, as well as some drawbacks. If you are able to make it to Zion in December, you will have an amazing experience, and leave with an appreciation for the beauty and solitude of winter in the park. Benefits of Visiting Zion in December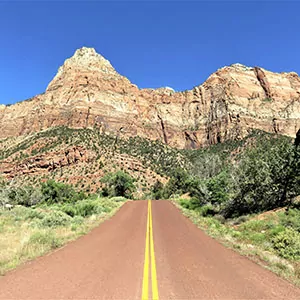 The biggest benefit of visiting Zion in December is the lack of crowds. Fewer crowds means less irritation and more peace during the day. Many of the wildlife will be more willing to be out and about this time of year when there aren't hundreds of people cranning to see them. Lessoned crowds also means no long lines for shuttle buses, no long waits for services, and more availability of accommodations. Anyone who has tried to plan a trip to Zion in the summer will know how difficult it is to get accommodations in peak season. But in winter, you're more likely to find a place to stay that's available within a few weeks of your travel date and at a discounted price compared to the summer. Winter is a season of peace and quiet in Zion. Another benefit of visiting in December is that you can drive through the canyon in your own car. In spring, summer, and fall private vehicle access is restricted past Canyon Junction to only those who are staying at the Zion lodge inside the park. This means that your only option for getting around Zion Canyon is the national park service shuttle buses. Although they do lighten the traffic, long lines, standing room only, and being tied to the bus schedule can be very annoying during these months. But in winter, all that changes and the buses do not run at all. Personal cars are allowed through Zion Canyon November to March. Being able to drive yourself gives you freedom to see what you want to see on your own schedule. Take your time at the overlooks, trail heads, and museums as you truly get to explore on your own time, a luxury that many visitors to Zion do not get to enjoy.
Perhaps the most obvious benefit of visiting in December is that the scenery is absolutely breathtaking. The walls and formations at higher elevations are often dusted with snow and many have icicles or even small frozen waterfalls hanging from them. The higher water levels combined with the fewer people make January an excellent time for photography. You may have to stay a few days in order to get those snow dusted pictures in contrast to the red rocks, as snow isn't as common as you might think and can often melt through the day. But there is nothing like sunrise photography in Zion during the winter months. Make sure to put on your warm layers before you go out in the very cold mornings of January, but you won't regret doing so.
Drawbacks of Visiting in December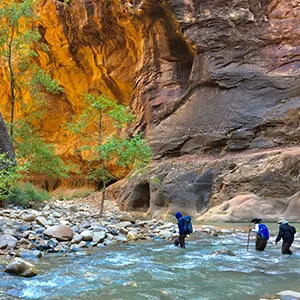 Perhaps your biggest drawbacks to visiting Zion National Park in December is that while the roads are plowed after a winter storm, trails may be closed due to snow or ice. Never attempt a trail that is closed due to ice or snow even if you don't see any on the ground. Conditions may worsen farther up in elevation or the trail may be closed due to the danger of falling ice, which is just as dangerous as ice on the ground, if less likely. Traction devices are recommended for trails at higher elevations, as well as trails with shaded sections where snow and ice are less likely to melt. These devices, such as micro spikes or crampons, go over your hiking boots much like chains go on car tires. Small spikes in the chains help give your feet more traction on ice and snow. Zion's winter weather isn't exactly as much of a winter wonderland as some might think from the pictures. Snow that stays more than a couple hours in Zion is rather rare and rain is also common in the winter months. During the day when the temperature is above freezing, rain often falls and can melt any snow that's currently on the ground. In addition, any rain that falls during the warm parts of the day may freeze overnight when the temperature drops below freezing. This can create icy conditions on the roads and trails which is much less fun– and more dangerous– than snow. Watch out for shady spots and sections of black ice on trails where the slippery spots are. Make sure to check out the trail conditions when planning what to do for the day. A related drawback to December is that it's really cold. Many people find that being outside in such cold temperatures isn't fun and they don't want to do any of the outdoor activities that Zion is famous for. The shorter days of winter also make for colder days as the sun has the less time to heat up the air. This leaves you not only with less sunlight, but with less hours during the day when it's pleasant to be outside.
Risking stating the obvious, if playing in the rivers is one of your main goals of visiting Zion, then winter isn't the time for you to visit. While it's possible to hike the Narrows in December, you will need a neoprene wet suit or a dry suit to be able to do so. The water can get down to 38° F in the winter (almost freezing!) and can be very unforgiving to those who are not prepared. Submersion in cold water is the quickest way to contract hypothermia which can occur even if the air temperature is above 45°F. Camping and backpacking are feasible in December, but not recommended for those without winter camping experience. Freezing temperatures, whipping winds, snow storms, lack of drinkable water, and restrictions on fires all make camping in the back country very difficult in the winter. Dangers of flash floods still abound in winter with greater rainfall, so anyone hiking or camping in a slot canyon or near a stream should be aware of the dangers of these floods.
Things To Do In December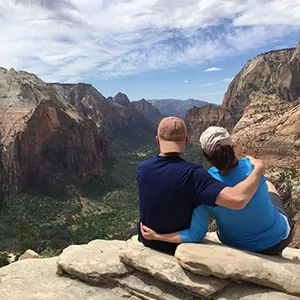 December is a great time to explore Zion without the crowds. The glistening snow in the canyon and on top of the towering cliffs makes the park very photography-friendly. Make sure to catch sunrise or sunset from Canyon Overlook Trail or Watchman Overlook Trail. Winter in Zion is wonderful for sightseeing, especially since you are able to drive through the canyon in your own car. Make sure to read our section below about the best things to see in Zion in December and get the inside scoop on sightseeing in the park. Another great activity in December is hiking. Many trails are open throughout the winter, and give you the space to enjoy the scenery without the crowds that you'll experience other times of the year. You can read our list of Zion's best trails for recommendations. Snowshoeing is a great option for hiking on trails at higher elevation; there are many companies in Springdale that rent snowshoes. The Watchman Overlook Trail  is a fantastic hike that takes you to one of the most breathtaking views in the park. While this view is great any season, it is especially great in December if there's snow on the ground as it gives you a view of the entire Canyon and many of the cliffs surrounding it. The Riverwalk trail is also a great option for those who want to see a slot canyon but don't have the cold water gear to plunge into the Narrows. This river sidewalk is generally flat and short and takes you to the trail head of the Narrows where the trail disappears into the Virgin River. Even though you're not hiking in the river, the slot canyon still closes around you with towering cliffs on either side of the river. Perhaps the most famous hike in the park, Angels Landing, is not usually accessible in winter due to ice and snow that make this already treacherous hike incredibly dangerous. Backpacking is also feasible, but not recommended for those without winter equipment and experience. Check with a ranger or on the park website for more info on backpacking.
Lastly, wildlife viewing is a great activity to do in Zion during the winter months. You may have a chance to see large mammals such as bighorn sheep or deer concentrated in the valley or the canyon. The contrast of the animals against a snowy background is great for viewing and photography. Even though many of the small mammals and all of the reptiles will be in hibernation this time of year, much of the wildlife is still out and about, gathering in the places of lower elevation for the warmer temperatures and more readily available food. Some of the larger animals and ungulates will be more willing to stay put if you are the only one trying to take their picture instead of a large crowd. Also keep your eye out for predators such as gray foxes, coyotes, bobcats, and mountain lions. If there is snow on the ground, watch out for tracks and see if you can identify any of the creatures that passed by earlier. Also keep your eye out for wild turkeys which travel in large flocks and often can be found walking very slowly across the road. If the weather takes a turn for the worse and you need some indoor activities to warm up, the visitor center has great interpretive exhibits and a 22 min park film that is informative and entertaining. The Zion Human History Museum is also a great option and has exhibits on Native American history, the effect that water has on the park, and much more.
Things to see in december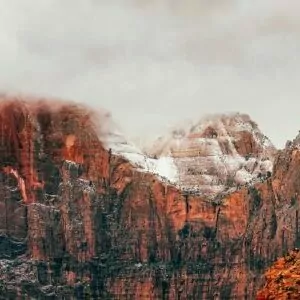 There are almost as many things to see in December as they are to do, and if you read the section above this you know that's a lot. Sightseeing is one of the most popular activities in December because some of the trails are closed and you can sightsee from inside your heated car. Snow dusted cliffs, deep gorgeous, rushing rivers, and desert oasis are all things that you can see in Zion. Below, we've created a short list of some of the must see sites in December in Zion, but make sure to do your own research to see what specifically piques your interest in the park.
Kolob Canyons: While you won't be fleeing here to avoid the crowds as you would be in summer, Kolob Canyons is simply stunning in December. Located in the north west corner of the park, this less frequented but no less breathtaking area boasts ancient lava flows and volcanoes, slot canyons, and plenty of trails to choose from. About an hour drive from Zion, it is well worth a visit but make sure that it hasn't been closed for winter weather as they occasioanlly do not plow this section of the park.
Petroglyph Canyon: This little known, unmarked canyon is one of the best kept secrets in Zion. Located about 2.5 miles east of the Mount Carmel Tunnel on Highway 9, the park does not advertise this canyon in order to help maintain the ancient Native American petroglyphs that are etched into the walls. It is open to the public, however, and if you can find the trail head, you can hike it. There is no obvious parking so park where you can and walk back to the trail head. If you do visit this area, be respectful and do not touch or make any markings on these ancient archaeological sites.
Angels Landing: Angels Landing is typically inaccessible in winter due to ice and snow, but that doesn't mean you can't take time to see it. This gigantic rock formation deserves some time to simply take in how massive it is. If you want to see it from below, the Big Bend shuttle stop, which you'll be able to drive to with your car, has a great view. If you feel like doing some hiking, the west rim trail or the Angels Landing Trail itself up to Scout Lookout are both great options for seeing this huge formation.
Zion Human History Museum: If the weather turns bad and you need some time indoors, the Zion Human History Museum is a must see. The museum traces the two factors that have had the largest impact on this land: humans and water. Human history in Zion is traced back to the ancient Native American peoples, early pioneers and settlers, up until when it was designated as a national park. Many of the exhibits are also devoted to the impact that water has had on this landscape, both as a creator and destroyer.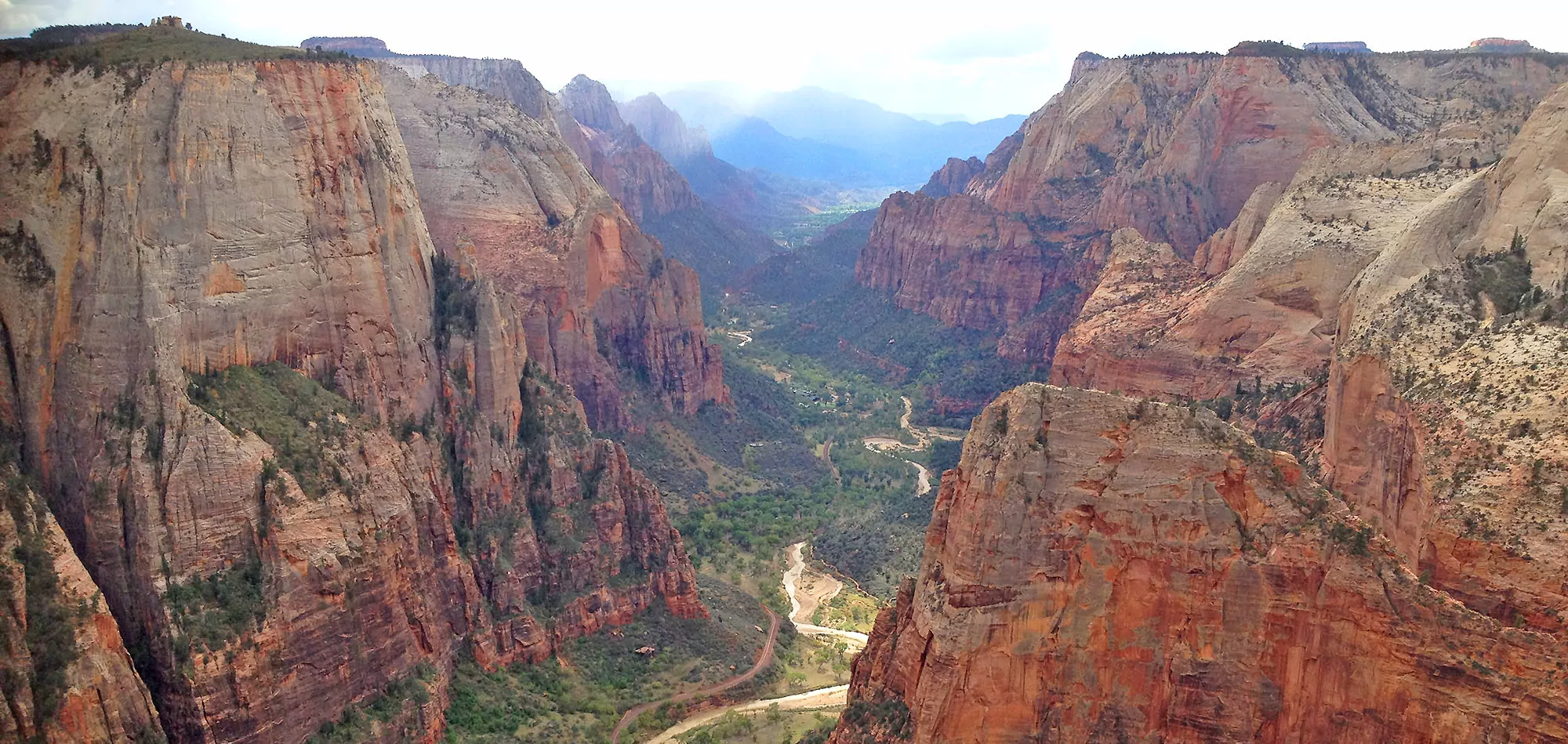 Hiking in December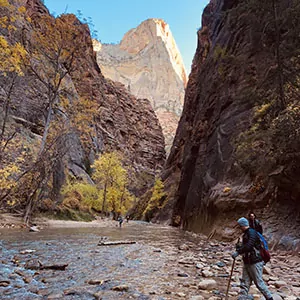 Hiking is a great activity in December because the crowds have thinned so immensely and you might even have the trail to yourself. While roads are plowed during the winter months, some hiking trails may be closed due to snow or ice, so make sure you read the current conditions for up-to-date information. Many of the shorter hikes, however, will be available this time of year, such as the Riverwalk trail or Watchman Overlook Trail. The Riverwalk trail gives you the opportunity to walk to the trail head of the Narrows where the path disappears into the river. This relatively flat and short trail gives you a chance to hike along the river and see the narrowing of the slot canyon as the walls close in around the river. Watchmen Overlook Trail is also a great option for hiking up to one of the most breathtaking vistas in the park. It is on the steeper side, but as well worth it. The Pa'rus Trail is another great option for a longer trail that is still flat. This paved walkway connects the Zion Visitor Center to Canyon Junction and is accessible to bikes, walkers, hikers, pets, and wheel chairs. Emerald Pools and the Canyon Overlook Trail are other great options for easier hikes, with the latter being a little bit steeper than the others.
Unfortunately, some of the more famous trails in the park may be inaccessible due to the weather and the snow. The Narrows is feasible to do in December, but you will need a neoprene wetsuit or a dry suit with insulating layers to make your hike enjoyable and safe. Immersion in cold water is the quickest way to contract hypothermia, so make sure if you do this hike that you are well prepared to keep yourself warm. The water in the Virgin River can be as cold as 38° in the winter, so this hike is no joke. We do not recommend doing this hike in winter unless you are very experienced. If you want to hike the Narrows, it's best to come in summer when the temperature is warm and the water is refreshing, if cold on your feet. Angels Landing is also typically inaccessible in winter due to ice and snow on the trail making the already treacherous hike incredibly dangerous. Even those with microspikes or crampons are advised to be incredibly cautious as what are steep steps in the summer become walls of slippery ice in the winter. The subway is also not a great option in winter as the route finding and canyoneering required makes for an exceedingly difficult trek in the warm months, nevermind in the winter.
Early mornings will be chilly in Zion, so make sure you start off with many layers including hats and gloves. Even though it's cold outside, be sure to drink plenty of water throughout the day; it is recommended to take at least three liters with you. Remember that the sun sets early during the winter, so make sure you set out with enough time to finish you hike before the sun goes down. A great option for hiking in December is an inn-based tour, where you will experience the best of Zion and Bryce Canyon on day hikes with a local and knowledgeable guide before relaxing at an exceptional lodge in the evening. These trips take care of all the planning, accommodations, and meals, so you can enjoy your trip without any of the stress that comes with planning a National Park vacation.
Backpacking in december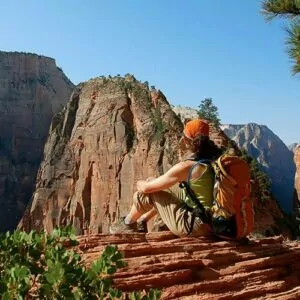 Backpacking in December in Zion is not for the faint of heart or the inexperienced as this activity can be treacherous if very rewarding. Zion is a world-class backpacking destination as the landscape you are hiking through is truly spectacular. Zion, however, has different and stricter regulations compared to other national parks on their backpacking policies, so it's important to understand the rules before you set out. The park limits group size and campsites so that you must reserve each back country campsite with a separate permit. This means that you will have less flexibility in the back country to change plans as you must make it to your campsite by that night. Zion also has strict regulations on human impact on the wilderness that includes a pack-it-in, pack-it-out policy that includes all trash as well as human waste.
A backpacking trip through the Narrows is possible and there are 12 designated sites along the canyon. Kolob Arch via La Verkin Creek Trail is a great option if Kolob canyons is accessible. Backpacking any trail during the winter will be more difficult than it would be in the warmer months due to the freezing temperatures, whipping winds, snow storms, lack of drinkable water, and route finding. Four season tents, 0° sleeping bags, and microspikes or crampons are a must for any winter backpacking trip in Zion. Backpackers should also be aware of the dangers that they might encounter while in the back country. Besides the normal problems that winter weather can pose, hypothermia is a big threat in the back country especially as nights can become very cold. Make sure you understand the risks of this condition and how to recognize it. Flash floods are also a concern for those camping in a slot canyon or near a stream. It does not have to be raining for a flash flood to occur; it just has to be raining somewhere that is above you in elevation. Make sure you know the advisories before you set out on the trail. Finally backpackers need to be aware of the dangers of toxic cyanobacteria that have recently bloomed in Zion's waterways and tributaries. If you must filter drinking water while in the back country, do it directly from the spring and not from any river or stream. No known commercial filtration system can effectively remove the toxin which can lead to serious illness or death if not treated. At time of writing, cyanobacteria may be present all waterways in Zion, but you can check the national Park website to see if there's advisory is still in effect. You can read more about backpacking regulation and safety in the Zion on the park's website.
Weather in December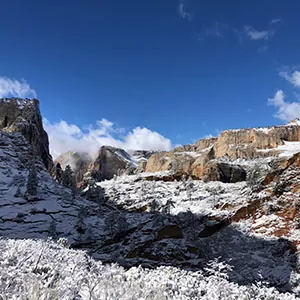 Weather in Zion during the month of December is typically cold and wet. Almost half of the yearly precipitation in Zion Canyon occurs between December and March. The average temperature for Zion Canyon is a high of 53, and a low of 30 degrees Fahrenheit (12/-1 degrees Celsius). In Kolob Canyons, the average temperature is a high of 50, and a low of 26 degrees Fahrenheit (10/-3 degrees Celsius). Visitors should be advised that these temperatures are only averages and that the park can experience much warmer– or much colder– temperatures than these. On average, it rains or snows 6 days in December. Again, note that it either rains or snows in December. This fluctuation across the freezing point can cause some unfortunate weather events. First, any snow that does fall isn't likely to stick around for more than a few hours. This is because it probably snowed overnight and will likely melt the next morning with the sun's heat. If you're looking to get some of those gorgeous winter pictures and you see snow in the forecast overnight, make sure to get up early and get the pictures before it melts. On the other hand, rain that falls during the warmer part of the day is likely to freeze overnight when the temperature drops. This can cause icy conditions on roads and trails which is much less fun and far more dangerous than snow.
As we have said in other sections, many trails may be closed due to ice and snow. Never attempt to hike a trail that is closed for winter weather even if you can't see any ice or snow on the ground. It's possible that the trail goes up an elevation to where there is snow or that it's closed for the danger of falling ice. Micro spikes and crampons are recommended for any who are going to be hiking while in the park as these will significantly decrease your chance of falling and injuring yourself. Blizzard like snow storms and white out conditions are not very common in Zion, so you probably won't have to fight with these conditions very often. However, the short days of December mean that you have less sunlight to be out enjoying the park, and that the sun has less time to warm up the landscape. This not only leaves you with fewer daylight hours, but also with fewer hours where the temperature is warm enough outside to be pleasant. Be prepared with some back up indoor activities or some sightseeing you can do from your car if the weather is colder than you anticipated. There is also an increased risk for flash floods in December due to increased precipitation. Water can roll down slot canyons in walls of 12 feet or higher, bringing with it boulders, tree trunks, and other debris. Watch for warning signs of changing water color, roaring water upstream, or change of how swift the current is. Seek high ground immediately; even a few feet can save your life. You cannot out run or out swim a flash flood, so heed all warnings and advisories about them. Toxic cyanobacteria is also known to be in the Virgin River and it's tributaries. You can read more about this recent bloom on the national park website to see if the advisories are still in place. Zion is simply stunning in the winter, but the weather does pose some risks that need to be managed. Understanding these risks is the first step in preventing them, to make sure you do your research to make sure your trip will be fun and safe.
Wildlife in december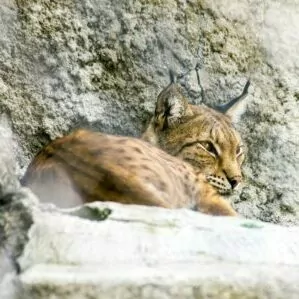 While it may seem unlikely that wildlife viewing in Zion would be a popular activity in December, winter is one of the best seasons to view wildlife in the park. Because of the cold temperatures and snow at higher elevations, many of the park's larger mammals come down to the valleys and canyons for the warmer weather and the more readily available food. Mule deer and bighorn sheep both congregate at the lower elevations where they are often seen by visitors. Not only are these animals in more readily accessible places to see in winter, but the lack of crowds makes them more likely to stick around if you pull off the road to take pictures from your car or stop along your hike to snap a photo from the trail. Because of the congregation of these animals, predators also congregate in the lower valleys where their prey is. Gray foxes, coyotes, bobcats, and mountain lions all inhabit the park. While it is very rare to see either of the feline members of the predator family, you might be able to see their tracks in fresh snow overnight as they are nocturnal hunters. Both the foxes and coyotes are more willing to let themselves be seen by visitors, although usually around dawn or dusk scurrying across the road or lurking in a campground. Other animals that live in the park such as porcupines or beavers don't hibernate in the winter but are seldom seen as they spend much of their time in their dens or lodges. Of course, many of the small mammals and all of the reptiles will be hibernating for the winter, but avian residence in the park are still very active. The California condor, the largest bird native to North America, has a presence in Zion. With a wingspan that can reach up to 9 1/2 feet, these birds are truly majestic to see in flight. If you're in one of the slot canyons, keep your eye out for nesting Mexican spotted owls. These monogamous birds love the cool temperatures that remain in the slot canyons throughout the year and can often be seen feeding at dawn or dusk. If you're interested in seeing a specific animal, ask a ranger about where the best place would be to see one or what has been caught lately on remote camera traps.
Recommended wildland trips in december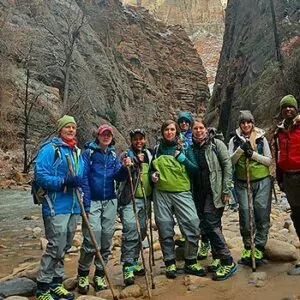 Planning a trip to a national park can be stressful as you try to keep up with the weather, current conditions, where to stay, and what to do. Some people enjoy planning out every last detail of the vacation, but others don't have the time to do so and end up losing time at the park deciding what to do. But you can bypass all that headache by booking a trip with Wildland Trekking and letting one of our expert guides show you around. Whether you want to camp with us, stay at a lodge on an inn based tour, or just spend a single day with one of our expert guides showing you around, we have some thing for you. Feel free to check out all the trips we offer in Zion, but here are a few we especially recommend for December.
Zion in a Day Private Tour: Because of the density of national parks in this area of the country, many people only leave a single day to explore Zion. But on this tour a single day will give you a very good taste of what Zion has to offer. You can expect 3 to 4 day hikes depending on what your group wants in distinct areas of the park so that you'll know where you want to come back to and explore more. All inclusive with top of the line backpacks and trekking poles, crampons for your hiking boots, trail snacks, a picnic lunch, and an expert local guide, you won't want to miss out on this fantastic day in Zion.
Zion and Bryce Four Day Tour: Zion and Bryce Canyon are two of the most fantastic national parks in Utah, so why not combine them into a single spectacular trip? This four-day, inn-based tour will allow you to experience the best of each park. Stroll through the hoodoos, see the slot canyons, and go on fantastic day hikes before returning to comfortable lodges in the evening and excellent dining. All inclusive with your meals, local transportation, accommodations, and much of your gear included, this is a great trip for those wanting to see both Zion and Bryce.
Snow Canyon Private Day Tour: While it's not technically in Zion National Park, the nearby Snow Canyon is almost as spectacular as Zion itself and is well worth a visit. See this area's ancient lava flows, deep gorges, and towering red rock cliffs on this all inclusive, private day tour. Great as a day trip during a longer stay in Zion or just as a stop as you are passing through, our expert guides will make sure that you experience the best that this area has to offer.
Join a Guided Hiking Adventure
Zion National Park is home to some of the most epic and amazing hiking vacations in the world. Wildland Trekking offers trips with the best of Zion: canyons, views, wildlife, solitude, adventure and fascinating natural and cultural interpretation.
Guided Zion treks are all-inclusive which covers permits; local transportation (excluded on certain tours); meals; equipment; safety systems and professional hiking/wilderness guides; all of which allows visitors to maximize their time in Zion and focus entirely on enjoying the Park.