Visiting Zion in September
Learn all about what to expect visiting Zion National Park in September
Updated: 10/27/22
September is a great time of year to visit Zion National Park. The valley of Zion Canyon is booming with life, and the cool Virgin River is an oasis in the hot desert. There are many benefits to visiting Zion in September, as well as some drawbacks. Below we have categorized the most common "when-to-go" questions to help you determine if September is the best month for you to visit Zion National Park. Benefits of Visiting Zion in September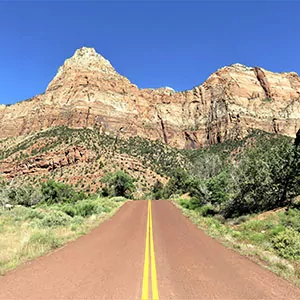 The biggest benefit of visiting Zion in September is the wide array of activities you can enjoy. Anything from hiking and backpacking, to rock climbing and canyoneering, to bicycling and off-roading is available for visitors. The weather is very warm in September, although as the month progresses, the weather gets crisper and more fall-like. While it can't be said that September is cool in Zion, the temperatures are a relief from the triple digits that you will find in July and August. September weather is accompanied by beautiful, clear blue skies, and provides amazing opportunities for sunrise and sunset photography. The scenery itself is spectacular in September. At sunrise or sunset, when the air will be cooler, the warm light will illuminate the red rocks and provide phenomenal views. Many of the animals in the park will also be out and about this time of year. The reptiles and small mammals will still be out of hibernation for the summer, so keep your eye out for them scurrying across the road or sunbathing on the rocks. September is nearing the end of the monsoon season in Utah, but you will still most likely have afternoon rains. While these rains can cause issues if you're scheduled activity was a hike, they can be beautiful to watch as long as you're a safe distance away. Photography of thunderheads descending over the canyon, sheets of rain being poured down, and flashes of lightning is simply spectacular in Zion. However, these storms can be dangerous, and it's recommended to stay inside if you hear thunder, so maybe shoot from through the window.
Another benefit of September is the access you have to hiking trails in the park. Even though the temperatures at midday will still be in the 90s, you won't have to worry about snow or ice and will still be able to reach trails at higher elevations. Angels Landing via Scout Lookout is a very popular option that will be available because of the lack of snow and ice. However, due to the trail's popularity, it does require permits and they will be competitive to get. Make sure you plan ahead and do your research or book a trip with a guiding company where permits are included. The other famous hike in the park, the Narrows, will also be open this time of year as the springtime high water levels will have gone down. This hike is the most pleasant in the summer when the warmer daytime temperatures and the frigid snowmelt water feels good on your aching feet. You don't need permits to hike this trail bottom up, but it is very popular, and you should expect a crowd. The canyon is prone to flash flooding, so make sure you read the advisories before you set out for the day.
Drawbacks of Visiting in September
The biggest drawback of visiting Zion in September is the crowds. Summer is the busiest season in Zion National Park, with spring and fall visitation closely behind. This could mean long lines for the shuttle buses, limited parking inside the park, and large crowds on trails. This can be a major turn-off for some visitors, especially because the shuttle is the only way to get around in the canyon area. Those extended wait times for shuttle buses and perhaps standing room only once you get on can not only eat up time out of your day but can also fray nerves quickly. Overall, the buses are a benefit to the park as the traffic that would result without them would be astronomical. They are nice and air-conditioned, but they still limit the amount of flexibility you have in your schedule. The fact that you cannot bring a carload of gear with you might also be difficult for those traveling with young children or elderly parents who need lots of equipment or don't want to be getting on and off buses all day. To avoid the stress of navigating the busy national park by yourself, we recommend booking a trip with a Zion tour company. You will also be thankful for the accommodations the tour company arranges for you, as places to stay in Zion in the summer have low availability and high prices. You will need to plan your trip at least six months in advance in peak season to be able to find a place to stay. If you do find a last-minute place that has availability, be prepared to shell out peak season prices for it. Even campsites are scarce months before your travel date, as everyone wants to experience this part in an authentic and rustic way.
You will also find that September is very hot during the day. Although it's not as bad as earlier in the summer, temperatures still reach into the 90s, and the dry air and elevation make it feel hotter. You may have to sit out in the middle of your hike if the temperature becomes too extreme. The monsoon season also brings its own challenges, as afternoon thundershowers can get in the way of your activities, and flash floods can be exceptionally dangerous. Overall, however, September is a great time to visit the park, and your biggest downside will be that everyone else knows it's a great time to visit the park. If summer or early fall is the only time of year that you can make it to Zion, here are some tips to lessen the impact of the crowds and enjoy the park:
1. Get to the park early: the earlier you get to Zion, the more likely you are to get a parking spot, and the more of the park you have to yourself before the crowds arrive.
2. Visit Kolob Canyons: The Zion Canyon is small and crowded—since most visitors spend the majority of their time there. Kolob Canyons is in a more isolated area of the park, provide incredible and unique views, and are much less traveled.
3. Go on a picnic: avoid the eateries at busy eating times, and choose to go on a picnic instead. You can stop at the grocery in Springdale before heading into the park. There are wonderful places along the river and in the shadows of the cliffs for a picnic meal.
4. Read our list of trails less traveled: these trails will give you a better chance for incredible views with less of a crowd.
Things To Do In September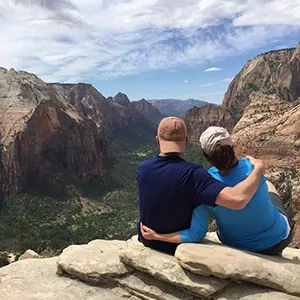 There is a plethora of things to do in Zion in September that range from the most outdoorsy activities to strolling through museums. September is a wonderful time of the year to go on a hike in Zion National Park. With trails ranging from easy to strenuous, there is something for everyone in the park, giving you the chance to experience the best of Zion from amazing vantage points. Angels Landing is perhaps the most famous hike in the park, but it is also the most dangerous and requires permits to hike. Make sure you do your research on this trek and plan on getting permits early or go with a guiding company that provides the permits for you. If you don't want to do the part of this hike that has extreme height exposure or you couldn't get permits, hiking to Scout Lookout is a great alternative.
The Narrows is also fantastic this time of year, but check the flash flood advisories to ensure this trek is safe. If you don't want to get into the cold water, the Riverwalk trail is a great alternative that is short and flat and takes you right to where the trail disappears into the Virgin River.
The weather is hot, so pack plenty of water and salty snacks. You can expect the trails to be crowded, so also take an introspective look at how well you tolerate crowds and plan on getting to the park early so you can beat the heat and people. Backpacking is also a popular option in Zion this time of year, but make sure to check Zion's backpack regulations regarding group size and human impact, as they are different than other national parks.
Bicycling through Zion Canyon is phenomenal in September, letting you avoid the crowds of the shuttle bus while feeling the warm air whoosh past you as you cruise down the road without cars. Shuttle buses have bike racks in front if you wish to take your bicycle on them. Be sure to check out our best tours page for more details about the activities offered in Zion in September.
This is also a great month for rock climbing as the morning temperatures are cool enough to put your hands on the rocks. This should only be attempted by those experienced in desert rock climbing as outdoor climbing at Zion differs from outdoor climbing, even at Joshua Tree National Park or in Yosemite, where the rocks are granite instead of sandstone.
Visiting Kolob Canyons is a great way to escape some of the crowds in Zion this season. This northwest corner of the park is much less frequented but no less spectacular than the more famous areas. Plus, you can drive your car through it. If you have the time, many other national parks in the area make great day trips. Utah has five national parks, with Grand Staircase Escalante and Bryce Canyon being the closest. Even the Grand Canyon is not that far, so if you've come from a long way to visit Zion, consider making it an extended trip to see more of this part of the country.
Wildlife viewing and birdwatching are also great activities in September, as many of the animals will be out and about for visitors to see. Keep in mind that animals don't usually like a crowd, so try to find a quieter place to sit and wait. If you're looking for birds, make sure to keep your eye out for California condors in the large open spaces or Mexican spotted owls in the slot canyons.
If the heat becomes too much in the middle of the day, the Zion Human History Museum is a great indoor activity and provides exhibits on both geological and cultural history.
Things to see in september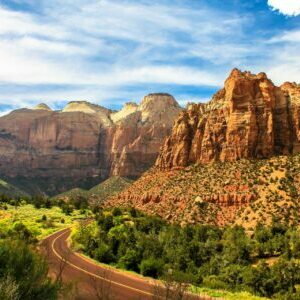 There are nearly as many things to see in Zion as there are to do, and if you read the previous section, you know that's a lot. Sightseeing is one of the most popular activities in September and is great for the midday heat when you don't feel like going on a hike but still want to enjoy the scenery. The shuttle buses can actually be a benefit in September for sightseeing as no one has to bear the burden of driving, and you can ride the loop to see many sights in the park. To help narrow things down, we've created a list of some of the must-see sights in Zion; make sure to do your research, though, as this list is not exhaustive.
Kolob Canyons: By far the best place to escape the crowds in summer, Kolob Canyons is located in the northwest corner of the park. You'll be able to drive your private vehicle through this park area even in summer, and it boasts stunning slot canyons, gorgeous overlooks, and ancient lava flows and volcanoes. About an hour away from Zion Canyon, make a day trip out of Kolob Canyons and enjoy this less visited but no less spectacular area of Zion.
The Narrows: Even if you don't want to plunge into the river and hike the Narrows, you should at least see this famous slot canyon. Hike the short and flat Riverwalk Trail up to where it disappears into the Virgin River as the Narrows trek begins. Be sure to look up as you hike, as the canyon walls become narrower and taller the farther you go. As one of the most famous slot canyons in the world, the beginning of the Narrows is definitely a sight to behold, even if you don't like the trail.
Zion Human History Museum: If the weather becomes too hot or the crowds become too irritating, stroll into the Zion Human History Museum and enjoy the air conditioning and exhibits. The museum examines the two factors that have had the largest impact on this land: people and water. The exhibits trace peoples' impact back to the Native Americans, early pioneers, and settlers, all the way up until it was declared a national park. Water has also had a large impact on the park, both as a creator and destroyer and the museum takes time to explore this as well.
Petroglyph Canyon: Little known and not advertised by the park, Petroglyphs Canyon is easily accessible off the road; the problem is finding it. This canyon is open to the public but not advertised by the park to preserve the petroglyphs of ancient Native Americans that are etched into the canyon walls. You can park along the road and walk to the trailhead which is located about 2.5 miles east of the Mount Carmel Tunnel on Highway 9. If you do visit this canyon, please sign the register at the trailhead and do not touch or make markings on these ancient drawings.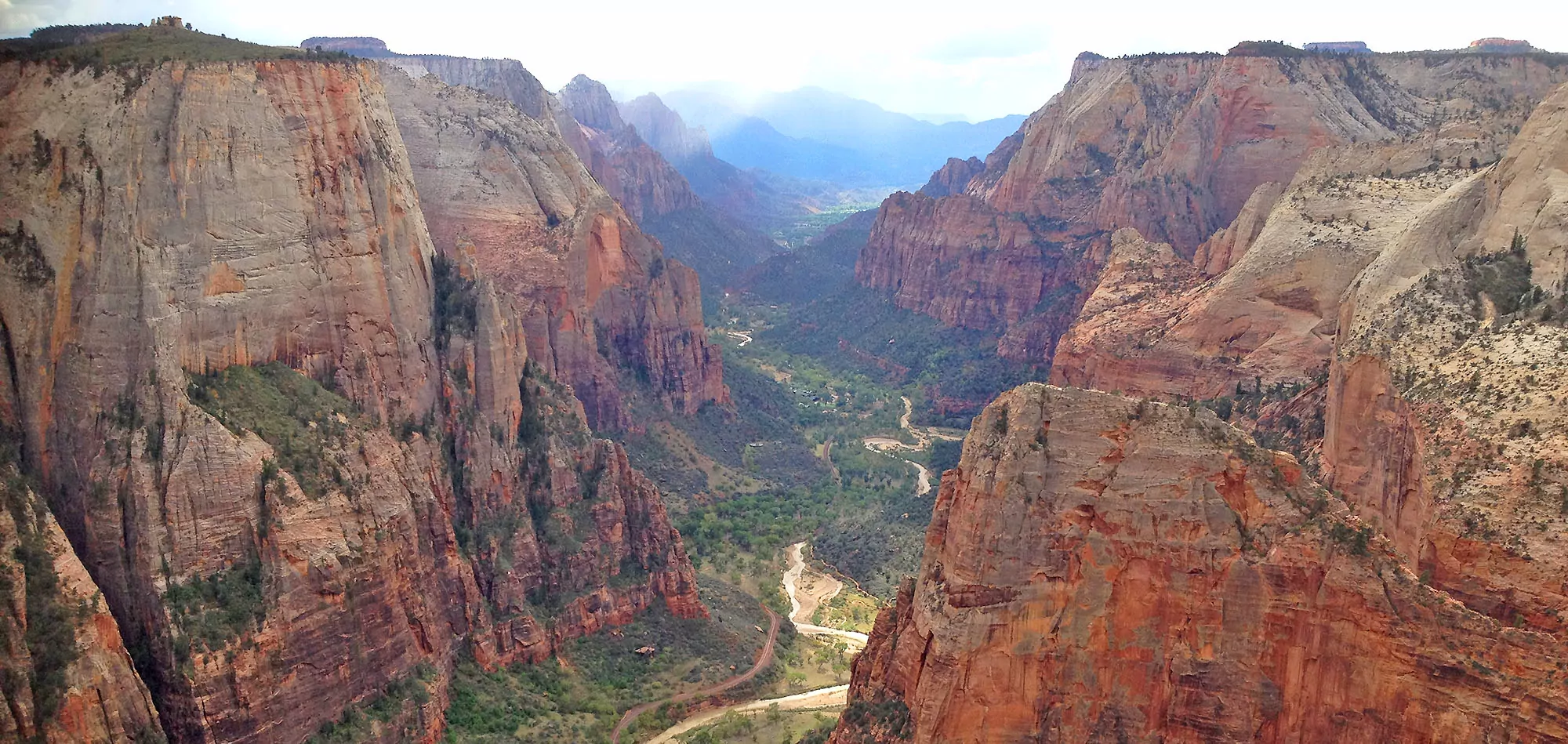 Hiking in September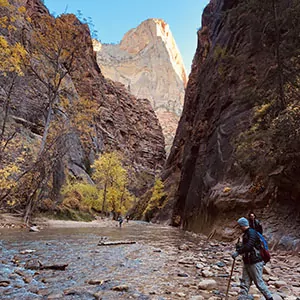 Hiking is a great activity to do in Zion in September—trails to high elevation give you amazing panoramic views of the canyon below, alive with flora and fauna. There are also wonderful trails along the valley floor, that take you next to the rushing and cool Virgin River through the thriving cattails and cottonwoods. With trails that range from easy to strenuous, all ages and levels of ability are able to enjoy hiking in Zion. Make sure you read the current conditions for information on trail closures. If you're looking for a shorter option, Watchmen Overlook Trail or Emerald Pools are great for hikes on the quicker and easier side. Located near the Visitor Center, Emerald Pools takes you along three sets of gorgeous pools gathered from moisture on overhanging rocks above, while Watchmen Overlook Trail brings you to one of the most stunning overlooks in the park.
The Riverwalk Trail is a great option for those who don't want to plunge into the Narrows but still want some of that slot canyon feel. This relatively flat trail will take you along the Virgin River until the trail disappears into the river at the trailhead of the Narrows. Even though you won't be hiking in the river, the canyon walls will still be getting narrower and narrower the farther you hike, so make sure to look up. Of course, the more famous trails are spectacular in September.
The Narrows is fantastic in September when the temperature is still warm enough to enjoy being in the water. Make sure to check online or at the visitor center for a flash flood advisories, however, because the Narrows is very prone to them during monsoon season. Regardless of flash flood advisories, expect the Narrows to be a rather strenuous hike as many have described it as trying to walk on slippery, wet, bowling balls. The rocks at the bottom of the river are covered in moss and very slippery. While it's rather unlikely in September, you may encounter sections of this hike where you need to swim. Keep your belongings in a dry bag and wear clothes you are willing to get wet.
Angels Landing is also an incredibly popular option, so much so that you will need to obtain permits to do the last quarter-mile of this hike from Scout Lookout to the top of Angels Landing. This hike is treacherous, so ensure you understand the risks and how to minimize them before going. If you don't want to go on your own or can't get permits on your own, you can book a day hike with a guiding company that will provide permits for you and sends you on the trail with an expert local guide. The subway is also very popular, and you will also need permits for this highly technical hike that involves canyoneering and, if you go in one direction, swimming through several deep pools. You can read our list of best trails in Zion for recommendations.
Camping tours are a wonderful option for seeing much of Zion and nearby Snow Canyon. The company takes care of all the planning, accommodations, and meals and provides appropriate gear, so you can enjoy your trip without any of the stress of planning a National Park vacation. Day hiking tours are great for those who want to maximize their limited time in the park while gaining knowledge from a local and experienced guide.
backpacking in september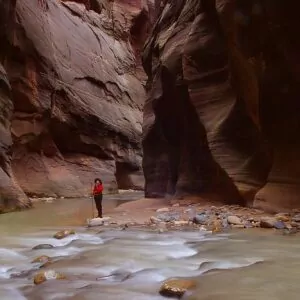 September is a great time of the year for backpacking— since most visitors are doing day hikes, the backcountry provides the opportunity for solitude and peace while experiencing tremendous red rock cliffs and out-of-this-world rock formations. Read our page about backpacking permits for information on planning a backpacking trip. It's very important to know the backpacking regulations of Zion before you start planning a trip as they are different and stricter than other national parks. Instead of true dispersed camping, Zion has designated backcountry campsites that you will need to reserve individually on separate permits. This means that backpackers are very limited in what changes they can make to their schedule while on the trail, as you must make it to your reserved campsite by that night. Zion also has strict regulations on group size and a pack-it-in, pack-it-out policy that includes all trash as well as human waste. The Narrows is an option for backpacking as there are 12 designated sites along the river. Kolob Arch via La Verkin Creek Trail is another great option to escape some of the crowds. A Trans-Zion trek is also popular and a great way to see a lot of the park. Because many of these routes are so popular, it's important to have backup plans for alternate campsites and trails if you can't get the permits you want. While the backcountry will be quieter than the rest of the park, you shouldn't expect it to be completely empty, as backpacking is a very popular activity in September.
Backpackers need to be aware of the danger that they might encounter while in the back country. Despite September not being quite as hot as earlier in the summer, backpackers may still need to sit out for a period of the afternoon during the heat of the day to prevent heat exhaustion. Perhaps your biggest threat from the weather is the annual monsoon season that brings frequent afternoon thunderstorms. Not only will these rains make hiking less than pleasant, but they can also cause flash floods which can be very dangerous to those in flash flood-prone areas. It's important to keep up with advisories and warnings of flash floods in the areas you are going to camp and hike. Slot canyons are particularly susceptible. You cannot outrun or outswim a flash flood, so leave the area if there is an advisory or if you see the signs of a coming flood. It does not have to be raining where you are for there to be a flash flood; it just has to be raining somewhere that is higher than you. If you are in a slot canyon hiking in the river or camped near a stream, watch out for these warning signs: change in water color, clarity, or speed; excess debris in the water; the sound of roaring water upstream; clouds gathering even miles away from you; and rapidly rising water levels. If you see any of these signs, seek higher ground immediately.
Backpackers should also know the dangers of a recent bloom in toxic cyanobacteria in the Virgin River and its tributaries. At the time of writing, the toxin is still present in the water, making it inadvisable to put your head under the water while recreating or filtering water in the backcountry from anywhere except a spring. No known commercial filtration system effectively removes the toxins from the water. Children and dogs are particularly susceptible, and visitors should keep them away from the water at all costs. The toxin can be contracted by ingesting the water or through contact with an opening in the skin, such as eyes, ears, or nose. Check the national park website for current updates on the cyanobacteria bloom.
Weather in September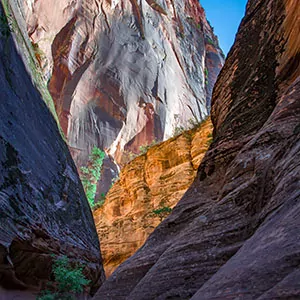 September is typically still very warm in Zion National Park. Even though some schools are back in session, it is still the season of summer until September 21st, so be prepared for hot weather. The average temperature for Zion Canyon in September is a high of 91 and a low of 60 degrees Fahrenheit (33/15 degrees Celsius). In Kolob Canyons, the average temperature is a high of 80 and a low of 51 degrees Fahrenheit (26/10 degrees Celsius). On average, it rains four days during September. Guests should be advised that these numbers are only averages, and in the park, you can experience much warmer or much colder temperatures than these. Zion experiences a monsoon season from mid-July to mid-September, so always check the weather before starting on a trail and know the risks of a flash flood.
Be sure to take at least 3 liters of water with you, especially because you may not have access to your car if you are riding the shuttle bus. Many of the shuttle stops have potable water, so you can fill up before heading out on a hike. It's essential to not only carry enough water but also to drink it and to take a break from your hike at midday if it is too hot.
It's also important to know the difference between heat exhaustion and heat stroke, as the latter is a life-threatening emergency while the former is less immediately dangerous. Because of the heat, many guests choose to take a dip in the Virgin River or one of its tributaries.
Wildlife in September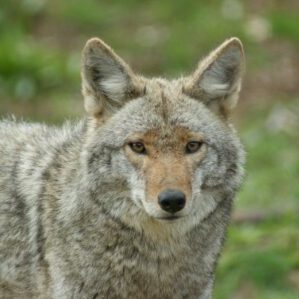 September is a great time to view wildlife in Zion as the weather is still warm and the animals are still out and about. You can still expect to see reptiles and small mammals this time of year as they will not yet be in hibernation. Keep your eye out for the whiptail lizard or the desert horned lizard, often called the horny toad, as they bask in the sunlight. Smaller lizards will be out earlier in the morning as they can heat up from the weaker rays of the sun to be able to escape predators. But larger lizards will wait until later in the day when the sun is more intense to come out so that they won't be sluggish for too long and become easy prey. You might also see some of the bigger animals in the park, such as bighorn sheep and mule deer. Both the species will be in their annual rut, the mating season. This season is one of the best to view ungulates as the male's scuffle and fight with their antlers (or horns, depending on which animal you're looking at) for the right to mate. Bighorn sheep can often be seen on the east wall of Zion, climbing nimbly across sheer cliffs. Mule deer, on the other hand, are more likely to be seen in the meadows and canyons where it's cooler and there is flatter terrain.
The park also boasts a number of predators, such as gray foxes, coyotes, bobcats, and mountain lions. While you might catch a glimpse of a coyote or a gray fox in the evening scurrying across the road or catching the beam of a camper's headlamp, the feline members of the predator family are much more elusive and will be sure to avoid the crowds in summer. Perhaps the most dense family of animals in Zion besides insects is birds. There are over 200 species of birds that call this place home, and many more that migrate to Zion for certain parts of the year. The California condor, the Mexican spotted owl, the American dipper, the golden eagle, and many others can all be seen in the park. If you're interested in seeing a specific animal, ask a ranger about where the best place would be to see one, or ask what's been caught lately on remote camera traps.
Recommended Wildland trips in september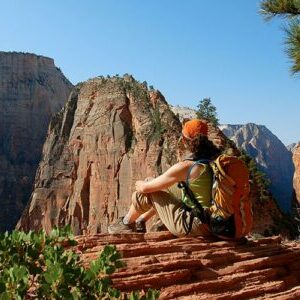 Planning a national park vacation can be stressful as you try to keep up with current conditions, weather, where to stay, and what to do. While some enjoy the nitty-gritty planning phase, others simply don't have the time to plan out every detail of their trip and end up losing time deciding what they want to do while already at the park. But you can bypass all that headache by booking a trip with Wildland Trekking. All of our trips are all-inclusive, so we take care of logistics, accommodations, meals, local transportation, much of your gear, and itineraries so that you can sit back and enjoy your vacation. Whether you want to camp with us, stay at a lodge on an inn-based tour, or spend a day with one of our expert guides, we have something for you. Feel free to check out all the trips we offer in Zion, but here are a few we especially recommend for September.
Snow Canyon Private Day Hike: It's not technically in Zion national park, but the nearby Snow Canyon is spectacular and well worth visiting. On this single-day, all-inclusive tour, enjoy seeing ancient lava flows, towering cliffs, and deep gorges interspersed with fascinating cultural and geological history narrated by your guide and an included picnic lunch and tasty trail snacks. A way to escape some of the crowds in summer, this trip is a great single-day tour in your longer Zion vacation or just a passing-through stop.
Zion Basecamp Tour: If you want to experience the more rustic side of Zion but aren't sure you want to go on the backpacking trip, then you can book this camping tour with us to experience the best of Zion with the most comfortable camping to come by. Enjoy a hike of the Narrows, a tour of Snow Canyon, and the spectacular Zion Canyon on this three-day camping trip with wonderful, freshly cooked meals and comfortable camping equipment included.
Best of Utah Inn Based: Experience the best of Utah's national parks in luxury on the 6-day, inn-based tour. Visit Zion, Bryce Canyon, and Grand Staircase Escalante to go on iconic hikes, see dramatic slot canyons, walk amongst the hoodoos, and rest in desert oases. Stay at lovely national park lodges, experience exquisite dining, and relax in your rooms after a full day of exploring. If you want to see it all in one trip, then book your spot now for this fantastic experience.
Join a Guided Hiking Adventure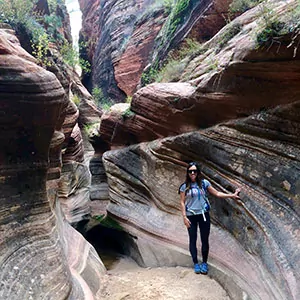 Zion National Park is home to some of the most epic and amazing hiking vacations in the world. Wildland Trekking offers trips with the best of Zion: canyons, views, wildlife, solitude, adventure, and fascinating natural and cultural interpretation.
Guided Zion treks are all-inclusive, which covers permits; local transportation (excluded on certain tours); meals; equipment; safety systems, and professional hiking/wilderness guides; all of which allow visitors to maximize their time in Zion and focus entirely on enjoying the Park.