Visiting Zion in November
Learn all about what to expect visiting Zion National Park in November
Updated: 10/28/22
The month of November is an incredible time to visit Zion National Park. Autumn colors provide a sight that is sure to amaze you—the cottonwoods turn a dazzling yellow, and there are pockets of maples that become an enchanting red. There are a number of benefits to visiting Zion in November, as well as some drawbacks. Below we have categorized the most common "when-to-go" questions to help you determine if November is the best month for you to visit Zion National Park. Benefits of Visiting Zion in November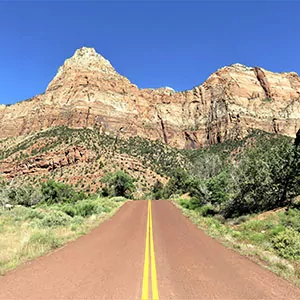 The biggest benefit of visiting Zion in November is that the crowds have all but disappeared and there is opportunity for peace and quiet in the park. This means that you won't have to deal with long lines for the shuttle buses, crowded eateries, or circling around parking lots like a vulture waiting for a spot. Having Zion quiet is truly an amazing experience as most can only visit the park during the peak season. Take your time to enjoy the solitude that this place can bring in November. A related benefit to their being less crowds is that accommodations are more readily available and less expensive than they were in the summer. Anyone who has tried to plan a last-minute trip to Zion in the summer knows how hard it can be to find accommodations, never mind to find accommodations that are reasonably priced. But in November, you are more likely to find something available a few weeks before your travel date and will not have to shell out peak season prices to get it. November is the last month that the shuttle service is running, meaning you can't drive your private vehicle into the park past Canyon Junction unless you are staying at the Zion Lodge. While this can be a drawback as you won't have as much control of your schedule as you might with your own vehicle, the shuttle buses will be way less busy than they are in summer. You won't have to worry about long lines or standing up on your ride. The buses come often, and you might find not having to drive in the park relaxing. Take advantage of the opportunity to look outside for wildlife, especially on the cliffs and in the valleys as big horn sheep and mule deer will be beginning to gather in the lower elevations for the colder weather.
Perhaps an obvious benefit is that Zion National Park is one of the most beautiful places in the United States, and the beauty of the fall colors in November makes it all the more simply stunning. Despite Zion being a desert, the Virgin River creates a kind of mountainous environment with deciduous trees that change colors and drop their leaves in the fall. November weather provides brilliant blue skies, and the trees give you those awe-inspiring reds, oranges, and yellows in the cottonwoods next to the Virgin River. There are few things like sunrise or sunset photography in Zion in the fall, when the rich light of the sun reflects on the fall colors. Even if you're not up for getting up early for sunrise or staying out for sunset, photography is great any time of day with the autumn-colored leaves contrasted against the red and white sandstone cliffs. Another benefit of Zion in November is the weather. Even though it is quite cool, probably in the high 50s during the day, this is the perfect weather for hiking and is a lovely respite from the very hot summer months. In addition, it doesn't often snow in Zion in November, so you will be able to escape the heat of the summer, the rain of the summer, and the winter weather that impedes hiking and backpacking in the colder months. November is truly a lovely time to go to Zion; just make sure to bundle up a little bit and prepare to enjoy the bus ride around the park.
Drawbacks of Visiting in November
The biggest drawback to visiting Zion in November is less daylight to enjoy the park and complete your hike. The sun rises roughly between 7:30 am and 8:00 am as the month progresses, and sets between 5:15 pm and 6:30 pm. This gives you fewer hours of daylight to be able to enjoy the park. It also means that there is less time during the day that it's warm in the sun. Especially if you are in a slot canyon, the sun goes behind the cliff very early, and these canyons have a form of natural air conditioning that also keeps them colder in the winter. The temperature drops quickly once the sun goes down, so you will not want to be caught out in the elements after dark. You will need to make sure to plan out your day before you start, as you will not want to lose time making decisions on what to do or lose your opportunity to do a longer hike because you didn't start early enough. To best utilize your time in the park, we recommend going on a guided day hike, where a local Zion expert will provide fascinating geological and cultural interpretation.
Perhaps an obvious drawback of November is that the weather is quite cool. While some visitors from colder parts of the world may think that mid to high 50s during the day is absolutely perfect, others from warmer climates might find this rather chilly for outdoor activities. Hiking is one of the best ways to warm up in Zion, but even this can fall short with the shorter sunlight hours making it difficult to make use of the sun's heat. Campfires are allowed in fire rings at some of the campgrounds, but you might find even sitting by the fire too chilly at night. The weather can also be a drawback if you weren't planning on doing any hiking or are traveling with young children or older parents that would rather just sightsee. Your best bet for this is to mostly stay inside the shuttle bus as standing around outside in November, especially in the later part of the month, can be rather cold. Related to this, hiking the Narrows is very difficult in November and should only be attempted by those who have the correct expertise and gear. You will need a neoprene wetsuit or a dry suit with insulating layers in order to hike this trail as the water can be in the 30s and immersion in cold water is the quickest way to contract hypothermia. We said in the section above that the shuttle bus will be far less crowded in November, and that is true, but you still have to take the shuttle bus. You can't drive your private vehicle into the park unless you're staying at the lodge, and this can be a really big drawback to those who like to have all their gear with them. It also constricts you to the schedule of the shuttle bus that might not align with the activities you had in mind.
Things To Do In November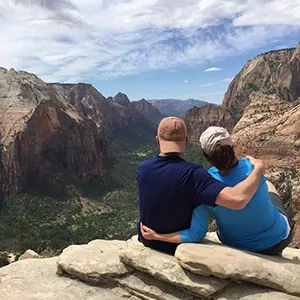 November is a wonderful time of the year to go on a hike in Zion National Park — with trails ranging from easy to strenuous, there is something for everyone in Zion, giving you the chance to experience the best of the park from amazing vantage points. If you don't have the gear or expertise to do the famous Narrows hike this time of year, you can still hike the Riverwalk trail which leads you to the trail head of the Narrows along the Virgin River. Watch as the canyon walls become narrower and narrower the farther you hike towards the slot canyon. Emerald Pools or the Watchmen Overlook Trail are also great options that are on the shorter side. Climbing Angels Landing and backpacking in the park are both possible in November, but the colder weather and the slight possibility for ice and snow make them more treacherous than normal. You will need a four season tent and a low rated sleeping bag to be able to backpack or camp in the park.
Autumn is also a great season to bike through Zion Canyon. Bicycles are available for rental in Springdale, and nothing beats riding through the canyon, with the crisp fall air rushing past you. Shuttle buses operate through late November, and have bike racks on the front, so you can start or finish you ride wherever you desire. The Pa'rus Trail is accessible for bikes as well. The cottonwood and maple leaves are turning vivid red, orange and yellow, giving amazing contrast against the flowing Virgin River and the red and coral sandstone. These provide excellent opportunities for sightseeing and photography. Canyoneering and rock climbing are also popular activities in the park, and November is a great time to do them, weather permitting. Visiting Kolob Canyons in the north west corner of the park is a great activity, and you'll be able to drive your private vehicle through this section of the park. With amazing cultural and geological history, studded with slot canyons and ancient lava flows, you'll find this mini Zion to be just as spectacular as the more famous areas. There are also many other national parks around such as Bryce Canyon and Grand Staircase-Escalante that make great day trips from Zion. Even the Grand Canyon is not too far, so if you've traveled a long way you might consider doing all the parks while you're there. Wildlife viewing is also a popular option in the park. While the reptiles and smaller mammals will be in hibernation for the winter, many of the larger animals congregate in the valleys and canyons for the warmer temperatures and more readily available food. Bighorn sheep and mule deer are plentiful and are often seen from shuttle bus running across the road or up on the cliffs. Many migratory birds will also be in Zion this time of year, coming south for the warmer temperatures. Golden Eagles, cactus wrens, wild turkeys, Mexican spotted owls, and American dippers are just some of the birds that you might see in the park. Talk to ranger if you want to know more about what animals you might see. If you're up for braving the cold November nights, stargazing, star photography, and nighttime wildlife viewing are great activities. You might catch a glimpse of a ringtail or a gray fox in the campground and you won't be disappointed with the dark skies in Zion that showcase thousands of stars.
Things to see in November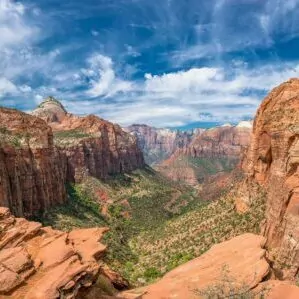 There are nearly as many things to see in November in Zion as there are to do, and if you read the previous section you know that's a lot. Whether it's cultural history, geology, spectacular rock formations, or wild life, you won't be disappointed with this national park. Sightseeing is one of the most popular activities in the park and it can be done in a variety of different ways: on the shuttle bus, in your personal car, on a bike, or on foot. There are tons to things to see in Zion in November, so we've compiled just a short list of some of the must see sites. But make sure to do your own research to see what piques your interest in the park, as this list is by no means exhaustive.
The Narrows: Even if you don't have the expertise or gear to hike the Narrows this time of year or simply don't want to deal with the cold water, you have to at least see the trail head of this fantastic hike. The Riverwalk Trail will take you right to where the trail disappears into the river and will let you get a feel of what the slot canyon is like as the walls become narrower and narrower the further you hike. With the fall colors along the river, you won't regret going on this flat and easy hike.
Zion Human History Museum: If the weather takes a turn for the worst and it is simply too cold outside, come to the Zion Human History Museum. This museum traces the two major factors that have had an impact on this landscape: people and water. The museum takes its time to trace the history of people in this area from Native Americans, to early pioneers and settlers, all the way up to its establishment as a national park. Many of the exhibits also look at the impact that water has had on the park, both as a creator and destroyer.
Kolob Canyons: The north west corner of Zion National Park is the home of Kolob Canyons, the much less visited but no less stunning area of the park. You'll be able to drive your private vehicle through this area in November and it boasts fantastic slot canyons, ancient lava flows, and many trail head options with sites to see along them all. While you won't have to flee here to avoid the crowds like you would in the summer, Kolob Canyons is still definitely worth a visit.
Watchman Overlook: The watchmen Overlook via Watchmen Trail is a must see in the fall. A rather short, moderate, out-and-back hike accessed from the visitor center, this trail leads you to one of the most fantastic overlooks in the park. While the sight is spectacular no matter the time of year, it is particularly breathtaking in the fall as the rich hues of the red, orange, and yellow leaves are glistening throughout the valley.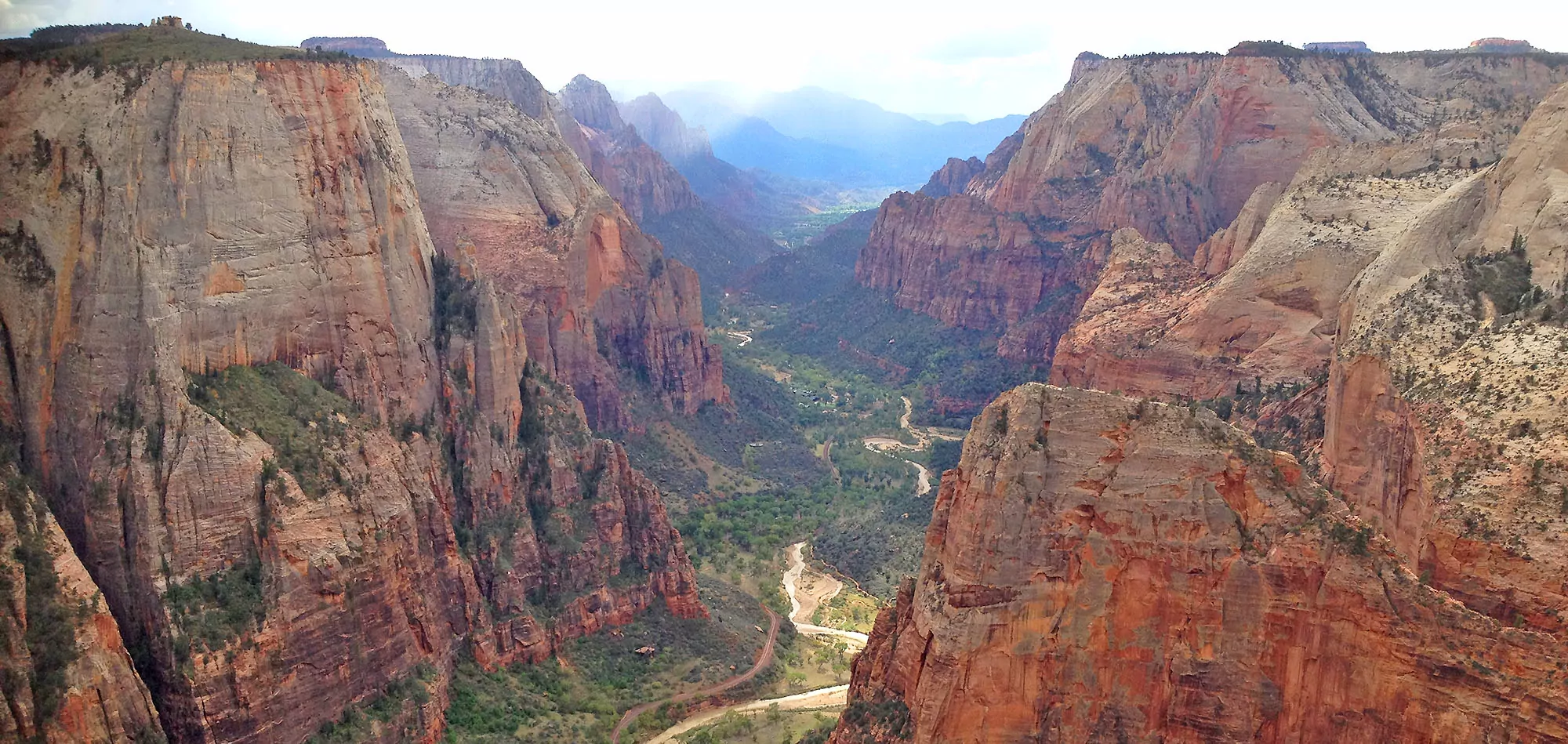 Hiking in November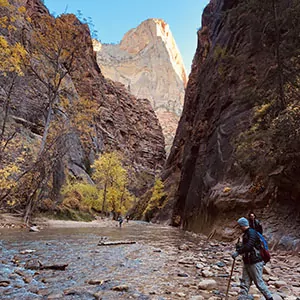 Hiking is ideal in November— the crowds have thinned immensely, and trails to high elevation give you amazing, panoramic views of the canyon's colors. There are also wonderful trails along the valley floor that take you next to the rushing and cool Virgin River and through the colorful cottonwoods. With trails that range from easy to strenuous, all ages and levels of ability are able to enjoy hiking in Zion. The Riverwalk trail or Watchman Overlook Trail are great options on the easier side. The latter, Watchmen Overlook, is a moderate out and back trail accessed from the visitor center that takes you up to the one of the most spectacular overlooks in the park. While the view is always great from this spot, autumn makes it all the more spectacular as the trees in the canyon will be displaying their beautiful fall colors. The former trail, the Riverwalk, will take you right up to the beginning of the Narrows hike where the trail disappears into the Virgin River. If you don't want to brave the cold water this time of year in the Narrows, this is a great option to still get the slot canyon feel. Hiking the Narrows is possible this time of year and the lower water levels will make it less likely that you have to swim, but you should only attempt this hike in November if you have the correct gear and expertise. The water in the Virgin River can be in the 30s in the winter and you will not have much help from the sun in warming you up. Most people hike with a neoprene wet suit or a dry suit with insulating layer is to stay warm. Immersion in cold water is the quickest way to contract hypothermia, which is a very real threat in Zion in November. Make sure you read the current conditions for up-to-date trail information. The other very famous hike in the park, Angels Landing, is also accessible in November, but with increased caution. There is the possibility for ice and snow, however slight, that can make this hike go from "not for those afraid of heights" to "trying to climb a slippery wall of ice." Always put safety above reaching the top. It will be easier to get permits this time of year than it will be in the summer, but they are still competitive and you will have to keep your eye on the lottery system. If you can't get permits or don't want to do the chain section that has extreme heights exposure, you can hike to Scout Lookout, just half a mile from the Angels Landing summit, without a permit as the views are fantastic from there as well. You can read our list of best trails in Zion for more recommendations.
Basecamp tours are a wonderful option for seeing much of Zion and nearby Snow Canyon. The company takes care of all the planning, accommodations and meals, and provides appropriate gear, so you can enjoy your trip without any of the stress that comes with planning a National Park vacation. Day hiking tours are also great for those who want to maximize their limited time in park, while gaining knowledge from a local and experienced guide.
backpacking in november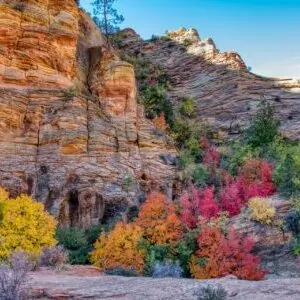 Backpacking in November gives you the opportunity to experience wilderness solitude and marvel at the fantastic autumn colors contrasted against unique and out-of-this-world rock formations that few others get to see. While November typically does not bring snow in Zion, backpackers still need to be aware of the freezing temperatures and possibility for winter weather. Visitors should also be advised that Zion has different and stricter regulations on backpacking compared to other national parks. It's important to know the backpacking regulations that Zion has and to abide by them for the health of the environment and for your safety. Everyone planning on staying overnight in the backcountry needs a backpacking permit, and most areas of the park have designated sites even for backpackers. This includes along the Narrows, which are an option to backpack, where there are 12 designated sites along the river. Kolob Arch via La Verkin Creek Trail is another great option to escape some of the crowds. Talk to a ranger or to others who have backpacked on their own for more trail recommendations for the park. Zion has a strict pack-it-in, pack-it-out rule that includes all trash as well as human waste. Many people enjoy backpacking in November because of the lessened crowds and the cooler temperatures, but you will need a four season tent and a low rated sleeping bag to be able to comfortably sleep in the back country this time of year. Hypothermia, flash floods, winter weather, freezing temperatures, lack of drinkable water, and wildlife can all pose threats to those in the back country.
Hypothermia is probably your number one serious threat in the back country in November. Especially if you are backpacking the Narrows, you will need to make sure that you have adequate time to dry off and that you have warm and dry clothes to change into. No campfires are allowed in the back country, so you cannot rely on fire to warm you up. Because hypothermia often causes confusion and recklessness, it's important to hike with a group and that everyone knows the symptoms of this condition. In addition, there has been a recent cyanobacteria bloom at time of writing in the Virgin River and many of Zion's other waterways. Anyone recreating in the rivers or streams should not put their head underwater, and if you need to filter drinking water while in the back country, only do it directly from the spring not to from a river or stream. No known commercial water filtration system effectively removes this toxin which can be contracted through ingesting the water or through an opening in the skin, such as eyes, ears, or nose. Infection with cyanotoxin can lead to serious illness or death and needs to be treated seriously. Check the national park website for current updates on cyanobacteria toxin.
Weather in November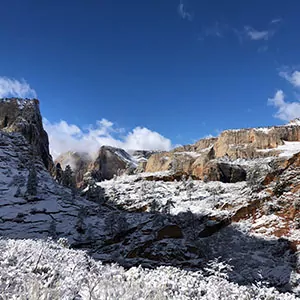 Zion is a large park and while most of it a desert environment, it is at elevation and can receive mountain like winter weather. It hasn't yet become a winter in Zion in November and cool fall temperatures with brisk mornings and cold nights are still the norm. The average temperature for Zion Canyon in November is a high of 63, and a low of 37 degrees Fahrenheit (17/3 degrees Celsius). In Kolob Canyons, the average temperature is a high of 58, and a low of 33 degrees Fahrenheit (14/0 degrees Celsius). On average, it rains 5 days during the month of November. Zion usually receives about 0.3 days of snow in November, which means that it doesn't usually snow in November. Visitors should be advised, however, that these numbers are only averages and that the park can be much warmer or much colder than this. Check the weather for Zion National Park before heading out for the day.
Zion doesn't receive very much rain in November, but the rain it does get can cause problems for visitors. Not only will a rainy day get in the way of your outdoor activities, but rain during the warmer part of the day may freeze overnight when the temperature drops significantly. This can cause icy conditions on the roads and trails which is more dangerous and less fun than snow. It's unlikely that any trails will be closed due to winter conditions in November, but if they are, heed the warning signs and never attempt a trail closed for winter weather. Even if there doesn't appear to be any ice or snow on the ground, it's possible that conditions make get worse at higher elevations or that the trail is closed for the risk of falling ice, which is just as– if not more– dangerous than ice on the ground. It's always best to be prepared for the worst whether you might encounter, so make sure to bring jackets and warm layers if you're visiting in November. Hypothermia can occur even when the temperature is above 45°F, so put on your warm layers before you start shivering and your rain gear before you get wet. Becoming chilled is the first step in contracting hypothermia, so make sure you avoid this all together. Any visitors hiking in slot canyons or other flash flood prone areas of the park should be aware of the dangers of flash floods. Although they are not common in November as it is not monsoon season, these floods can happen as a result of rain storms miles away and can be very violent. Water can travel down slot canyons in walls of 12 feet or higher and often brings with it boulders, tree trunks, and other large debris. You cannot outrun or out swim a flash flood, so heed all warning signs and seek higher ground immediately if you see signs of a coming flood such as changes in water color or clarity, the sound of roaring water upstream, rapid rise in water levels, or an increased amount of debris. Overall, weather in November in Zion is rather nice despite being on the chilly side. So bundle up a little bit and be prepared for an adventure.
Wildlife in november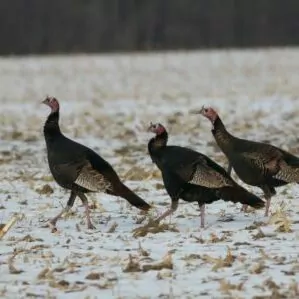 Zion is an exceptional place to see wildlife and November is a great time to see them. Despite the weather getting colder, many of the animals are still out and about, often congregating in the canyons and valleys for the warmer weather and more abundant food. Depending on the weather that year, some of the reptiles and smaller mammals such as deer mice, rattlesnakes, and short horned lizards, may not yet be in hibernation for the winter. In additional, some of the parks bigger animals will be much easier to see in November than in other in months due to the lack of crowds and the cooler temperatures at higher elevations. Bighorn sheep are often seen along the cliffs of Zion's east wall. The park has a large and stable herd of these amazing animals that climb up sheer cliffs as if it is nothing. Mule deer are also common in the valleys, and can be seen grazing on the last vegetation of summer. November is nearing your last chance to see bucks with large antlers that will soon be shed in the winter. Zion national park also boosts an array of more elusive animals that are less often seen by visitors. The ringtail, an exclusively nocturnal relative of the raccoon, is sometimes described as "the cutest animal you've never seen" because it will do almost anything to avoid detection. However, you might get a glimpse of one at night around the campground scavenging for scraps. Coyotes and gray foxes are also sometimes seen at night, perhaps running across the road or catching the beam of a headlamp. On the other hand, their feline predator counterparts are very seldom seen: bobcats and mountain lions. These two predators are rarely seen by visitors as they prefer to stay away from people and hunt in the more remote areas of the park. Birds are also abundant in Zion with species ranging from the American dipper to a huge number of wild turkeys. If you're in one of the cool slot canyons, keep your eye out for the nesting site of a monogamous pair of Mexican spotted owls that nest in these naturally air-conditioned canyons. These threatened owls are beautiful to see and are often roosting during the sunlight hours up in the trees before swooping down on their prey, usually rodents, around dusk. Another famous avian resident of the part is the California condor, the largest bird native to North America. With a wingspan that can reach up to 9 1/2 feet, these birds are truly majestic to see and are often sighted riding warm thermal air rising from the canyon. As they are still an endangered species, the condors are closely monitored in the park and most have wing tags with numbers to identify individuals. Pull out your binoculars and see if you can identify the numbers on any condors you see and ask a ranger about the individual if you're interested. You can also ask a ranger about what has recently been caught on remote camera traps if you're interested in seeing some of the more elusive wildlife.
Recommended wildland trips in november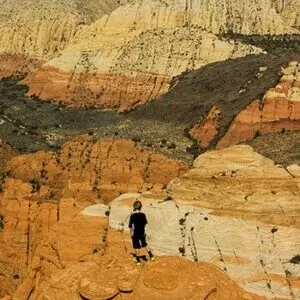 Planning a trip to Zion in November can be a hassle as you try to keep up with the current conditions, where to stay, and what the weather will be when you are there. While it can be a rewarding experience to plan out every last detail of your trip, that's just not feasible for some of us who don't have time to devote to planning out a detailed vacation. If getting into the nitty-gritty of planning doesn't sound like fun to you or if you just rather relax on a trip where all of the logistics are taken care of, you can book a trip with Wildland Trekking and let our expert guides do all the planning, meal prep, driving, and itinerary planning for you. Whether you want to camp with us, stay at a lodge on an inn based tour, or just spend a single day with one of our expert guides showing you around, we have something for you. Feel free to check out all the trips we offer in Zion, but here are a few we especially recommend for November.
Best of Utah Inn Based: Looking to see some of the most famous parks in Utah all in one trip? This guided, inn based, hiking tour will take you to Zion, Bryce Canyon, and Grand Staircase Escalante in one fantastic trip. Enjoy guided hikes during the day before returning to premier lodges and delicious food in the evening to relax and get cleaned up. All inclusive with your meals, local transportation, lodging, and an expert guide included, this tour is great for anyone wanting to see it all on their trip.
Snow Canyon Private Day Hike: While it isn't technically in Zion National Park, Snow Canyon is definitely worth a visit as it is in the heart of Utah's red rock country. Enjoy a guided tour of this fantastic area through deep canyons, towering cliffs, and spectacular ancient lava flows. Included in this trip is pick up from your hotel in St. George (or a meeting place is the trail head if that's better for you), tasty Trail snacks, a picnic lunch on the trail, hiking poles and backpack, and a expert naturalist, hiking guide.
Zion in a Day Private Tour: Because of the density of national parks in this area, many people only leave a single day to visit Zion on their trip itinerary. With this tour, you'll be able to maximize that single day to see as much as you can of this amazing park. Expect 3 to 4 short day hikes interspersed by wildlife viewing, wonderful cultural history, and tasty trail snacks along with a picnic lunch. Experience the best of Zion and get a good sense of what trails you want to come back to you and hike on for longer periods of time.
Join a Guided Hiking Adventure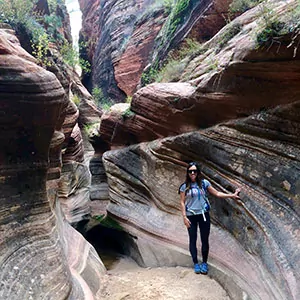 Zion National Park is home to some of the most epic and amazing hiking vacations in the world. Wildland Trekking offers trips with the best of Zion: canyons, views, wildlife, solitude, adventure and fascinating natural and cultural interpretation.
Guided Zion treks are all-inclusive which covers permits; local transportation (excluded on certain tours); meals; equipment; safety systems and professional hiking/wilderness guides; all of which allows visitors to maximize their time in Zion and focus entirely on enjoying the Park.