Visiting Zion in February
Learn all about what to expect visiting Zion National Park in February
Updated: 10/10/22
Visiting Zion National Park in February gives you the opportunity to breathe in the fresh and crisp winter air, see incredible landscapes dusted with snow, and have space to fully enjoy it. The breathtaking scenery of Zion is even more remarkable as it's walls are blanketed in a fresh layer of snow. There are many benefits to visiting Zion in February, as well as some drawbacks. If you are able to make it to Zion in February, you are sure to have a fantastic trip, and leave with an appreciation for the beauty and solitude of winter in the park. Benefits of Visiting Zion in February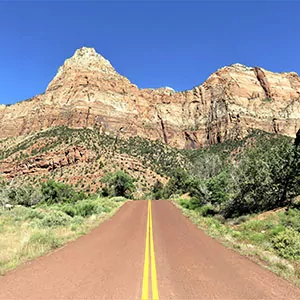 The biggest benefit of visiting Zion in February is the lack of crowds. With so many fewer people in the park, you are able to experience the magnitude of the walls without thousands of other people around. This means no long lines for shuttles, no crowded overlooks or trails swimming with people, and no accommodations that are booked up for months in advance. The availability of accommodations is truly a benefit in February, as any who have tried to stay in the park in summer will know. If you are planning a trip in peak season, finding any accommodations that are available within six months of when you want to go would be difficult, and if you did, you would have to shell out peak season prices for them. But in February this is not the case. Not only are accommodations more readily available, but they are also far less expensive than they are in the summer when the lodges and campgrounds are charging higher rates due to the sheer volume of visitors. Staying in Zion, Bryce Canyon, or any of the surrounding areas will be much more pleasant and less busy in winter than it is in the other months. Winter is a season of peace and quiet in Zion.
Another benefit of visiting in February is that you can drive through the canyon with your own car. During spring, summer, and fall the only way to access the interior of the canyon is by the national park shuttle bus. Private vehicles are not allowed past Canyon Junction unless you are staying at the lodge. But if you come in February (in fact, if you come November through March), you will be able to drive your personal vehicle throughout the entire Canyon. This gives you so much more freedom than the shuttle buses that are crowded and have tight schedules. Being able to drive through the canyon yourself means you can stay as late as you want, come as early as you want, and have as much time as you want at any overlook, trail, or sightseeing opportunity. You'll have the chance to pull off the road if you see wild life you want a picture of and to be able to have all of your belongings with you all the time. Although the shuttle buses are very important for mitigating traffic, it is lovely to be able to drive through the park in your own car, on your own time. Lastly, the scenery is absolutely breathtaking in February. The walls and formations at higher elevations are often dusted with snow; and although it could melt as the day progresses, there is nothing like sunrise photography in Zion during the winter months. You also have a chance to see wildlife in the valley of Zion Canyon; the contrast of animals against the crisp, white snow is a magical sight. Mule deer and bighorn sheep often congregate in the lower elevations to avoid the colder temperatures at the higher elevations. Herds of these animals can often be seen as you're driving through the park, crossing the road, or up on the mountain sides. While many of the smaller mammals, reptiles, and any resident bears will be hibernating, there is still tons of wildlife that can be seen here and winter.
Drawbacks of Visiting in February
One of the drawbacks of visiting Zion National Park in February is that while the roads are plowed after a winter storm, trails may be closed due to snow or ice. This often happens in Kolob canyons and on famous hikes such as Angels Landing. If there is no snow, this last hike is possible in the winter. But if there is snow, it can be very dangerous as there are no railings for a large portion of the hike with steep cliffs on either side. Many trails at higher elevation will also be closed due to ice and snow. Never start a hike on a trail that is closed even if there doesn't appear to be ice and snow on the ground. The trail may go up in elevation or may be closed for the risk of falling ice, which is far more dangerous than ice on the ground. Watch out for shady spots on trails where the lack of sunlight will leave patches of ice. Check out the trail conditions when planning what to do for the day and talk to a ranger at the visitor center if you get the chance. Traction devices like crampons or microspikes may be recommended for trails at higher elevations, as well as trails with shaded sections where snow and ice are less likely to melt. A related drawback to Zion in February is that the park can be very cold, reaching well below freezing at night. This could mean that rain during the day will freeze overnight and cause icy conditions on the roads. However, temperatures in the 50s during the day mean that you are less likely to get those wonderful snowy pictures that everyone loves about winter, although it will probably be more pleasant for hiking.
Perhaps obviously, if the main item on your bucket list for Zion is to hike and swim in the rivers, then February is not the month to visit. The water in the virgin river can get down to 38° F in the winter (nearly freezing!), and you will need a neoprene wetsuit or a dry suit with warm layers to be able to hike the Narrows. This hike is no joke and needs to be taken seriously as dangers of falling in and hypothermia are high. Many describe this hike as walking on wet, slippery bowling balls on the bed of the river as it is very easy to slip on these large rocks covered in moss. Immersion in cold water, even only up to your knees, is the quickest way to contract hypothermia, which is life-threatening if you do not warm up. Those camping should also be aware of the dangers of hypothermia and make sure they have winter gear to keep warm at night. Visitors in winter also need to know about the dangers posed by flash floods in slot canyons and elsewhere in the park. These floods can occur due to rain that is miles away and happen while sunny skies are overhead. You cannot outrun or outswim a flash flood that often brings with it tree trunks, boulders, and other large debris. Never hike on a trail that has a flash flood warning and seek higher ground immediately if you see flash flood warning signs such as change in water temperature, current, or color, a storm even miles away, the sound of roaring water, or rising water levels.
Things To Do In February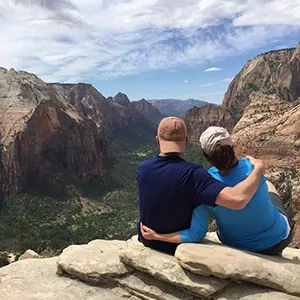 February is a great time to explore Zion without the crowds. The glistening snow in the canyon and on top of the towering cliffs makes the park very photography-friendly. Make sure to catch sunrise or sunset from Canyon Overlook Trail or Watchman Overlook Trail. Winter in Zion is wonderful for sightseeing, especially since you are able to drive through the canyon in your own car. Take your time at each overlook and drive slowly to watch for animals crossing the road or up on the cliffs. Getting the chance to drive through Zion in your personal car is truly exceptional and one that many visitors do not get a chance to do. Take advantage of your flexibility and spend your time generously. There are lots of lookouts along the canyon where you can pull out and take pictures. Sightseeing is one of the most popular things to do in February, especially if trails are closed or the weather makes it uncomfortable to be outside your car. If snow is in the forecast for overnight, get up before sunrise to get those beautiful pictures of brilliant white snow contrasted with the red rock. The snow probably won't hang around much later than the morning, so make sure to get your pictures when you can.
Another great activity in February is hiking. Most trails are open throughout the winter, and give you the space to enjoy the scenery without the crowds that you'll experience other times of the year. You can read our list of Zion's best trails for recommendations. The Riverwalk, a mostly flat and relatively short trail, is a great option for those wanting to hike along the Virgin River but not wanting to brave the cold water of the Narrows. This trail leads you beside the river up to the very beginning of the Narrows hike. Immerse yourself in this desert oasis environment and pay attention to what's above you as the canyon walls get narrower and narrower the farther you hike. The Watchman Overlook Trail is another great option that poses a bit more of a challenge, but is still short. The view from the overlook will make it well worth the hike. Snowshoeing is also a great option for hiking on trails at higher elevation; there are many companies in Springdale that rent snowshoes. Lastly, wildlife viewing is a fantastic activity to do in Zion during the winter months. You may have a chance to see large mammals such as bighorn sheep or deer concentrated in the valley of the canyon. The contrast of the animals against a snowy background is great for viewing and photography. Also keep your eye out for predators that might have also gathered in the valleys to hunt the bigger game or to take advantage of the lack of snow for ease of finding food. Mountain lions do inhabit the park, but it's unusual for guests to see them as they are very elusive and shy. Both bobcats and coyotes are often seen in the canyon and you might also see other animals seeking shelter from the colder weather at higher elevations such as ringtails, porcupines, or wild turkeys. If the weather takes a turn for the worse and you need some indoor activities to warm up, the visitor center has great interpretive exhibits and a 22 min park film that is informative and entertaining. The Zion Human History Museum is also a great option and has exhibits on Native American history, the effect that water has on the park, and much more.
Things to see in February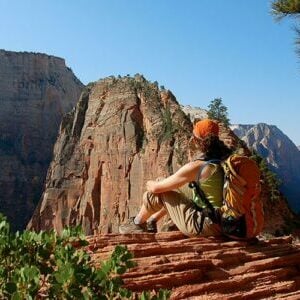 Zion is a great park for sightseeing and this is one of the most popular activities in winter as you are likely to encounter closed trails due to ice/snow and possibly adverse weather that might have you wanting to stay in your car. Being able to drive your personal car through the park also makes sightseeing much more enjoyable as you have the flexibility to spend as much time as you like at the overlooks and trailheads without needing to keep up with the bus schedule. There are tons to things to see in Zion in February, but we've compiled a short list of some of the must see sites. Make sure, however, to do your own research to see what piques your interest in the park, as this list is by no means exhaustive.
Kolob Canyons: While you won't need to come to the northern section of the park to escape the crowds in February, Kolob Canyons is still a must see in February. Check online or at a visitor center to see if the roads are open and if they are, make sure to drive into these wonderful canyons. Their stunning red rock formations and wonderful geology makes this area a perfect day trip out to the northern part of the park.
Emerald Pools: Lying along a short hike (the first section of which is paved and wheelchair accessible), these three sets of pools are spectacular and a must see in February. If there is snow, these pools will be even more beautiful encircled by the brilliant white. Trails to the upper pools provide sweeping views of the canyon, but please note, swimming and bathing are not allowed in the pools as the national park service has spent many years and much money to restore them.
The Narrows: While hiking the Narrows is only for the experienced any time of year, it is especially dangerous in February when the the water is near freezing and you will need either a wetsuit or a dry suit to safely be in the water. However, you should at least hike the Riverwalk trail to see the trailhead of this amazing hike. Even the beginning of the Narrows is absolutely stunning with cliffs soaring up to the sky and the Virgin River beautifully carving them away. The easy Riverwalk Trail will bring you to this fantastic view that is simply a must see in Zion.
Wildlife: Zion is a fantastic place to see wildlife, and winter is no exception. You won't regret taking some time to search out or wait to see wildlife while you're in the park. Many of the large animals congregate in the valleys and canyons to avoid the colder weather and snow at higher elevations. Keep your eye out for mule deer, bighorn sheep, wild turkeys, coyotes, bobcats, and much more while you're in the park.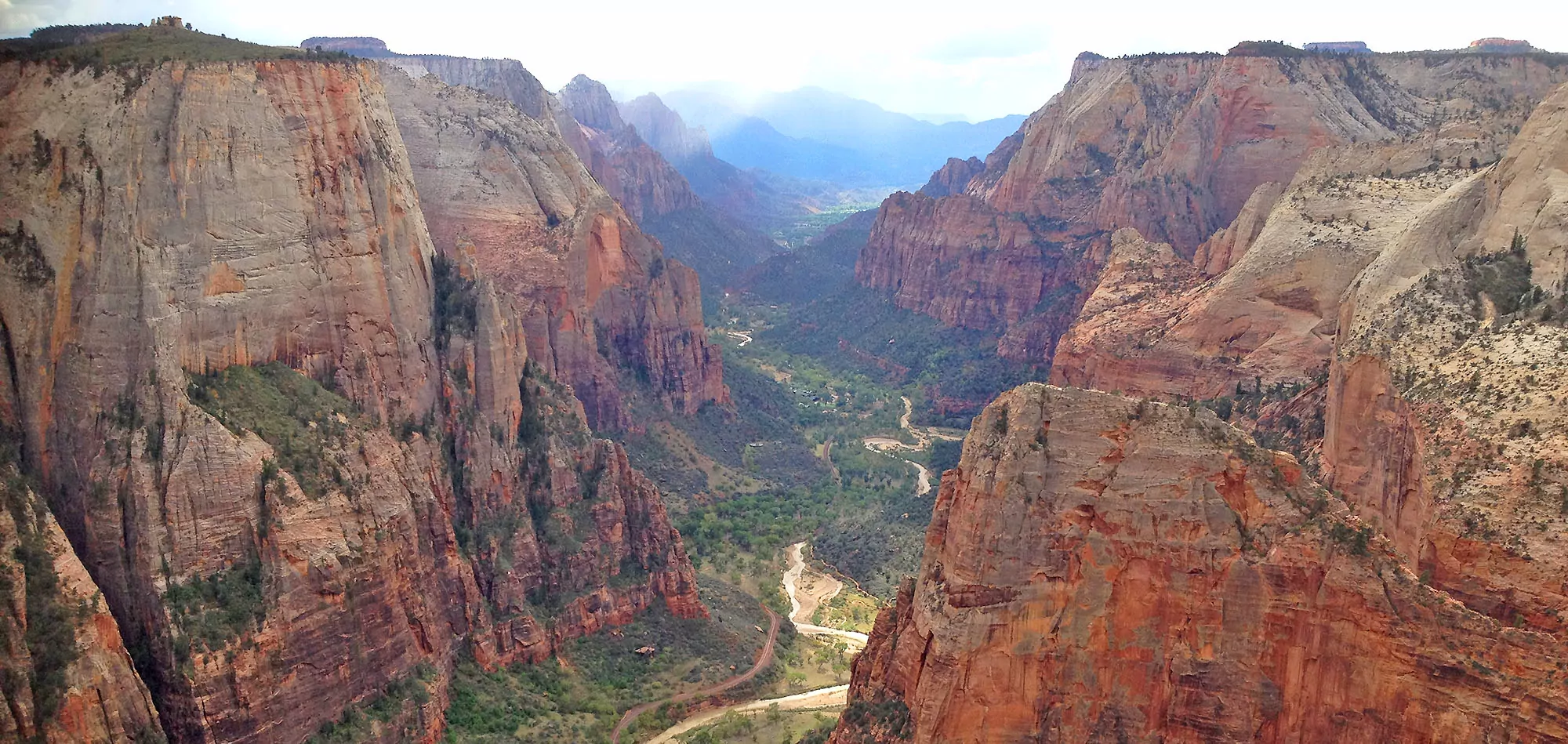 Hiking in February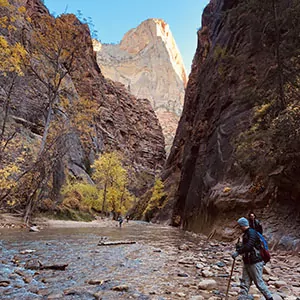 Hiking is a great activity in February because the crowds have thinned so immensely and you have a better chance of having the trail to yourself. However, while roads are plowed during the winter months, some hiking trails may be closed due to snow or ice. Make sure you read the current conditions for up-to-date information. Do not attempt to hike any trail that is closed even if there does not appear to be ice or snow on the ground. Some trails are closed due to the danger of falling ice, which can be a much greater risk than ice on the ground. Microspikes or crampons are recommended for Zion in February, although you might not need them on some of the lower elevation trails. There is a multitude of hikes in Zion ranging from very easy to very strenuous, so there is definitely something that will fit your tastes. As we've said before, the Riverwalk Trail along the Virgin River is a great option for those looking to experience a famous part of the park without the incredibly strenuous Narrows hike. While it is possible to hike the Narrows this time of year, it should only be done by those who are very experienced and who have the proper gear to stay warm, such as a neoprene wetsuit or a dry suit with insulating layers. Getting wet is the quickest way to contract hypothermia, and the water in the Virgin River can be absolutely frigid in February. Based on the rain and snow fall, there may be portions of this hike that you have to swim as the river is your trail. If you are not sure if you have the expertise or equipment to do this hike in the winter, you probably don't. Best to come back in the warmer months when the water feels more refreshing and the hike doesn't require so much gear.
Emerald Pools and the Canyon Overlook Trail are other great options for easier hikes, with the latter being a little bit steeper than the former. Perhaps the most famous hike in the park is Angels Landing via scout Lookout Trail. This hike is long and strenuous, with extreme heights exposure on the final leg up to Angel's Landing. While this hike is often open in the winter, it can be very dangerous if there is ice and snow. What would be a steep staircase becomes a wall of ice slanting towards the edge of a precipice. Visitors that want to attempt this hike should consider whether or not they want to finish it once they get to Scout Lookout. The worst part of the trail, the spine, so named for its cliffs on each side of a narrow rock ledge, cannot be seen from this point, but visitors can see the snow conditions on the earlier portion of the hike. If snow and ice are present, it is not recommended to do this hike as many people have fallen to their deaths while attempting it. Visitors are advised to use extreme caution and to always check with the ranger to see what the conditions will be. As an alternative, the Scout Lookout hike is accessible nearly all year round, and offers similar views to the top of Angels Landing.
Early mornings will be chilly in Zion, so make sure you start off with many layers, including hats and gloves. Even though it's cold outside, be sure to drink plenty of water throughout the day; it is recommended to take at least three liters with you. Remember that the sun sets early during the winter, so make sure you set out with enough time to finish you hike before the sun goes down. A great option for hiking in February is an inn-based tour, where you will experience the best of Zion, Grand-Staircase Escalante, and/or Bryce Canyon on day hikes with a local and knowledgeable guide, before heading back to an exceptional lodge. These trips take care of all the planning, accommodations and meals, so you can enjoy your trip without any of the stress that comes with planning a National Park vacation.
backpacking in February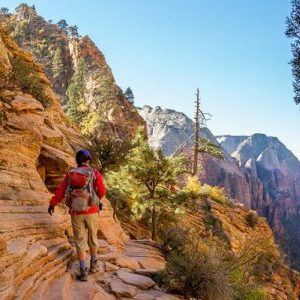 Zion National Park is a world class backpacking destination and there are many trails and routes to choose from. However, Zion has different regulations for human impact in the back country than other national parks, so you will want to make sure you know all the rules before setting out on your trip. Most areas in the park that you can backpack to have designated sites that you must abide by. A backpacking trip through the Narrows is possible and there are 12 designated sites along the canyon. Kolob Arch via La Verkin Creek Trail is another great option if Kolob Canyons is accessible. Talk to a ranger or to others who have backpacked on their own for more Trail recommendations for the park. Zion has a pack-it-in, pack-it-out rule that includes all trash as well as human waste. Backpacking in February adds additional complications to your trip as you are likely to need microspikes or crampons as well as four season tents and sleeping bags. Backpacking in Zion is no joke as dangers from hypothermia, lack of drinkable water, flash floods, winter weather, wildlife, and freezing temperatures can all pose significant threats to those in the back country.
All backpackers need to be aware of the dangers that they might encounter in the back country. Backpacking only amplifies dangers that you might encounter while hiking, so make sure to read the section above if you're interested in this activity. Hypothermia is your biggest threat in February, and this condition can be life-threatening if you're not warmed up. As this condition causes confusion and recklessness, it's often difficult to recognize in yourself, so make sure your entire party knows the symptoms to look for, i.e. the "umbles" (stumbling, grumbling, fumbling, mumbling). The quickest way to contract hypothermia is being immersed in cold water, so if you're hiking the Narrows make sure you understand how to stay warm and what gear you need. Campfires are not allowed anywhere in the backcountry, so you cannot rely on fire to warm yourself up. Carry a dry bag with the extra warm clothes in case you are submerged in the water and need to get out of the wet clothes once you get to camp. All hikers, but especially backpackers, need to be aware of the dangers of cyanobacteria that may be present in the parks water sources. At time of writing, there has been a recent bloom in toxic cyanobacteria in the Virgin River and its tributaries. Exposure to this toxin through ingesting the water or through an opening in the skin can lead to severe illness and death. Cyanobacteria toxins can be contracted even through simple recreating in the water of the park's rivers and streams. No known recreational filtration system is known to effectively remove the toxin, so if you're collecting drinking water in the backcountry, only do so directly from springs. You can read more about backpacking regulation and safety in the Zion on the park's website.
Weather in February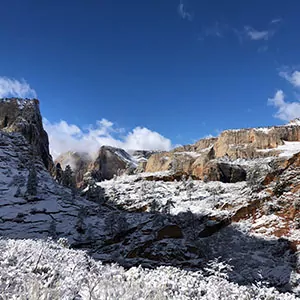 Zion is a large park with varying weather patterns due to its geography and the geography of the surrounding area. As one of the steps in the Colorado plateau drainage system, weather outside the park can greatly affect the conditions in the park. Weather in Zion during the month of February is typically cold and wet. Almost half of the yearly precipitation in Zion Canyon occurs between December and March. The average temperature for Zion Canyon is a high of 57, and a low of 31 degrees Fahrenheit (14/0 degrees Celsius). In Kolob Canyons, the average temperature is a high of 51, and a low of 27 degrees Fahrenheit (10/-2 degrees Celsius). On average, it rains or snows 7 days in February. Visitors should notice that it rains or snows about seven days in February. This means that if you're there for a week, you most likely will have either rain or snow. This can make packing tricky as you have to bring both your winter clothes and your early spring rain gear. Visitors should also be aware that if it rains during the warmer part of the day, the water is likely to freeze overnight creating icy conditions the next morning. On the other hand, if it snows overnight but turns into rain the next morning, all the snow will be melted before you get a chance to get out and see it. On the trails, snow that is repeatedly compacted by visitors hiking over it often melts and then freezes overnight, turning to ice. Never hike any trails that are closed for ice and snow, even if it doesn't appear like they have ice at the trail head. Trails are often closed for the danger of falling ice and black ice, which is not uncommon in the shade.
Visitors should be prepared for the worst weather they might encounter, and in February this is winter weather. While a snowstorm or blizzard that snows you in is unlikely, visitors will need to be prepared for freezing temperatures along with snow and ice. Again, hypothermia is your biggest threat due to the weather, even for those day hiking who are staying at an inn or lodge. Put on your warm layers before you start shivering and your rain gear before you get wet to prevent this condition. The temperature drops sharply after dark, so make sure your activities will be ended before the early onset of winter nights. Know when the sun sets and make sure you can get back to your car or camp/hotel before then. Hikers also need to be aware of the dangers of flash floods which can be caused by rain storms miles away. Water can roll down slot canyons in walls of 12 feet or higher bringing with them boulders, tree trunks, and other debris. Watch for warning signs of changing water color, roaring water upstream, or change of how swift the current is. Seek higher ground immediately; even a few feet can save your life. You cannot out run or out swim a flash flood, so heed all warnings and advisories about them. Zion National Park is simply stunning in winter, but visitors do need to be aware of the dangers that the weather can pose. Knowing the risks is the first step in avoiding an accident, and many visitors who are willing to put in the work have a safe and enjoyable trips to Zion in the winter.
Wildlife in February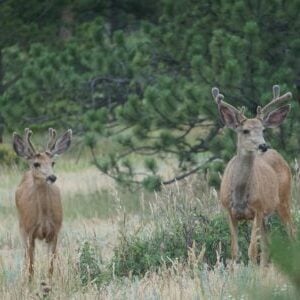 Zion is a fantastic national park for wildlife viewing and you will not be disappointed if you spend some time searching out the local wildlife in the winter. Many of the park's larger ungulates, such as mule deer and bighorn sheep, gather in the valleys and canyons at lower elevation for the abundance of food and warmer temperatures. These animals can often be seen near the visitor center and lodge or crossing the roads throughout the park. Larger predators also come to the valleys for the abundance of food and warmer temperatures. Mountain lions do inhabit the park, but are rarely seen by people as they are elusive and shy. Bobcats and coyotes, however, are often seen by visitors. There have only been a few black bear sightings in the park and it is unknown if any of the bears reside there year-round. But if the park does have bears, they will be in hibernation in February and visitors are unlikely to see them. If you see a bear, make sure to let a ranger know as all bear sightings are recorded due to their rarity in this area. Many other kinds of wildlife are also present in the park. Those from the western United States will find the wild turkeys in Zion intriguing, although those from the south and east will be more accustomed to seeing these birds. If you're out and about at night, you might catch a glimpse of the elusive ringtail, a relative of the raccoon. This is strictly nocturnal animal is often called, "the cutest animal you've never seen" due to its strictly nocturnal habits and elusive behavior. Both red and gray foxes can be seen in the park, often at night scurrying across the road or caught in the beam of a camper's flashlight. Zion also has a small population of California condors, the largest bird native to North America. With a wingspan that can reach up to 9 1/2 feet, this bird is truly majestic to see and is on the conservation comeback trail. Brought back from the brink of extinction through captive breeding programs, the condors are still very closely monitored. While they are often confused with vultures, the condors are much larger, have white splotches on the underside of their wings, and have a smooth flight path in contrast to vultures that appear to "wobble" when they fly. Break out your binoculars and see if you can catch a glimpse of one of these rare birds, and ask a ranger if you're interested in seeing a specific animal to find out when the best time of day and where the best place is to see it.
Recommended Wildland trips in february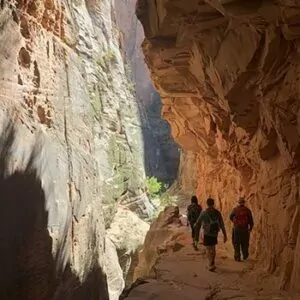 Planning a trip to Zion in February on your own can it be a rewarding experience, but it can also be a headache as you try to keep up with the weather, current conditions, where to stay, and what trails/roads are closed. Making your own itinerary, packing list, and planning your own meals can be a hassle when you're planning a trip to a place as remote as Zion. But you can bypass all that headache by booking a trip with Wildland Trekking. All our trips are all inclusive and our expert guides will take care of all the details, meal prep, and safety information so that you can relax and enjoy your trip. Whether you want to camp with us, stay at a lodge on an inn based tour, or just spend a single day with one of our expert guides showing you around, we have something for you. Feel free to check out all the trips we offer in Zion, but here are a few we especially recommend for February.
Best of Utah Inn Based: If you're looking to experience some of the most celebrated national parks in Utah in luxury, then this is the trip for you. Visit Zion, Bryce Canyon, and Grand Staircase-Escalante on this 6 day inn based tour. You'll get to experience the best and most pristine parts of the these parks on hand-picked trails before retiring to your premier accommodations each evening. This tour has the best of Native American and cultural history, exquisite cuisine, and an outdoor experience you won't ever forget.
Zion in a Day Private Tour: Because of the density of national parks in this area of the country, many who come to Zion only have one day to spend in the park. But with this trip, a single day allows you to see much of the park and allows you to get a taste of what areas you want to come back to you. You can expect 3 to 4 hikes throughout the day, depending on what your group desires, interspersed with trail snacks, a delicious lunch, and history about the indigenous peoples, first settlers, and pioneers.
Snow Canyon Private Day Hike: While Snow Canyon isn't technically in Zion National Park, it is just as spectacular and worth a visit. Book this private day long tour that provides you with an expert guide to show you around, yummy trail snacks, a picnic lunch, and use of top of the line hiking poles and backpacks throughout the day. Explore this dramatic lava flow Canyon and see towering cliffs, deep gorges, and learn amazing cultural history on this all inclusive single day tour.
Join a Guided Hiking Adventure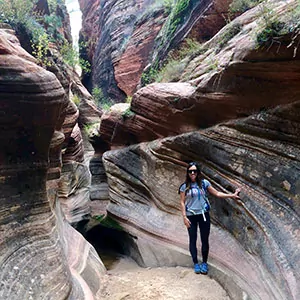 Zion National Park is home to some of the most epic and amazing hiking vacations in the world. Wildland Trekking offers trips with the best of Zion: canyons, views, wildlife, solitude, adventure and fascinating natural and cultural interpretation.
Guided Zion treks are all-inclusive which covers permits; local transportation (excluded on certain tours); meals; equipment; safety systems and professional hiking/wilderness guides; all of which allows visitors to maximize their time in Zion and focus entirely on enjoying the Park.
The Mt. Rainier Inn trip with Wildland was perfect. The Inn was comfortable; the guide was an expert in his field; the pacing was just right to accommodate all those on the trip; the scenery was ideal. If you can go please do.