Visiting Zion in August
Learn all about what to expect visiting Zion National Park in August
Updated: 10/27/22
August is an excellent time of year to visit Zion National Park. The valley of Zion Canyon is booming with life, and the calm Virgin River is an oasis in the hot desert. There are many benefits to visiting Zion in August, as well as some drawbacks. Below we have categorized the most common "when-to-go" questions to help you determine if August is the best month for you to visit Zion National Park. Benefits of Visiting Zion in AUgust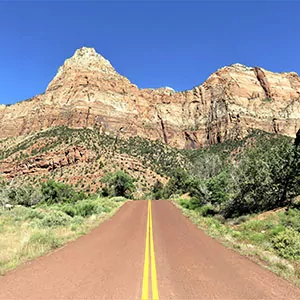 The biggest benefit of visiting Zion in August is the wide array of activities you can enjoy. Anything from hiking and backpacking to rock climbing and canyoneering to bicycling and off-roading is available for visitors. The weather is very hot in August, but it provides beautiful clear blue skies with amazing chances for sunrise and sunset photography to accompany it. The scenery in August is some of the best that you will encounter all year. The flora is blooming as plants take advantage of the annual monsoon season bringing warm moisture, and the animals are all out and about to be seen. Many of the park's larger animals, such as mule deer and bighorn sheep, can be seen on the cliffs or in the meadows, perhaps already beginning their annual rut, the mating season when males fight for the right to mate. All of the park's reptiles and small mammals will still be out of hibernation for the summer, and it can be a treat to see them scurrying across the road.
August also brings Utah's annual monsoon season, which causes frequent afternoon thundershowers. While these storms can be dangerous as well as mess up your schedule, they can be beautiful and fantastic opportunities for photography as long as you're far enough away. Seeing black thunderheads descending over the canyon, pouring down sheets of rain, and flashing out lightning is genuinely spectacular. It is recommended, however, to stay inside during these storms due to the danger of lightning strikes and flash floods, so maybe shoot from through the window.
Another benefit of August is your access to hiking trails. Everything is open in August so you can have your pick of the trails. Angels Landing is a popular option that will open as the ice and snow have melted. The trail takes you to the peak of one of the largest rock formations in the park for spectacular views. But because of this hike's popularity, you will have to get permits to trek the last quarter mile from Scout Lookout to Angels Landing. Make sure you plan ahead and do your research or book a trip with a guiding company to do this day hike where permits are included.
Another famous hike in the park, the Narrows, will also be open this time of year. This hike is most pleasant in the summer when the daytime temperatures are warmer, and the frigid snowmelt water feels good on your aching feet. You don't need permits to hike this trail, but it is very popular, and you should expect a crowd. However, make sure to read the flash flood advisories, as a slot canyon is prone to dangerous flash flooding.
Drawbacks of Visiting in August
The biggest drawback of visiting Zion in August is the crowds. Summer is the busiest season in Zion National Park, and this means long lines for the shuttle buses, limited parking inside the park, and large crowds on trails. This can be annoying and dangerous on certain trails, which is why trails like Angels Landing have permit requirements. Trying to squeeze passed hundreds of other people on narrow trails next to cliffs is not a good idea.
In August, private vehicle access to Zion Canyon is restricted to those who are staying at the lodge. Other than that, you won't be able to drive your private vehicle cat past Canyon Junction but will have to take the shuttle bus. While these buses overall lessen the traffic and make traveling in the park easier, they can be a major turn-off for some people. First, you won't have all your gear, which can be burdensome, especially if you're traveling with little children or older parents. Second, you're limited to the buses' schedules and cannot explore on your own time. Lastly, the buses can be crowded with long lines and standing room only.
Accommodations in and around Zion in summer book up months in advance. Try to book your accommodations at least six months before visiting in the summer. If you do happen to find something available last minute, be prepared to shell out peak season prices for it. Even campsites are seldom found within a few months of your travel date, so whatever your method of travel, plan it early.
Zion is also very hot in August, frequently reaching into the high 90s or triple digits during the day. This forces guests to plan an itinerary to ensure enough water for the day. August is monsoon season, which brings its own challenges with the dangers of lightning strikes and flash floods as well as the inconvenience of it raining many afternoons.
Overall however, August is a great time to visit the park, and your biggest drawback will be that everyone else knows it's a great time to visit the park. To avoid the stress of navigating the busy national park by yourself, we recommend booking a trip with a guiding company. If spring or summer is the only time of year that you can make it to Zion, here are some tips to lessen the impact of the crowds:
1. Get to the park early: the earlier you get to Zion, the more likely you are to get a parking spot, and the more of the park you have to yourself before the crowds arrive.
2. Visit Kolob Canyons: The Zion Canyon is small and crowded—since most visitors spend the majority of their time there. On the other hand, Kolob Canyon is in an isolated area of the park, provides incredible and unique views, and is much less traveled.
3. Go on a picnic: avoid the eateries at busy eating times, and choose to go on a picnic instead. You can stop at the grocery in Springdale before heading into the park. There are wonderful places along the river and in the shadows of the cliffs for a picnic meal.
4. Read our list of less traveled trails: these trails will give you a better chance for incredible views with less crowd.
Things To Do In August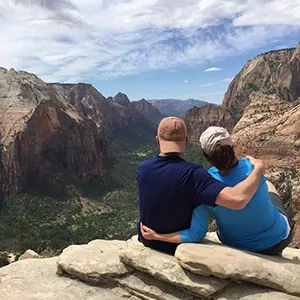 Zion has many activities to participate in, and you don't have to be an avid hiker or backpacker to enjoy them. Hiking, however, is wonderful in August and is one of the best activities you can take part in. With trails ranging from easy to strenuous, there is something for everyone in Zion National Park, allowing you to experience the best of Zion from amazing vantage points. The weather is hot, so pack plenty of water and salty snacks. You can expect the trails to be crowded, so take a look at how well you tolerate crowds and plan on getting to the park early to beat the heat and crowds.
The Riverwalk Trail or Watchmen Overlook Trail are great options for shorter hikes, and the Pa'rus trail is a paved walkway that can be accessed by hikers, bikers, walkers, pets, and wheelchairs. The famous hikes in the park are also fantastic this time of year. The Narrows is a great option as you can experience a slot canyon and cool off in the river's snowmelt water. You won't need permits to be able to hike this trail from the bottom up, but you can expect it to be crowded. Angels Landing is another great option if you can get permits, but if you can't, Scout Lookout offers fantastic views and is a great alternative. Backpacking is also a popular option in Zion this time of year, but check Zion's backpack regulations regarding group size and human impact, as they are different from other national parks.
Bicycling through Zion Canyon is phenomenal in August, allowing you to avoid the crowded shuttle bus while feeling the wind whoosh past you as you cruise down the road without cars. Shuttle buses have bike racks in front if you wish to take your bicycle on them. Canyoneering and rock climbing are also popular activities in August. Of course, these activities should only be done by those who are experienced or with those who are experienced to make sure that it is fun and safe for everyone. Check out our best tours page for more details.
Visiting Kolob canyons is a great option to escape the crowds and enjoy some more of Zion's fantastic scenery. About an hour from Zion Canyon in the northwest corner of the park, Kolob Canyons is much less frequented, and you will be able to drive your private vehicle through these amazing red rock cliffs. There are many other national parks in this country area within driving distance if you have time for a longer trip, such as Bryce Canyon, Grand Staircase Escalante, Arches, and Canyonlands. Even the famous Grand Canyon isn't that far away.
Wildlife viewing is a popular activity in August, as all of the animals are out and willing to be seen. Keep in mind, however, that animals don't typically like a crowd, so try to find a quiet place to sit and wait or observe. If you're looking for birds, make sure to keep your eye out for California condors in the large open spaces or Mexican spotted owls in the slot canyons. If the heat becomes too much in the middle of the day, the visitor center or the Zion Human History Museum are great indoor activities.
Things to see in august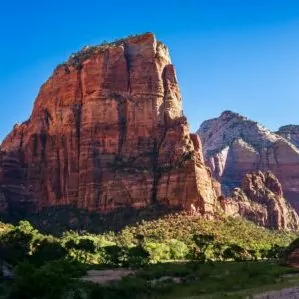 There are nearly as many things to see in August as there are to do. Sightseeing is one of the most popular options in August in Zion because there are so many spectacular sites and because you can do it from inside an air-conditioned bus if it's too hot. Riding the shuttle bus circuit can be a great way to see many sights in the park. There are so many fantastic things to see, however, that you're not likely to be able to see all of them. To help narrow things down, we've created a list of some of the must-see sights in Zion; make sure to do your own research, though, as the list is by no means exhaustive.
Kolob Canyons: Without a doubt, Kolob Canyons is the best place to escape some of the crowds in Zion in the summer. Located in the northwest corner of the park, about an hour's drive from Zion Canyon, Kolob Canyons provides stunning red rock cliffs, beautiful slot canyons, and ancient lava flows and volcanos to see. As an added bonus, you can drive your private vehicle through this part of the park even in summer and will be able to escape some of the heavy traffic of Zion Canyon.
The Canyon Overlook: This overlook is one of the best in the park and only requires a short hike. Trek a little ways up the side of the canyon from the parking lot on Highway 9, rest in the shade of the hidden cave if you like, and then journey up to the overlook, where you will have a fantastic vista of the entire canyon, brilliant red rocks, and the gorgeous tree line. You can expect this trek to be a little on the crowded side, but it is well worth it.
Angels Landing: Even if you don't want to hike Angels Landing or do but can't get permits, you should at least see this spectacular and massive rock formation. The big bend shuttle stop offers fantastic views from below, but if you like hiking, the west rim trail offers fantastic views.
Zion Human History Museum: If the crowds become too irritating or the heat during the middle of the day is too much to bear, you can take a trip to the Zion Human History Museum. Full of exhibits and wonderful information, the museum takes a closer look at two of the factors that have the largest impact on this landscape: people and water. Water is both a creator and destroyer in this land, as are humans, from the Native Americans to early settlers and pioneers, to the visitors at the park today.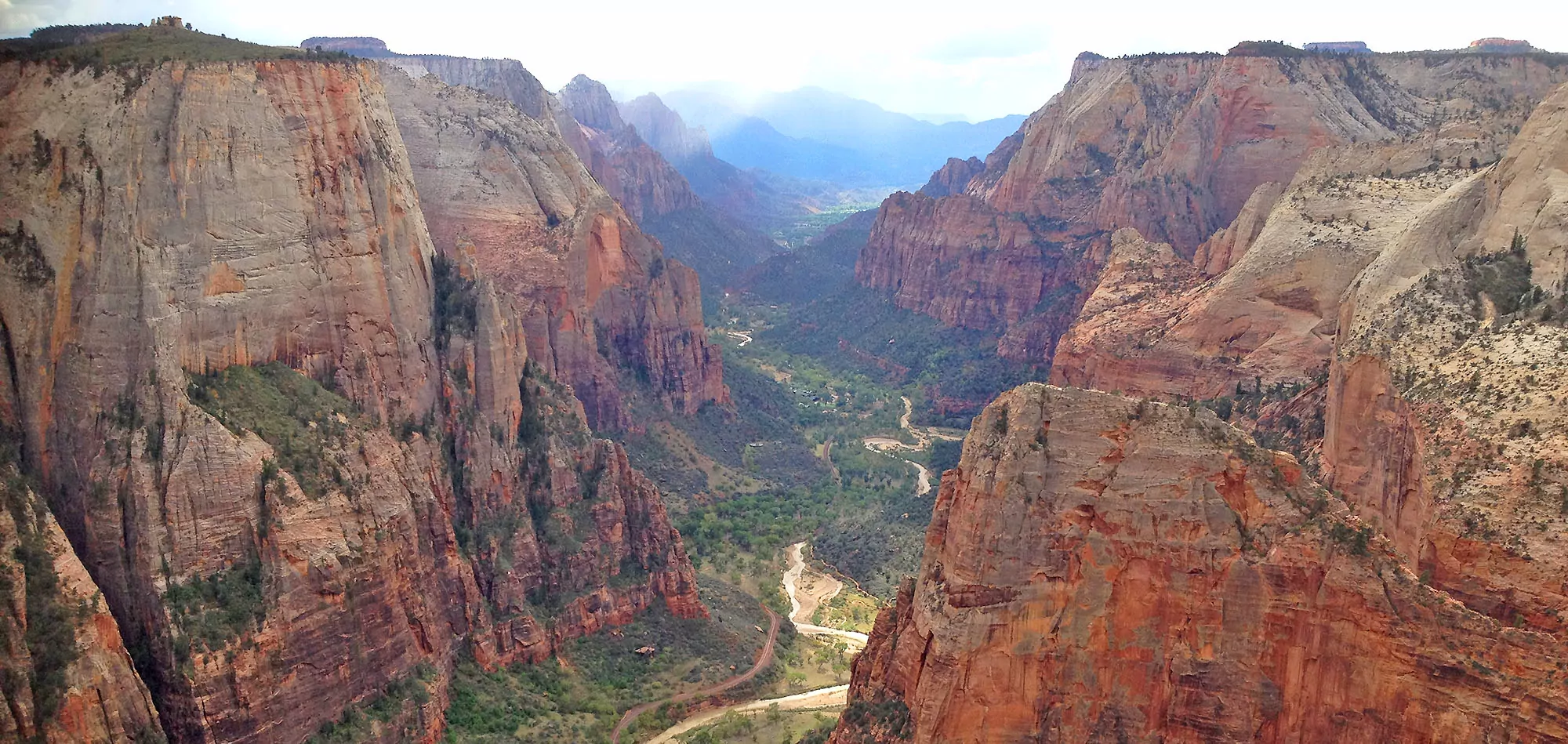 Hiking in August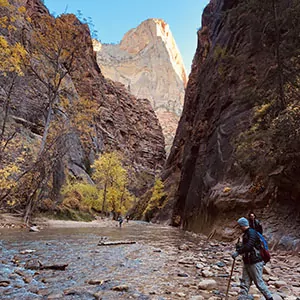 Hiking is incredible in August—trails to high elevation give you amazing panoramic views of the canyon below, alive with flora and fauna. There are also wonderful trails along the valley floor that take you next to the rushing and cool Virgin River through the thriving cattails and cottonwoods. With trails that range from easy to strenuous, all ages and levels of ability are able to enjoy hiking in Zion. Read our list of best trails in Zion for recommendations.
The Pa'rus Trail is a great option for those looking for scenic sights without strenuous hiking. This paved trail that leads from Canyon Junction to the visitor center is accessible to wheelchairs and strollers and gives you fantastic views of the Watchman and many of the rock formations around. The Riverwalk is another great option for viewing famous sites without the hard hiking. This trail takes you to the beginning of the Narrows, where the path disappears into the river. If you don't want to take the plunge into the river, this short trail will still give you the feeling of a slot canyon as the walls become narrower and narrower the farther you hike. Watchmen Overlook Trail or Canyon Overlook Trail are also great options that are a little steeper but still short and manageable.
Of course, the famous hikes in Zion are simply spectacular in August, if a little hot. The Narrows is a great option as you can cool off by wading through the Virgin River. Be prepared for this hike to be somewhat strenuous; many have described it as trying to walk on wet bowling balls. The large rocks on the river bed will be mossy, making it easy to slip. Keep your things in a dry bag and wear clothes you won't mind getting wet. Ensure there aren't any flash flood advisories for the Narrows the day you plan to hike, as the slot canyon is prone to them. You can check the current conditions for up-to-date trail information before you set out.
The subway, a lesser-known canyoneering trail, requires permits but is fantastic if you're up for a big adventure. This trek involves route finding, canyoneering, and swimming through a couple of deep pools if you hike this out-and-back trail in a certain direction.
Angels Landing is perhaps the most famous hike in the park, and for good reason. This spectacular and strenuous trek will take you to the top of one of the largest rock formations in the park for fantastic views. Due to its popularity and its risk of falling on the narrow trails with cliffs sometimes on both sides of the trail, Angels Landing requires permits which are very competitive to get. Make sure to do your research and plan early to get permits, or go with a guiding company that provides permits for you and send an expert guide of the trail along with your group.
Angels Landing Day Hike Tours (Permits Included)
Basecamp tours are a wonderful option for seeing much of Zion and nearby Snow Canyon. The company takes care of all the planning, accommodations, and meals and provides appropriate gear, so you can enjoy your trip without any of the stress that comes with planning a National Park vacation. Day hiking tours are also great for those who want to maximize their limited time in the park while gaining knowledge from a local and experienced guide.
backpacking in august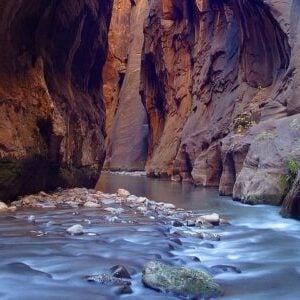 Backpacking is absolutely ideal in August. Since most visitors are doing day hikes, the backcountry provides the opportunity for solitude and peace while experiencing tremendous red rock cliffs and out-of-this-world rock formations. Read our page about backpacking permits for information on planning a backpacking trip. Zion has different and more regulations for backpackers than other national parks, so it's important to know the backpacking regulations and to abide by them for your safety and the health of the park.
Most areas of Zion do not allow true dispersed camping but require backpackers to camp in pre-designated sites and get permits for each site they will occupy in the backcountry. This limits your flexibility on your trip as you have to make it to your campsite by that night. Zion does not allow any fires in the backcountry and has a strict pack-it-in, a pack-it-out rule that includes all trash as well as human waste.
Options for backpacking trips include the Narrows, which has 12 designated sites, or Kolob Arch via La Verkin Creek Trail, a great option to escape some crowds. A Trans-Zion trek is also a great way to see much of the park. Because many of these routes are so popular, it's important to have backup plans for alternate campsites and trails if you can't get the permits you want.
Weather in August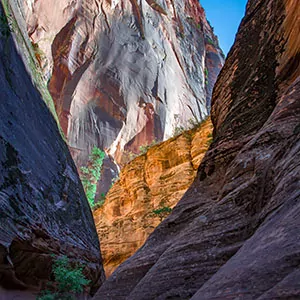 August is typically very hot in Zion National Park. The average temperature for Zion Canyon in August is a high of 97 and a low of 66 degrees Fahrenheit (36/19 degrees Celsius). In Kolob Canyons, the average temperature is a high of 87 and a low of 57 degrees Fahrenheit (30/13 degrees Celsius). Visitors should be advised that these temperatures are only averages and that the park's actual temperature can vary greatly from these. It rains six days on average during the month of August. Zion experiences a monsoon season from mid-July to mid-September, so always check the weather before starting on a trail and know the risks of a flash flood.
Be sure to take at least 3 liters of water with you for the day, especially as you may not have access to your car if you ride the shuttle bus. Many of the shuttle stops have potable water, so you can fill up before heading out on a hike. Heat exhaustion and heat stroke are both risks in Zion in the summer when much of the day is very hot. Sit out in the middle of the day on your hike if you need to prevent overheating.
Knowing the difference between heat exhaustion and heat stroke is important, as the latter is a life-threatening emergency while the former is less immediately dangerous. Visitors should also be aware that Zion is an elevation ranging from about 3500 to about 8500 feet and has a very dry mountain climate. If in the park for more than a few days, visitors should acclimate to the elevation, but it's always good to factor it into your hikes to make sure you don't over-commit yourself.
Slot canyons are great ways to spend the midday heat as they have natural air conditioning that keeps them cool. This is largely due to the fact that the entire canyon does not receive very much sunlight throughout the day except when the sun is directly overhead. Because of the heat, some guests choose to take a dip in the Virgin River or one of its tributaries to cool off during the day. While this is allowed, visitors should be aware of a recent toxic cyanobacteria bloom in Zion's waterways. Read the section above about backpacking for more information, and check the national park website for current updates on the cyanobacteria bloom. Children and dogs are particularly susceptible to this toxin, so keep them away from water at all costs.
Wildlife in august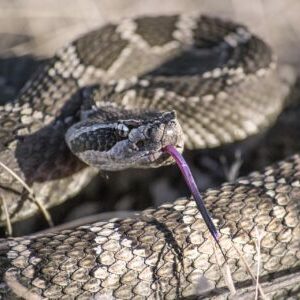 August is a great time of the year to view wildlife in Zion. Both the large and the small animals are out during this time of year for visitors to see. Some of the park's larger mammals, such as mule deer and bighorn sheep, will be just at the beginning of their rutting season, the mating season. If you're lucky, you might see glimpses of males of both species scuffling and headbutting each other for the right to mate. But you'll find Zion's smaller wildlife is just as interesting as the larger ones. All of the reptiles and small mammals will still be out of hibernation for the summer, and they can be a joy to watch.
Keep an eye out for the desert horned lizard, often mistakenly called a horny toad, that looks like a small version of a dinosaur. The horns on the back of its head make it unappetizing to most predators, except the road runner that angles the horns away from vital organs to ensure safe digestion. These lizards can also squirt blood from their eyes if they feel threatened, so take pictures from a distance. Also, watch for the whiptail lizard, the great basin rattlesnake, and the desert tortoise, a very rare sighting in Zion.
The park also boasts more elusive animals you're less likely to see. Porcupines and beavers both called the park home but spent much of their time in their dens or lodges in the river. Slot canyons are excellent places to view wildlife, where the Mexican spotted owl makes its nests. These monogamous owls are federally threatened and though they usually prefer higher mountainous environments, they enjoy the natural air conditioning of slot canyons all year. The predators in the park, mainly gray foxes, coyotes, bobcats, and mountain lions, don't typically like a crowd and stay away during the summer. You might catch a glimpse of a fox or coyote in the evening, but the feline predators will surely avoid detection with so many people around.
Perhaps the most famous wildlife resident of the park is the California condor, the largest bird native to North America. Brought back from the brink of extinction through captive breeding programs, the birds have a small but stable population in Zion, where they are still monitored. With a wing span that can reach up to 9 1/2 feet, these birds are majestic to see in flight. See if you can spot the number tags on their wings and ask a ranger about the specific individual you saw.
Recommended Wildland trips in august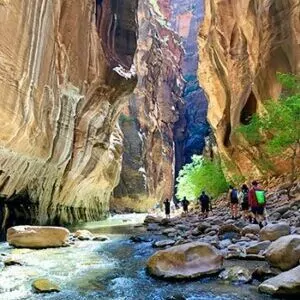 Planning a trip to Zion on your own can be stressful as there are many factors that you have to keep up with, such as weather, current conditions and advisories, where to stay, and what to do. While some people enjoy planning out every detail of their trip, others don't have the time to do so before getting to the park. This can result in losing time deciding what to do and missing out on amazing experiences just because you didn't know about them. Bypass the headache by booking a trip with Wildland Trekking and letting one of our expert guides show you around the park. All of our trips are all-inclusive, so we take care of your meals, accommodations, local transportation, and all the logistics so you can sit back and enjoy your trip. Whether you want to camp with us, stay at a lodge on an inn-based tour, or spend a day with one of our expert guides, we have something for you. Feel free to check out all the trips we offer in Zion, but here are a few we especially recommend for August.
Angels Landing Private Day Hike: If you want to do Angels Landing as a day hike but can't get permits or don't want to make the treacherous trail on your own, then you can book this all-inclusive day hike where permits are included, and we'll send one of our expert guides up on the trails with you. With included top-of-the-line backpack and trekking poles, tasty trail snacks, and a picnic lunch for on top of the world, this tour truly takes the stress out of a hike up Angels Landing before and during your trek.
Best of Utah Basecamp: For some, experiencing the rustic side of national parks is important, but maybe going on a backpacking trip would be a little bit too much. This camping tour of Zion, Bryce Canyon, and Grand Staircase Escalante is perfect for a rustic but comfortable outdoor experience. Experienced the solitude of canyon country in these three distinct national parks with exciting hikes each day before returning to comfortable camping accommodations and delicious outdoor cooked meals. With so much to explore, don't miss your opportunity for this fantastic six-day camping tour.
Zion, Bryce, and Grand Canyon Tour: Many people come from long distances to experience the American Southwest and the national parks that are there, so why not include the best national parks all in one tour so that you can get the best experience out of your trip? This 6-day, inn-based tour takes you to Zion, Bryce Canyon, and Grand Canyon National Park all in one fantastic trip. Enjoy exciting day hikes, slot canyons, and desert oases during the day before returning to comfortable lodges and premier dining in the evenings. With your meals, local transportation, accommodations, and expert guide included, this trip maximizes your time in the American Southwest.
Join a Guided Hiking Adventure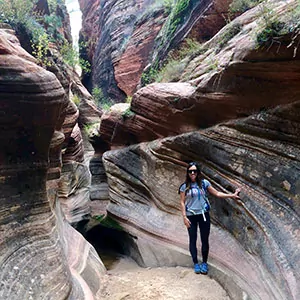 Zion National Park is home to some of the world's most epic and fantastic hiking vacations. Wildland Trekking offers trips with the best of Zion: canyons, views, wildlife, solitude, adventure, and fascinating natural and cultural interpretation.
Guided Zion treks are all-inclusive, which covers permits; local transportation (excluded on specific tours); meals; equipment; safety systems, and professional hiking/wilderness guides, allowing visitors to maximize their time in Zion and focus entirely on enjoying the Park.