Visiting Zion in July
Learn all about what to expect visiting Zion National Park in July
July is a great time of year to visit Zion National Park. The valley of Zion Canyon is alive with flora and frolicking fauna, and the Virgin River is an oasis in the hot desert. There are many benefits to visiting Zion in July, as well as some drawbacks. Below we have categorized the most common "when-to-go" questions to help you determine if July is the best month for you to visit Zion National Park. Benefits of Visiting Zion in July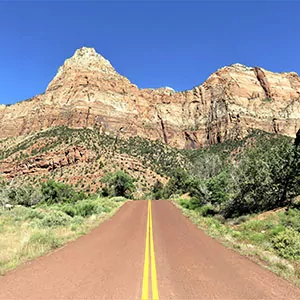 The biggest benefit of visiting Zion in July is the plethora of activities you can enjoy. Anything from hiking to backpacking, rock climbing to canyoneering, and bicycling to off-roading is available for visitors. The weather is very hot in July, but provides beautiful and clear blue skies, and amazing chances for sunrise and sunset photography.
Drawbacks of Visiting in July
The biggest drawback of visiting Zion in July is the crowds. Summer is the busiest season in Zion National Park—this means long lines for the shuttle buses, limited parking inside the park, and long waits on trails. To avoid the stress of navigating the busy National Park by yourself, we recommend booking a trip with a guiding company.
If spring or summer is the only time of year that you can make it to Zion, here are some tips to lessen the impact of the crowds:
1. Get to the park early: the earlier you get to Zion, the more likely you are to get a parking spot; and the more of the park you have to yourself before the crowds arrive.
2. Visit Kolob Canyons: The Zion Canyon is small and crowded—since most visitors spend the majority of their time there. Whereas, Kolob Canyons are in a more isolated area of the park, provide incredible and unique views, and is much less travelled.
3. Go on a picnic: avoid the eateries at busy eating times, and choose to go on a picnic instead. You can stop at the grocery in Springdale before heading into the park. There are wonderful places along the river and in the shadows of the cliffs for a picnic meal.
4. Read our list of trails less traveled: these trails will give you a better chance for incredible views with less of a crowd.
Things To Do In July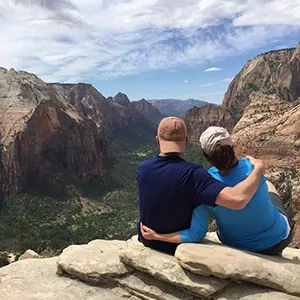 Hiking is wonderful in July—with trails ranging from easy to strenuous, there is something for everyone in Zion National Park, giving you the chance to experience the best of Zion from amazing vantage points. You can read our list of best trails in Zion for recommendations. The weather is hot, so pack plenty of water and salty snacks; and the trails can be crowded—take an introspective look on how well you tolerate crowds, and plan on getting to the park early so you can beat some of the crowd.
Bicycling through Zion Canyon is fantastic in July, letting you avoid the crowds of the shuttle bus, and feeling the wind whoosh past you on a hot day, as you cruise down the road without cars. Shuttle buses have bike racks in front if you wish to take your bicycle on them. Canyoneering and rock climbing are also popular activities in the park, and July is a great time to do them. Be sure to check out our best tours page for more details.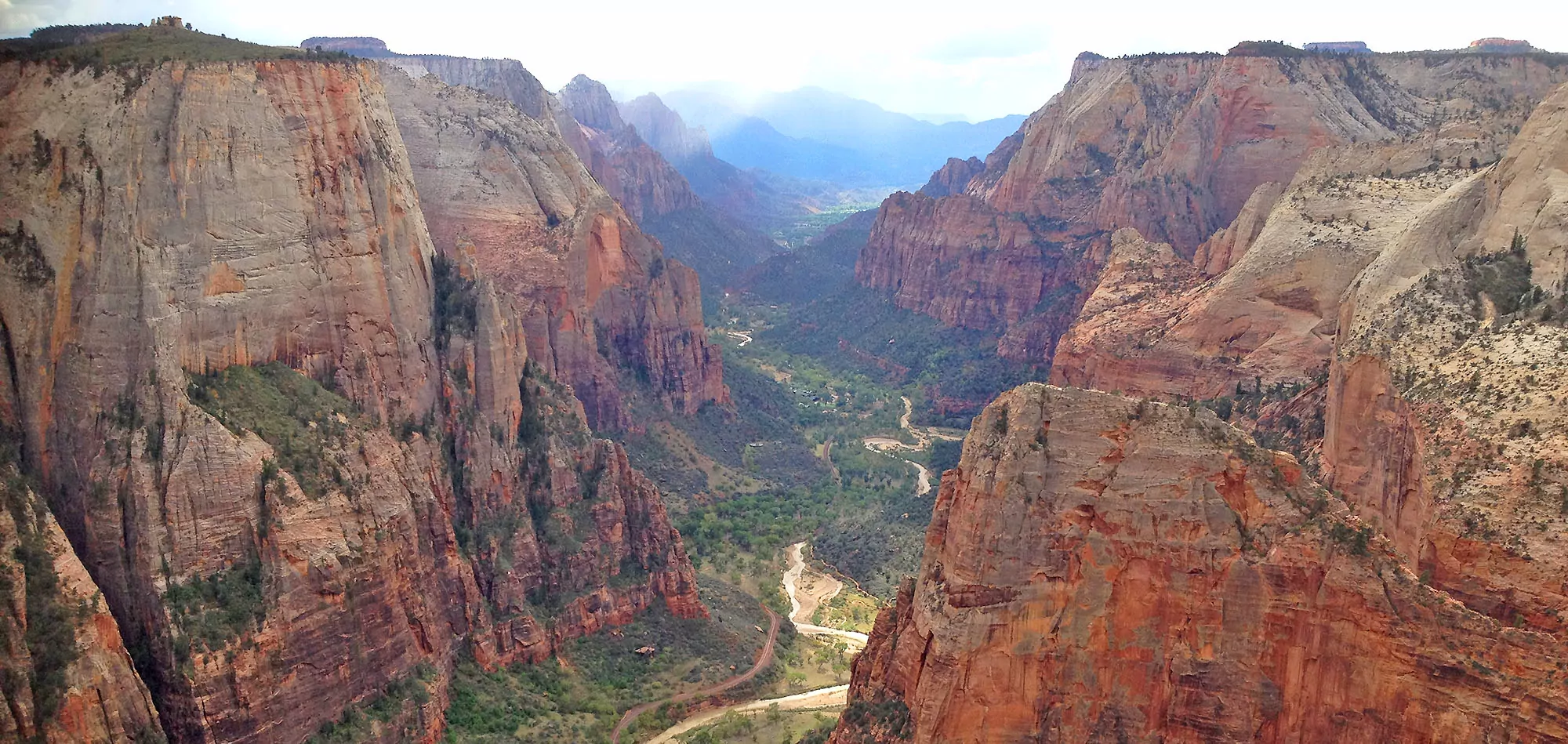 Hiking in July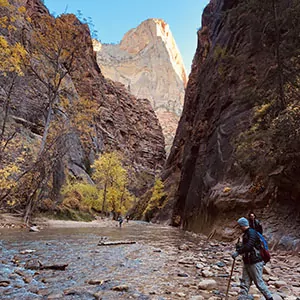 Hiking is ideal in July. Trails to high elevation give you amazing and panoramic views of the canyon below, alive with flora and fauna. There are also wonderful trails along the valley floor, that take you next to the rushing Virgin River, through the cattails and lush cottonwoods. With trails that range from easy to moderate to strenuous, all ages and levels of ability are able to enjoy hiking in Zion. Make sure you read the current conditions for up-to-date information.
Backpacking is great during the month of July because most visitors are doing day hikes, so the backcountry gives you the opportunity for solitude and peace, while experiencing tremendous red rock cliffs and out-of-this-world rock formations. Read our page about backpacking permits for information on planning a backpacking trip.
Basecamp tours are a wonderful option for seeing much of Zion and nearby Snow Canyon. The company takes care of all the planning, accommodations and meals, and provides appropriate gear, so you can enjoy your trip without any of the stress that comes with planning a National Park vacation.
Day hiking tours are great for those who want to maximize their limited time in park, while gaining knowledge from a local and experienced guide.
Weather in July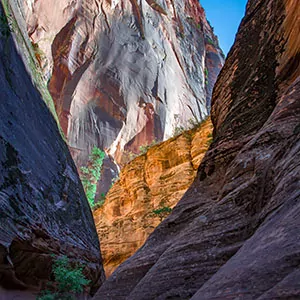 July is typically very hot in Zion National Park. Be sure to take at least 3-liters of water with you, especially because you may not have access to your car if you are riding the shuttle bus. Many of the shuttle stops have potable water, so you can fill up before heading out on a hike. The average temperature for Zion Canyon in July is a high of 100, and a low of 68 degrees Fahrenheit (38/20 degrees Celsius). In Kolob Canyons, the average temperature is a high of 89, and a low of 59 degrees Fahrenheit (31/15 degrees Celsius). On average, it rains 5 days during the month of July.
Join a Guided Hiking Adventure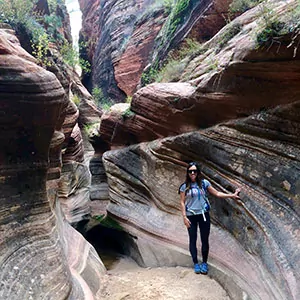 Zion National Park is home to some of the most epic and amazing hiking vacations in the world. Wildland Trekking offers trips with the best of Zion: canyons, views, wildlife, solitude, adventure and fascinating natural and cultural interpretation.
Guided Zion treks are all-inclusive which covers permits; local transportation (excluded on certain tours); meals; equipment; safety systems and professional hiking/wilderness guides; all of which allows visitors to maximize their time in Zion and focus entirely on enjoying the Park.